TimeCamp day by day – #starter 5
January 24, 2014
by Jakub Szyszka
No comments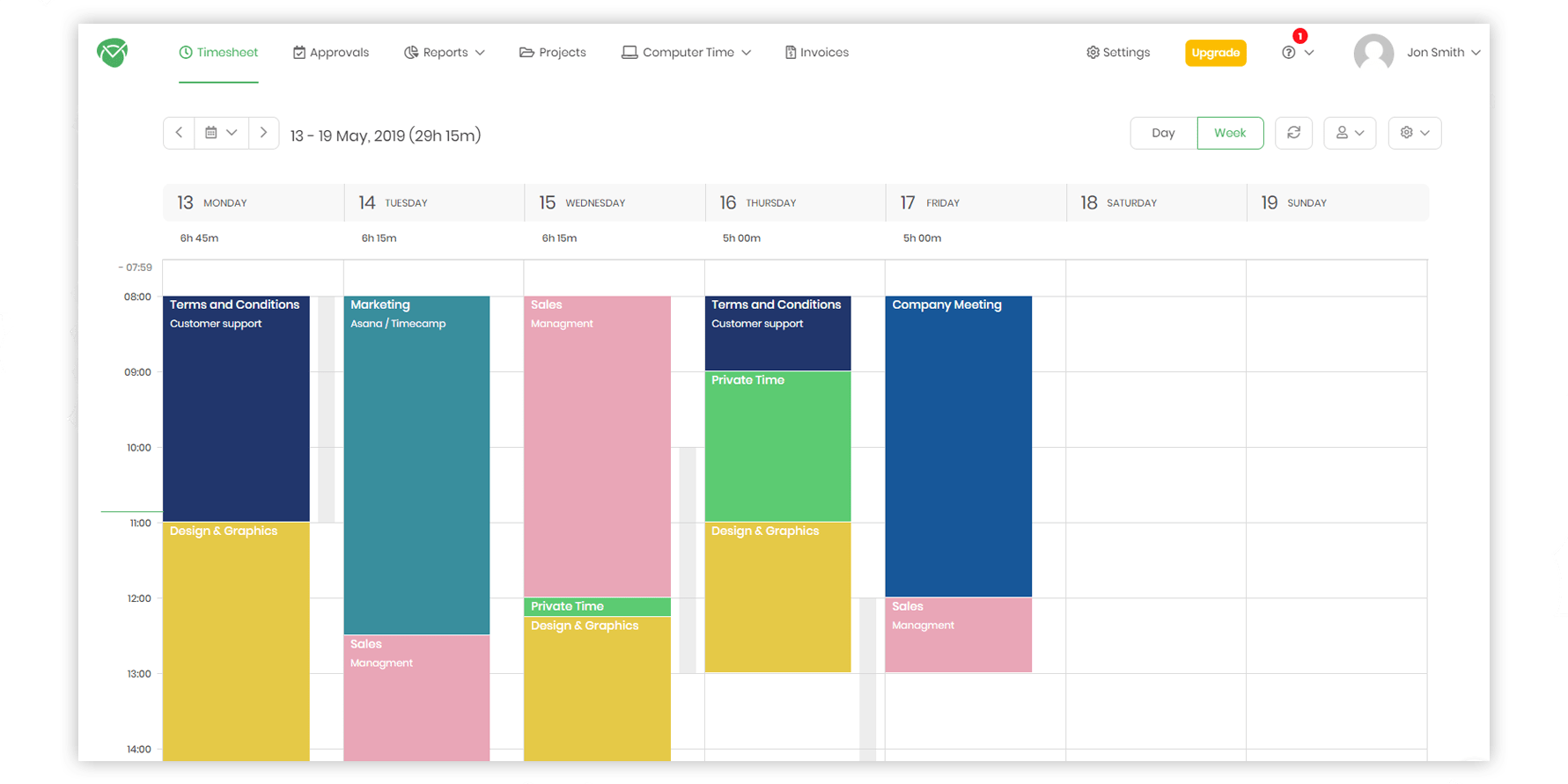 Having an opportunity to track every billable minute and be aware of the time spent on specific tasks is very useful in everyday work. TimeCamp lets you achieve this assumption with graphical Timesheets, which are very easy to use.
At the beginning, you need to click on "Timesheet" in statistics section and change the "View type" to Graphical.
Timesheet has a weekly view that cannot be changed. Every column is related to separate day of the week and every day of the week is divided into two parts – the left side of the column keeps the information about online and offline activities – ex. which sites were visited or which applications were run. It also includes manually entered offline activities.
Notice: Offline activities will be displayed in a single block, not as a gap in Timesheet.
The right side of the column gives information about projects that particular activities are related to. You need to remember that activities showed in graphical timesheet don't always come up with the time spent on projects. Some of them are simply not connected to any project.
You can add time to projects manually on the right side of the column. Just click on the empty field on the specific day. The area will highlight as a red rectangle. There will also a window with task appear. Choose the one you need and pick the right amount of time for it by increasing or decreasing the size of the rectangle.
Graphical Timesheet is important, but TimeCamp has a bigger amount of features. As you work on projects, sometimes you need to share them with your co-workers or partners. Sharing projects gives the opportunity to show how is the progress going, how the task are connected to each other and so on.
Just click on a project that you are actually working on in "Projects" section. The window will show up on the right side of the screen. There you can choose a role for your partner. You can decide whether your partner can edit all tasks and create subtasks as a Project manager or just have a preview like Regular User. When you have picked a role just click the "Add people" button and choose a specific person for your project.
Notice: You can also create a new role. In the role section, click "edit". You will be redirected to another page where there is a possibility to create new roles. Type the name of the new role and click "Add custom role". Then you can give a role specific priority and mark right functions.
When everything is set up, just enjoy better organized workday with TimeCamp!