10 Fatal Mistakes That Killed Our Time Tracking Implementation
May 19, 2014
by Jakub Szyszka
12 comments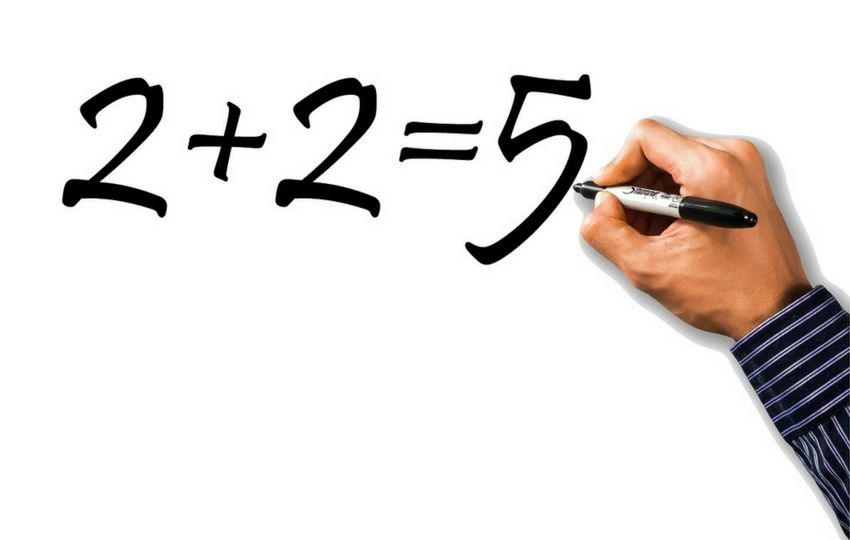 We struggled to implement time tracking in our company.
In a company that makes time tracking software!
It is known that tracking time will benefit in the long term.
But still – it is so frustrating and time consuming when again and again, you force people to do something that they don't care about!
This process can be really painful, for both employees and managers.
But at the end, we manage to collect 10 fatal mistakes, so we and you will never make them again.
If you are struggling with timesheet software implementation, read the whole post.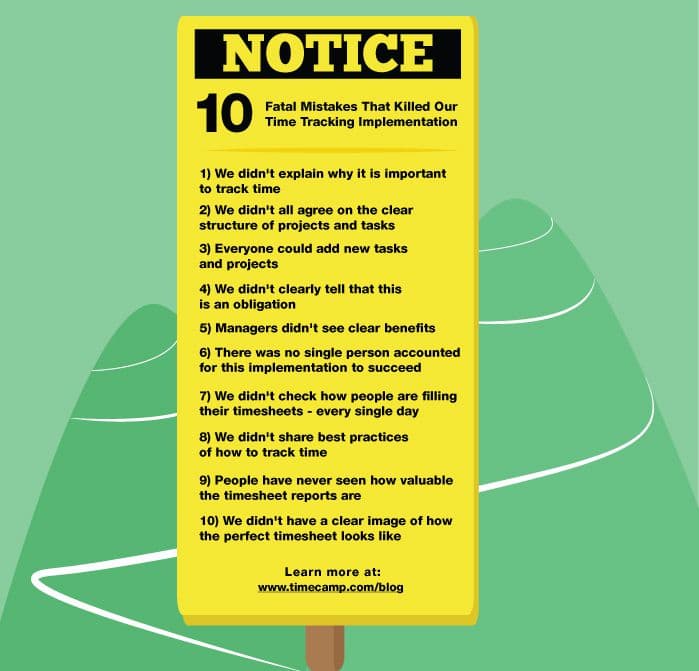 1) We didn't explain why it is important to track time
We spend a lot of time talking to our customers asking them what they need time tracking for, as well as what kind of problems it solves in their organizations.
At the same time we didn't have precise answer for our own team members.
Everyone should understand what we are doing this for and what the benefits are!
What is important, is that the notice should be repeated every few weeks. In their daily routine the employees forget about the goal and lose their motivation to achieve it.
2) We didn't all agree on the clear structure of projects and tasks
"If I am spending the time on writing emails, what I should track time to?"
"If I am spending the time on helping others, what I should track time to?"
"If I am spending the time on a short call which lasts around 5 minutes, what I should track time to?"
There are many situations like this, when people don't know where to track their time to. Without clear guidelines the employees don't know where to assign the time in particular situations. They have problems with assigning a coffee break or their own work organization.
It happened to us all of the time as we didn't establish the transparent structure of projects and tasks.
If people are not sure, time tracking will be a frustrating experience. We left people confused and as a result, we haven't achieved what we planned to. Though, if we started to register the time, we still couldn't accurately estimate where it has been allocated, or which tasks required more resources and which were the most profitable.
3) Everyone could add new tasks and projects
In our case too many people had the privilege to add their own projects and tasks. It created some kind of disorder in the structure and in the reports. The assignments were multiplied, put into different projects or had different names given. This made the employees even more confused when they were about to fill in their timesheets. They were unsure of which task to select or in which field they should assign their time, so they created a new item. Never-ending story.
Limit permissions to only a few people. People should know exactly to what they should track time to.
4) We didn't clearly tell that this is an obligation
You can't demand from people without giving the order. If you want your employees to obligatory track time, then you should tell them about it. The command should be explicit so nobody has any doubts. We haven't done this in the previous two times. We started to record time, but just did it occasionally and for a short period of time. Day after day another person was dropping the experiment. The reason for that was that nobody treated it seriously and we haven't disapproved of such behavior. It was not anyone's fault. We just haven't approached it right.
5) Managers didn't see clear benefits
The example comes from the top. Having this in mind the top managers should be role players who lead their employees to the finish line. In our company they were not convinced to do time tracking themselves, so they didn't show enough engagement in the process. And these are the people who are responsible for time tracking implementation. They should feel the duty to accomplish it. Finally, they also should be accounted for by the team members for their thoroughness in tracking their own time.
6) There was no single person responsible for this implementation to succeed
Everyone was his own boss in this experiment and we let ourselves do whatever we want. It's not a path that could lead anywhere.
7) We didn't check how people are filling out their timesheets – every single day
Another thing that failed in our venture was a lack of control over the time entries made by the employees. We didn't monitor how we all managed with time tracking. Everyone was doing it on their own. It was a big mistake.
To make people do it right, you should check on their timesheets and reports systematically. At the beginning you should do it even every day. It is highly important, as the first weeks make the habit. Moreover, they show what the problems with time tracking are – how to assign their tasks and what the technical difficulties are. This was the knowledge we were missing.
8) We didn't share best practices of how to track time
We didn't show our members how to register their time in the easiest way. We also didn't share best practices that could make it a more effortless experience for all of them. They had to struggle with it alone. It's not surprising that after a few weeks they had enough and simply stopped doing it.
9) People have never seen how valuable the timesheet reports are
People were not aware how useful the insights might be. We didn't show them that the hours they registered were actually analyzed, that we use them for particular reasons and that they are very helpful in our further work.
To successfully track time you should do it regularly. It is good to gather your team and discuss the results. Present them and discuss what those figures are needed for, for example toto estimate the profitability of the projects or the commission for the salesmen.
10) We didn't have a clear image of what a perfect timesheet looks like
We had no unambiguous vision of how to measure the progress and couldn't decide how we should assess the progress made in registering our time.
Even though, the first two trials turned into a failure instead of a spectacular success, they helped us learn a lot.
They made us more aware of the problems that may occur during the implementation. Mistakes we've made gave us a precious knowledge of what it all should look like.
Thanks to this, we are able to share it with you. Hopefully, this time the whole implementation will go as smooth as we assumed it would at the very beginning.
Soon we will update you with more lessons we learned during time tracking implementation. Feel free to leave a comment and show how it worked in your company.
[relatedposts]