Setting holidays in attendance
September 18, 2014
by Kamil Rudnicki
No comments
TimeCamp provide ability to manage your holiday, sick leave, business trip,  remote work and special leave days for you and your team.
Now administrators can set  holiday days for the entire organisation for the Attendance report, by going to Settings -> General -> Attendance.
Also both users and administrators can filter type of the day in the Attendance report, to quickly calculate for example holiday days.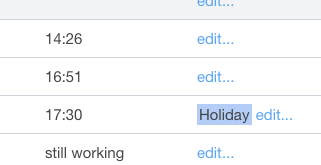 Don't like reading the instructions? Watch the video tutorial below!