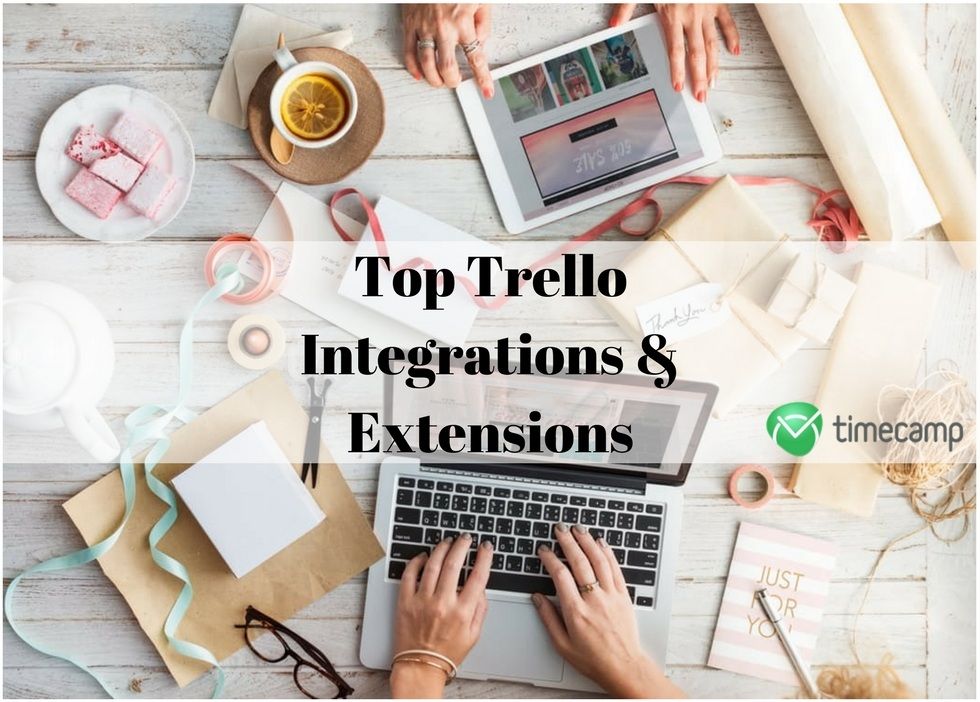 Just a few days ago we launched a post about Trello and its integration with TimeCamp. It is a organizational tool with plenty of features that can ease our working day by far. When it comes to project managing, Trello is top-notch app. However, it can be even more useful with certain add-ons. So let's take a look at the benefits offered by other Trello time tracking integrations, extensions and more.
Timecamp for Trello
We could not omit our TimeCamp, could we? Providing an accurate, intuitive and sophisticated time tracking application for Trello. TimeCamp is definitely a great choice when integrating your Trello, so make it your first choice! Synchronization is a piece of cake and once we have done, we may use timesheets, receive a meticulous analysis of our projects and much more! If you are interested in integrating your Trello with TimeCamp,  see our tutorial:
Good news! TimeCamp is now included on the list of Trello Power-Ups! Make your work more productive and make sure to check out TimeCamp and Trello Power-up!
For more TimeCamp integrations, watch the video below!
Raygun for Trello
It is a tool that developers should be familiar with as it definitely makes their work easier. Raygun tracks and reports (in real time!) about errors and crashes in the code. It groups errors in a smart way which simplifies the process of debugging the code and, what is obvious, saves time. One we integrate Trello with Raygun, we can pick a board when Raygun will be posting error reports. Every report will be equipped with Trello button, enabling the user to create a new card or manually link an error with an existing card. An important tool for those, who use Trello to manage their web projects, one minus is the cost – starting from 49$ per month. Fortunately, there is a free trial.Those, who are interested in such an integration, should check the instructions here.
Trackduck for Trello
Another bug-tracking tool that both developers and web designers should find useful. We can set this software to highlight the bugs on the website that we are currently working with or have a layout of bugs uploaded to the system, where we can work on it, ask questions and receive feedback. Integration with Trello allows the user to choose a Trello board and synchronize the bug reports from Trackduck. Once we do it, bugs will be automatically grouped into selected lists with screenshots and technical details attached. Without updating all the details about bugs manually we will be able to work faster and more efficiently. Also it is much cheaper than Raygun with 14-days free trial and paid plans starting at 9$ per month. Instructions on how to integrate Trello with Trackduck can be found here.
Trello Bookmarklet Maker
Track any ideas or projects that you find online by adding them to Trello board. It is really a useful tool. Using it does not take much time to practice. But first, you have to authorize your Trello account here. After that, you will have only two buttons to choose from, hit the Make it! one and your bookmarklet is ready. Add it to bookmarks and next time you click it any page you are currently on will be turned into a Trello card.
Gmail for Trello
Available for Chrome, just install the extension from here and you got it in your browser. Now you can add tasks directly from your Gmail to Trello. How? Well, really easy – the extension adds to the menu bar of your email an extra button called ADD CARD. When you click in, an extra panel will pop-up, enabling you to choose to which boards or lists you want your e-mail to be sent.
Plus for Trello
Usable from both Chrome and Android. Plus offers some very comprehensive reports based on your Trello activity. The bookmarked reports are available even offline. Great tool, especially for data analyzing enthusiasts. If you want to get familiar with its wide range of features, check out this page.
Tab for Trello
Designed for Mac users, Tab gives an instant access to Trello directly from a toolbar. After adding it, we can use Trello faster and more efficiently – create boards, and tasks, drag and drop them, even set hotkeys. Go here and try it for an easy Trello access from your Mac browser.
Punchtime for Trello
Punchtime offers an application for both iOS and Android as well as browser extensions available for Chrome and Safari. It will track time of your Trello projects and provide an analysis of each. It is a well-built, powerful extension and what's great, totally free! Just go here and see for yourself.
Websites for Trello
Use Trello to manage your website or blog thanks to Websites for Trello. Every action you want to perform on your site or blog can be done directly from Trello and it will be upgraded in real time straight from Trello's board. You can even start a blank blog by creating a new board at Trello. Whatever you write with Websites is being sent to Trello and saved there for you to use in the future, so even if you decide to stop using Websites, you do not have to worry about any loss of information. To sign with Websites for Trello, check out this simple and quick tutorial.
Hey.Space – Trello and Slack in one
Hey.Space isn't exactly an integration with Trello. Yet it is worth mentioning because it has more to offer than Trello. First of all, it is a great tool for enhancing teamwork. Secondly, it enables you to communicate with your team or even stakeholders directly from the same space you monitor all your projects from. Thus, it's obvious that the reason for which one should try it out is simply to make your work and collaboration faster and more effective. It's a great alternative for Trello and Slack. Hey.Space combines all the features of these two apps and helps to improve workflow.
Summing up
There are dozens and dozens of Trello integrations for many different platforms. We have just enumerated some, which we think are worth giving a try. Do not hesitate to install them, we do recommend to do so. However, keep on searching for more. Perhaps the one that you really need, one that facilitates the most effective time management, is still somewhere out there…
Related posts