10 Best Task Management Software With Chat
August 21, 2018
by Kate Borucka
No comments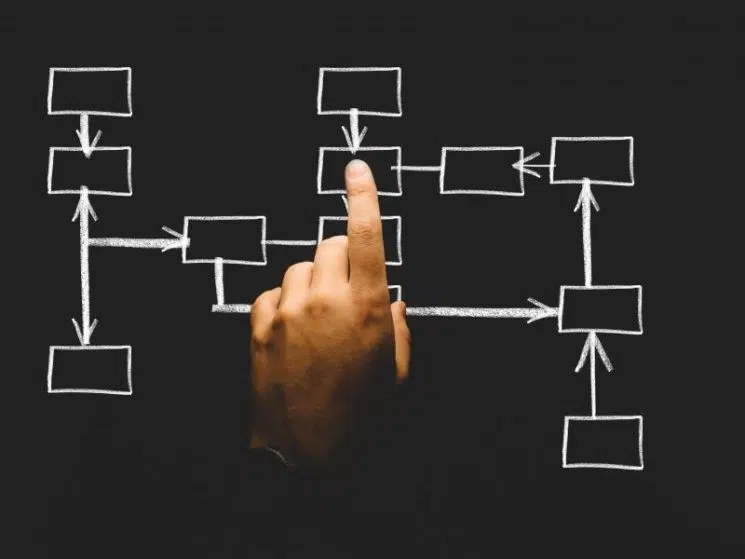 Task management software with chat is a tool every team should use. Why? Because it extremely enhances the workflow and collaboration. And it doesn't matter whether you work with a large or small team, for a corporation or a small business. It also does not matter if you work as a freelancer or a remote worker. It's a must-have which you must have!
Which Software Should You Use?
It may not be easy to find task management software with chat among all the tools available and more coming out every day. You may consider some of the most popular such as Trello (task management tool) and Slack (chat). Yet their functionality is limited only to managing tasks or chatting. The best choice is to use software which incorporates the two features.
Why is it so important to use such tool? Simply because is enhances team collaboration and communication. Exchanging information and ideas is extremely important at work. Every project and task has to be well-thought and discussed over. Hence, conversation is an inherent part of every project. It helps to clear out any doubts and keep project's goals transparent.
Today we present the list of 10 best task management software with chat. Take a look and choose the one that responds to your business needs.
HeySpace is an innovative and intuitive task management software with chat. It is somewhat a combination of Slack and Trello but with more advanced features. It not only helps in managing projects and team but also improves communication and processes taking place in an organization. Here are the most important features:
Thanks to its design you can see three boards in one place – your team and spaces (different channels), chat, list of cards with tasks.
You can easily convert part of your conversation into a task.
The board with tasks allows you to see all projects in one place.
Every task can be adjusted – you can set date, assign people to it, add tags, description, files, comment on it. All to keep you updated on task progress.
The feature of workspaces allows you to create many spaces, if, for example, you work for various organizations or have different clients.
Pleasant and intuitive interface.
HeySpace gives you space to freely and smoothly collaborate with your teams and clients. No more switching between apps and tabs. You have everything in one place!
Take your company to another level.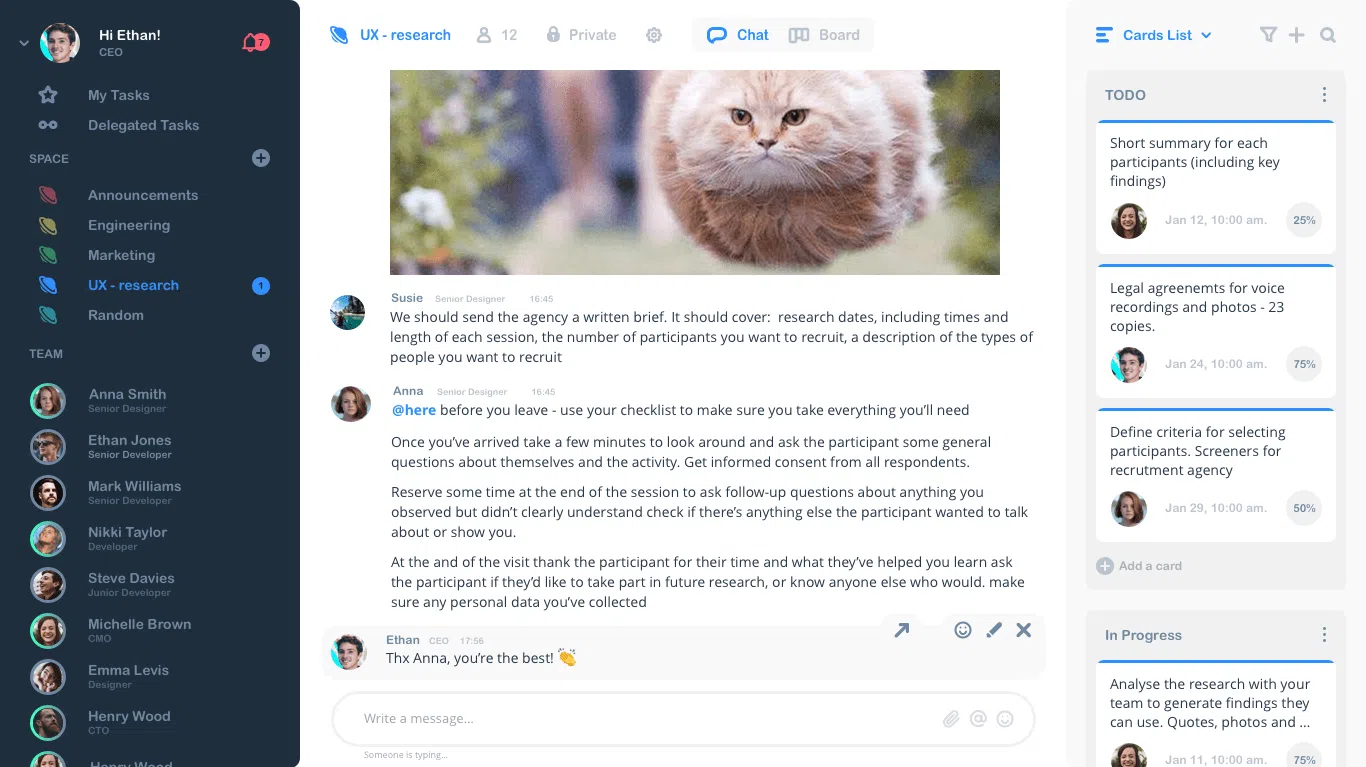 This tool is great for people who work remotely or travel on a regular basis. But not only. It can be used in any office by any type of employee. Hibox is a combination of chat, video tool, and task management software. It allows you not only to chat with your team but also to connect with them via video. Thanks to that you can talk to them from every place.
In Hibox, you can create streams for different teams, share files, and create tasks for employees who are part of the stream. You can manage conversations, files, and track tasks organized by project while you have multiple projects running at once. Similarly to HeySpace, Hibox's tasks can be personalized by adding files, setting deadlines, or even by using the assistance of personal AI. It's available as a mobile app and integrates with various tools and apps.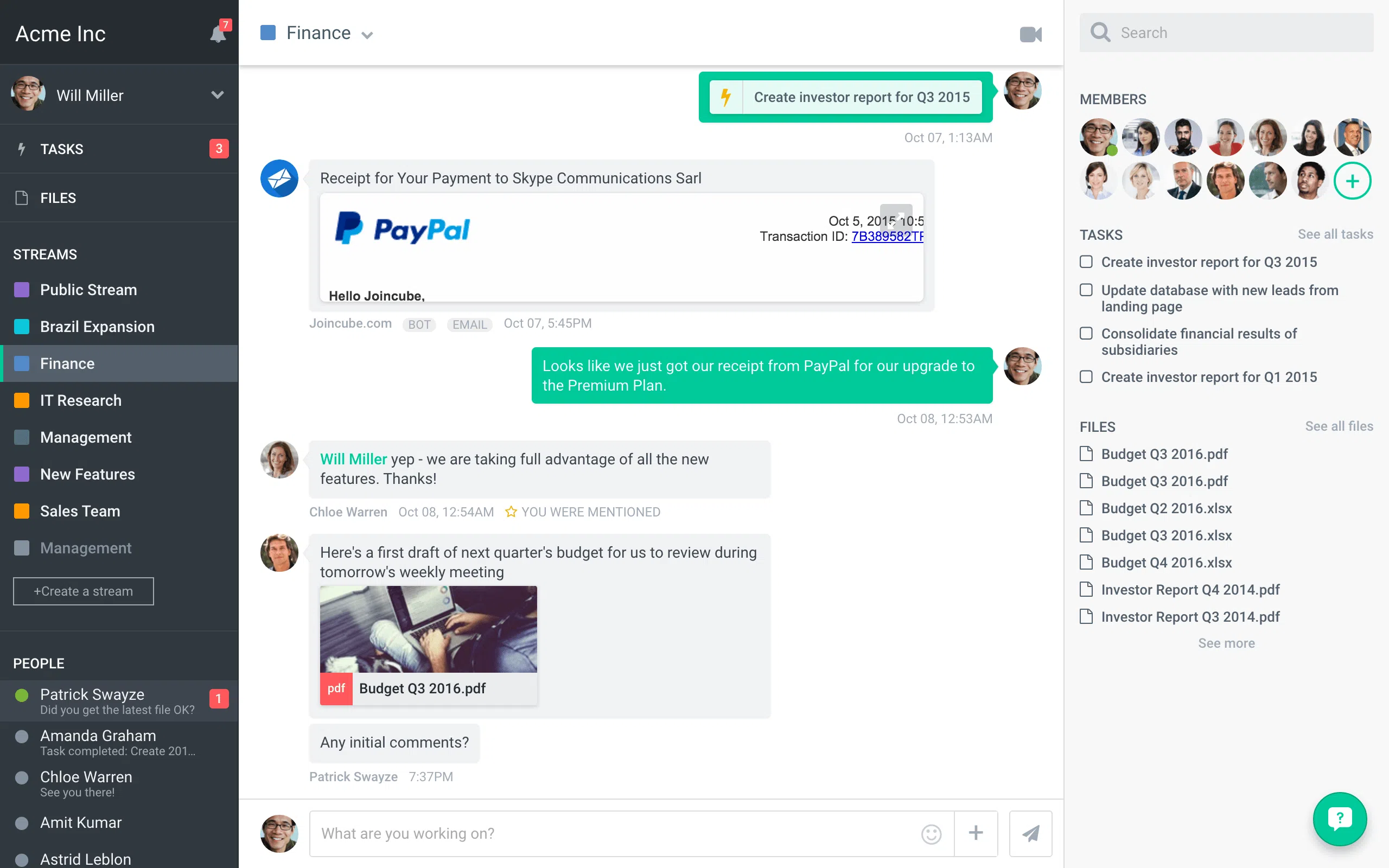 When it comes to task management, as part of project management, it involves many activities. That's what Bitrix24 is for. It is an extensive software with a broad list of features:
Group chat, private chat, public chat, audio and video calls, screen sharing.
Extranet access for clients.
Available as a mobile version for iOS and Android.
Time tracking, quotes and invoices, Gantt, shared calendars, task templates, checklists, dependencies, subtasks, custom fields.
Access to workflow.
Integrations.
Thanks to the above features, Bitrix24 is a great task management software with chat and project management software.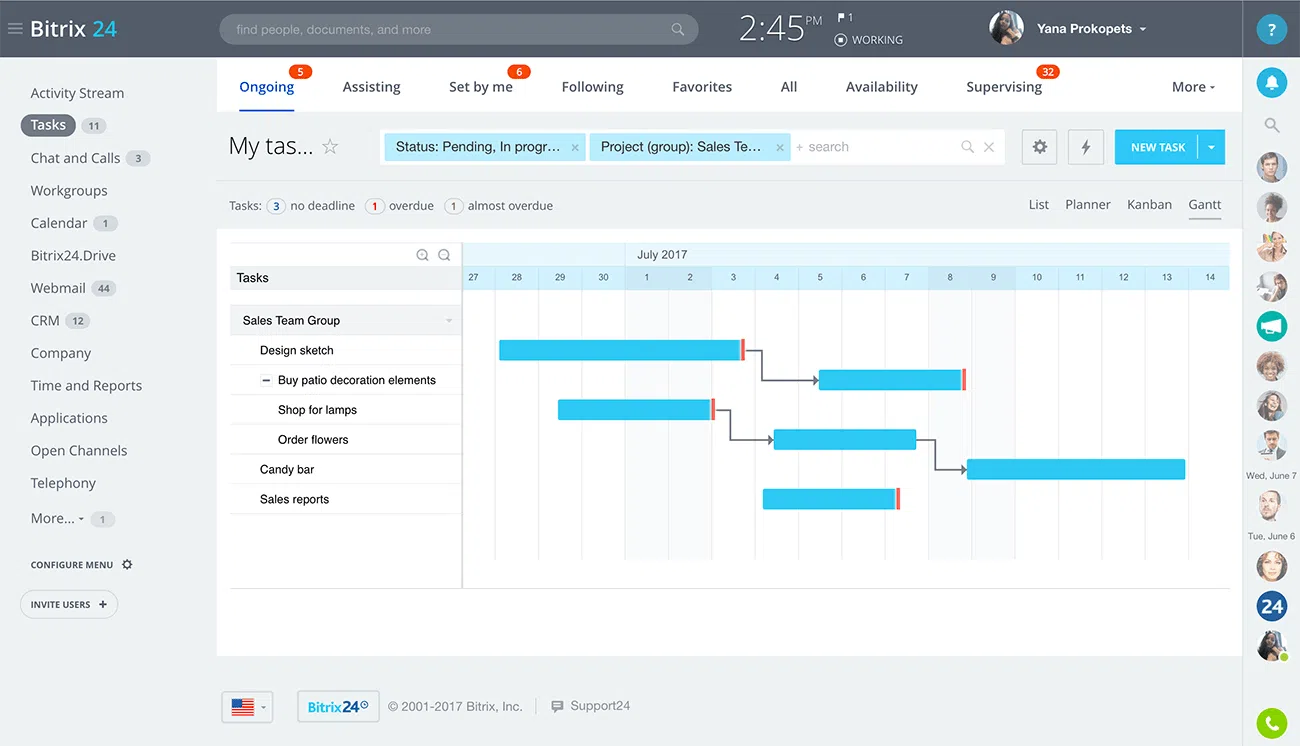 Samepage is a software dedicated for people who want to improve team's collaboration. Some of its main features include team chat, video conferencing, task management, file sharing or real-time document collaboration.
Samepage allows team members sharing any type of information, files, videos, etc. and by that improve collaboration. Moreover, it saves the effort of jumping from one app to another to check the project's or task's status and your team's work progress. You can easily access it in the software from any place in the world. With Samepage you can not only manage tasks but also boost employees' productivity.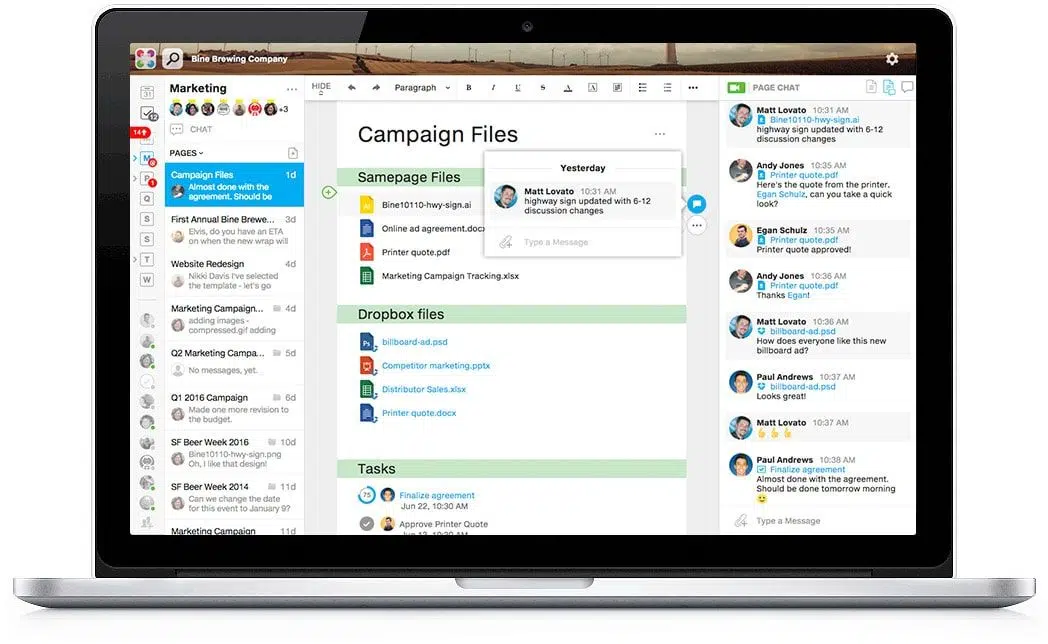 Basecamp is a popular project management software widely used by many organizations. But besides its basic features for organizing workflow and managing team's work, it enables to communicate effectively with your team. Basecamp has all the features of a good project management software including scheduling, client access, reports, and many other. But the chat feature makes it easier to keep all tasks and information in one place.
Basecamp chat feature makes it possible to use the software instead of e-mail to exchange correspondence, share important information, create real-time group chat or send private messages.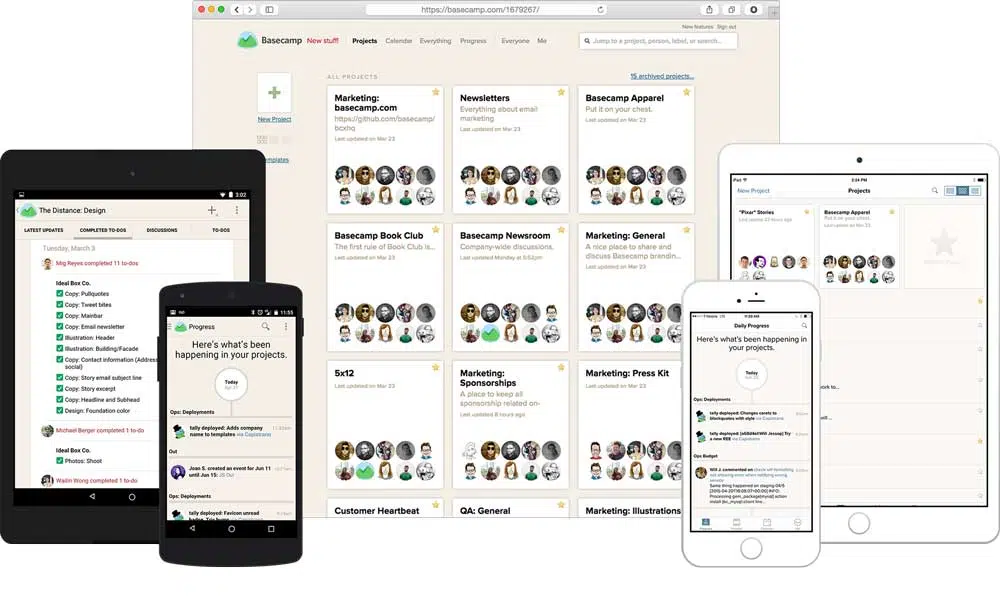 Quip is another tool enabling collaboration. It's a software which helps to centralize work of your team. In one place you have all tasks which you can combine with chat. The software's main function is to create documents and work in them in the real-time. Every document can be edited by the member of your team. Above all, you can freely talk to people in each task. You can customize documents to make work even more transparent.
Quip is an easy-to-use and intuitive tool which makes work more effective. The tool is available as a mobile version so it's easily accessible.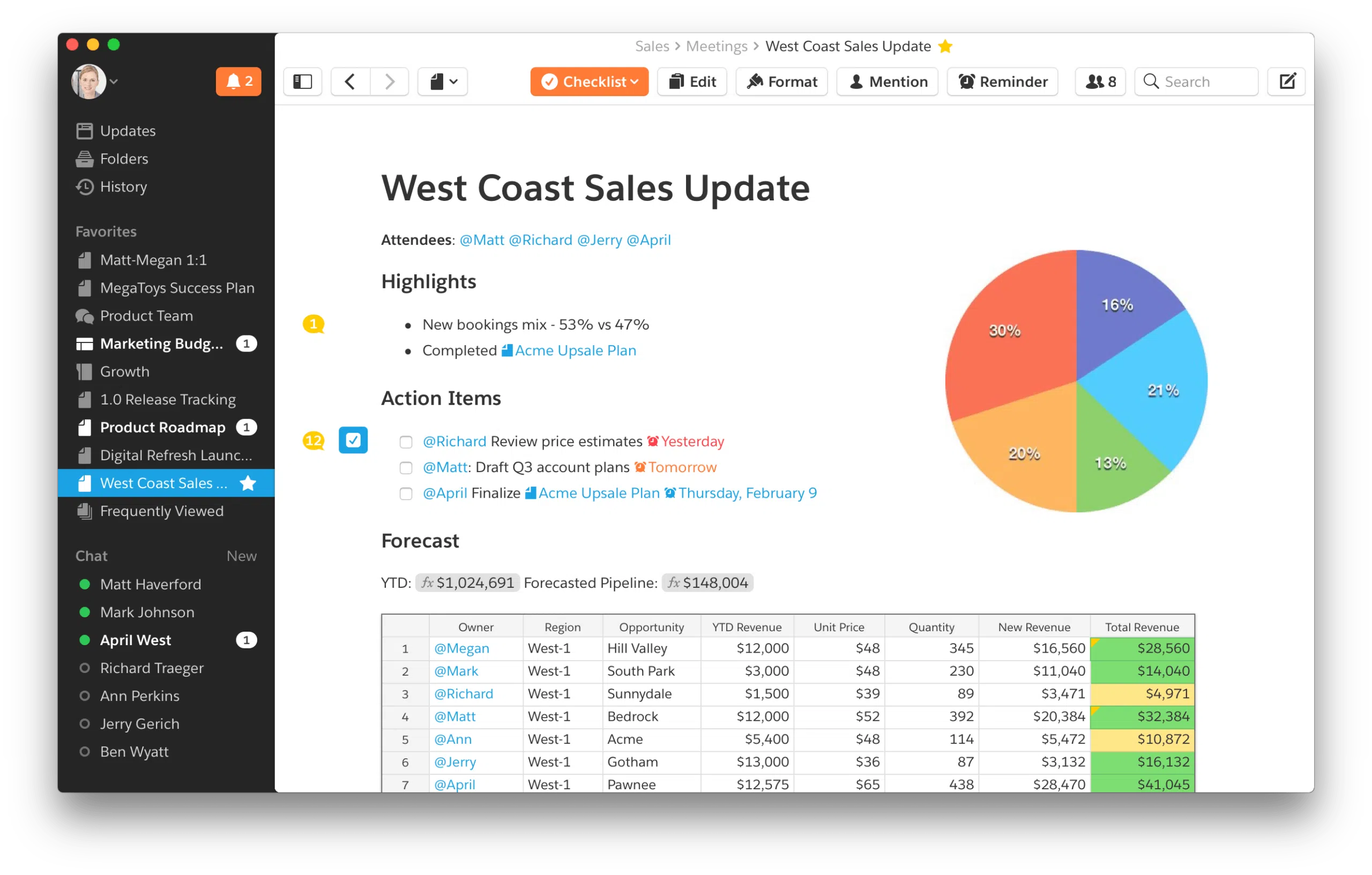 Certain tools are created for certain purposes. RingCentral Video was created to enhance team collaboration via a solid communication channel. It's an easy, intuitive, and functional task management software with chat. It's a great solution for enthusiasts of simplicity. Apart from chat with the function of screen sharing to collaborate live, RingCentral Video offers managing tasks. Tasks can be easily adjusted thanks to various options.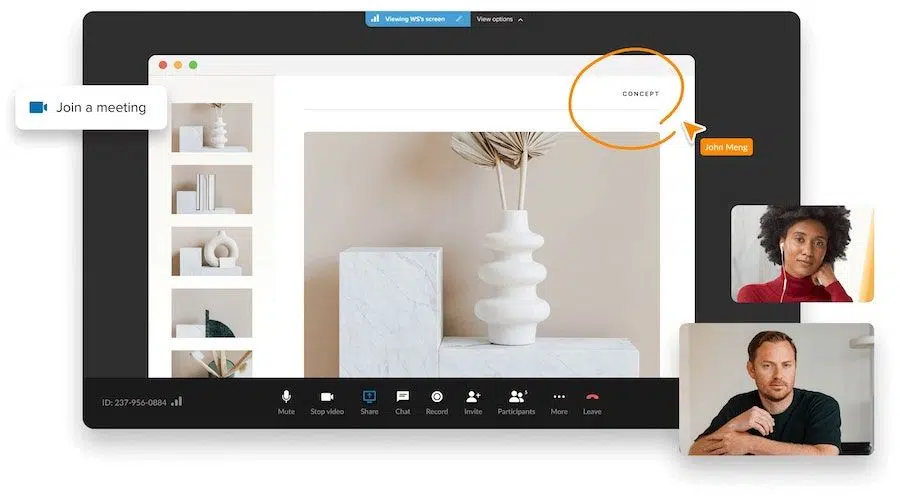 Thanks to ChatWork, you no longer need to worry about all the messages, meetings, e-mails, and all the information they contain. Because ChatWork keeps all the data for you while you can focus on work and managing your team.
"There are chat rooms for each team project. Conversations about each project stay organized in their separate rooms. Every team member can see progress, details and decisions and participate in real-time." As simple as that!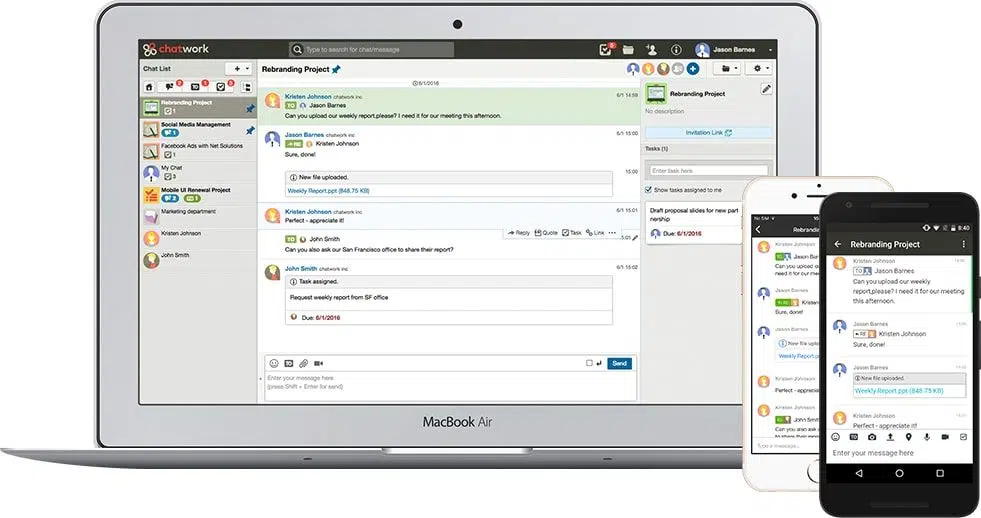 9. SimplyConfirm
This is a cloud-based communication and collaboration software. First of all, you can freely chat with people from your team in an individual or group conversation.  The software is encrypted so that your files and conversations stay safe in one place. With its feature of smart task manager, you can be sure that your task was received and understood. Your communication and collaboration are transparent and smooth!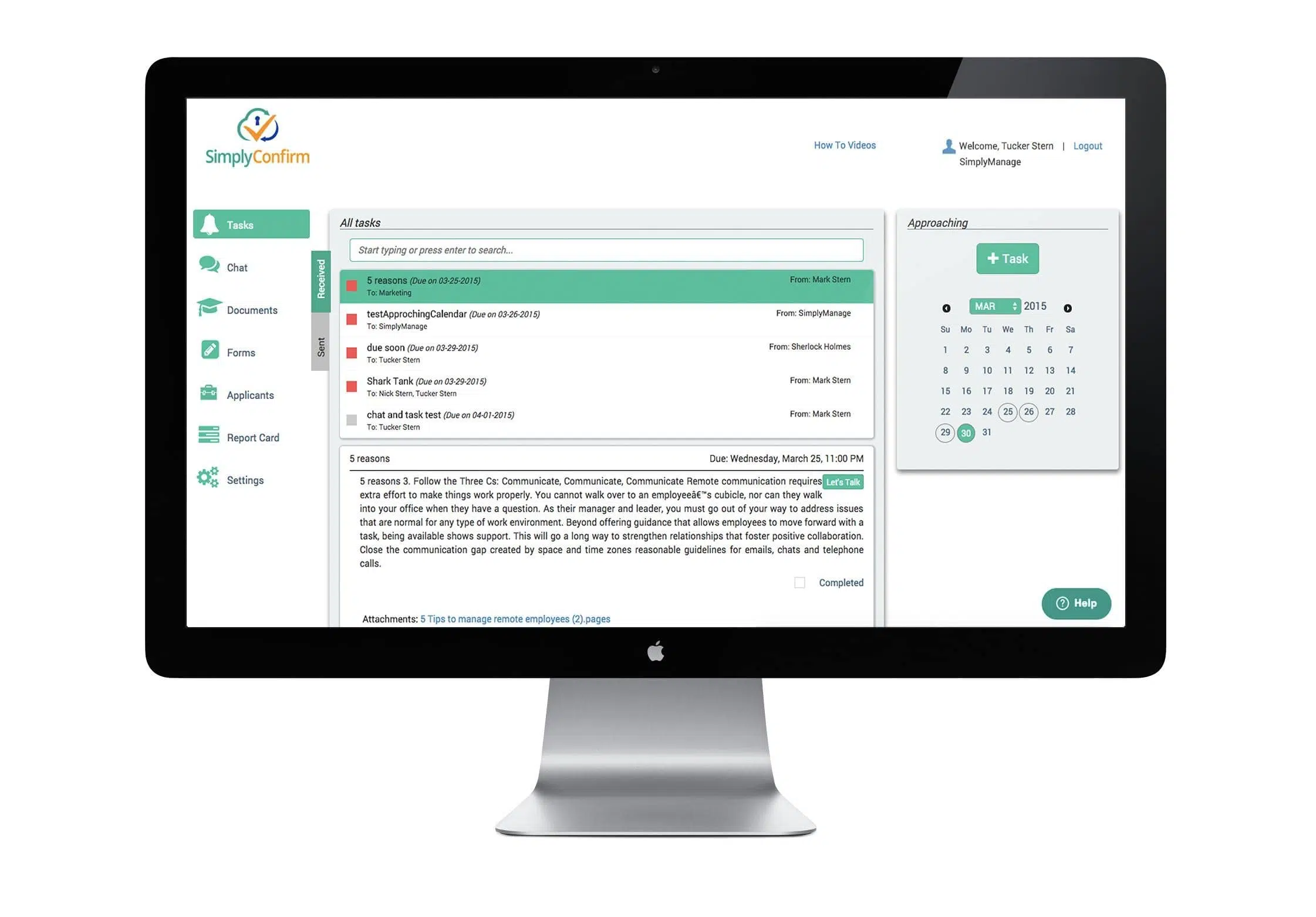 Even though Asana is also considered as a project management software. Similarly to Basecamp, it's a great solution for people who need extensive task management software with chat. It not only allows you to track projects' lifecycle but also to communicate with your team on a professional level while keeping control over all your projects. Asana removes the necessity of using e-mails. You keep all projects and messages in the software without need of switching between other apps and tools.