What is an online consulting?
Online consulting is a veeeery vast term. It covers a considerable amount of jobs. Jobs that usually appear due to the market demand. Honestly, everyone with a decent knowledge on a particular topic can become a consultant on it.
The Oxford Dictionary provides a definition of a consultant: "A person who provides expert advice professionally." This does not sound complicated, doesn't it? What is more, an expert advice does not necessarily have to come from the mouth of an expert! However weird this may seem to you, try to reconsider.
First of all, in today's world, it is very hard to keep up with the development of technology. Thus, becoming an expert in a certain field requires constantly updating information. And with this rapid development of technology, it is quite easy to do so. It won't be that big of an overinterpretation to claim that everyone can become an expert now. It, of course, requires a lot of studying, patience, and self-confidence. You will most likely have to take risks and sometimes count on your luck. But with enough tenacity, you will succeed and then you will quickly realize that the struggle was worth it.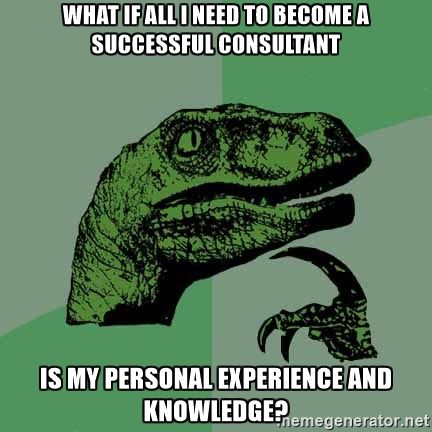 The market for management consulting is growing ferociously. According to Bloomberg, in 2013 in the USA 42 percent of clients planned to hire more consultants, and 5 percent planned to boost their spending on consultants by more than 50 percent.
Also, the U.S. market in 2013 grew 8.5 percent, to $39.3 billion. Marketing and sales being the fastest growing area (25.6%) And those the statistics concerning only the USA from 3 years ago. It has been constantly growing all around the world. It would be nice to be a part of this multibillion-dollar market, wouldn't it?
There is no secret behind being a great consultant. All you need is your knowledge and maybe some intuition to properly analyze the market and offer the best solution to your client's issue. Make sure that you have as much information as you could gather about the subject that you are consulting in. That should be enough.
However, there are some things that you have to consider before taking this career path. Let's discuss those most important:
Formalities – You can be amazing at your job as a consultant but there will be times when a lucrative contract gets filched from you by the person, who owns a document that proves his capabilities. If you feel that you have the right qualifications and there is a possibility to receive a certificate proving your skills. Remember that an investment in oneself is never a wrong investment.
Abilities – Even if you do have all the possible certificates, you have to be sure that you know what you are doing. Make sure that you are up to date with your area of expertise. You do not want to disappoint the client. After all, your opinion is mostly based on online reviews.
Getting Organized – You really have to know how to get things done in a most efficient day. Without properly planning your day you won't survive long on the market. Also, have a long and short-term goals set before you start building your business.