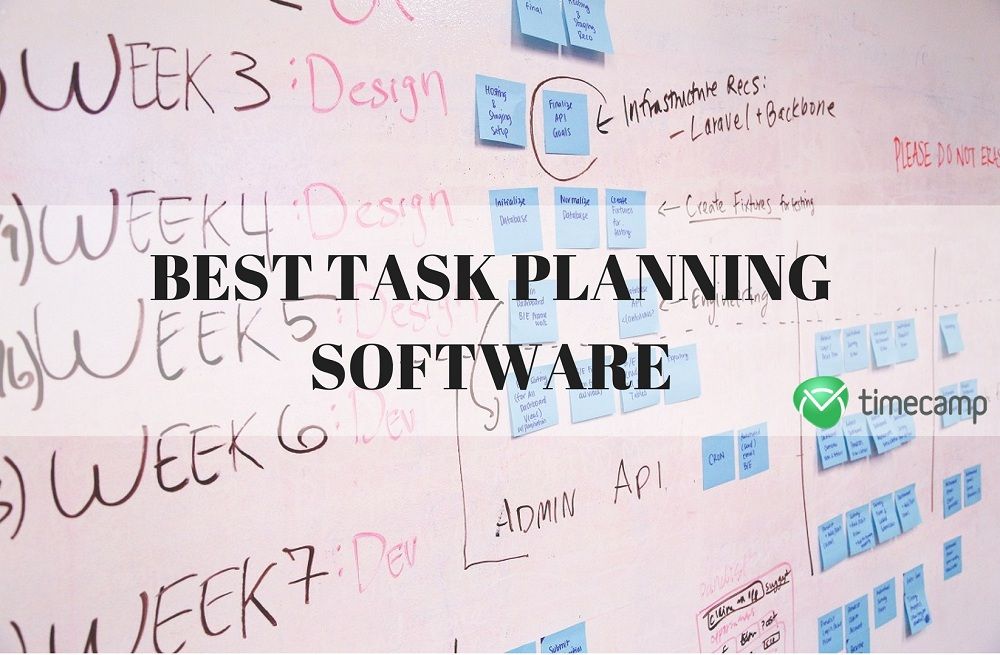 There are certain measures to be taken if a business is to be thriving and the risk of its failure mitigated. Some people consider the idea in the core of a project to be a key question which needs to be kept in one's mind. Others believe it to be finances. All of them are right, no doubt, but were it not for a good work organization, the project would generate losses. Therefore, one needs to find a solution to the issue in question and, here, task planning software comes to one's aid. Below, five examples of the best software of such type are presented:
There is no better solution to those who are looking for an app which would help them manage the project. Besides being a sophisticated time-tracking tool, TimeCamp has numerous handful functions, among others, reporting, billing, and invoicing. But the foremost of its features are time diaries, helpful when the need to document the work arises. This business management solution will meet the expectations of small, medium as well as large businesses facing problems like the inefficiency of time tracking apps, inaccuracy of client bills, or reports. Do you find it difficult to efficiently tackle and solve business problems? TimeCamp is just for you!
Some of TimeCamp's top facets:
Comes with a wide range of platforms. The tool is available for Desktop (Windows, Mac, and Linux, and has native mobile apps available for iOS and Android to help users track their time regardless of location,
Automatically records time usage of each application running on your computer.
Monitors the time devoted to individual documents,
Easy budgeting – budgeting function lets you estimate how much time the implementation of individual projects will take, and thus effectively plan the use of human resources and make a valuation of future similar projects,
Integration with popular project management software such as Trello, Basecamp, Podio, Pivotal Tracker, Wunderlist, Jira,
Measures the working time by particular categories.
Records the time spent away from a computer – detects when user ceased to be active and for how long it lasted,
Automatic time tracking based on keywords which allows you to switch between tasks without any effort,
Accurately bill your customers,
Turn time entries into invoices basing on estimated hourly rates.
For Mobile
If you prefer to track your time through mobile phones, we have an app that is tailored to your needs! The newest version of TimeCamp's app for iPhones and Android phones offer an intuitive interface with a lot of great features, like:
Tap to start or stop tracking time from every place on earth,
Alternatively, create time entries manually,
Generate reports of your time,
Browse your projects and tasks,
Log your time offline,
Easily make notes on every time entry you are working on,
 Edit time entries with just a few clicks,
 Mark time entry as billable or non-billable,
 Browse and edit your historical data or plan your future.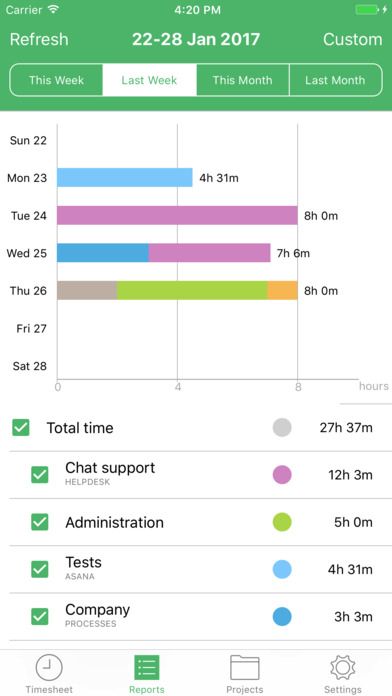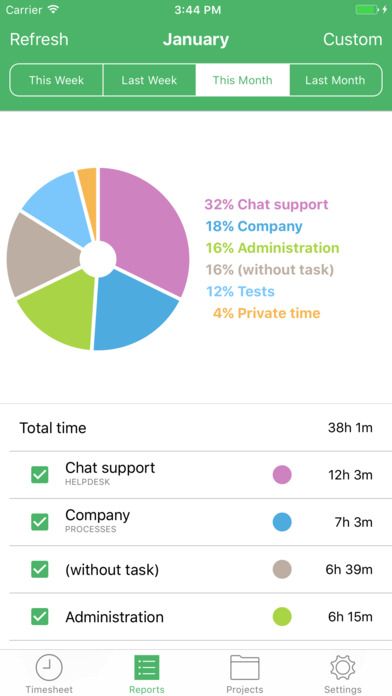 You can find and download it from

Google Play and  iTunes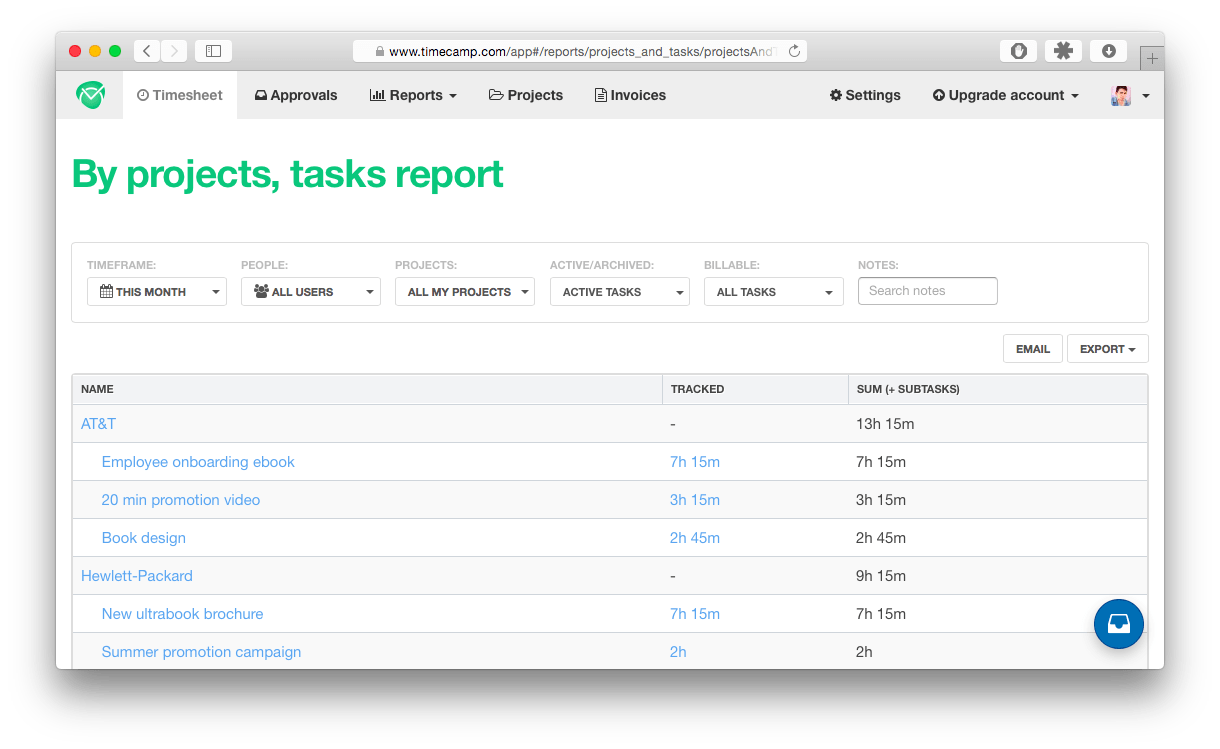 This management tool is known to be a collaborative task management application which aim is to facilitate communication within a team and its organization. What are its particular features? Through program, one has been granted the possibility to organize their work in subjects and share any type of documents (from their desktop or from other integrated apps). Azendoo allows one to organize their tasks and discuss in real time, too.
Interested? Check it out:
What is the is provided with the said app is a complete Agile Project Management System in one bundled package, which will manage your project's requirements, iterations, releases, tasks and issues in one, fully synchronized environment. SpiraPlan is a remedy to a team's problems with the unified information management, being designed to support agile methodologies, for example, DSDM and Agile Unified Process (AUP), Scrum or Extreme Programming (XP).
More about the app can be found here:
This management solution is said to be a collaboration tool able to organize everything at once, arranging one's projects into the form of handful boards. The app sums you project up, informing about what's being worked on, who's working on what, and where something is in a process. Additionally, all that is at hand. The list and card metaphor makes Trello transparent and, consequently, understandable to new users. In short, all your projects, all your tasks, all of your team – organized, accounted for, and easily visible at a glance.
If you are interested in integrating your Trello with TimeCamp,  see our tutorial:
The aim of the app, an Online Project Management CRM, is to facilitate the process of managing one's projects, tasks, and customers. What is more, Drinkle is an amazingly useful tool when it comes to the collaboration with one's team, tracking their customers, logging one's companies activities, and more. It is considered to be one of the most highly rated CRM solutions.
SUMMING UP
Managing your company and the projects you work on, solo or together with a team, does not have to be difficult. Help yourself and invest in task planning software, the best examples of which have been presented above. Give them a try!