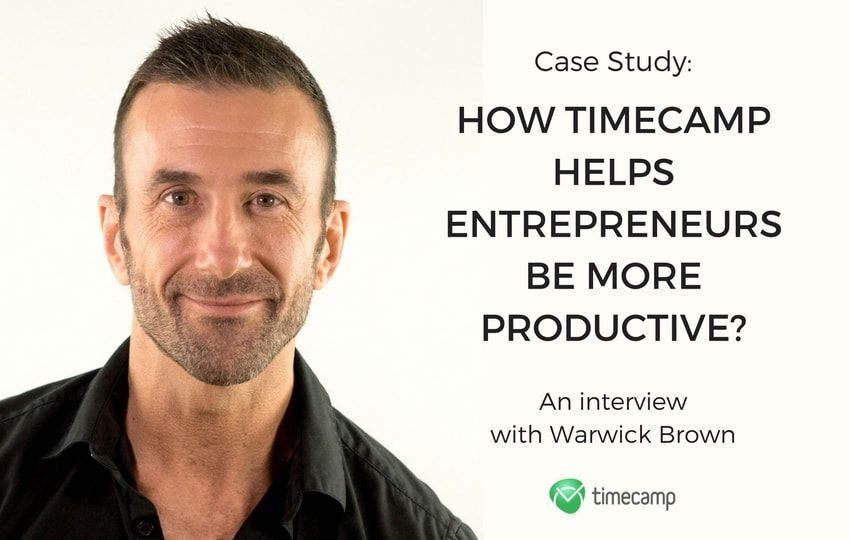 We all know how hard is to overcome struggles of being an entrepreneur. They learn from the mistakes along the way, still trying to improve and be perfect in what they do, working hard to prove yourself. But today, thanks to the wide range of tools and apps designed to streamline the workflow, launching the business or being a manager is much easier and smarter! 
Today we publish an interview with Warwick Brown, a Leader and an expert on Account Management who told us a bit about his way to success and advised about becoming an employer. Moreover, Warwick is a TimeCamp user – take the text below to find out how he uses our desktop time tracker at work and how it benefits him!
Case Study: How TimeCamp Helps Entrepreneurs Be More Productive?
Can you tell us about your daily routine at work? How do you organize it?
W: I lead a team of account managers, which means a lot of meetings with clients, the people in my team as well as leaders within the business.  It's vital to stay organized, prioritize my workload and manage my time in order to be effective. TimeCamp has been an essential tool in helping me become more efficient and productive.
I begin and end my day with email.  Only one hour.  I've learned to limit how much time I spend on my inbox and have it scheduled in my diary like an appointment.  If it's urgent, people will call you.
I try to group meetings together as much as possible. While back-to back appointments can be grueling I prefer to batch them because it's more efficient and often gives me bigger chunks of time which I can dedicate to deep work.  For example, I do all my 1:1 calls with my team on a Friday.
I use ToDoist to help manage email and my daily tasks.  For bigger projects, I use Trello – a simple and intuitive project tool that makes collaboration easy.
Before I head home, I give myself 30 minutes to reflect on how the day went and to plan out the following day, so I know what to expect.  I never turn up to work without a plan for how I'm going to tackle the day.
Check also: Great Software To Organize Your Work – No More Wasted Time!
If you were to advise a beginner entrepreneur who starts his/her first day as an employer, what would it be?

W: It's vital to get to know your team.  Establishing trust and credibility are so important.  Too often I've seen new leaders launch their strategies without fully understanding the impact or without getting the support of the people they need to make it happen. Include your team in the process.  Just because they're junior to you doesn't mean they don't have great ideas or a good understanding of how things work.
Don't make impulsive changes – make sure you've done your homework.
Watch the video where Warwick provides some useful tips for an effective business review! ↓
How did you find out about TimeCamp?

W: I was doing some research for a productivity post on my blog Account Manager Tips and came across TimeCamp.  I'd been using a few other time tracking tools but hadn't really found the flexibility I was looking for.  What's unique about TimeCamp is the timesheet integration to track and bill time spent on projects, the computer time monitoring, the incredible customisation and the granular reporting. I've not come across another solution that does this so effortlessly.