Timesheet software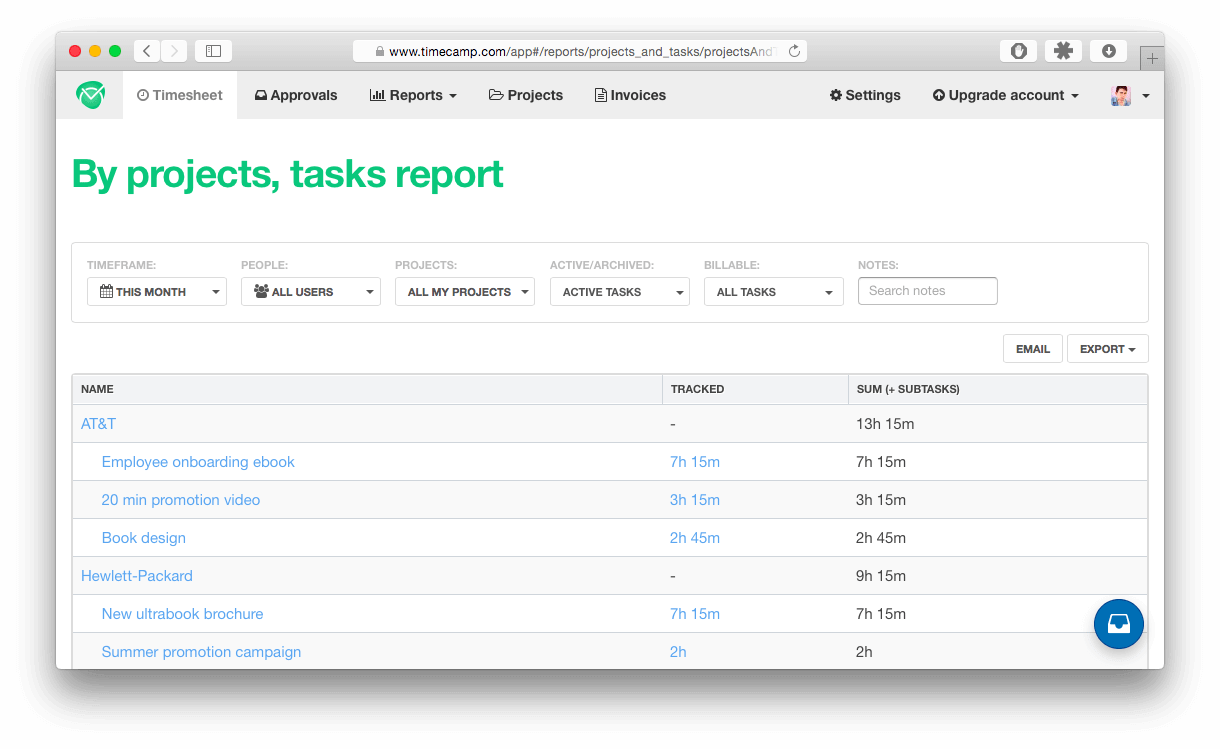 TimeCamp is an online time tracking software providing all the features that you and your teams need to manage projects regarding recording time spent on specific assignments. It is a core of every company that bills its clients hourly for the work done.
Perfect for companies and freelancers
Timesheets are the heart of this process, a starting point for everyone who should measure and record hours. They are key to the company's success.
They help you to:
accurately invoice your customers,
estimate your team productivity and their engagement,
enable to plan your resources better.
And this is just the beginning!
TimeCamp offers a range of other useful features that will ease time tracking experience. With the desktop application you don't need to care about filling your timesheets anymore and thanks to the mobile version you won't miss any of valuable minutes that you can bill your clients for. Go through our tour to learn more about TimeCamp and the possibilities that it has to offer.
---

We know how precious every minute of your work is. Having so many projects and tasks you are working on, you need to set priorities. Time tracking would be at the bottom of your list. That's why it should be easy, intuitive and doesn't take much time. You can achieve it with our new timesheets
---

You need just one click to start measuring time spent on your projects and tasks. All you have to do is enter the name of the task or project you want to work on and run the timer next to the name of the task. From this moment TimeCamp will measure every single minute spent on it. And you can stop it whenever you take a break or switch to another activity.
---
Forgot to click? Enter time manually!

Have you forgotten to start the timer or to stop it? You don't need to worry. In TimeCamp you can still edit the timesheets manually. Just add the record by picking the task or project and enter the time range for this assignment. You can also change the time range for the already logged entries.
Drag & drop
When you want to come back to it, you can run the timer next to the chosen task as it's listed below or enter the name of the task again. Having one task recorded more than once is not a problem. Thanks to "Drag & Drop" option you can sum the time by dragging the records and dropping them on one another.
---
Add notes
Name of the task and the time logged is not always enough. You may require additional information for your client or supervisor who will be eager to see what exactly has been done. You can add notes to your timesheets without leaving them. You have a special place for that right after the name of the assignment.
---
Simple to use, trusted by thousands of companies.
Sign up for FREE