Project Management Tools for Engineering
January 23, 2018
by Jakub Szyszka
No comments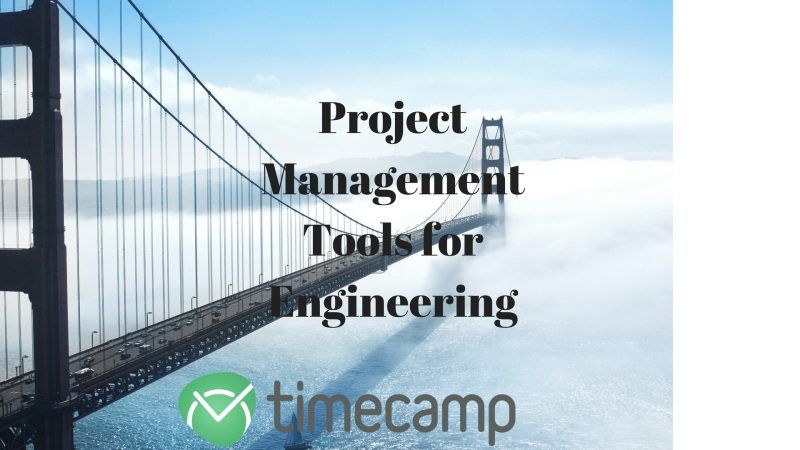 Time is one of the scarcest resources.
To everybody, both individuals and people affiliated with some larger organizations.
And while the former can manipulate it quite freely, being responsible only for their households and family units, the latter not necessarily. They have a lot on their minds. They tend to shoulder both the fate of their companies as well as employees, bother with customers who sometimes demand the impossible, pending projects, revenue and expenditure, and so on.
Such overwhelmed by the dictatorship of time are those who are engaged in engineering. They may be fully-fledged units, but are not machines. It means that such people are not all-mighty and, therefore, controlling everybody and everything is utterly impracticable.
Imagine you are a manager at engineering lab and are in command of at least dozen workers. You wish to put each of their projects on a timeline. How to do it successfully?
The answer: use software facilitating project management. And if you are a manager-engineer in need, you should find the below list helpful:
If Slack and Trello had a baby, it would be HeySpace. It's one of the best tools for sales because of it's functionalities and ease of use. HeySpace is a task management software with chat. It helps to communicate and collaborate with clients, and with other team members and departments. People can manage workflow and monitor the progress of works always up-to-date.
HeySpace allows your sales team to eliminate two or even three different tools – task management software, project management software, and communication software since it combines the key features of these three. No more switching between different apps! You have everything in one place, easy to access and easy to use.
Main features:
Workspaces – you can create different workspaces for different clients, teams or departments
Group and individual chat
Converting conversation into task
Adjustable tasks – you can set date, assign people to it, add tags, description, files, comment on it, add estimates, copy task
Calendar integration and Google docs attachments
Small features for your convenience: status, text editor, attaching files, mentions, history of changes
Notifications
Kanban board with tasks
Hangouts calls
TimeCamp time tracking integration
Available as Web, mobile, and desktop app
Pricing:
Free
Premium – $5/user/month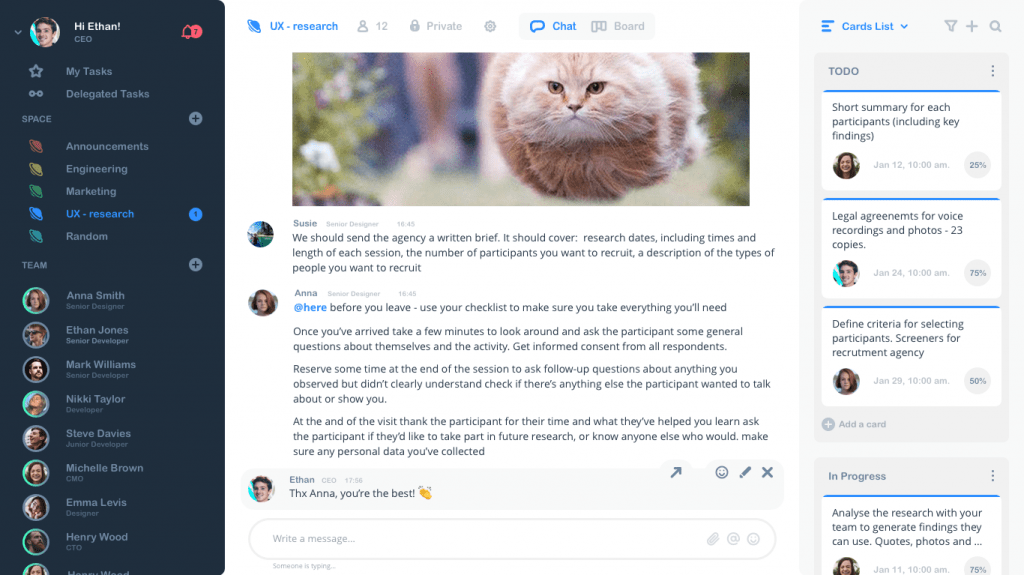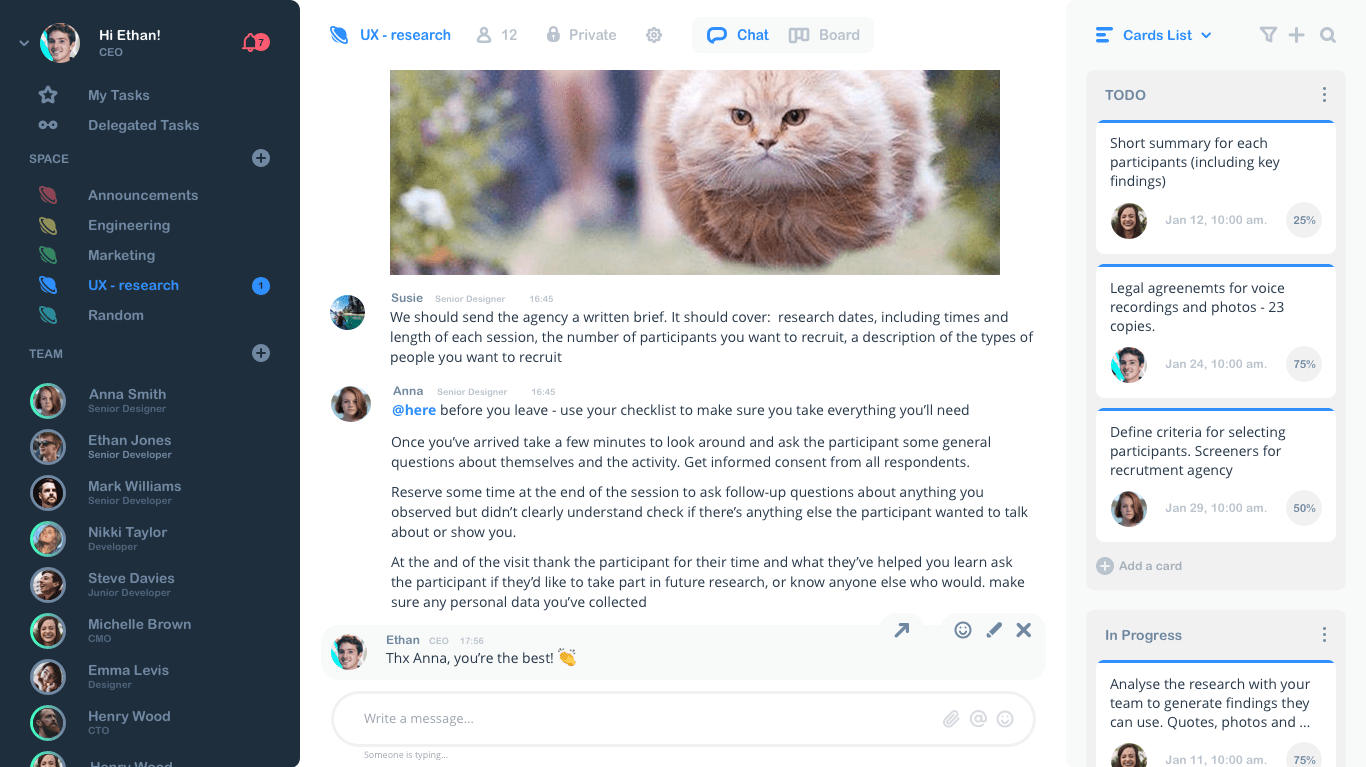 It's considered to be a top open source project management software. The tool is a powerful, agile management platform and is dedicated to start-ups and agile developers. The app enables dealing with both simple and complex projects. Its main aim is to track the progress of a project. When it comes to the design of the tool, it's worth mentioning that it is clean and elegant. Thanks to this solution, it is possible to use either Kanban or Scrum template, or both. Finally, not without meaning is the ability of Taiga to integrate video conferencing functions with the use of third party services from Talky.io and Appear.in. HipChat enables group and private chats.
Why Taiga.io?
Reason 1: It was initially built by a group of developers for their personal use to track and manage the projects they work on. They built it because they are a testy bunch, obsessed with perfection. They tried other tools, but there was always something not quite right. Often it was the small things that really bugged them.
Reason 2: Taiga.io is Open Source! "So, who cares", you might say. Well, here's the thing… the people who write Open Source software tend to be the coolest, most talented and creative bunch around. They selflessly (and sometimes for ego) build things like, oh, say… Android, or BitCoin… and other lesser known things like the MLPNeuralNet to run fast multilayer perceptron neural network libraries… So at Taiga we have those guys, and gals. But here's the thing, they all help each other, So what you get with Taiga is our team AND hundreds, nay thousands, nay millions – of other talented folks eager and ready to make Taiga the best tool in its class. It's all about Community.
Reason 3: Taiga.io is oh so pretty, and witty and bright. We just love the way the cursor slips and slides across the graceful screens.
Source: https://tree.taiga.io/support/frequently-asked-questions/why-should-i-use-taigaio-and-not-insert-name-of-one-of-the-many-worthy-alternatives/
Tutorial:
This software is a project scheduling and management tool. It is for free and dedicated to Windows, OSX and Linux. It has Gantt chart, resource load chart, PERT chart at its disposal. The solution is helpful when the need to read and write MS Project files, export to CSV, PDF, HTML, PNG arises. It cooperates with WebDAV servers. Finally, GanttProject supports project baselines.
Key features:
Gantt Charts
Milestone Tracking
Percent-Complete Tracking
Project Planning
Resource Management
Task Management
Tutorial
GANTT PROJECT TIPS
* Task Properties By right clicking on a task, you are able to then access task properties and change the color, shape, priority, and other aspects of that certain task.
* New Task Insert Icon To avoid the time consuming aspect of right clicking and then inserting a task, use the New Task Arrow Icon on the tool bar to quickly insert a task.
* Resources By clicking on the resource tab, you can access a separate GANTT chart to lay out days project members can work and days they will be off.
* Tips of the Day When you first open GANTT or if you select "Help" then "Tips of the Day" you can find helpful hints of how to work GANTT and develop GANTT project skills.
Source: https://prezi.com/efhlh7ra-qpy/gantt-project-tips/
The tool is an online project and team collaboration management app. Its aim is to enable users to create project dashboards, collaborate team members and work together in real time. The solution's dashboard supplies one with an overview of all the projects and notifications. It gives its users an opportunity to create an unlimited number of projects and invite others via email to work together. It's worth mentioning that this management tool is compatible with Google Drive, GitHub, Zendesk, and Slack. What is more, MeisterTask offers one customizable project dashboards which allow them to create project sections according to their needs. Furthermore, the tool allows its users to get instant notifications of project status when a task gets completed and communicate with others members in real time. Finally, those who use the solution can access their to-do lists on the go via mobiles devices.
Key features:
Task tracking
Task planning
Task scheduling
Mind maps
Project planning
Project time tracking
Time tracking by project
Workflow management
Real-time reporting
Activity dashboard
Tags & keywords
Status tracking
Project tracking
Project workflow
Collaborative workspace
Real-time notifications
Tutorial:
https://www.youtube.com/watch?v=ktrtBJhKyQw&list=PLaYbXe6Ei1YiaXNdgvhX0OuP8oS7ODOdu
Benefits
MeisterTask supports agile workflows such as software sprints, Kanban boards, etc.
It allows user to invite others to collaborate via email.
Users can do real time communication across the devices
Users can create unlimited number of projects
Allows users to upload attachments directly from Dropbox, Camera, Photo Library or iCloud
Users can add task via email
The app is said to be an end-to-end solution, which is dedicated to project managers and team leads. The tool helps collect and organize project requirements, creates project plans, and visualizes schedules on the Gantt chart. Thanks to Wrike, project plans can be adjusted easily, and all involved teams will get notifications about work changes. All is done when the project is still in progress. The custom report builder will enable one slice project data to present results to execs or teams. Finally, the tool supplies one with real-time work updates and personal dashboards, so that each team member will have a clear understanding of their work priorities.
Key features:
File sharing
Subtasks
Progress reports
Branded workspace
Email-to-task syncing
Custom calendars for vacations, sick leave etc.
Workload view & scheduling
Calendar integrations with Google and iCalendar
Andriod and iPhone app
API
User groups
Shared workspace
Task planning
Task scheduling
Task management
Activity dashboard
File management
File transfer
Real time activity stream
Reporting &statistics
Task-related discussions
Automate recurring tasks & projects
Third party integration
Timeline management
Calendar management
Project time tracking
Time tracking by project
Due date tracking
Resource management
Budget tracking
Activity tracking
Activity management
Email & calendar synchronization
Synchronization management
Project tracking
Configurable workflow
Workflow management
Dashboard creation
User access controls
Permission management
Data backups
Role-based permissions
Password management
Data encryption
Secure data storage
Automatic backup
Real time reporting
Tutorial:
https://www.youtube.com/watch?v=fi5vZdLfrPU
More help
https://help.wrike.com/hc/en-us/categories/201188625-Wrike-Videos
This tool allows one to communicate with their in-house and freelance teams as well as control workflows by creating projects and tasks and in turn assigning them to particular employees or teams of employees. The app offers the possibility of using tasks which can be assessed based on the time and resources taken to deliver the project so that one can view a complete historical view of productivities. Finally, the solution supplies one with the possibility to manage their employee production success by narrowing down certain employee profiles to view what tasks were carried out and how effectively.
Key features:
Hosting included
Web based
Dashboard
Daily catch-Up
Task template
Email and live support
Google Drive and Dropbox
Free trial
Open source version
Multiple users
Respond via email
Desktop notification
Unlimited projects
Calendar
Kanban view
Conversation threads
Ticketing/Work-flow
Time tracking
Activities
Email notification
Get started
How to Be More Efficient With OrangeScrum
http://blog.orangescrum.com/2016/03/top-15-tips-to-get-most-out-of-orangescrum.html
Benefits
Resource availability and resource utilization can easily check • Schedule and create task dependencies • Manage to create own workflow as per your business needs • Assign, collaborate, schedule, and track task easily • Automated tracking of used resources • Generate perfect invoice for your customer/client/freelancers • Collaboration and chat in group made easy • Manage your team, tasks and projects with Mobile apps
View Project, Task status with Kanban view with relevant data. • Instant email notification for quick and seamless communication • Daily Project and Team update right in your inbox
This project management tool is for free, additionally,  for unlimited users and projects. The idea behind Freedcamp is the product which would be available to all free of charge for most of its functionality. Free accounts are currently limited to 10MB file size limit with unlimited storage on all plans. The tool supplies one with paid features free to non-profits, teachers and students. One is grated the possibility to add components they need such as Tasks, Milestones, Discussions, Time Tracking and more, when they create a project in Freedcamp.
Tutorial
Key features:
Bug Tracking
Collaboration
File Sharing
Issue Management
Milestone Tracking
Project Planning
Status Tracking
Task Management
Time & Expense Tracking
Useful tips and hints
https://blog.freedcamp.com/category/tips-hints/
SUMMING UP
Time waits for nobody, so get organized! Nobody said that engagement in engineering is a piece of cake. So make an effort. Fortunately, you are not alone. There is plenty of handy project management software to help you WITH that and is listed above!