Project Management Tools for Sales
January 23, 2018
by Jakub Szyszka
2 comments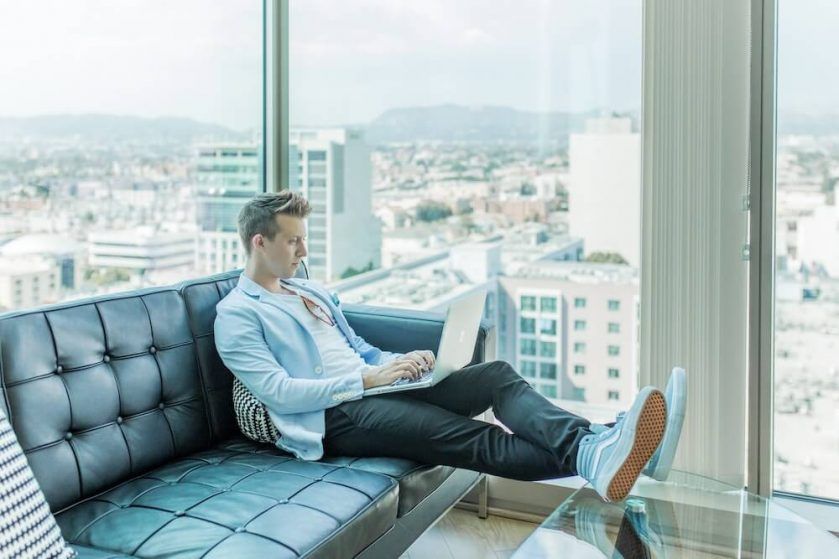 Selling goods and services is not an easy way to make a living.
First of all, there are customers to deal with. Some of them are courteous, no matter they buy products or commodities are offered to them, especially in the last case. Even if they are not interested in the purchase, they would at least hear one out. But there are also individuals who attack with vulgarisms and gruffness.
Furthermore, what one tries to sell can pose problems. Such stock, or whatever else, may not be, for instance, of the greatest quality. However, work must be done if one wishes to earn money and a product/service sold.
Finally, responsibilities and tasks are a heavy burden. Sales managers tend to cope with them as well as they can, but still, those tend to give them sleepless nights.
The last instance is, luckily, something that doesn't demand compromises and effort greater than it is worth it to make everybody satisfied. Here, numerous sales tools, software solutions, and apps for sales teams and sales management comes to one's aid. Some of the most useful can be found below:
If Slack and Trello had a baby, it would be HeySpace. It's one of the best tools for sales because of it's functionalities and ease of use. HeySpace is a task management software with chat. It helps to communicate and collaborate with clients, and with other team members and departments. People can manage workflow and monitor the progress of works always up-to-date.
HeySpace allows your sales team to eliminate two or even three different tools – task management software, project management software, and communication software since it combines the key features of these three. No more switching between different apps! You have everything in one place, easy to access and easy to use.
Main features:
Workspaces – you can create different workspaces for different clients, teams or departments
Group and individual chat
Converting conversation into task
Adjustable tasks – you can set date, assign people to it, add tags, description, files, comment on it, add estimates, copy task
Calendar integration and Google docs attachments
Small features for your convenience: status, text editor, attaching files, mentions, history of changes
Notifications
Kanban board with tasks
Video calls
TimeCamp time tracking integration
Available as Web, mobile, and desktop app
Pricing:
Free – for up to 5 users
Premium – $5/user/month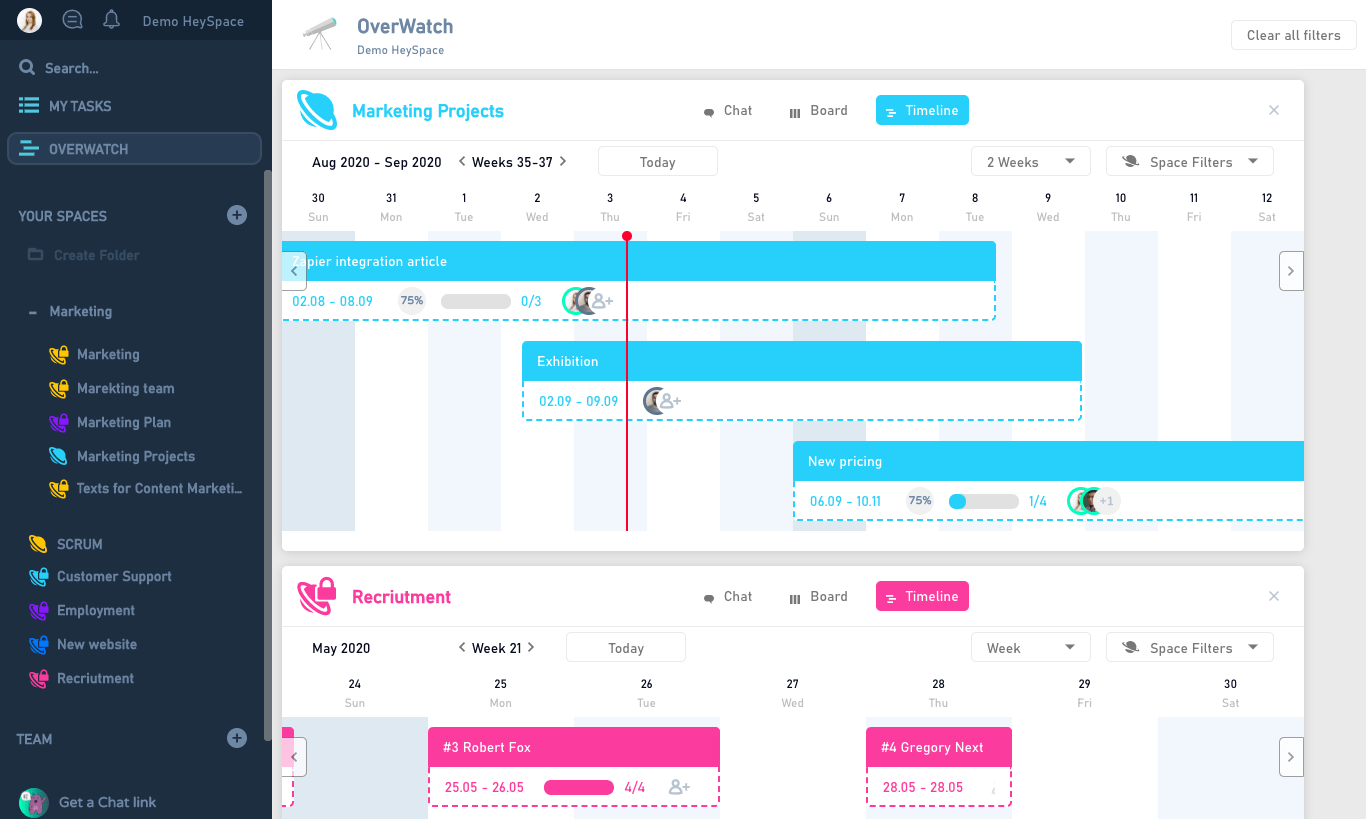 Sounds interesting?
Start 14-day trial in HeySpace
This tool provides one's company with the what it needs by supplying it with a flexible and efficient Customer Relationship Management (CRM) solution. A view of customer information is comprehensive which enables one to communicate clearly and precisely with their customers. Thanks to the said app, all segments of one's business, from customer service to sales, share crucial information needed to collaborate and provide directed communication.
Key features:

Over 75 Tailor-able Reports
Customer Service Incident Management
Campaign Management
Document Linking & Management
Sales and Project Milestone Tracking
Search Tools for Data Mining
360 Degree CRM View
Email and Mail Merging
Tutorial
The solution injects data insights and sales communication tools into one's existing email workspace. At the same time, it will remove barriers to productivity and empower sales teams to make smarter decisions, faster. Thanks to Yesware, one will spend less time manually uploading data into their CRM since the app will sync that automatically.
Key features:
Salesforce Task Management
Email Tracking
Reply Reporting
Contact Insights
Custom Templates
CRM Sync
The program is the CRM dedicated to independent agents and real estate agencies. If you are looking for is a simple, contacts-focused CRM, OnePageCRM if just for you. The idea behind this tool is the approach of a to-do list type, enabling the management of sales leads, where every contact has a Next Action to ensure one always follow-ups. OPC helps capture leads from Gmail, Outlook, Twitter as well as Facebook and create a contact in OnePageCRM in just one click. What is more, it supports one when it comes to managing deals, and it's possible thanks to intuitive sales pipeline. It also grants one the possibility to map their sales route using Google maps. Finally, OPC is available via phone, chat, and email.
Key features:
Performance Reports
Native iOS & Android Mobile Next Action Sales™
OnePageCRM Chrome Lead Clipper
Contact Management
GTD methodology
Custom Fields
Tags, Custom Filtering, Data Segmentation
Activity Tracking
Apps
Open API
Integration with Wufoo
Integration with Active Campaign
Integration with MailChimp
Integration with Google Drive
Integration with Zapier
Integration with Calendars
Integration with Gmail
Integration with iCloud
Integration with Outlook
Integration with Skype
Integration with Dropbox
Tutorial:
The app guarantees a faster, more effectual end-to-end forecasting process. Thanks to data science and CRM integration, the tool makes easier forecast collection and offers one astounding visibility. It enables managers and executives to quickly drill down into the forecast and see changes with real-time rollups from reps. What is more, because of iOS and Android apps, reps, managers, and executives can update and view their business, no matter time it is or where they are.
Key features:
Shared deal history
Automatic capture of selling activity
Sales forecasting
Configurable dashboard
Real-time status updates
Deal priority matrix
Opportunity management
Pipeline inspection
Instant messaging
Real-time reporting
Forecast Management
Update tracking
Salesforce integration
Automated push notifications
Activity tracking
Configurable milestones
Real-time rollups
Real-time forecasting
Predictive analytics
Collaboration tools
Rule-based, data-driven bot alerts
Message history timeline
About the app:
Infusionsoft
Are you eager to grow sales of your company? Choose Infusionsoft and save time. The solution will help you to get organized. A bewildering number of small businesses use this app. Infusionsoft is the only all-in-one automated sales and marketing software built exclusively for small businesses. Thanks to this tool, your company will become a strong competition to other similar solutions on the market. It will also enable you to organize all customers and prospects!
Key features:
Lead Scoring & Distribution
Quotes & Orders
Opportunity Management
Marketing Automation
Built-in metadata and keyword fields
CRM
Drag and drop to craft and publish landing pages
Web Forms
Social Sharing
Easy Publishing, Landing Pages
Email marketing, Automated Campaigns
Multimedia marketing management
Marketing reports
Scoring tool.
Sales Reports
Multimedia Marketing
Referral Program Management
Track orders, sales totals, accounts receivables, etc
E-Commerce
Payment Processing
SUMMING UP
If you want to make a profit in the business of sales marketing, you need to get organized. And there is no better way to that than using software, the best examples of which are listed above.