Best Project Management Tools to Achieve Goals Faster 2023
February 9, 2023
by Ola Rybacka
No comments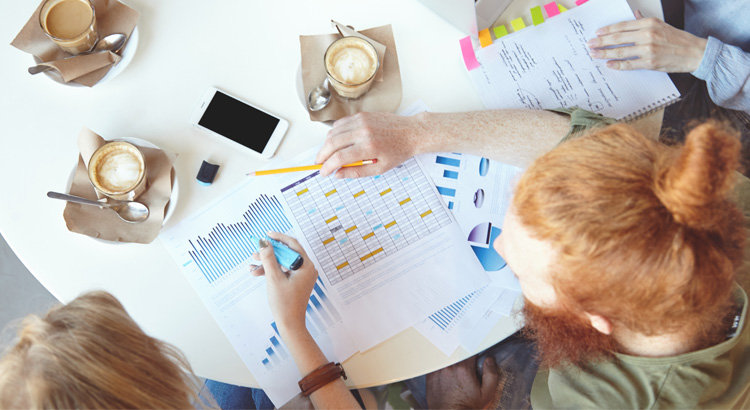 Managing multiple projects for many various clients at once requires unique solutions. Sure, years ago, a calendar or a pen and paper was enough, and people somehow managed to do it efficiently, but why not get some help when it is so easily offered? Web-based project management is faster, more effective, and paperless, which is an extra perk if you're a green solutions supporter.
Let's take a closer look at the project management tools – the most popular ones that could serve well for almost every company and the more industry-specific apps!
General project management tools
TimeCamp 
💚 Automatic time tracking software that helps you keep an eye on project progress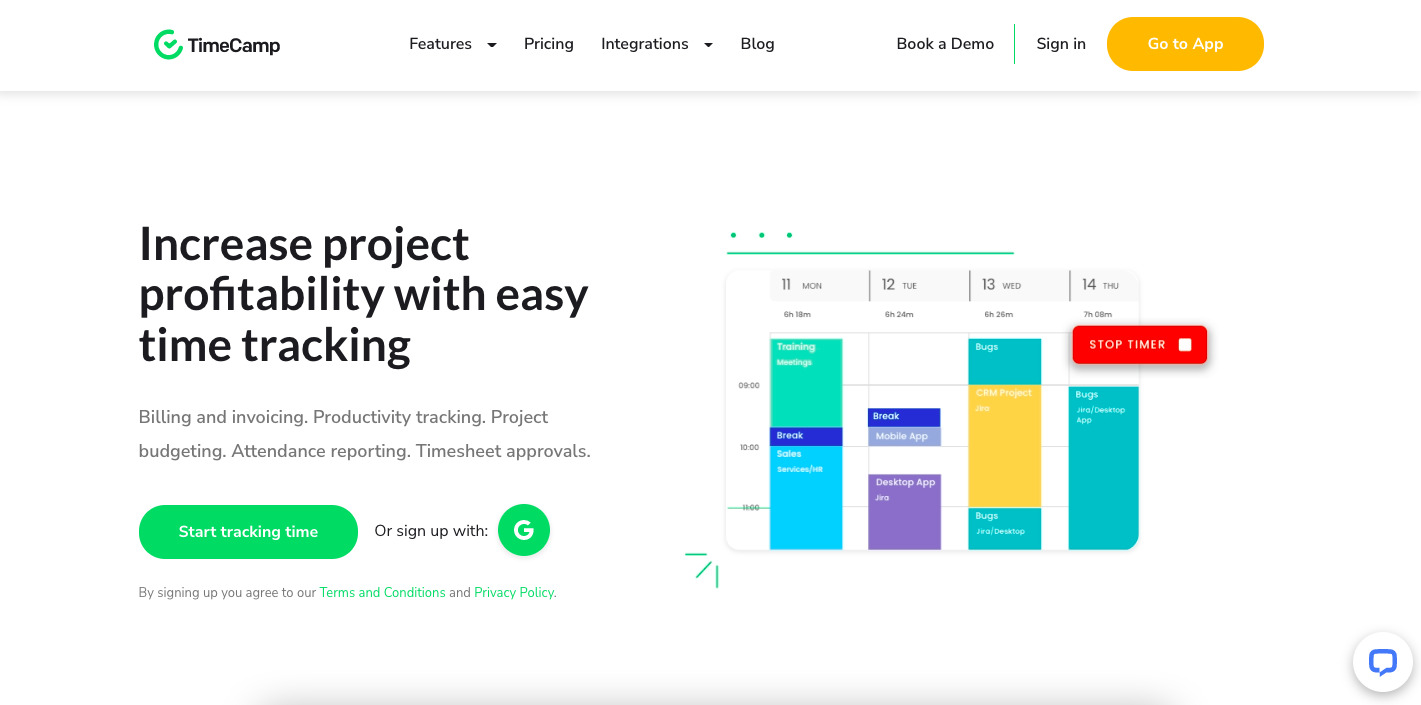 We all know TimeCamp from its robust time tracking features.
But did you know that thanks to its tree-like task management structure, you can also use it as a simple project management tool? Assign s many tasks and subtasks to your projects and enjoy a clutter-free view of time consumption across the project tasks.
TimeCamp also offers a wide range of project management tool integrations. It connects seamlessly with tools like Trello, Asana, Monday, Clickup, Jira or Azure DevOps ( the last two integrations are highly appreciated by software development teams). The tool imports 1:1 project structure from your online project management tools, so you can be sure every single hour will be billed accurately and assigned to an appropriate project.
Pricing: The free plan is available for unlimited users with unlimited projects. The Starter plan is $3,99 per user/month billed monthly ($2,99 per user/month billed annually), Basic plan is $7.99 per user/month billed monthly ($5.99 per user/month billed annually), Pro – $10.99 per user/month billed monthly ($7.99 per user/month billed annually), and Enterprise, on-premise, offer custom pricing.
Want to easily track time for projects and tasks? Sign up for a free TimeCamp account! 💚
Basecamp
👉 Project planning and tracking project progress tool to manage multiple projects effectively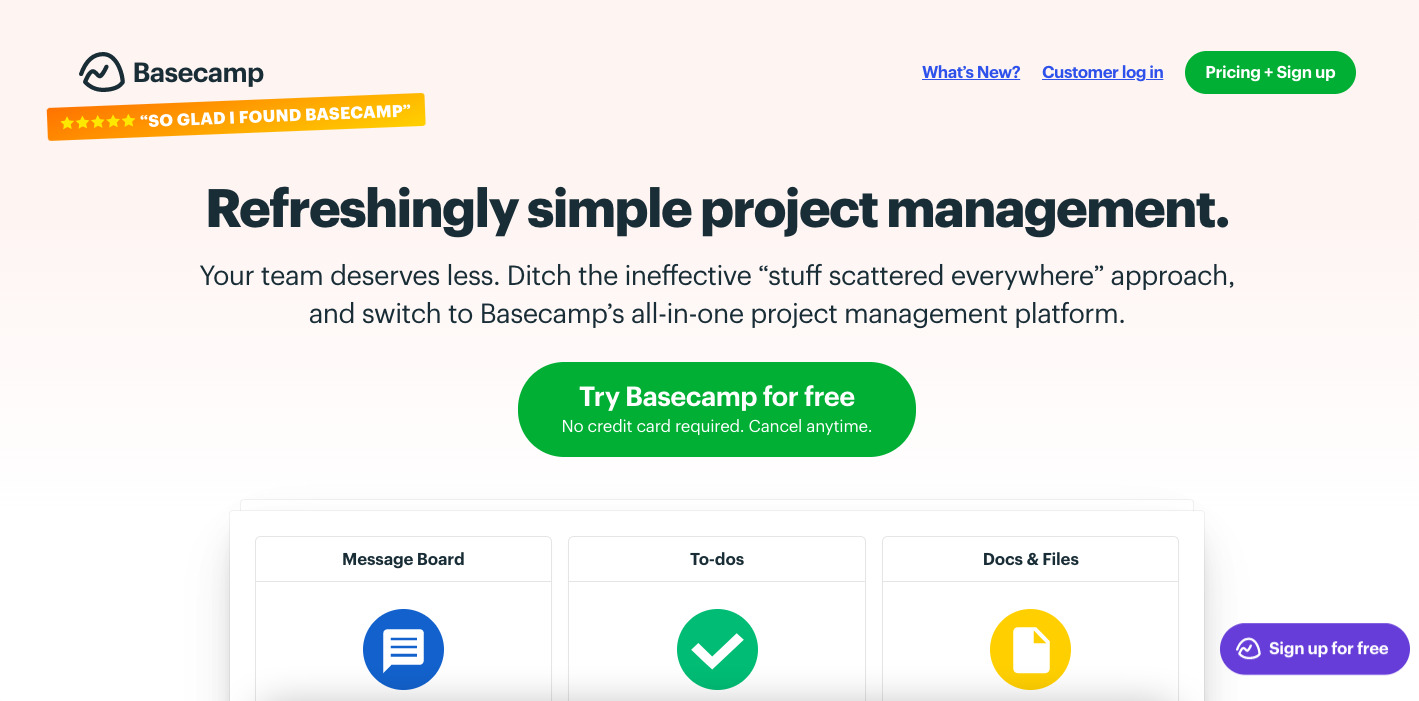 Online project management system is incredibly useful when it comes to managing projects and your team, no matter where your team members live, Canada or Congo.
Basecamp has at its disposal a wide variety of features that aims to improve the system of project monitoring and getting things done on time. It is an intuitive and user-friendly tool that can be run in minutes. This project management app is hosted in the cloud. In addition, tasks are presented in the form of handy to-do lists with due ranges and dates; each employee is assigned to tasks they're responsible for.
All that has been done to avoid chaos and confusion. The next amazing feature of this app is the way how one gets to prioritize and reorder tasks and adjust the system to one's needs.
Finally, the program is also an astounding medium enabling coworkers to share ideas, proposals, or align reference conversations, which in turn helps you to make sure each team member knows what others are doing as not to double their work.
Price: Basecamp isn't a free project management software; paid plans start at 15$ per user/month.
Podio
👉 Team collaboration tool with project management tool features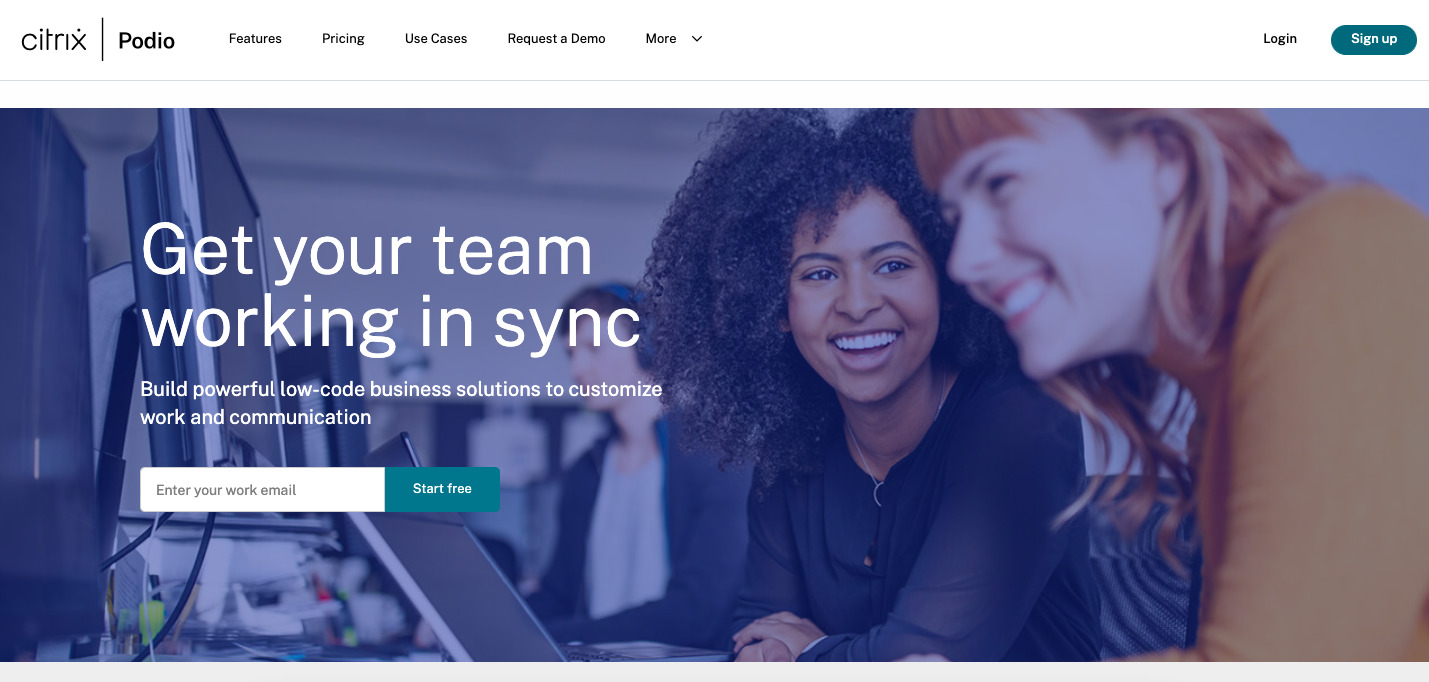 It is a system that is said to transform teamwork into something enjoyable. A bewildering number of teams consider Podio to be an incredible tool when it comes to communication with coworkers and task organization. The value of this tool is even higher thanks to the fact it is completely customizable to suit one's project needs. Who is Podio ideal for? Those are small and medium businesses, public administrations, nonprofits, freelancers, and professional services.
Furthermore, communication is also closely tracked and organized. Whatever you need, an urgent message from a member, or simply want to share information, Podio keeps everything in one place for easy monitoring. Updates, comments, and changes are done in real time, so your project is kept on track.
Finally, it is worth adding that  Podio is available on Android and iOS so as to enable you to get access your project plan even when you're mobile.
Check our Podio time tracking integration!
Price: Podio is one of the free project management tools. But if you need something more than basic task management, check their paid plans that start at $11.20 per month (for all team members) if billed annually.
Trello
👉 Kanban-based task management tool for project and resource planning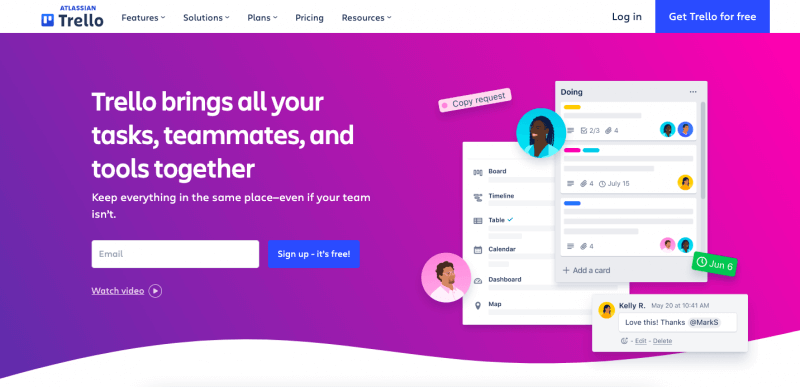 Trello is a tool created for collaborative conceptualization, where anyone can contribute to the work of the group and help with the completion of the project. In short, it is a to-do list service with additional time tracking, so we can use it on our own to neatly organize our schedules.
Visualizers should fall in love with Trello. You can add photos, tables, and schemes to enhance our board, giving it a more graphical look. This is a very basic tool with a few features to it, but many can actually find it likable.
By the way, Trello offers a wide list of power-ups that expand the abilities of this popular project management tool. TimeCamp is one of them. You can effectively measure time spent on tasks allocated to Trello cards with the TimeCamp + Trello Power-Up to increase your productivity.
Check how it works!
Pricing: Designed for small to mid-sized companies, Trello offers a free plan and paid plans that vary in the number of features, cost $5, $10, and $17.50 per team member per month, billed annually.
Flow
👉 Project management tool for collaborative teams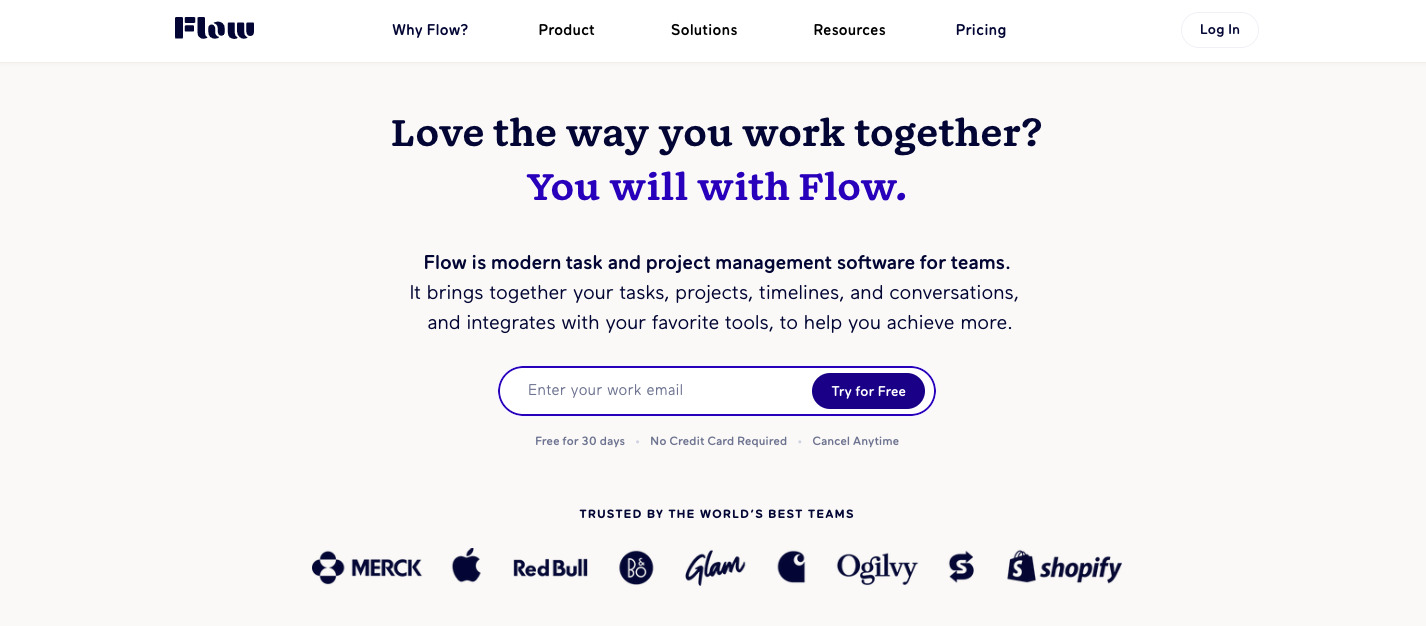 If you are looking for a simple online project management tool, Flow is just exactly what you need. The software is dedicated to teams. It helps plan projects, prioritize to-dos, delegate tasks, and stay perfectly focused on the work that matters. It integrates with Dropbox, Harvest, Box, Google Drive, and Slack.
Pricing: No free plan is available, but you can test it for free for 30 days. Paid plans start at $6 per user per month. 
Wrike
👉 Resource management solution with task management features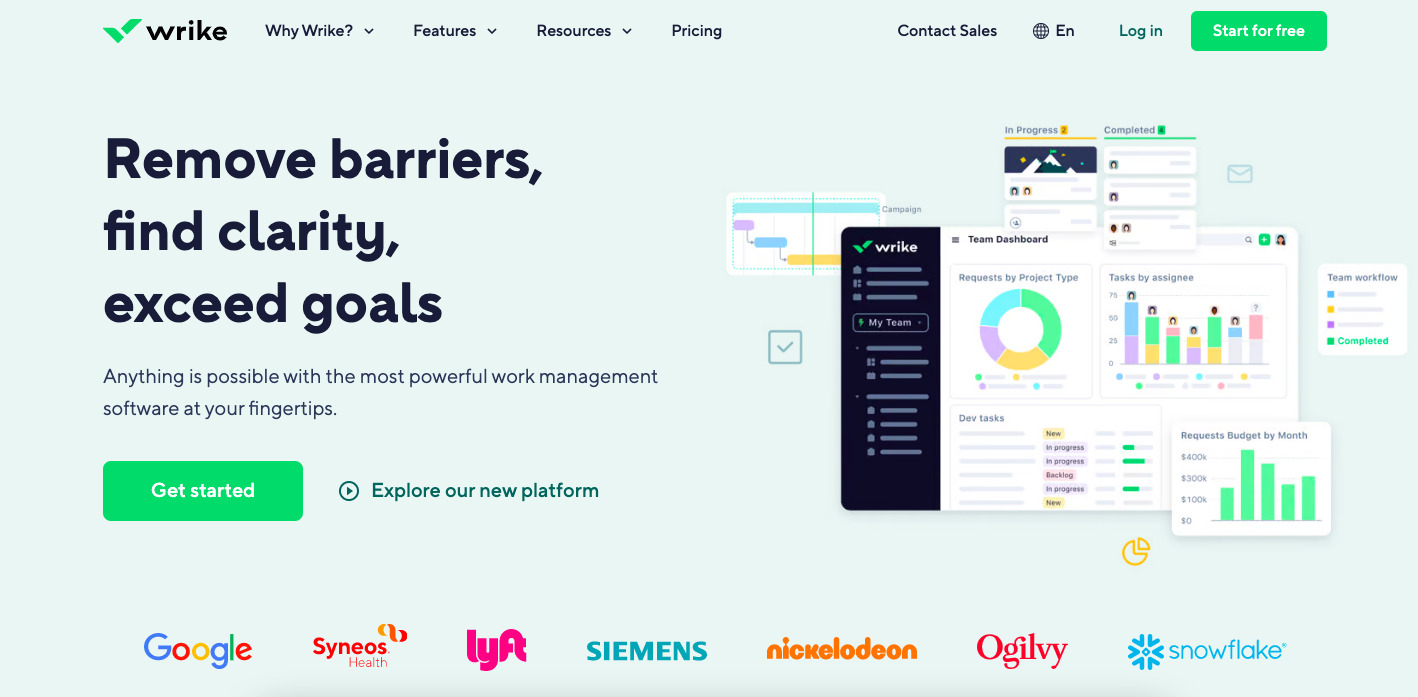 Designed for mid to large-sized companies, Wrike is a project management solution that works best for longer-term projects with task-splitting. It has a logical system that helps in finding and organizing our projects quickly. It also has a tutorial to ensure that users would not encounter any obstacles during work.
Wrike offers lots of features to streamline project management. The tool helps its users stay on schedule and delivers the best solutions for daily workflow management. You can choose between different data views to track progress of your projects: Gantt charts, Kanban boards, or timeline views.
Pricing: Wrike offers a free plan for teams of up to five users. The tool has 4 paid plans – Professional (9.80$), Business (24.80$), Enterprise (on contact), and a special one for marketers (34.60$, all are for user/month but billed annually.
ActiveCollab
👉 Online workspace for project and work management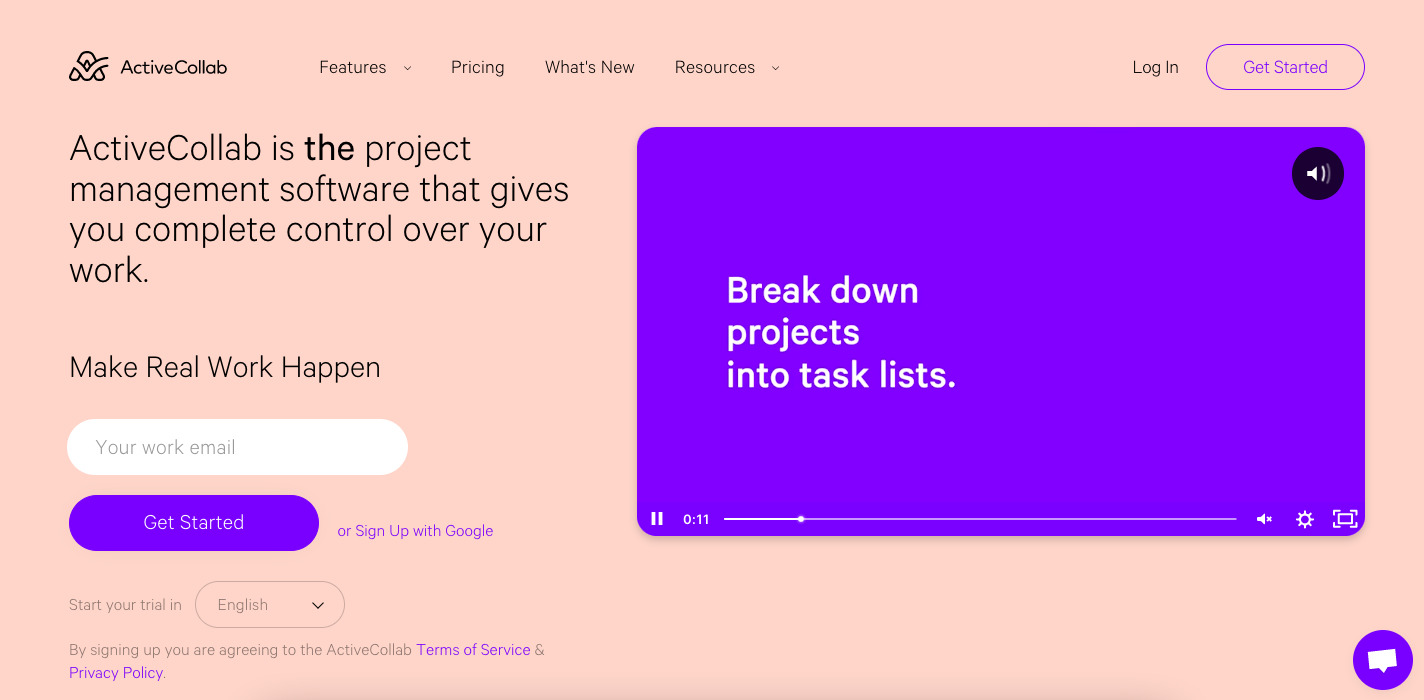 How to boost your team's organizational skills? Through the use of ActiveCollab! Don't be duped by its simplicity! The said app is quite a powerful tool for managing projects, time tracking, and invoicing. It provides you with an excellent overview of your team's activity across projects.
What is more, it makes it possible to bring customers on board, which, in turn, may encourage them to collaborate more eagerly, all for the common good. Besides, tasks can easily be delegated to your team, and a detailed overview of your projects prepared. Finally, you can estimate and track time on tasks as well as quickly issue invoices to customers. 
Pricing: ActiveCollab offers three paid plans; the cheapest one costs $9.50 per user per month, billed annually. But if you need time tracking or invoicing features for your team members, you can pay an extra $2.25 per user/month and get unlimited access to all the features.
Redbooth
👉 Popular tool that combines project management features with team collaboration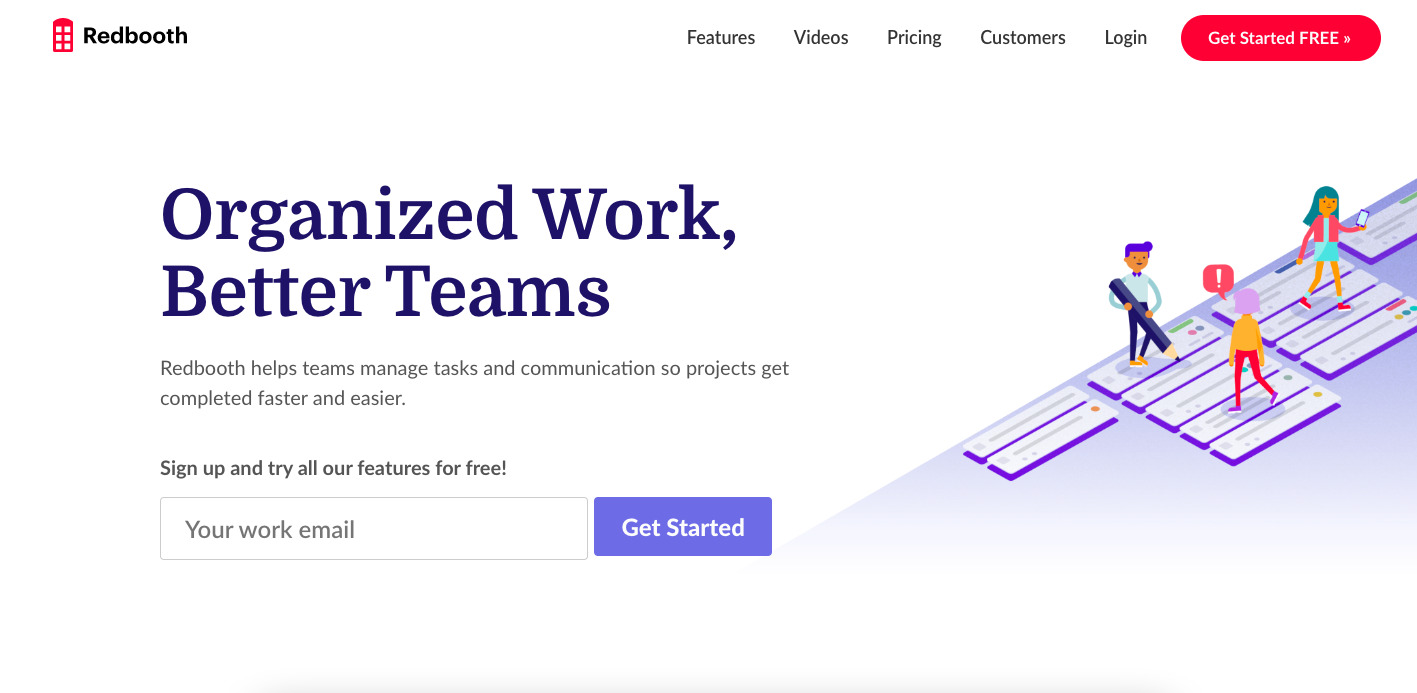 Redbooth project management tool is the workflow management platform that supports teams and companies in the matter of collaboration, communication in real-time, and achieving breakthrough productivity.
More than 6,000 companies from all over the world use this app to transform the way they work. Among those are eBay, App Annie, Harvard University, Deutsche Telekom, Spotify, Thomson Reuters, Nvidia, the Red Cross, ReMax, and Volkswagen Audi.
Pricing: No free plan is available, but you can check all the features for free for 14 days; paid plans start at $9 per user per month and include an enterprise, customizable one for organizations with bigger project management needs.
OpenProject
👉 Open-source task management solution agile project management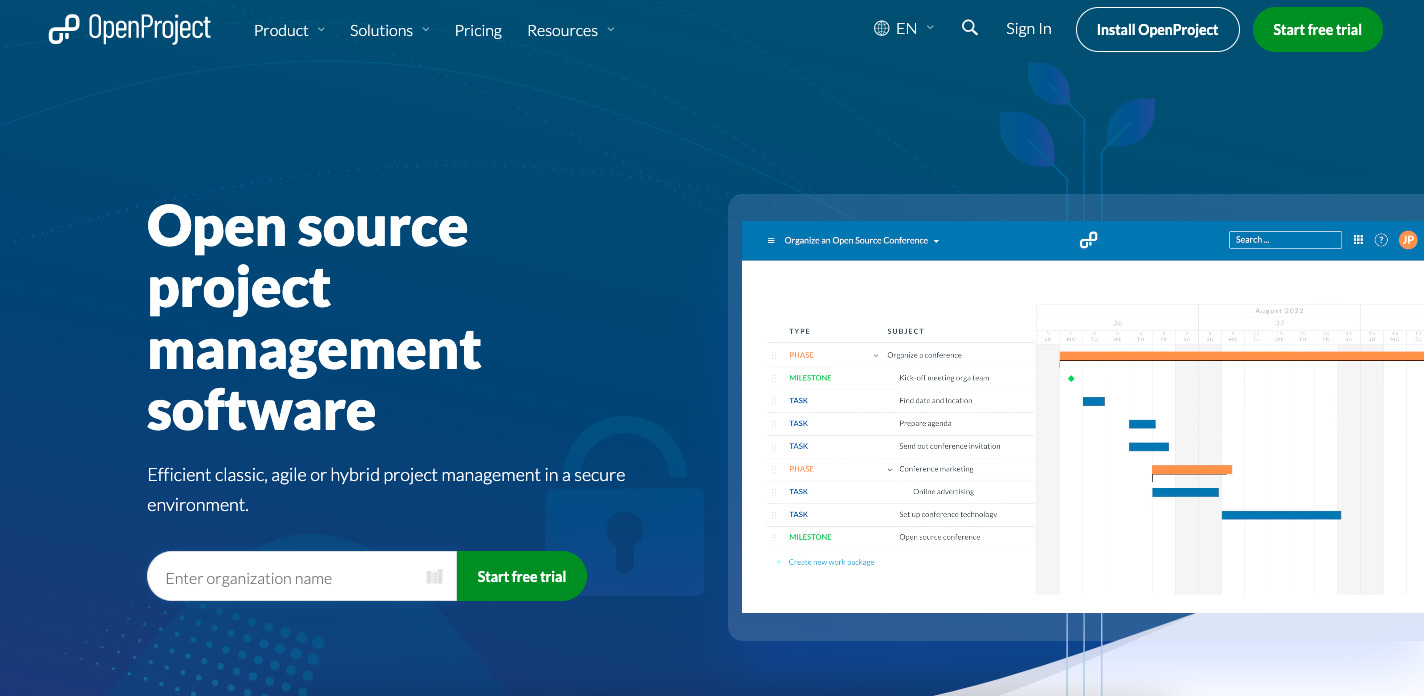 OpenProject is a dynamic web-based platform that can be used not only for the comprehensive management of a project but also for its implementation. It is a powerful tool designed to record all activities related to corporate projects and to make communication between users available (through comments to tasks, forums, and wiki).
OpenProject is equipped with tools to monitor the budget and time consumption of a task/project. Also, it has some functions related to agile methodologies. It is worth mentioning that the system has an API enabling easy integration with other software used by the company. You can download OpenProject from their website here.
Pricing: OpenProject offers a smart pricing calculator that calculates how much the subscription would cost based on the number of team members, type of hosting, and subscription period.
EasyRedmine
👉 Project planning tool with Gantt charts and project templates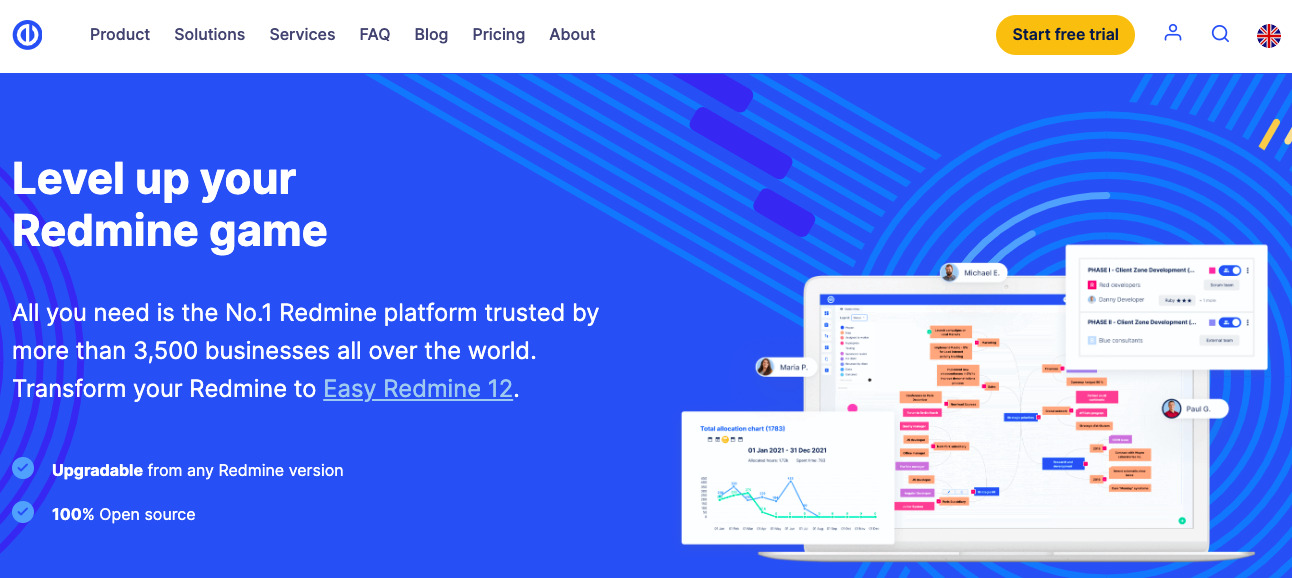 Similar to the OpenProject, EasyRedmine is a powerful system for comprehensive project management. Among its strengths are a large community and the number of available options, which extend the functionality of the platform.
Standard Redmine's capabilities are close to what OpenProject offers (including the API, enabling its integrality). The granulation of users' eligibility is noteworthy – it allows the configuration of users' accounts in such a way that both the project workers and clients would have access to the system). EasyRedmine is available on this website.
Pricing: EasyRedmine essentials cost $5.90 per user month, but project managers can upgrade it to Business or Platform plans that cost respectively $11.90 and $23.90 per user per month.
ProWorkflow
👉 Remote team communication platform with project management tool features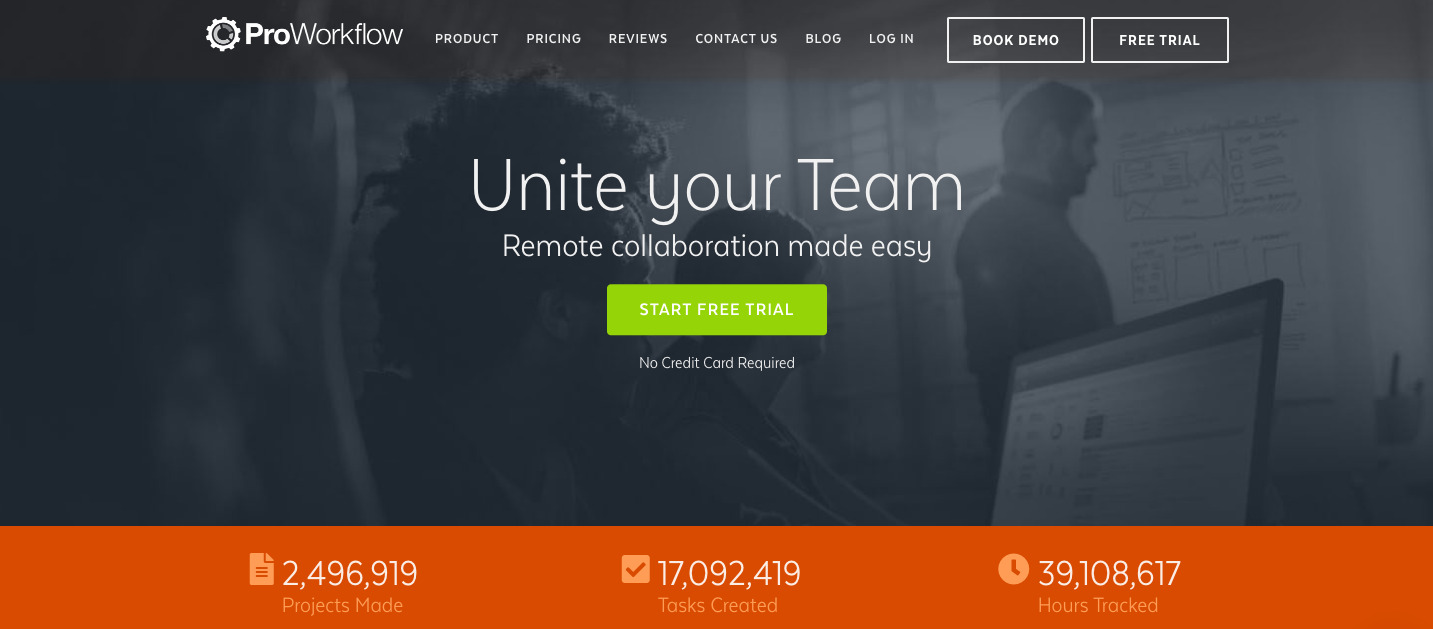 ProWorkflow aim is to make remote collaboration easier. It helps with delegating tasks quickly and managing projects while increasing the level of productivity. The app offers a centralization of project management, file sharing, time and expense tracking, resource management, and Gantt charts. This software helps users by facilitating communication, workflow, resource allocation, and milestone tracking. It has a vast variety of features and renowned customer support.
ProWorkflow integrates with many apps like QuickBooks, Freshbooks, Zapier, or Google Workspace. It is also worth checking ProWorkflow time tracking integration with TimeCamp. It is available as the web, desktop, and mobile app (iOS, Android).
Pricing: ProWorkflow paid plans cost accordingly €17 and €28 per user month when billed annually. No free plan is available, but you can give this project management software a try for free.
Odoo
👉 Set of apps that offers also project management tools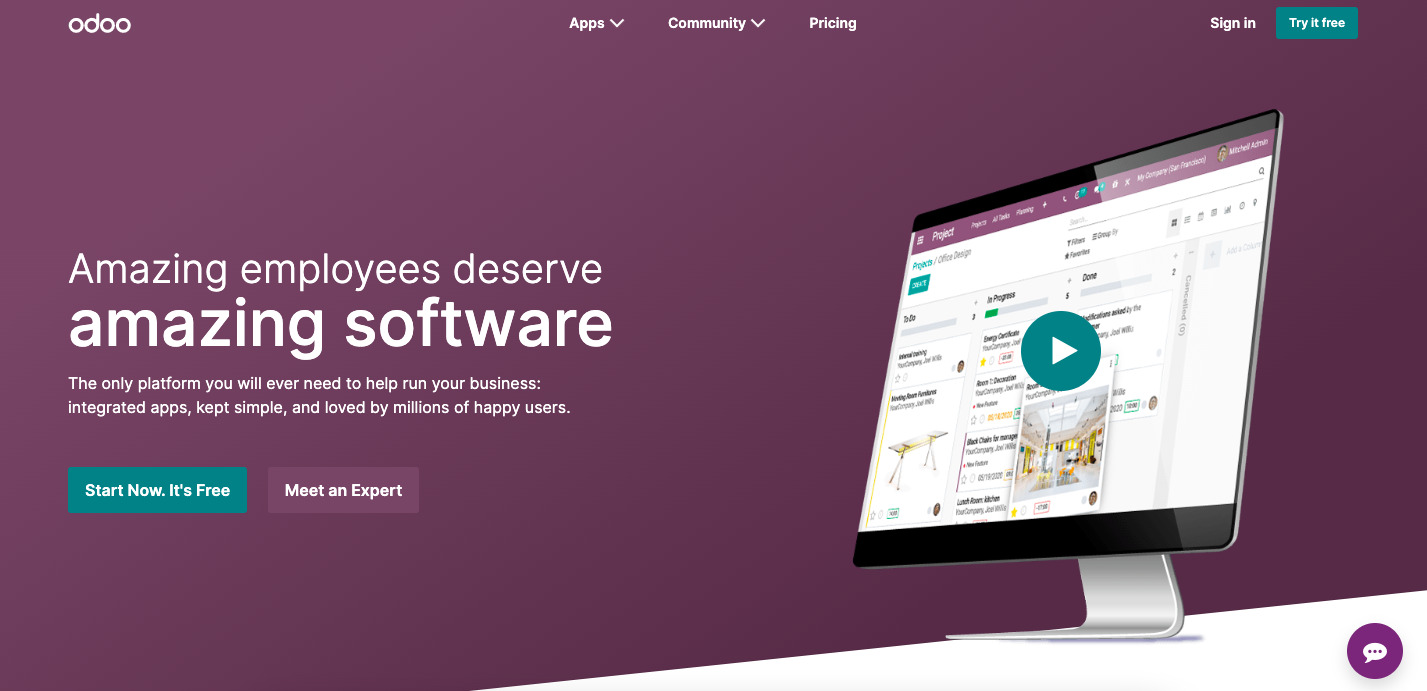 Odoo is a suite of open source business apps that includes CRM, eCommerce, accounting, inventory, project management, and several other applications. In general, Odoo is considered a business management software or an enterprise resource planning (ERP) platform.
The specific apps included in the Odoo suite depend on the edition you choose. Odoo has a mobile app that allows you to access and manage your business data on the go. Some key features of Odoo include customization and integrations.
Pricing: Odoo isn't a traditional project management tool, and so does the pricing. A free plan includes one app, so if you want to combine more of them, e.g. to manage tasks and discuss projects within one tool, you need to purchase at least its Standard plan, which costs €11.90 per user per month when billed annually.
LiquidPlanner
👉 Project portfolio management with predictive scheduling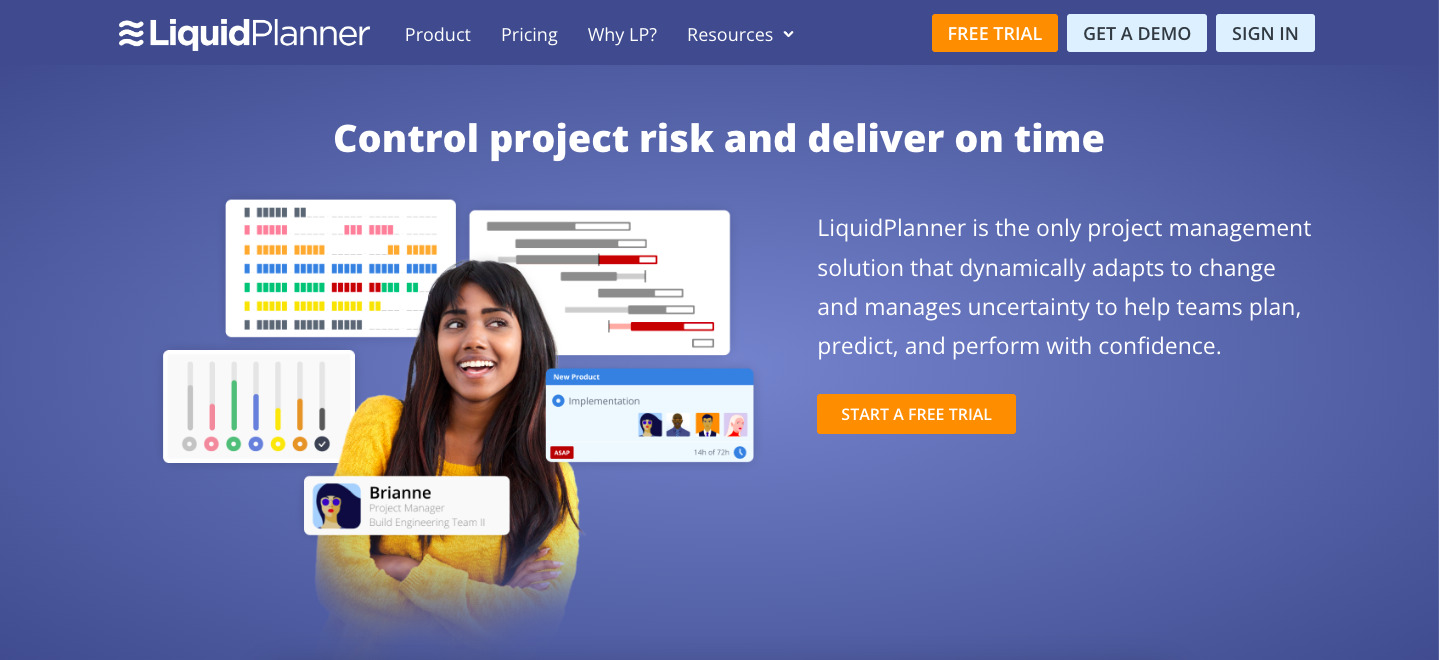 Liquid Planner is a project management and collaboration platform which helps teams plan, prioritize, ans track their work. This tool is used to manage projects online. With its intuitive drag-and-drop interface, LiquidPlanner makes it easy to create and manage project schedules, assign tasks, and monitor progress. Its main features include a task manager, resource management, and collaboration tools, as well as customization options.
LiquidPlanner has a bunch of integrations, for instance, with Zendesk, Slack or Microsoft Teams. It also has a LiquidPlanner time tracking integration, so it is worth checking out. This software is also available on a mobile app (for iOS and Android).
Pricing: LiquidPlanner project management tool doesn't offer a free trial, but the prices of paid plans are affordable; they start at $15 per user month when billed annually.
Project management tools with ticketing
osTicket
👉 Helpdesk project tracking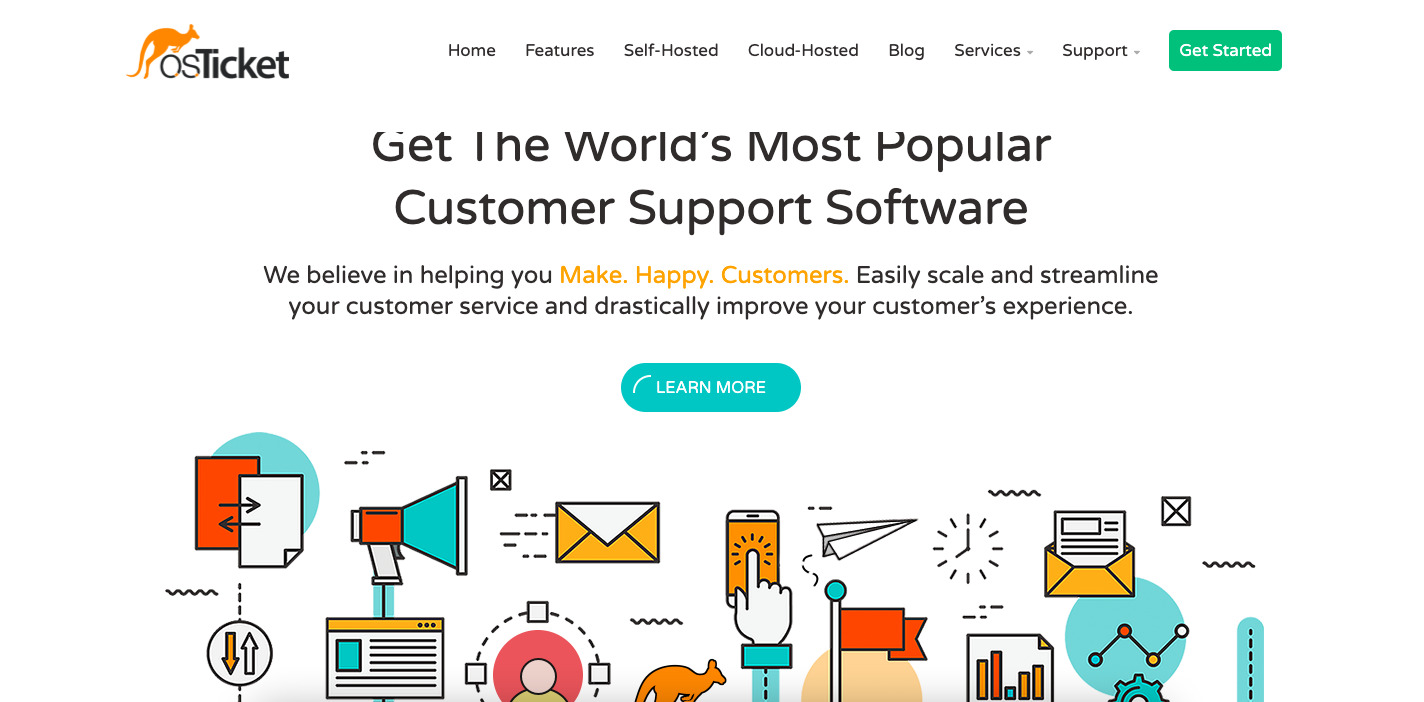 osTicket is an open-source ticketing system that is designed to help organizations manage and track customer support requests. It is a web-based application that provides a simple and easy-to-use interface for managing customer support tickets, helping tremendously e.g. software development teams.
It is a cost-effective solution for small and medium-sized businesses and organizations, providing many features and functionalities for a support team. Some of its main features include ticket management, a knowledge base, reports and dashboard, custom fields, columns and queues, ticket filters, help topics, auto-responder, or a customer portal.
Pricing: A self-hosted, open-source version equals to a free plan; if you want to get all your projects and tickets cloud-hosted, you should purchase OsTicket for $9 per month per agent.
Zammad
👉 Helpdesk software that helps you get the project management chaos under control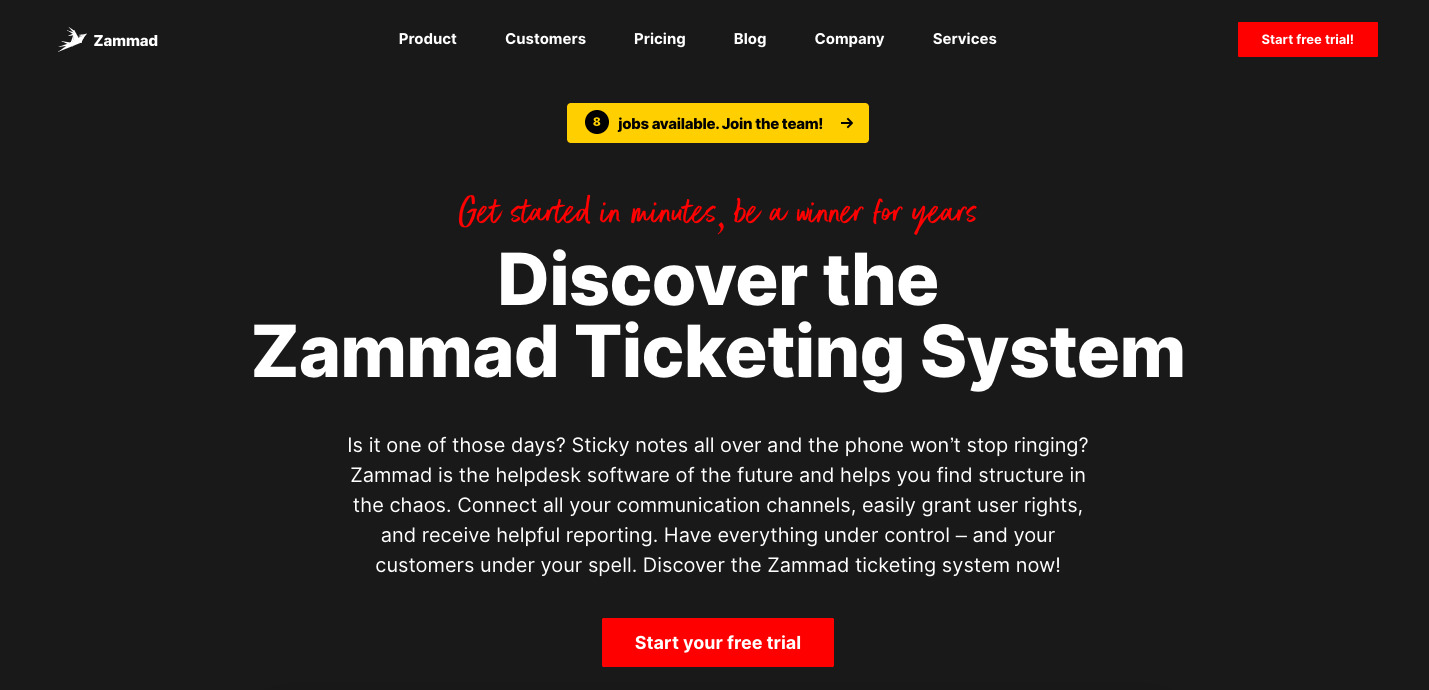 Zammad is a helpdesk and ticketing software made to boost your productivity at work. It is a comprehensive customer service that provides a wide range of features to help organizations manage customer support requests. The software's ability to integrate with various channels and its reporting and analytics capabilities makes it a powerful tool for companies of all sizes.
Zammad also integrates with other tools such as Gmail, Outlook, or Salesforce. It is worth checking Zammad time tracking integration to boost your work efficiency.
Pricing: Hosted Zammad versions start at $5 per agent per month. Self-hosted prices start at $2.499, billed annually. A free trial is available.
GanttProject
👉 Free project management tools for your desktop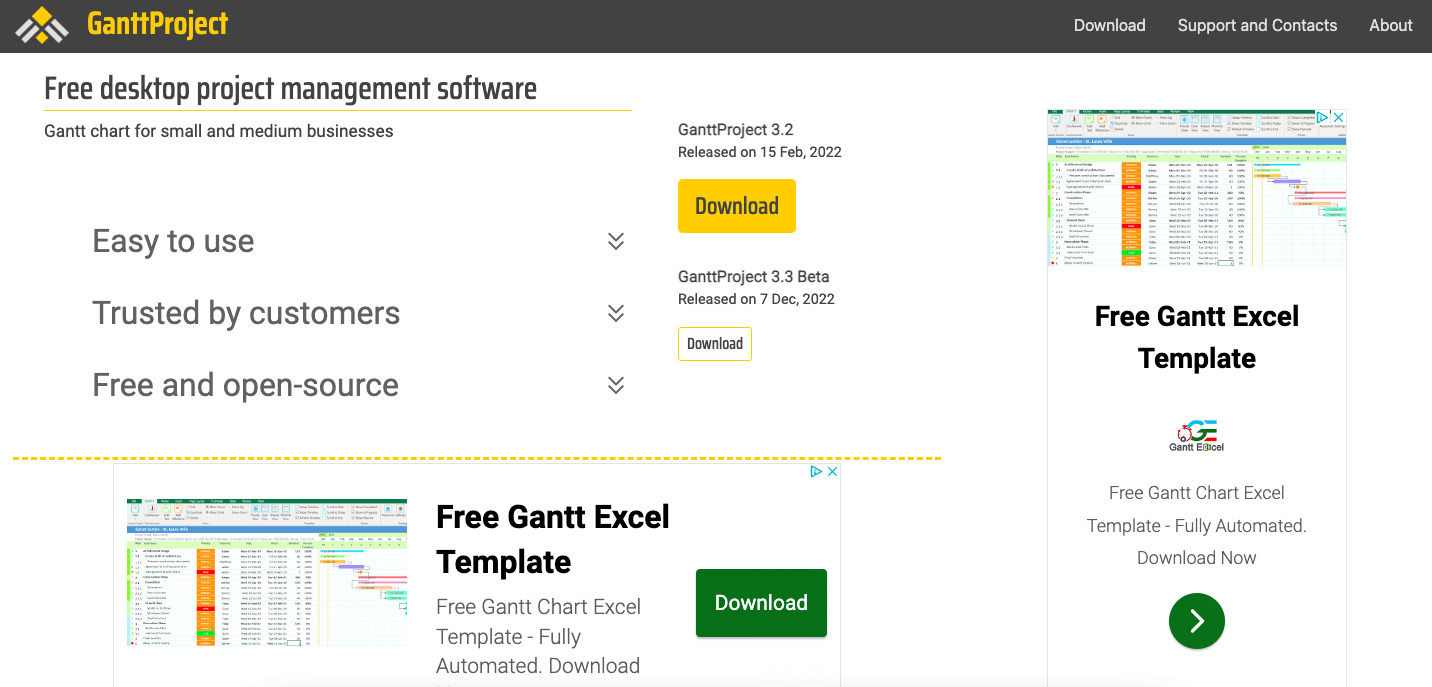 A desktop tool developed project task scheduling and managing tasks and resources assigned to it. It is a free alternative to commercial MS Project that also offers project templates and task lists. The functionality of
GanttProject is not excessively amplified; with an intuitive interface and availability to choose from 25 languages, this program can be recommended to users who have no previous experience in dealing with project management software.
The results of our work with the Gantt Project can easily be exported to image files or PDFs (useful when creating project documentation). You can download GanttProject for free from here.
Pricing: Free
ProjectLibre
👉 A project management platform that is a free alternative to MS Project management tools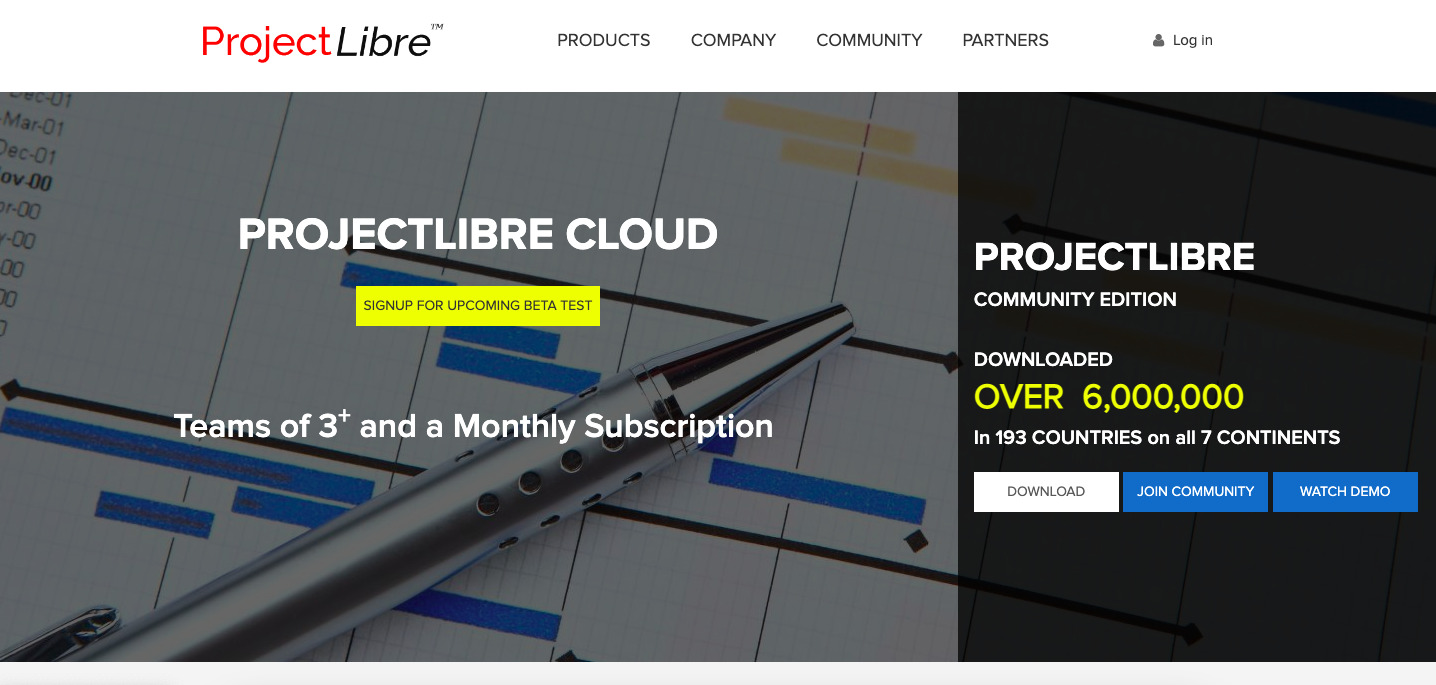 ProjectLibre is one more free alternative to MS Project for a desktop to manage even complex projects. ProjectLibre's functionality exceeds GanttProject by far. It is a more complex solution (therefore, more difficult to use). In addition to the typical project management software capabilities, this tool allows, among other things, to control the risks of the project.
ProjectLibre is compatible with MS Project – allowing you to open and edit files created with Microsoft software. ProjectLibre is available for download on the manufacturer's website.
Pricing: Free
Project management tools for construction
Procore
👉 Take control of project task management in the construction industry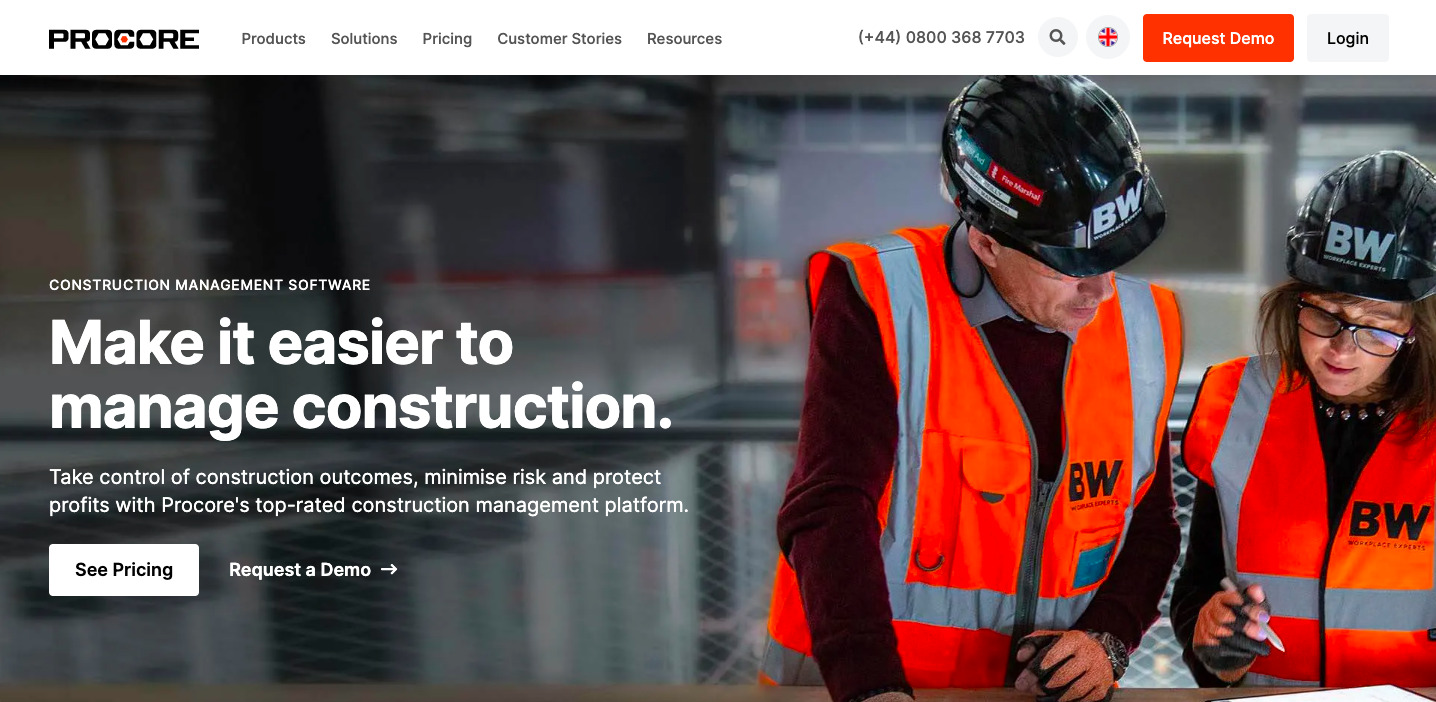 The aim of the Procore project management tool, which is considered to be the world's number one most widely used software by construction management, is to enable companies to boost project efficiency and accountability. It's done by streamlining and mobilizing project communication and documentation, which eventually is to increase profits.
The tool helps construction professionals to cooperate when arises the need to work on projects from any Internet-connected device with access to all project documents, contracts, schedules, RFIs, submittals, drawings, and more.
Pricing: Procore is a paid online project management tool; contact their sales to receive a quote.
 UDA ConstructionSuite
👉 Project management tools for project managers of the construction sector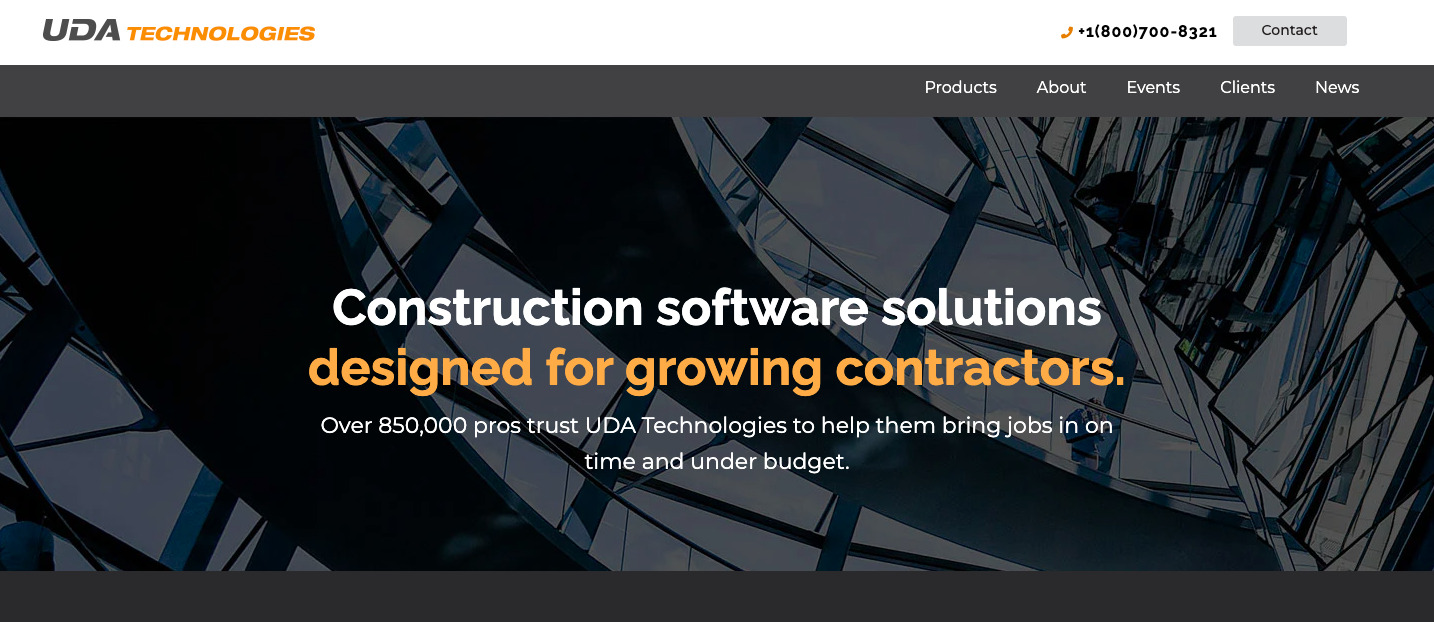 Uda ConstructionSite tool mixes powerful project management, scheduling, proposals, estimating, contracts, and documents with an industry-specific CRM. It's done to support one with a fully integrated construction software solution. A great help to the project team are interactive workflows whose aim is to keep it on track. What is more, project data is organized and easily accessible.
Finally, UDA's comprehensive two-way QuickBooks integration tools supply one with a complete financial picture of projects from start to finish and automate the process of AIA billing.
Pricing: Contact their sales team to request a quote for this project management solution.
CMiC
👉 Construction-specific project management tools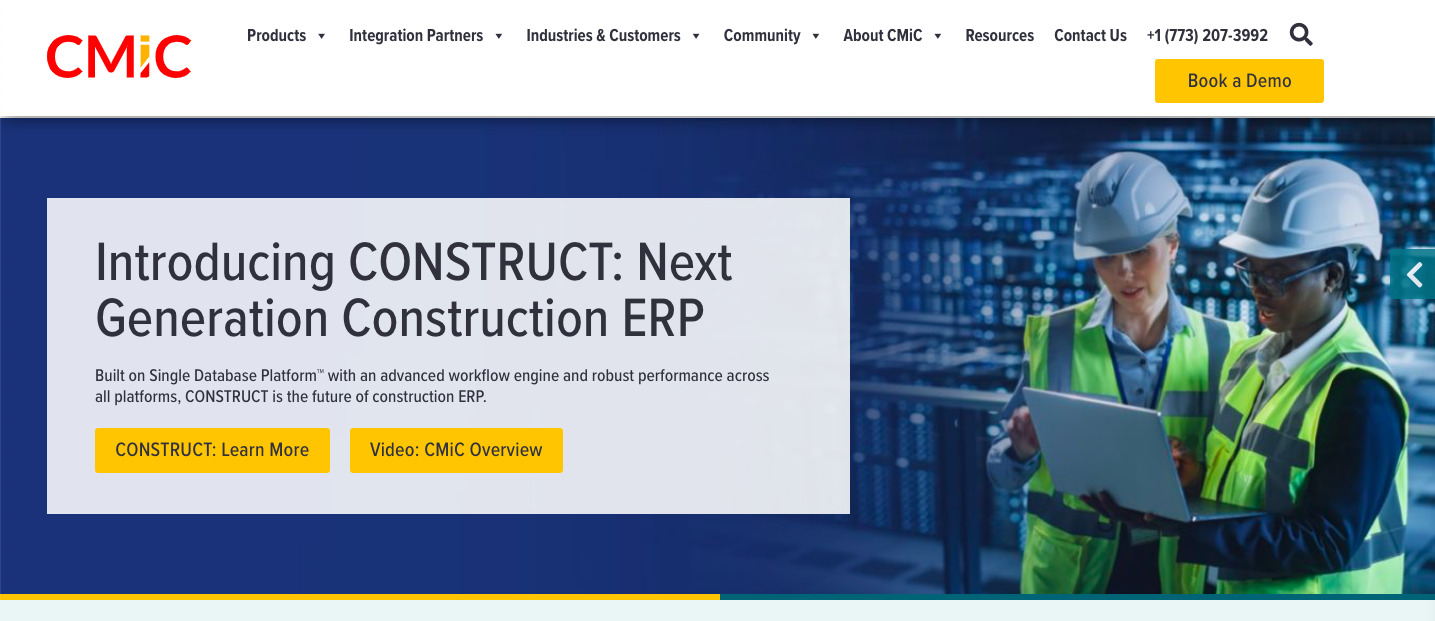 Another project management solution that is said to be complete and integrated enterprise software dedicated to construction and capital projects. CMiC is characterized by a flexible technological infrastructure and total integration. The web-based project management tool enables one to lower costs, boost productivity, and enhance interoperability.
Key features are Budget management, Revenue management solution, Analytics, Dashboards & reports, Customer relationship management, or asset management.
Pricing: Contact their sales to request a quote; this project management tool doesn't provide details of pricing on their website.
RedTeam
👉 Easy-to-use construction project management tools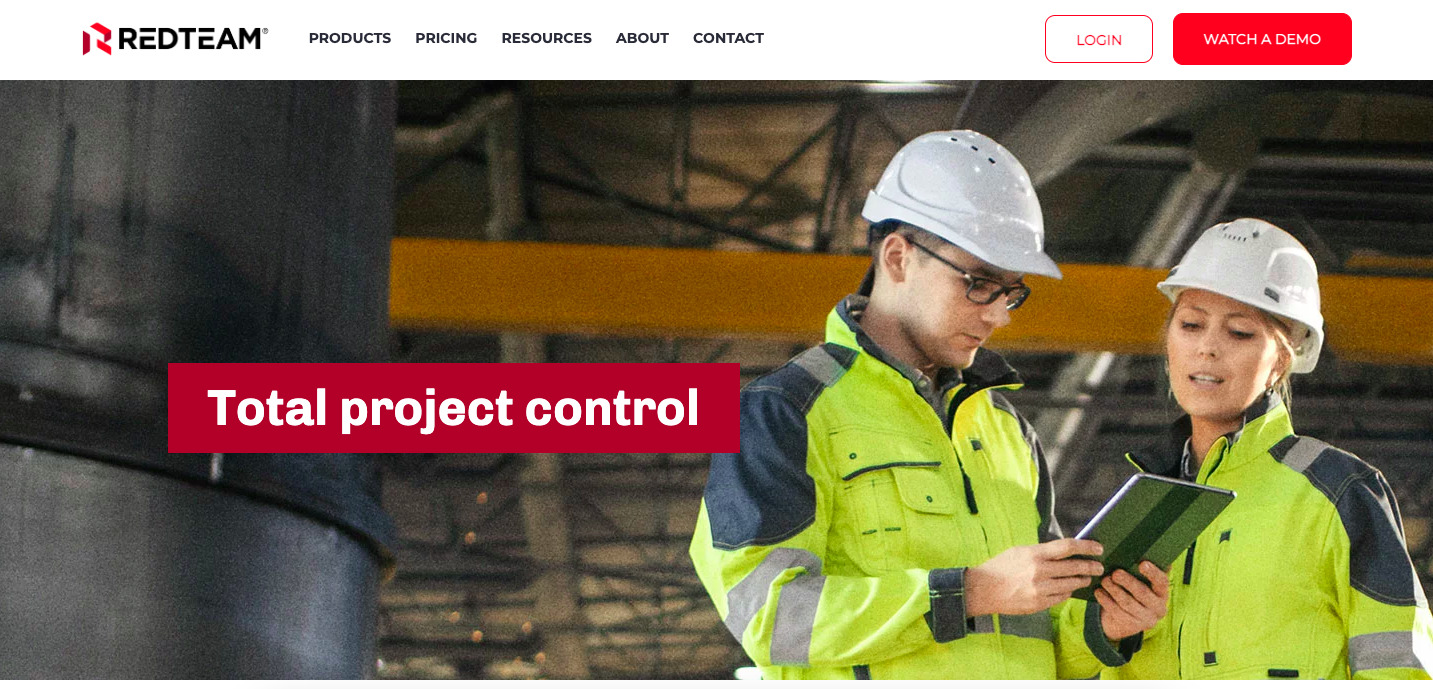 Are you looking for a robust commercial construction project management tool? Stop! RedTeam is just for you! The solution is a cloud app behind the creation of which are contractors. Its aim is to effectively manage everything from pre-construction through project closeout while connecting team members using any device.
The tool supplies one with solutions for all steps of the project management process, from generating new business, pre-construction, contracting, performance management, and financial management.
Among its key features, you'll also find billing & invoicing, timesheets, job scheduling or lead management solution.
Pricing: RedTeam offers three different products: Fieldlens, Go, and Flex. You can get the first two for free, and the third one price starts at $500 per month.
HeavyJob
👉 Project management software to track progress of construction-related projects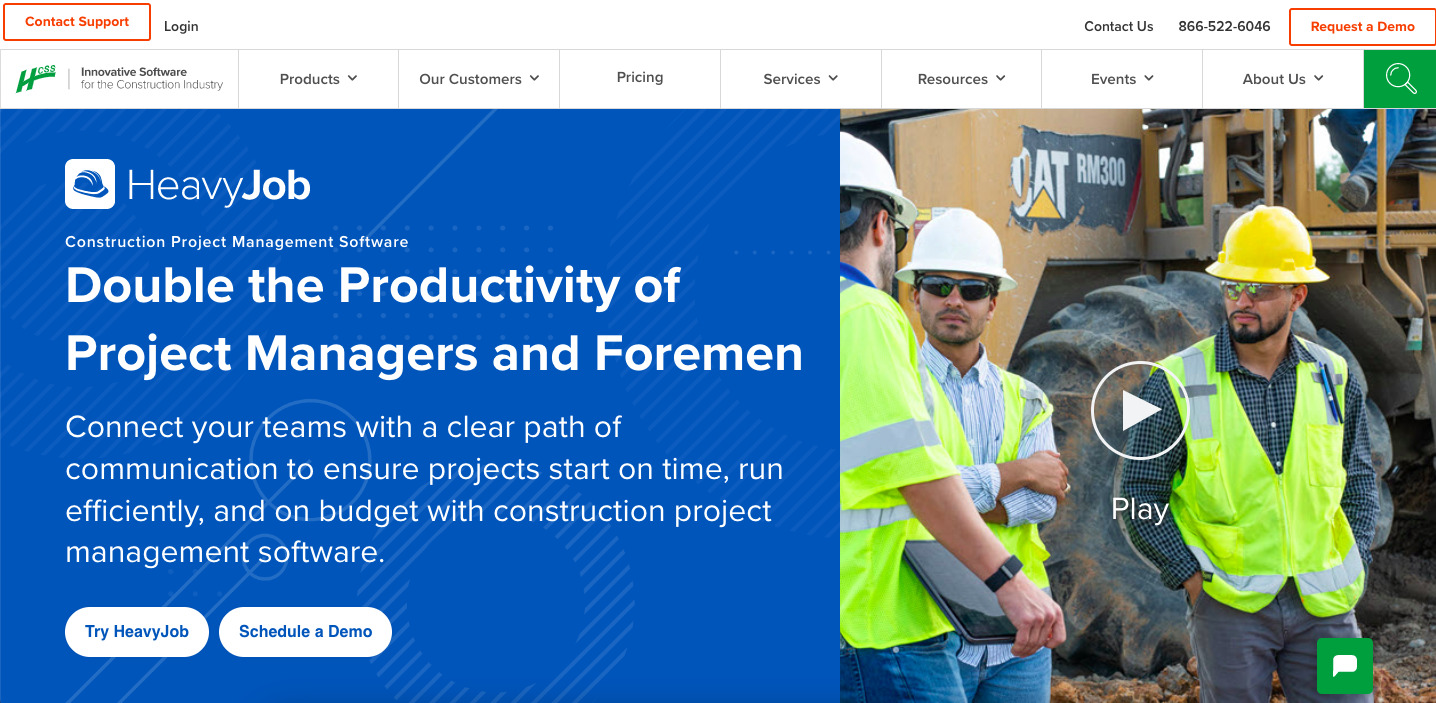 If you wish to keep your projects on schedule and budget, HeavyJob is an ideal choice. By filling out and submitting time cards electronically from the field, you can make reporting from the field faster by pre-filling with crew and equipment information. You can see daily costs and production rates in real-time which will help you make on-the-spot adjustments, and import data directly to your accounting system without time-consuming re-entry.
Its key features include contractors and subcontractors management, timesheets or job costing.
Pricing: HeavyJob is a complex of the best project management tools, so the pricing is quite complicated. What's more, most of the products require additional training fees. Contact their sales to discuss the full quota.
PlanRadar
PlanRadar is a leading construction and real estate software that enables professionals to streamline their workflows and improve their productivity. With its cloud-based platform, PlanRadar simplifies complex construction projects and real estate across the building lifecycle.
PlanRadar's core features include:
Task and issue management: Enables users to create and assign tasks, track progress, and set deadlines.

Communication and collaboration: Enable users to communicate and collaborate with team members, clients, and stakeholders, all in one place.

Reporting and analytics: Provide real-time insights into project progress, enabling stakeholders to make informed decisions based on accurate data.

Document management: Allows users to upload, store, and manage project documents, ensuring that everyone has access to the latest versions.

Mobile app: PlanRadar's mobile app enables users to access project information on the go, from any location.
PlanRadar is trusted by construction and facility management professionals worldwide, including architects, engineers, contractors, and property managers. With its powerful features and ease of use, PlanRadar enables professionals to work more efficiently and effectively, delivering better results for their clients and stakeholders.
Project management tools for sales
Yesware
Email prospecting and project management tools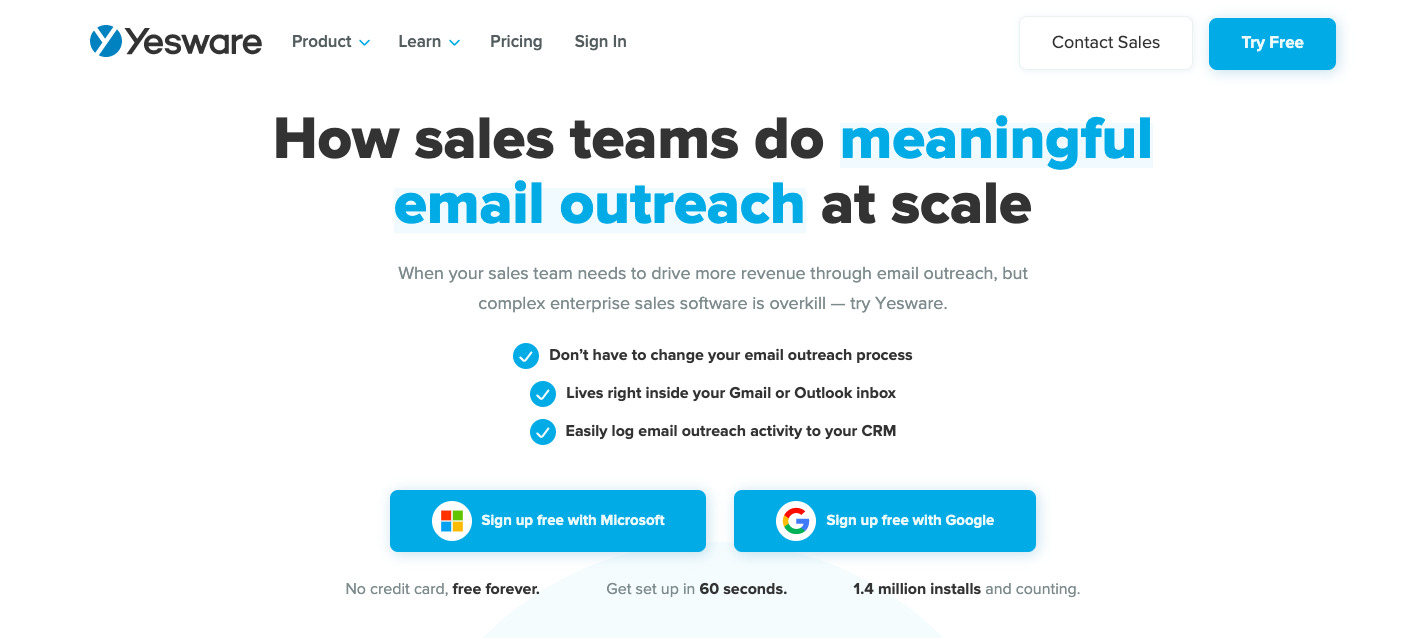 Yesware, mainly an email prospecting sool, is also a project management software that injects data insights and sales communication tools into one's existing email workspace. At the same time, it will remove barriers to productivity and empower sales teams to make smarter decisions faster.
Thanks to Yesware, one will spend less time manually uploading data into their CRM since the app will sync that automatically.
Pricing: Free plan is available; the cheapest paid plan costs $15 per user per month.
OnePageCRM
👉 Visual project management software and email prospecting tool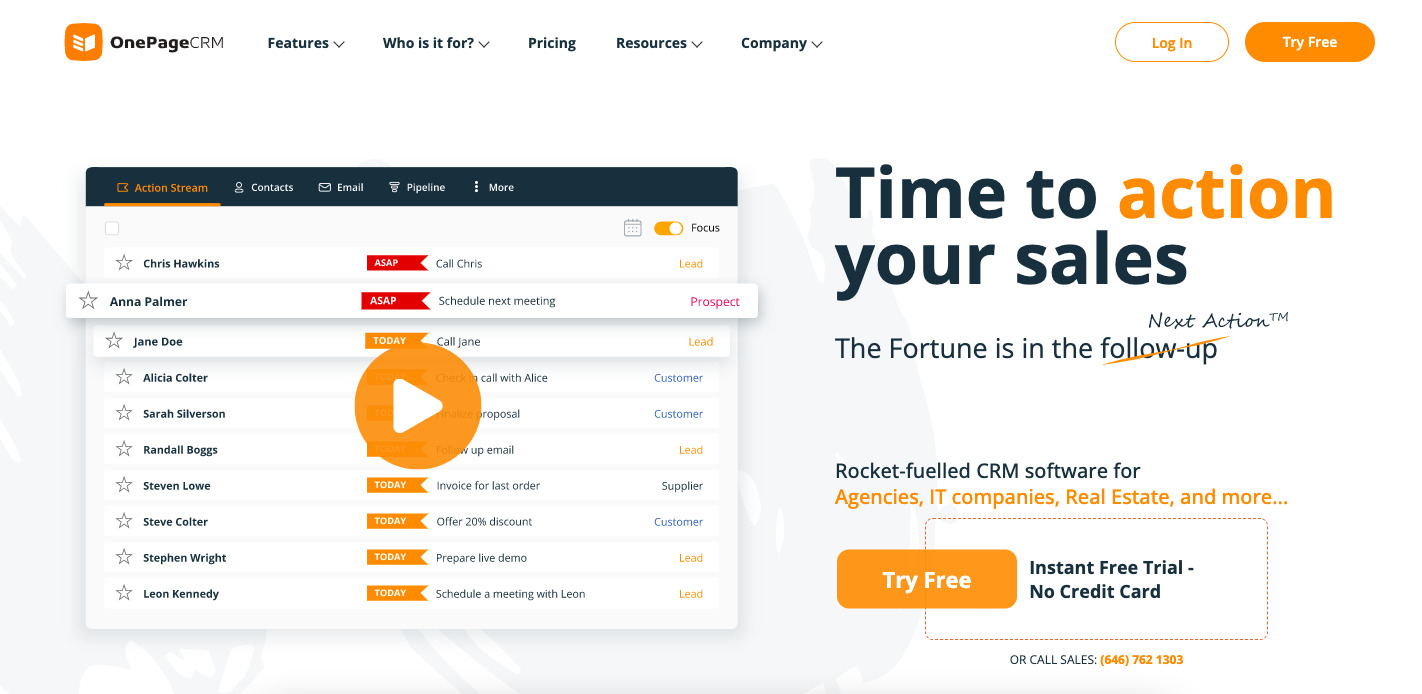 OnePage CRM. is the CRM dedicated to independent agents and real estate agencies. If you are looking for a simple, contacts-focused CRM, OnePageCRM if just for you. The idea behind this tool is the approach of a to-do list type, enabling the management of sales leads, where every contact has a Next Action to ensure one always follow-ups. OPC helps capture leads from Gmail, Outlook, Twitter as well as Facebook and create a contact in OnePageCRM in just one click.
What is more, it supports one when it comes to managing deals, and it's possible thanks to an intuitive sales pipeline. It also grants one the possibility to map their sales route using Google maps. Finally, OPC is available via phone, chat, and email.
Pricing: No free plan is available, but you can test it for free for 14 days. Paid plans start at €8.95 user month.
Clari
👉 Revenue optimization platform with project management tool features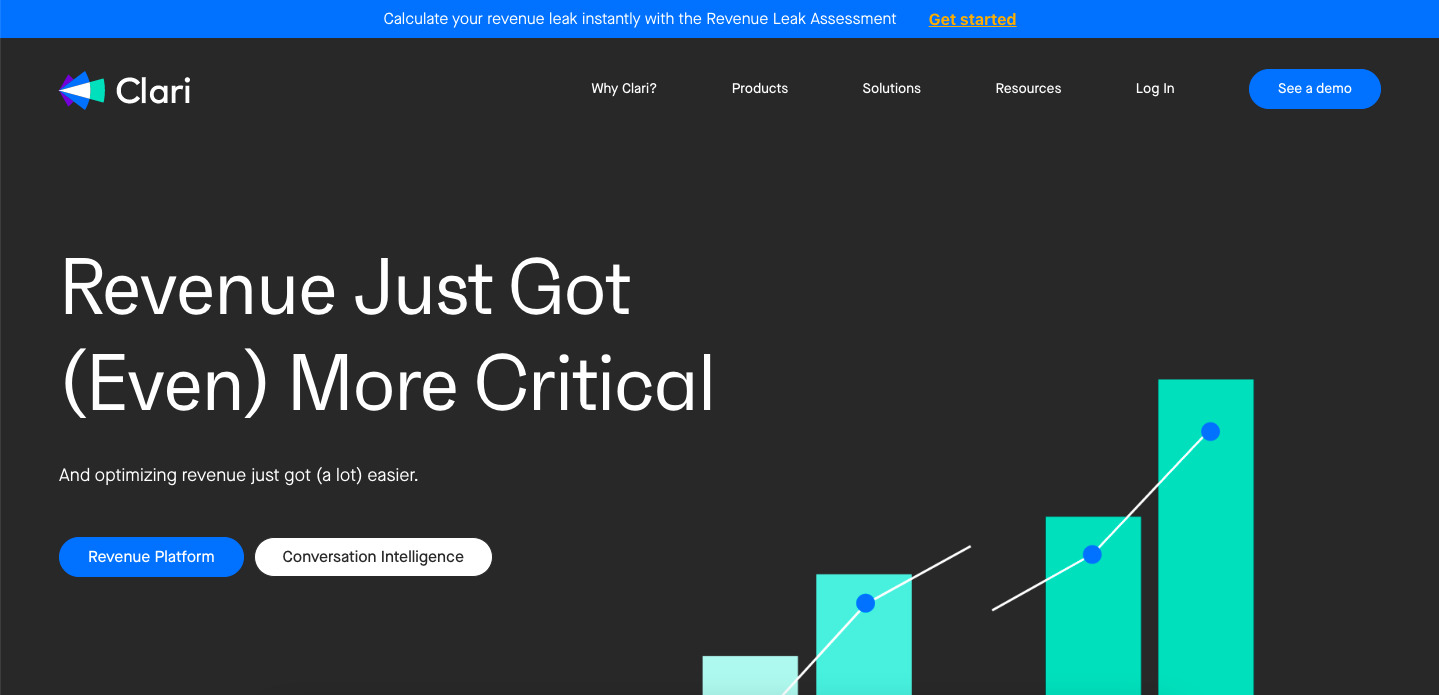 Clari app guarantees a faster, more effectual end-to-end forecasting process. Thanks to data science and CRM integration, the tool makes easier forecast collection and offers one astounding visibility.
It enables managers and executives to quickly drill down into the forecast and see changes with real-time rollups from reps. What is more, because of iOS and Android apps, reps, managers, and executives can update and view their business, no matter the time it is or where they are.
Pricing: Register for a demo to get your quota.
To Sum Up
These project management tools are definitely going to help grow your business and make the most out of each project. The fact that they are online-based makes them very easy to access from anywhere, be it from home or work, so you should totally give them a shot, as they are well worth a try!