The Best Apps to Manage Multiple Projects and Multiple Clients
February 2, 2023
by Ola Rybacka
No comments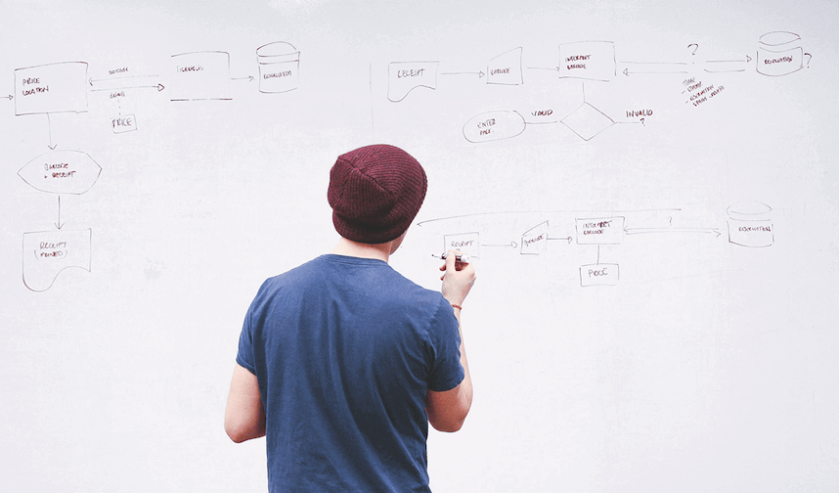 How to Deal With Work When You Manage Multiple Projects?
However, we need to remember that our brains are not accustomed to multitasking, so when you try to do everything at once, it will be hard and exhausting. Some researchers suggest that multitasking can actually reduce our productivity by as much as 40%. You probably know this from the experience if you work as a project manager or in a marketing agency. You try to remember every task and client request, but when the workload is too big, you just end up with all those missed deadlines and angry customers.
Project management techniques for multiple tasks
Spencer Coon recommends a few methods worth using in order to meet the challenge of managing multiple projects and tasks at the same time. If you have your own strategies, that's great, but if you need some inspiration, here are some:
Use outsourcing whenever you can – since it has been noticed that employees are more productive when given more autonomy, the trust has become more relevant. That's what outsourcing is about. It's about handing over the responsibility for the project to the external employee, a person who doesn't work for you on a daily basis. Outsourcing is also a great solution to team overload. Event the best project management methodologies won't help if your team members are overworking.
Hire employees with various skills – project managers should think about their duties as if they were the CEOs of startups. They need to keep work flexibility and be focused on the goal they're trying to achieve, not on the method they will achieve it with. Try to find people with all different skills for your project and give them the right communication tools to share their knowledge. Regularly check how successful they are in their tasks. And for better estimation, always collect employee data of each worker.
Centralize communication – managers don't have time to switch between fifteen different apps just to define tasks and work for particular teams. They need a centralized space for communication and strictly defined rules of collaboration. Some project management tools offers also a communication feature, so keep it in mind when you will be choosing the right software for your team.
Monitor work on a daily basis – if you manage multiple projects, you can easily get lost in daily duties and tasks. That's why it's crucial to create your daily habits which you will perform despite all the problems that surround you. It's good to have a morning routine. Some of the best practices for managers are: not checking their email on the first hour/s of the day, dealing with the biggest problem first thing in the morning, preparing a detailed plan of the day, and stick to it (but with some time for unexpected tasks and meetings).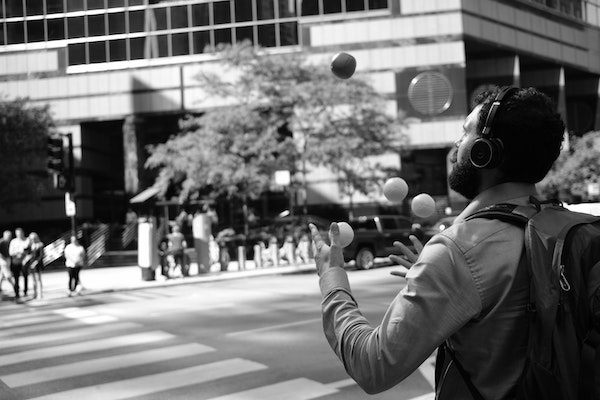 The biggest challenges of managing multiple projects
If you are an entrepreneur, you probably know all these challenges of working with many clients and switching contexts dozens of times every day. But if you are just starting your career or thinking about going freelance, you should be aware of the most popular problems.
It's hard to create project schedules and meet deadlines when all your team is involved in many projects. A problem in one project can cause delays in others.
If you want to calculate project profit margin, you need to track time by project and divide fixed costs accordingly.
With too many work requests you need to prioritize tasks and allocate resources to those with the highest priority.
Everyone in the team should be on the same page with projects to avoid delays and waste of resources. Sometimes one team member is waiting for another to finish his/her task, which is very inefficient.
Putting every single task in the project schedule is impossible and too time-consuming when you have many projects going on. You need to make a list of milestones for the project plan and divide them later. Don't be afraid of losing track of the project without a detailed plan. I'm sure you've accomplished a lot in your life without step-by-step instruction.
Use The Right Tools!
The market offers many applications and software created for those who work on multiple projects with multiple clients. They enhance collaboration. Below, you will find a list of tools that will help in managing your and others' work. We've added also some tips, how you can use specific features for managing multiple projects.
1. TimeCamp Planner – great collaboration tool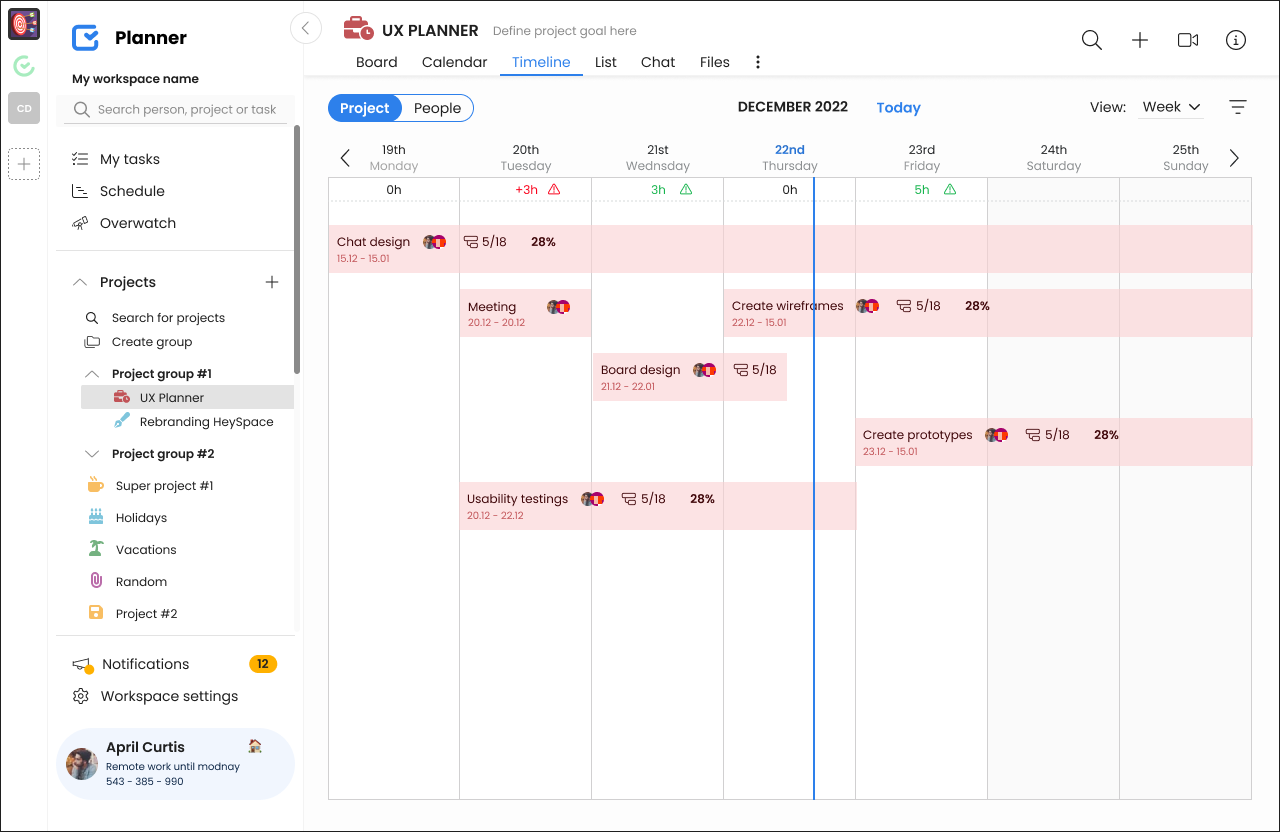 It's a perfect product for teams dealing with many tasks. It allows managing tasks and projects with the advanced chat feature. This app is somewhat the combination of Slack and Trello in one place. TimeCamp Planner solves various problems because it provides many possibilities:
Standardized task management with all teams – focusing work on communication projects with all teams in one application.
Communication with outsourcing companies – thanks to the feature of separate Workspaces and guest seats you have the possibility to create task communicator for outside companies. This way, you can easily hold conversations and define tasks.
The reference to popular Trello, task and project management software for multiple projects, gives you the benefits of using such tool, including the fact that in your work you can use Kanban method.
Your employees can participate in multiple projects at the same time, including inner projects as well as those carried out with outside companies.
Focusing work on just one dashboard – it's possible to finish all your work in one tool!
Convenient MyTasks view – the complete list of tasks from multiple projects assigned to the user.
Calendar and timeline view for keeping an eye on deadlines.
OverWatch view for monitoring priority projects in one place.
Time tracking for tasks with free TimeCamp integration.
Pricing
TimeCamp Planner offers free plan for up to 5 users with basic task management and communication features. Premium version is 5$ per user per month.
2. TimeCamp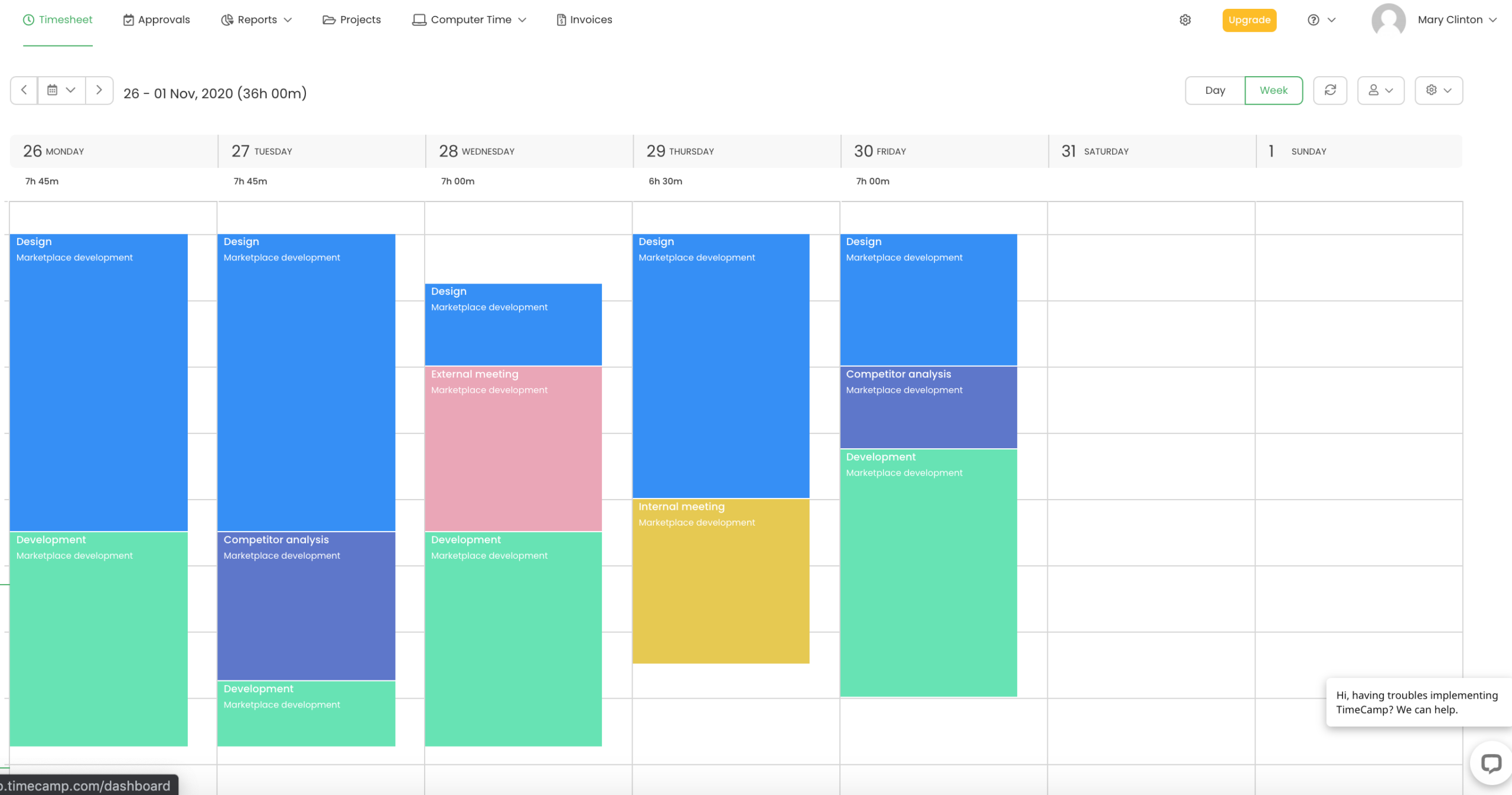 TimeCamp is a tool for monitoring your and your employee's work. Including people who work remotely. Thanks to its functionality and ease of use, the software allows for working time optimization and boosting employees' efficiency. It also enhances resource management and allocation. When you decide to implement TimeCamp in your company, you gain many benefits:
The desktop app for all platforms (Windows, Mac, Linux), extensions and mobile app for iOS and Android. All that to help users track their activity no matter where they are.
The highest quality at the best price.
Automatic time tracking that allows you to easily switch between tasks.
The desktop app for all platforms (Windows, Mac, Linux), extensions and mobile app for iOS and Android. All that to help users track their activity no matter where they are.
The possibility to set a limit for each task so that you can effectively monitor your team's work.
Accurate customer billing thanks to the ability to monitor projects budget.
Entering time to invoices based on estimated hourly rates.
Integrations with various tools which help in managing projects and accounting such as Podio, Trello, Basecamp 3, Xero, QuickBooks, Trello, and many, many more.
Pricing:
Free – entirely free for unlimited users with unlimited projects
Starter – $3.99 per user/month billed monthly ($2.99 per user/month billed annually)
Basic – $7.99 per user/month billed monthly ($5.99 per user/month billed annually)
Pro – $10.99 per user/month billed monthly ($7.99 per user/month billed annually)
Enterprise – available for 100+ users with custom pricing
Take your company to another level! Sign up today and boost your team's productivity with TimeCamp!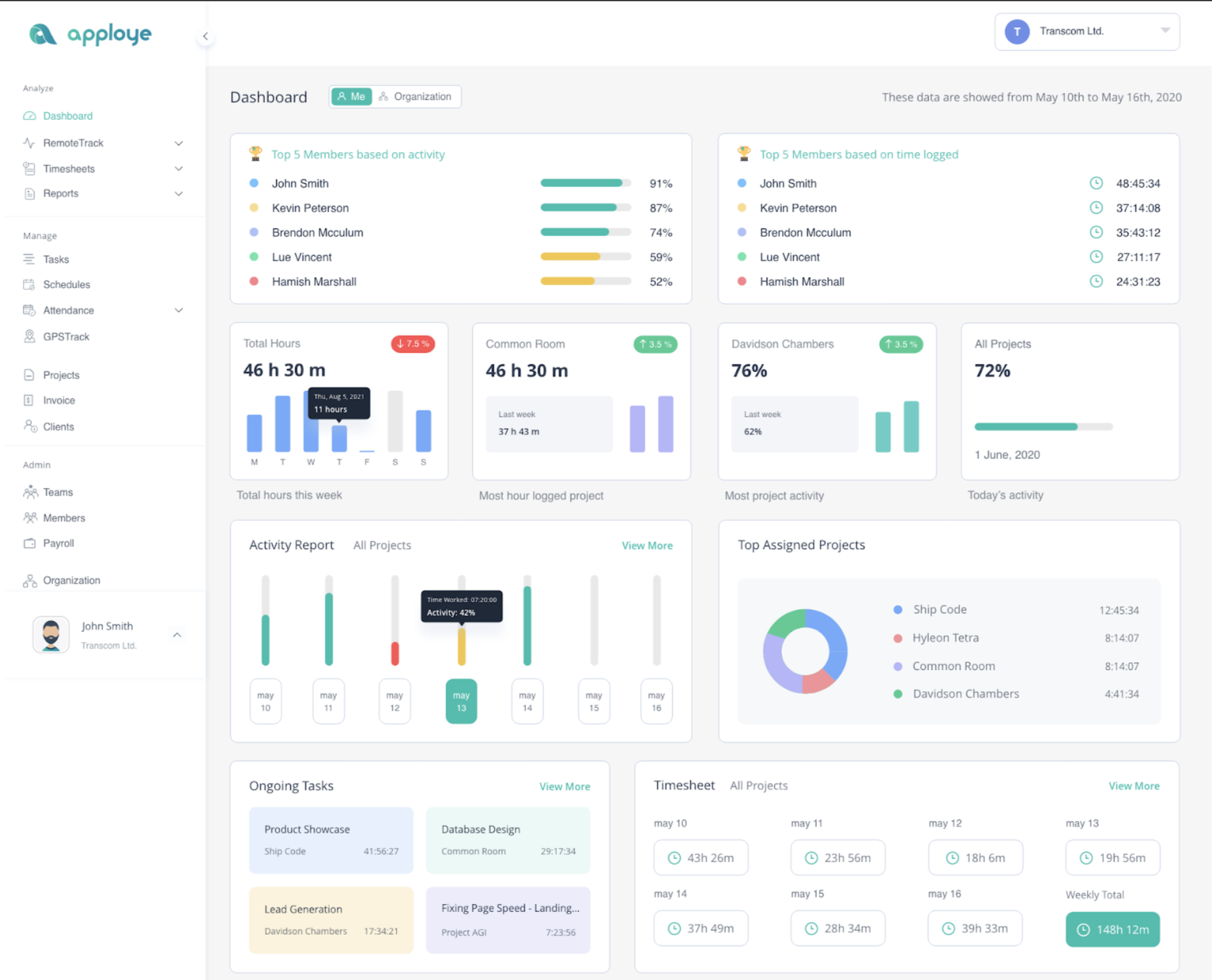 For managing multiple projects and a number of clients, Apploye could be a reliable platform for you. It is a top-notch time tracker that offers an array of features related to employee monitoring and project management. Its functionalities are enough to cover your project management and client handling requirement. Moreover, using Apploye, you can boost your team's productivity. Some of those benefits are as follows:
Automatic Time tracker – This feature enables you to track employee working hours easily.
Versatile Project Management – You will be able to open and manage multiple projects, measure time on projects, assign roles, and keep track of your project budget via Apploye. You will be able to see the current status of the projects and set budget alerts. 
Client management & Invoicing – Apploye allows you to create your client database and invoice them for your completed work. You can keep track of paid and unpaid bills.
Task Management – You can use Apploye to generate the required number of tasks, allocate those tasks to employees, and view the total time logged in individual tasks to keep track of your work to stay organized.
Payroll Management – You can pay your employees according to the number of hours they worked for you and have project hours, assignee & date-wise views while managing the payroll.
Pricing
Apploye offers four types of pricing plans. The solo plan is priced at $4/user/month, the Standard plan is priced at $5/user/month, the Premium plan is priced at $6/user/month, and the Elite plan is priced at $7/user/month. You can grab a 50% discount if you choose to pay annually.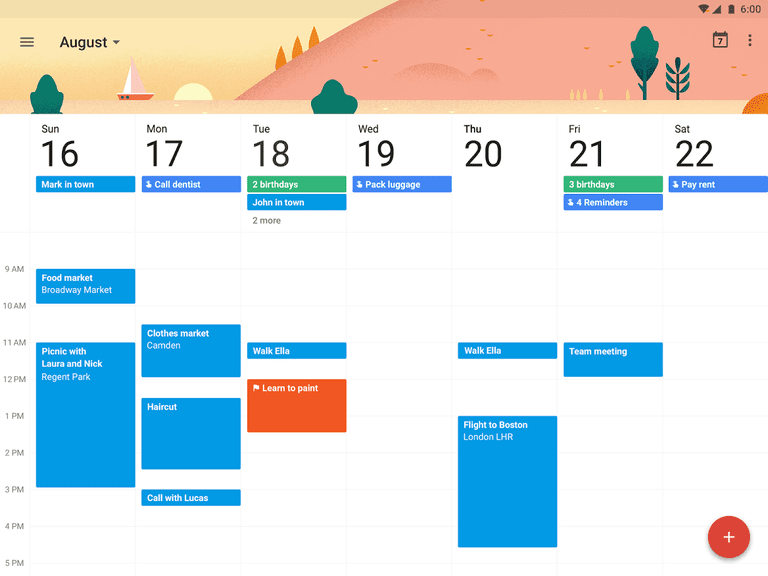 Google Calendar is one of the most popular tools used for planning. It's perfect in every situation due to its ease of accessibility. You can use it no matter where you are – on vacation, a business trip or in the office.
Google Calendar is very easy-to-use and its simplicity allows you to effectively plan time and allocate hours based on your availability during particular work week. Additionally, the app sends you notifications and reminders before an important meeting. Just so you don't forget about your daily tasks and commitments.
Moreover, most of the applications and software available on the market integrate with Google Calendar. That extremely enhances work between different tools.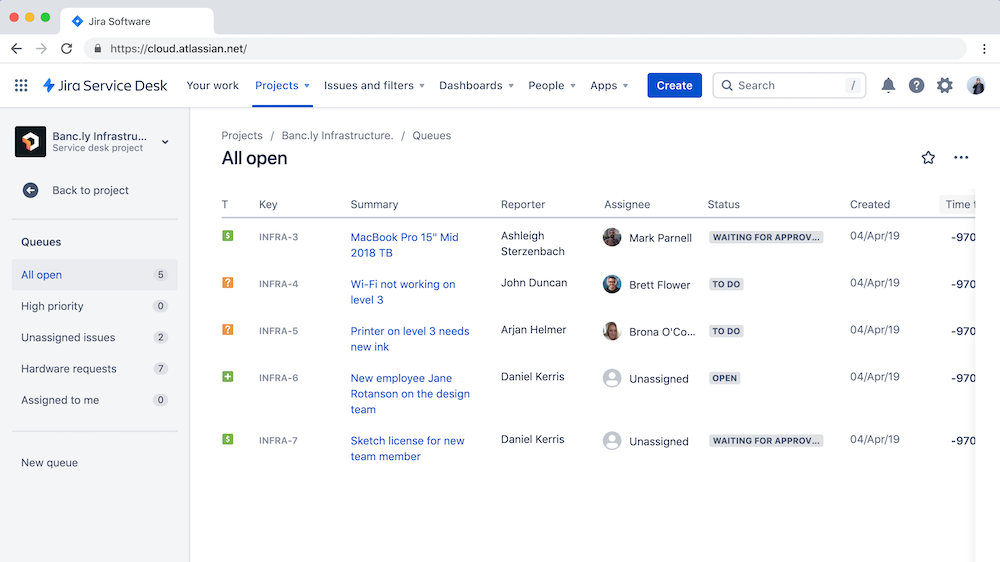 Jira is an advanced project management tool used mostly by software development teams. It's easy to create many projects in Jira, so it's a great tool to organize and schedule everything in one place. If you are working in agile and use story points, Jira can be your perfect solution. The app offers many customization options, so you can manage tasks the way you like. Managing multiple projects with Jira can be much easier.
Jira solves various challenges because it provides many possibilities:
you can see all tasks from different projects on one board,
use the external share feature to share live content from Jira with your clients (you don't have to create new paid client accounts),
integrate with other apps to create a comprehensive project management system,
keep your project team and client updated thanks to email notifications about tasks,
to save time of the project manager you can set up automation rules for multiple projects in few clicks.
Pricing
Jira has a free option for up to 10 users and more advanced standard and premium plan for $7 and $14 per user per month. It is a project management software for multiple projects and created for bigger organizations, so it's not the cheapest option.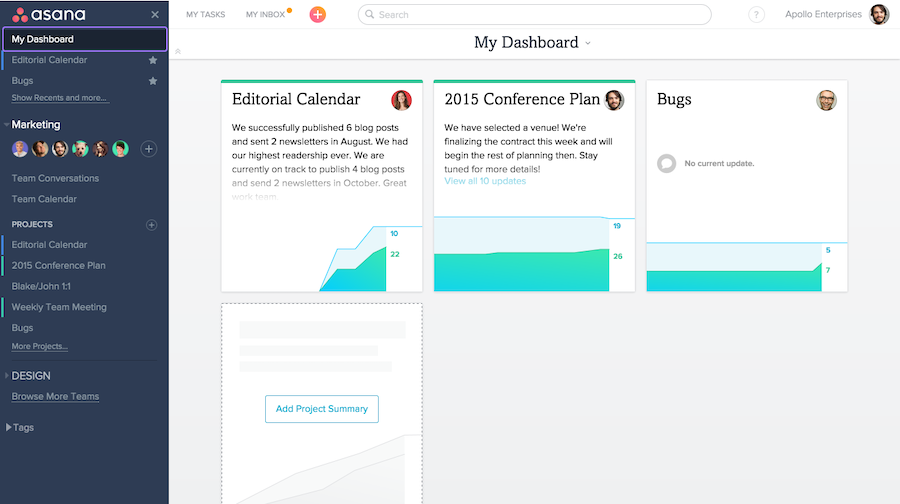 Asana is a very popular project management software suitable also for managing multiple projects. For every project you can choose from useful templates like content calendar, meeting agenda, team goals and objectives planning, business strategy plan, and many more. In every project you can use different views to visualize your workflow. It's easier to meet client expectations when you can add him/her as a guest and allow to collaborate with your team members. Asana can save you a lot of time and effort in project management.
Other useful project management features of Asana include:
timeline feature that allows you to track project schedule, deal with delays and find a way to meet deadlines,
report and dashboard for managers and client to visualize project performance,
automation for repetitive tasks no one likes,
standardized forms to plan resources and people for every task,
workload management for team members.
Pricing
This project management software for multiple projects offers a feature-rich free version with unlimited projects and messages for up to 15 users. Premium Plan costs $10.99 per user per month (paid annually) and Business Plan costs $24.99 per user/month.
ClickUp is an intuitive project management tool that will help you and your team in managing multiple projects. The app offers 3 different views for tasks: board, box, and list. With ClickUp you can manage everything in one place, easily report progress to clients and keep everyone in the loop.
Here are some cool features that will help you with multiple projects:
Multitask Toolbar – this simple toolbar allows you to edit tasks in bulk,
Workload view – for easier resource management and allocation by  comparing how many tasks are assigned to each team member and their capacity,
Pulse – to report what is the priority task of team or employee right now (it uses machine learning to identify tasks with the highest focus)
Portfolio – mission control for the project management in your organization, that help you check the status of multiple projects in one view.
Pricing
The free version of ClickUp is available for unlimited tasks and unlimited users. Unlimited option starts at $5 per user per month
Conclusion
We hope that our tips and recommended project management tools will help you deal with multiple projects and clients. However remember, that even the best tools won't help if you don't have the right people in your team that share a common business goal and support each other.