27 Trello Like Apps to Consider in 2023
February 7, 2023
by Pawel Kijko
No comments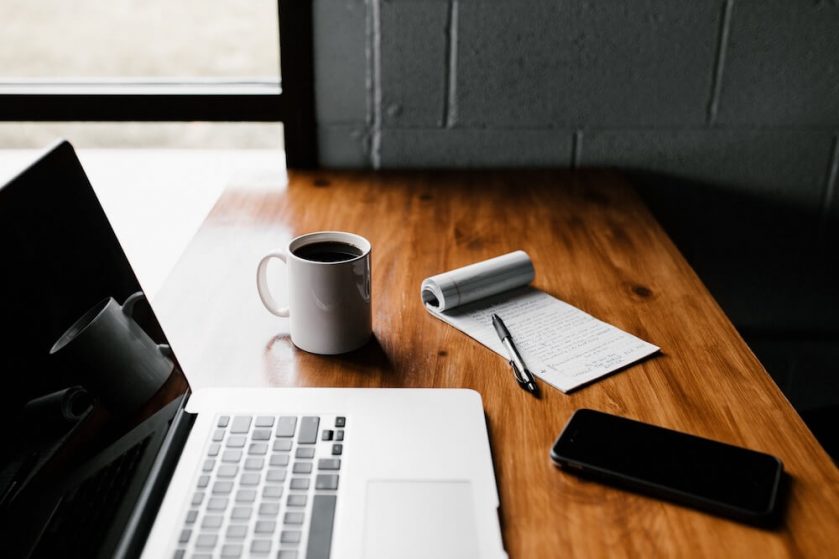 Trello is undoubtedly one of the most popular productivity apps, used by companies and individuals from different industries. But the truth is that the most popular doesn't necessarily mean the best. If you've been a Trello user for a long time, it might be worth taking a look at other solutions that have grown in popularity in recent years. Or maybe you have already started considering switching from Trello to another kanban-based software and are looking for a good source of information on Trello-like apps that are worth your attention? Take a look at our article and choose the best Trello alternatives for yourself!
Why look for Trello alternatives?
Think about your expectations for a good productivity tool. It should be flexible so that you can customize it and adapt it to your needs. In Trello, you can use only one power-up per board, so you need to choose between a calendar, integration with Google Drive, Slack, Whereby, or any other tool. In most complex projects you need more than just this, so why not look for a Trello alternative that will give you more options?
Apart from that, you most probably want to use your productivity tool to manage multiple projects, which is essential not only for big companies but just as well for smaller businesses. Trello allows you to add only 10 boards per team. In dynamic business environments, there are certainly more projects going on at a time and you want all of them to run smoothly. That's exactly why you need the help of a task management tool, isn't it?
And one more thing – you should be able to use the Trello alternative for more than just task management. It should help you facilitate collaboration as a whole and that's not only about efficient task management. Trello is great for project management, but it's not ideal when it comes to communication. And without effective communication, our team won't be able to reach its full potential even with the best task management tool.
Trello like apps
1. TimeCamp Planner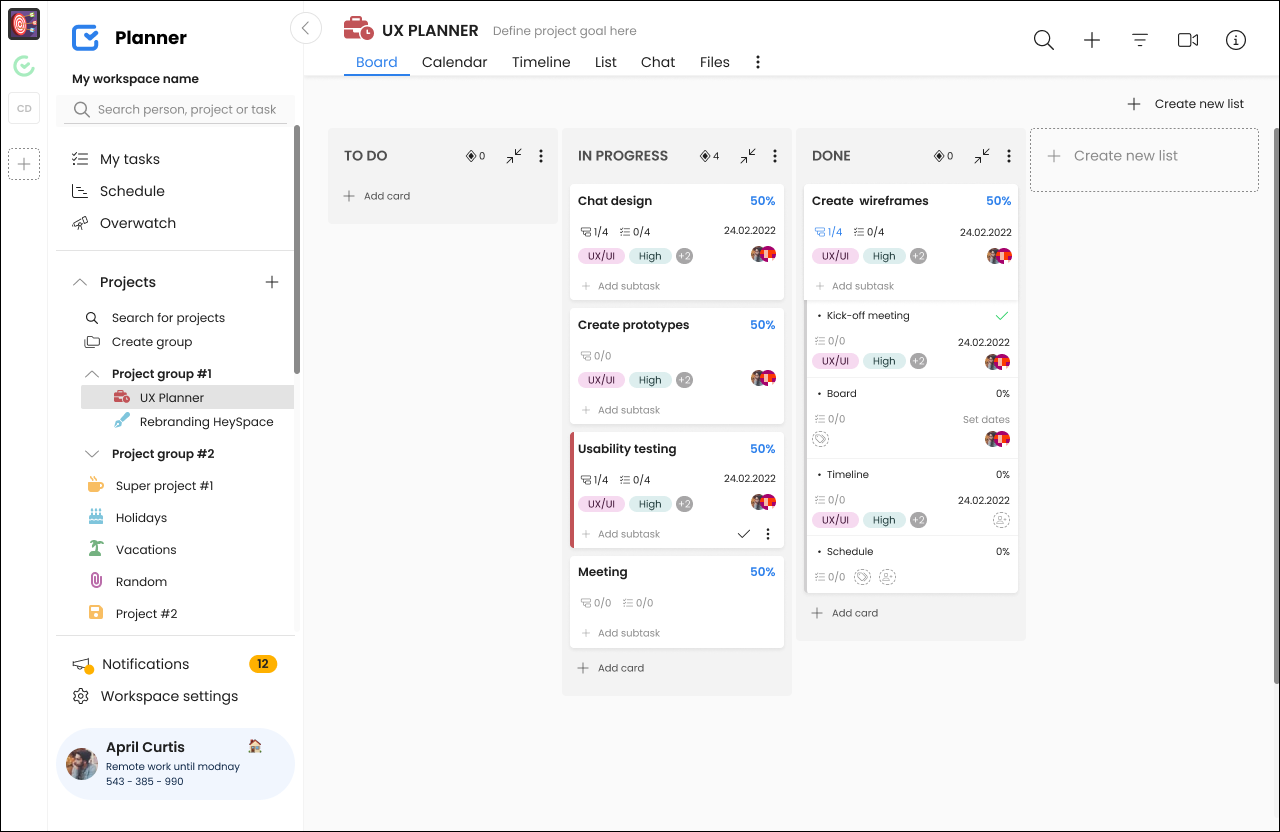 TimeCamp Planner is a two-in-one tool for team collaboration and communication, which gives you everything you need to collaborate on projects, regardless of the size of your team. Within each workspace, you can create an unlimited number of spaces, so you don't have to put any limits on the way you want to manage your projects. Remember, that Trello limits the number of boards in the free plan to 10. Each space has its board to plan the team's workflow, assign tasks, set due dates, and monitor the progress in real-time. But that's not all TimeCamp Planner offers. Apart from the task management feature, it also gives you an integrated chat platform, which Trello lacks. Thanks to that, you can easily communicate with all space members or talk to your colleagues in a private or group conversation. On top of that, TimeCamp Planner also facilitates communication with clients or external contributors, allowing you to easily send a chat link and quickly connect to have a conversation or collaborate on a project in one Space.
Additionally, you can benefit from several integrations, all at once if you wish, you don't have to choose like in Trello. You can integrate TimeCamp Planner with Gmail and start converting emails into task cards in a few simple steps. If you want to have more communication options, integrate TimeCamp Planner with Hangouts. For greater convenience, synchronize it with your favorite calendar view and have access to your projects from wherever you are with a handy mobile application. And of course, you can import your boards from Trello!
Price: Free plan is available for up to 5 users; Pro plan costs $2.99 per user per month, billed annually ($3.99 billed monthly).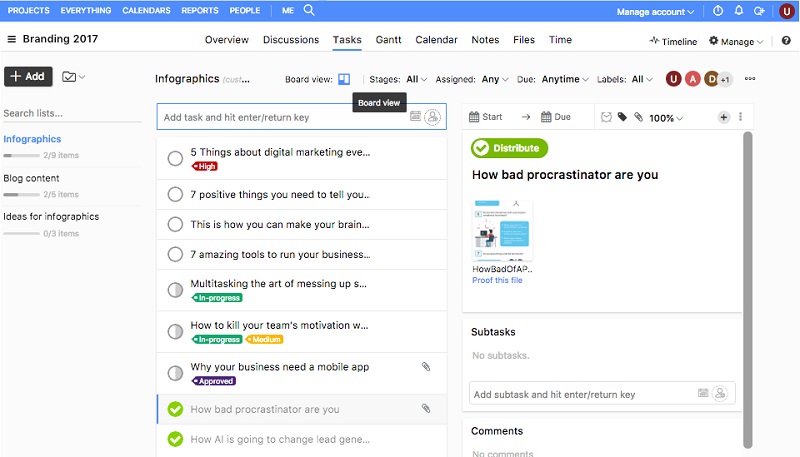 Proofhub is a Trello-like app that helps manage your workflow and deliver projects on time, meeting the highest quality standards. You can customize the workflow and visualize it on kanban boards just like in Trello, helping everyone in the team stay on top of their work and have an overview of the project status. It also lets you plan and visualizes pieces of your project on a timeline view using Gantt charts. In Trello, you can use the Gantt chart only as a power-up. Plans can be adjusted to any shift of deadlines with task dependencies. With custom roles and access restrictions, the whole process of project management becomes a piece of cake.
Apart from the task management component, with Proofhub, you can also communicate with your team, sending direct messages in one-on-one and group chats. That's often a much more efficient solution than email communication that might slow down the progress rather than facilitate it. Trello doesn't offer communication features, so many companies use two separate team collaboration software for that purpose.
You can also monitor the team's productivity, helping them manage their tasks and assign them to someone else if they don't have enough time to be fully devoted to all their duties. Proofhub is helpful in project management, so it's more than a Trello alternative. Its advantage is also no per-user fee.
‍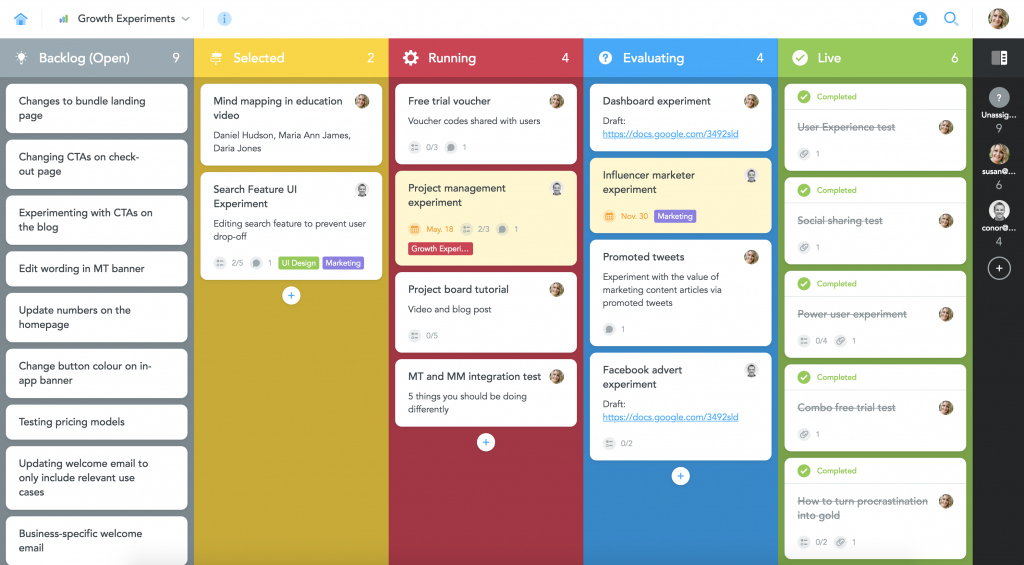 MeisterTask is an online management tool for project teams, which helps manage projects in a customizable environment. Kanban-style boards allow you to manage tasks similarly to Trello while having an eye on the big picture and being able to adapt it to the changing circumstances. Some actions can be automated to make the workflow more efficient. Once configured, the automation will be applied to the actions you've selected and you will be able to save time on repeatable things.
You can integrate the tool with many other apps such as Gmail, GitHub, Dropbox, and many more, to get even more out of it. On top of that, you can also track the time you and your team spend on your project. The statistics and reports will give you greater control over the workflow and ensure timely project delivery. It surely is a great Trello alternative for teams with reporting and time management needs.
4. SwiftEnterprise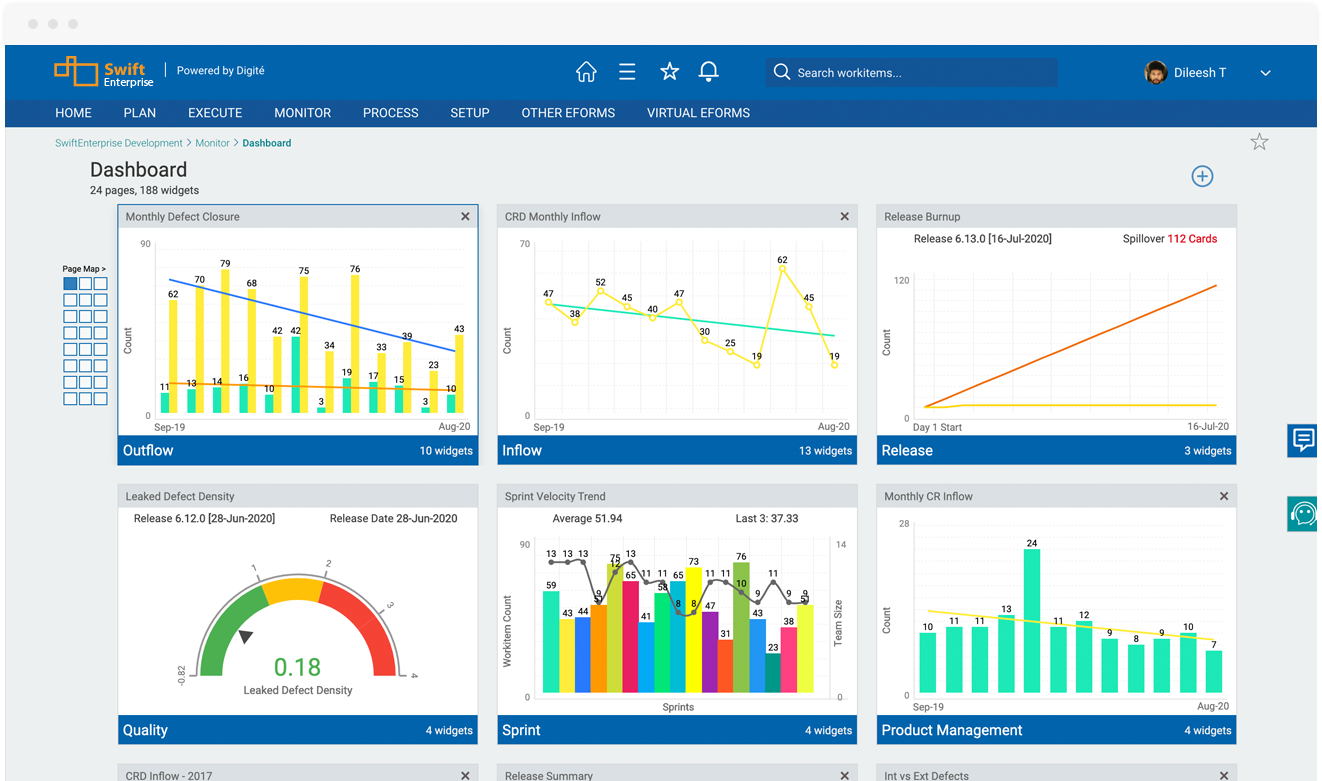 SwiftEnterprise is the next-generation AI-driven Agile Project Management platform focused on helping you plan, manage, and deliver your projects the Agile way. Collaborate with your teams and manage large complex projects with SwiftEnterprise. It comes with a unique combination of features to manage and deliver a wide range of traditional and Agile projects across industries. Project/ Product management teams will be able to leverage a wide range of Agile capabilities to manage their projects much more easily and intuitively.
SwiftEnterprise's comprehensive Project/ Program Management features include Resource and Time Management, with powerful Scrum and Kanban capabilities. It streamlines your wide processes by organizing data and providing real-time reporting in a global delivery model. SwiftEnterprise can be integrated with 2000+ popular services like, Gmail, Slack, Salesforce, Zendesk etc, via Zapier.
5. ClickUp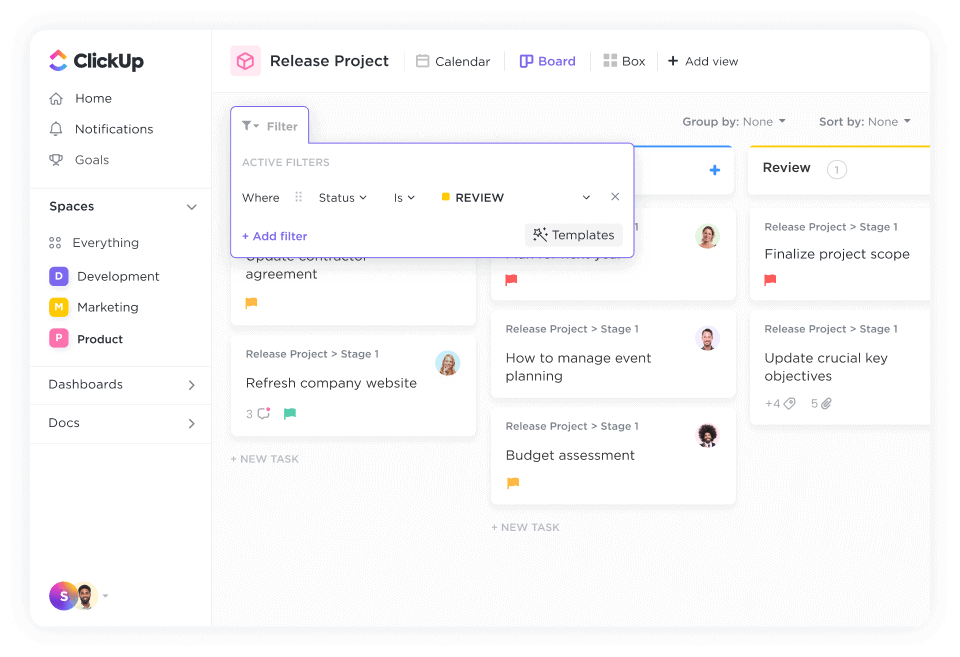 ClickUp is a complete project management platform that allows teams to manage everything they need—all in one place.
Collaborate with teams and manage large complex projects with the help of a robust Hierarchy, powerful and customizable features, and 15+ view options. Create custom Dashboards to get a high-level glance and valuable insight into tasks, Sprints, projects, people, Goals, and so much more.
Reduce the number of mundane tasks with automation and collaborate with your team seamlessly using advanced commenting features in tasks and collaborative editing in Docs. With ClickUp's ready-to-use and customizable templates, teams stay more aligned, get a head start on projects, and follow a repeatable process every time.
Using native integrations for your most-used apps like Slack, Gmail, and Calendly, it's easy to bring all your work tools in one place. Best of all, ClickUp offers an unbeatable mobile app so you can view and manage your tasks, events, and projects on the move. Never miss anything important ever again.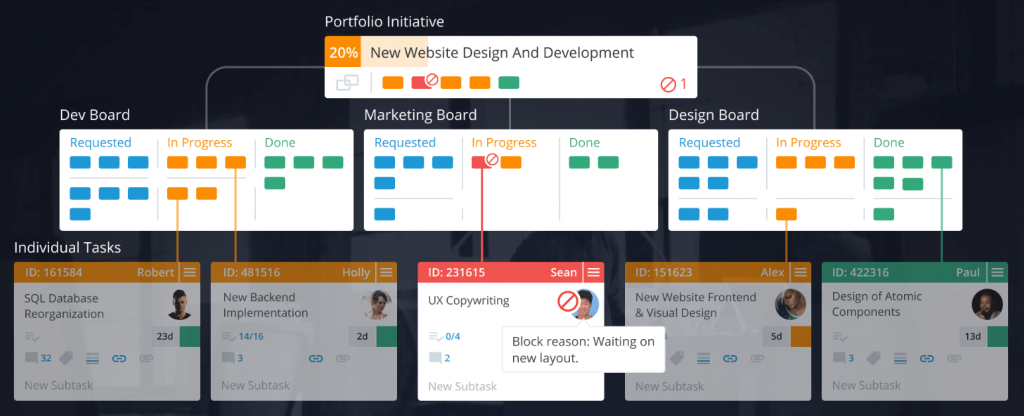 Kanbanize by Businessmap is a flexible enterprise-ready platform, perfect for both small and large teams that need to keep track of the progress of the project and optimize their workflow. With Kanban boards in the platform, you can automate many processes, having the project status in check at all times. It will let you get rid of your major time-eater, namely managing dependencies. How exactly? By providing a clear and accurate visualization of card dependencies, called Business Rules (it's something that Trello lacks). It allows you to create hooks that will trigger actions when particular events occur.
The software by Businessmap also offers an advanced analytics module to analyze team performance, make data-based predictions, and look for opportunities for improvement. Efficiently using them will help you make informed decisions about your strategy and workflow management techniques. The tool also comes with a variety of integrations, including Google Drive, Dropbox, and GitHub, which makes it a great Trello alternative.‍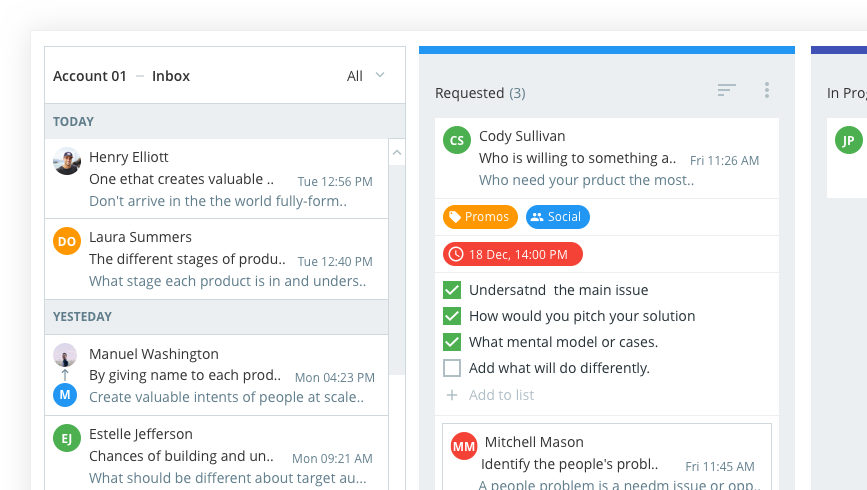 Flow-e is a Trello-like software that provides a visualization layer over your inbox to help you manage it and keep your workflow in line with the Inbox Zero and Getting Things Done techniques. It transforms your Outlook inbox into a central to-do application and makes it into a visual task board. You can customize it to make it suit your process and you will never forget an important email again.
Flow-e is very easy to use and one of the best Trello alternatives. Your daily schedule is visualized on a Trello-like board. What you need to do to get organized is simply drag and drop an email from your inbox into the timeline to make it into a task card. You can also delegate tasks to your team, also without leaving your inbox, and then track the progress throughout the process. On top of that, Flow-e gives the possibility to add notes and to-dos to calendar events to further increase your productivity.‍
‍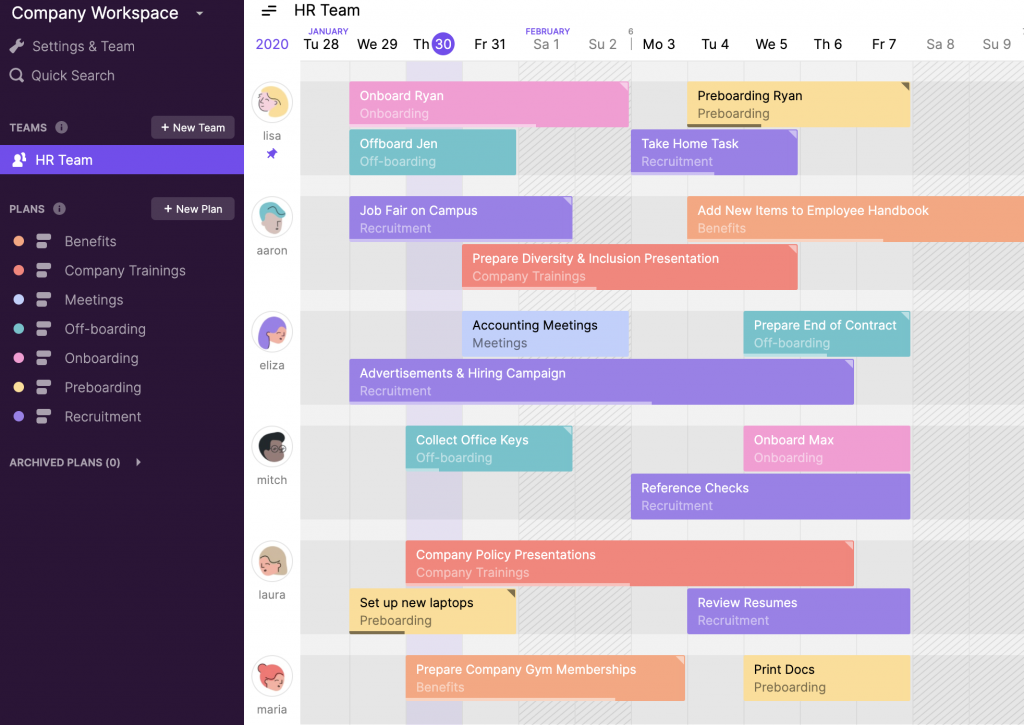 Toggl Plan is a project management tool that provides you with a drag and drop interface that is at the same time easy to use and efficient. It lets you organize your work and make sure nothing gets overlooked when you juggle all your projects. Each task can have a status assigned and a deadline set to appear on a visual timeline and let you have an overview of the workflow of the project. You can easily switch between weekly, monthly, or annual views, depending on what you need at a given moment. It's one of the best Trello alternatives.
All your project boards can easily be shared with your teammates or customers. What you need to do is simply copy a share link and make it available to others. You can also customize what they should be able to see and generate a new sharing link whenever you want the old one to get deactivated.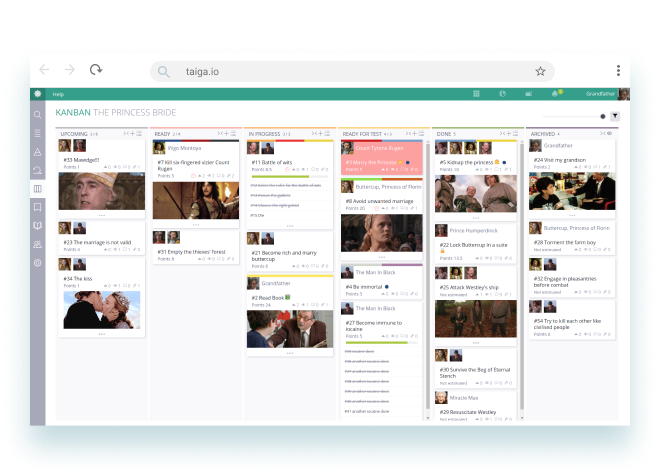 Taiga is a Trello-like project management software that organizes the workflow according to the scrum methodology and then uses kanban to manage tasks. First, a product backlog is created and ordered into the sequence based on what should be delivered, then it's broken into manageable parts -sprints. That's what Taiga helps manage. Within sprints, it provides you with kanban boards to divide the stages of product development. Each kanban task card features the details necessary to complete it and so helps track progress along the way. It's one of the most popular Trello alternatives in IT.
Taiga also enables you to collaborate with other team members and create and modify documentation for your projects. Taiga is an open-source solution so everyone can contribute to its development.
‍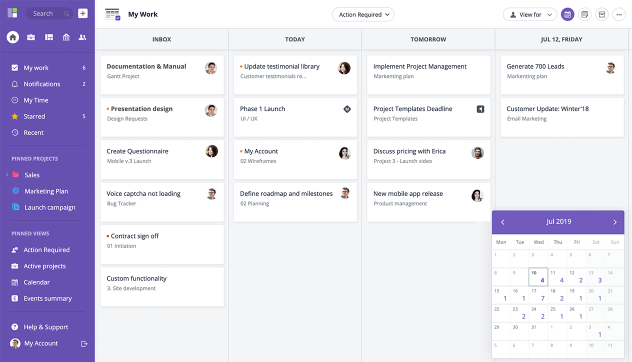 GoodDay will help you put together your goals and strategic planning while managing your projects and organizing the workflow. Apart from tracking who the work is assigned to, GoodDay takes into account the person who is required to take the next step in the process, to enable smooth collaboration and continuous progress. Thanks to that, any potential miscommunication is removed.
Tasks in GoodDay are split into subtasks and can be customized according to your needs. You can add attachments, checklists, make a task recurring as well as add your custom fields. GoodDay also offers time tracking options to keep track of the time team members spend doing their tasks. It is a good Trello alternative.
GoodDay can be integrated with many different apps, such as Google Drive, Dropbox, Gmail, Google Calendar, and so on.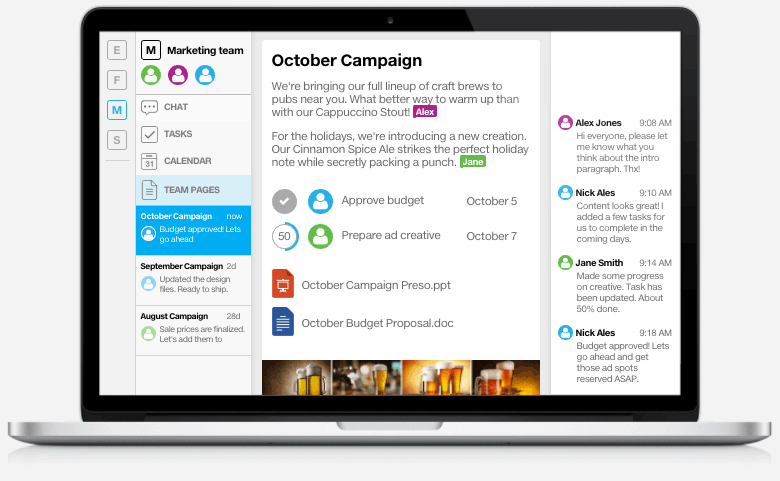 Samepage is a collaboration tool that makes project management and communication much easier and more productive. It enables collaboration on projects using task boards, sheets, pages, a mind map, and a chat (more options than Trello offers). Large projects can be split into smaller parts and organized on kanban boards, with due dates, assignees, subtasks, and appropriate priority levels so that important problems are always given priority over the ones that can wait a bit longer.
However, task management is not all that Samepage can offer. You can also benefit from built-in communication tools – a chat, direct messaging, and a free video calling feature, which will let you communicate with your team members seamlessly from any place and at any time. The feature makes Samepage a great Trello alternative for dispersed teams. Thanks to the different access level options, you also can invite guests, for instance, your customers.
‍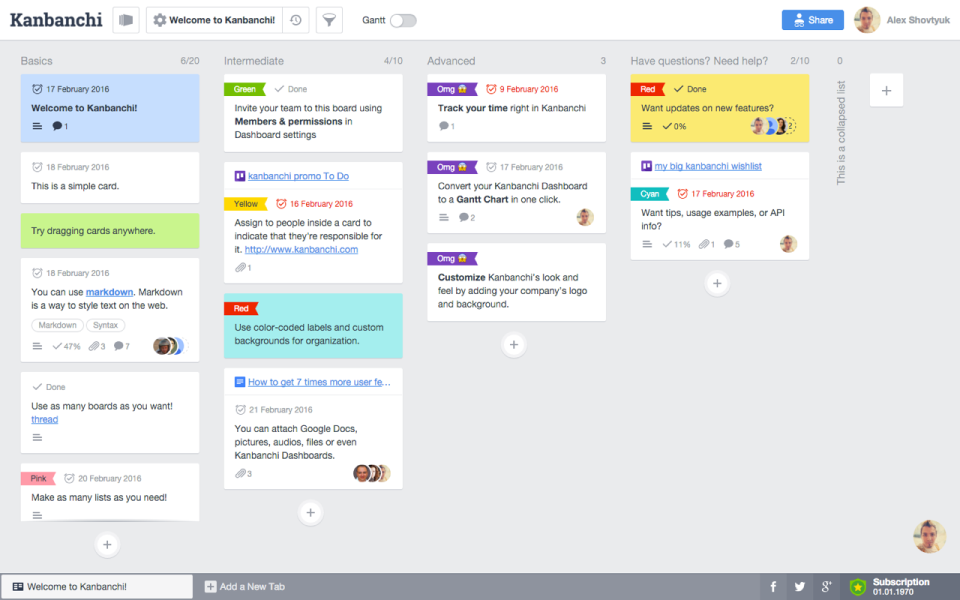 Kanbanchi is online collaboration software for G-Suite and the next example of a great Trello alternative. The basic features it offers are a kanban board, Gantt chart, and a time tracker. It has an intuitive interface, familiar to Google users, which makes it easy to use and follow.
You can manage your tasks on a kanban board and collaborate with your team in real-time, tracking progress and keeping everything in check. Taking a bit more perspective, you can benefit from the Gantt chart option and see the relations of tasks in time. This will help you manage projects more effectively and adjust the schedules whenever necessary, to make sure everything goes according to the plan.
Your team productivity is also under control with Kanbanchi's time tracking feature. It lets you see how much time your team members spend on particular tasks, making it easier to adapt the workflow to their capabilities and helping them increase their productivity. Your team performance can be tracked thanks to the reporting options. It's a good project management tool and Trello alternative.
‍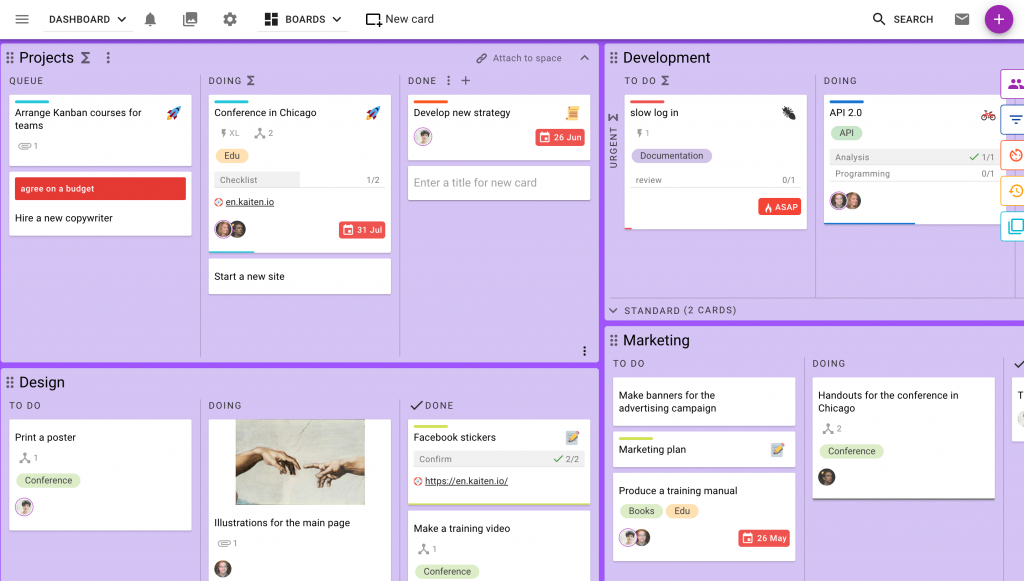 Kaiten is a Kanban-based online management tool, which provides you with a visualization of your workflow and lets you handle even complex processes better than in Trello. It makes the project management process transparent and enables the whole team to follow the progress and stay on the same page. With Keiten, you can use a collaborative workspace that provides everyone with up-to-date information on the status of tasks. Each user can gather boards from other spaces in one view to have an overview of the most important processes. It makes the tool suit the needs of every team member, helping them focus on their tasks, at the same time is up to date with any important updates. If you are looking for apps like Trello for multiple projects, you should try Kaiten.
‍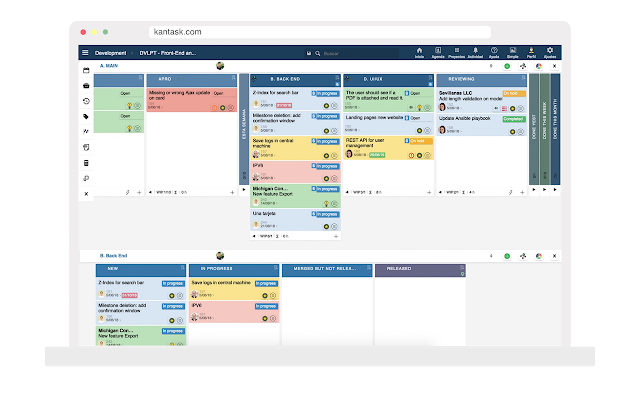 Kantask is a visual collaboration tool for teams and a Trello alternative, which can be useful if you are involved in multiple projects and need a helping hand to be able to manage them efficiently. Its goal is to gather multidisciplinary teams around visual workspaces and streamline the workflow. With Kantask, you can manage projects on a kanban board, create task lists, set individual and collective goals, and therefore share them with everyone in the team. Projects can be private or public and you can also assign roles and permissions for greater convenience.
Kantask also offers a useful analytics module, which will let you gather data on your organization's workflow, the duration of tasks and assignments per team member, and your team's progress. You can also link processes or teams to create a network of dependencies and coordinate the work even better.
‍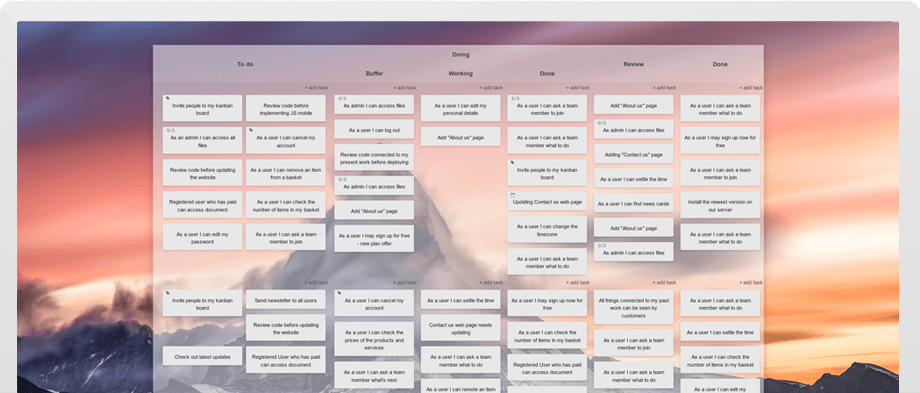 Kanban Tool provides you with a Trello-like project management feature, which enables real-time collaboration on a Kanban board. You can collaborate not only with your team but also with clients, sharing tasks, information, and comments. Kanban tool helps you visualize the workflow on kanban boards and track multiple projects at the same time with the use of swimlanes. You also have a big choice of power-ups, such as interactive checklists, recurring tasks, and team activity widgets or various integrations, for instance with Dropbox, Google Drive, or OneDrive.
Apart from kanban-based project management features, you get access to time tracking and insightful analytics, which will help you increase your team's productivity and predict when particular tasks will be done. Analyzing the workflow will help you make informed business decisions and continuously improve your management style with this Trello alternative tool.
‍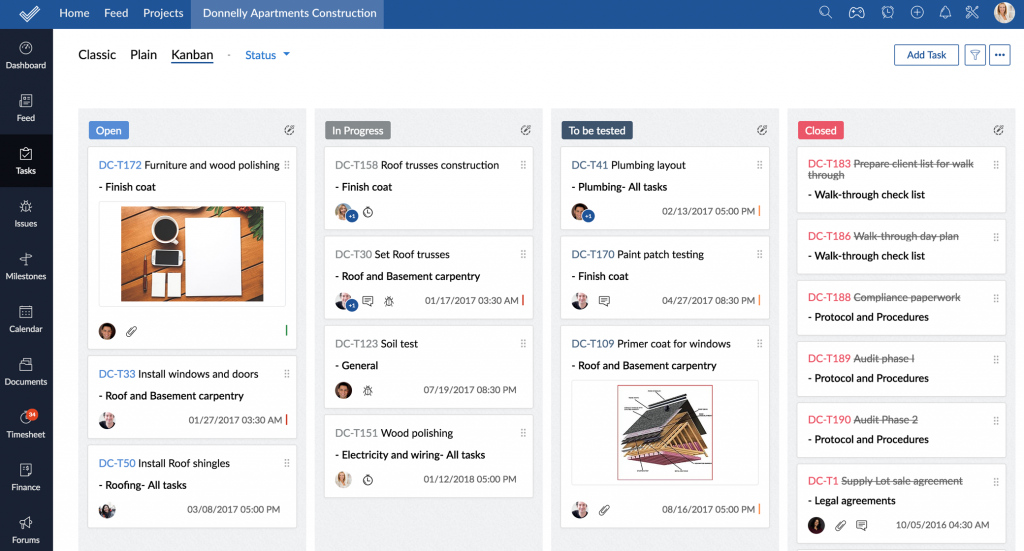 Zoho Projects is a cloud-based project management tool that is at the same time intuitive and full of useful features. Project planning will help you break down your tasks into smaller, more manageable chunks and complete them in time. You get access to all your projects and assign tasks, set deadlines, and dependencies between tasks. Thanks to that you can be sure you will never miss a deadline again. You can also communicate with team members in real-time using the project chat.
You can see all your tasks on a kanban board just like in Trello, but that's not all. Zoho Projects also gives you access to Gantt Charts, which provide you with yet another way of visualizing your projects and following milestones, progress, and dependencies. With Gantt Charts, it's easier to reorganize your tasks and edit milestones as needed. If you need different information, just switch the chart view and choose the one that will be useful at a given moment.
‍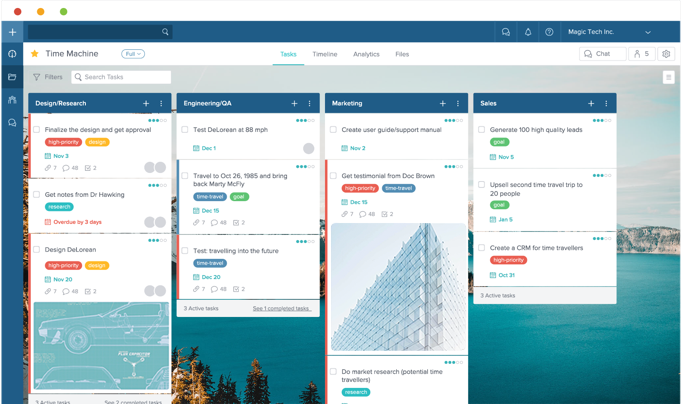 Taskworld is a Trello-like tool to manage your tasks and communicate with your team. The workflow is organized in workspaces where all members can access their tasks with due dates and checklists. Apart from assignees, you can add followers, so that they get notified of any updates, even if they are not responsible for a given task. Tasks can be updated simultaneously in multiple projects.
Taskworld also offers a communication feature, in the form of task comments as well as a chat, where users can message each other directly or reach out to a group of people at the same time. A separate chat is also created for every project, to make any updates or discussions easier and quicker. Taskworld can be integrated with your email, enabling you to send and receive messages directly from your inbox.
Rich analytics options will make it possible to plan your future activities and make informed business decisions. You can use burndown and burnup charts, interactive dashboards, and performance reviews, among others.
‍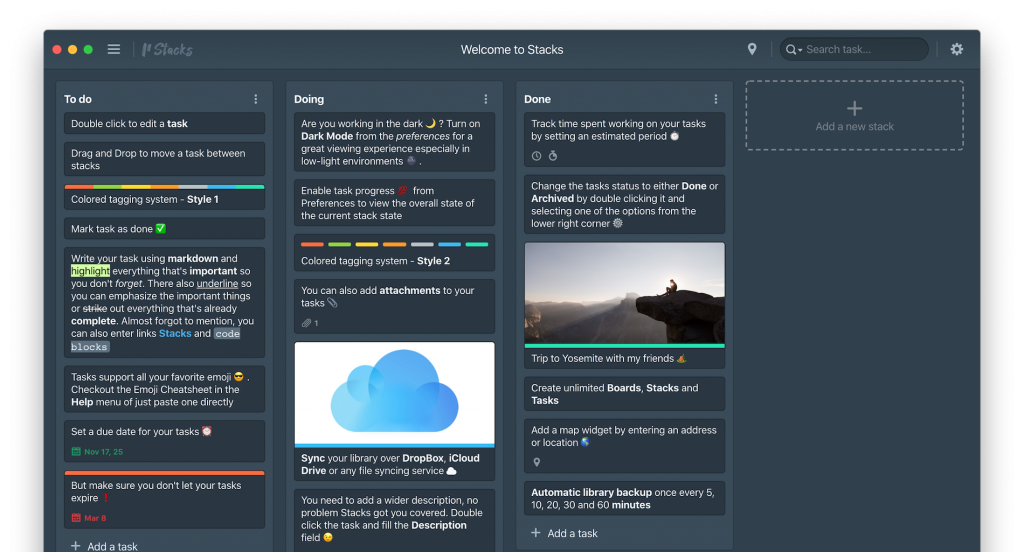 Stacks is an easy-to-use project management software, which helps you organize your tasks and gives easy access to them at any time. It can be a great Trello alternative for small teams. Project management in Stacks is based on kanban boards. Tasks are organized visually, giving you a clear overview of the workflow and making it possible to monitor the progress in real-time.
Stacks offers a variety of features to manage projects. You can group tasks, tag them for convenient searching, and attach files. Different views allow you to choose the most convenient one for yourself – either overall stats, calendar, or a world map view. If you want to find a particular task, you can use the quick search option. Within each stack, you can easily verify the progress, checking the percentage of progress. To better fit the needs of your company or team, you have various options to personalize the app.
‍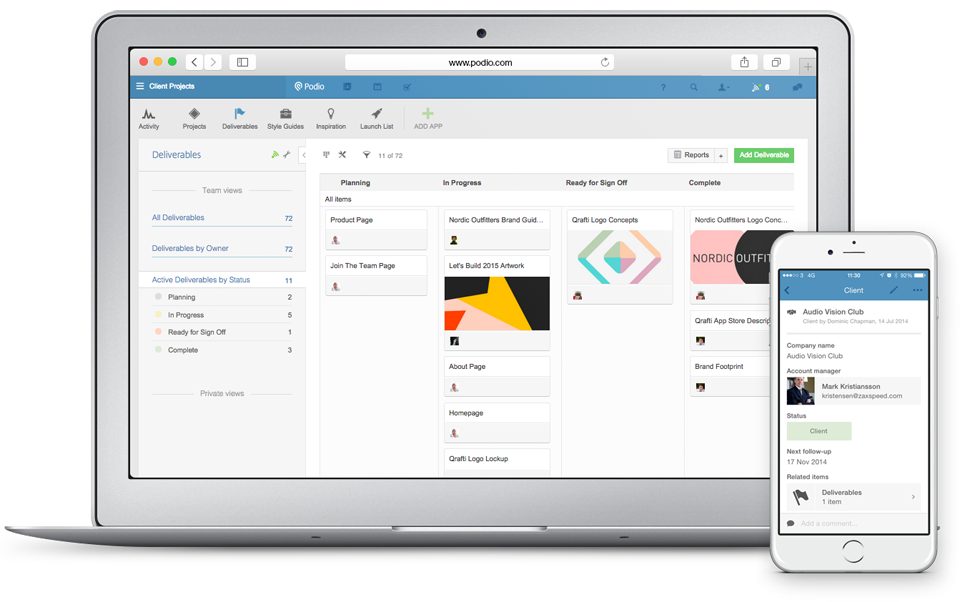 Podio is an efficient project management solution, which will help you to simplify the teamwork and keep everyone on the same page. With Podio, you can create automated workflows and integrate them with project management features, all that within one tool. It's customizable and also provides you with social collaboration options, to further facilitate teamwork.
When it comes to project management, Podio gives you a simple overview of the workflow and allows you to monitor the progress. There are various project management features, including task lists, adding assignees, attaching files, and discussing task details by adding comments. Allowing you to structure processes and content, Podio combines clarity and efficiency, which help you and your teamwork effectively and get more done.
‍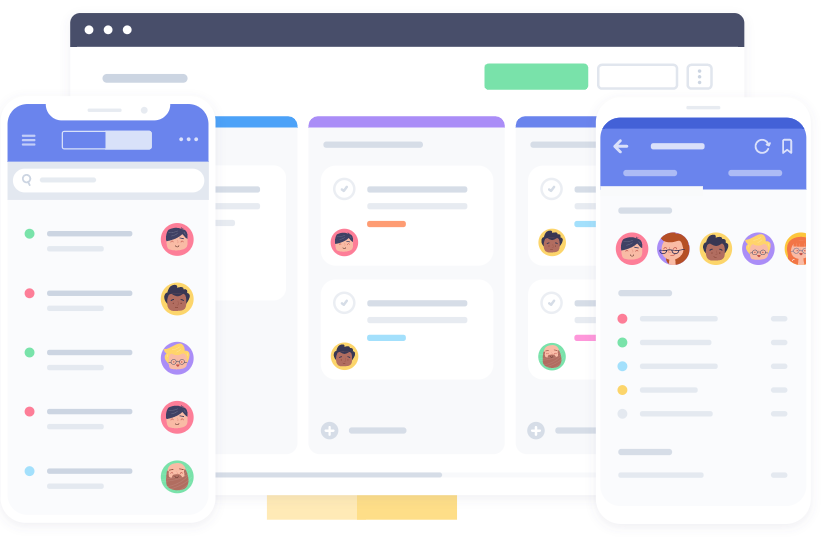 Teamwork will help you increase your team's productivity and optimize team resources. It keeps you up to date with team capacity and helps make informed decisions when it comes to resourcing. Thanks to that, the workflow is smooth and the risk of delays is reduced to a minimum. Using Teamwork, you can visualize project tasks with the use of boards, no matter if you use kanban, scrum, or any other methodology, and always be aware of the project scope and progress. Monitoring the workflow in real-time helps avoid bottlenecks and prevent any potential problems.
Teamwork offers an efficient workload-monitoring feature, whereby you can get an instant overview of the capacity of each team member, indicated by a capacity bar. It helps you react quickly in case someone is overloaded and offload some of their work onto someone else, to keep the workflow smooth and make the project management process effective.
‍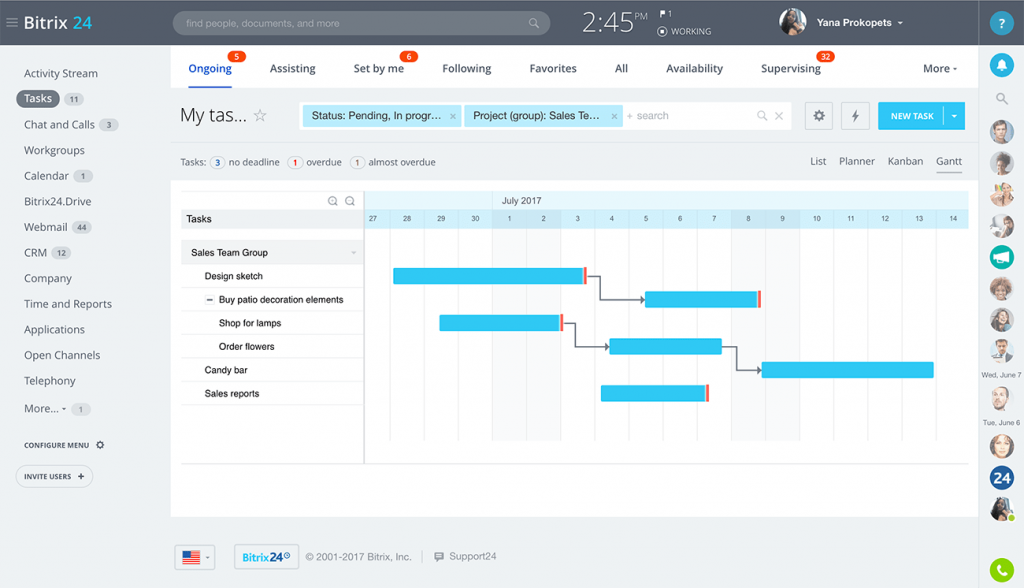 Bitrix24 is a productivity platform, which helps manage many of the daily operations of your team or company. It offers useful project management features and makes it easier to plan your projects. You can benefit from efficient resource management options and get an overview of the workflow with the use of interactive Gantt charts view.
When it comes to project management, it makes it possible to create task templates, manage task dependencies, create checklists and custom task fields, as well as make tasks recurring, and create them from emails. You can also assign different task roles. On top of that, Bitrix24 allows for task supervision and control, including supervisor rating, task reports, and deadline control, making the workflow management process even more efficient. Bitrix24 is available in cloud and on-premise and you get access to source code, which allows for customization.
‍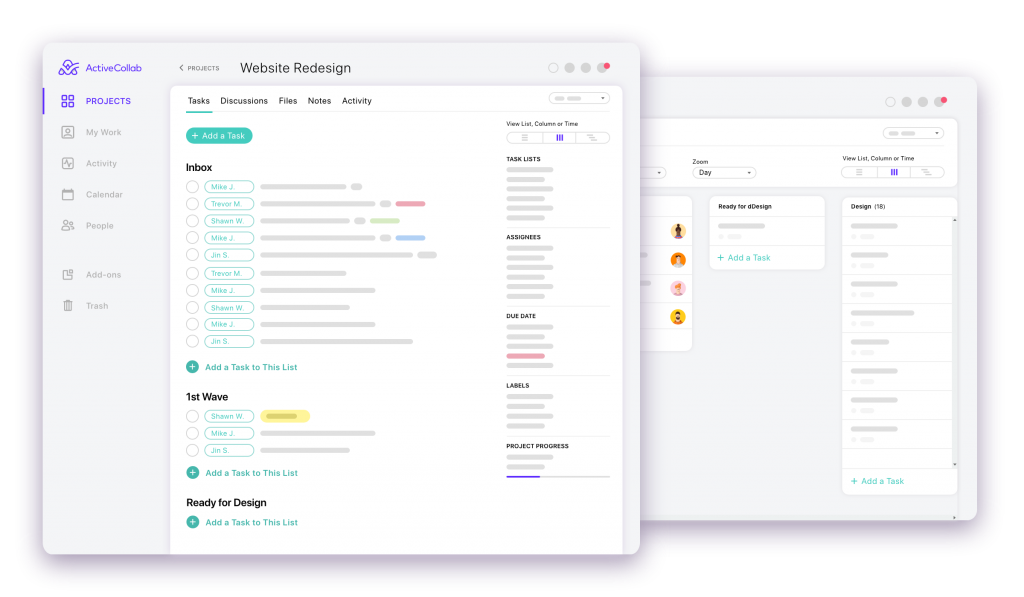 ActiveCollab is a Trello-like project management app, which will help you plan and efficiently organize your work. You can create an unlimited number of projects and provide your co-workers with a brief description of each of them. Also, you can filter projects and keep the most important ones at hand by starring them. ActiveCollab allows for creating reusable project templates and duplicating them, to make adjustments. It also offers a big range of basic features related to task cards and allows you to prioritize the most important ones, so that you can come back to them easily later on. It offers per-user pricing just like Trello.
The app has multiple task view options, so you can select the one that works best for you in a given moment – a to-do list, column, or timeline view. There is also a calendar, which you can share with your team members and clients and customize, to make it suit your needs best. All your projects and tasks are easily available, appearing in the calendar view and all tasks can be edited directly there. On top of that, you get useful communication options that further streamline the collaboration.
‍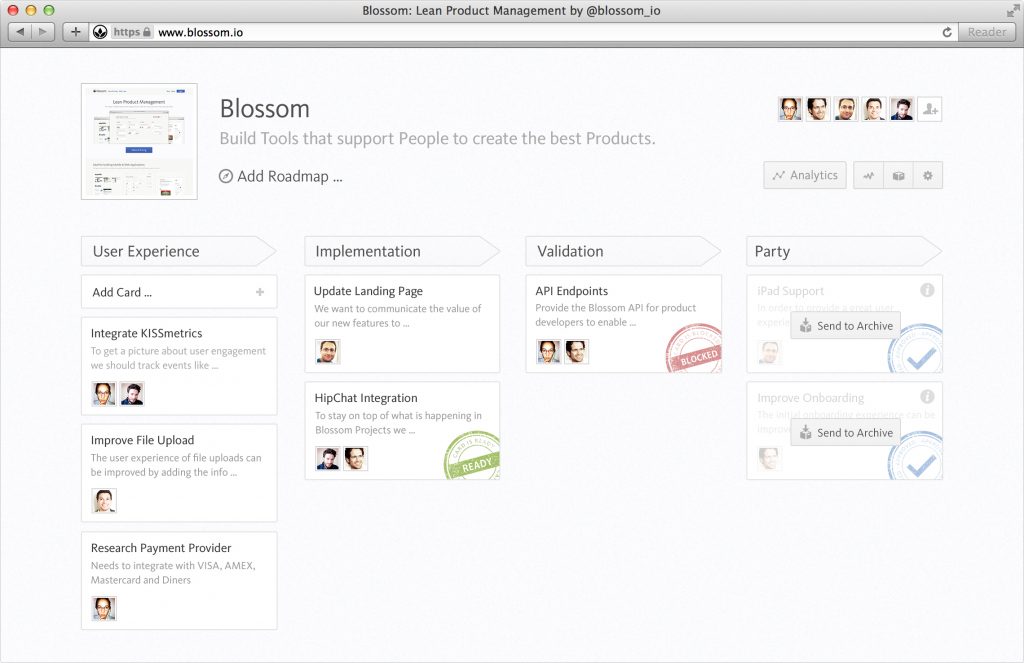 Blossom is a project management solution, Trello alternative, particularly useful for teams of developers, which gives everyone a clear overview of the workflow and helps focus on the most important aspects of each project. With Blossom, the development process can be managed based on the principles of Kanban.
Blossom facilitates stand-up meetings, which are very important in every software team. It gives the possibility to a and keeps everyone on the same page. Apart from that, the app helps analyze performance with the use of reports available directly in Blossom, which enables you to estimate and plan sprints effectively. What makes it even more useful for software teams is the integration with GitHub. Blossom saves your time and keeps everyone in the loop at any time. If you are looking for project management software that is more suitable for IT projects than Trello, you should try Blossom.
‍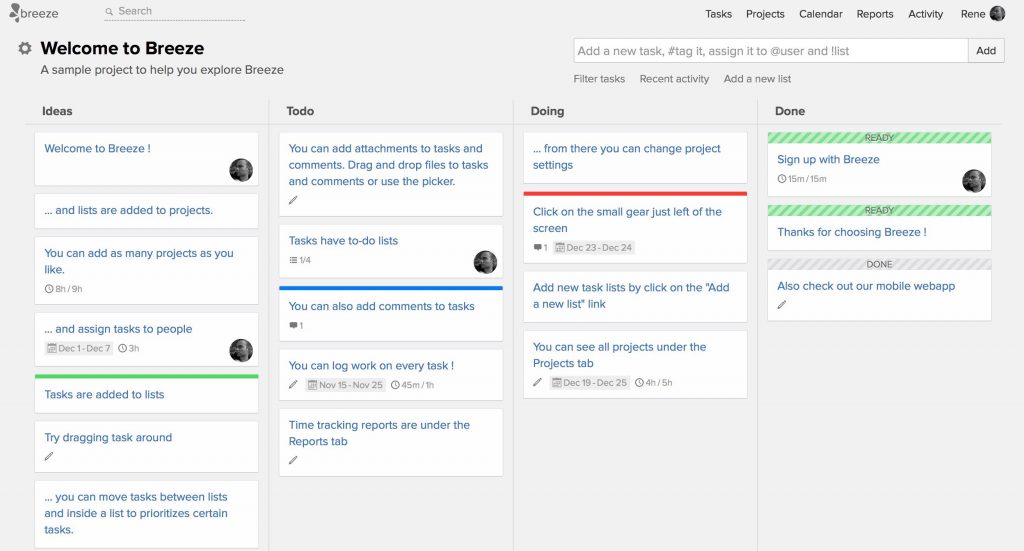 Breeze is a simple project management tool, which helps to plan, track, and organize work. With Breeze, all your tasks can be included in a single workspace, providing you with an overview of the workflow and allowing you to keep your team on track. You can organize tasks into Kanban boards, set deadlines, and change task status. Breeze also lets you make accurate estimations, add tags to tasks, and attach files as well as track time spent on tasks. Most of these features are Trello power-ups, so if you need them all, this is a good team collaboration alternative.
You can have an overview of the workflow in a built-in calendar view or synchronize the app with an external calendar if that's more convenient for you. On top of that, Breeze has a chat feature which is a central place to brainstorm and gather feedback in the project, making it a great collaboration tool for remote teams and a great Trello alternative.
Workzone is multifunctional project management software, which is cloud-based. Workzone offers document management, task management, time tracking, resource management, and reports. Thanks to the different roles of users, every team member could see another detail. They can cross-project summaries and automated and personalized project to-do lists, so they won't miss any project detail.
Workzone is a very independent tool, which automatically calculates the start and due dates of tasks, notifies about everything important. Workzone takes care of security thanks to secure web-based file sharing and collaboration.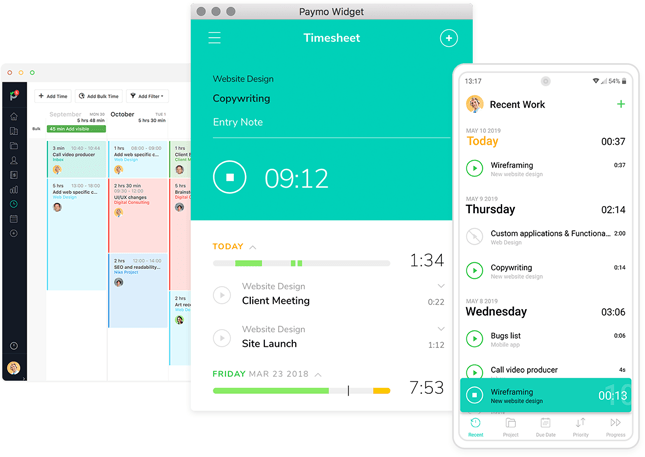 ‍
Paymo is a work and project management app dedicated to small and medium teams. This solution is perfect for remote work and offers project planning, task management, resource management, team communication and collaboration, time tracking, and documents management. Paymo makes creating projects easier. It enables adding tasks, monitoring progress, and managing through the list, table, board, calendar, and Gannt chart.
Paymo helps with tracking your productivity, thanks to desktop and mobile app, and built-in timers. It enables creating. reports from data and sharing it with your clients. Paymo offers 2 paid plans and a free plan for up to 10 users.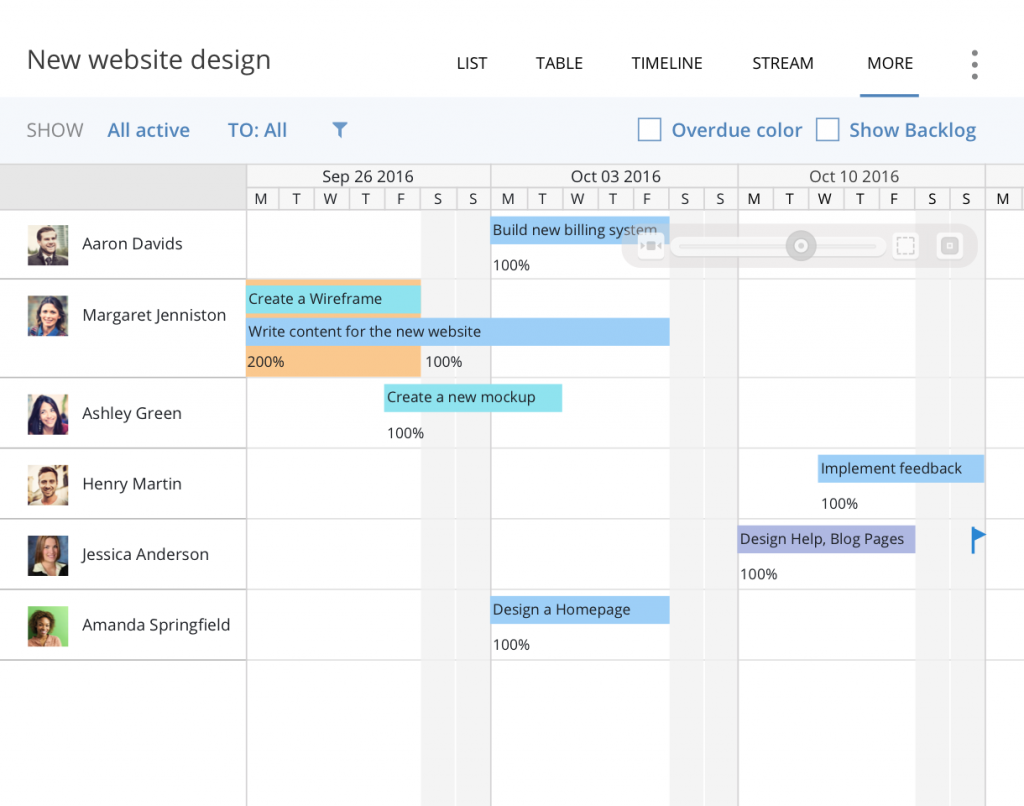 Wrike is a project management tool that is a cloud-based solution. Wrike is dedicated to teams of 20+ that are suitable for both large enterprises and SMBs. Key features of Wrike are typical for project management and collaboration. Gantt charts, calendars, workload view for resource management, custom dashboards, and real-time updates help with managing multiple tasks and make the work of the project managers easier. Wrike allows for structuring all processes by managing work in folders, projects, and tasks.
Wrike integrates with a variety of tools including SalesForce, Dropbox, Slack, and Adobe Creative Cloud, and offers an open API. Wrike is suitable for marketing, operations, creative, and large to midsize IT teams. The solution is priced per user and is on a monthly subscription basis.
Do you know any other good Trello alternatives?