Task Management Tools for 2023
February 5, 2023
by Pawel Kijko
No comments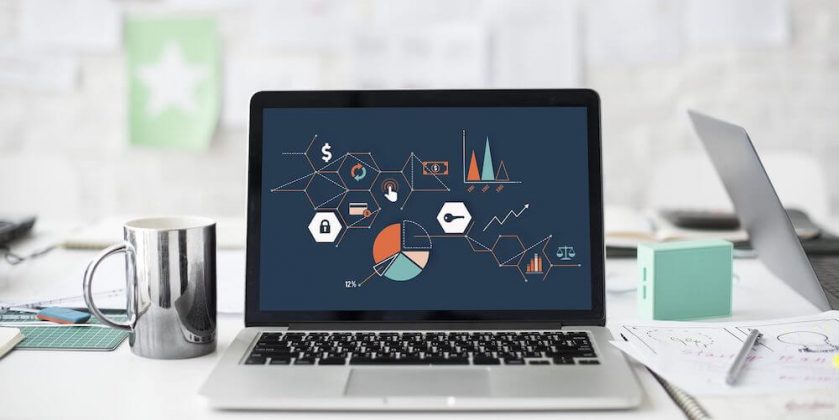 The market for task management tools is changing quickly and there are more and more new, interesting tools to try out. As the tendencies that govern the choice of tools are also evolving, it's crucial to live up to users' expectations and deliver efficient solutions. To make the choice a bit easier, we've prepared an up-to-date list of the best task management tools for the year 2022!
Why is task management important?
Task management lets you stay on top of your work and make sure that whatever needs to be done is done on time and as planned. Good online task management software not only helps organize and manage work but can also significantly increase productivity. It's an absolute must-have for teams to facilitate project management, as tasks are easy to manage and their status is visible to everyone. At the same time, the whole team can see the big picture of every project. Task management apps are also extremely useful for individuals, who can organize their workload and make sure they never miss a deadline.
In this day and age, you don't want to rely on whiteboards or sticky notes. They are useful, indeed, but you've probably already found out they are not all that reliable. To make your daily work easier and be able to fully focus on your duties, you need software that you can rely on. Take a look at the most interesting task management tools for 2022.
The best task management tools for 2023
TimeCamp Planner – task management tool with chat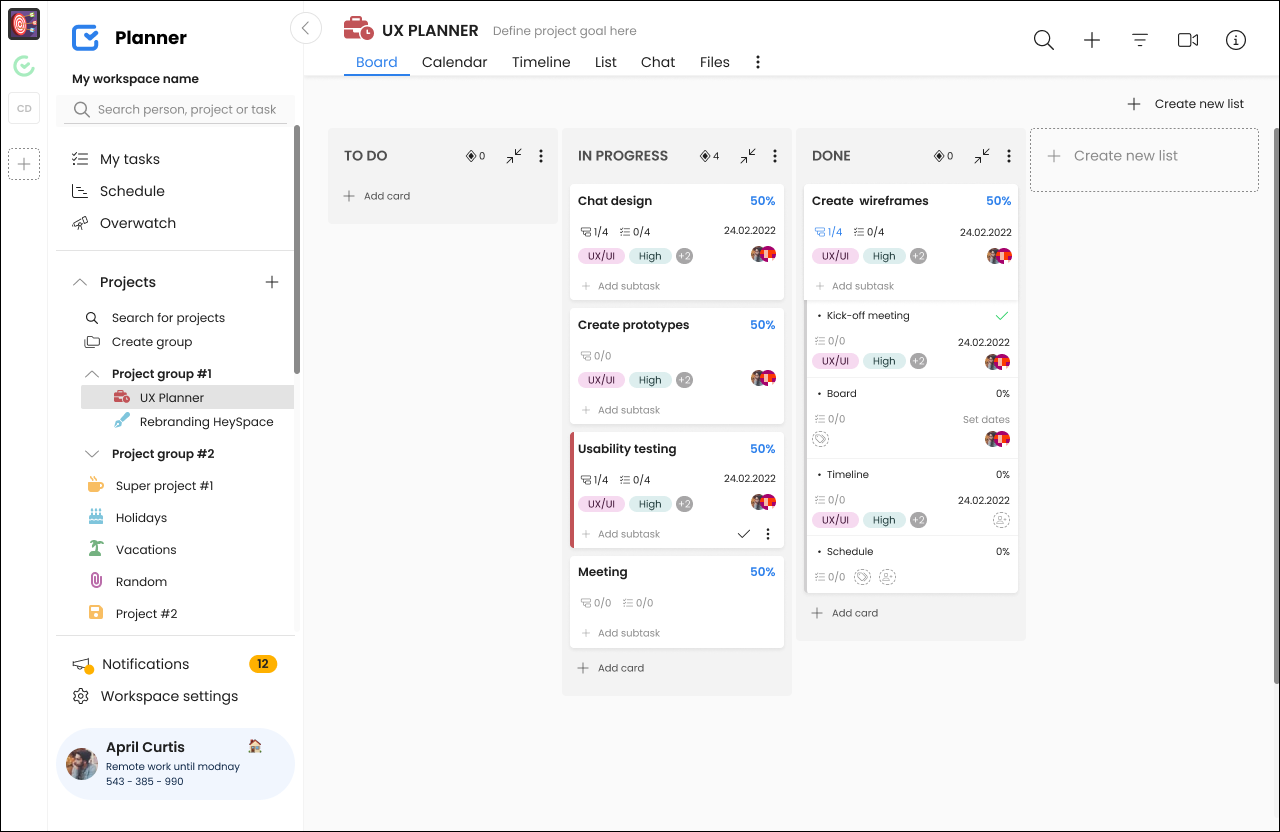 TimeCamp Planner is a two-in-one tool, which lets you manage tasks and communicate with your team members in real-time, without the need to use multiple apps. It gives you access to your list of spaces, kanban boards, and chat, all at once. You can easily communicate in one-on-one or group conversations with all your team members and monitor the progress of task cards at the same time. As a workspace owner, you can also manage members within your workspace and invite guests, for instance, if you want a client to get involved in a discussion with your team. Thanks to the useful feature of tagging and intuitive searching options, you will never lose track of important tasks. TimeCamp Planner also gives you an overview of all your tasks in an internal calendar and offers access to your work from wherever you are in a mobile and a desktop app.
An undeniable asset of TimeCamp Planner is the perfect integration of the task management feature with the communication platform. While chatting, you can convert a message into a task card with just one click and go back to your conversation once you've completed the card. On top of that, each task card has its chat window where you can discuss related topics or share the progress and go back to the message history whenever you need.
TimeCamp Planner is extremely intuitive and the interface is user-friendly, so you don't have to worry that the onboarding will take a lot of time. It comes with many useful add-ons, such as calendar synchronization, recurring tasks, integrations with Google Drive, Gmail, and Dropbox, and many more.
Pricing
The pricing in TimeCamp Planner is very simple. Depending on your needs or the size of your company, you can choose either:
a free plan with full basic functionality, but limited features and add-ons, or
a premium plan, which comes to only $5 per month per user and gives access to more advanced tasks management features and all add-ons.
All advanced features you can test during a 14-days free trial.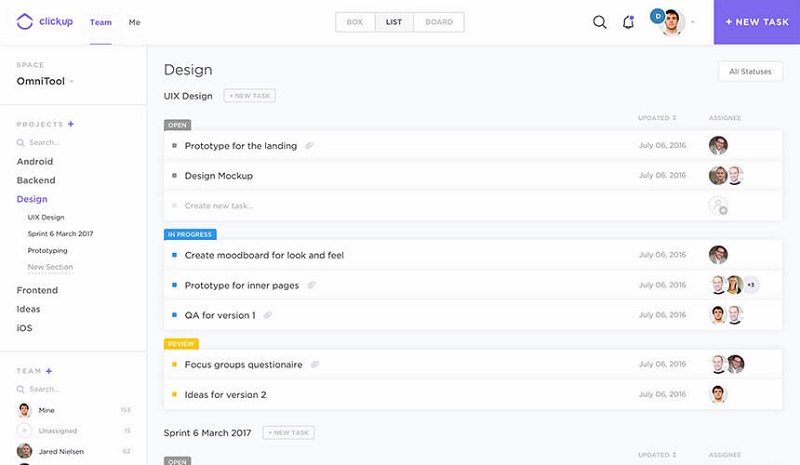 ClickUp is a productivity app that offers advanced task management features. You can create your views and there are plenty to choose from: a list, a board, a box, a calendar, and a Gantt chart view. Thanks to the last one, it can be used to manage not only individual tasks but also roadmaps. Spaces can also be customized with the possibility to choose different task priorities, fields, tags, add multiple assignees, time tracking, and estimates.
The tasks that you're actively working on can be minimized in your tray and so you won't need to open a new window tab to access them. All your tasks are gathered in a convenient inbox, which gives you easy access to what you have to work on next and what you've already finished or delegated.
Apart from task management, Click Up also facilitates team communication. You can open a conversation view and use it to discuss something with your team or, for instance, manage sprints. All those who want to participate can be added as watchers and get notifications for updates.
Pricing
ClickUp offers a free basic version and, depending on the features you want to use, paid plans as well. The plan they offer are as follows: Unlimited for $5 per user per month, Business for $9 per user per month, and Enterprise for $17 per user per month. The more expensive the plan, the more features it offers.
ProofHub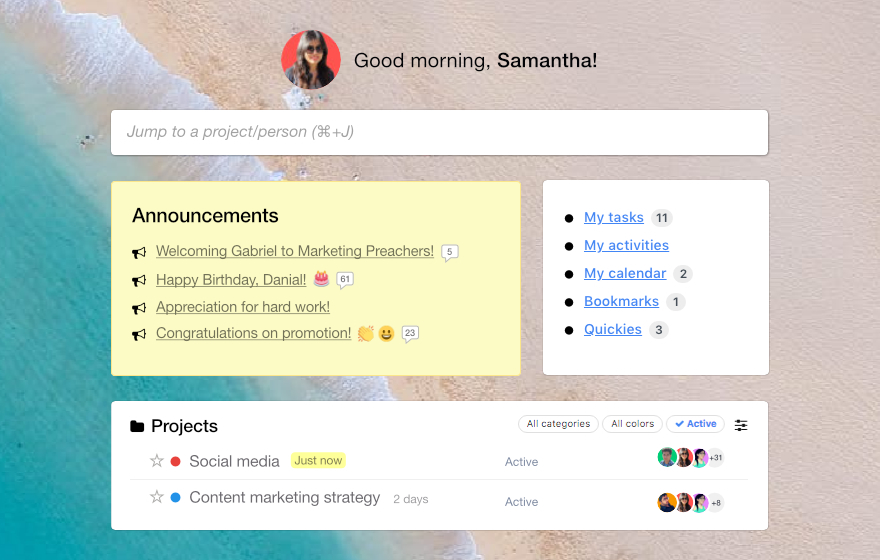 ProofHub is an all-in-one project management and team collaboration software that helps teams and businesses of all sizes stay in ultimate control of their tasks, projects, and communications. You can create to-do lists for simple task management or switch to kanban boards to create custom workflows for a more agile approach to managing your tasks. ProofHub simplifies your task management efforts. You can create tasks with deadlines, and assign them to individual team members, break them into subtasks, add comments and attach files to them for more clarity.
With ProofHub, planning your projects becomes quick and easy thanks to the powerful Gantt chart feature. There's an in-built chat app that brings all your team communications under one roof. You also get a dedicated space for real-time discussions – simply create a discussion topic, add people to it and you can carry out your collaboration seamlessly.
ProofHub simplifies the review and feedback sharing process with its easy-to-use online proofing tool. You can share creative files for review, the decision-makers can review and annotate using markup tools, and add comments.
One of the most exciting features in ProofHub is the custom reports. You can select parameters of your choice to manage your resources and projects in the most efficient possible manner. You can even track time using an automatic timer in ProofHub and keep an eye on your productivity. The time data gets stored in timesheets, which you can use to track the number of hours spent working on tasks.
ProofHub integrates with third-party apps like Google Drive, OneDrive, Dropbox, Box, and more to give you a central place for accessing all your data scattered across different platforms. Plus, the real-time notifications allow you to stay updated on everything that your team members are doing in ProofHub.
Pricing
Unlike most of the popular apps in the market, ProofHub offers a simple, no per-user pricing. You get the Essential Plan with all the basic features at $45 per month, whereas the Ultimate Control plan with all the advanced features, unlimited users, and unlimited projects is available at $89 per month.‍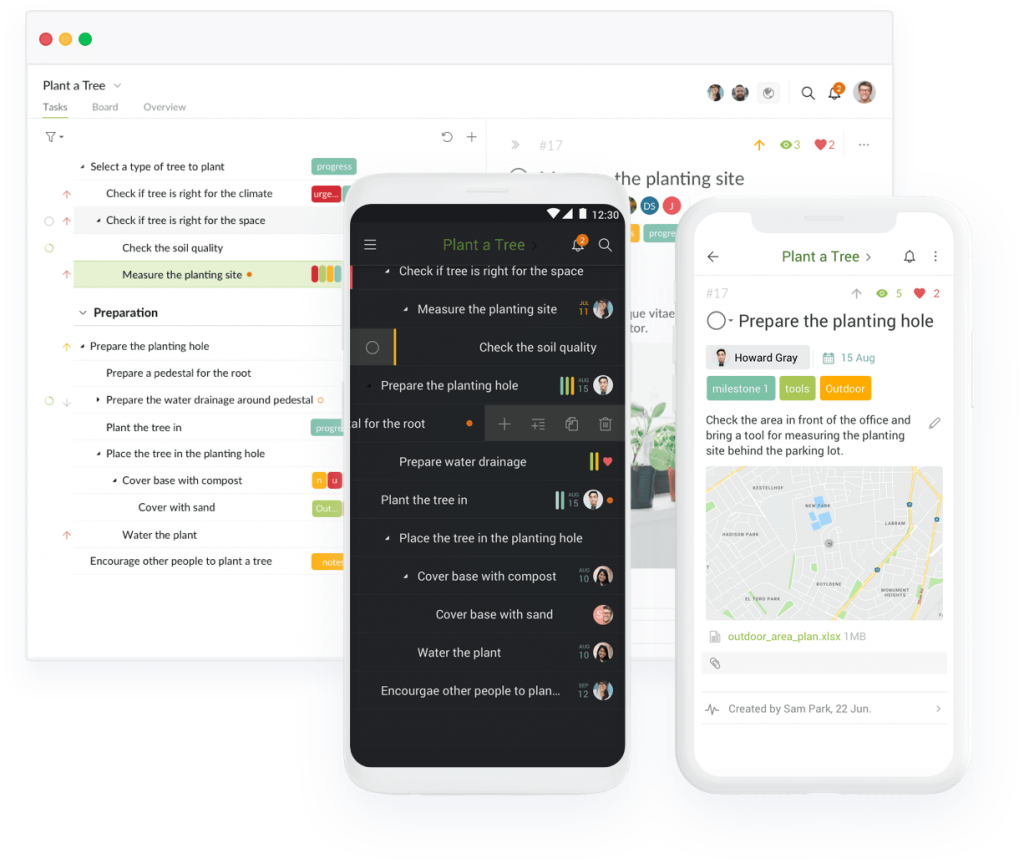 Quire is a kanban tool for efficient task management, which will help you organize your workflow and stay productive. You can give each of your boards a name, for instance, according to the project's subject. Then, you can go on to adding tasks, assigning them to team members, setting deadlines, and so on. Tasks can be easily moved on the board by drag and drop and sorted intuitively, for example by assignee so that you get easy access to what you're looking for. Quire also facilitates communication with the instant messaging option. Your multiple projects can be shared with clients by simply sending an invitation link so they can access them without signup. This task tracking tool comes with a mobile app which makes it easy to use on the go.
Pricing
Quire offers four plans: Free – for individuals or teams just getting started with Quire and need to keep track of their work; Professional – for small teams that need to visualize their work in one place ($8.95/member/month); Premium –  for growing teams or companies with cross-functional teams and more complex workflows ($14.95/member/month); Enterprise – for enterprise-grade corporates that need ultimate management, security control and support ($19.95/member/month).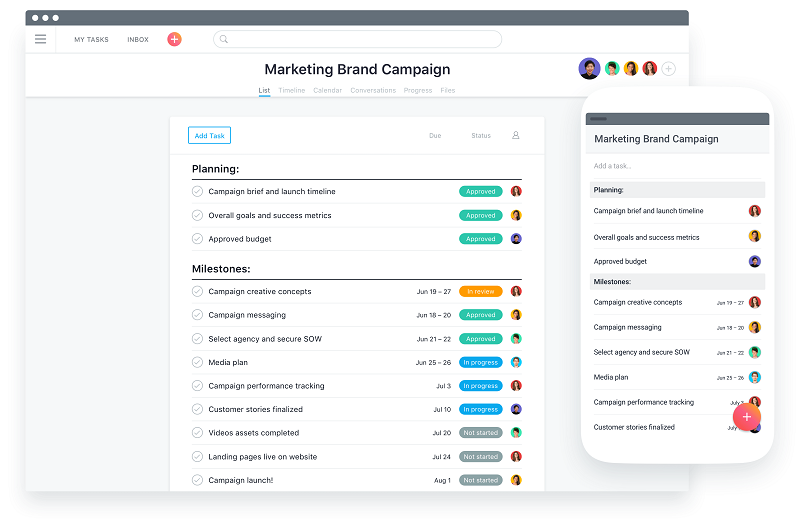 Asana is a work management platform that helps to stay focused on goals and daily tasks to grow your business. It offers a range of templates for popular projects which you can use and gives you the possibility to create your custom templates. The templates are reusable, so you can refer to them whenever you begin a new project to make sure the processes in your company are uniform.
With Asana, it's very easy to manage your workload. It displays all your tasks for a given day on your list for easy reference. You can put them in the order in which you want to work on them and organize them into sections to structure your time even better. Tasks can also be tagged, for instance, according to the time you might spend on them. All new notifications are displayed in a convenient inbox, so you can go back to them whenever you need them and reply to them if you wish.
That's how your task management is organized in Asana. But this task tracking tool is also useful as a reference for a more comprehensive view of each project. Tasks are displayed on kanban boards, which makes it easy to manage the workflow and follow the progress. On top of that, you can also access a Gantt chart view and plan a roadmap for your team.
Asana is integrated with a variety of tools to increase productivity or track the time you spend on different tasks. It also takes care of your communication – team members can add comments to tasks if they want to share progress or discuss potential issues.‍
Pricing
The basic plan, which is mostly useful for individuals or small teams is free. Teams that need more advanced task management features can choose between the Premium option for $9.99 per user per month (billed annually) and the Business option for as much as $19.99 per user per month (also billed annually). For additional security, control and support, there is an Enterprise plan, which is priced individually.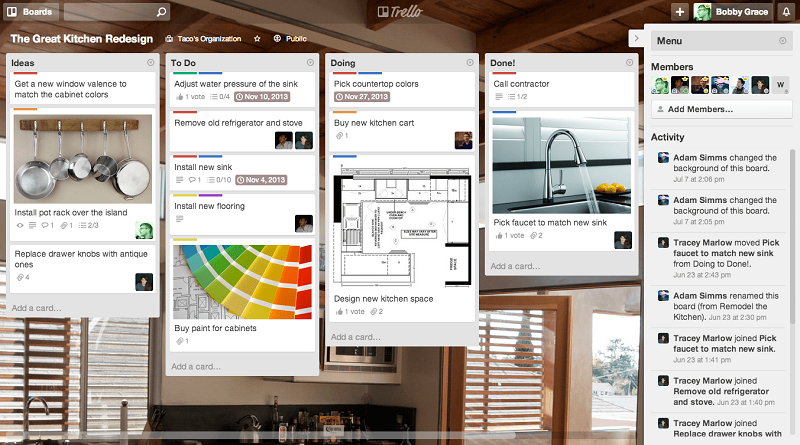 Trello is an intuitive task management app, which improves collaboration and facilitates project management. It's often associated with its ease of use and simplicity. Trello helps you organize the workflow on kanban boards and to-do lists so that it's easy to prioritize and stay in control of your duties. The interface is user-friendly but it doesn't mean it only offers the basic feature. In fact, it's just the opposite. It makes complex features easy to use to help you stay productive, without the unnecessary clutter that could get you confused.
A useful activity feed, which features all actions that have occurred on the board since it was created keeps you in the loop for what's going on in your project or team. Trello also makes it very easy to search through the app, with the filtering options and labels that you can customize according to your own needs as well as those of your team.
Pricing
The available plans include a free basic option with limited team boards and power-ups, as well as a Business Class option for $9.99 per user per month (billed annually) or an Enterprise plan which is priced differently depending on the number of users – the more, the cheaper the subscription fee.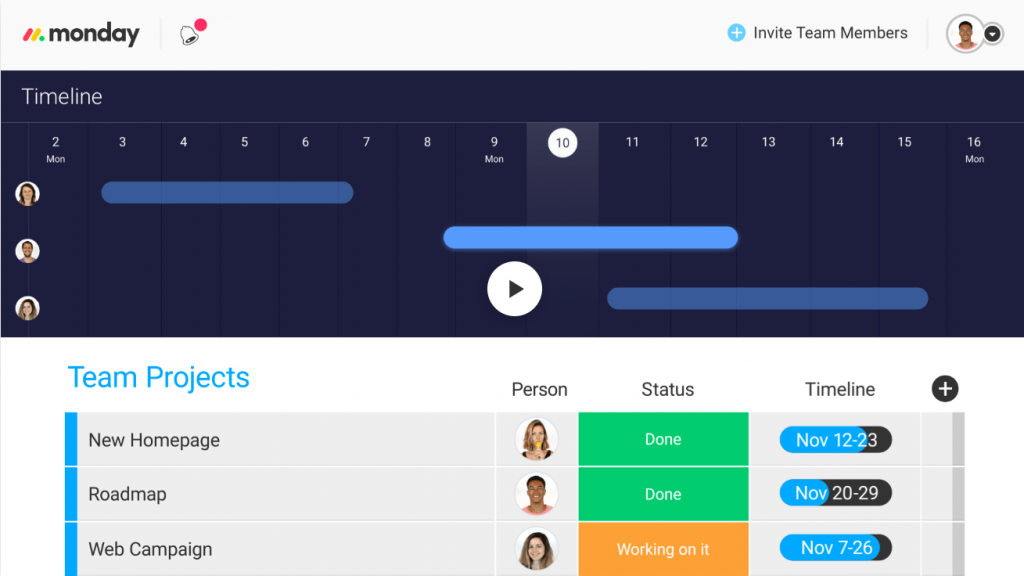 Monday is a kanban app and one of the best tool for task management that will help you stay on top of your work and collaborate with your team better. It offers a variety of templates that you can customize according to your needs and preferences. You can easily track the progress and timeframe of tasks thanks to intuitive kanban boards, but not only – but you can also choose a Gantt chart view, which gives you greater control over the projects and the stages to come, as well as more planning possibilities.
Monday keeps you up to date with what's going on in your project or team with a weekly overview of all assignments set for the coming week. This feature makes it easy for you to come back on track after the weekend and not waste your precious time.
Pricing
Monday's pricing plans are a bit different than in the case of other task management apps. There's no free plan and the price of those available depends on the number of users and increases with every 5 members you add to the subscription. You can choose the following plans (prices for up to 5 users): Basic for $39 per month, Standard for up to $49 per month, and Pro for $79 per month. It's also possible to get an Enterprise plan with the most advanced features priced individually.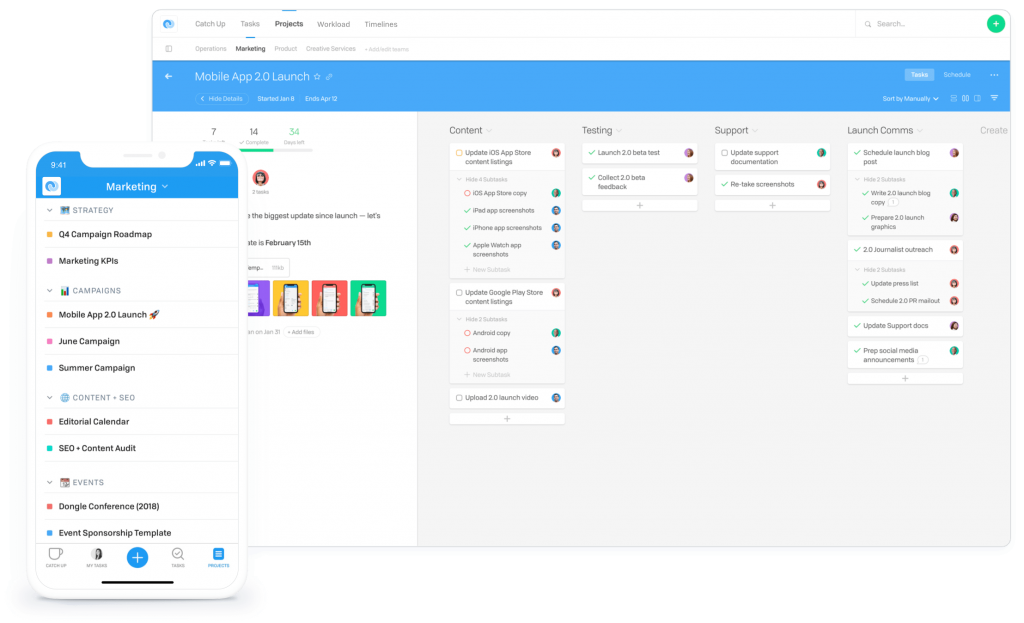 Flow lets you organize all your team's work, projects, and tasks in one collaborative workspace. You can flexibly manage your tasks by organizing them as lists or cards. Also, you can plan thanks to project timelines, which allow you to use drag and drop to change the start or end date of any project. Each task can include subtasks as well as notes and comments. All your tasks and projects are displayed on a dashboard, included in a weekly or monthly schedule, which certainly helps to get organized.
Flow projects can be linked to Slack channels so that you get automatic updates on project activity and can create tasks with /flow commands. You can create as many Teams as you wish and mark tasks as private or public. Alternatively, you can also grant different user permissions if you want to restrict access to some data.
Pricing
Flow offers different pricing plans, both of which are cheaper if paid annually. You can either choose the Starter plan which offers unlimited tasks and teams and basic management features or the Pro plan to benefit from full Flow functionality.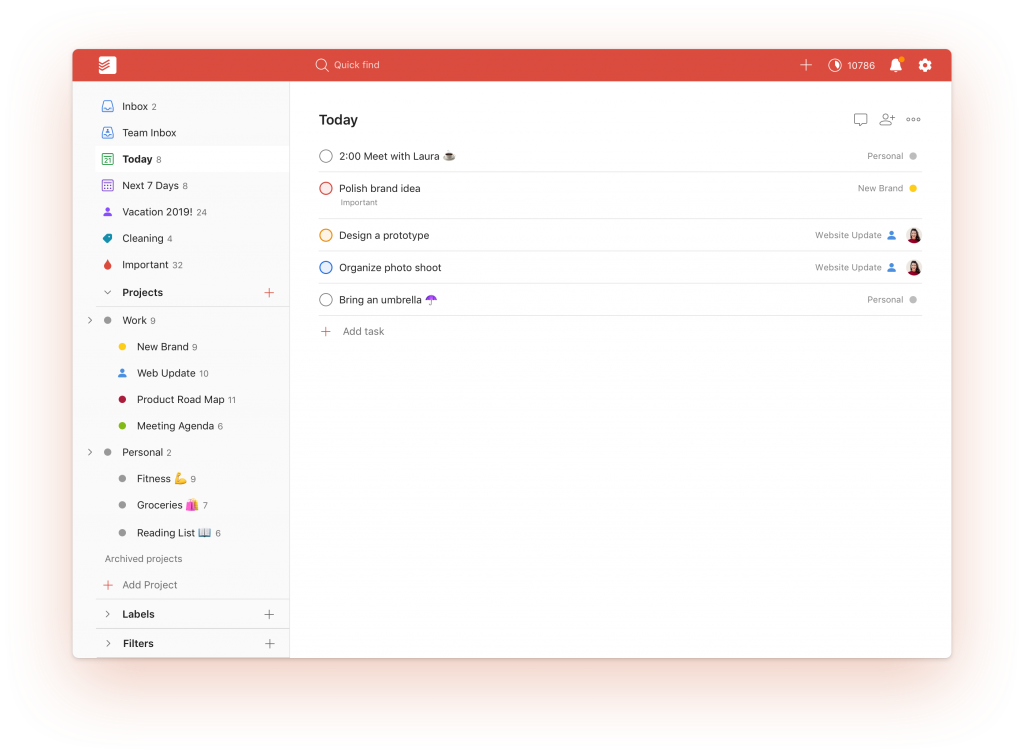 Todoist, as the name suggests, is a to-do list app, which makes it easy to plan your time effectively. It's very easy to use and allows you to create a new task, add a due date and define priority. You can assign tasks to one of your projects and add labels or filters. You also have the option to share your project with your colleagues and collaborate on it. It's very easy to review all your tasks added for a given day or the next 7 days. If you want to find a task quickly, you can use the search box at the top.
This task tracking tool has a very efficient notification system. Reminders are set automatically once you pick a due date and time for a task. You can receive push notifications or email reminders. You can change the default reminder settings to choose how much time before the due date you want to receive an automatic reminder or which channel you wish to choose.
Pricing
The basic plan is free and gives you up to 80 projects and up to 5 people per project. Depending on the needs of your company, you can also go for the Premium or Business plans priced $3 and $5 respectively.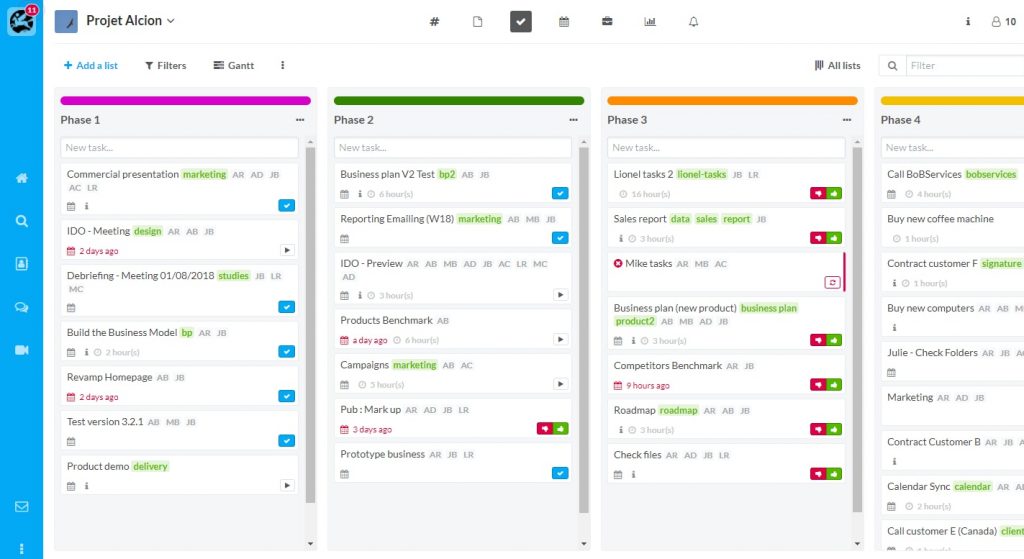 Wimi is an efficient project management app that helps you gather all your team members on one platform. With Wimi, all your tasks are organized within shared projects. It lets you arrange your tasks within workspaces and communicate with team members in real-time. Tasks can be easily managed and categorized. You can add comments and receive updates to stay up to date with every task. All the workload is included in a project calendar, with key milestones and deadlines for each project. Wimi also offers the feature of audio and video calls as well as screen-sharing options, which make communication even easier and more effective.
Pricing
Wimi is free for up to 3 users and if your needs are bigger, you can choose between the Team and the Enterprise Plan which come to $15 and $18 per user per month, respectively.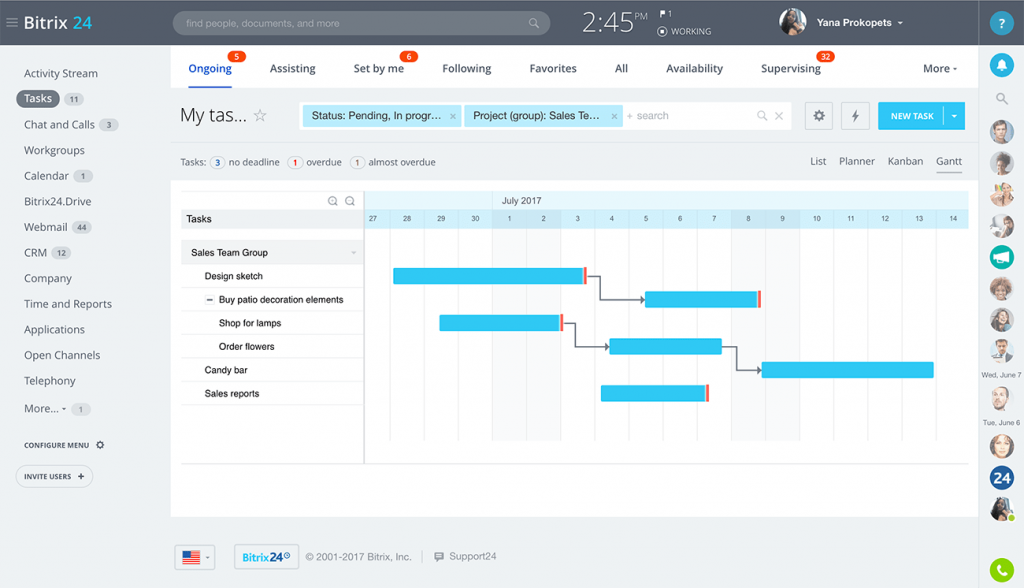 Bitrix24 is one of the best tool for task management – social enterprise platform, which helps you handle many aspects of your daily operations. It offers a whole range of project management features, such as to-do lists and task dependencies for efficient workload management. As an alternative to to-do lists, you may want to organize the workflow using kanban boards. On top of that, you can also benefit from advanced reporting options and Gantt charts for a more global view of your projects.
The tool also facilitates communication and allows for email-to-task conversion and collaboration in real-time with a communication platform. You can use Bitrix24 on the go, as it's available in a mobile version.
Pricing
The starter business tool suite is free and offers limited features. There is also a Project+ plan for as much as $69 per month for all users and two Business plans which also include CRM features, for $99 and $199 per month for all users.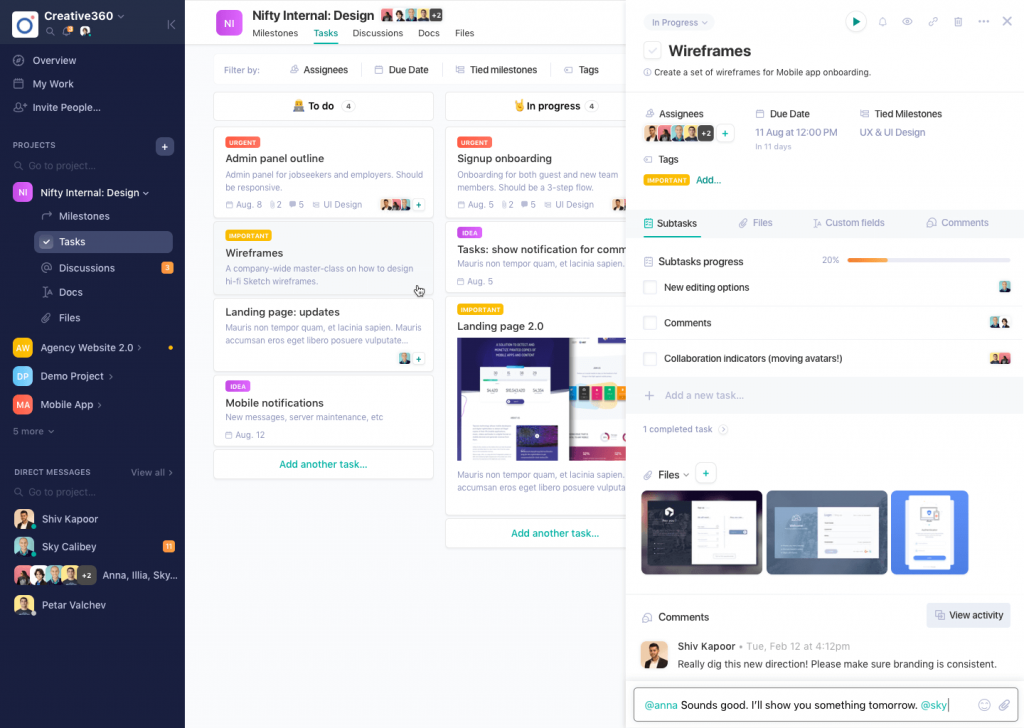 Nifty is a tool that makes project management easy and effective. Apart from task management it also enables real-time communication. Each project has several sections, such as milestones, tasks, discussions, docs, and files, thanks to which it's very easy to navigate between them and find what you're looking for. When it comes to task management, you can choose between a timeline view, a swimlane view, and a master overview across all projects in your organization. Your tasks are arranged on a kanban board but you can also use a list view if you prefer.
Team members can also track the time they spend on tasks to control their billable hours. Useful time logs give insight into the timeframe of each project. Thanks to that, you can keep an eye on your entire team's workloads.
Pricing
Nifty is available for free for individuals and small teams. If you're looking for more advanced features, you can choose the Standard option for $8 per member per month (billed annually) or the premium option for as much as $12 per user per month.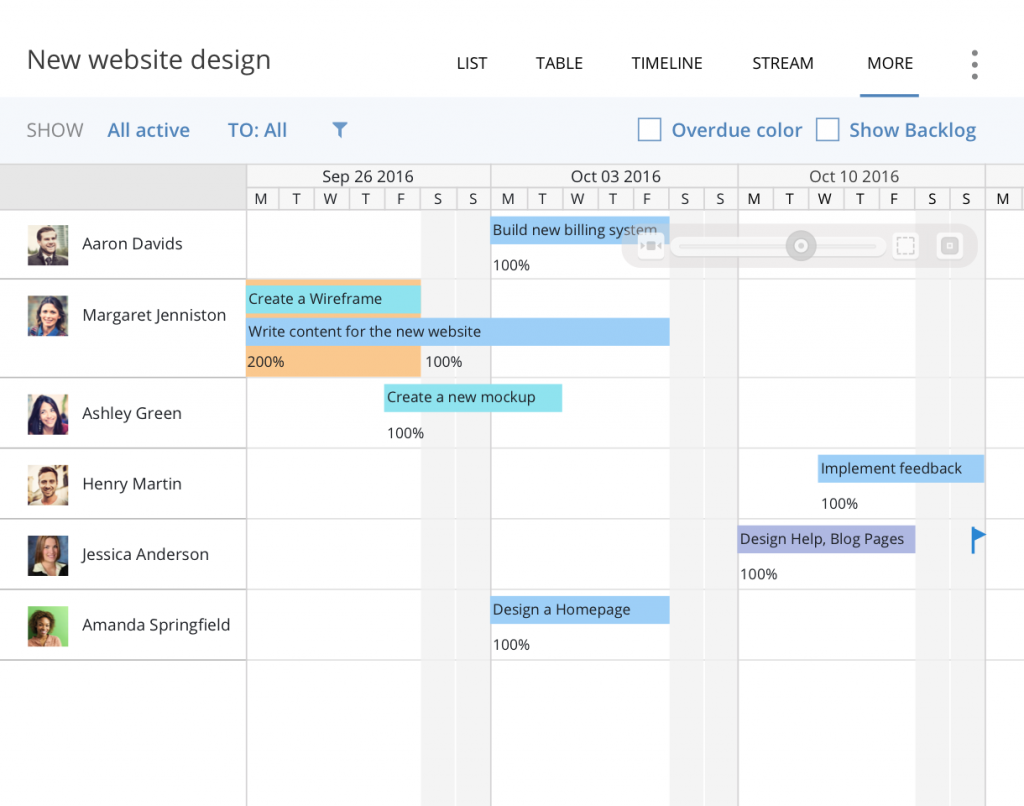 Wrike is a project management tool that helps work smarter. The tool facilitates task management with customizable dashboards and workflows, which give a clear view of the work progress and help better organize your time. Wrike offers an interactive Gantt Chart to optimize planning and keep track of all project stages. To better manage the workflow, you can create templates that will help you standardize project processes across the organization, therefore saving your time. The interface is flexible, with a variety of views and a dashboard for status updates. Projects can be broken down into smaller tasks for which you can define dependencies and plan resources.
Pricing
Wrike offers a Professional plan for 5, 10, or 15 users, which comes to $9.80 per user per month (billed annually), and a Business Plan for 5-200 users which costs $24.80 per user per month and offers more advanced features. There are also tailor-made plans for marketers, professional services, and enterprises with individually calculated prices.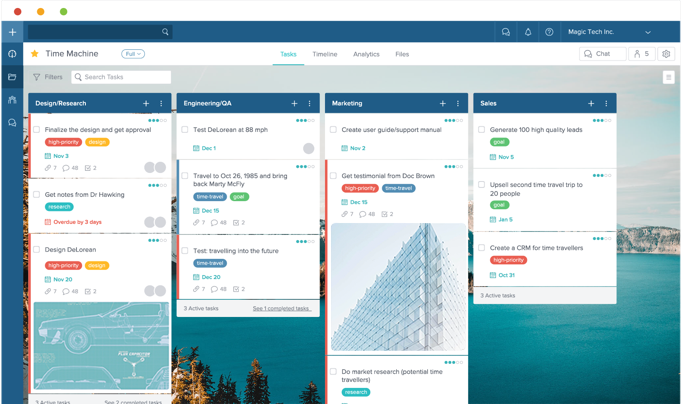 Taskworld is collaboration software that makes task management and communication effective. The work in Taskworld revolves around workspaces, which are your team's collaboration space. That's where they can manage tasks by accessing them with due dates and checklists. Tasks can be updated simultaneously in multiple projects for greater comfort. If you add someone as a follower to a given task, they will get updates even if they are not assigned to it.
You can use channels for team messaging and performance reports for real-time feedback and reporting. Thanks to that, you can see how productive you've been and how many tasks are still waiting for your action. On top of that, each project's progress can be visualized in a timeline, which can help anticipate potential progress and plan the workflow accordingly.‍
Pricing
Billed annually, Taskworld offers two plans – a Professional one for $10.99 per user per month or an Enterprise one for up to 99 users, which comes to $21.99 per user per month.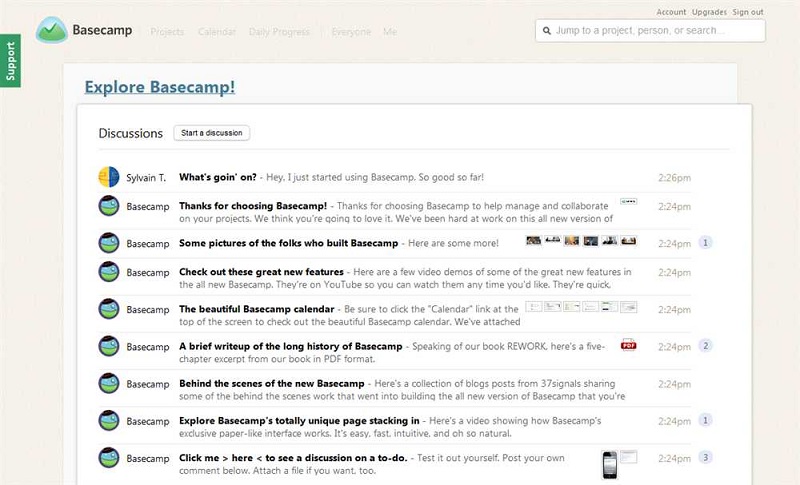 Basecamp is a collaboration tool that lets you break up your work into separate projects which contain everything you need. All the people involved in a given project have easy access to discussions, files, tasks, and important dates. Each project includes a message board, a to-do list, a schedule section, docs and files, and a group chat. You can also create recurring questions for easy reference of all team members.
Basecamp has an efficient notifications system, whereby you can choose when you want to be notified about activities within your multiple projects. You can set 24/7/365 availability or select particular days and hours. When you need to focus, simply pause notifications and work on your task.‍
Pricing
Basecamp pricing is not dependent on the number of users, so you can either use it for free with limited features or get a Basecamp Business plan for $99 per month.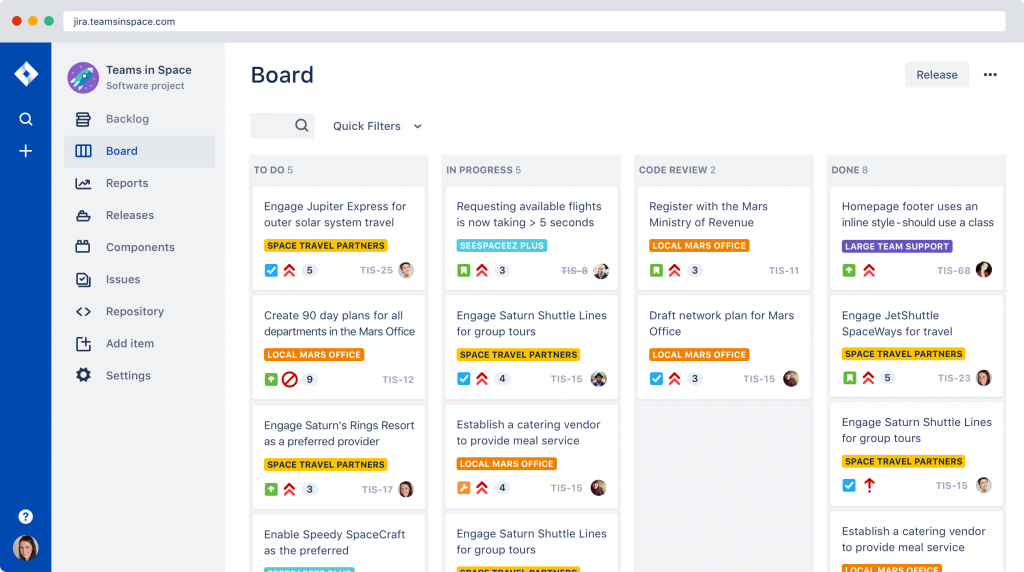 Jira is a software development tool willingly used by agile teams to plan and track progress. You can create projects and use them as group issues that can be configured according to different aspects, such as teams, business units, products, or stream of work. You can create your own, custom workflows to track tasks and have a clear overview of the project that you participate in. It can be implemented for simple projects, but also more complex ones – you simply choose the features you want to use in a given case. Jira makes it easy to prioritize the team's work. It's particularly often used by software development companies as it makes it easy to plan sprints and distribute tasks across members of software teams.
Pricing
Jira is free for up to 10 users and offers two paid plans – both available for teams of up to 5000 users. The difference is in the available features, file storage capacity, and support.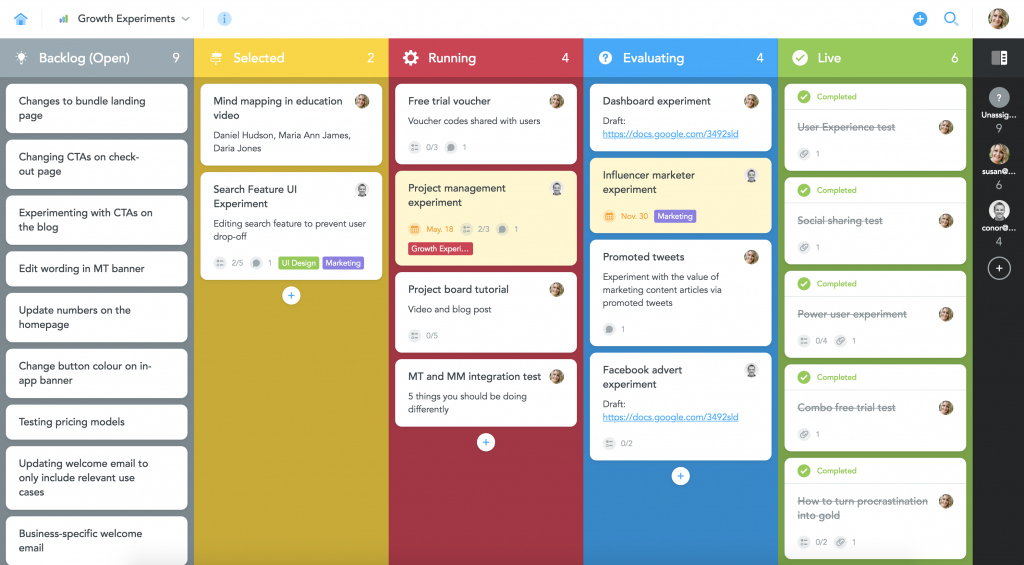 MeisterTask is an online management tool for teams, used to organize and manage tasks in a customizable environment that adapts to individual needs. Thanks to kanban-style project boards, teams can easily streamline workflows and stay productive. MeisterTask is easy to use and tailor to the needs of a particular team. Thanks to the kanban-based task management boards teams can work together and get insights into project progress. You can link tasks based on various dependencies for yet more clarity and automate certain activities. MeisterTask offers a built-in time tracking feature to let you track how much time everyone spends on tasks and increase productivity. On top of that, you can integrate the tool with various other apps, such as Gmail, DropBox, GitHub, and many more.
Pricing
The basic plan is free and can be used for simple task management. MeisterTask also offers a Pro plan, which lets you use the integrations and workflow automation for $8.25 per user per month as well as a Business plan for $20.75 per user per month.‍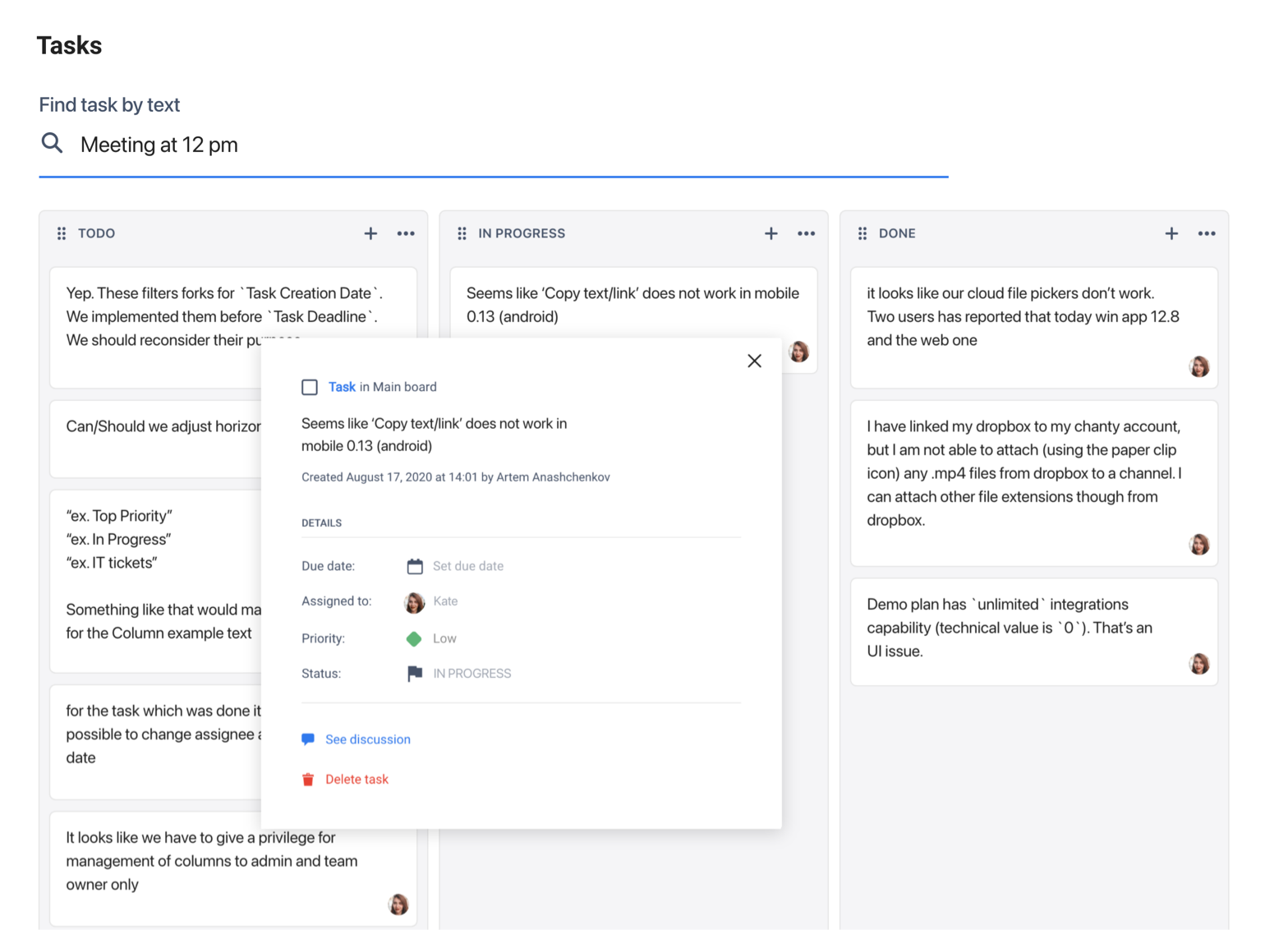 Chanty is a great task management tool, which one of the key features is an all-in-one collaboration platform. It. enables to manage tasks effectively thanks to a built-in task manager. All the tasks can be assigned by people and filtered by status, dates, or members like the project manager. Chanty is good for smaller and complex projects, because of kanban board gives the possibility to prioritize tasks, schedule tasks, and team collaboration.
Pricing
The basic plan is free and is for teams with up to 10 members. It gives unlimited public and private conversations, searchable history, one-on-one audio calls, and voice messages. The business plan costs $3 per user per month (paid annually) and delivers additional features and unlimited members.
Next, one of the best tool for task management is TeamWork. It is a task management app with a variety of key features, which enables organizing tasks, task planning, making a to-do list, and team management. A platform offers project templates, which are very useful, especially with recurring tasks. Kanban board view shows progress, upcoming tasks, so complex projects would be always under control. TeamWork has a time tracking feature too, which makes team collaboration more effective.
Pricing
TeamWork has 4 paid plans: Free Forever – for individuals and small teams getting started with project management (up to 5 members), Deliver – manage multiple projects and delight your clients. A great place to start for €10/user/month, billed annually. The next plan is Grow – ideal for larger teams with features to help get you efficient and organized for €18/user/month, billed annually. And last one – Scale – for more information you need to contact TeamWork. An app offers a 30-days free trial too.‍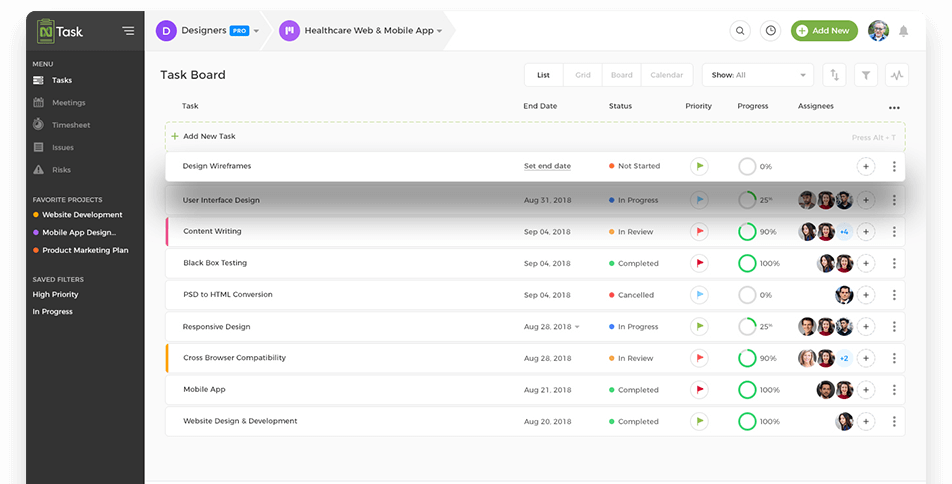 nTask is a simple online task management software for managing individual and team tasks. An app is dedicated for personal and professional use, no matter if you are a project manager, student, or freelancer. nTask enables to manage projects, set recurring tasks, delegate tasks, make a to-do list, share files, comments, time tracking. As a user, you can see multiple task views, task lists, a task board in one, intuitive platform. Use nTask as a basic task management tool or as quality task management software.
Pricing
nTask offers plans: Basic – for individuals, for free, Premium – for small and medium enterprises for $3 per user per month. And Business – for large businesses for $8 per user per month.‍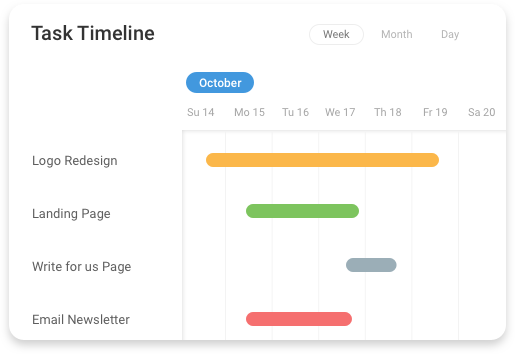 ProProfs Project is a great task management software, which works online. It allows to organize projects, assign tasks, track progress, collaborate, create reports, and much more. ProProfs Project has a project calendar, Gantt charts, time tracking, and invoicing too. This task manager tool makes team collaboration easier.
Pricing
ProProfs Plan offers two plans:
Essentials – $3/user/month (billed monthly) and
Premium – $6/user/month (billed monthly).