This Is Why You Should Use Collaboration Software
In today's fast-paced and chaotic world it is important to communicate and collaborate via practical tools. The amount of information that we send and receive every day may become overwhelming if not managed properly. That's why organizations and employees decide to use apps and tools – to make work more effective.
Make sure to check out these links:
Using software for collaboration brings only benefits. It improves the workflow, employees are able to clearly understand processes taking place in an organization, and it boosts people's productivity. If you use the right tools, your business will be organized, and you will have a unified communication and work management channel.
Take a look at our list of 10 best free collaboration software.
Created by TimeCamp team, HeySpace is a free task management software for everyone. It's a combination of Slack and Trello. HeySpace has plenty of useful features that a good collaboration software should have:
Thanks to its design you can see three boards in one place – your team and spaces (different channels), chat, list of cards with tasks.
You can easily convert part of your conversation into a task.
The board with tasks allows you to see all projects in one place.
Every task can be adjusted – you can set date, assign people to it, add tags, description, files, comment on it. All to keep you updated on task progress.
You can share files.
The feature of workspaces allows you to create many spaces, if, for example, you work for various organizations or have different clients.
Pleasant and intuitive interface.
HeySpace gives you space to freely and smoothly collaborate with your teams and clients. No more switching between apps and tabs. You have everything in one place!
Take your company to another level.
Sign up for HeySpace today!
Created by Rabbitsoft, Clinked is an easy-to-use, comprehensive collaboration software. The tool is available as a mobile version so you can easily access it from any place in the world. Additionally, you can work both with clients and your employees, thanks to the feature of workspaces.
Clinked works similarly to project management software and can effortlessly collaborate with other people. The software is a great solution for organizations who want to improve cooperation with clients. Thanks to Clinked, you speed up processes, don't need to organize meetings, and smoothly transfer information and provide updates on projects. If you want to improve business relations of your organization, Clinked is the right collaboration software.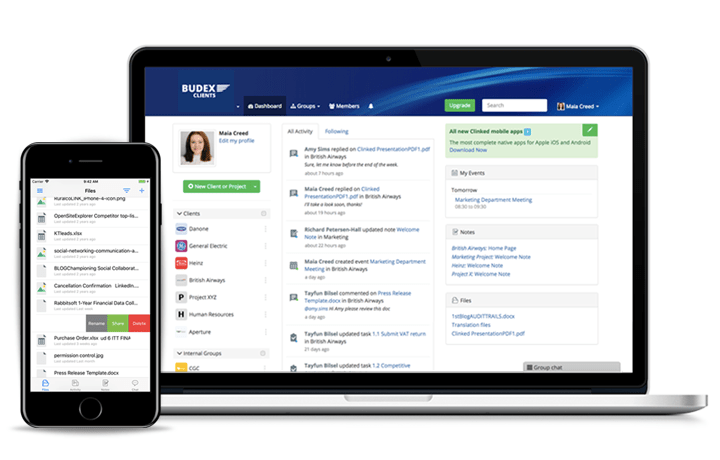 Kezmo is a collaboration software dedicated to people who would like to keep the e-mail style of correspondence and manage their tasks based on it. This tool is a great alternative for e-mail. What is more, you can be sure that your messages and data are secured.
In Kezmo you can create workspaces for different projects or clients, keep track of tasks' deadlines, share and organize content, create polls, adjust language or declutter conversation by separating it into channels. Kezmo is an intuitive tool with plain interface.
If you're looking for a simple solution, Realtime Board will be your perfect match. The tool has a form of a virtual whiteboard which you can decorate with sticky notes, charts, flows, and any other form of shapes to organize ideas and manage workflow. No matter where your team is, they can all access Realtime Board and chat over the project, brainstorm, and add new ideas.
This collaboration software allows you and your team to digitize ideas, plans, and tasks with over 50 templates (Kanban, Business model, Flowchart, and many, many more).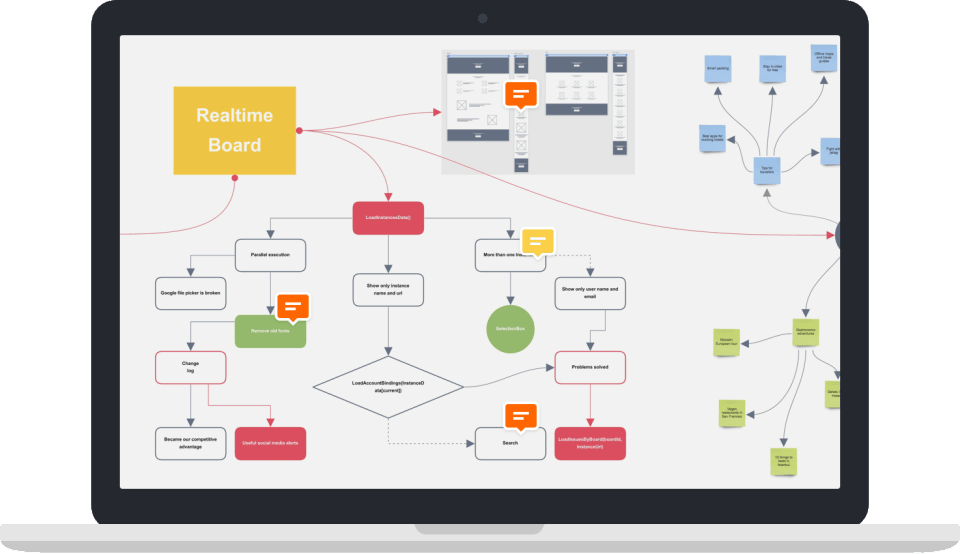 Collaboration involves various actions beside chat. Bitrix24 is one of that collaboration software which combines project management software. It is aimed at enhancing collaboration through proper communication of task. Bitrix24 has a broad list of features:
Group chat, private chat, public chat, audio and video calls, screen sharing.
Extranet access for clients.
Available as a mobile version for iOS and Android.
Time tracking, quotes and invoices, Gantt, shared calendars, task templates, checklists, dependencies, subtasks, custom fields.
Access to workflow.
Integrations.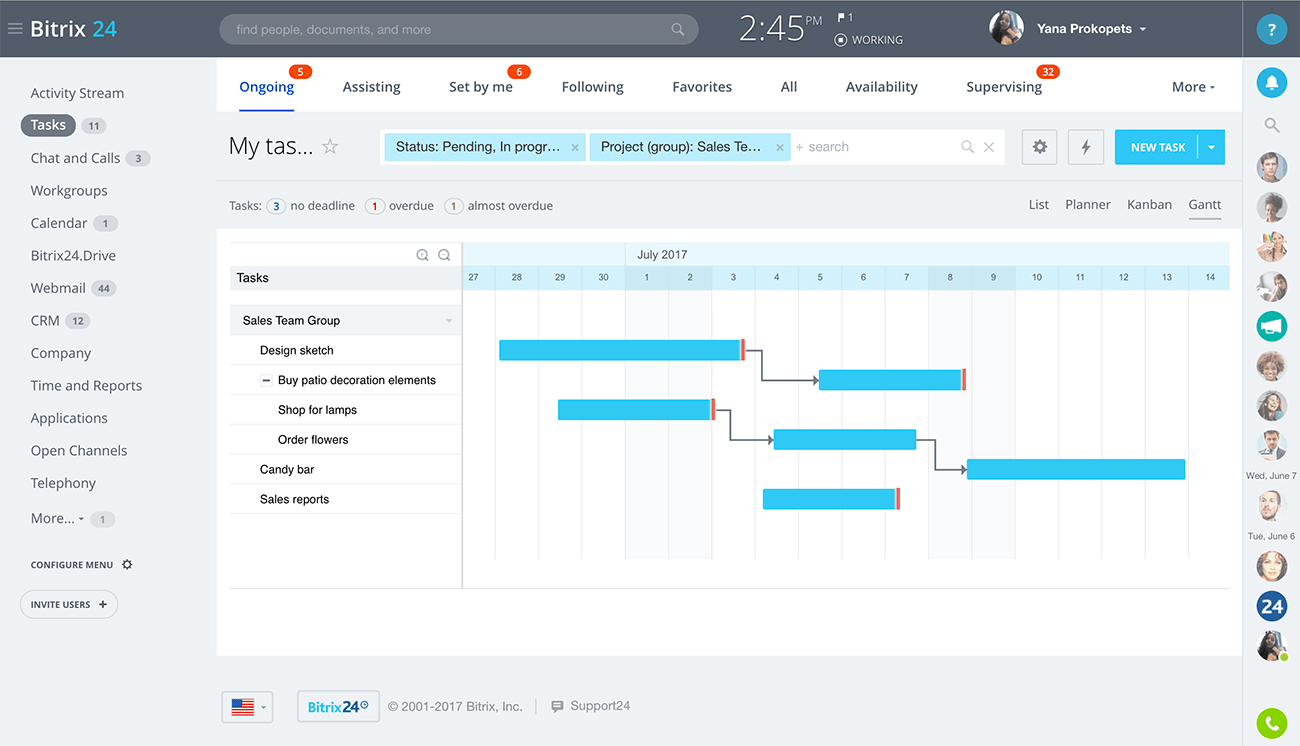 Samepage is a software dedicated for people who want to improve team's collaboration. Some of its main features include team chat, video conferencing, task management, file sharing or real-time document collaboration. It's a good alternative to project management software as these often don't include collaboration aspects.
Samepage allows team members sharing any type of information, files, videos, etc. and by that improve collaboration. Moreover, it saves the effort of jumping from one app to another to check the project's or task's status and your team's work progress.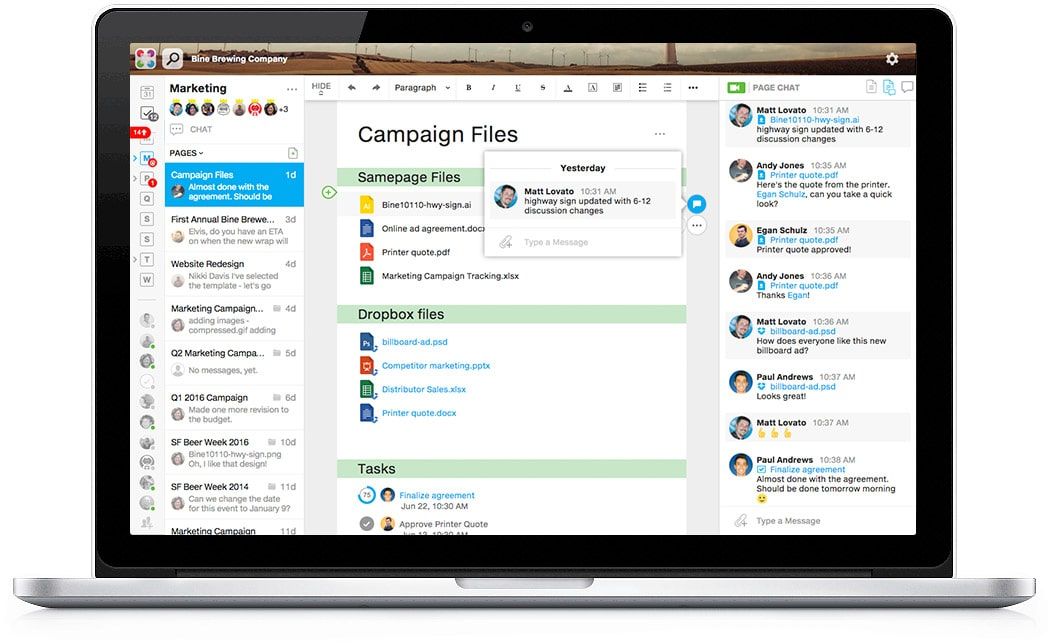 Certain tools are created for certain purposes. Glip was created to enhance team collaboration via solid communication channel. It's an easy, intuitive, and functional task management software with chat. It's a great solution for enthusiasts of simplicity. Apart from chat with the function of screen sharing to collaborate live, Glip offers managing tasks. Tasks can be easily adjusted thanks to various options.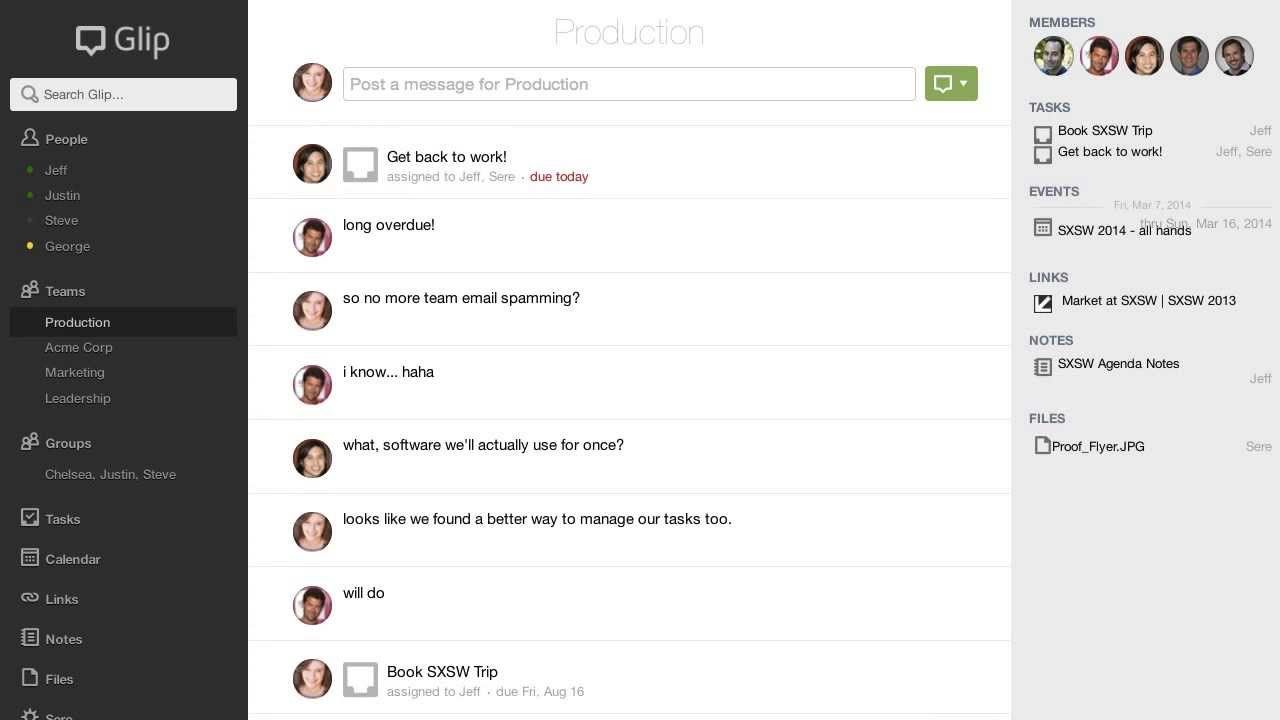 Hibox is a combination of chat, video tool, and task management software. It allows you not only to chat with your team but also to connect with them via video. Thanks to that you can talk to them from every place.
In Hibox, you can create streams for different teams, share files, and create tasks for employees who are part of the stream. You can manage conversations, files, and track tasks organized by project while you have multiple projects running at once. Similarly to HeySpace, Hibox's tasks can be personalized by adding files, setting deadlines, or even by using the assistance of personal AI. It's available as a mobile app and integrates with various tools and apps.
If you're a fan of Facebook, you may like Yammer for its design – it is very similar to the famous social media platform. It's a part of Microsoft Office 365 and if you're using other Microsoft Office products, you may want to consider choosing this collaboration software.
Yammer helps to draw a certain scheme for a hierarchy in the organization. It connects the team with leaders and people being at the top of the organizational hierarchy ladder. That allows staying connected with every member of the company and with every project. In Yammer, you can easily join and create groups relevant to your work and interests, safely collaborate with contractors, customers or sister companies. You can also add various files to conversations. Yammer is available as a mobile app for iOS and Android.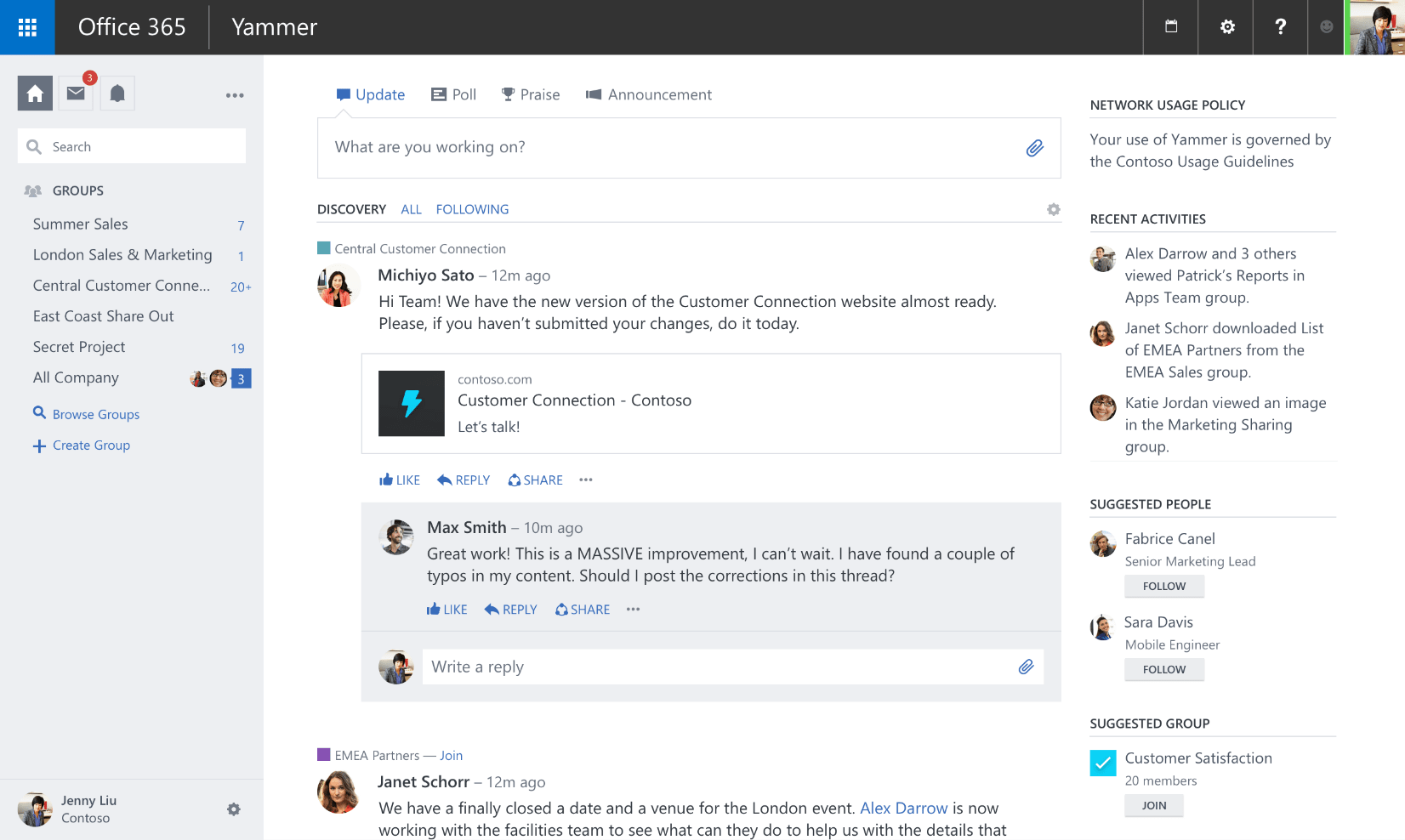 Flowlu  is a simple collaboration tool with all the features a team needs to communicate and cooperate. It has online chat, workspaces with dedicated activity feed, reports for tasks and projects, and section for files sharing.
In Flowlu you can easily chat with your team, manage tasks, and the workflow. The tool is intuitive and easy-to-use.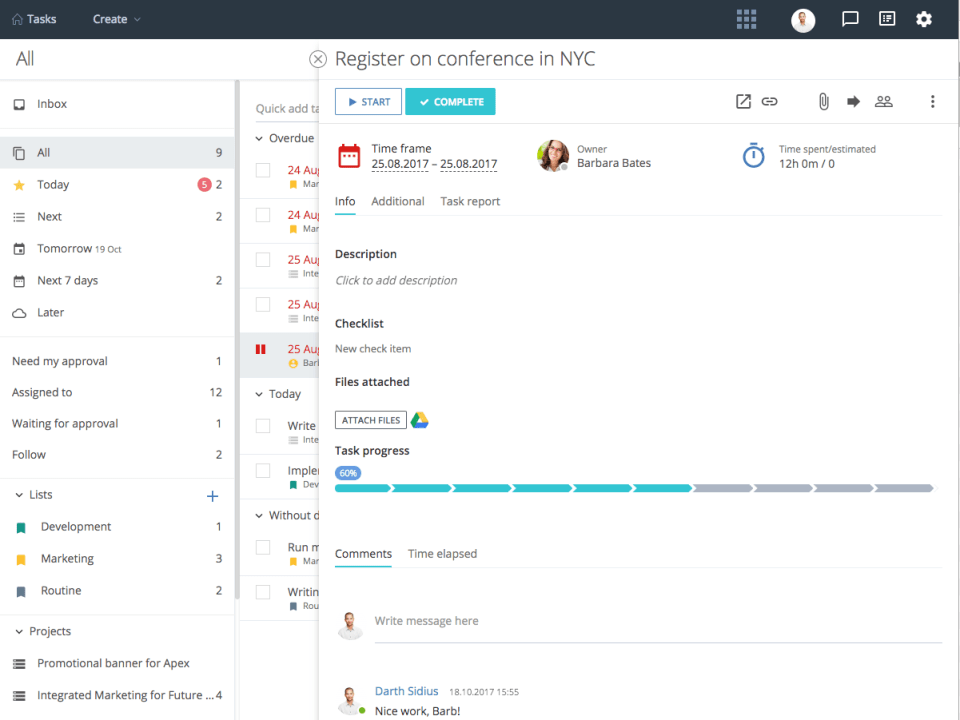 Related posts