Best Free Task Management Software to Help You Organize Work
March 17, 2023
by Kate Borucka
5 comments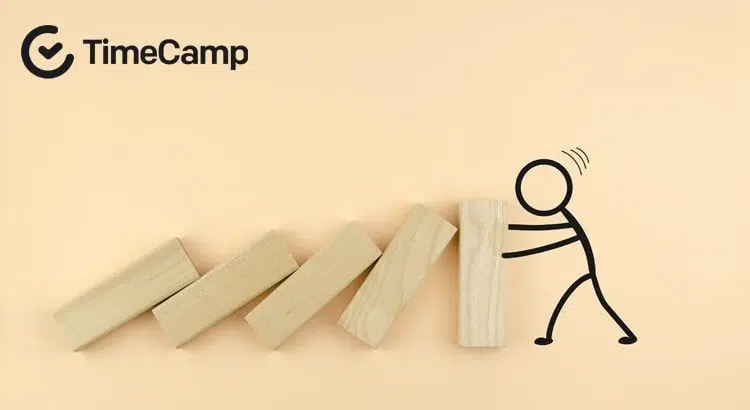 A good tasks manager can help keep all team members on the same page and improve collaboration. Tasks are part of our work and private life. But with all the distractions and responsibilities, making sure they're all completed properly may be challenging. Without the right task management software, it's easy to get confused and lose track.
That's why it's important to organize all assignments. And using free task management software or self-hosted time tracking app can help you stay on top of work.
What Are Task Management Tools?
A task management tool is a solution that helps to plan, organize, and keep track of small, large tasks, and various projects. You can use it both individually and as a system for managing the team's work.
There are different types of task management tools and the most popular include the following:
Paper lists with tasks in the form of a calendar or a simple, personalized to-do list with due dates used as a task organizer
Apps for managing tasks with fully customizable, exhaustive task management features
Online task manager, planner apps with basic features and simple lists
Project management tool with features that let you control and monitor the full lifecycle of a project and single tasks
Time tracking apps with features like project management, task manager, and due dates, that enable tracking every task by date and budget—particularly helpful for large organizations or people who track billable hours
Popular task management solutions are Kanban boards that help to visualize projects structure and efficiently organize workflow
You can manage tasks in any way you like, the options are limitless. Additionally, you can mix and experiment—many task management software gives users flexibility in adjusting the functionalities. Choosing the right task management app will help you become better at time management and efficiently organize your work.
👉 Check our list of the best note apps for Android.
Try Task and Time Management Tool for free!
The Magic Behind Effective Team Management
If you're a project or team manager, you most likely know that the biggest challenge of this work is managing a team. It's difficult because of the differences between people, various work habits, or points of view.
But it's also difficult because it requires constant monitoring of the team and their work progress. It's also about being able to collaborate and communicate with them. That's why many project managers decide to use team project management software to organize tasks
But in order to fully use the potential of such software in your organization, you need to know how to effectively manage your team with 6 simple steps:
Be transparent—have respect for your team and use their skills, and they will be happy. Remember, a happy employee is a productive employee!
Communicate to keep things transparent and collaborate better.
Encourage collaboration—collaboration improves information flow and work alignment. Make sure all the team members are always on the same page.
Provide honest feedback—employees need to know how they perform. Provide objective assessment so people can find areas for improvement and work on their skills to better perform their tasks
Trust your team—they know what they do, and they will do it amazingly if you let them.
Prevent burnout—let your team take breaks, delegate tasks, and take a day off. That way they'll be more effective and will have the mental and physical strength needed for work.
All the magic behind effective team management is hidden in the use of the right techniques along with dedicated software.
Why Use Free Team Task Tools?
Different people use task management software for different reasons.
When you're choosing a free task manager app, you should consider such aspects as:
The industry you work in
The business model of your organization
Whether you work as a freelancer, remote worker, or in the office
How big your team is
And what features you'll need to address all your business needs
It's important to think it through since not every task management solution will be suitable for you.
Nevertheless, using such apps has only benefits. A task management tool helps to organize and schedule work, keep you updated on the task or project progress, optimize processes, and automate work.
 If you haven't implemented a task management software yet, it's high time you did!
The Best Tools to Manage Tasks in a Team
There are plenty of task management tools out there. Some of them are simple task organizers, others are extensive software with advanced project management features.
So why should you use free task management software? Simply because before you decide to use paid versions, you should make research and see which tools work best for you and your team and whether they're worth investing your money in.
Here's what it's worth looking for in the best task management software:
Free plan or trial: free task tool gives you the option to test all the features and ensure it's the right choice for your business
Customizable environment: so you can adjust preferences and flexibly adjust
Progress tracking features: to have real-time updates; the most popular features include time tracking, task priorities, task dependencies, summary reports
Collaboration features: so people can easily communicate and find the necessary information
Unlimited tasks: because you never know how much work your team will have
Adjustable tasks you can adjust, tag, filter, comment on, attach files to, add due dates, etc.
If you're looking for a task manager, take a look at our list of the best free task management software that can tremendously enhance your work.
1. TimeCamp
Time tracking software to automatically track billable hours and task progress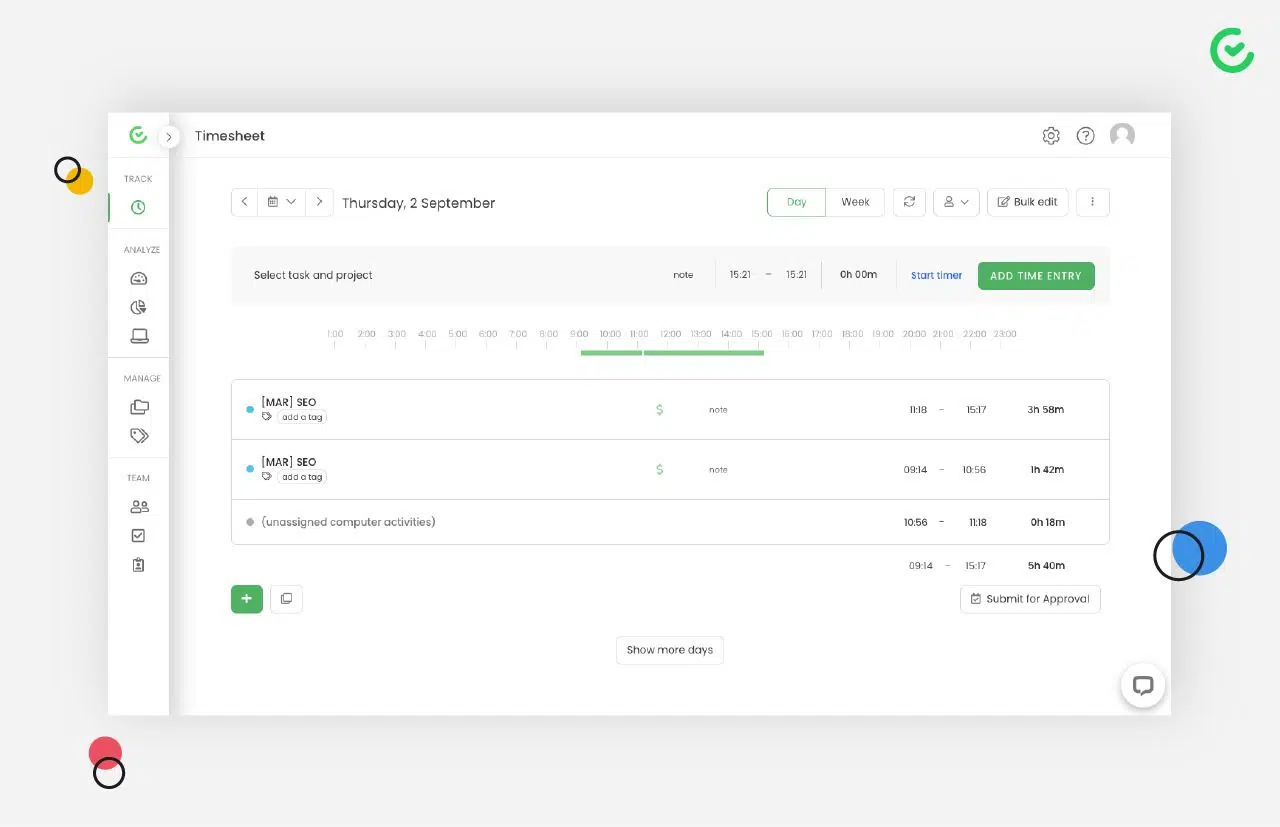 TimeCamp is a free time and task tracking software for unlimited users with unlimited projects and tasks. It comes with useful features, especially regarding task tracking and management, and workload management.
You can track tasks, projects, and activities by categories including website and app usage, monitor the due dates, and automatically generate accurate timesheets. It can help you stay on track, budget, and always be on time with multiple projects.
It's a great free task tracking software because it allows you to track the progress of your entire team, including remote workers and people who are spread all over the world, for example being on a business trip.
TimeCamp is the best task management software with project management features, task list, timeline view, and one-click time tracking.
Desktop app with an automatic time tracker
Tracking billable and non-billable hours for better payroll and profitability
TimeCamp allows you to easily manage task dependencies with projects, tasks, subtasks, and tags (tags let you flexibly adjust the software and project structure to the way you want to track your time and organize projects' data—categorize, mark, label clients, tasks urgency, project stage, overtime, department, add priority, and more)
Customizable reports with rich task and project data (time tracked, estimates, users, tasks, projects, budget, summary reports, and more)
Invoicing
Integrations with the most popular online task management software and other tools
Available as a mobile app for iOS and Android so you can easily access all your projects
Collaboration and task planning app with chat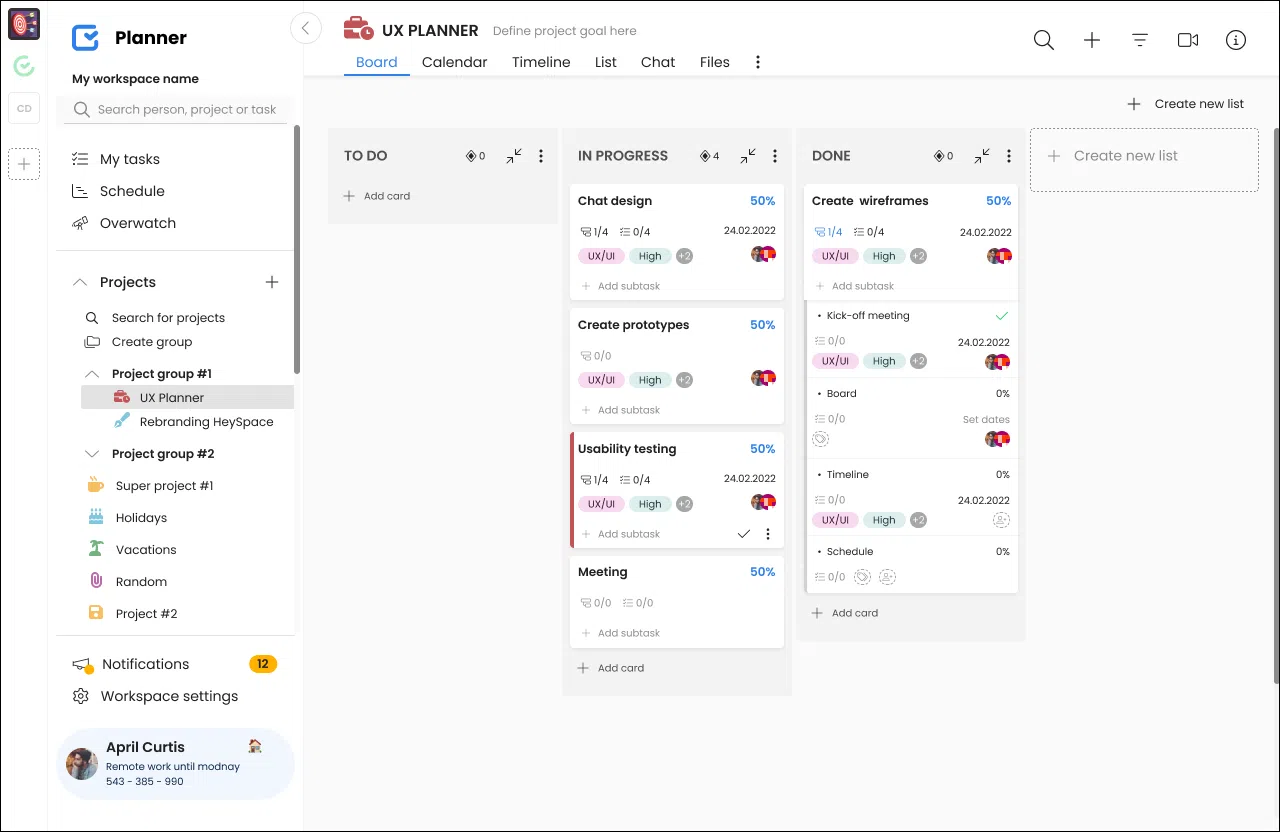 TimeCamp Planner is an innovative and intuitive free task management app with chat for up to five users. It is somewhat a combination of Slack and Trello but with more advanced features. Not only does it help in managing projects and team workflow but also improves communication and collaboration in a team as well as with clients. It's a project organization software for small and medium teams.
TimeCampl Planner helps to organize all projects and provides transparency. It's an easy-to-use task management solution that lets you store all the information about multiple tasks in one place.
Main features:
Thanks to its ergonomic design you can see three boards in one place—your team and spaces (different channels), chat, and a list of cards with tasks
You can easily convert part of your conversation into a task
The board with tasks in a Kanban-style allows you to see all projects at a glance for easy task tracking
Every task can be adjusted – you can set a due date, assign tasks to particular people, add tags, create a to do list, description, files, comment on it, make it a recurring task, watch overdue tasks
The feature of workspaces allows you to create many spaces, if, for example, you work for various organizations or have different clients so you can invite them for better collaboration and communication
You can create personal to-do lists with a due date to follow your work every day and make sure every task is done on time (you can use MyTasks view as a personal task organizer)
A pleasant and intuitive interface makes it easy to use TimeCamp Planner
Task tracking with TimeCamp directly in the app; reports are automatically generated in TimeCamp
TimeCamp Planner gives you space to freely and smoothly organize tasks and projects. You can use it as an advanced tasks list app or a simple task management software for free and make sure every due date is effectively approached. You don't have to switch between apps and tabs. Everything is in one place!
Price: Free plan is available for up to 5 users; Pro plan costs $2.99 per user per month, billed annually ($3.99 billed monthly). 
Take your company to another level with a task organization software!
3. MeisterTask
Lightweight online task management software for teams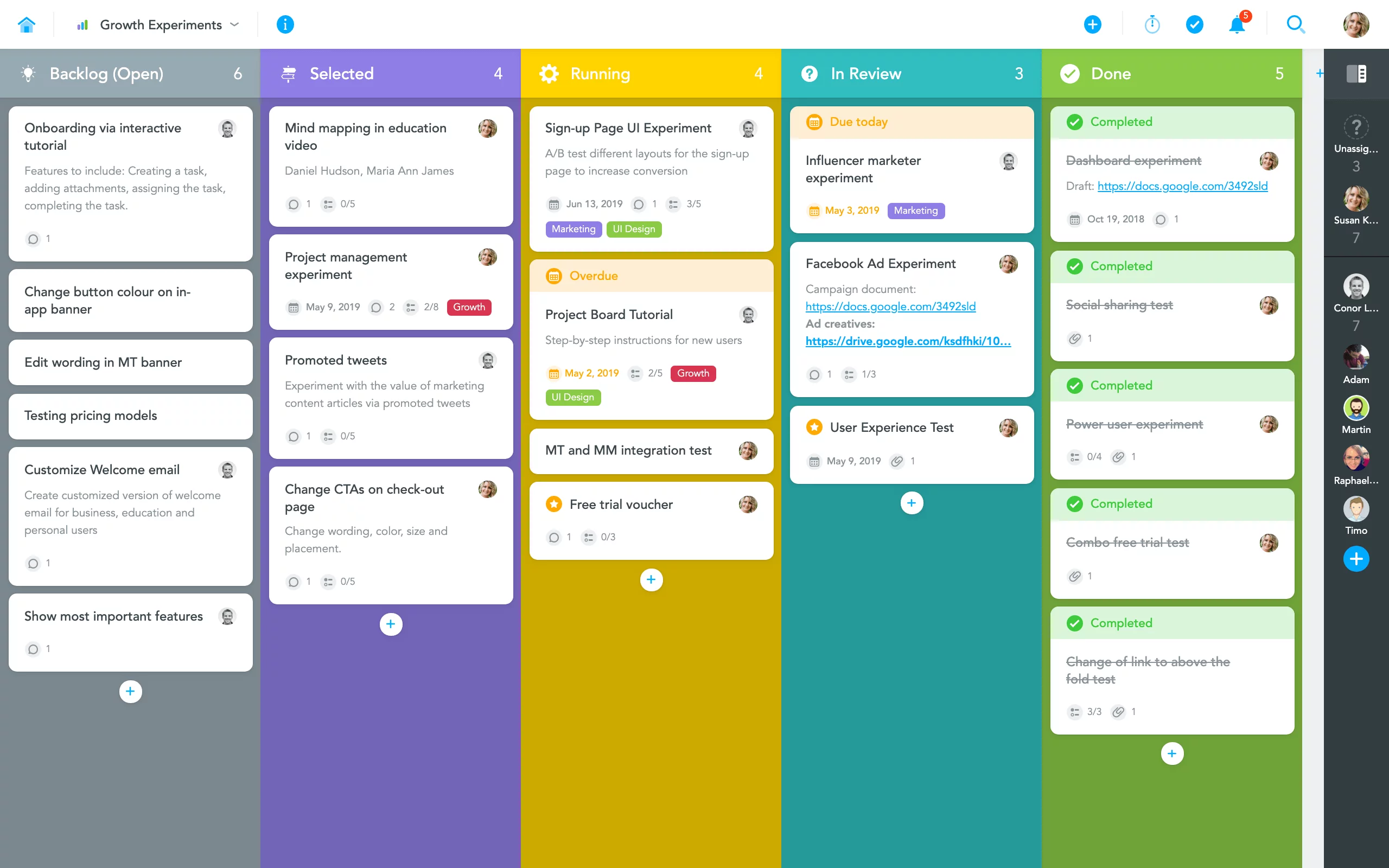 MeisterTask is an online task and project management platform designed to be helpful in the project management process—from planning to completion. With the tool, you can monitor the progress of your projects or help the team members to collaborate with each other seamlessly.
This online tasks manager tool provides an approachable and productive environment for you and your team. It combines the elements of project management, collaboration, and task management system. You can use it to quickly create projects for team members, and assign tasks effortlessly. This product helps you monitor all the phases of project implementation. MeisterTask has free apps for iPhone, iPad, and macOS.
Main features:
Kanban boards for projects that you can adapt to your workflow
Project monitoring
Task management with the option to add related files, links and discussions
Smart automation for efficient work
Integrations with other task management applications such as Google Drive, Slack, Dropbox or GitHub
In-app simple time tracking
Basic, user-friendly reports with important task information
Task tracking with TimeCamp directly in the app. Reports are automatically generated in TimeCamp to give you insight into project tasks, and your team workflow
4. Todoist
Simple task manager for teams and individuals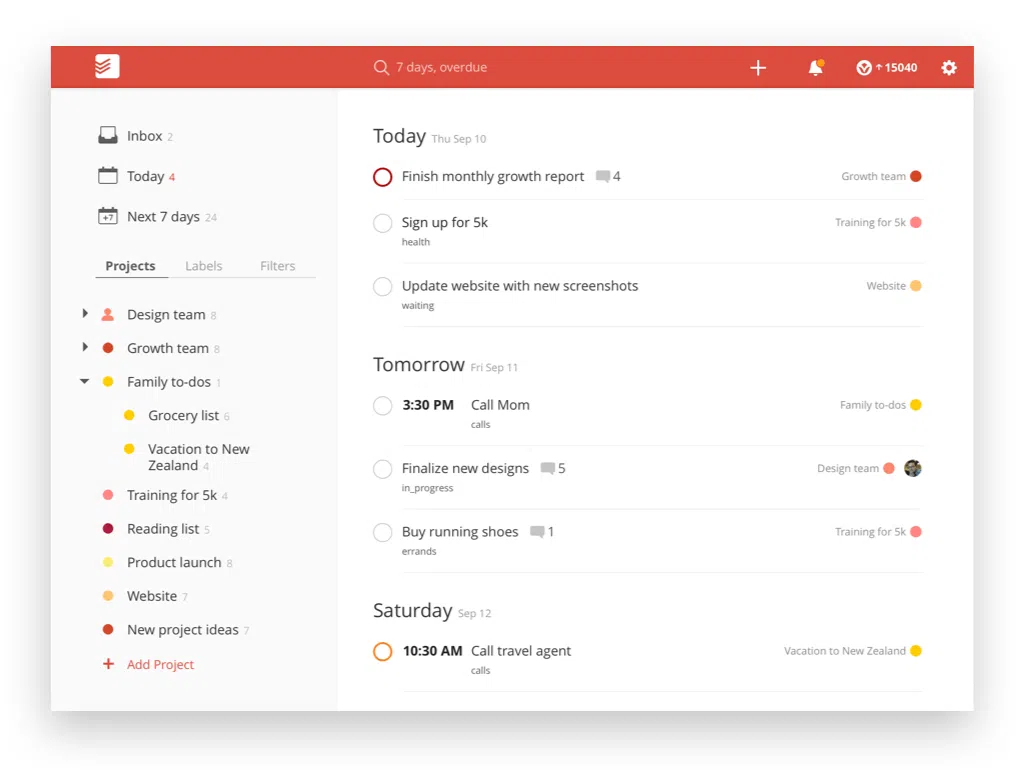 Todoist is one of the best to-do list apps and simple task management tools. You can get all your tasks out of your head, put them in Todoist, and the app will keep them for you. This free software allows you to prioritize tasks, give them different categories, assign tasks to people, and set due dates. You can also monitor your productivity and measure performance.
With Todoist, you will finally keep peace of mind and make sure all your tasks are under control. When integrated with TimeCamp, Todoist is a helpful time management solution. You can track every task with TimeCamp directly in Todoist. And reports are automatically generated in TimeCamp. Everything with just one click!
If you choose Todoist Business dedicated to teams, you will access even more powerful, smallish features that will help you organize the work of your team, easily manage projects and tasks, and monitor due date. For similar tools with more features, feel free to explore Todoist alternatives.
It's worth subscribing to one of the plans if you need granular team task management software.
5. Trello
Collaborative task management tool with Kanban boards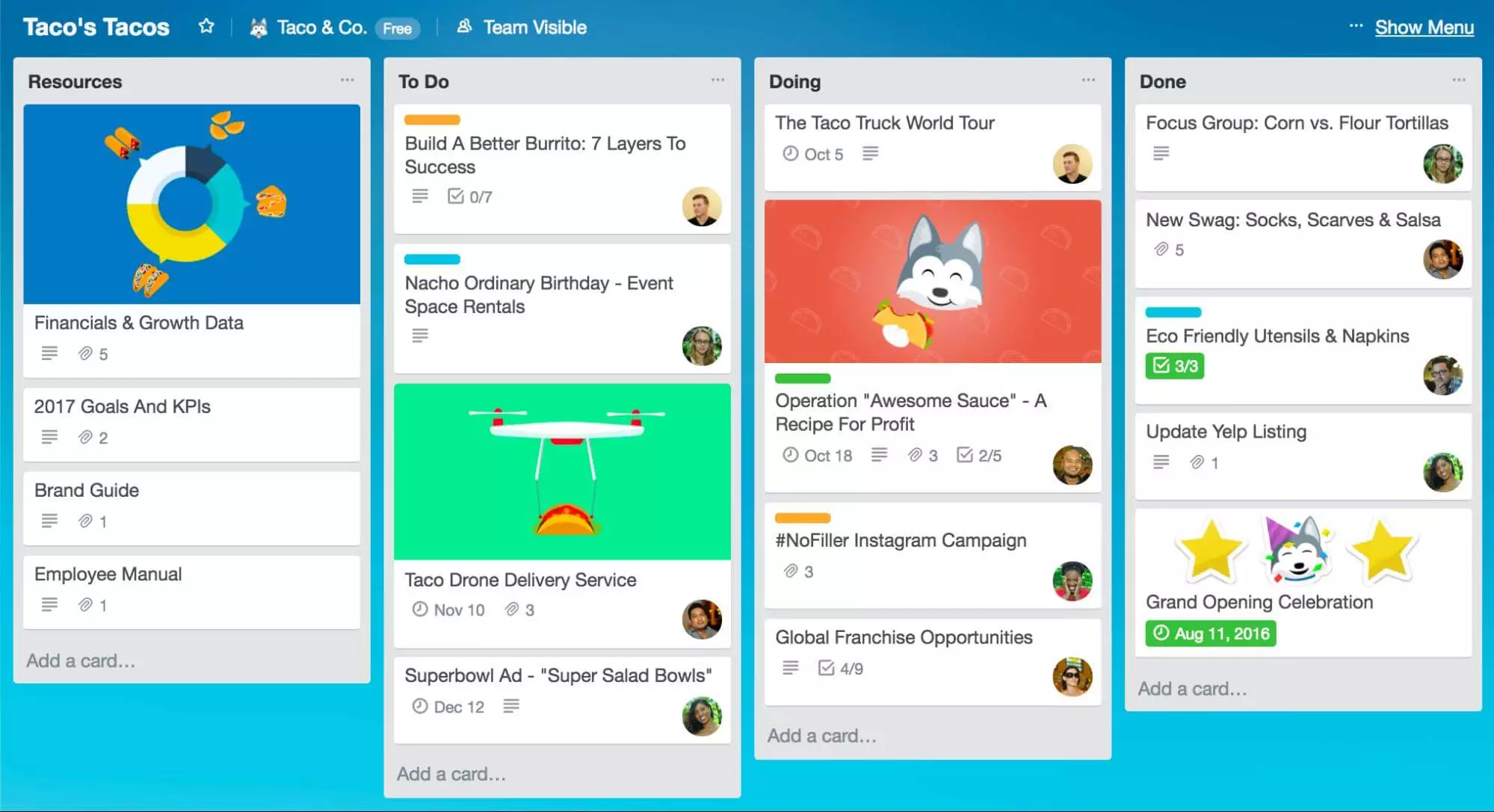 Trello is one of the most popular and best task management software. You can use it on your own, with your team or even the entire company. It allows you to organize all work in one place in a transparent way. It's a simple, easy to use tool that lets you work on different tasks and projects in one place without the need to switch tabs.
Trello is a visual board for managing and planning tasks. Even though it has a basic design, it has many useful features. You can create various boards for different teams with as many task lists as you need, adjust cards' settings, repeat them for recurring tasks, comment on tasks, share files, and use many other fancy options.
Trello has a wide list of power-ups that help to enhance work and collaboration. Make sure to use them to improve your project management, automate tedious work and task management in your team.
And the big TimeCamp and Trello power-up for time tracking make task management extremely convenient.
The free version of Trello comes with limited functionalities.
👉 See Trello time tracking integration!
👉 Check our list of the best Trello Power-Ups
6. Asana
Project management software for medium-sized and large businesses

Asana is a task and project management software that allows you to keep all the data about your team and work in one place. It's best for teams who need to maintain a steady workflow and make sure deadlines are always met.
Although it may not be as easy to use in the beginning, after a short onboarding, you will learn how to make use of the tool for effective task management.
Your team can easily organize and structure their work and then follow and monitor it. In Asana you can visualize the project to make sure things are going the right way, eliminate risks and negative outcomes. It's a fantastic task management app for any type of team. It has an advanced to-do list app with many features. You can organize your work in this free task software the way you need and like.
Main features:
Boards let you visualize work and see the progress of tasks and projects
Timeline to track project lifecycle
File sharing
Real-time update on projects and tasks
Managing team workload
Creating rules for tasks to automate work
You can customize the project to organize all tasks the way you want
Forms help manage incoming requests
Admin controls for security
Integrate Asana with TimeCamp for accurate and detailed reports on tasks and projects
Asana is most suitable for larger teams. It has many advanced features that can help companies who will be able to fully use the full potential of the app.
7. nTask
All-in-one task management platform with customizable features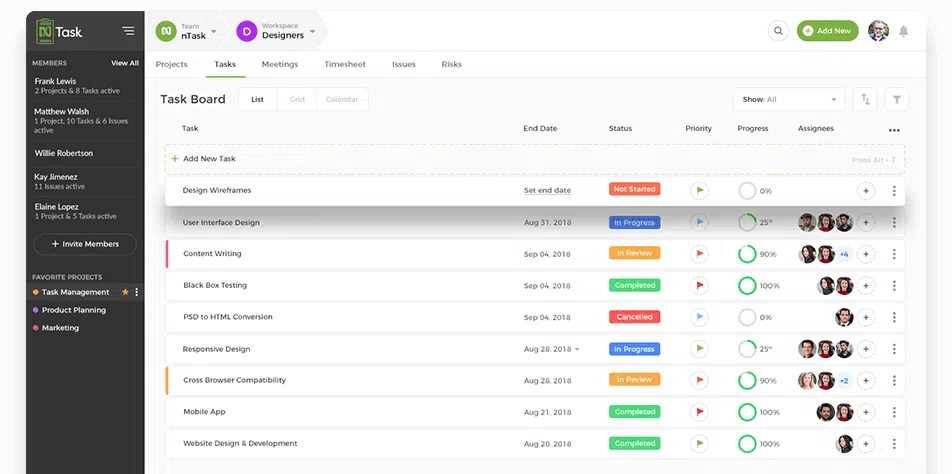 nTask is an online project and task management platform used to streamline processes for teams of any size. Gantt charts in the app help to manage workflows and visualize team's progress for the whole project. 
This tool makes you more productive by keeping everyone in a loop with seamless team collaboration. From project planning to execution and tracking, nTask will help you get it done by meeting the deadlines. The timesheets module is helpful for remote teams and freelancers to track time for each task, and sending for approval from managers.
With nTask, you can manage your meetings, issues, risks, projects, documents, and schedules all-in-one place.
Main Features:
Project management features for planning and tracking project progress
Task management with to-do lists, time estimations, start and end dates, sub-tasks and dependencies, progress meter, time racking, prioritization, categories, labels and filters, milestones, and more
Kanban board and Gantt Charts for visualization
Workspaces for team collaboration
Basic time tracking with simple timesheets
Meeting management
Basic issue tracking and risk management
Integrations with other apps via Zapier
8. Flow
Task management tool to organize the workflow and team collaboration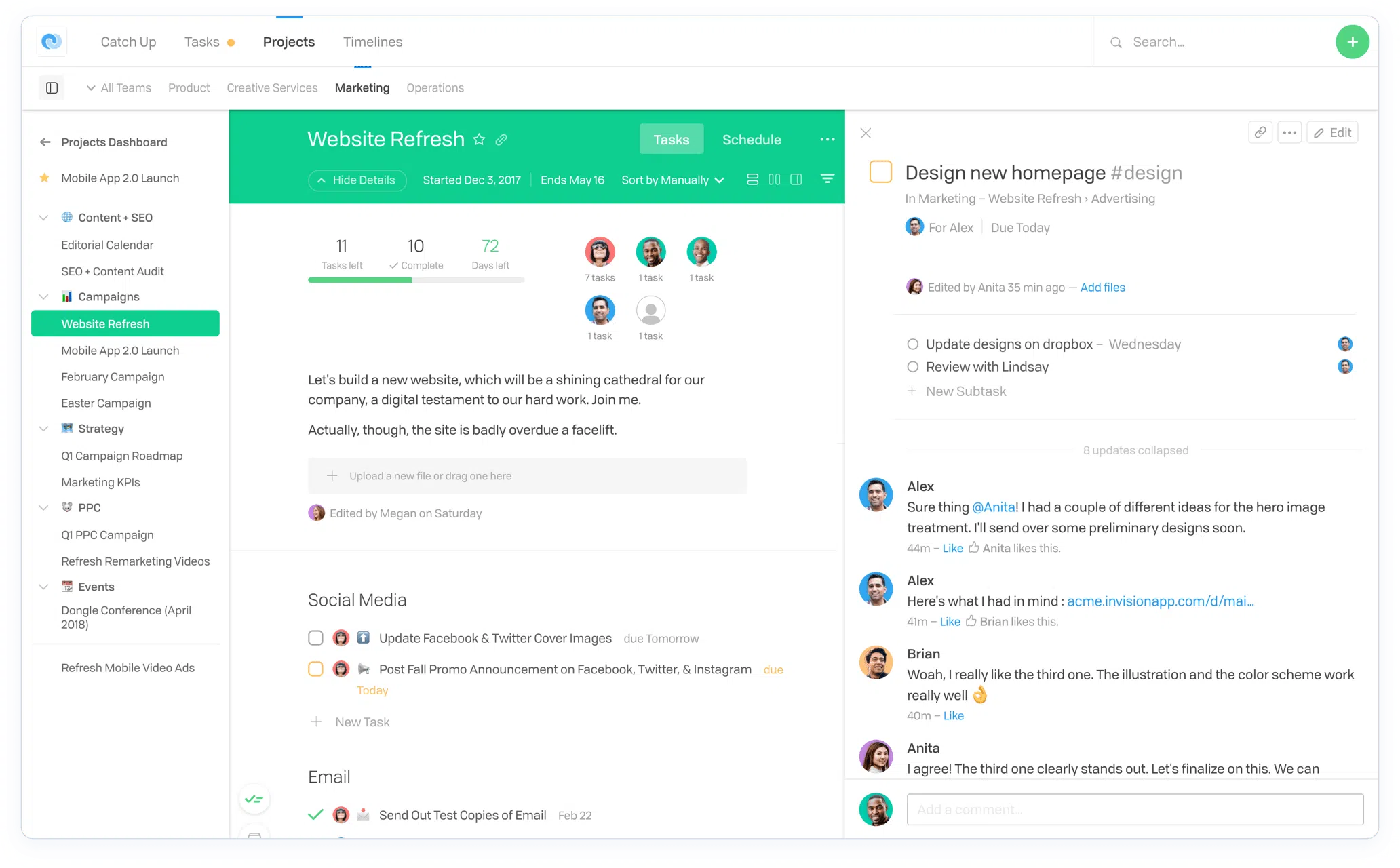 Flow is a fancy task management software with an intuitive and modern interface. The things you can do in Flow allow you to manage your team and get transparency—you see who is working on what and how the entire team's workflow look like.
And here's what you can do in Flow:
Plan and manage projects by organizing activities as task lists or cards – great for people who prefer Kanban board
See the work stages and plan future projects with project timelines
With an intuitive dashboard, you see an overview of all projects
Create tasks and subtasks, and recurring tasks
Get instant notifications
Track tasks with various options giving you flexibility in task management
Integrate it with other apps and tools, and many, many more.
Flow is a task management software suitable for project managers who need to simplify the project management process. However, Flow doesn't offer a free plan.
9. Google Docs
Document sharing for teams of all types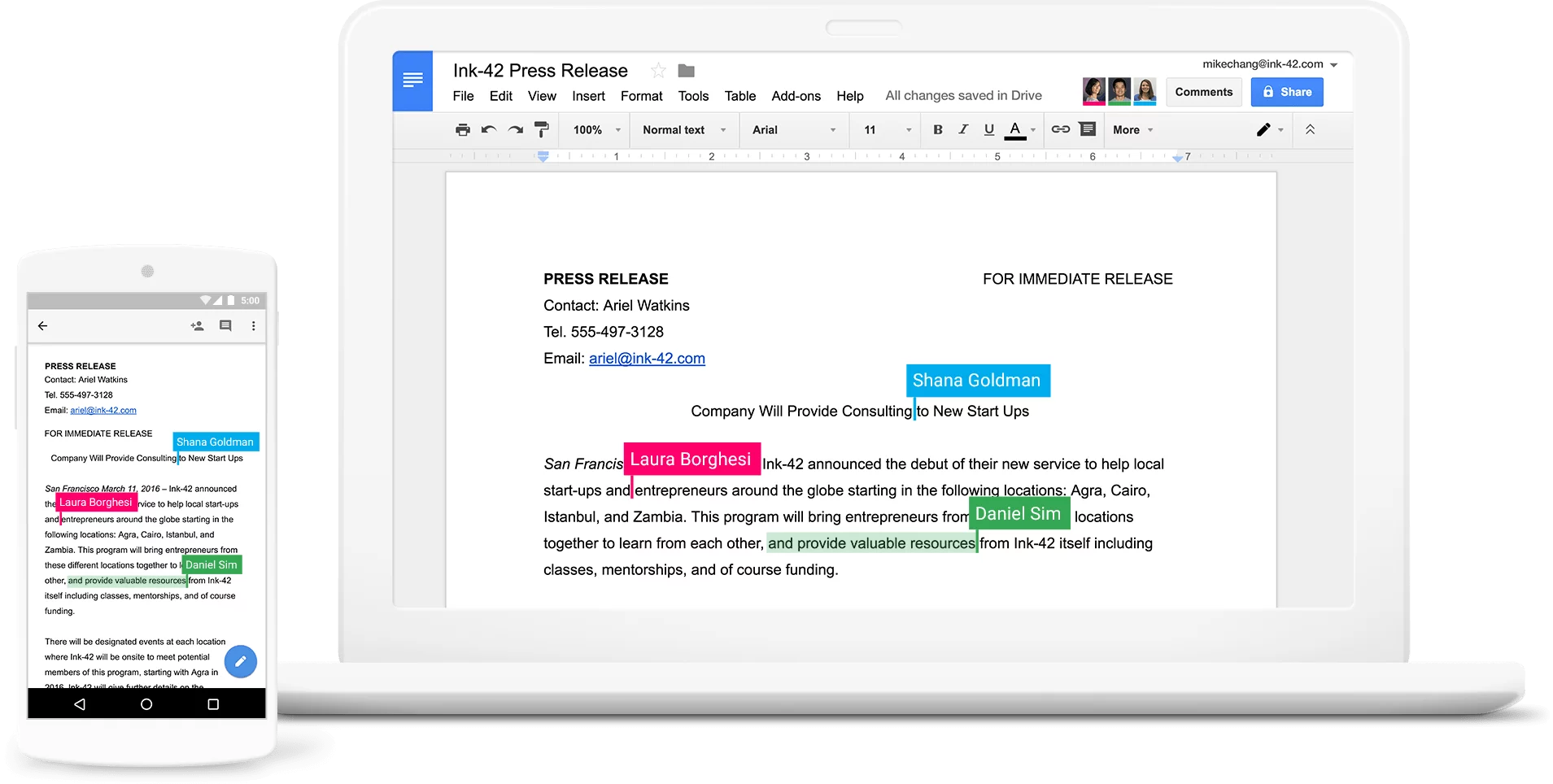 Everybody knows Google Docs and it would be a sin not to mention it! Thanks to its functionalities, this is one of the best free task management software.
First of all, because everything happens in the real-time. Secondly, because all team members can create or work on the already created document simultaneously.
With Google Docs you can easily track all docs and know what's happening in your team. They are easily accessible and when you decide to use Google Workspace's (formerly G Suite), you get even more benefits with all the add-ons that can easily integrate
Smooth integrations with Google Drive and Google Calendar provide you with a powerful personal project manager.
10. Nifty
Task management tool with a set of tools to unite all data across projects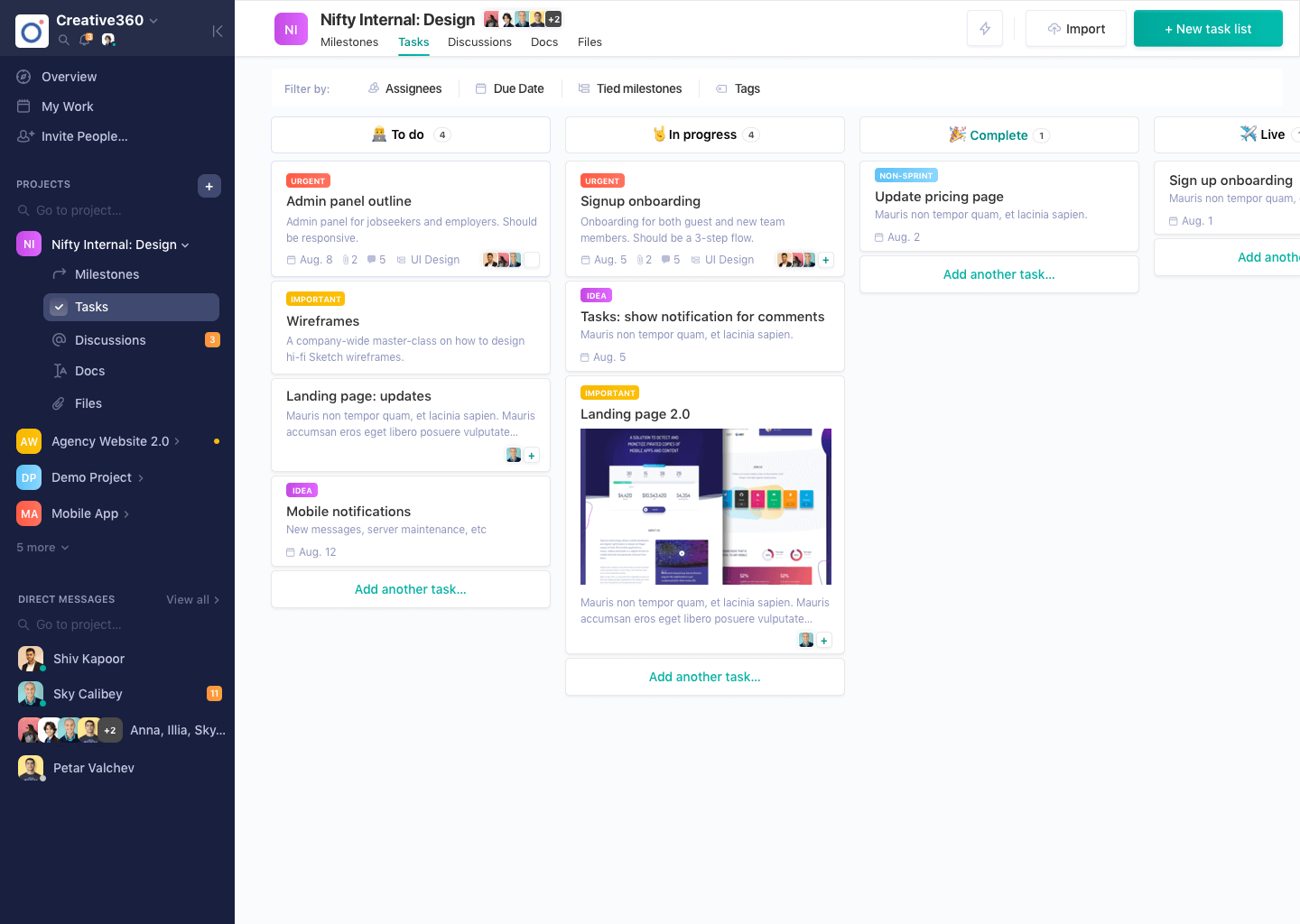 Nifty is a collaboration hub that helps teams create timelines, deliverables, and workloads clear both to employees and clients. It brings all aspects of task management in one browser tab.
With Nifty, all project discussions can be done within the app itself. You can communicate via project discussion threads, team chat, and Zoom video call. You can time track all tasks, assign due dates, share files and get automatically notified when a task is done and sent to another stage by your teammate.
It's a comprehensive project and task management tool, that saves time otherwise spent switching between several collaboration tools.
11. Weekdone
OKR software for managing tasks and aligning team objectives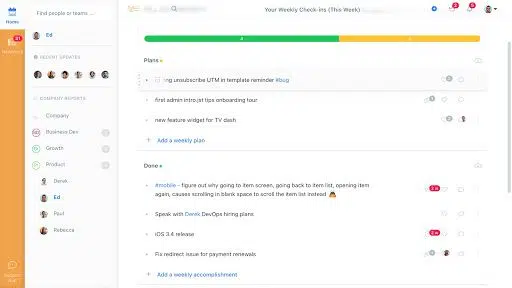 Weekdone is not just a task manager. It's a powerful, yet simple weekly planning and status reporting tool crafted to fit modern-day remote teams. It helps to keep everyone in the company up to date and simplify giving status updates. 
By using the PPP methodology (Plans, Progress, Problems), Weekdone enables teams to keep track of the progress on any given task or project. Thanks to its gamified newsfeed, teammates, and employees can easily give each other praise for work well done and offer feedback when needed.
The app is built around the concept of asynchronous team communication which allows teammates to receive the most crucial updates when they see fit. No more tons of notifications and stressing out about unread messages.
What's more, Weekdone provides a unique set of employee surveys, team productivity stats, and private 1-on-1 conversations to enhance the process of giving and receiving feedback.
Main features:
Company, team, and personal goal setting
Built-in weekly check-ins
Team newsfeed with crucial updates and information
Personalized 1-on-1 chats
Customizable 5-point rated employee surveys.
12. Wimi
Resource management software with different tools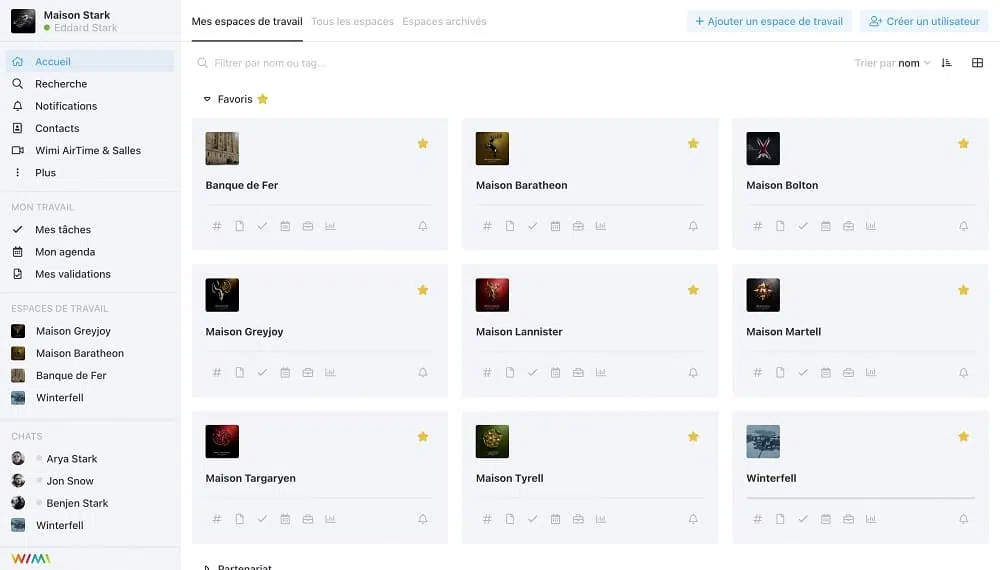 Wimi is a collaboration tool with task management feature comprising tools that enhance collaboration in a team and with clients.
In Wimi, you can organize work and teams, plan work, share important files and documents, and communicate with team members. The tool also allows you to invite clients as guests so you can keep everyone updated on tasks progress.
Wimi keeps your and clients' data secure with encryption, private storage, and multi-factor authentication.
Main features:
Unified workspace for each project or activity with centralized tools and data
Task management with options to assign tasks, organize and structure them, real-time updates and notifications, and setting deadlines
Messaging channels for team and direct conversations
File and folders sharing with version management to see changes to the files
Project, shared, and individual calendars
Video and audio calls for individual conversations or video conferencing
Reporting with monitoring project progression, team performance, workload analytics, and estimations and planning
👉 Check our article about best reporting tools!
13. monday.com
A simple visual tool to manage workflows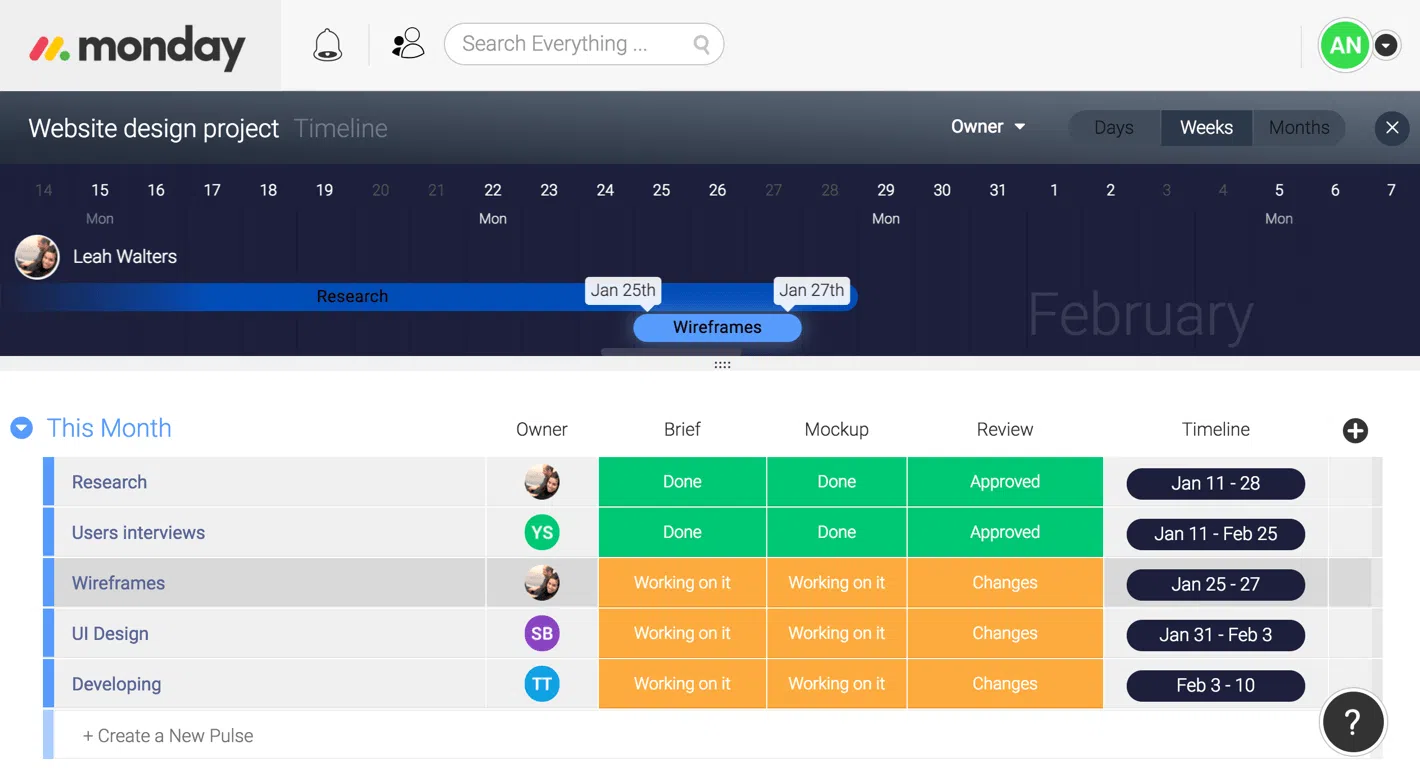 monday.com is a no-code platform for managing work and target dates. It's a visual platform that lets you organize tasks and track work in one place.
It's a good task management software for small teams that need a simple tool to organize, plan, and manage different types of workflows.
Main features:
Different kinds of views: Kanban, Calendar, Timeline, Gantt, map, form, workload, and main view
An overview of tasks with column types, groups, items, sub-items, notifications, file attachments, and status
Automations for recurring tasks
Various templates for different types of projects and industries (e.g., agencies, freelancers, manufacturing, operations, construction, design, sales, and many more)
Integrations with other apps
Available for iOS and Android
However, the free version of monday.com is available only for up to 2 users.
👉 Check our monday.com time tracking to better track time for your projects and improve workflows!
14. DragApp
All-in-one workspace for Gmail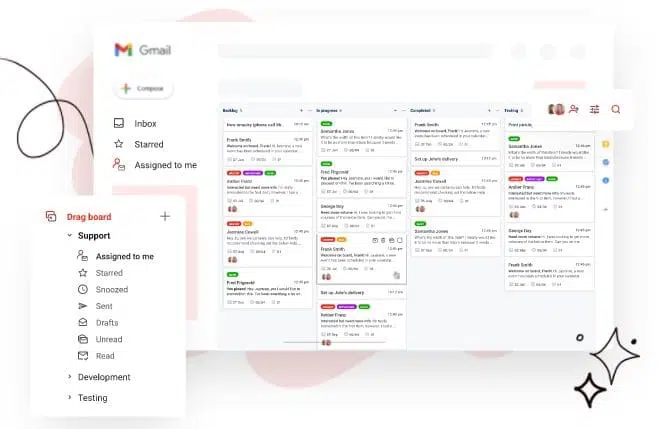 DragApp is online task management software that works as a robust extension for Google Workspace. It's a collaborative tool that brings all team members into one place so everyone stays updated on what's happening in the company.
DragApp offers interesting collaboration features that make it easier to manage tasks for email-centered teams – managing emails, closing deals or tickets, customer inquiries, etc. The tool provides real-time communications visible for all your team.
Main features:
Board with a task list
Shared inbox for all emails
Building workflows with tasks based on emails
Reports with activity on emails
Email templates for one consistent tone of voice for all the team with automation rules
Visualization with Kanban board to which you can add list views, customize lists, color-code, sort, and filter, manage tasks, add checklists, due date, contacts, notes, and files
DragApp is most suitable for people whose work is focused on emails and information exchange.
15. Taiga
Free task management for software development teams and agile companies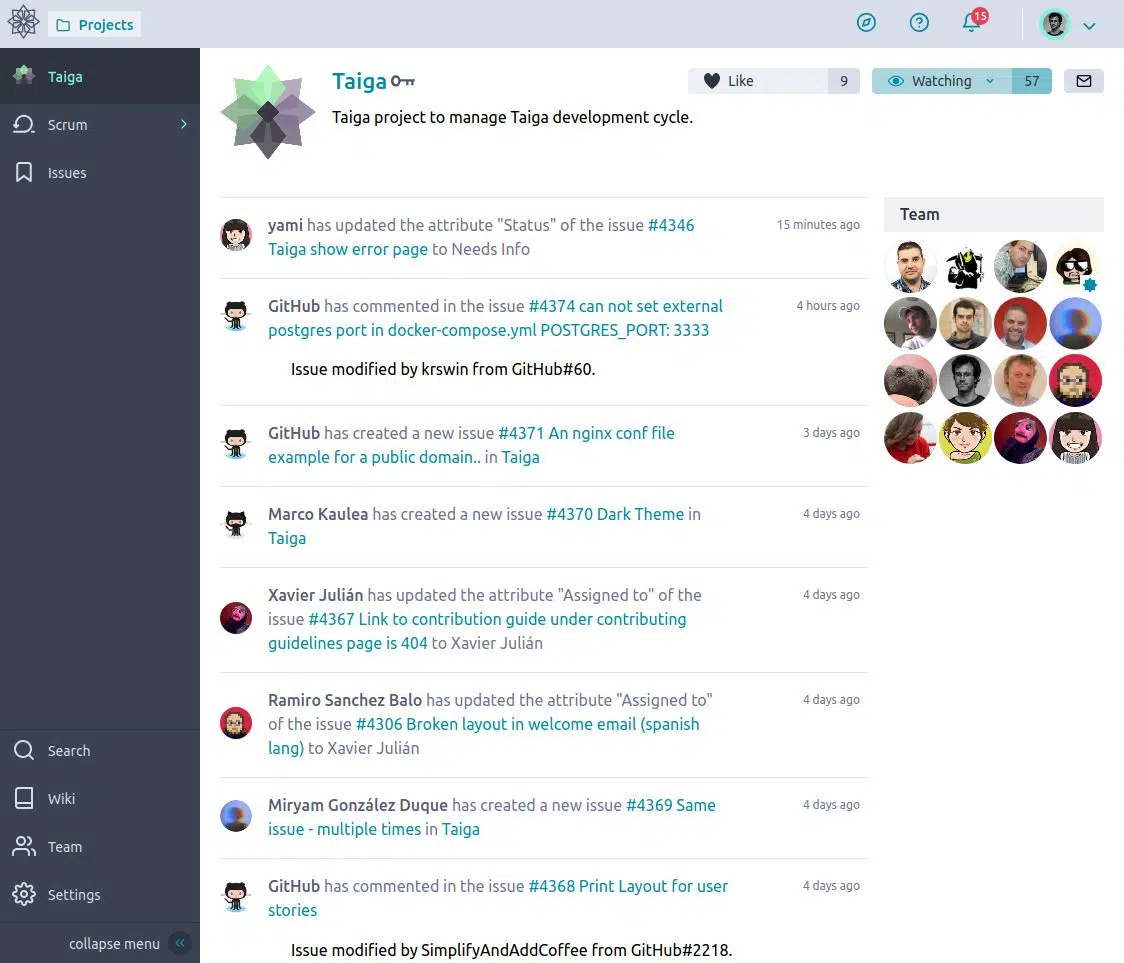 Taiga is one of the best task management apps for developers and agile teams. It helps to organize, plan, and track work. It allows for team interaction with its flexible features.
The tool lets you divide work and plan the entire project in a simple way. It's a lightweight solution for teams who need an intuitive app. The scrum functionality makes it possible to break product backlogs into manageable, executable chunks, and prioritize work in short time cycles.
Taiga is most suitable for IT, software development, and technical teams.
Main features:
Agile planning with prioritizing tasks and deliverables
Adapting workflows to reflect project structure
Kanban module with all the information about assigned tasks to team members
Scrum module to improve sprints
Progress tracking with insights and dashboards
Integrated and complete issues/bug tracking
Customization of features for flexible management of team and projects
You can extend Taiga with API, Zapier integrations, or by importing data from other tools
16. Milanote
Easy-to-use tool to organize your ideas and projects into visual boards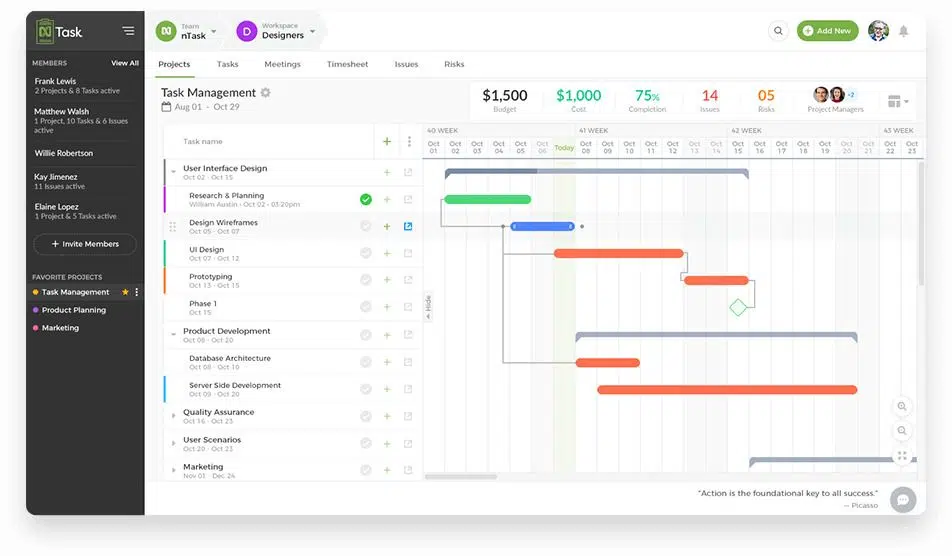 Milanote is a perfect solution for creative teams that need to visualize work, ideas, and easily work on projects. It's a visual board providing all the functionalities necessary to flexibly share tasks and resources.
With the app, you can work on multiple projects in one place. It'll help you better present ideas and collaborate with all the team.
Main features:
Unlimited shared boards you can freely operate on
Instant updates for every team member
Built-in sharing, commenting and task-assignment
You can download boards as printable PDF
Combining text, images, video, and more for brainstorming
Drag-and-drop feature for easy arrangement of notes and tasks
Native apps for iOS and Android
The free version of Milanote offers 100 notes, images or links, 10 file uploads, and unlimited shared boards.
17. Friday
Personal tasks management tool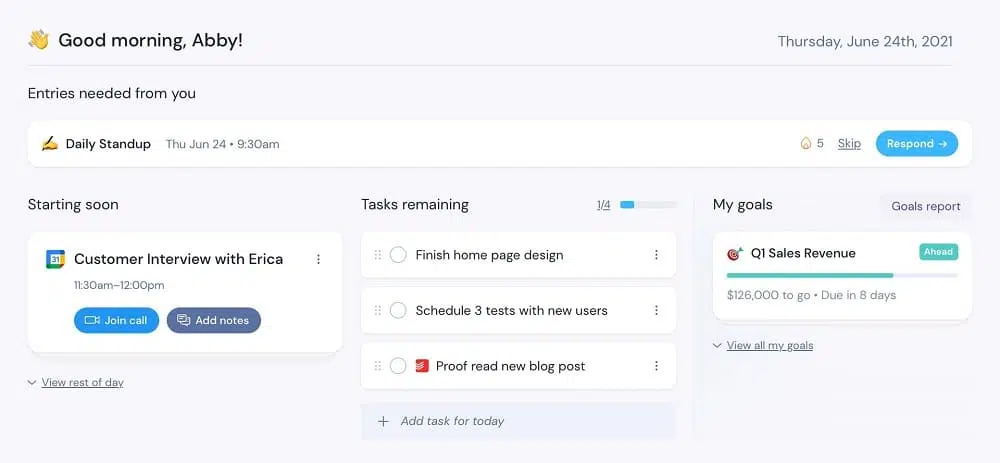 Friday is a task management tool that helps to centralize all your work activities. It's a to-do list app for daily planning and organization. You can also use the tool in a team.
Friday gives you a set of tools for scheduling tasks, hitting milestones, and checking on your progress so you're always on track.
Main features:
Homepage with all the condensed information about your work
Chrome extension for blocking distracting websites
Check-ins to prioritize and reflect on work
Collaboration features for teams—sharing posts with information or resources, company handbook with all the vital information, add-ons for interactions
Integrations with other apps
With the free account, your team gets basic features.
18. Chanty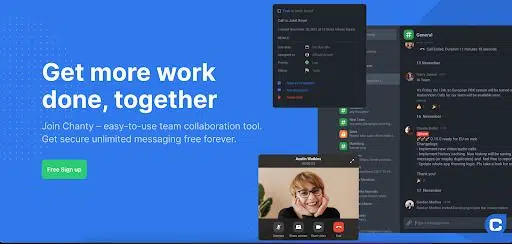 With its promise to increase team productivity, Chanty is a great team collaboration tool with an intuitive and easy-to-use interface. You can easily take advantage of chats that are neatly organized in public, private, one to one conversation. It also benefits the users with an unlimited searchable message history, video and audio calling features and creating a seamless experience for all the users.
The built-in task manager with the Kanban board is a joy to use and allows you to turn any message into a task, and is one of Chanty's most useful features. If you're frustrated with hopping between tabs at work, Zapier can link Chanty to any of the 1500+ apps accessible, turning your team chat into a single notification center. 
Main Features
Task management with Kanban board

Integrates with other project management tools

Audio and video chats

Personalized notifications

Unlimited message history 

Sharing and privacy features

Searchable history

Voice messages
19. Hubspot
The leading CRM platform for scaling companies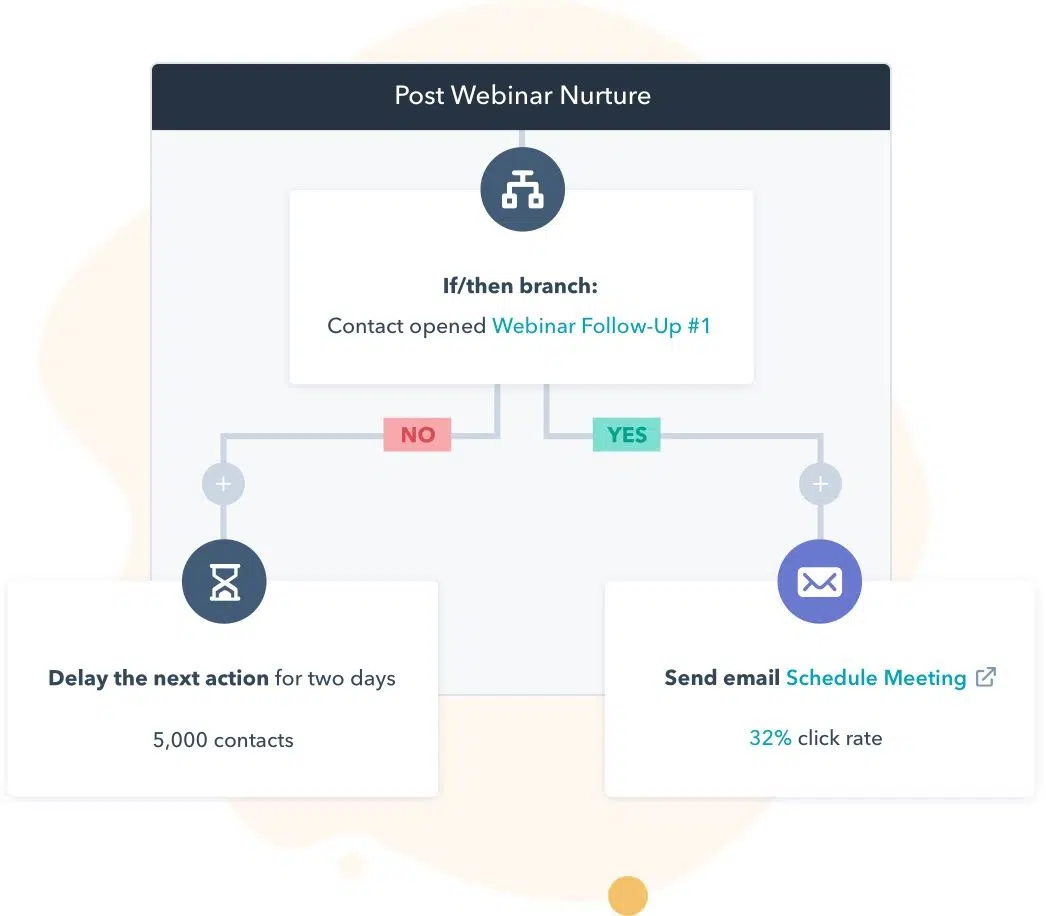 HubSpot provides countless resources for its customers and community – like best-in-class education and a leading business blog. HubSpot also has a powerful CRM and a plethora of free marketing and sales tools that make it easy for your business to create campaigns to attract new leads and deliver a remarkable experience for customers. 
With built-in analytics and reporting tools, companies can easily identify which content offers, ads or specific pages are delivering the most value. 
HubSpot's CRM platform provides an end-to-end experience with advanced free tools that are simple to use like: 
Email 

Contacts Database 

Ads 

Integrations

Forms 

Dashboard 
20. Airtable
A platform that allows one to create and share a relational database online.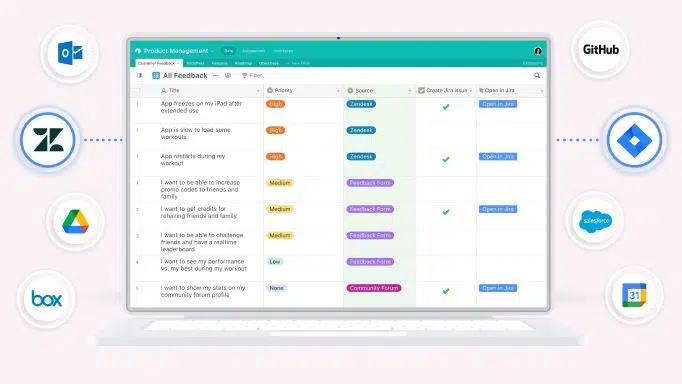 Airtable is a great tool to use with small businesses or larger companies. It's easy to use and has plenty of functional features that help your agile teams fulfill their tasks quickly. Its useful features would benefit from the free ability to track time spent on projects which would allow for a better track of progress within your team. TimeCamp provides Airtable time tracking integration to help you better manage your work time and productivity.
Main features:
Timelines customized to your needs
Pre-made project templates that make it easy to get started
Document storage to keep project files in one place
Task management and tracking
Collaboration features for teams—users share files and data with ease.
Integrations with other apps
21. TickTick
Simple productivity and task management tool which helps you to focus on your goals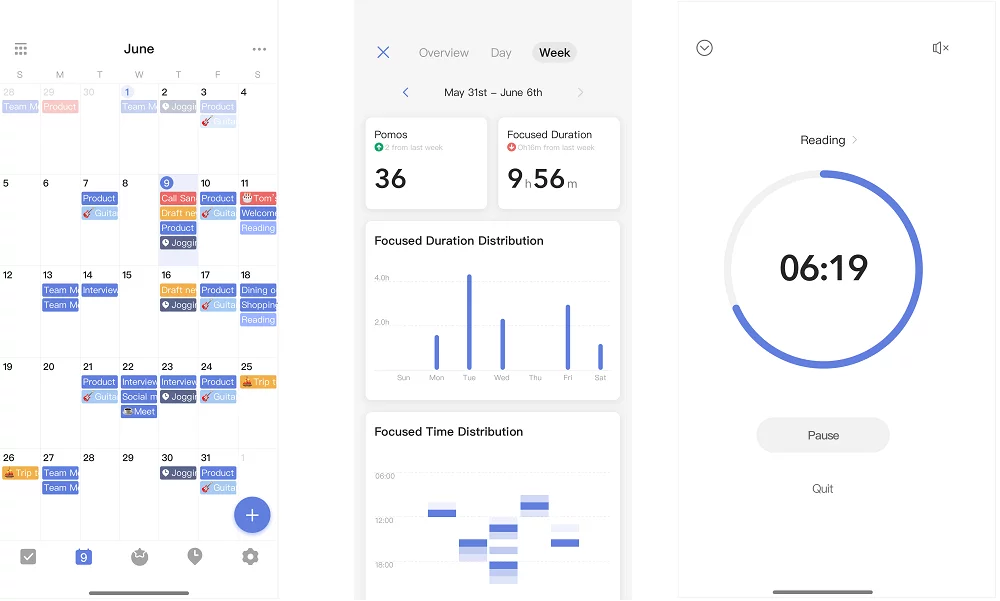 TickTick is a simple productivity tool which helps to focus on your goals. The app combines features of a traditional to-do list, taskmanager and checklist. You can use it to plan daily to-dos by collecting all your unplanned tasks and random ideas into one place. In addition, the app lets you see all tasks in the time blocks in the calendar view which makes it really convienent to use. 
It is worth mentioning that TickTick is a free app. The Annual plan is $27.99 and gives you more flexibility. TickTick is available on web, desktop (Windows, macOS), all Apple devices, as Chrome and Firefox extension, Outlook and Gmail add-on. TickTick time tracking integration will definitely help you improve your task management skills.
Main features:
Task management- set task duration and prioritize them
Various calendar views
Available Pomo Timer
Team collaboration- share lists and assign tasks
Multiple reminders (for example location reminder)
How Do You Manage Tasks?
When combined with time tracking, task management software is a robust system for work, budget, and team management. And you can adjust the combination to your needs in any way you want.
What is your favorite task management app? Or maybe you have your own way to track task progress? Let us know your thoughts in the comments, we'd love to hear from you! Share your favorite task organization software!
5 out of 5 stars (based on 1 review)