How to Use Your Calendar to Master Time Management – Best Tips & Tools
July 17, 2020
by Kate Borucka
One comment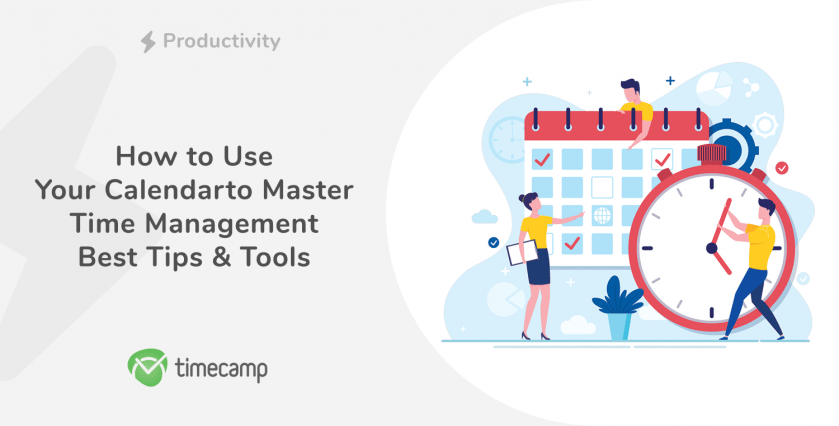 Time management wouldn't be possible without calendars. They help to plan work, meetings, and important events. And even though it may seem easy to use it, many people find it problematic to manage a calendar.
Calendars fit time management like a glove. You only need to choose the right size. Check our shot guide on how to get more done with your calendar!
In this article you'll learn:
How to Use Your Calendar for Time Management?
According to An Exploratory Study of Calendar Use conducted by researchers from the University at North Carolina, 66% of people keep their calendars always open, while 21% do it several times a day. Others do it to sporadically to add or check an event.
These numbers show that the frequency of consulting the calendar is high. And for that reason, it's important to have a well-organized system for time management with this universal tool.
Here are several easy and practical tips that can help you make the best use of your planner and manage your time effectively.
Manage your calendar with a 100% free time tracker for unlimited users.
Eat That Frog
This formula appears in the book of the same title by Brian Tracy, but it originally comes from Mark Twain:
"If it's your job to eat a frog, it's best to do it first thing in the morning. And if it's your job to eat two frogs, it's best to eat the biggest one first."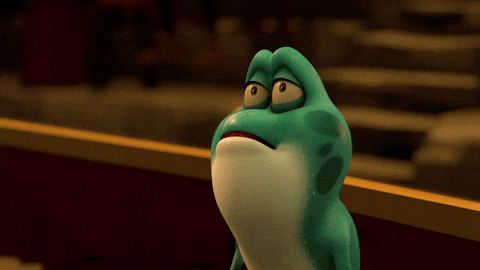 Source: giphy.com
Don't worry, it doesn't mean that you literally have to eat a frog! It's a metaphor that means to do the worst task first so you can later do the less demanding activities. That way, you won't have to think about the workload that's still ahead of you, and you'll be more productive.
👉 Read more about the Eat that Frog technique!
Allocate Time
Take a look at your calendar. What do you see? Are your entries scattered throughout the whole week, month, or do you have them all set up in order? Writing down the events and tasks is one thing, but allocating time to them is also important. You should estimate the time necessary to finish the task so you can better manage your schedule and allocate resources (time, money, etc.). There are several ways to do it:
1) Time blocking: it's a simple method where you divide your day into different activities and assign blocks of time to every task. You can do it by using colors, drawing lines, or any other way you find suitable.
👉 Read also about Best Time Blocking Apps.
2) Pomodoro technique: this technique was invented by Francesco Cirillo. People love it for its effectiveness and the fact that it immediately boosts productivity. You choose the task you need to get done, set the timer for 25 minutes, take a short break, and after 4 Pomodoro sessions are done, you can take a longer break and use it to go for a walk, sit down and read a chapter of a book, or just take a nap.
3) Pareto principle: it's also known as 80/20 rule. It means that for many events, 80% of the effects come from 20% of the causes or efforts. So 20% of your work input will result in 80% of results. Here, eating the frog will be helpful. You need to focus on the most important tasks and work on them till the end to actually achieve desired outcomes.
All these techniques make it easy to plan your day so you stay focused, don't have to toggle between different activities, and avoid distractions. Additionally, they all show that multitasking is not effective.
Make Some Room
Your calendar shouldn't be overfilled with entries. It's important to leave some free space. First, because you might need this "free" time for an additional, urgent task, or a sudden call with a client. Secondly, because it's great for your creativity.
Laura Vanderkam, a time management techniques expert, writes on her blog that the white space in her calendar can have a positive side, "The limited space on a paper calendar also provides a visual trigger that a day is getting too full. When I'm scribbling calls and appointments in the margins, that's a sign I need to start scheduling things farther out. Alternately, if I see nothing on a day — an absolutely pristine open day of white space — I'm generally inclined to try to keep it that way. I love completely open days. Maybe something amazing will come along, or else I'll get to do whatever I feel like!"
Use 1 Calendar
This is a simple tip but can save you a lot of trouble, energy, and time. You may be tempted to have two calendars—one for work, and one for personal events. Having two calendars may bring in a lot of confusion as you will constantly have to juggle between the two.
Also, it may not be the best idea to write your to-do lists in a calendar. It's better to have a separate notebook for them or use a dedicated app. Especially, if you have lots of smallish tasks and writing them down in your planner won't bring anything to your workflow.
👉 Read also about the best planner apps!
But then, we all have different systems to organize work. You can mix, combine to see what's effective and works out for you.
Integrate
This trick will work only if you use a digitized calendar. Integrations with other tools make it easy to schedule work between teams. They help to automate the planning process because you can freely exchange information between different apps.
But when it comes to paper planners, you can flexibly use them by adding notes, stickers, draw, add sticky-notes, and use other stationery gadgets to personalize it.
Filter Your Tasks
If you're in favor of using a calendar to write down all your tasks, events, and small things, it's a good idea to segregate all the information. You can divide a day into different sections, add categories, or use colors. It'll provide you with transparency and you'll be able to easily spot the most important tasks.
You can also create separate lists with to-do lists, daily detailed schedule, people-to contact list, conferences and meetings list. Attach them to your calendar to be able to quickly look at them when you need to.
Review Frequently
Dr. Roger Greenway who specializes in reviewing, says, that reviewing has many benefits, not only for work but also for personal life. In planning, it can largely improve performance and unclutter your calendar. When you review, you can clear outdated tasks, make sure events don't overlap, are able to set more realistic goals, and gain a fresh perspective on your agenda.
Reviewing helps to learn to plan better, be more engaged in work, and pay more attention to how you spend your time.
What Is The Best Calendar App for Time Management?
People use different calendar systems for time management. Some prefer paper planners, but others opt for digital solutions. If you're one of the latter, here are some of the best apps you can use to plan, manage, and schedule your work (and not only). Take a look around!
1. TimeCamp – for tracking work hours with calendar timesheet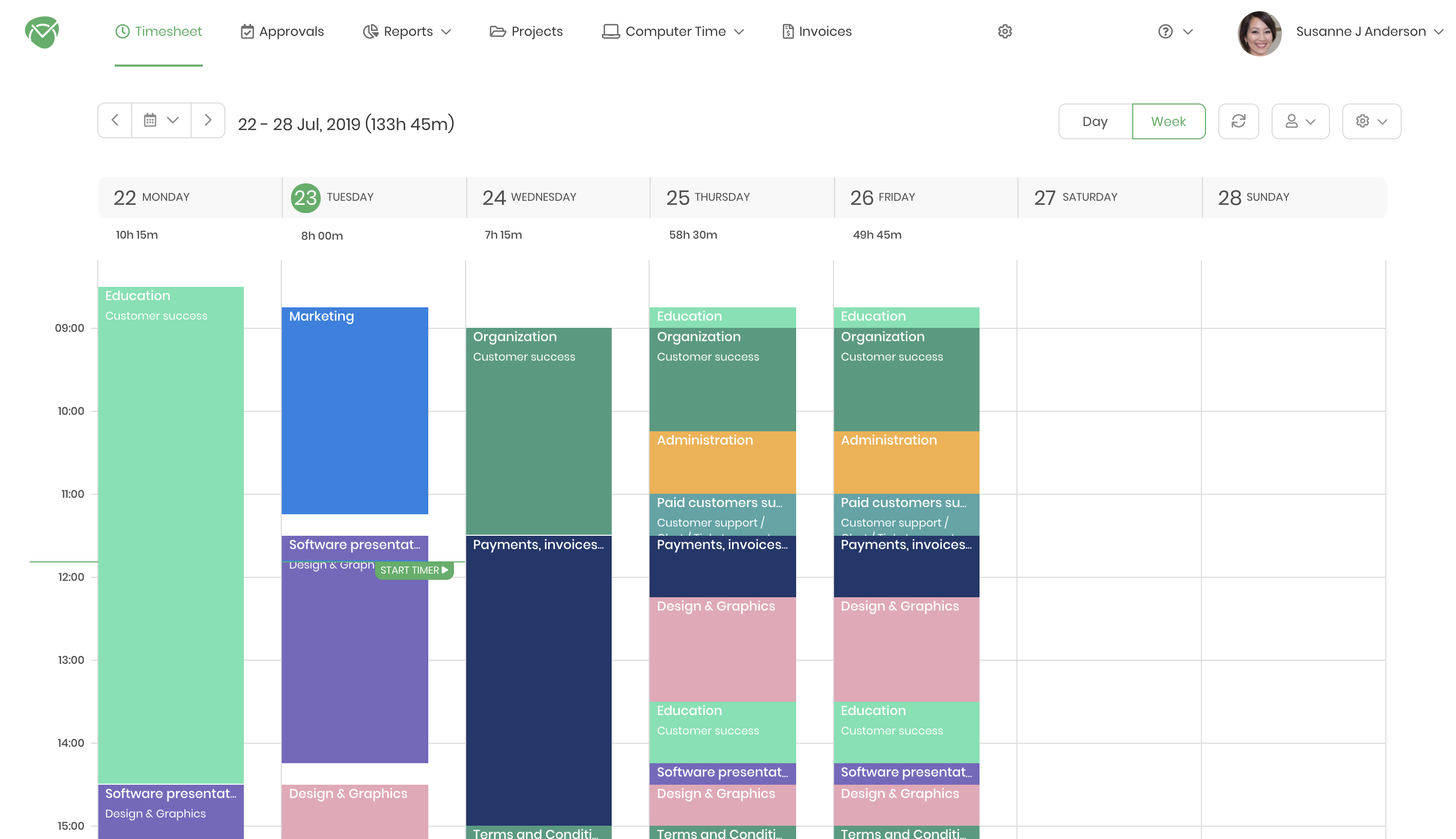 Overview: TimeCamp is a 100% free time tracking software for unlimited users with a native calendar in the weekly timesheet for easy work planning, workflow scheduling, and visualization. It helps to organize tasks, allocate resources, and manage budgets thanks to its automatic functionalities. This type of view allows you to quickly and easily add time for a specific timeframe during the desired day.
Not only can you track work hours with the calendar view to get more done but also estimate the time for similar projects and tasks, and better plan future work. You can also integrate TimeCamp with Google Calendar (or any other calendars via Zapier) to have TimeCamp import the events from the calendar as time entries.
Main features: TimeCamp combines features of different tools so you can flexibly use it to plan work and manage your time. Some of the main features include the following:
Automatic time tracking with detection of the idle time (when used with the desktop app)
Detailed and comprehensive timesheets with approvals
You can create invoices based on billable hours worked
Monitoring employee activities by categories, including app and website tracking, and by productive and unproductive activities
Attendance management to keep track of vacations, leaves, absences, and more
Visualization of tracked time with graphs and colors
Integrations: TimeCamp integrates with many apps, including productivity tools, project and time management tools, tools for IT and marketing agencies, and many more. Additionally, you can integrate all your favorite apps via Zapier. The tool is available for Desktop (Windows, Mac, and Linux), and has a free native mobile app available for iOS and Android to help users track their time regardless of location.
Sign up for Timecamp for free to track time directly in the calendar!
2. TimeCamp Planner – workload and time management for teams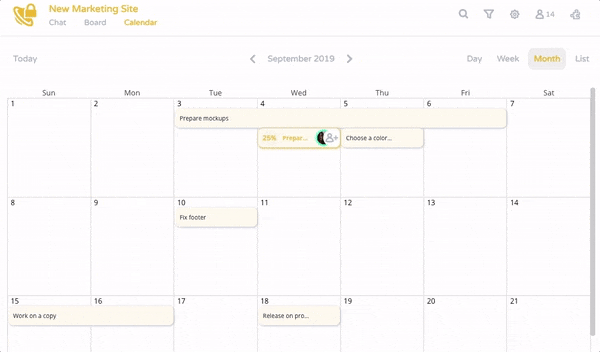 Overview: TimeCamp Planner is a task management software with chat perfect for small and medium-sized teams. The tool allows you to easily communicate and collaborate with your team. And with the calendar view, you can see all tasks in one look to see both, individual assignments of your team, and its full workflow.
Main features: TimeCamp Planner combines Slack and Trello functionalities so you can flexibly use the app to work with your team and plan workflow. Calendar features include view for every Space, personal timetable with all your tasks, list view, daily, weekly and monthly view, and many more to come! Here are some of the other most important features:
You can easily convert part of your conversation into a task
The Kanban board for agile project management
Every task can be adjusted directly in the calendar – you can set date, assign people to it, add tags, checklists, description, files, comment on it, make tasks recurring
The feature of workspaces allows you to create many spaces, if, for example, you work with various organizations or have different clients
Share files, gifs, pics, and more
Integrations: TimeCamp Planner integrates with Google Hangouts, Gmail, Trello, Zapier, and has more to come! It's available on the web, desktop (Mac, Windows, Linux), and mobile (iOS, Android).
3. Google Calendar – universal planner for everyone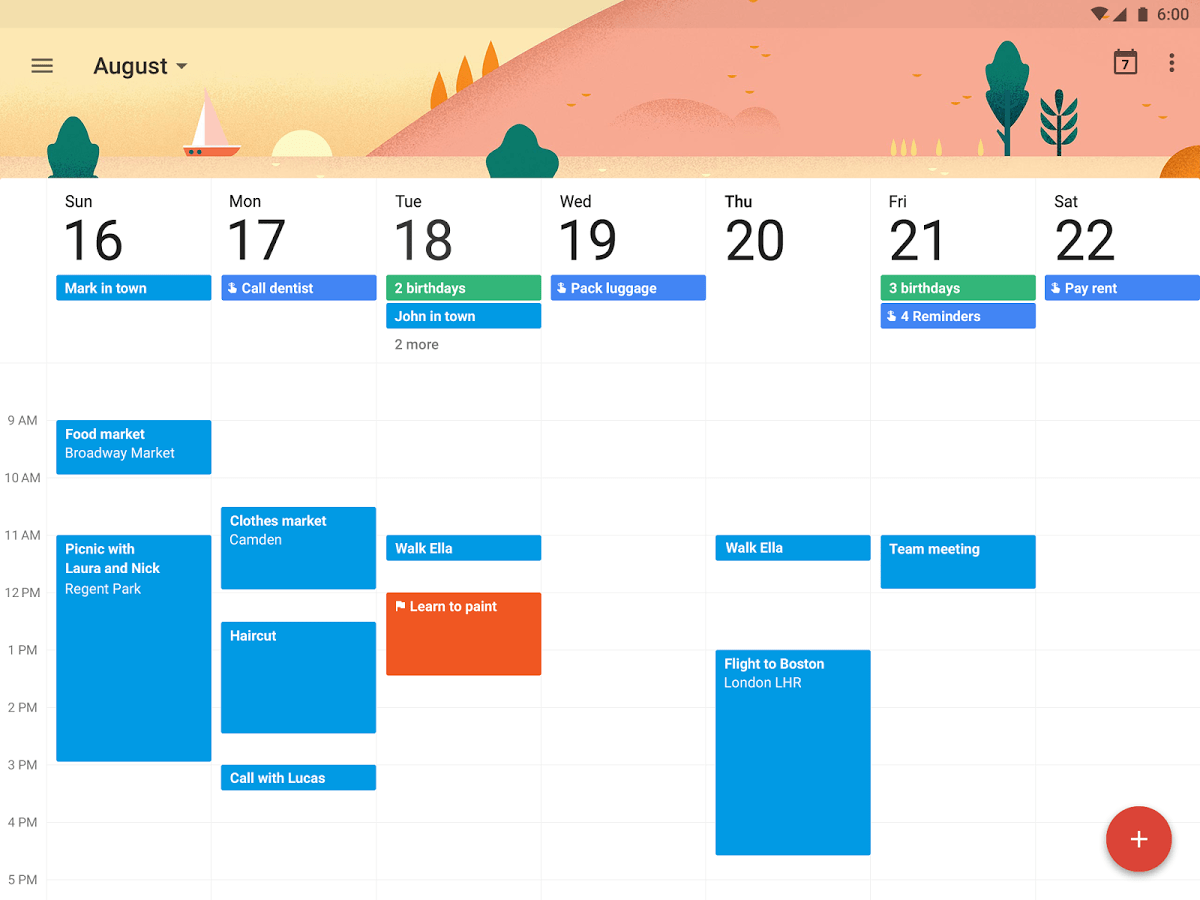 Overview: Google Calendar is an online tool used by individuals, families, friends, and teams. It's a universal solution that allows you to freely add or remove events, synchronize them with other people, and share with anyone you need to. It also allows you to see holidays, important dates, and calendars of your teammates to better plan work.
Main features:
Create calendars within your calendar
Schedule meeting with groups
All events from Gmail are automatically imported to Calendar
Adjust events with details, time, time zone, location, Google Hangouts link, and more
Different views – daily, weekly, monthly
Integrations: You can integrate Google Calendar with almost any tool. Most of the software supports the integration as it's widely used by millions of people. Additionally, the app is available for mobile (iOS, Android), and, of course, web.
👉 Check our favorite weekly schedule templates.
4. Fantastical – calendar for Apple devices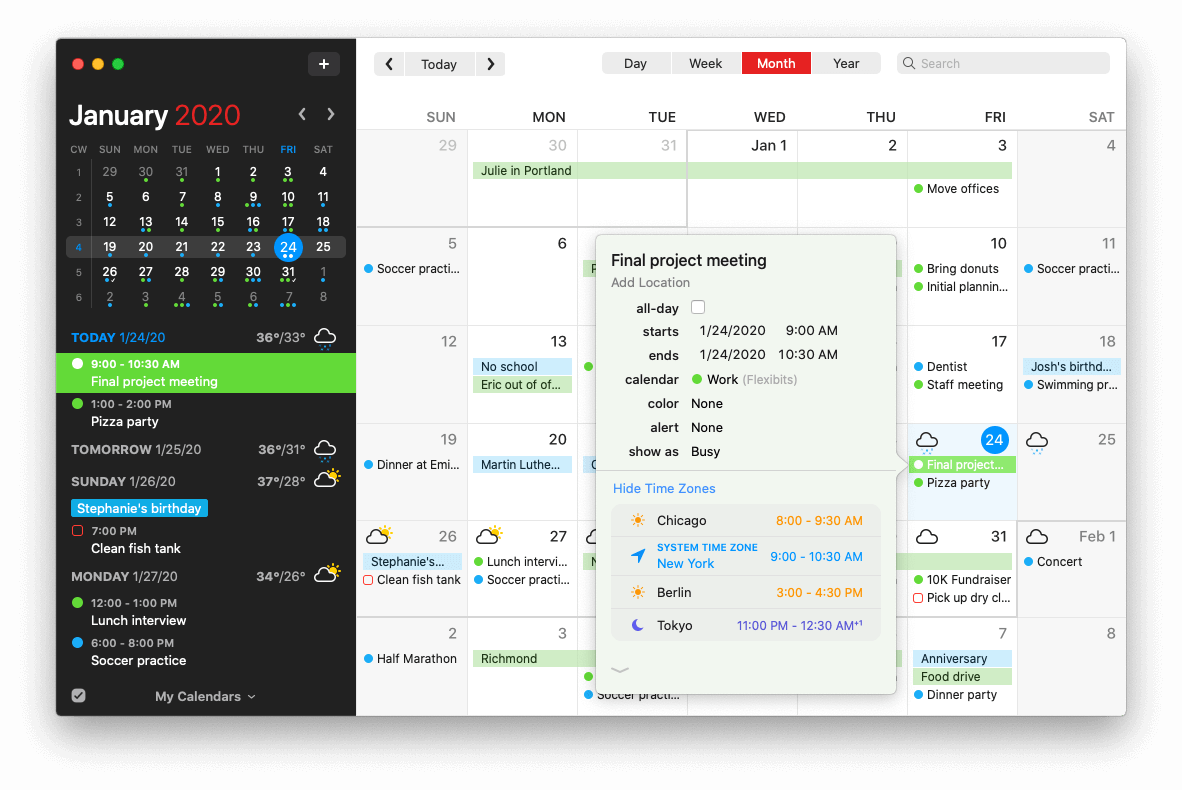 Overview: Fantastical works seamlessly across your Mac, iPad, iPhone, and Apple Watch. It's powerful software that lets you plan every aspect of work. It's suitable for entire teams and individuals. Fantastical features make it easy to coordinate events. It's a combination of a timetable, planner, and task management software.
Main features:
Views of your day, week, month, or year
Adding files and attachments
Fantastical can create quick templates from existing events and tasks
When scheduling an event with invitees, Fantastical lets you see your invitees' availability and help you find a time that works for everyone
You can add different calendars for holidays of various countries, your favorite TV shows, and more
Fantastical has an automatic conference call link detection for many of the popular meetings platforms
Integrations: Fantastical supports the most popular calendar services with its engine for CalDAV and Microsoft Exchange. The tool is available for desktop, mobile, and Apple Watch.
5. Any.do – timetable integrated with a to-do list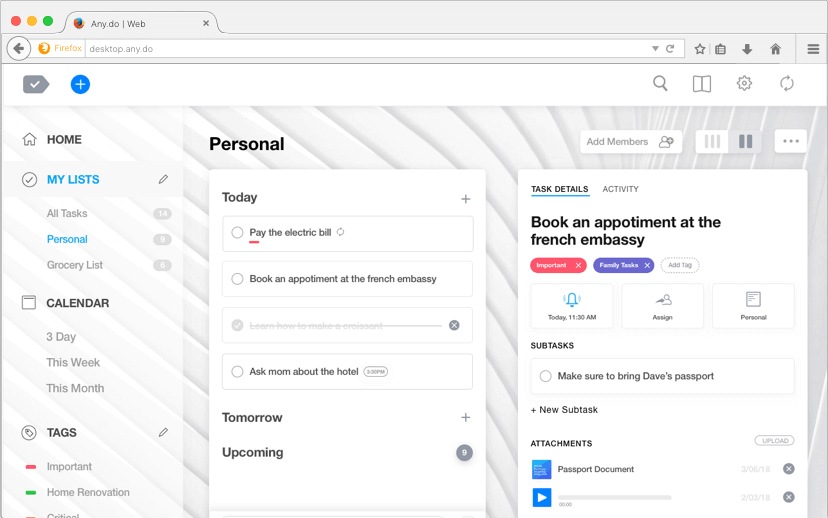 Overview: Any.do helps to stay organized and get more done. It's a to-do list app with a calendar, planner, and reminders. You create a to-do list and manage it for every day. Any.do It syncs across all your devices. You can use it individually or with your team.
Main features:
Organizing to-dos in lists and projects
Adding tags, categories, notes, subtasks, and attachments
Simple and intuitive design and interface
Customizable reminders
Integrations: Any.do works with other calendars. It's available for web, desktop (Windows, macOS), mobile (iOS, Android), Apple Watch, Wear OS, and as a browser extension (Chrome, Firefox)
6. Clockwise – intelligent calendar assistant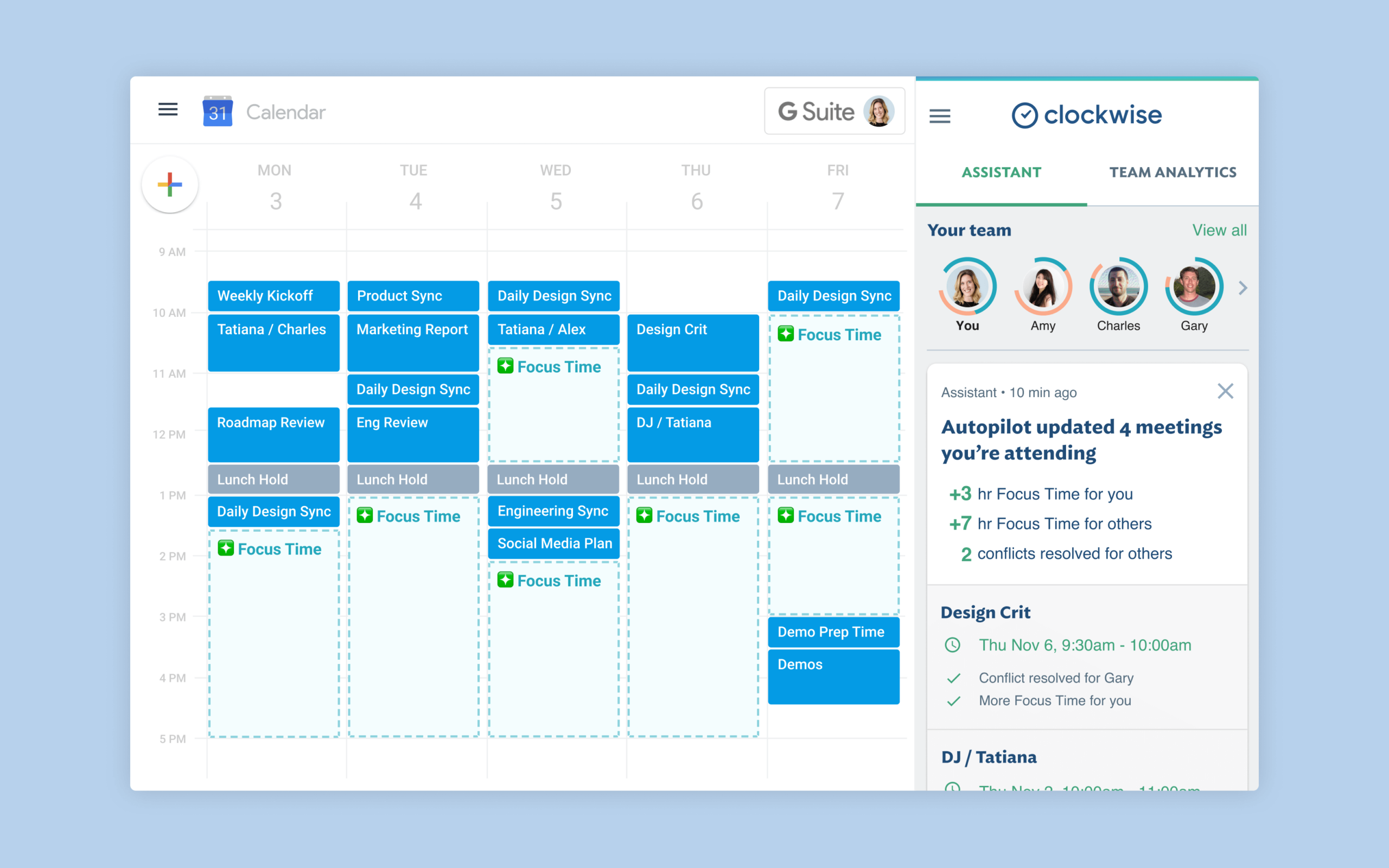 Overview: Clockwise is a smart tool that helps in optimizing your time as much as possible so you can focus on what matters most to you instead of managing events. Clockwise automatically moves your meetings to free up blocks of uninterrupted time, reschedule conflicting meetings, and lets you plan the day the way you want to. It's an intelligent solution for demanding users.
Main features: 
The Autopilot optimizes your calendar to free up blocks of uninterrupted time
You can adjust how much time you want to have for meetings
Save time for Focus Time automatically so the Autopilot won't move them
Alerts for low Focus Time
You can see when your teammates will be unavailable with a team calendar that updates automatically
Integrations: Clockwise integrates with Slack for better workflow. The app is available on the web for Chrome.
Find Your Management System
Even though more and more tools for time management appears, it seems that calendars are difficult to replace. People like them for their ease of use, ability to quickly add new events, and the fact that they can be carried anywhere. It's one of the best forms of time management we could have ever invented.
What do you think about planning your work with calendars? We'd love to hear from you so make sure to leave a comment!