The 17 Best (and Free) Note Taking Apps for Android
May 8, 2023
by Kate Borucka
7 comments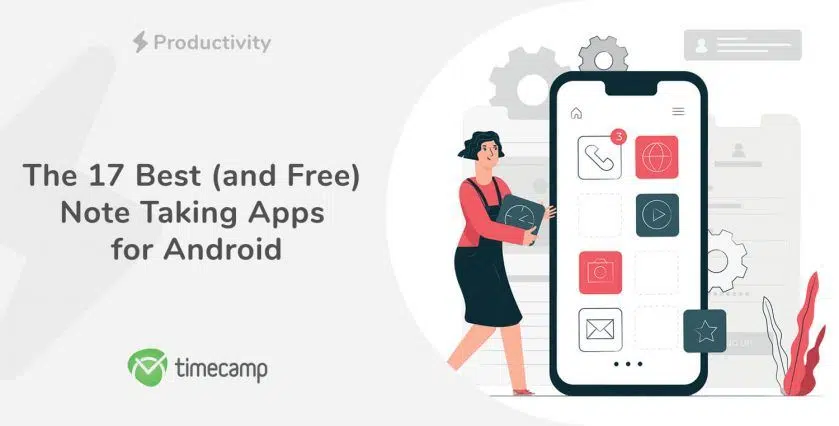 According to the latest statistics, more than 2.5 billion people use Android. It's the most used operating system in the world. There is even a community of Android fans on Quora with nearly 99 thousand members, the number still growing.
Because of its popularity, you can find many apps on Google Play Store available for the Android system, no matter which model of smartphone you use. One of the most popular categories users choose is productivity, into which note-taking apps fall as a subcategory.
This type of application helps to keep the ideas when your head can't, especially, if you don't have a piece of paper within reach. With a smartphone or a tablet for note taking app, you can put your notes in the pocket and carry them with you wherever you go.
Try TimeCamp – 100% free time tracking app!
What Are The Best Free Note Taking Apps for Android?
There are many notes apps available for Android. Some are dedicated to making simple notes whereas others have extensive features that let you create powerful lists and reports. To help you choose the ideal app for you, here's the list of the best note-taking apps. I've downloaded them all on my Android system and tested myself. Whether you look for a simple app or an all-inclusive tool, there's something of interest for everyone.
The little helping arrow ⇒ will show you who are the apps best for.
⇒ Best note-taking tool compatible with Google apps
⇒ Play Store Editors' Choice

Google Keep is one of the most popular note-taking apps for Android. It lets you capture ideas and thoughts with text, lists, images, and audio.
You can create notes, lists, and draw or keep your notes in a handwritten form. Colors and #labels let you easily spot what you're looking for, and search option saves time so you don't have to scroll down your list. Dark and light themes enable you to personalize the interface.
All your notes are adjustable:
Add title
Pin your note
Set a reminder and choose if you want to repeat it
Take a photo – it will automatically appear in your note
Add image
Make a drawing
Record – you can dictate your thoughts, Keep will transcribe them for you
Add checkboxes to create a to-do list
Make a copy of your note
Add a collaborator to work together on ideas
Print note
You can also quickly archive or delete content that is no longer needed. Use "Ok Google" voice commands to "take a note" or "add to to-do list".
Google Notes is a simple app with all the basic features you need to make a good note on the go, far away from your office or home. It easily synchronizes with other Google services which makes it comfortable to work across different apps and devices. And you can easily and quickly access and share notes via email, text message, copy them to Google Docs or Google Drive, or send them to any other app.
⇒ Best for quick and simple capturing of ideas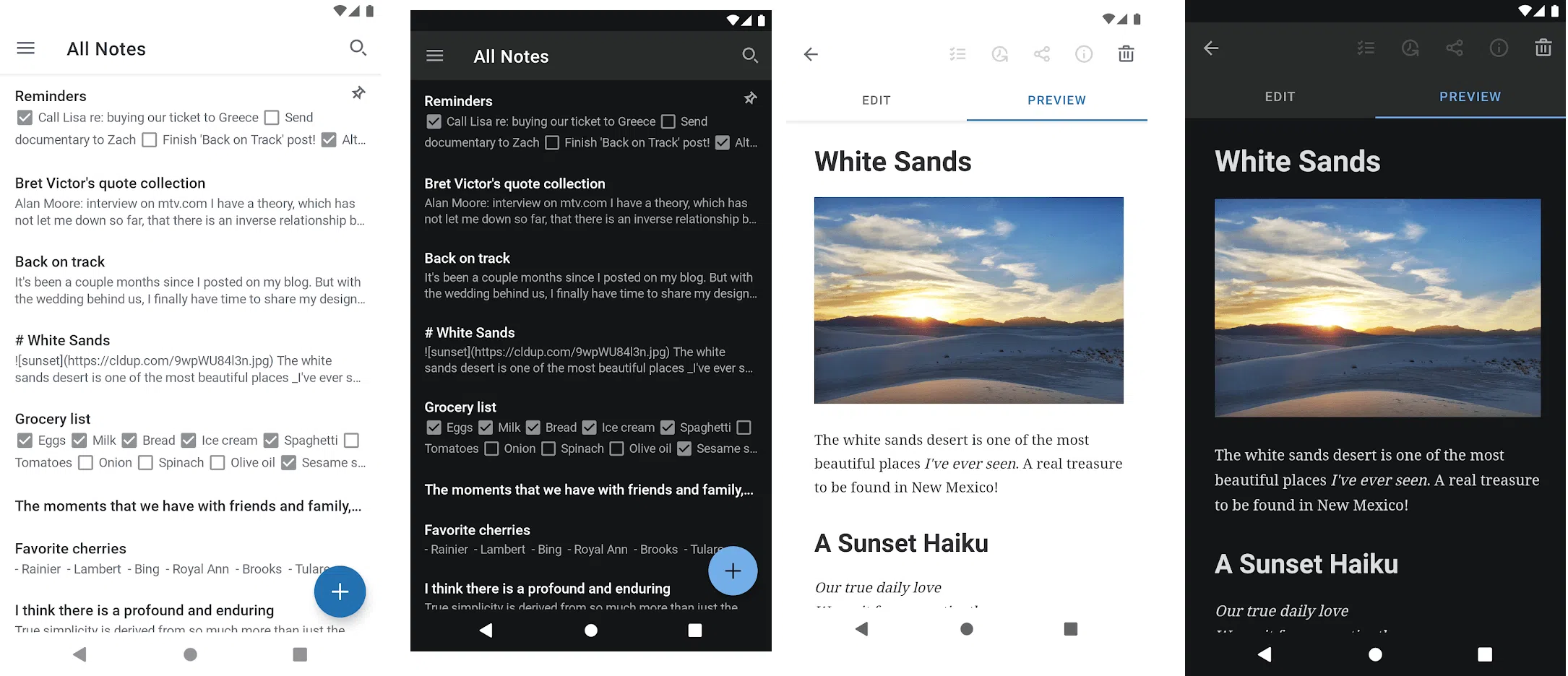 Simplenote, as the name suggests, is a simple app for taking notes. If you're looking for a handy and transparent tool without fancy functionalities, Simplenote is the perfect fit for you. You simply write down what's on your mind and voila! it's done.
The only extra features you'll find include search, pinning important notes, and checklist. Also, tags help to organize thoughts but you can add an email address as a tag to share notes with people or do it with other Android apps. With the history of your note you can check when it was created, modified, how many words and characters it counts.
Themes are available to customize user experience – light, dark, or dark at night only to protect your eyes.
If you delete notes, they go to trash but you can restore them, or empty the trash to completely get rid of them forever.
Simplenote lets you access your notes on the web and your other devices so you can always keep your ideas close to you.
⇒ Best as a sticky note app
⇒ Play Store Editors' Choice

ColorNote is a simple notepad app with multiple useful features. You can use it to write notes, memos, e-mails, messages, shopping lists, and to-do lists. It works as a simple word processing program and gives you the flexibility to type in whatever you need. In the calendar, you can organize the schedule by notes in the calendar. ColorNote lets you create checklists to get things done (GTD), lists of things to do, and shopping lists. Additionally, you can search the Web or Amazon for items on your list. So if you created a shopping list, you will have your items delivered straight to your door!
To always keep important information at hand, you can add notes to your home screen and adjust their size with the sticky note memo widget.
Other adjustable functionalities include colors, theme, a lunar date for the calendar, notes search, list and grid views, task reminders, and notepad support of ColorDict Add-on (search for words in Wikipedia, Wordnet and StarDict dictionaries).
To keep your thoughts and ideas safe, you can protect notes with a passcode. There's also secured backup notes to microSD card. Once data is saved, in case of accidental deletion, data can be recovered using microSD card data recovery services or by downloading a software that will scan the card for deleted data.
ColorNote also provides online backup and sync feature to synchronize notes between your phone and tablet. Additionally, you can send your text as an attachment or print it to any app.
⇒ Best for minimalistic note-takers

Material Notes is a simple app with minimalistic features. If you're looking for a tool that doesn't require much of your attention, Material Notes is the right choice.
First of all, it has a pleasant and intuitive interface so using the app is an enjoyable experience. Secondly, it has only the most necessary features:
Bright and deep colors help to visualize your ideas
Create notes and to-do lists
Star your favorite or most important notes
Use colors for easy scanability
Custom font, theme
Create widgets and place at your home screen for quick access
Export and import notes from and to other apps and devices
Lock your content with 4 digit PIN
Material Notes is most suitable for those who want a straightforward and transparent note-taking app.
⇒ Best for organizing and planning work
⇒ Play Store Editors' Choice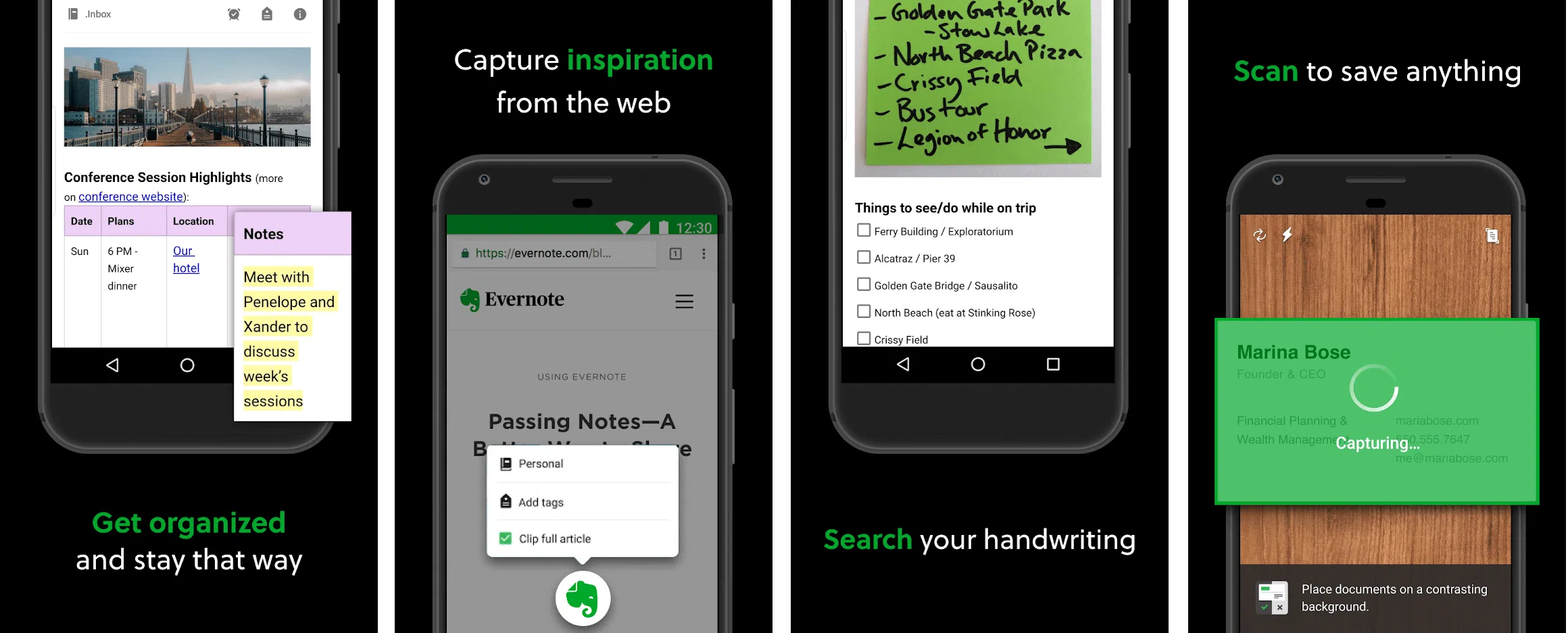 Evernote is one of the most popular and widely used tools for organizing and planning. To use it, first, you need to sign up. Whether you need it to make arrangements for work or personal tasks, Evernote is a powerful app that will help you organize everything.
It's best for teams as it allows for full collaboration and in-app chatting. You can quickly capture any thought with a camera and organize it with labels and notebooks to later easily find it in search.
The main features include the following:
Taking a quick note from your notification bar without launching the app
Save webpages by sharing it to Evernote with the Webclipper
Set up a passcode with 4-digit code to protect your content
Invite friends and team members to collaborate
Take pictures and save them in different formats
Rich functionalities inside a note – you can format your text however you like with bullet list, highlight, upper script, and more
Add a voice message, set dates, attach files photos, videos, audio, handwrite
However, for more advanced features, you need to subscribe to a paid plan. In the free version, you can use only 2 devices, have 60 MB of transfer per month, 25 MB per note, and you don't have access to notebooks offline, and can't use all functionalities.
⭐ Check out Evernote time tracking integration! ⭐
⇒ Robust app, best for saving and organizing ideas in a team
⇒ Play Store Editors' Choice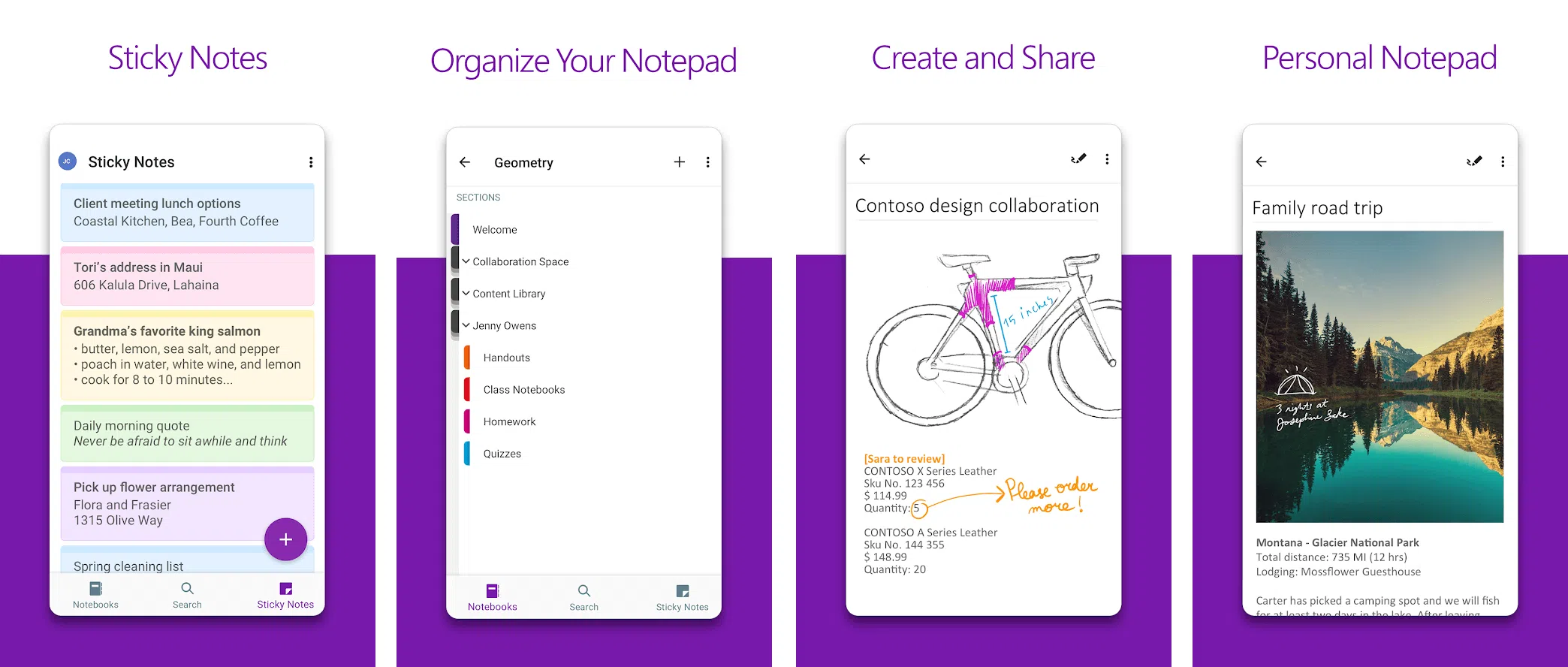 Microsoft OneNote lets you take notes on your phone and sync them across all your devices for a smooth workflow in Microsoft tools. It's a powerful tool that enables you to do anything you want with your content. You can draw, add notes, create memos, journal, add sticky notes. All content can be personalized – bold text, italics, strikethrough, lists, link, files, and photo attachments. And colors enable faster search and organization of ideas.
Moreover, OneNote badge (which you add to the homescreen) lets you quickly capture your ideas and you can hide it when you don't need it.
Use OneNote for work or personal tasks. Share your ideas with others, and collaborate with team members. OneNote lets you do it all for free the way you need and like.
⇒ Best for simple note taking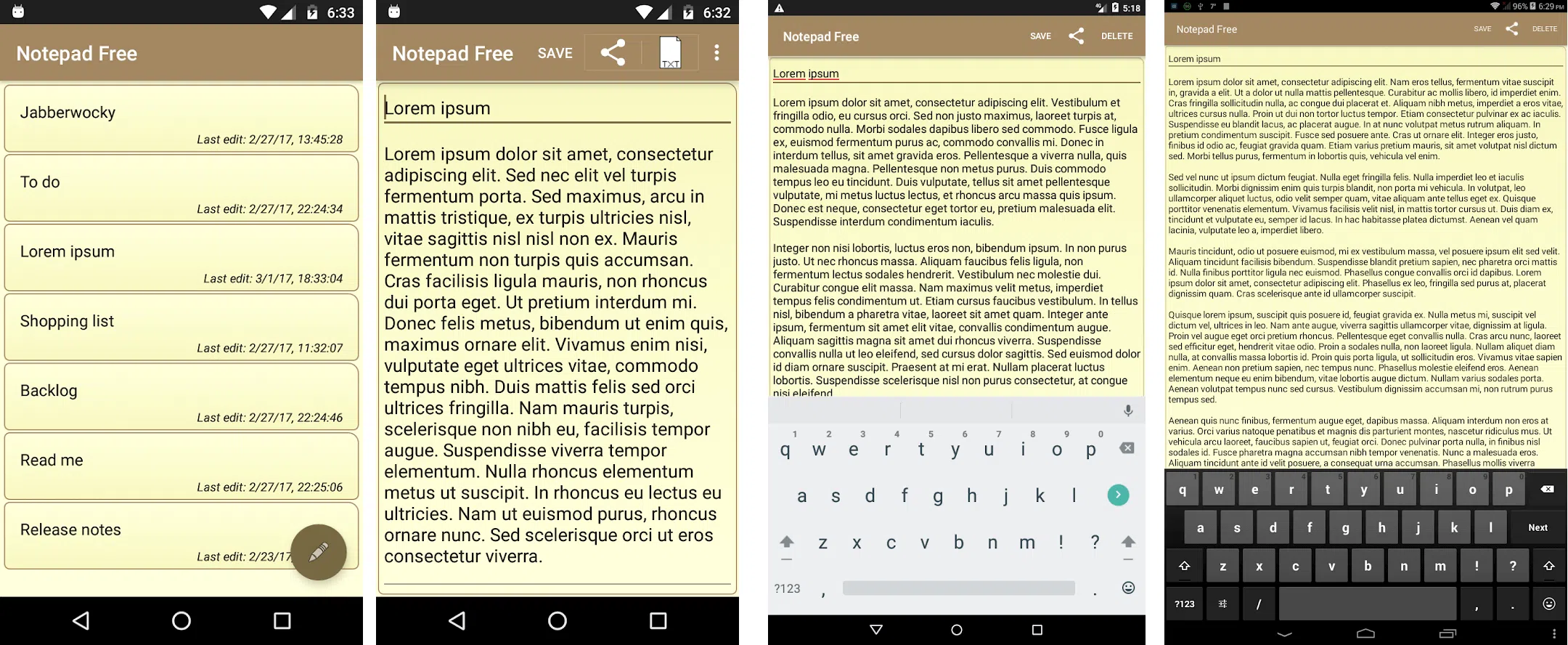 Notepad Free is one of the highest-rated note-taking apps for Android. If you're looking for the simplest solution without fancy additional features, this is it. The interface has a simple layout, delicate, brownish colors and it's super easy-to-use.
You can sort your notes by date or title, search, and share content with other apps or people.
Use Notepad Free to save your ideas in a quick and convenient way. It's a simple and free notepad, nothing else, nothing more.
⇒ All-inclusive app for visualizing ideas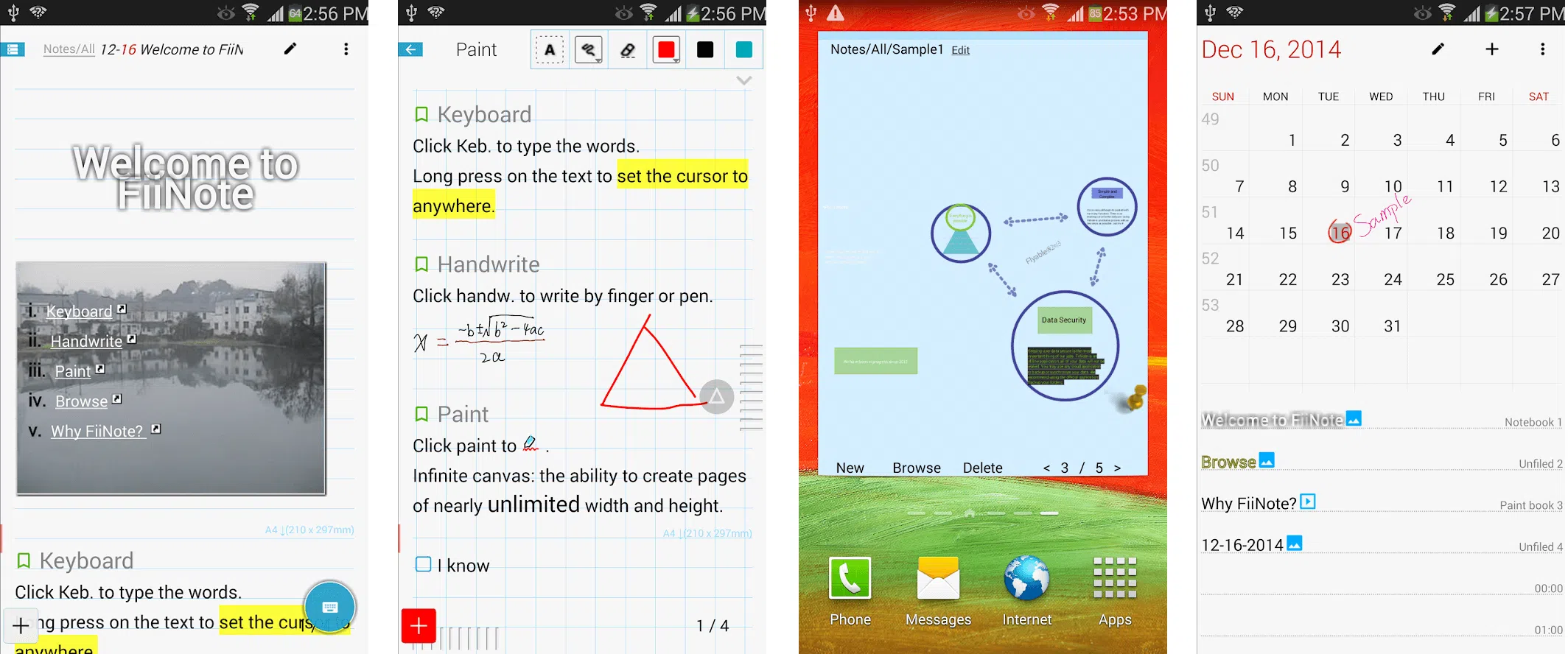 FiiNote is an app for noting all types of ideas. With it, you can capture everything, beginning from a simple idea to a complex map of thoughts. Mix inputs including keyboard, handwriting, voice, doodle, and camera.
There's an option of putting pictures and drawings in-between notes, adding location and reminders, attaching photos and videos from your gallery. You can conveniently swipe left or right to quickly access your records. Customize colors, themes, and do much more.
FiiNote even has an in-built calculator so you can make financial reports, lets you create Prezi-like presentations, or draw various shapes in a paintbook.
FiiNote is the most complete free app to take not just handwritten notes but every kind of documents. And it has all the tools you need to edit them. It also has all the features you need to freely personalize it. Additionally, after completing free registration at FiiNote's website, you will be able to synchronize notepad between your smartphone and PC.
⇒ Best for making structured lists

WorkFlowy is a simple but powerful free notepad app best for structuring your ideas. It allows for creation of transparent lists with subitems, titles, and a description. In the lists, you can include such items as #hashtags, @mentions, date, note, and check the items from lists. These functionalities are helpful in the search option as they let you quickly find searched notes.
It's a straightforward app, easy in use, and has all the necessary features.
To use WorkFlowy, first, you need to create an account. Moreover, it automatically syncs between your phone, tablet, and computer.
⇒ Best for handwriting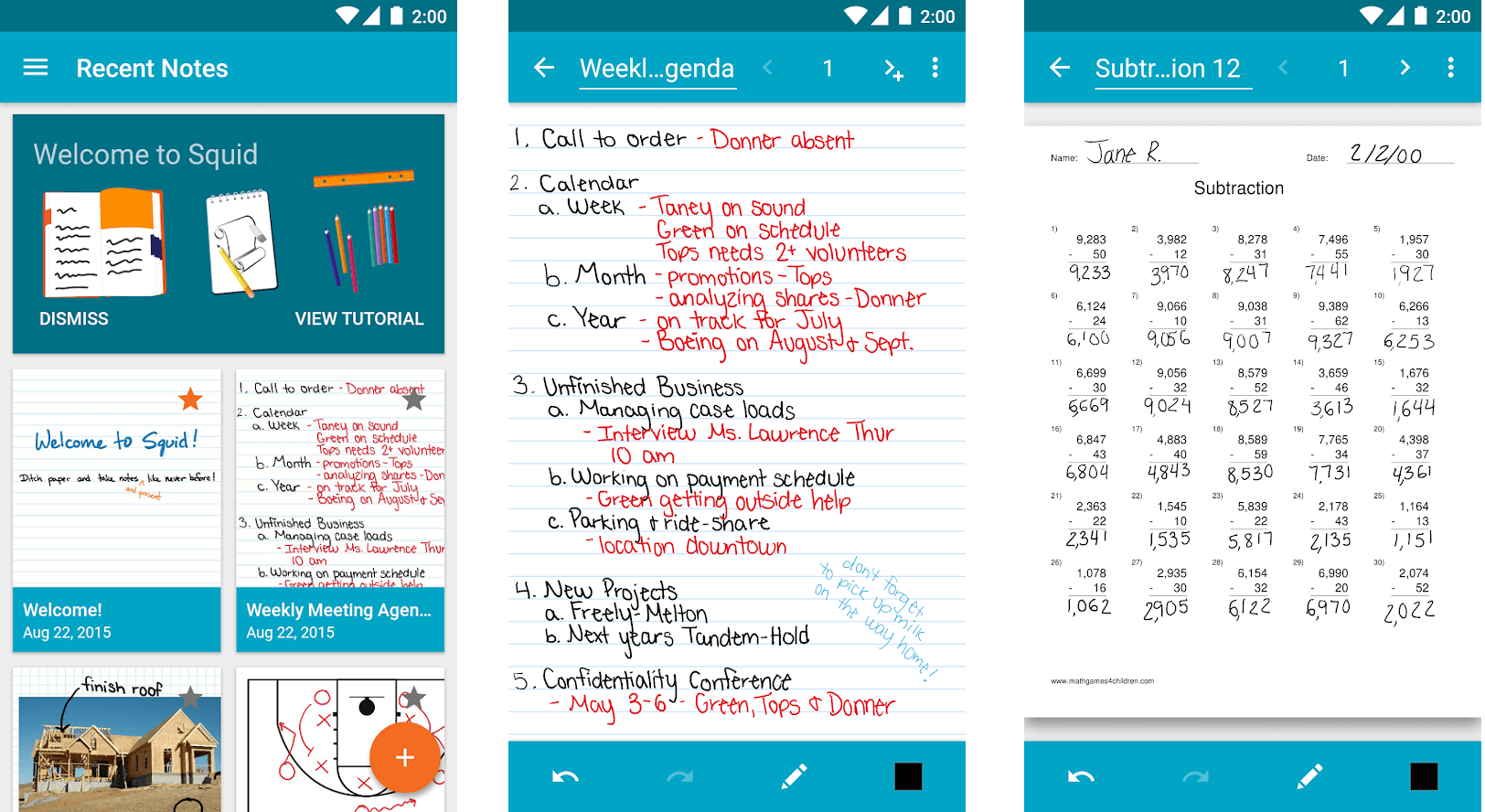 Squid is one of the best notes app for Android for those who prefer to handwrite their ideas. You can either write with an active pen, stylus, or finger.
Here's what you can do with Squid:
Infinite paper by default which means you can make your note as long as you want to
You can modify ink
Duplicate a note
Zoom in and out
Insert shapes and texts, PDF for markup
Multiple background types and sizes
Export as a PDF or image
Adjust your handwriting
Organize content within notebooks
Insert text
Import PDF files and work directly in them
With Squid, you can be creative. The tool is most suitable for those who like to visualize things. What's more, it's a great solution for e-whiteboard. You can use it to present ideas to team members, either in the form of in-office presentation or via video conference.
⇒ Best for lovers of black color and simplicity

BlackNote is notes app for Android all in black. If the standard white background of most apps tires your eyes and you need a break, this is the right choice.
In the app, you can create a note or a checklist. Other than that, you can star notes (they are automatically pinned to the top), create categories, set a password, add sticky notes to the homescreen, and send notes to other apps and people.
BlackNote is a simplistic notepad for non-demanding note-takers.
⇒ Best for colorful and simple notes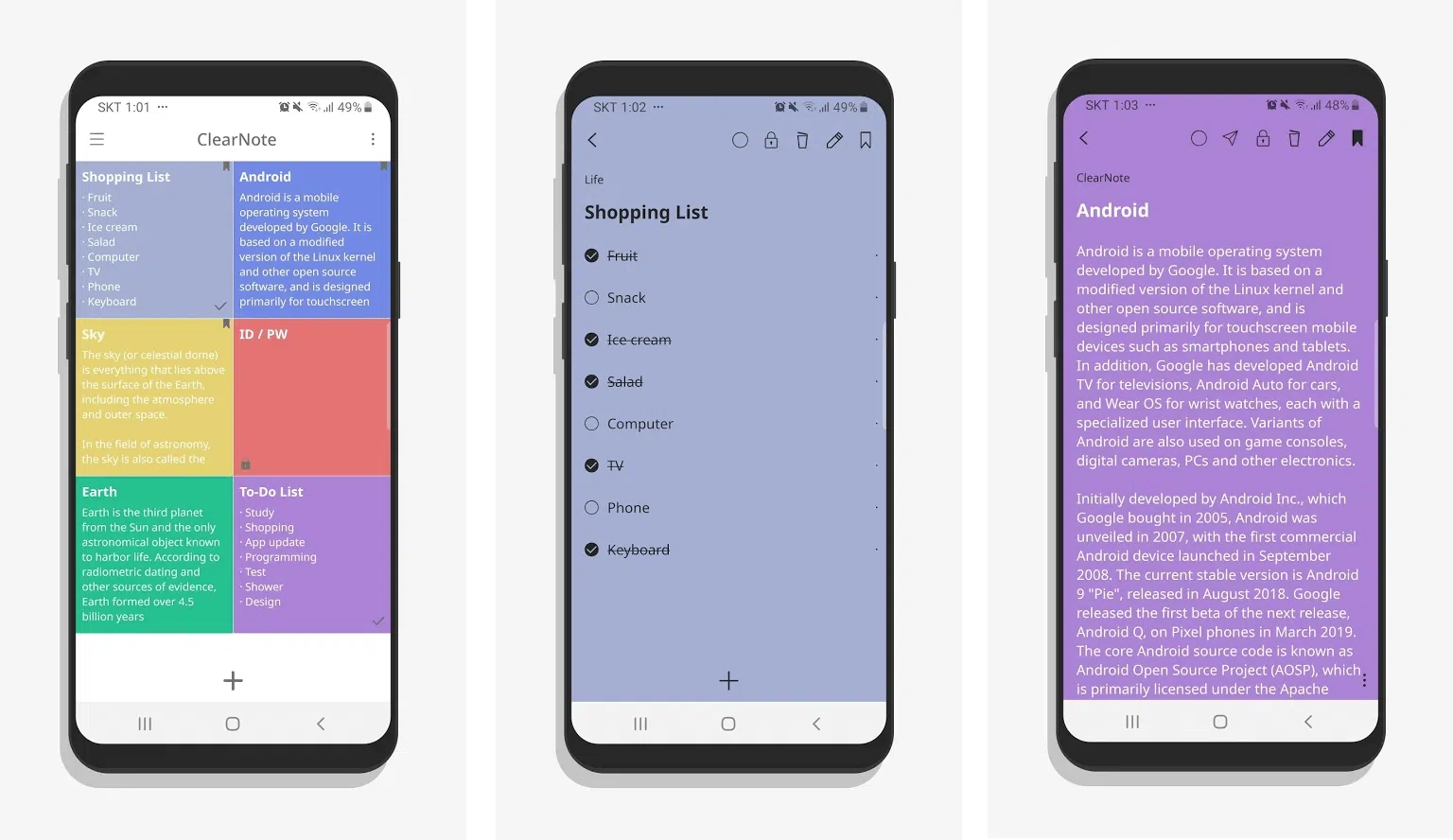 ClearNote is a note app for Android made by the creator of BlackNote (see no. 11 on the list). It's basically the same app only that it's colorful.
Additionally, the ClearNote Bar appears in the top widget sections of your homescreen and gives you access to ClearNote app, YouTube, Camera, Watch, Calculator, and Web Search.
⇒ Notas Notepad created similar notes apps for Android, each with a slightly different interface. Make sure to check them all out here and choose the one you like most!
⇒ Lightweight app for organizing thoughts and ideas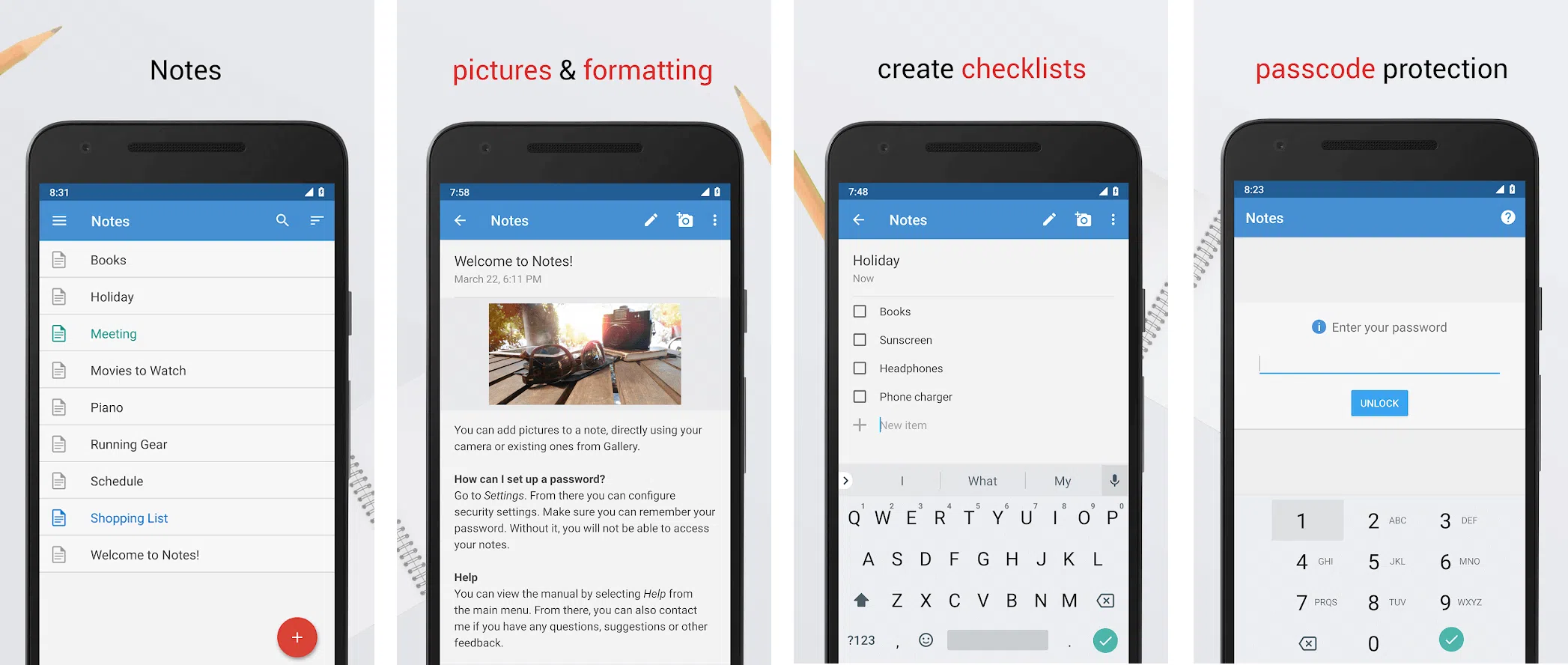 Notes is note app for Android that helps you keep track of your thoughts and ideas. It's a lightweight app with all the necessary elements.
In notes, you can add a title, create a bullet list and checklist, adjust font, color, and add photos. Notes also gives you the possibility to organize notebooks for more transparency.
The tool synchronizes with other devices, and you can backup and import all the content.
Notes has a simplistic design that helps you stay focused on your ideas.
⇒ Best for improving productivity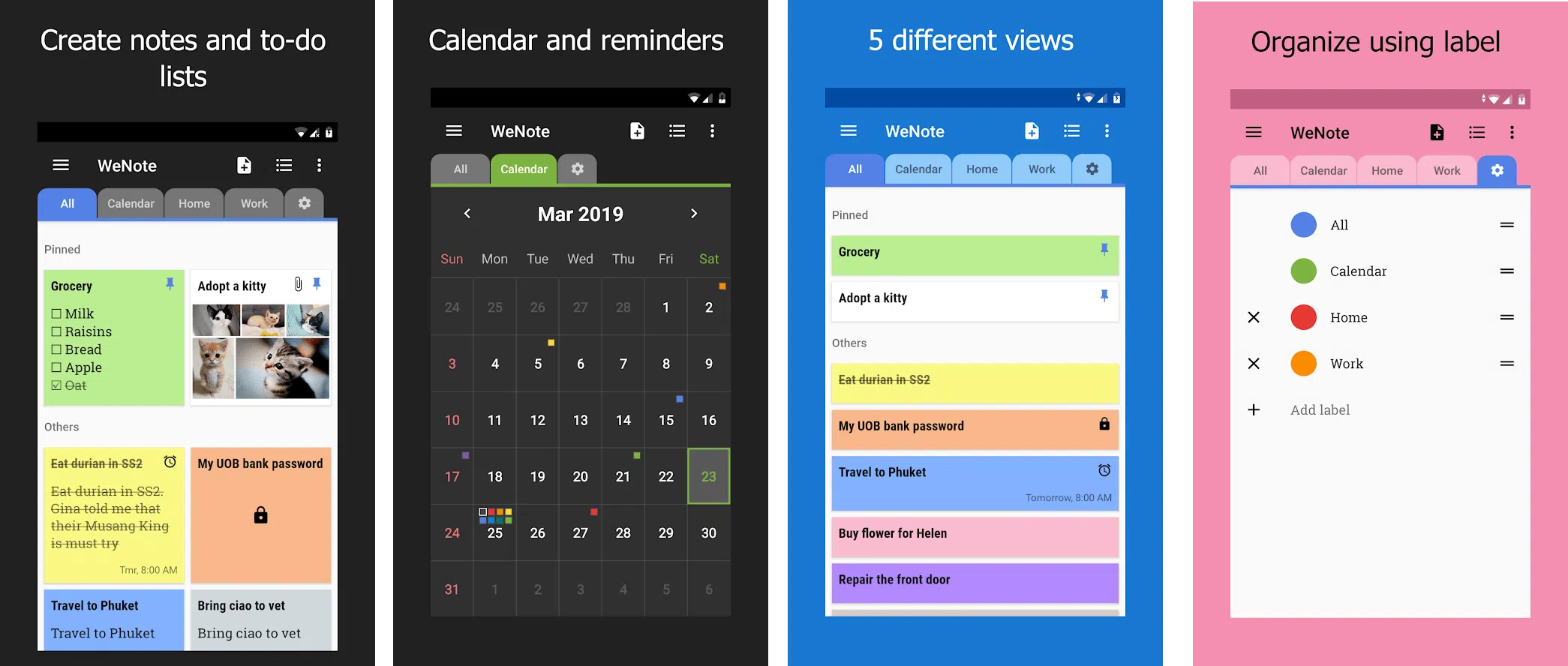 WeNote can keep your productivity at the highest level.
It lets you create color notes, to do lists, reminders, and calendar quickly. You can use it to store everything from emails, phone numbers, messages, cooking recipes, diary, journal, shopping lists to to-do lists. Use tabs to categorize content, and quickly find what you're looking for, add notes and to-do lists to the built-in calendar to follow the progress of your tasks.
In WeNote, you can personalize your notes by changing colors, adding tabs, pictures, drawings and handwriting, and more.
You can lock notes and to do lists via PIN, pattern, password or fingerprint, to protect confidential information.
⇒ Best all-rounder note-taking app

Online Notepad is another android application for taking notes. It is the best option if you simply want to take notes without delicate optimizations. It has a clean and beginner-friendly interface that helps users of all types to get accustomed to it easily. 
It can also be used as your main note-storing application as it allows users to save files. In this way, you can access your old notes with just a single search and click.
Keep in mind that this tool is not only for quick note-taking as it also has several formatting options. For example, you can use different headings and subheadings to segment your write-ups properly. Similarly, you can use the listing or bulleting features to make your notes more appealing.
These minimal editing options and easy-to-use interface make this tool a well-rounded note-taking app. 
⇒ Best for a coherent workspace for team collaboration

Dropbox Paper is known as a file-sharing platform and that makes it a great note taking app for teams. It's a collaborative workspace that helps teams create, share, and grow ideas. You can work with everything from video and images, to code and sound and it comes free with Dropbox.
You can collaborate directly in the docs, post comments and replies, @mention people, insert files into docs, and resolve problems together. Dropbox Paper is most suitable for teams who need to work together on ideas in real-time.
Check our Dropbox Paper time tracking integration!
⇒ Best for organizing different types of files
⇒ Play Store Editors' Choice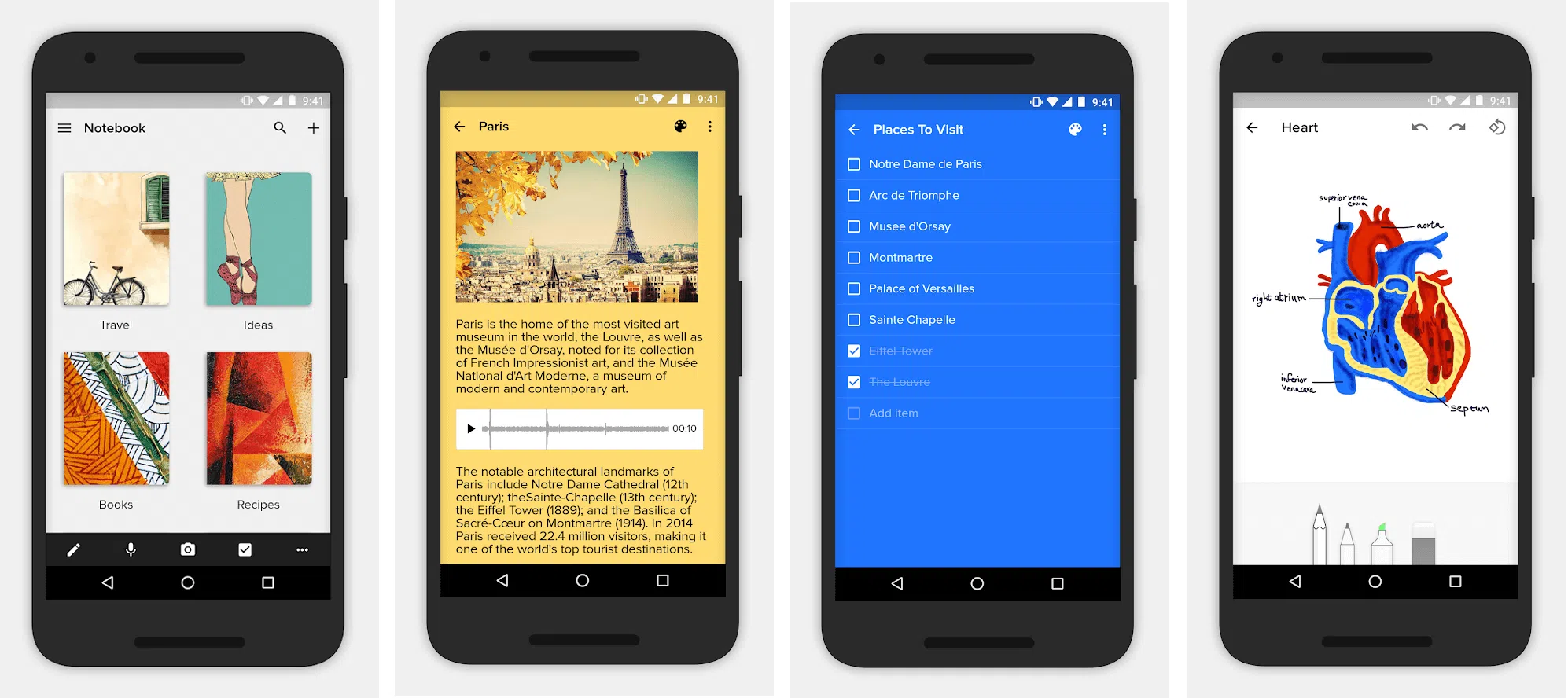 Notebook by Zoho is best if you want something more than a simple note taking app for Android. It literally works as a notebook in which you can keep different types of files.
You can use it in the form of a notebook in which you can gather information. The app lets you create numerous notebooks so you can add notes and files to them based on category. You can create a separate notebook for work and for personal tasks, and for anything you want. Or you can add notes individually – memos, handwriting, voice note, add photo, to-do list, attach files, or combine it all.
Additionally, you can use numerous extra features:
You can flexibly customize and personalize your notebooks with typographical features
Assign colors to note cards
Lock notes using the fingerprint sensor
Export notes as PDF and share it with others
Move/copy notes between notebooks
Swipe left a note to mark as favorite
Set reminders
Sync data to enjoy a hassle-free note taking experience across devices
Web Clipper – you can clip text, images, or articles and links from the web
Smart cards for recipes (save a recipe link and Notebook will automatically find the recipe photo and description, create a checklist for ingredients, and provide instructions)
Notebook by Zoho has plenty of powerful features that can take your note taking to the next level.
18. Proofhub
ProofHub is an all-in-one project management and collaboration software with note-taking being one of the core features. The notes section in ProofHub is a shared space where teams can easily jot down every essential piece of information related to a project or anything else that is important to your work process.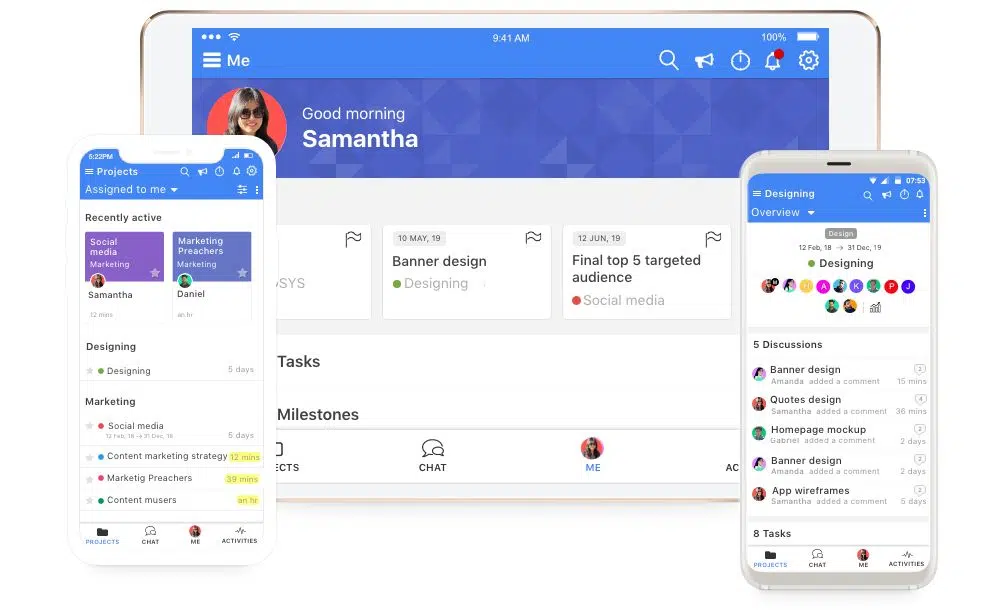 ProofHub notes consist of different headings, fonts, bullet points, numberings, and other attributes to help you create the most comprehensive knowledge base for your team. You can even create different notebooks to store topic-specific information to organize your notes according to your requirements.
With the help of these notes, it gets easier for teams to keep a record of their daily minutes of meetings, create wikis, and save all of their ideas securely in one place so that they never miss out on anything important. 
The best thing about notes in ProofHub is that you can easily share them with your team members and let them make contributions to the same. You can even add pictures and attach files to your notes.
Being an easy-to-use note-taking app, ProofHub lets you create notes for almost anything. You can assign a specific color to different notes to make them easily identifiable. Moreover, you can add comments, insert hyperlinks, edit your notes whenever and however you want, and invite anyone to collaborate on the notes. Also, everything you add to ProofHub notes syncs across all your devices so that your important stuff is always there with you.
 To Wrap It Up
Note-taking apps offer a great possibility to store and secure your ideas. You can always have them at hand and quickly access them.
It's tempting to use many Android note taking apps because they are fancy and spice up your user experience. However, it's easy to get lost so choose one app that meets your needs and helps you organize ideas effectively.
Happy note taking!
Try 100% free time tracking app for unlimited users!
4.8 out of 5 stars (based on 12 reviews)