The Best Time Tracking Software for Manufacturing Sector
March 31, 2019
by Kate Borucka
No comments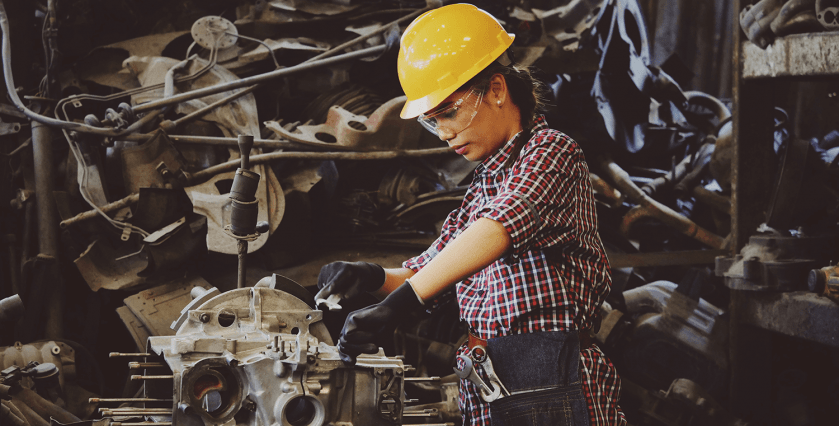 What is a harmonogram and what does it have in common with manufacturing time tracking software? Which tool is the best and what should you look for when choosing one? You'll find it out in this article!
Why Manufacturing Industries Should Use Time Tracking?
The beginnings of the 19th century brought significant changes to the business world, especially to the manufacturing sector. One of the people who largely contributed to the development of work processes was Polish economist and engineer, Karol Adamecki, who invented the timetable (harmonogram). 
As Edward R. Marsh writes in his article for PMI Institute, "his [Adamecki] invention led to increases in output between 100% and 400% in metal rolling mills, in machine shops, in chemical plants, in agriculture, and in mining."
Today, in the 21st century, Adamecki's creation is used in almost every company. And in the era of technological development, we all use the modern version of timetables. They are available as time trackers and come with numerous additional features. Together, they create a unified system of managing work.
Time tracking software for manufacturing is the modernized version of harmonogram and is used in all industries. It helps in 4 significant areas:
It helps to optimize and automate work by eliminating repetitive and tedious processes
It's easier to coordinate teams' work – proper time and workflow management
Better resource management and allocation
It enhances productivity and helps to prevent time theft and buddy punching
If you haven't yet implemented time tracking for manufacturing in your organization, don't hesitate and do it ASAP!
👉 Read more about construction time tracking software.
What Tools for Production Time Tracking Should You Look for?
Choosing the right time tracking software for manufacturing will help create harmony in your organization in all the four abovementioned areas. Both your team and your business will benefit from it.
Although there are many tools, not all of them are suited for manufacturing. Choosing the wrong one can bring more losses than benefits. When deciding to use manufacturing time tracking software, there are 3 components to look for; these elements will help you create a central hub and work center of all activities:
Easy time management with timesheets and time cards
Workforce management – projects, teams, budget, labor costs, estimates, etc.
Ability to track the progress of work with real-time dashboards
An ideal tool for the manufacturing sector seems to be a time clock kiosk, a simple app that allows employees to clock in and clock out using e.g. a unique, 4-digit PIN code. Kiosks are available mostly as hardware (for example, a box placed somewhere near the factory entrance), but even time tracking software offers a time clock app as a separate function recently.
We've prepared a list of the best time trackers for manufacturing. They have all the features you need to always stay on top of your work.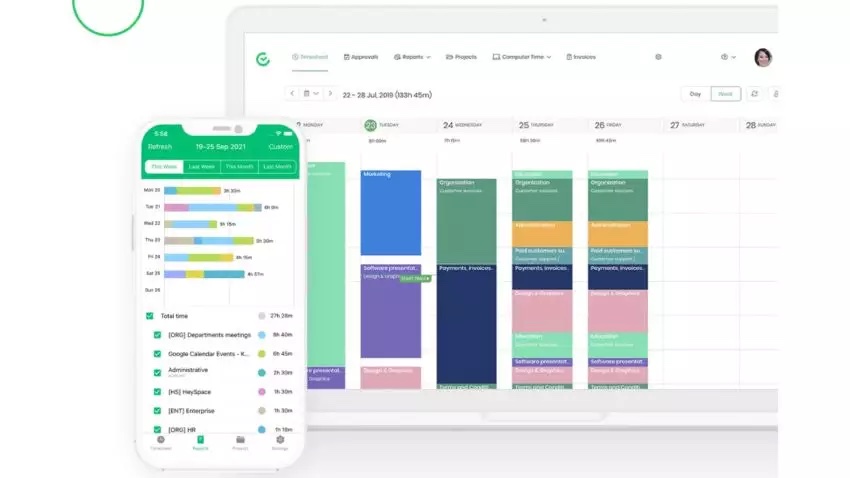 TimeCamp is a robust free time tracking software for manufacturing sector. It's advanced software that can help you keep a hand on tasks, projects, budgets, and deadlines.
With TimeCamp, you will optimize and automate processes, letting your team focus on work, not on administrative tasks. Your employees can track time where they want and how they want thanks to the features that allow flexibility.
Core features:
Time clock kiosk for all platforms and devices,
Available for all platforms: as a desktop app (Windows, Mac, and Linux), for web, and, for mobile devices
Automatic time tracking in real-time
Comprehensive reports with ability to exporting them to Google Spreadsheet, as XLSX, PDF or SCV version
Employee timesheets with approvals
Graphical timesheets integrate with calendar
Budgeting reports show actual vs. estimated time
The budgeting function lets you estimate how much time the implementation of individual projects will take to effectively plan the use of human resources and make a valuation of future similar projects
Invoicing
Billable and non-billable hours
Attendance and leave management
Monitoring productivity with productive and unproductive activities
TimeCamp integrates with various tools and apps for smooth work, for example, task and project management software, accounting software, such as Xero or QuickBooks, and many others – see the full list here
Pricing: The free plan is available for unlimited users with unlimited projects. The Starter plan is $3,99 per user/month billed monthly ($2,99 per user/month billed annually), Basic plan is $7.99 per user/month billed monthly ($5.99 per user/month billed annually), Pro – $10.99 per user/month billed monthly ($7.99 per user/month billed annually), and Enterprise, on-premise, offer custom pricing.
Take your business to the next level with the best free time tracking software for manufacturing.
Sign up for TimeCamp today! It's free!
2. On-Time Web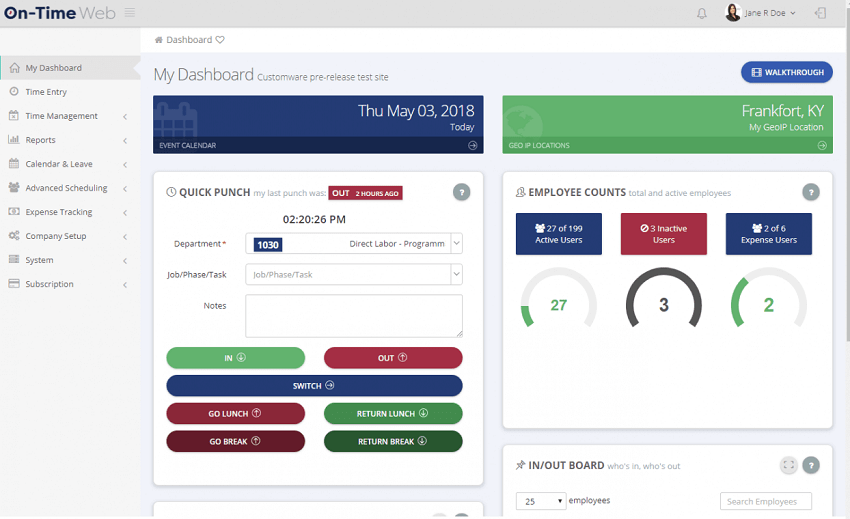 On-Time Web can help you streamline work and improve internal practices that are followed in your company. This time tracking software for manufacturing enhances production processes not only by tracking time of employees but also by giving you an insight into labor and production costs, employees' availability across different departments, and their current state of work.
On-Time Web comes with a wide range of features necessary in the manufacturing industry:
Dashboard with a variety of useful widgets for employees to interact with
Employee work schedules – The Schedule vs. Actual report shows the employees' scheduled time versus the actual time they worked
Detailed timesheets
Punch overrides – this feature can prevent employees from clocking in too early and getting paid for it
Time approvals
Leave management
Reports
Overtime tracking
Departments and projects tracking for a different type of activity
Expense tracking
Pricing: 14-day free trial is available. Pricing starts at $35/month up to 24 employees
3. Timeero
If your employees often travel, work in various locations and at different times, it may be difficult to keep track of them. Especially, when it comes to paperwork. Timeero can help you smoothen administrative processes, keep track of your team's time and location, and streamline the workflow.
It's a solution that offers simple project management functionalities. Also, if you need to manage payroll, Timeero is a good solution since it integrates time tracking with payroll management system.
Main features:
Attendance and time tracking with the mobile app (works offline)
GPS location tracking with real-time workforce monitoring – you always know where your employees work at a given moment
Timesheets with time cards that you can adjust
Clock in/out feature with different types of time clocks: facial recognition, web or mobile app clock-in, tablet kiosk with a PIN code
Automatic alerts for managers for overtime and when co-workers clock in for colleagues
Employee scheduling
Payroll reports
Mileage tracking with reports
Leave management
Ability to calculate the costs related to a job or project at any given point in time
DCAA and DOL compliance
Pricing: starts at $5. Free 14-day trial is available.
4. ClickTime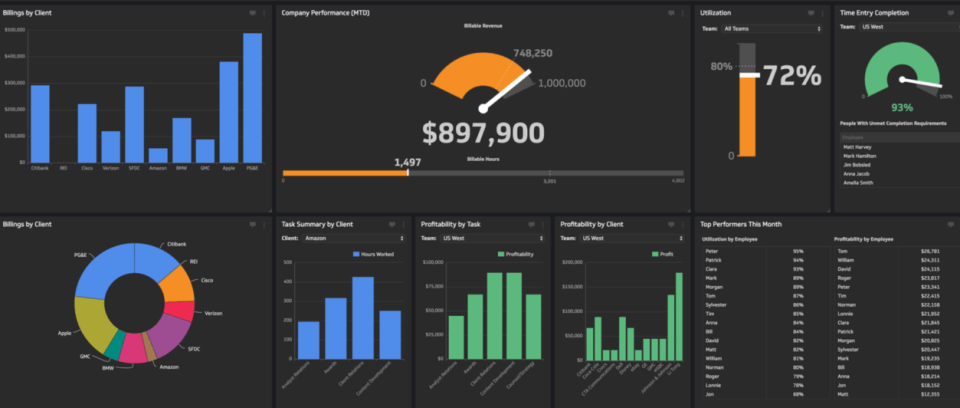 ClickTime is a team management and online timesheet software suitable for every type of business. It can help managers to track time and monitor money, performance. Whether you have a small or large team, the tool will help you maximize profitability and reduce costs as well as better manage your resources. It allows you to control your budget and every aspect related to it, manage workload and scheduling, and reduce administrative costs.
Main features:
Project tracking with project management features
Reporting
Timesheet approvals
 Automatic recording of staff cost, billing rates (when applicable), accrued time off, expenses
Budgeting and forecasting with real-time employee availability, actuals vs. estimates, employee costs
Resource planning with real-time resource planning dashboard, monthly retainer management tools, under/overstaffed projects, monthly capacity planning
5. Hubstaff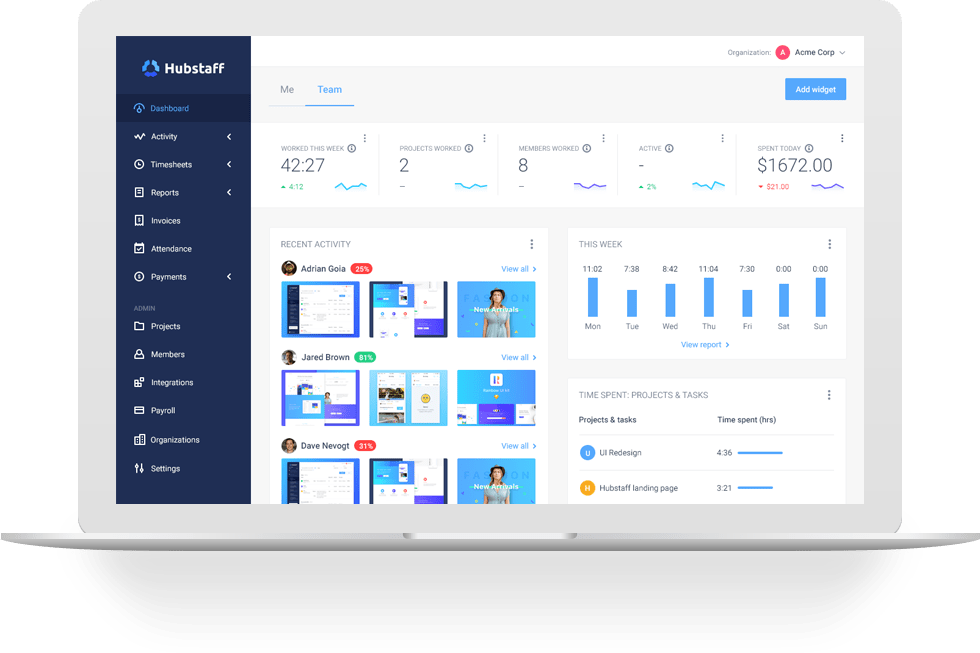 Hubstaff is a simple time tracker with basic features. Try it, if you need software for scheduling, staff management, time, and project tracking. Hubstaff is perfect for field services, shop floor, manufacturing, and production. This app will help you keep your team on track, well-organized, and productive.
Main features:
Location monitoring through GPS
Online timesheets with time cards
Team dashboard with the most important data
Reporting
Job scheduling with employee attendance tracking and staff scheduler
Screenshots
Invoicing
Setting up pay rates; payments are automatically calculated based on hours worked during a pay period
Pricing: starts at $10 per user and depends on the number of users and module.
6. JobView by Acumen Data Systems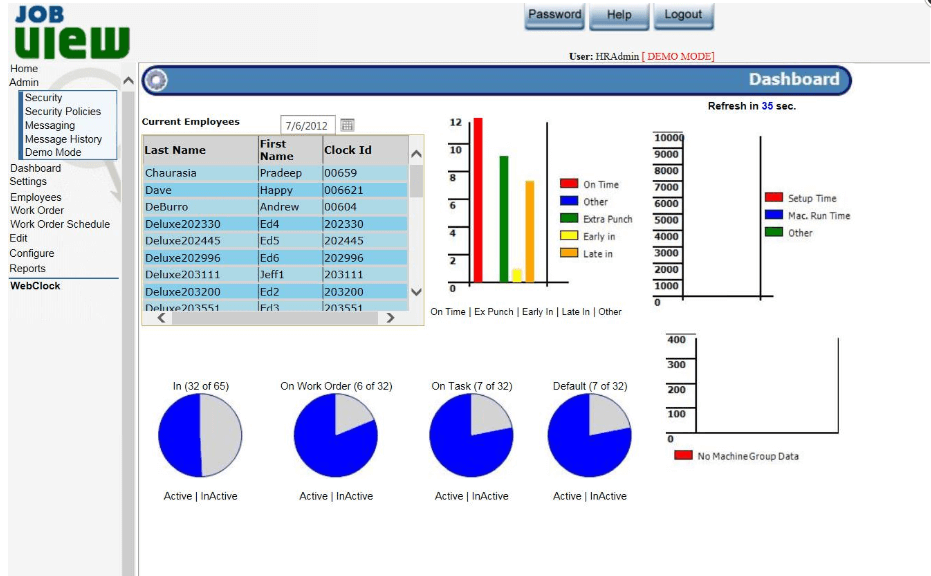 JobViews is a very specific project management app. It's a production tracking software with very detailed features which can help you increase efficiency and optimize processes related to production – workforce, costs, time. Everything works in the real-time to give you accurate insight into the production process. Acumen Data Systems helps to harmonize work across the entire organization.
Main features:
Employee time and attendance monitoring
Scheduling
Different types of time clocks
Insight into the availability of resources
Extensive reports
Tracking jobs and people on jobs
Gantt charts
Pricing: Not provided by the vendor
7. Standard Time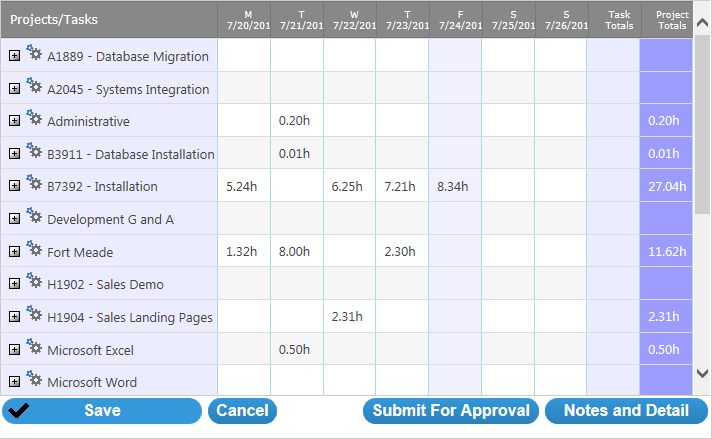 Standard Time is not only a time tracker for manufacturing but also a shop floor order management system. This time clock will ensure that the flow of information in your company is smooth.
Standard Time has extensive shop floor data collection features which in combination with time tracking can give you valuable information. Beside working hours, you can also monitor and manage work orders, expenses, inventory, materials and tools, and all processes involved.
Main features:
Tracking time with barcode scanning
Daily, weekly, and pay period totals
Shows jobs and tasks in timesheet
Recording billable and non-billable
Inactivity monitor automatically stops tasks
Multi-level timesheet approval and locking
Email notifications and reminders
Audit trails
Expense tracking and invoicing
Billing rates for each client job, user, category
To-dos for users, group, or entire company
Extensive reports
Recording time off
Pricing: $8.99 per month.
8. ShopVue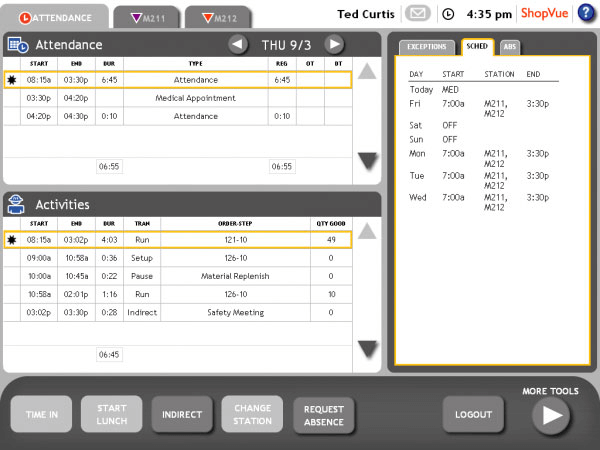 ShopVue is a shop floor data collection system. It's easy-in-use, intuitive, and functional. It has all the key elements a good time tracker for the manufacturing industry should have.
So if you're looking for a simple and convenient solution that at the same time will serve you as the central hub of all activities, ShopVue is the right choice.
Main features:
Real-time monitoring of work
Absence and overtime management
The system can compare each employee's schedule hours to labor hours and detect missing labor time reporting. ShopVue notifies supervisors with an Attendance/Labor Out of Balance message
Includes more than 70 core reports to provide easy access to important manufacturing data, including manufacturing productivity
Payroll management
Pricing: Not specified by a vendor
Summing Up
Time tracking software for manufacturing and labor tracking systems help to save time, money and eliminate burdensome bureaucracy. Now your team can focus on what really matters rather than on filling timesheets and doing paperwork.
What's your favorite app you use in your manufacturing business? Let us know in the comments, we'd love to hear from you!