The 8 Best Planner Apps of 2022 (Ranked!)
April 21, 2022
by Lorea Lastiri
No comments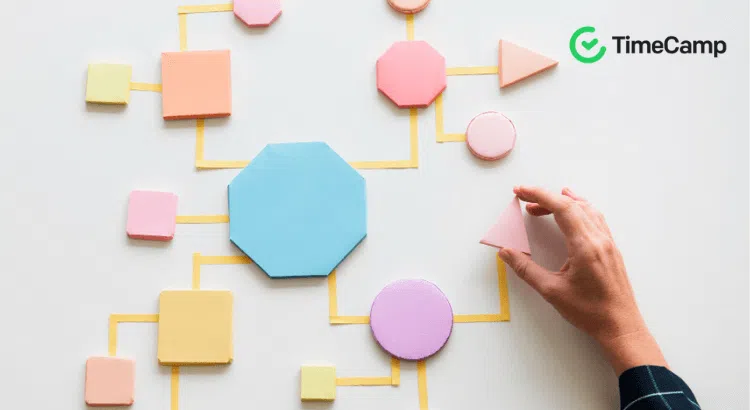 The 7 best planner apps of 2022 are TimeCamp, Todoist, Any.do, Trello, Things 3, Microsoft Outlook, and Google Calendar. 
Everyone knows that organizing your tasks and staying on top of all that you need to do improves productivity. Planner apps have emerged as more efficient alternatives to to-do lists when it comes to staying on top of tasks.
However there are so many of these planner apps in the market that choosing one that actually works can be overwhelming. It is for this reason that we have developed this detailed article about planner apps.
In this article, we'll show you the best planner apps of 2022 as well as some of their outstanding features. We'll also tell you what to look out for when choosing the best planner apps
Let's start the discussion with what planner apps are and how they work.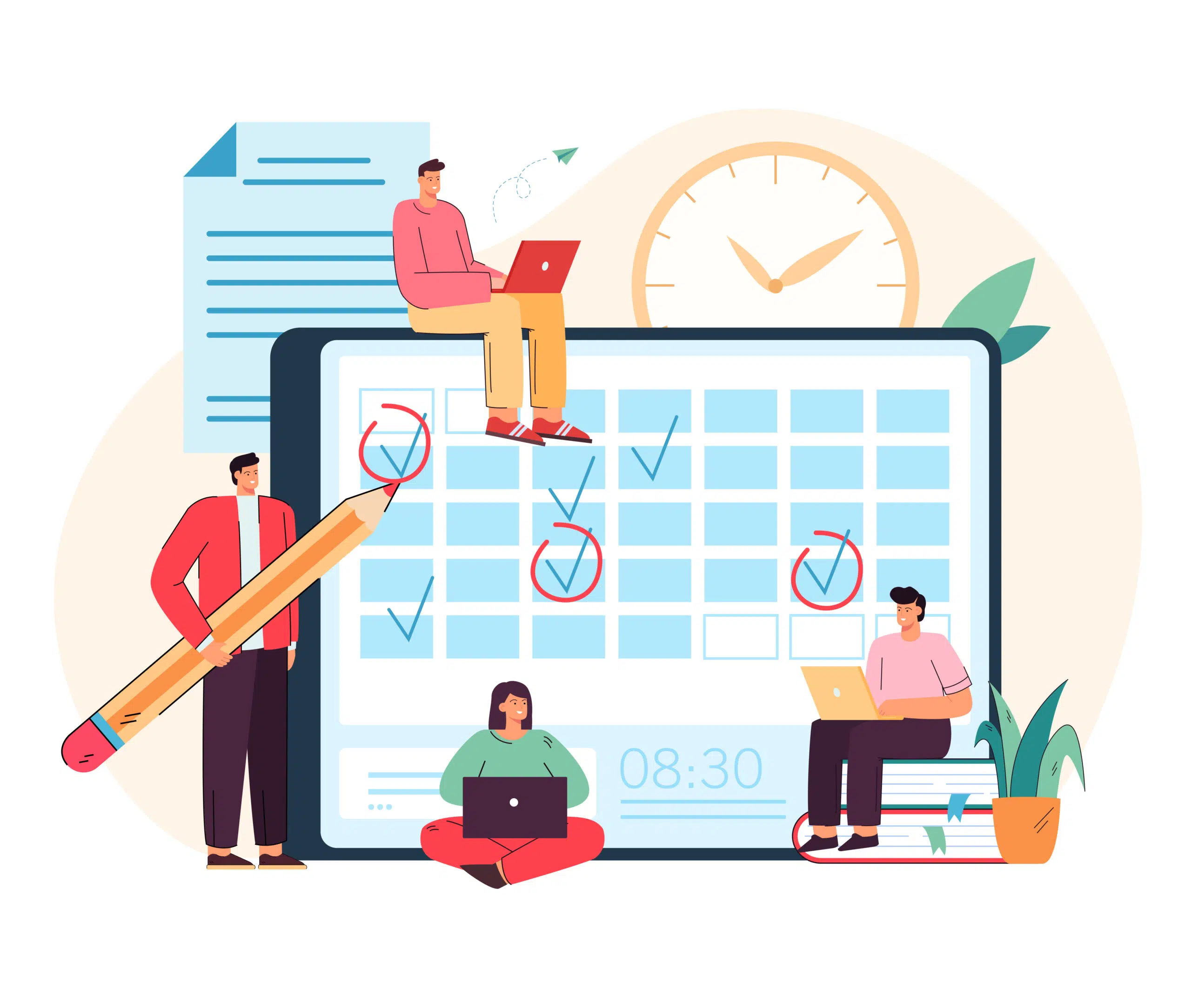 What is a planner app?
A planner app is simply a productivity app that helps organize all your activities, so that you are on top of everything, every time.
Sometimes, there can be so much to do that one can easily become overwhelmed. As a result, one could lose track of important tasks – not planning for them, or planning for them but not remembering to execute them when the time comes.
In the days gone by, the solution was creating to-do lists, and striking off the tasks as you complete them. The planner apps can be seen as digital versions of the to-do lists.
How do planner apps work?
There is a wide range of planner apps, each one offering different features. However, at their core is a system for entering and managing tasks and a system for reminding you of when to complete scheduled tasks.
Task entry and management
Planner apps are all about helping you organize your tasks. So, every planner app, no matter how basic, allows you to create tasks and includes a calendar.
With many of the planner apps, the approach is to open the task field,  enter tasks, and assign them calendar dates. With others, clicking on particular calendar dates open up fields for you to enter tasks for that date.
Whatever the approach, after creating tasks for particular dates, you can then proceed to managing the tasks. These include prioritizing tasks, breaking down tasks into smaller tasks, etc.
Organizing your tasks will mean nothing if their execution time comes and passes without you realizing it. Thus, the best planner apps all have the reminder feature. This is to notify planners when it is time to execute.
Are planner apps worth it?
Planer apps are either free or cost only a token but help improve personal and professional productivity, so they are worth it. Also, you'll find a planner app very useful if you always have a lot to do or you collaborate with others in a team. 
When there is a lot to do, it is easier for slippages to occur. So, except you have a computer brain, one of the best ways to be on top of a load of tasks is by using planner apps. 
Also, the best planner apps allow for collaboration with teams. That is, you can easily assign tasks to team members, get their comments, track their progress, and more. So, except you'll want the less-efficient team collaboration solutions, you'll need a planner app to stay on top of your team's activities.
Also, a cost-benefit analysis of planner apps easily shows that they are worth it. Many of these apps are free, while many of the feature-laden paid versions cost less than $10. However, on the benefit end, these apps can help improve personal and professional productivity.
How to choose the best planner apps? 
To choose the best planner app, you need to look at several factors. These include:
Productivity features

Ease of use

Integrations

Cost

Device compatibility
1. Features. If you're going for a planner app, it is because of what it can help you achieve. Thus, the planner app should offer features that'll help you achieve what you desire. In this regard, planner apps can be very basic or feature-rich.
For example, at one end of the spectrum are the calendar-based planner apps to keep important dates and set reminders, and at the other end, there are project-focused planner apps which you can use to manage time and other project resources.
2. Ease of use. No matter how feature-rich a planner app is, it will not have many positive reviews if using it is difficult. Thus, another important consideration when choosing planner apps is ease of use. It should have a clean layout, easily identifiable tabs, etc.
3. Integrations. Before going for a planner app, you must have already been using some other apps already on a daily basis. So, an important consideration when choosing a planner app is whether it is compatible with the other apps that you are already using. 
4. Cost. An important consideration when looking at a planner app is whether it fits your budget. Know that planner apps are very different based on the features offered. As such, they come at differing costs.
You'll find some free planner apps, but these usually come with very basic features. Also, some planner apps that charge have free versions which are toned-down feature-wise, while you'll need to pay for the feature-laden versions.
5. Compatibility. It is very important that the planner app you decide on is compatible with the device(s) you use. For example, it will be worthless for android users to get an iOS-only planner app.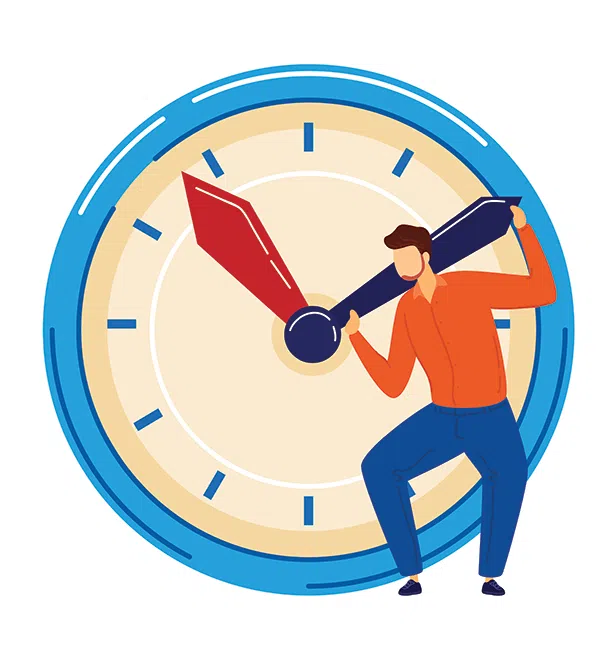 Benefits of planner apps
The main main benefit of planner apps is that they help you stay organized. By doing this, they help you reduce stress, make life easy, and ultimately increase your productivity.
1. Reduce distractions. In this information age, digital distraction is one of the biggest thieves of time. Digital distraction is being distracted by a technology device like your smartphone, tablet, or computer.
Even if you are not operating the devices, a simple alert can break your focus from important tasks, making you lose valuable time or worse. Many planner apps come with distraction-blocking features like app blockers. That is, you can block particular websites and apps during a focus session.
2. Gain focus. The main beneficiary of the distraction-blocking feature of planner apps is your focus. With distracting websites blocked off, you can be sure that nothing will come out of the blues to break your focus and concentration.  
👉 Read also about Best Time Blocking Apps.
3. Help you stay organized. This benefit can as well be "help make your daily life easy". Planner apps help you to remain in control of your time. You can plan your day/week in advance. Then you'll not need to worry about missed tasks, when to do what, etc.
4. Reduce stress. If you are on top of your schedule, there'll be less stress. Imagine working extra hard to complete a job before a deadline. Thankfully, you pulled it off, hitting the "enter" key to submit the work just before the deadline. Now imagine having to do this every other time.
With planner apps, you can save yourself the stress of worrying about meeting deadlines and pushing yourself to the limit as deadlines loom. This is because you would be on top of your schedule. Knowing the priority of the task, you will schedule its execution accordingly.
5. Increase productivity. Ultimately, planner apps help improve personal productivity. Whether the immediate benefit is to block distraction, to help you remain focused, to reduce stress, or to help you stay organized, there is only one aim – to accomplish your tasks efficiently.
A reliable project management software would assist team managers in creating effective workflows from planning to execution, thereby increasing team productivity.
7 best planner apps of 2022
One of the best planner apps of 2022 is the time tracking solution TimeCamp. Others noteworthy ones include Todoist, Any.do, Trello, Things 3, Microsoft Outlook, and Google Calendar.
… best for planners who need to track time to increase project profitability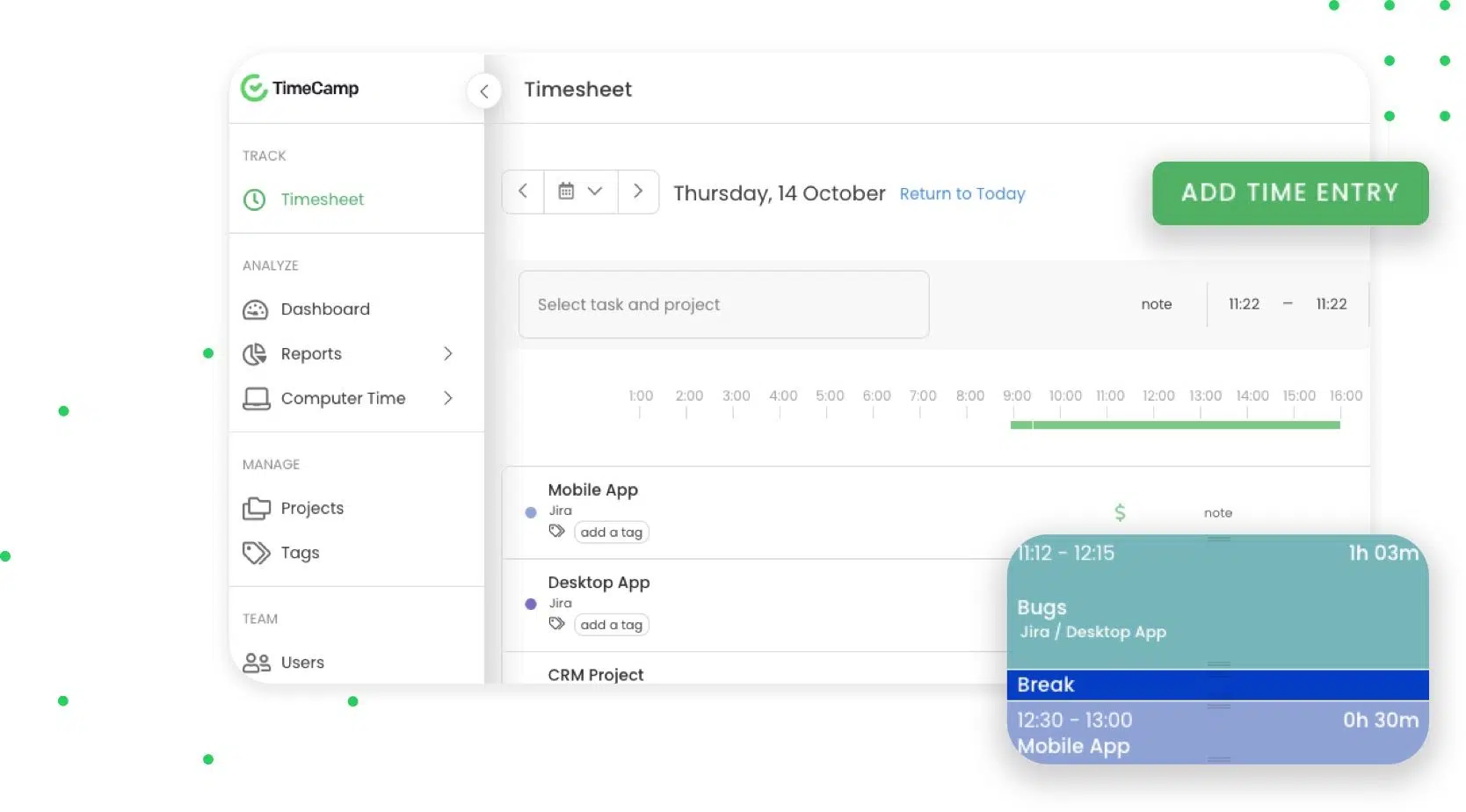 If you are struggling to keep track of your team's performance on different projects, TimeCamp was created with you in mind.
With TimeCamp, you can track:
Team's performance.  You'll see how much time your team spends on a given project. For example, how much does each team member spend on work-related apps?

Team's profitability. You'll see whether your project is within budget, and you can easily calculate the profit margins across different projects.
Getting started with TimeCamp is very easy. You'll start with the "timesheet" view, where you can create tasks, assign them to projects and start tracking them.
TimeCamp Key Features
Automatic time tracking. TimeCamp uses an automated time tracker for desktop. With this feature, you can focus on your work without any other worries. Simply turn on the app, and it'll do the rest.

Attendance tracking. TimeCamp allows hassle-free attendance tracking with timesheets. With these, you can determine when everyone starts or stop working on tasks.

Payroll Automation. TimeCamp can easily calculate time spent on work, making it easy to calculate the payroll.  

Versatile billing. Billing can become a hassle if you have different rates. But with TimeCamp, you can easily set up customizable billing rates to reflect your team's expertise, project type, etc. You can use the data for a planer app that will work out accurate numbers for every billing cycle.

Profitability tracking. TimeCamp can also use gathered time data to work out profits and costs for each project. So, you won't need to sped additional time preparing financial reports. 

Collaboration. TimeCamp allows you to invite particular persons to view reports and make comments.

Integrations. When using TimeCamp, there is no need to change your current workflow because it integrates with over 100 work tools. These include project management tools (like Wrike), Helpdesk tools (like Zendesk), collaboration tools (like Google Doc and Mail), Accounting and invoicing tools (like Xero), CRM and sales tools (like Salesforce), and more.  

Mobile compatibility. TimeCamp works well on all popular platforms. You can use it on your desktop (Linux, MacOS, and Windows), and mobile (iOS and Android). You can also download it as plugins for Google Chrome and Microsoft Edge.
TimeCamp Pricing
TimeCamp has four plans. There's the free plan, and paid three plans – Basic, Pro, and Enterprise. The Basic plan costs $8.99 per user/month billed monthly ($7.99 per user/month billed annually) and the Pro plan costs $11.99 per user/month billed monthly ($10.99 per user/month billed annually). For the Enterprise plan, you'll need to contact TimeCamp for a quote because it is tailored to your business needs.
Interestingly, TimeCamp allows people to test the paid services before committing via a free trial. You can get a 14 days free trial of Basic, Pro plans.
TimeCamp Pros
Easy to install

Allows easy sharing of all kinds of files (PDFs, Excel spreadsheets, etc)

Takes over the mundane task of tracking time, allowing you to focus on tasks

Allow collaborations with team members
TimeCamp Cons
The very best features of the planner app (like team productivity tracking and budgeting) are absent in the free version
… best for planners who manage tasks with to-do lists but would want to have another task view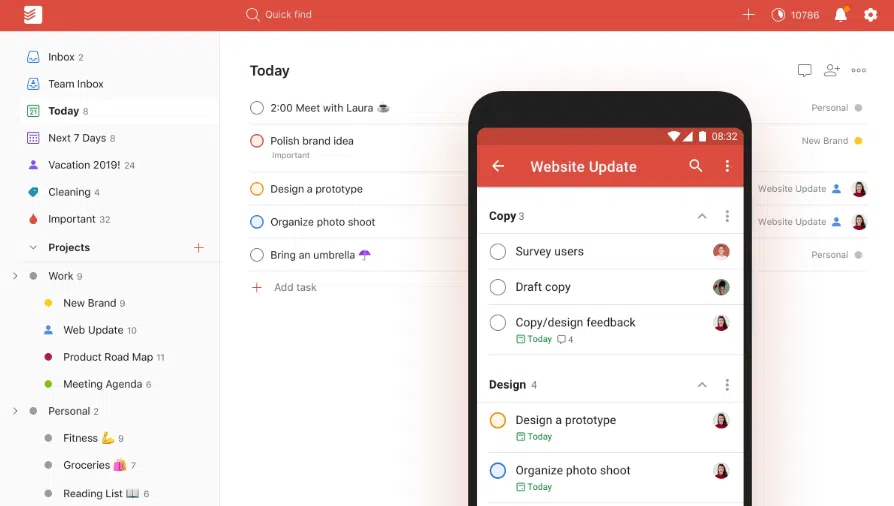 Todoist is one of the most popular planner apps. If you're wondering why it is so popular, that is because it actually helps people organize their life.
As the name suggests, Todoist uses the to-do lists, so it is very easy to use. Whether you manage projects or simply want to plan your next exercise routine, you can use Todoist to keep tasks organized and achieve your goals. 
Todoist allows you to start a "project". After which you can add tasks to the project, allocate dates, and estimate how long tasks take. You can also split particular tasks into smaller tasks which makes them more achievable. 
Todoist Features
Multiple task views. While Todoist primarily uses the to-do lists, you can also personalize your experience by choosing to view your tasks in the Kanban format.

Prioritize work. You can start each day off by looking at the day's tasks, and using color-coded priority levels to highlight the day's most important tasks. This way you stay focused on what's most important.

Easy planning. The app will lay everything before you in the Today and Upcoming tabs. With this you can stay on top of tasks by taking necessary action – rescheduling, re-prioritizing, etc. 

Collaboration. Todoist allows you to assign tasks to other persons. You'll also be able to see when these collaborators post comments, and complete tasks.

Inbox. This is what Todoist calls the place for tasks without a "project". If you're not sure which project a new task should go in, instead of allowing it to slip away, you can note it down in the "inbox", and later drag it into a project.

Integrations. Todoist integrates with most of the apps you already use, such as DropBox, IFTTT, Zapier, and even Alexa. This makes the planner app a central place to get all things done.

Labels and Search filters. Todoist have these features that'll help you find particular tasks quickly. The filters will also allow you to view tasks by due dates, assignee, and more. 

Productivity visualizations. With completed task archive, Activity history, and Todoist Karma, the planner app allows you to see how your small efforts have added up to big achievements over time. 
Todoist Pricing
Todoist has three versions. The first is the Free version which allows 5 projects, 5 collaborations per project, and 1 week activity history. The second is the Pro version which costs $3 per month. This gives you 300 active projects, 25 collaborators per project, unlimited activity history. You'll also get more features like reminders and themes.
Lastly, there's the Business version which costs $5 per month. This gives you everything in the Pro version and more.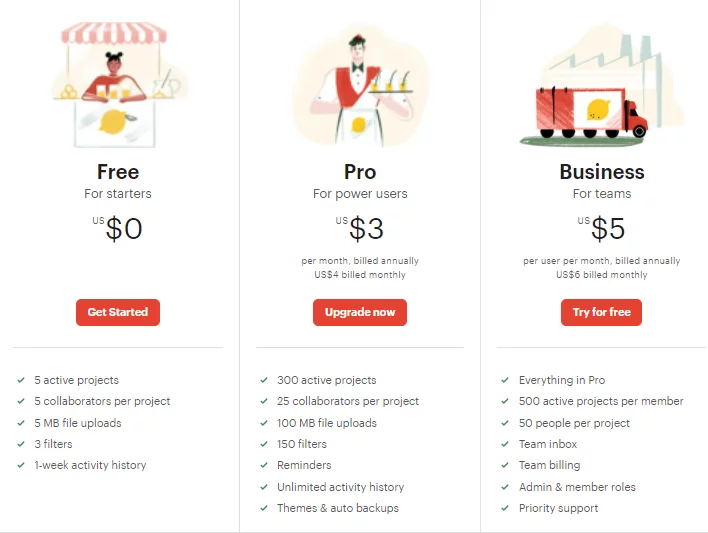 Todoist Pros
Gives different task views including the Kanban format

Easy to create to-do list

Easy to manage tasks with task management features such as subtasks, priority levels, reminders, etc

Allows collaboration 

Compatible with all your devices, including smartwatches. So, you'll be able to use Todoist everywhere you go.
Todoist Cons
 The free version is very limited (especially in terms of projects you can create, as well as the collaboration and filtering allowed)
Check our Todoist time tracking integration!
… best for those who want a planning solution closest to crossing off items on a paper to-do list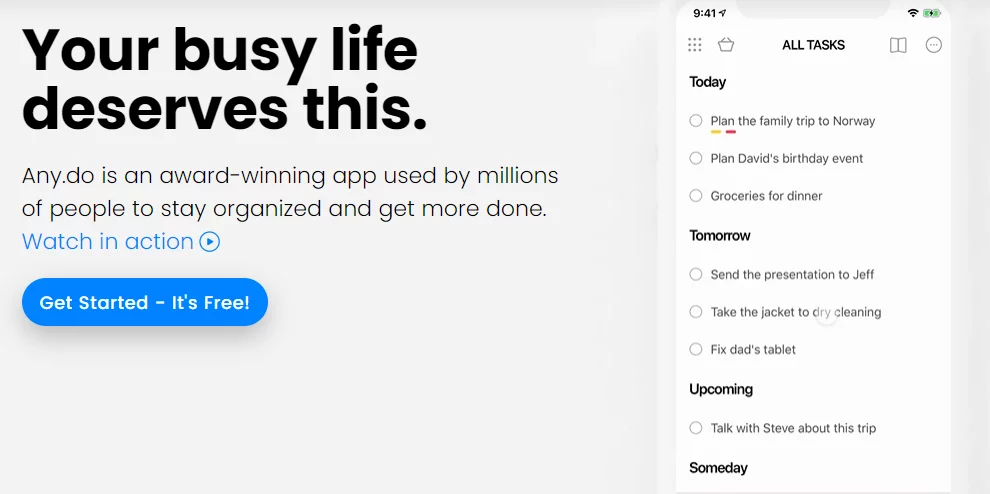 Any.do advertises as the planner app that your busy life deserves. It is aptly named (Any.do) because it boasts of helping you to organize anything, anywhere.
The app does not just talk big. It is actually a robust based app that you can use to organize every aspect of your life. It combines a calendar and a to-do list.
The simple layout puts a calendar on the top and a to-do list on the bottom. Clicking on a date on the calendar opens up the tasks for that date. Clicking a task on the list opens a window where you'll find details of the task such as time of the event, location, specific activities to be done, responsible persons, etc. 
In creating your to-do list, you can set priorities and categories, you can create sub tasks, as well as add attachments and notes. You can also create reminders so that nothing important slips away.
Any.do Key Features
Daily planner. Helps you to quickly run through the tasks of the day so that you set priorities and focus on the things that truly matter. In quickly planning each day, you can delete a task, reschedule it, or cross it off as done. 

Smart reminders. With Any.do, you can keep track of your work tasks and personal tasks with reminders. You can set reminders for one time or recurring tasks. You can also set location-based reminders to make life easy (e.g. remind me the gate code upon reaching the gate, or remind me to silence my phone before entering the church).

Integration. Any.do works well with calendars like Google Calendar, iCloud, Outlook and more. This allows you to seamlessly sync your saved events with Any.do so that you'll stay on top of them.

Home screen widgets. This helps put your to-dos and calendar events on your home screen so that you never miss a thing.

Device compatibility. Any.do is compatible with all devices, from desktop to mobile devices running Android and iOS, to even smart watches. It also works with Amazon Alexa, Google Assistant, and Siri.
Any.do Pricing
There are only two versions of Any.do – the free version and the premium version.
When going premium, there are three plans – 1 months, 6 months, and 12 month. They are identical in terms of features offered. The only difference is how long you'll enjoy the service. You can save money by buying a longer-term subscription. The one month subscription will cost you $5.99 every month, the 6 months subscription will cost you $4.49 per month, and the 12 months subscription will cost you $2.99 per month.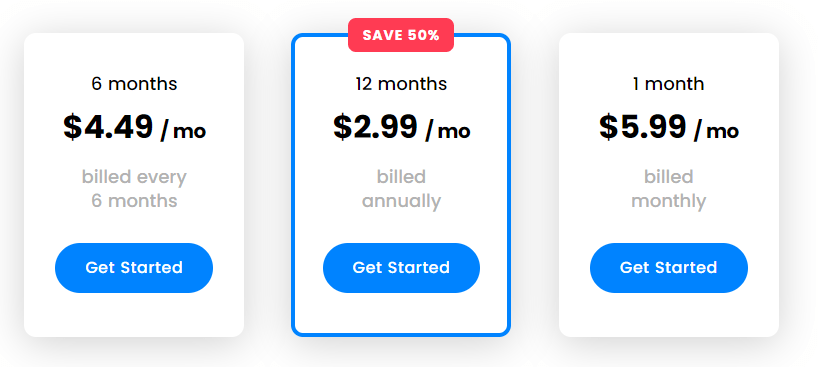 Any.do Pros 
Very easy to use

Easy to create to-do lists

The calendar and to-do list format makes it easy to manage events

Allow you collaborate with others by sharing tasks with them

Available on all devices including smartwatches
Any.do Cons
Does not integrate with Microsoft calendar  

Some premium features (like colored tags and customized themes) are less helpful
… best for visual planners to manage and collaborate with teams on projects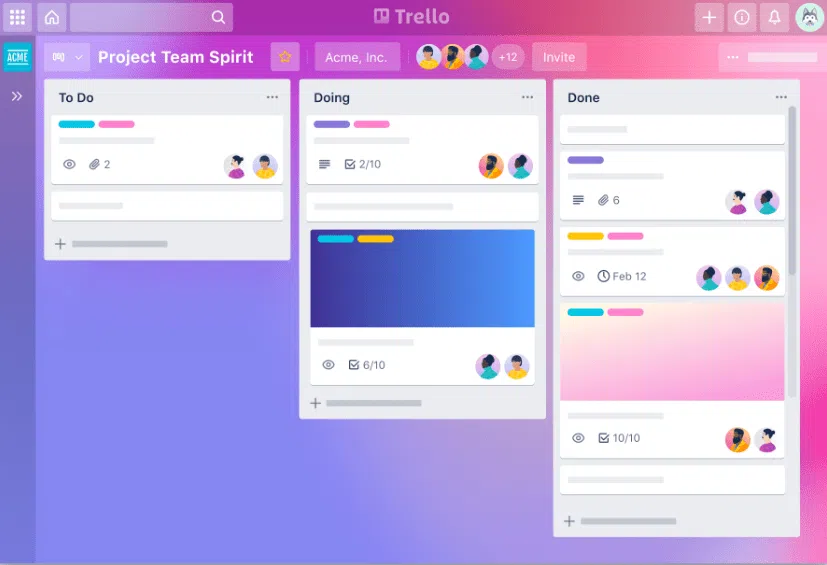 Trello prides itself as a tool that "helps teams move work forward". This is by no means postponing work to a future date, but getting work done.
Trello is based on the Kanban format of project management. It uses a board and card system to keep the different tasks in a project organized.
The work items are represented visually as cards on the board. The board has columns representing stages of completion (to-do, doing, done).
You can pack a lot of details into each task-representing card, including who does what. So, the board and card kanban format of Trello gives real-time communication of capacity and transparency of work, allowing team members to see the state of each task in real time.
Trello is best for managing simple projects. However, if you are managing complex projects with lots of moving parts, then you should consider ClickUp instead of Trello.
Trello Key features
Task organizing with board and card system. At the core of Trello is its board and card system. A board is used for a project, cards are used to represent the project tasks, and these are placed on columns representing the stage of completion. So, everyone can easily track how work is progressing.
Detailed task planning with cards. The cards are not just lists of tasks, but a portal to managing the tasks. Opening any card, you can add checklists, due dates for individual tasks, reminders, attachment preview, comments and more. 
Collaboration. Above all, Trello is a collaboration tool with a lot of team features. Not only can the team see how important tasks are progressing. You can have team discussions as well as one-on-one discussions. You can also share notes, files, and comments on particular tasks.
Integrations. Trello works with virtually every third-party app, extension, and plugin. These include Google Drive, Slack, DropBox, Evernote, Confluence, etc. 
Mobile Friendliness. Trello is also designed to work on every device, including mobile devices. So, there's the web-based version as well as versions for Android and iOS devices.
Trello Pricing Options
You can use Trello for free. There is the free version that comes with up to 10 boards, unlimited cards, unlimited Power-Ups per card, unlimited activity log, unlimited storage (for 10MB files), and more. 
There are three paid versions – standard ($5 per month), Premium ($10 per month), and Enterprise ($17.50 per month). Each paid version has all the features of the version below it, and some more. For example, the Standard version gives unlimited boards, unlimited storage (for 250MB files), advanced checklists, and more.

Trello Pros
Workflow is visually represented

Collaboration with team members is very easy

Instant messaging, both in group discussions and one-on-one discussions

Easy editing/ updating of tasks

Automated alerts and notifications

Searchable database allowing you to easily call-up particular task-related information 

Mobile friendly
Trello Cons
The only project view is the workflow view of the kanban format, and this is very limited when for detailed project management
Check our Trello time tracking integration!
…best for Apple users to organize their to-do list by category for improved personal productivity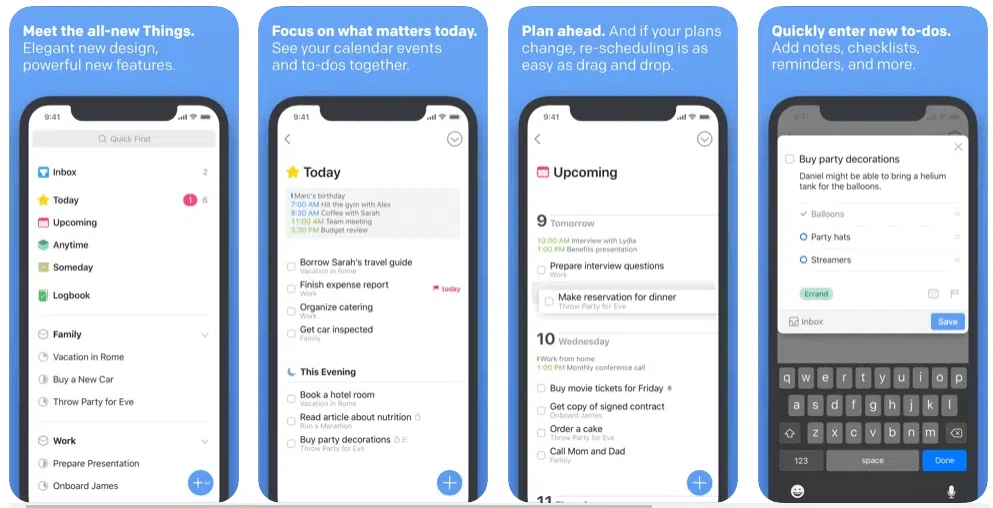 Things 3 is promoted with the tagline "Get Things Done". This says all about the planner app – it is designed to help you accomplish tasks and improve your personal productivity.
It allows you to create to-dos, schedule tasks, view events, get notifications, and more.
You can create a "project" for whatever you want to achieve in any area of your life. Then you create a to-do list for achieving the goal. You can structure the list using headings, and add due dates as well as important notes. 
Key features of Things 3
Your Area. The planner app allows you to plan activities in specific areas of your life such as Work, Family, Finance, and more. This keeps everything in your life organized.

Easy planning. Things 3 will lay out everything neatly before you, following the dates you have assigned them. This is possible because of its Today and Upcoming tabs. Each morning, you can check these to see tasks lined up for the day or for upcoming days.

Heading. You can add a heading to a particular task on your list to break it down into smaller tasks. This makes it easier to see the detailed activities involved in completing tasks. 

Magic Plus. This allows easy drag and drop scheduling. You can drag the "+" button and drop it anywhere in a list to create to-dos.

Calendar Integration. Things 3 integrates smoothly with your calendar allowing you to see your to-dos ad events together

Repeaters. If the to-dos of some tasks are identical (recurring tasks), you can automatically repeat them.

Reminders. Things 3 will remind you of events ensuring that you do not miss a thing.

Cool Widgets. These allow you to see your to-do on your homescreen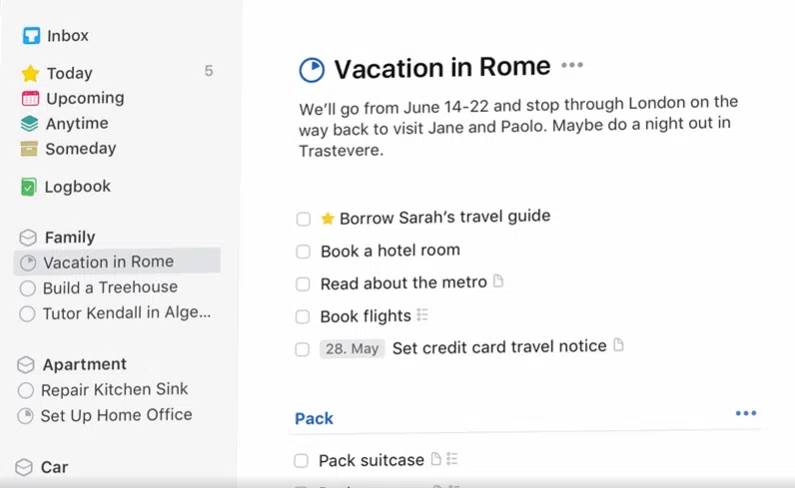 Things 3 Pricing Option
There is no free version of Things 3. Thankfully, if you use MacOS, you can enjoy a 15 days free trial. After the 15 days, you are automatically transferred to a paid MacOS subscription at the cost of $49.99 monthly.
There are two other versions of Things 3 – the iPad version which cost $19.99 per month, and the iPhone and Watch version which cost $9.99 per month. With these prices, Things 3 is one of the most expensive planner apps in the market. 

Things 3 Pros
Easily create to-dos for every aspect of your life

Easy input with drag and drop feature and repeaters 

Easily organize to-do list using tags

Great companion planner app as it is available on watches 
Things 3 Cons
Compatible with only Apple devices

Relatively expensive

Free trial is only available for Mac OS
… one of the best planners for office use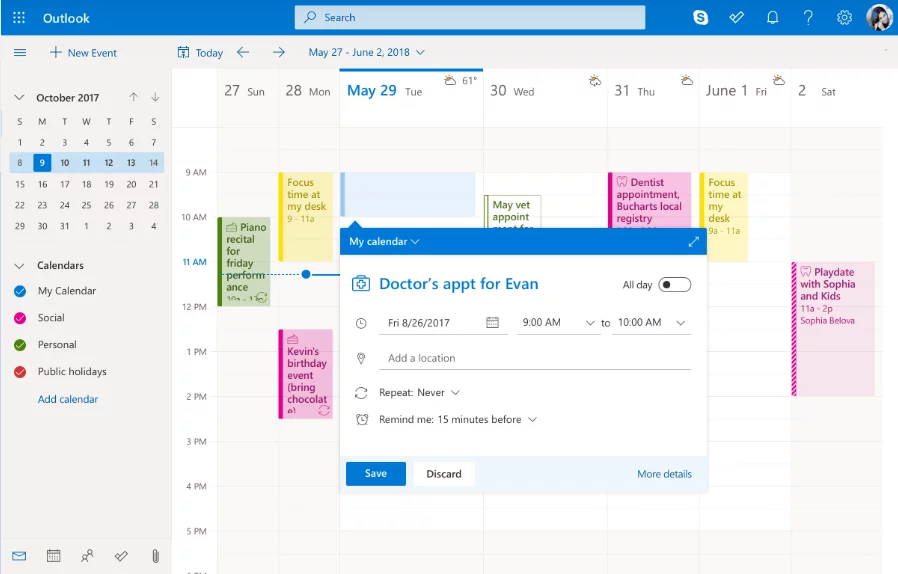 People easily easily recognize Microsoft outlook as an emailing solution. What many do not know is that it is also a great task management tool.
Microsoft Outlook advertises with "Connect. Organize. Get Things Done". The emailing feature helps you "connect", while its powerful calendar helps you "organize and get things done". 
The calendar has a simple layout. The main page shows a week long timeframe with columns for every day of the week. When you create a task and assign them dates and time, they appear on the page as colorful sticky notes. Clicking on any task, you'll be able to add important task detail like the location and reminders.  
Microsoft Outlook Key Features
To-do lists. You can create to-dos in the "task" tab, and also prioritize these so that you can focus on the most important.

Automatically events to your calendar. With Microsoft Outlook, you should never miss a flight again. If you receive flight, car or hotel reservation via email, the events will automatically be added to your calendar, allowing you stay on top of them.

Integration. Microsoft Outlook integrates wth other tools (Microsoft tools like Word, PowerPoint, and Excel). You can also chat in real time with Sype. 

Reminders. You can also set reminders for tasks (both one time and recurring) so that tasks do not slip by without you remembering. 

Voice controlled navigation. Microsoft Outlook allows you to use your voice to search for particular events.   
Microsoft Outlook Pricing
The Microsoft Outlook free version is very popular. With these you can use the email and calendar solutions. However, Microsoft Outlook also has two paid versions – Personal and Family. These versions are ad-free and offer more advanced features like message encryption, custom domain name, and more. 
The Personal version will costs you $6.99 monthly and offers solution for one person, while the Family will cost you $9.99 per month and offers solutions for up to 6 people.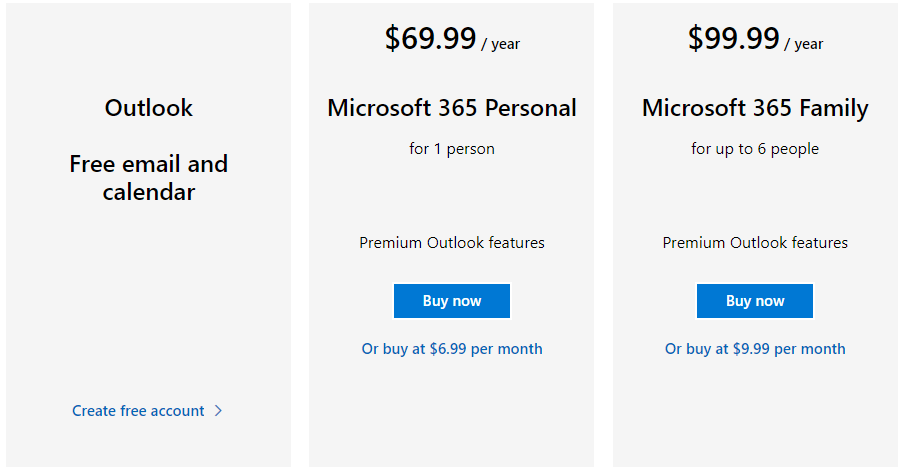 Microsoft Outlook Pros
Organizes your emails 

Week-long display allows you to see your week ahead

Automatically import important events to your calendar from your email

Use voice to quickly find events, emails, or attachments
Microsoft Outlook Cons
Integration with other apps (especially project management apps) is limited
7. Google Calendar
… best planer for heavy Google users

Google Calendar is to Google users what Microsoft Outlook is to Microsoft users. The powerful calendar is a task management app that helps you to schedule meetings and events and get reminders about upcoming events/ activities.
The Calendar's default display is the week-long display, where events are shown in daily columns against specific times of the day. It comes with a toggle that will give you daily, 4-day, monthly views. Clicking on any event will open up its details, such as location, assignee, etc. 
Google Calendar Key Features
Collaboration. Google Calendar is also designed for teams. For this, you can share your schedule with others, or you can create other schedules that you and your team can use.

Google Tasks. Where you can create a to-do list and manage your lists.

Automatically imports from email. One of the reasons Google Calendar is best for Google users is that it automatically imports events mentioned in Gmail. So, if you make hotel or dinner reservations, and you get emails to that effect, these events automatically import to your calendar.

Reminders. When scheduling, you can set reminders so that you'll be reminded when it's time

Public Holidays. Google Calendar will show you all public holidays that can affect your dealings, so that you can plan accordingly. 

Device compatibility. Google Calendar is compatible with desktop and mobile devices. So, you can use it wherever you are. 

Compatible with Google Meet. With Google Calendar, you don't have to use services like Zoom for a virtual meeting. You simply create an event, and if it involves at least 3 persons, the Calendar will populate it using Google Meet allowing for video conferencing.

Daily Agenda. After creating tasks days in advance, you may not remember events lined up for a particular day. Not with Google Calendar and its Daily Agenda feature! Using your schedule task, the Calendar can mail you an agenda every morning, so that you'll start the day knowing exactly what you had planned for the day.
Google Calendar Pricing
Google Calendar is available as a free tool. 
Google Calendar Pros
Easy to use

Easily view tasks a week ahead in the weekly view

Easily share calendars for collaboration

Automatically import events from Gmail

Easily hold virtual meetings 
Google Calendar Cons
Limited as a project management tool
Check our Outlook time tracking integration for calendar.
8. ClickUp
… well-rounded and flexible planner with great integration capabilities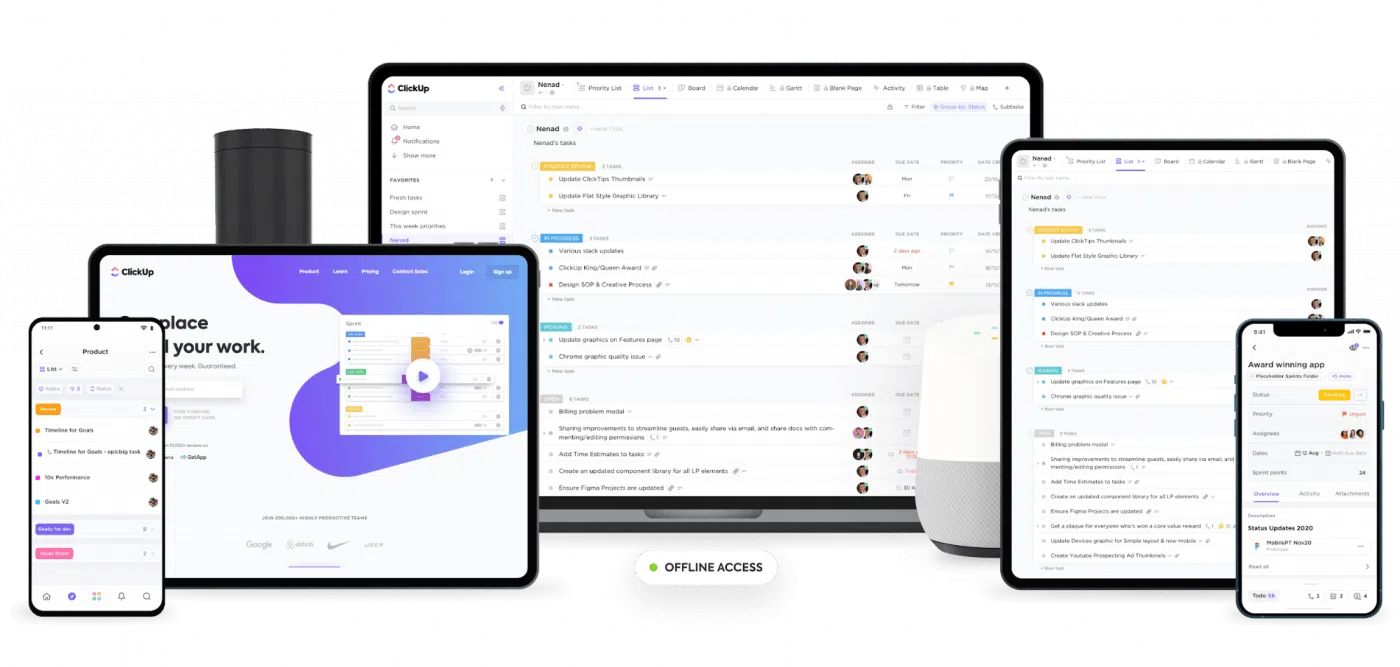 ClickUp is a powerhouse planning software that still manages to be accessible for an everyday user. It is quickly growing in popularity as one of the leading project management systems on the market.
Because of its flexibility, ClickUp is a great option for any user or use case. It offers a wide variety of features without being overcomplicated, and 24/7 support in case you have trouble with any particular feature.
Whether you're managing your to-do's or managing a department, ClickUp will save you time in planning so you have more time to get everything done.
Check more about ClickUp Time Tracking!
ClickUp Features
Flexible views. Build and customize a wide variety of views, including Kanban Boards, Whiteboards, Gantt charts, Calendars, and more.
Tags and Custom Fields. Use tags and Custom Fields to keep all the information about your tasks organized and easy to access.
Collaboration. Assign comments or @ mention teammates to collaborate in real-time, or asynchronously.
Automation. Build automation workflows for repetitive tasks so you can direct your energy towards more complex to-dos. Create recurring tasks that appear on a regular basis so you don't forget about any important work.
Integrations. Integrate with over 1000 other tools so you can view all your work from one place.
Email. Send emails from tasks so you have a record of conversations ready at hand. Turn any email into a task so you can prioritize it alongside your other work.
Search and filters. Find exactly what you are looking for with a search or apply a filter to narrow in on similar types of tasks.
ClickUp Pricing
ClickUp offers a whopping number of features on the free version of its software, including unlimited users, unlimited tasks, whiteboards, kanban boards, video recording – the list goes on.
Paid plans start at $5 per user per month for the Unlimited Plan, $12 for the Business Plan, or $19 for the Business Plus Plan. Each higher plan level unlocks more specialized features and uses.
ClickUp also offers an Enterprise Plan which is great for larger businesses with many teams. Since the pricing for this plan is not listed on their site, you would need to contact their sales team for an exact figure.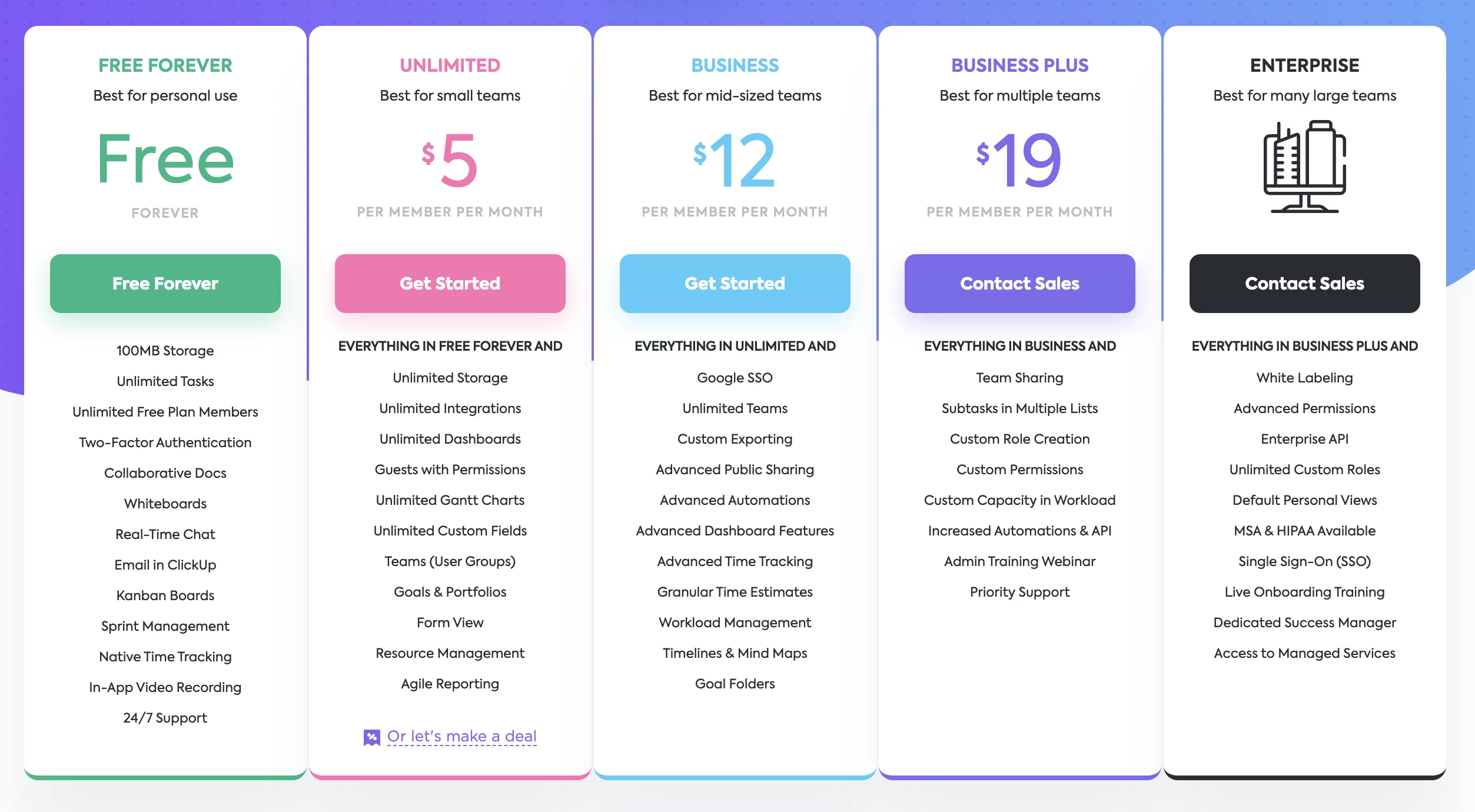 ClickUp Pros
Easily accessible with affordable pricing and features for any sized team
Supports over 1000 integrations
Real-time updates for all users on any device
ClickUp Cons
 Not currently available on smartwatches
9. ProofHub
… best for viewing all calendar data across all projects at one place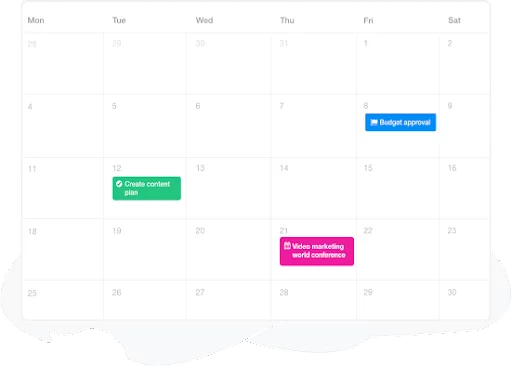 ProofHub comes among the best planner apps for productivity, especially in a team environment. The manager's job is significantly simplified since they can see everything that is crucial in a single window, including the week's responsibilities, impending milestones, and who is working on what.
ProofHub's tidy calendar view, managers are able to develop precise plans and constantly be on the top of distribution of work in their projects.  In the 11th hour, a deadline doesn't come as a surprise and everyone's workday is laid out neatly.
Quite honestly, the calendar is one of the many apps that ProofHub offers. For managers, it's like a cockpit with several beaming buttons for absolute control.
ProofHub Features
Project Planning: Managers can set milestones for critical dates, monitor the timetables of the team members' specific activities, and get a bird's eye view of the project's development. 

Calendar Automation: With ProofHub, you can automate repetitive tasks and when a deadline is approaching close, the automatic reminders alerts you. It eases last-minute stress for project leads and managers.

Time Management: Team members can record the time spent on projects using ProofHub's own timesheets function. When a project is invoiced by the hour, the management can correctly manage the project in advance, which is highly helpful. 

Collaboration: ProofHub is an all-in-one collaboration tool that enables users to directly send messages and create discussion topics focusing on a particular matter and share ideas.

Multiple views: ProofHub provides teams access to a variety of project views, including Gantt charts, Kanban boards, Table view, Me view, and others, to visualize and prioritize activities for better management.

Agenda: By setting up a daily agenda email, you can get a helpful summary of your day to stay on top of your schedule, therefore leaving no chance for you to miss a deadline.
ProofHub Pricing
ProofHub offers a 14-day free trial and after the free trial, you can choose from its two plans. Its ULTIMATE CONTROL plan costs a flat $89/month billed annually and its ESSENTIAL plan costs a Flat $45/ month billed annually.
Whether it is custom roles, detailed activity logs, project templates, forms, Email-in, or custom fields, ProofHub has it all. However the features can vary according to the plan you choose. You can check its pricing page for more detail.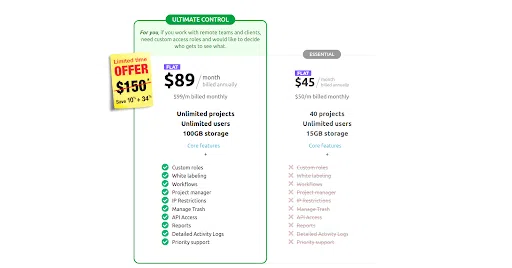 ProofHub Pros
Users can set automatic reminders for events and milestones, recurring events and tasks, and have greater control over their schedules

Users can see all events, tasks, and milestones across all projects in bird's eye view without having to jump through projects

Users can choose from daily, weekly, or monthly view 

You can add events, tasks, and milestones to the scheduling calendar and organize them all in one place
ProofHub Cons
ProofHub does not currently support Table View in the mobile app
Conclusion
Planner apps will help you stay organized and on top of all your tasks, improving your personal and professional productivity.
While there are many of these productivity apps in the market, the above-mentioned seven are some of the best in 2022. However, the leader of the pack remains the time tracking and project management tool TimeCamp. It is excellent in tracking your productivity, your team's performance, and your project's profitability.
Ready to restore clarity with time tracking software, and to be on the same page with your team? Sign up for TimeCamp today.