The 13 Best Company Chat Apps in 2023
February 6, 2023
by Magdalena Wysocka
No comments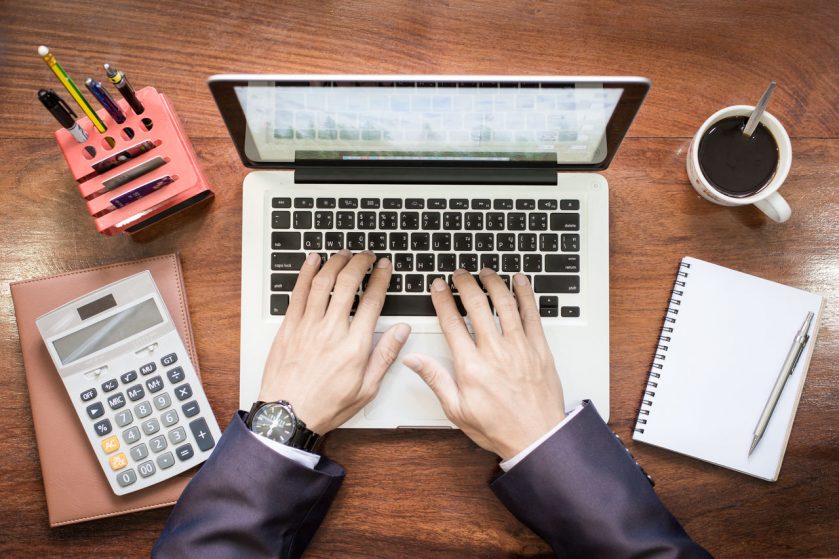 Team communication is one of the pillars of good cooperation – it should be transparent, fast, open, and honest. However, the increasing popularity of remote work meant that communication was disturbed or relegated to the background.
Best company chat apps are the answer to emerging problems. Not only are they simple background tools, but they are also the backbone of today's communication, whether in the office or elsewhere in the world.
Great team communication tools create a virtual office to which each team member belongs, able to participate in conversations, present ideas, and discuss and establish relationships. Find out more about team chat apps by reading our article.
What are chat apps?
Chat apps are virtual tools for direct or team communication. They allow you to send and receive messages, create channels, group chats, project chats, comment on tasks and build relationships.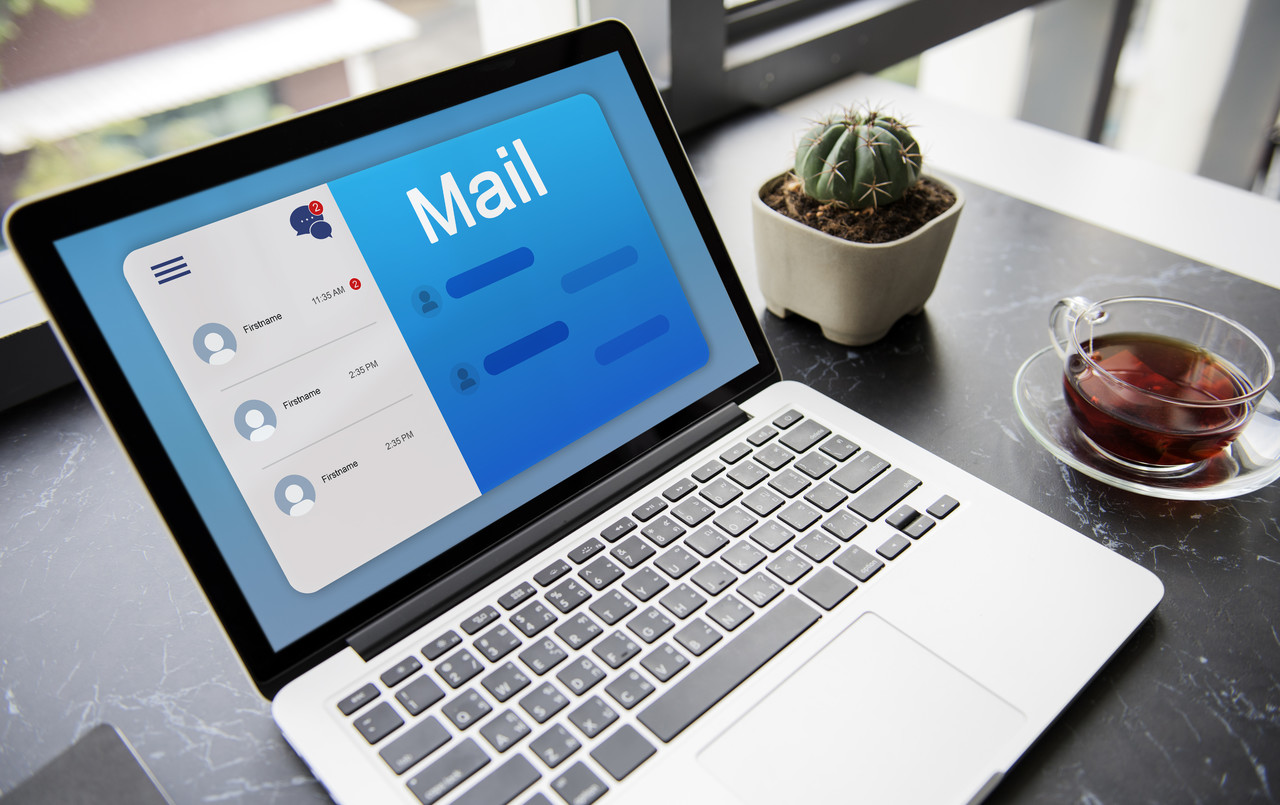 Chat software is one of the most important communication channels because it connects people regardless of their current location. It is enough to have access to the Internet to have a live conversation, which is a great alternative to face-to-face conversation.
As we have already mentioned, communication is one of the pillars of good cooperation, which is why it is so important to take care of its continuous improvement and encourage team members to be in constant contact thanks to the use of the team messaging app.
Why are chat apps beneficial?
Team chat apps are becoming more and more popular, especially after the outbreak of the pandemic and the forced transition to remote work. Nearly 80% of workers are using team collaboration software for work in 2021, up from just over half of workers in 2019, according to the Gartner, Inc. Digital Worker Experience Survey. This is an increase of 44% since the pandemic began.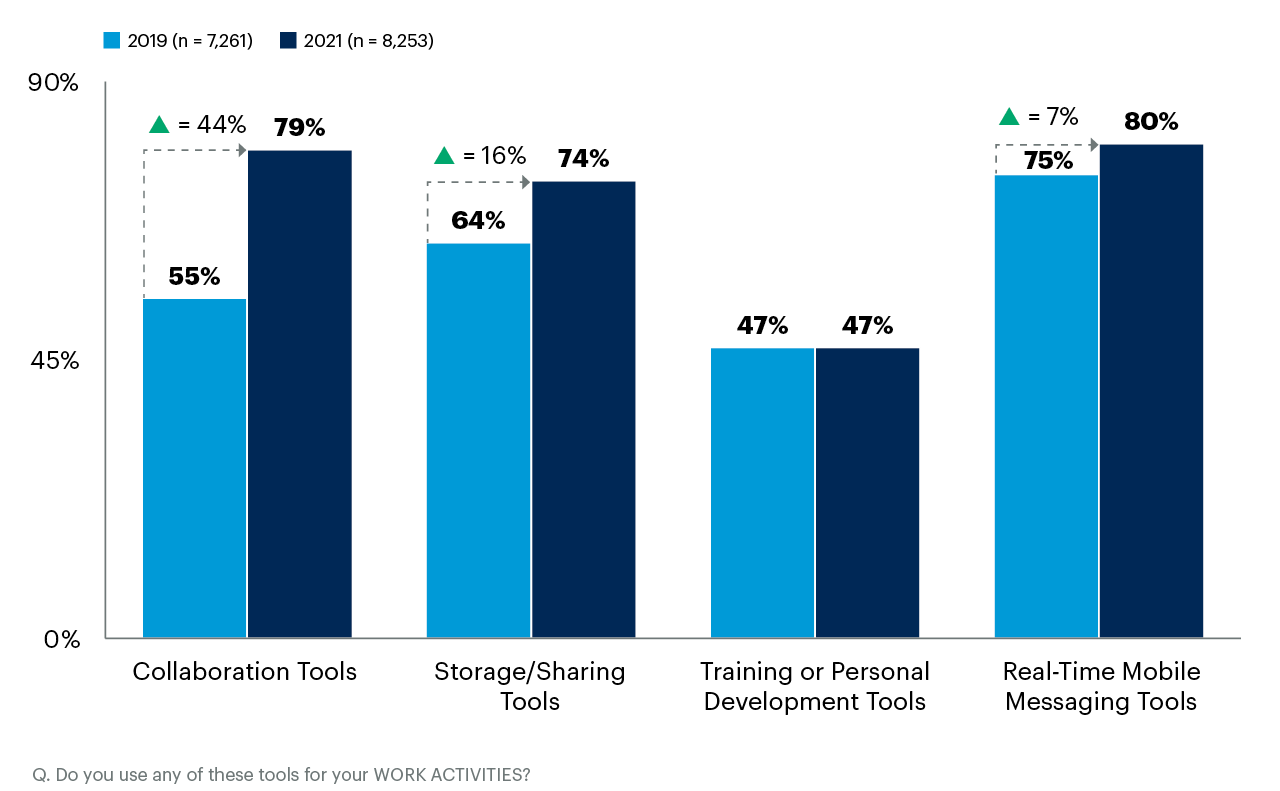 If they're that popular, it means they have tons of benefits. What are they? Let's find out!
1. Team communication apps improve communication
Best team chat apps are designed to facilitate communication and make it fast, clear, legible, and as little complicated as possible. We always have these tools at hand, whether on the phone or on a laptop, which means that we not only have access to messages but also to transferred files, photos, and documents.
2. Best team chat apps increase employee engagement
A great team chat app should be not only efficient but intuitive and engaging too. The main idea is to bring people together no matter where they are and what they do. Good relations in the team have an impact on engagement and, in the next step, on productivity.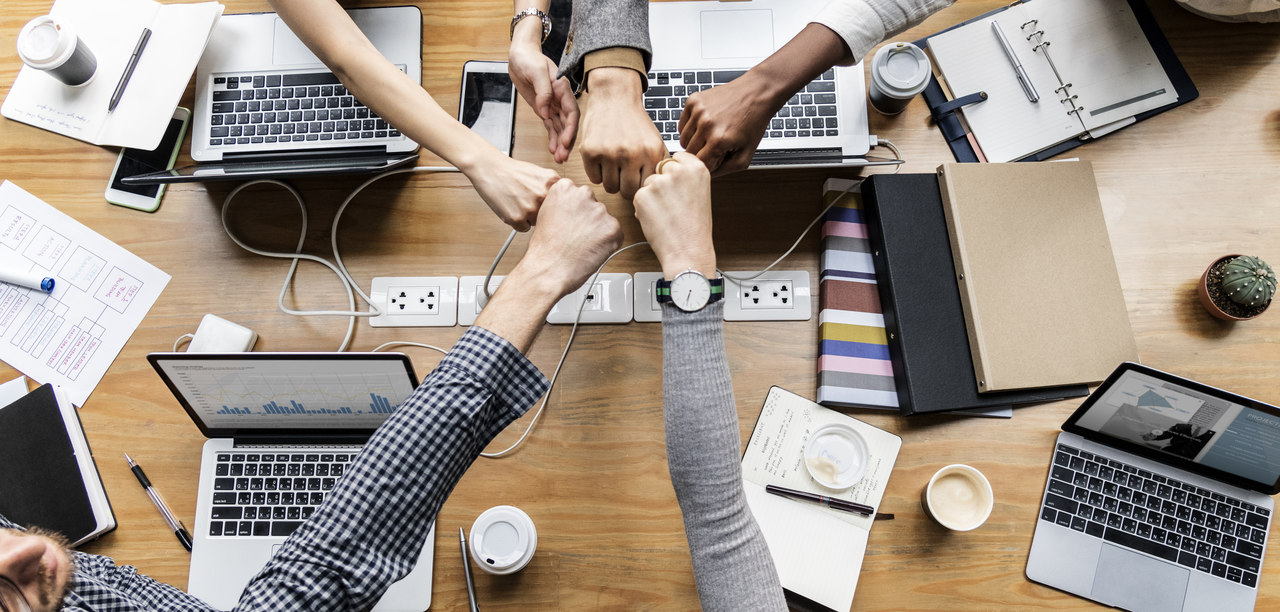 3. Communication apps boost the workflow
The chat tool not only has a positive effect on the workflow, which is related to work planning or meetings, but also acts as a responsibility. Team members account for their tasks, are in constant contact with the manager, and receive feedback.
4. Business chat apps enhance project management
Effective communication channels are inextricably linked with good project management because a team that can talk to each other and has the right tools to do so is better at planning and executing tasks. What's more, it minimizes the risk of mistakes and misunderstandings, so it has a direct impact on the effect of work.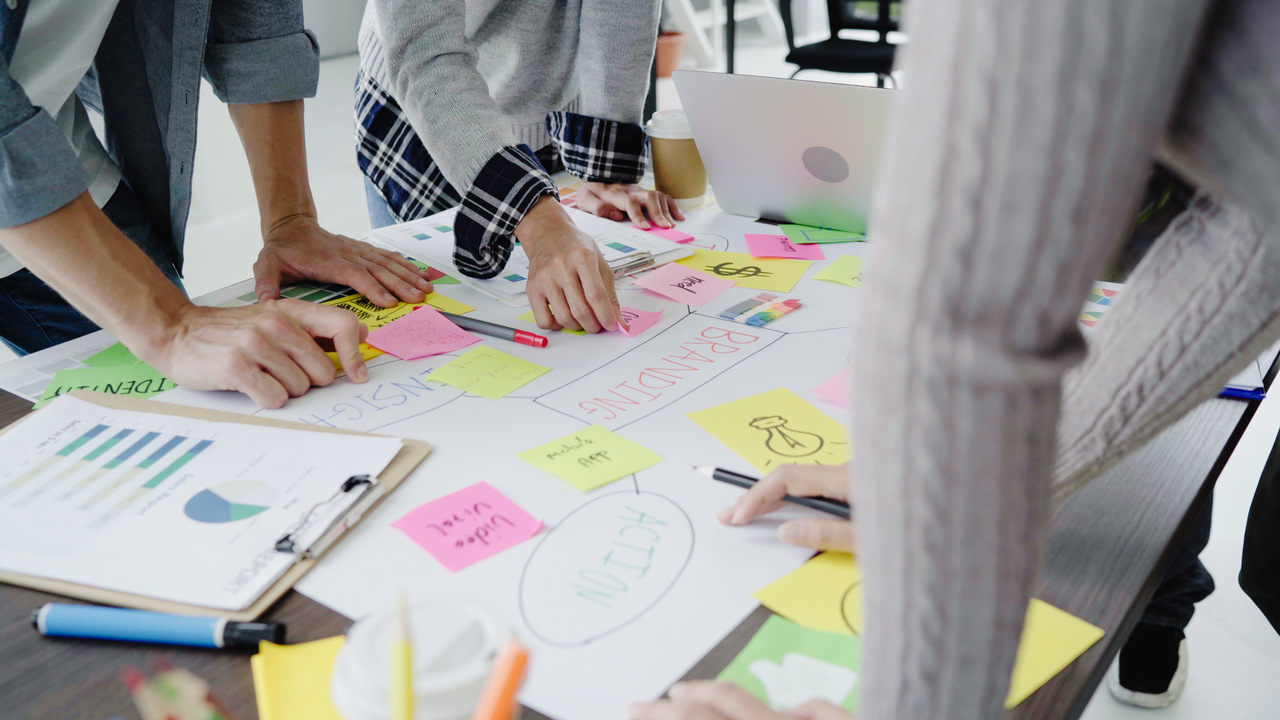 5. Company chat software help stay organized
When tasks pile up and you hear voices from all over the place about a project, it's easy to get lost. Thanks to the team chat app, your conversations, files, discussions, and conclusions are organized and easy to find. You will no longer have to remember the details of conversations or filter the e-mail.
6. Best team chat apps save lots of time
Did you know that sending a message in TimeCamp Planner is three times faster than doing the same in the form of an e-mail? Time is the most valuable resource at our disposal, which is why it is so important to use it efficiently. Thanks to the business chat app you will have more time for tasks.
7. Business chat apps strengthen relationships
The possibility of chatting, and sending memes, or gifs in group chats, or directly strengthen employee relations and allows you to establish contact even after work or on a more private footing. A well-coordinated team is an effective team, even if they only work remotely, so it is worth allowing employees to talk freely.
What are the best team chat apps?
Choosing the best business chat apps is very difficult, especially when we don't know what to expect and the choice is wider and wider. That is why we have created a list of selected tools for you that you can test together with your team.
Which chat app is best for my company?
Have you been wondering what team collaboration app is best for you and what factors should be followed when choosing an application? There are tons of categories that matter, and we've outlined a few of them below to make your selection easier.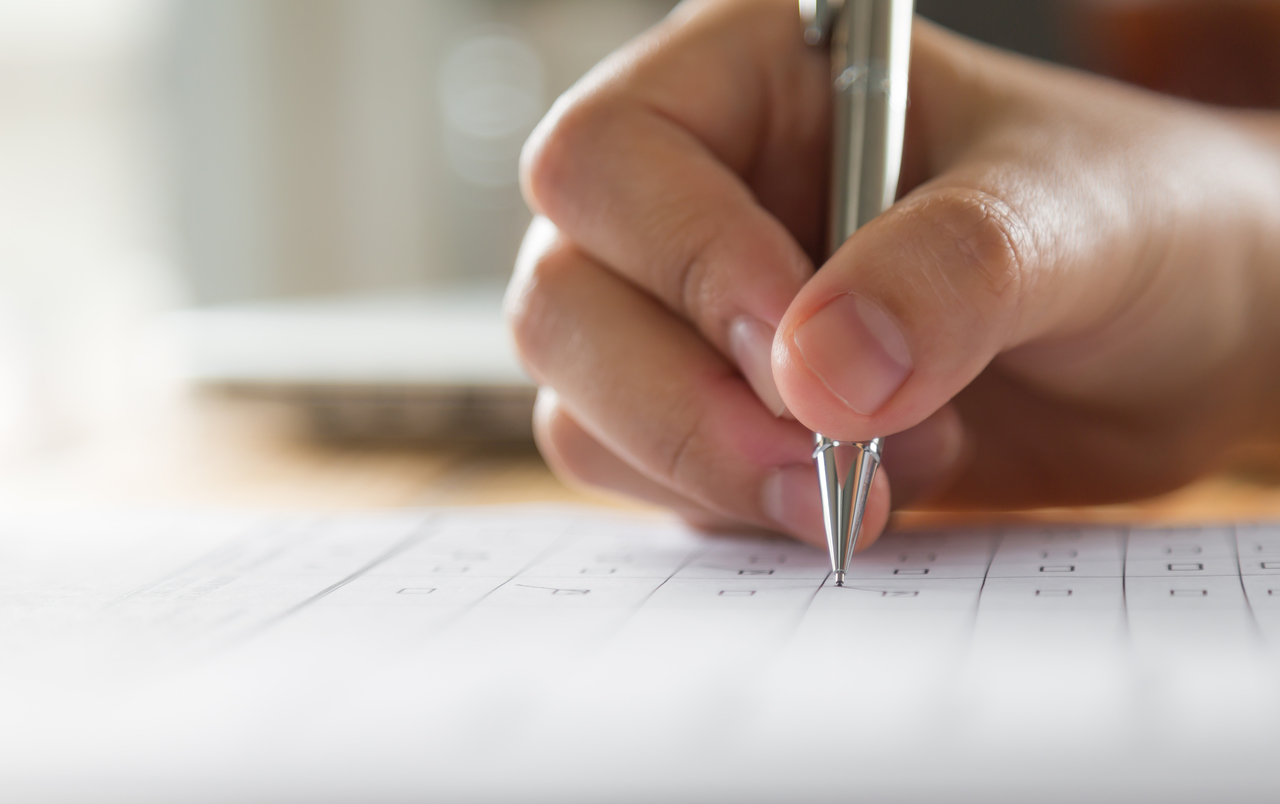 Check if the app:
has organized communication. It could be channel, space, dedicated hashtag, or something else, but it is important to see categories, people, and messages. Some of them could be seen by the entire organization, some in specific projects, and some only by the person you are talking to.
gives the ability to mention someone. It is really important if our coworker needs to see something urgently.
offers a global search. Without this feature, it would be very hard to find a message from a few months ago.
offers audio and video calls. It is really necessary if you do not want to use any other tools, and gives freedom in planning meetings. One more tip – check if there is a screen sharing capabilities.
offers third-party integrations. Sometimes your projects are so complex that there is a need to use other tools, for task management or project management. The perfect situation is when the app offers these kinds of tools, but sometimes you need to integrate them.
offers unlimited users, unlimited chat, message history, and file storage. Do it, especially if your company is getting bigger, and your last wish is to look for a new team chat app.
offers a free trial or free plan. This option is for undecided people, who are still looking for apps with collaboration features. This solution gives you time to think and test a tool with your team.
TimeCamp Planner
A communication app with a task management feature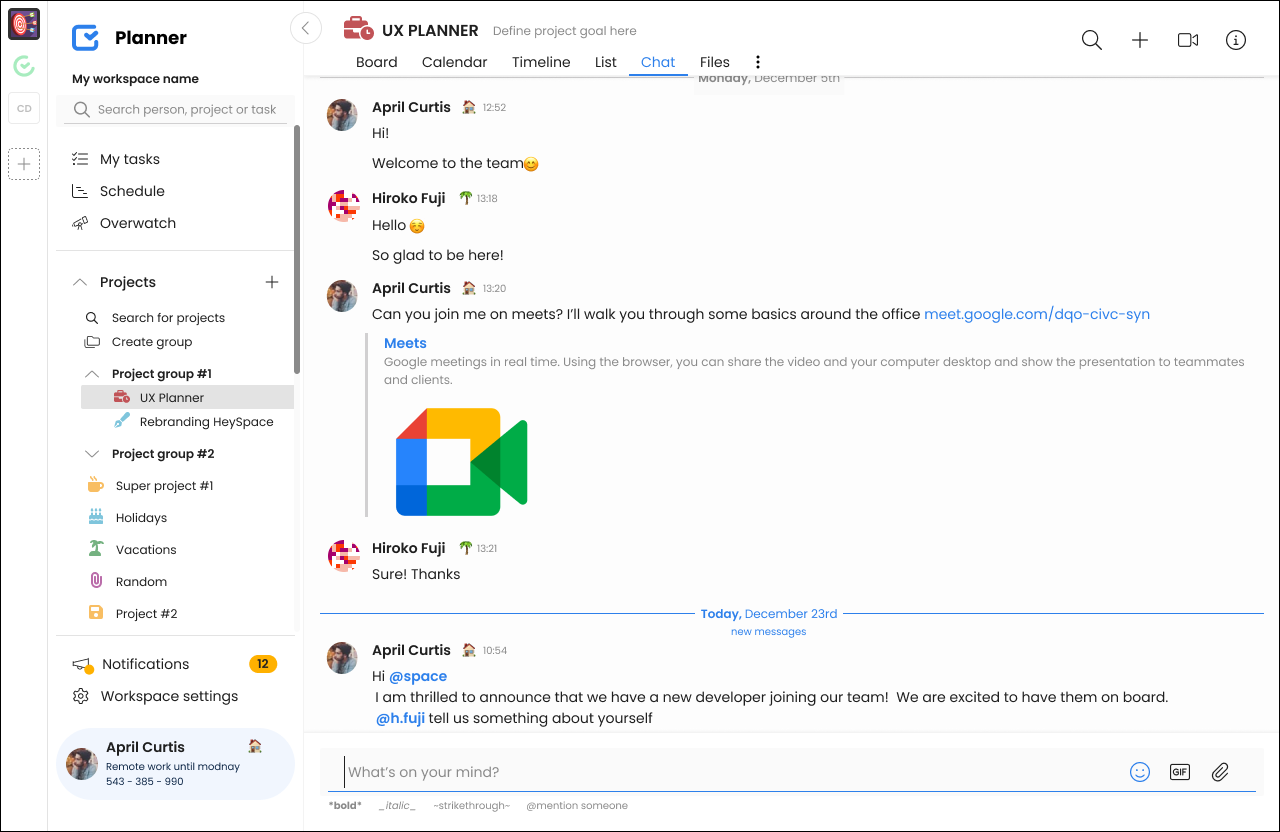 Main features
TimeCamp Planner offers multifunctional chat features for communicating one-on-one or in teams. You can chat directly with your team members, communicate in Spaces, which are basically projects, chat in cards, which we named tasks, and of course, create group conversations. TimeCamp Planner enables file sharing and quickly mentions a specific person, the whole team, or just active users.
TimeCamp Planner can be used not only for internal communication but for external too, thanks to the guest feature. You can invite your clients, business partners, or consultants to talk with them about projects and progress.
For whom
TimeCamp Planner is dedicated to teams of all sizes, especially small and medium-sized, freelancers, and groups from a variety of branches.
Pricing
Price: Free plan is available for up to 5 users; Pro plan costs $2.99 per user per month, billed annually ($3.99 billed monthly). 
Slack
Team communication app designed for workplace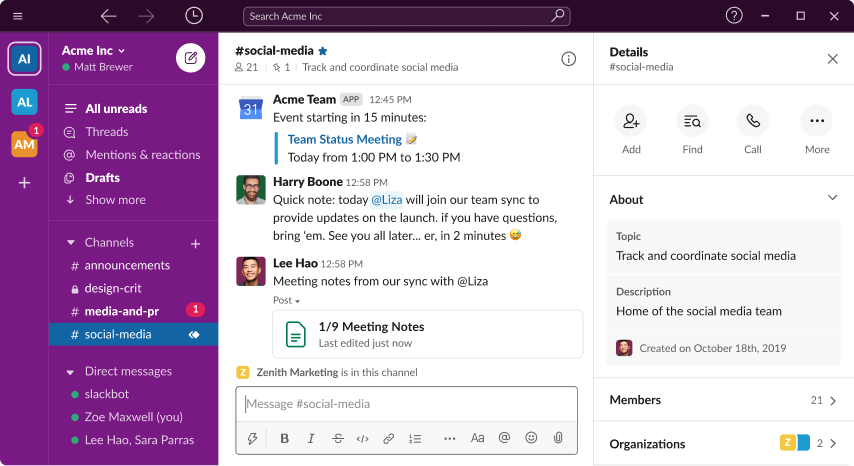 Main features
Slack is a team communication tool made mainly for talking. It allows you to create channels, where users can chat, add files, and people. Slack enables you to organize work, create alignment, and be more productive.
Slack is perfect for complicated and multi-level communication, thanks to voice and video calls, gives an opportunity to talk with everyone and do not miss any message.
For whom
Slack is rather for huge teams, because of the unlimited message history and big file storage, but small businesses will find it well too.
Pricing
Slack offers four pricing plans. The free plan is for small teams, Pro Plan ($6.67 USD/mo*) is to empower small businesses, Business+ ($12.50 USD/mo*) is for bigger companies with more requirements, and Enterprise Grid (contact Sales) is for the most demanding enterprises.
Looking for a Slack Alternative? – Check These Team Communication Apps
Chanty
A team communication and collaboration tool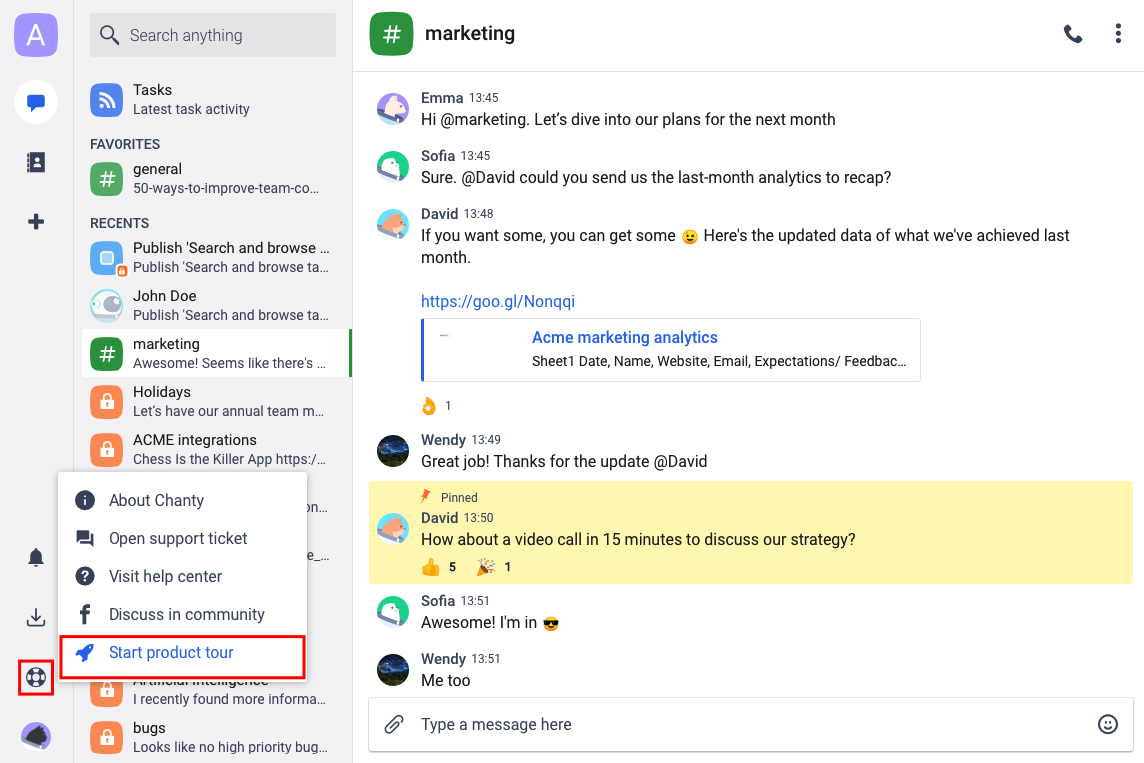 Main features
Chanty is a communication app with unlimited public and private conversations, one-on-one video calls, and voice messages. It allows you to create the multi conversation guest conversation, screen sharing, group audio, video calls, and much more.
Chanty enables you to mention people in the chat if you use group messaging or talk about projects with more people. Chanty connects collaboration features with team communication perfectly.
For whom
Chanty is designed to boost collaboration in teams of all business segments.
Pricing
Chanty offers two plans: Free for teams with up to 10 members and Business ($3 user/month), which delivers additional features and unlimited members.
Discord
Team communication app for talk and video calls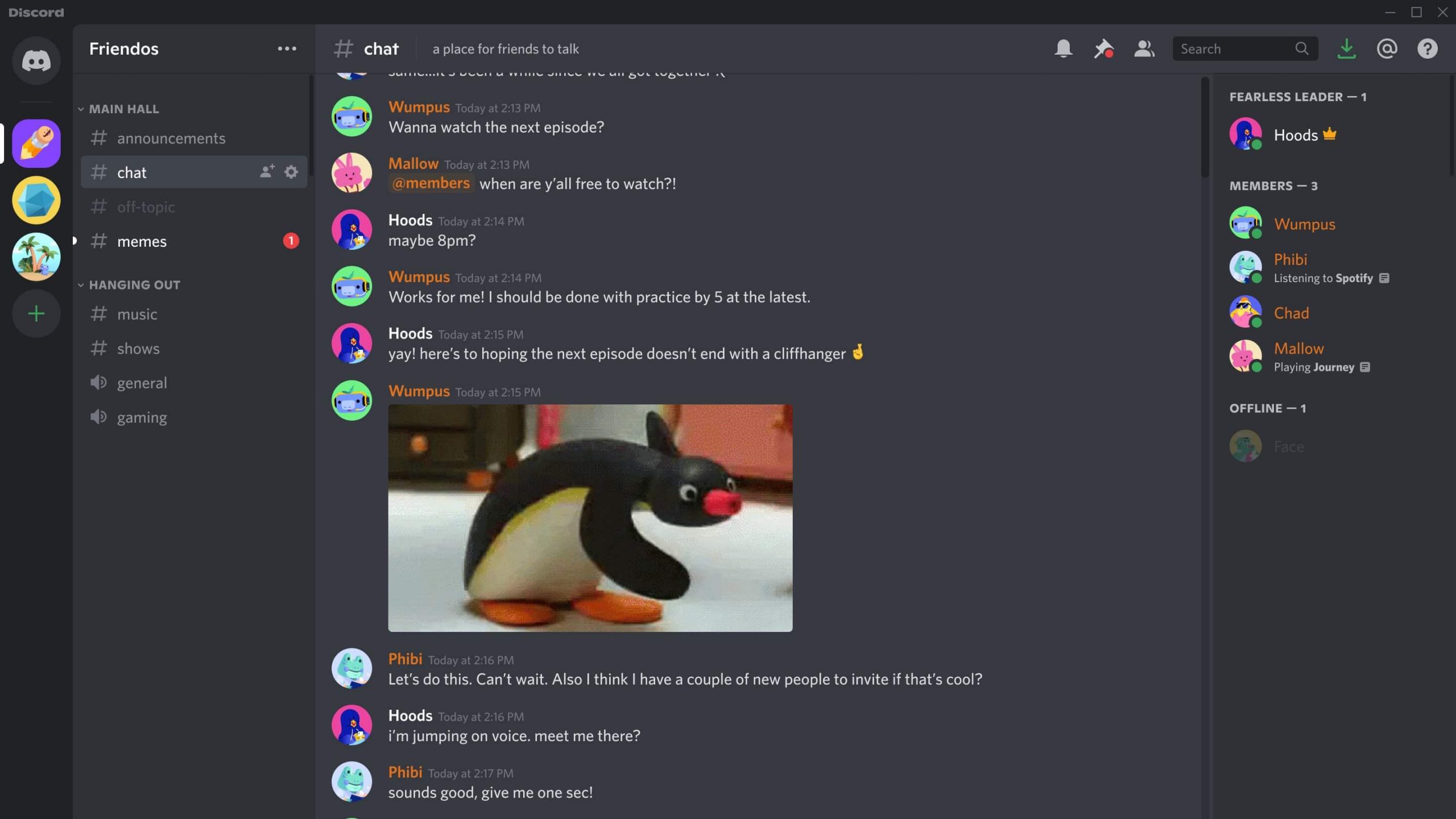 Main features
Discord is software that has been on the market since 2015 and is mainly associated with talking while playing games. It advertises itself as a meeting point for groups of friends, school groups, or global communities.
Discord allows you to create various channels where you can chat, audio or video chat, enables file sharing, and improves information flow.
For whom
Software created for those who want to maintain an organized community to exchange experiences and knowledge about a certain subject, using audio and text messages or video calls.
Pricing
Discord can be used in a freemium plan, in Nitro Classic (4,99 USD monthly), or in Nitro Plan (9,99 USD monthly) with advanced features and file storage.
Workplace from Meta
Team chat app for Facebook enthusiasts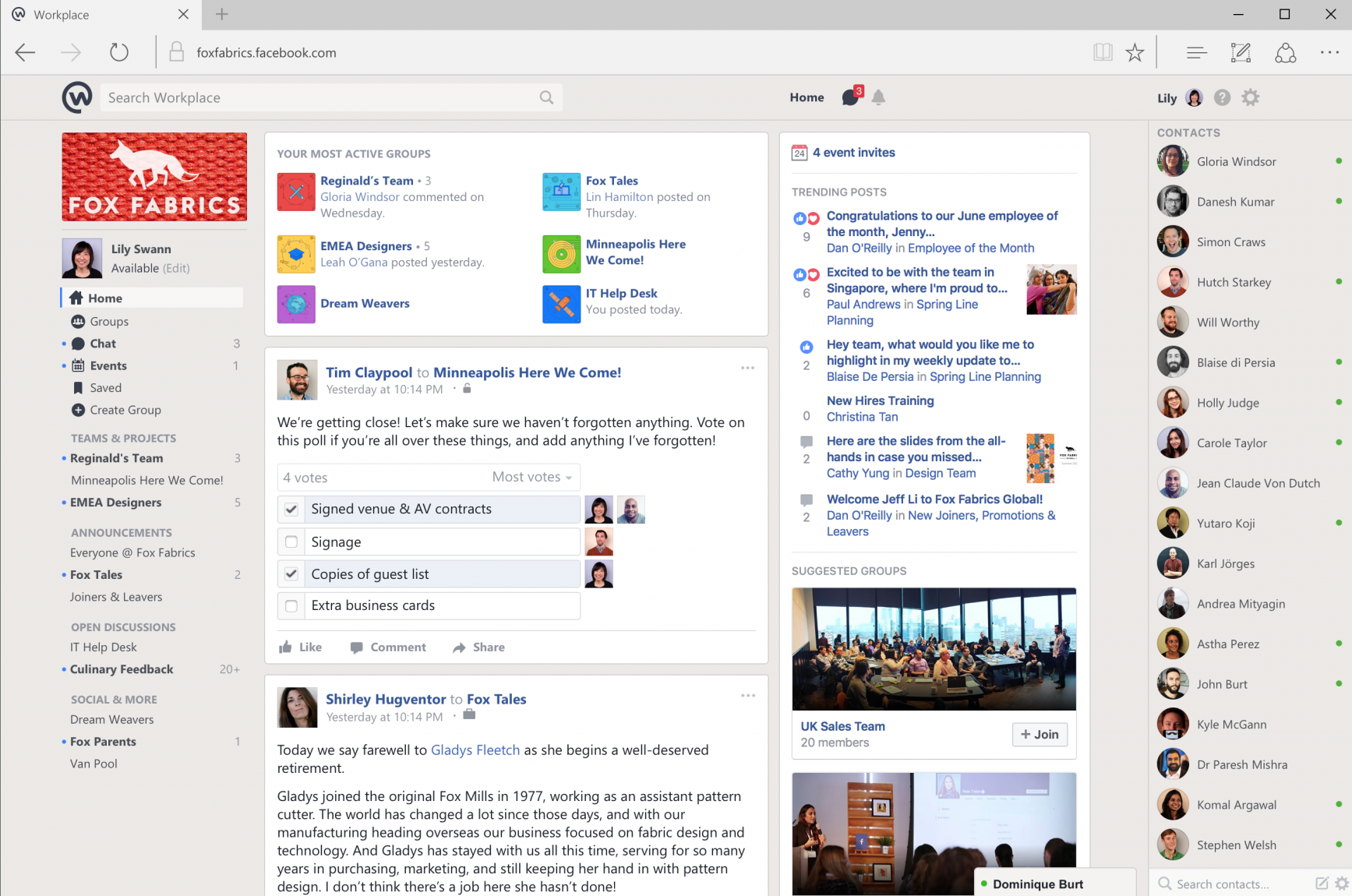 Main features
Workplace from Meta is nothing but Facebook dedicated to companies and workers. The functions offered by Facebook Workplace include group chat; profile search engine; chat tool; news board; automatic translation; video conferencing; bots that may, for example, remind employees to complete a survey or, in the event of sufficient amount in terms of activity, send congratulations in any form we choose; text formatting, and adding attachments.
For whom
Best for businesses of all sizes
Pricing
This chat app offers a Core Plan ($4 per person, per month) – everything you need to connect your company, with features like Groups, posts, live videos, and more.
Chatwork
Group chat for global teams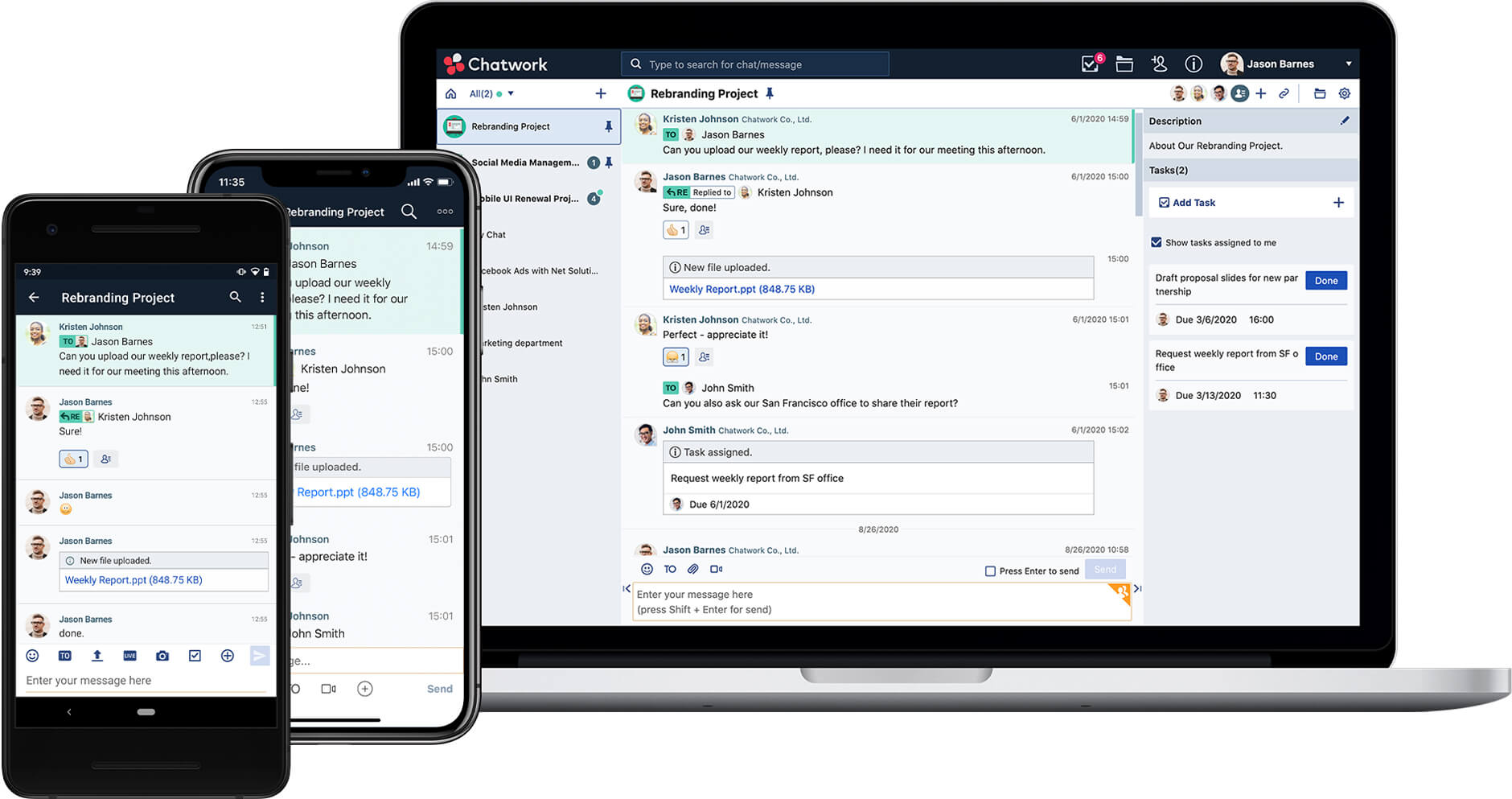 Main features
Chatwork is an all-in-one group chat with a task management feature. It brings secure messaging, file sharing, and video calling. This team communication software has unlimited chats, searchable message history, user management, and file management.
Chatwork is a typical business chat app, getting a more and more popular team collaboration tool. It allows you to easily replace e-mails and reduce frustration.
For whom
Designed for small and midsize enterprises, a collaboration tool that helps with group texting, keyword searching, file sharing, video chatting, contact administration, profiling, and user management.
Pricing
Chatwork offers two plans: Free for a maximum of 100 users, and Business ($5 per user per month with an annual subscription) for organizations.
Twist
A team chat app for flexible teams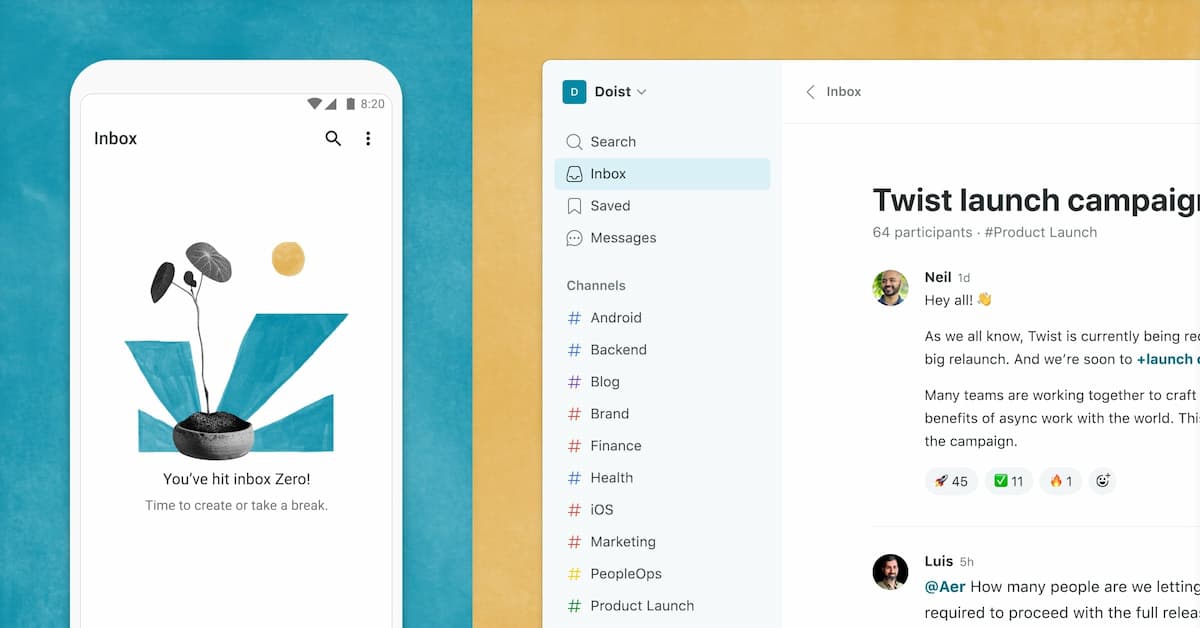 Main features
This team communication tool offers a variety of features dedicated to internal communication – access full history of comments/messages, unlimited users, third-party integrations, unlimited guests, and unlimited file storage.
It allows for audio and video calls, video conferencing, and many more to make your team stay on the same page. Twist is intuitive, very simple, and sightly.
For whom
Future-thinking and remote or hybrid-working teams.
Pricing
Twist offers two plans: A free plan for up to 500 users and an Unlimited ($5 per user, per month).
Flock
Team chat app and collaboration tool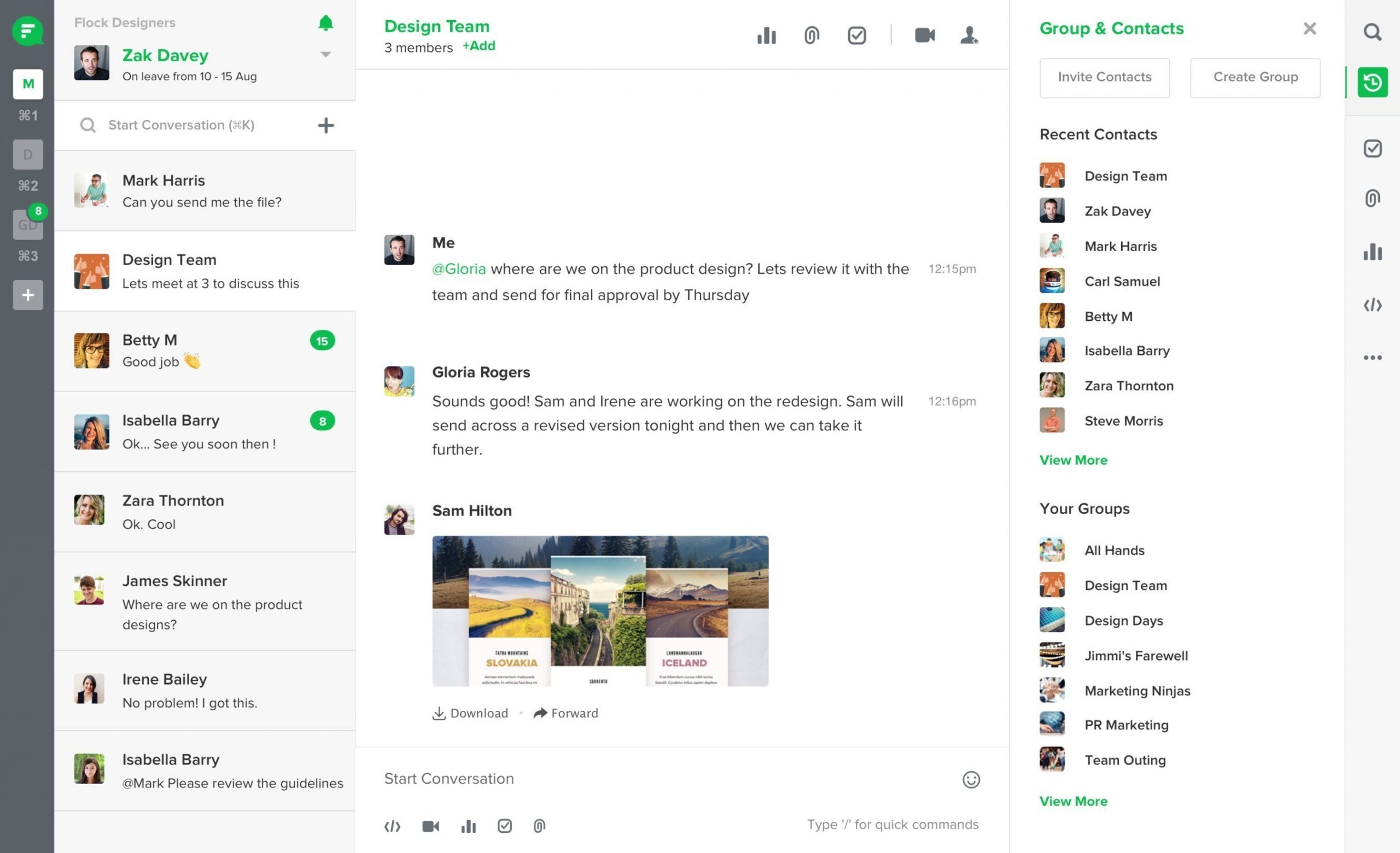 Main features
Flock is not as popular team communication app as others but offers many features like video conferencing with screen sharing, channel messaging, guest users, voice notes, and integrated search.
You can organize your conversation in public or private channels, meet with your team on video meetings, invite clients or external stakeholders to join the conversation, use our powerful integrated search feature, and send voice messages to team members to avoid misunderstanding.
For whom
Flock is used by teams of all sizes – at workplaces, educational institutes, and communities.
Pricing
Flock offers three plans: Free plan for teams with 1-20 members, Pro ($4.50 /user/month) for teams with 20-100 members, and Enterprise (contact Flock) for organizations with 100+ members.
Check our Flock alternatives and pick one for you
Ryver
Team chat and project management in one place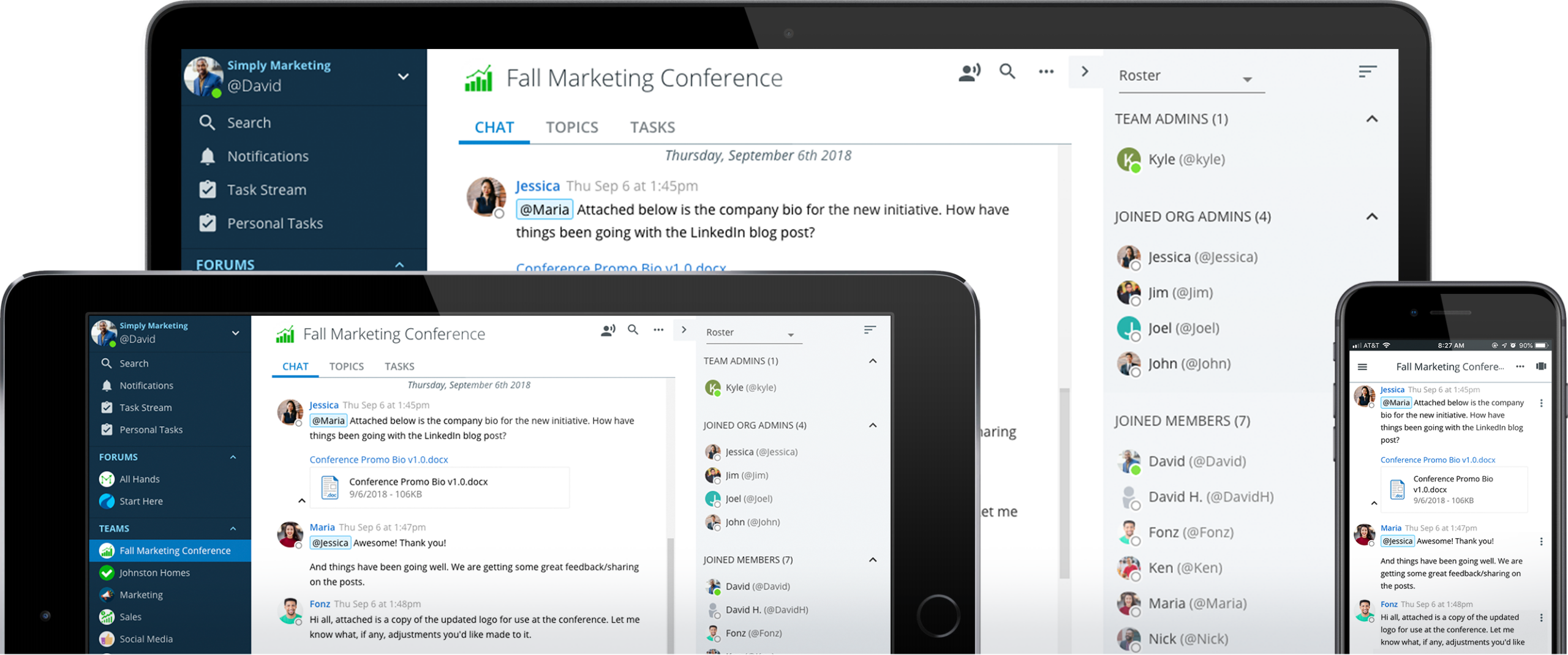 Main features
Ryver offers similar features to the apps below, but the huge pro is an additional task management feature. Apart from that, this team chat app offers unlimited chats and file sharing, conversation searching, and voice and video calls (beta).
Ryver enables group messaging with anyone at any time, with crisp, clear audio and video (including screen sharing) and thanks to access on every device give an opportunity to talk from any place in the world.
For whom
Remote teams who are looking for a better way to organize and manage collaboration than merely using email.
Pricing
Ryver offers four plans: Starter ($69/mo) for up to 12 users, Standard ($129/mo) for up to 30 users, Medium Pack ($4.67/user) for more than 30 users, Enterprise (contact Ryver).
Want to see Ryver alternatives? Check our blog post: Ryver Alternative For Task Management
Mattermost
An open-source platform for communication and collaboration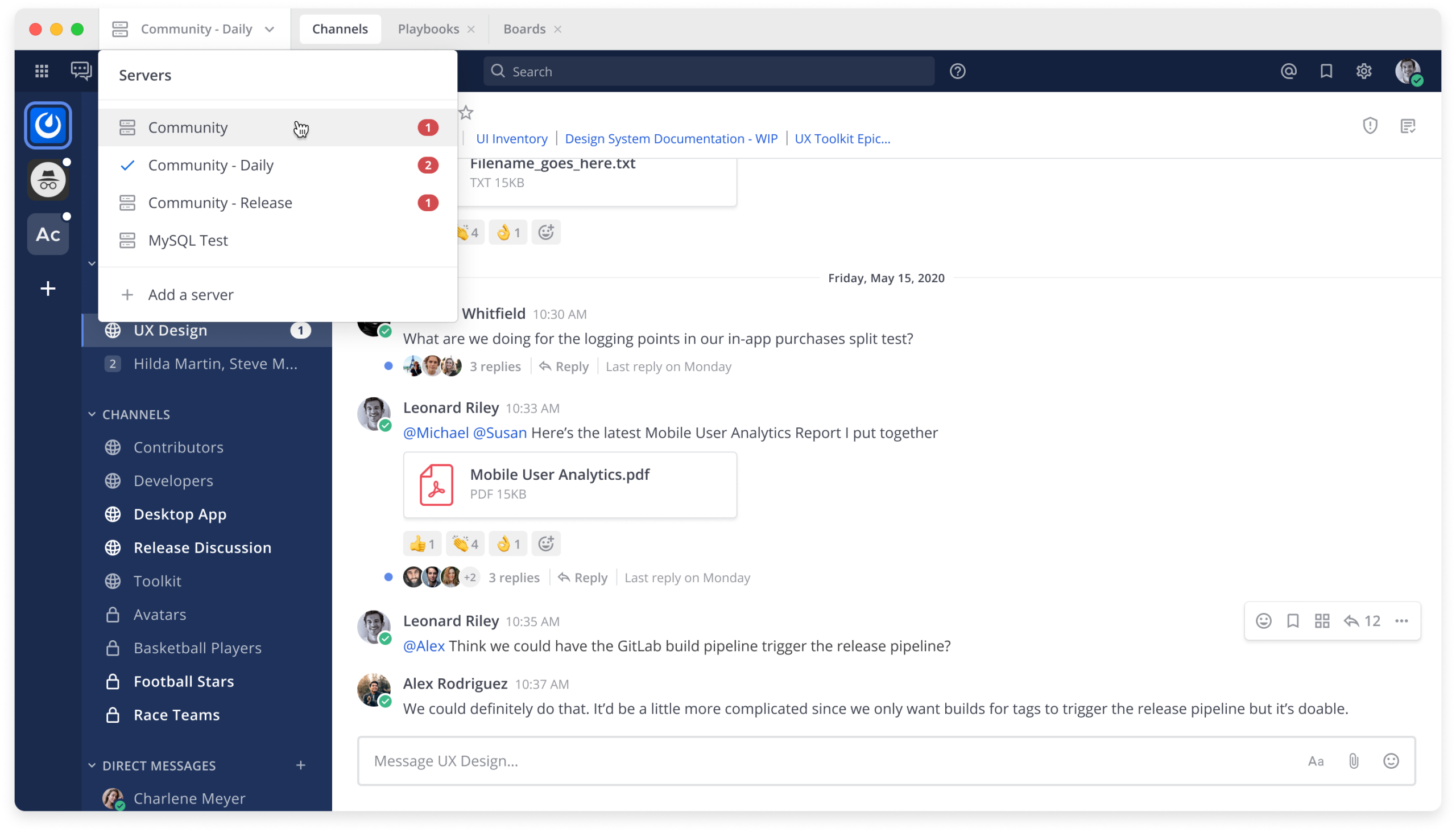 Main features
Mattermost is a team chat app with project management features. It enables team messaging, and gives access to unlimited users, channels, teams, continuous message archive, audio and video calls, third-party integrations, and many more.
Mattermost can be run on your own servers because it's an open-source platform. What is worth to say, it's well secured, so you can be sure that your data is safe.
For whom
For large enterprises, especially developers
Pricing
Mattermost offers three plans: Starter (free plan) for small teams, Professional ($10 USD per user/month) for growing teams, and Enterprise (contact Mattermost) with advanced performance, security, and compliance.
Rocket.chat
An open-source fully customizable communications platform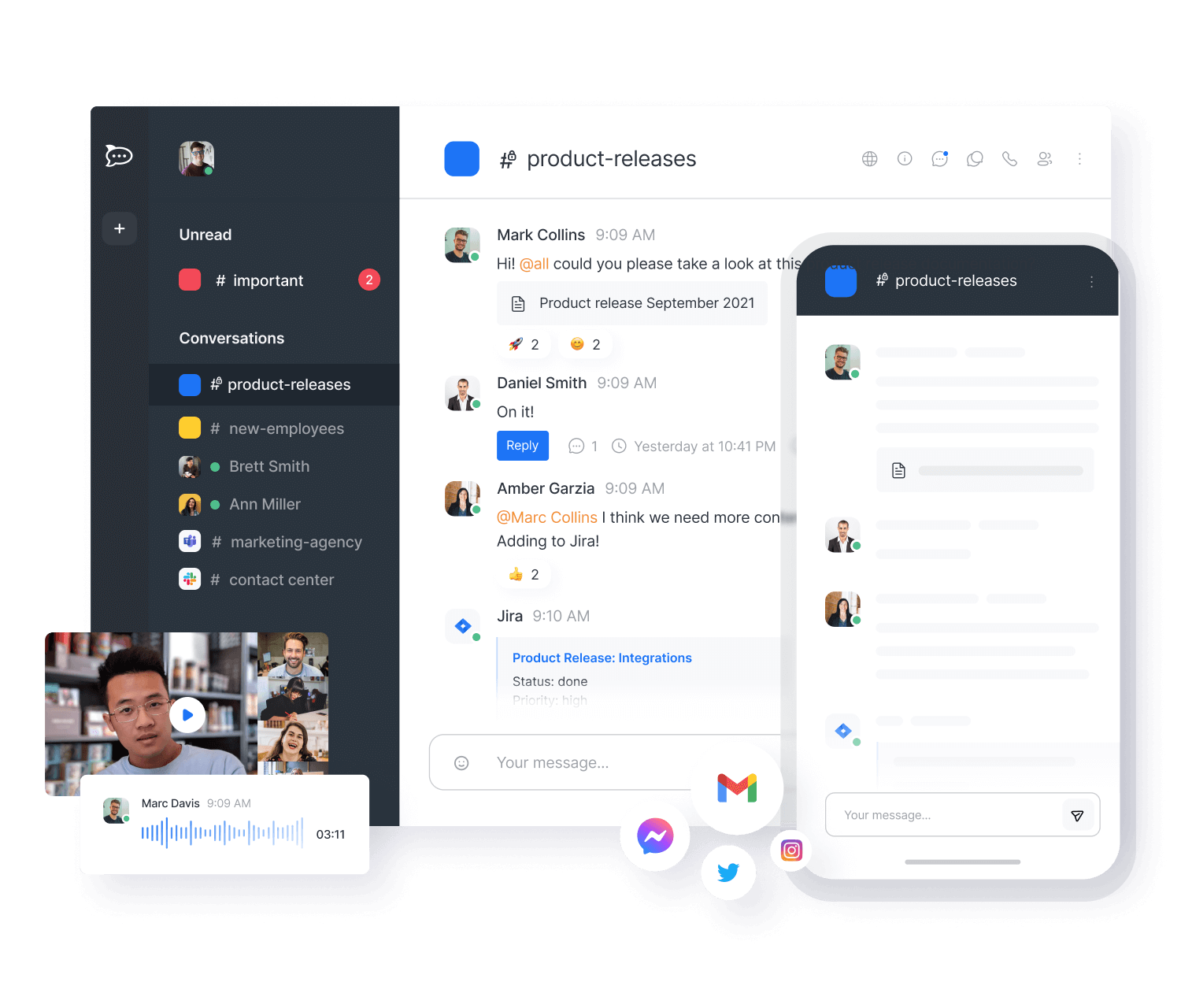 Main features
Rocket.chat is one of the most interesting team chat apps. The user interface is really easy and 100% customizable. Rocket.chat enables group and direct conversations, building relationships, and creating integrations which allow you to conduct audio and video conferencing and connect with project management tools or Google Workspace.
This team chat app is totally safe, thanks to many certifications, and under the full control of the owner.
For whom
Companies that are in highly regulated industries and handling sensitive customer or business information.
Pricing
Rocket.chat offers three plans but in two different ways.
Self-Managed: Community (free plan) for teams that are ready to control and centralize their communication, Pro (€3 EUR/user/month) for a minimum of 10 users – for workforce teams ready to increase productivity through powerful communication with unlimited customization possibilities, and Enterprise (contact Rocket.chat) for a minimum of 10 users – for high-level developers who need simplified scalability and unlimited management with total support for implementation.
SaaS: Bronze (€2 EUR/user/month) for a minimum of 10 users, Silver (€4 EUR/user/month) for a minimum of 10 users, Gold (contact Rocket.chat) for a minimum of 10 users – for high-level business developers, needing to simplify complex scalability, management, and unlimited features.
Microsoft Teams
An advanced team chat app for huge teams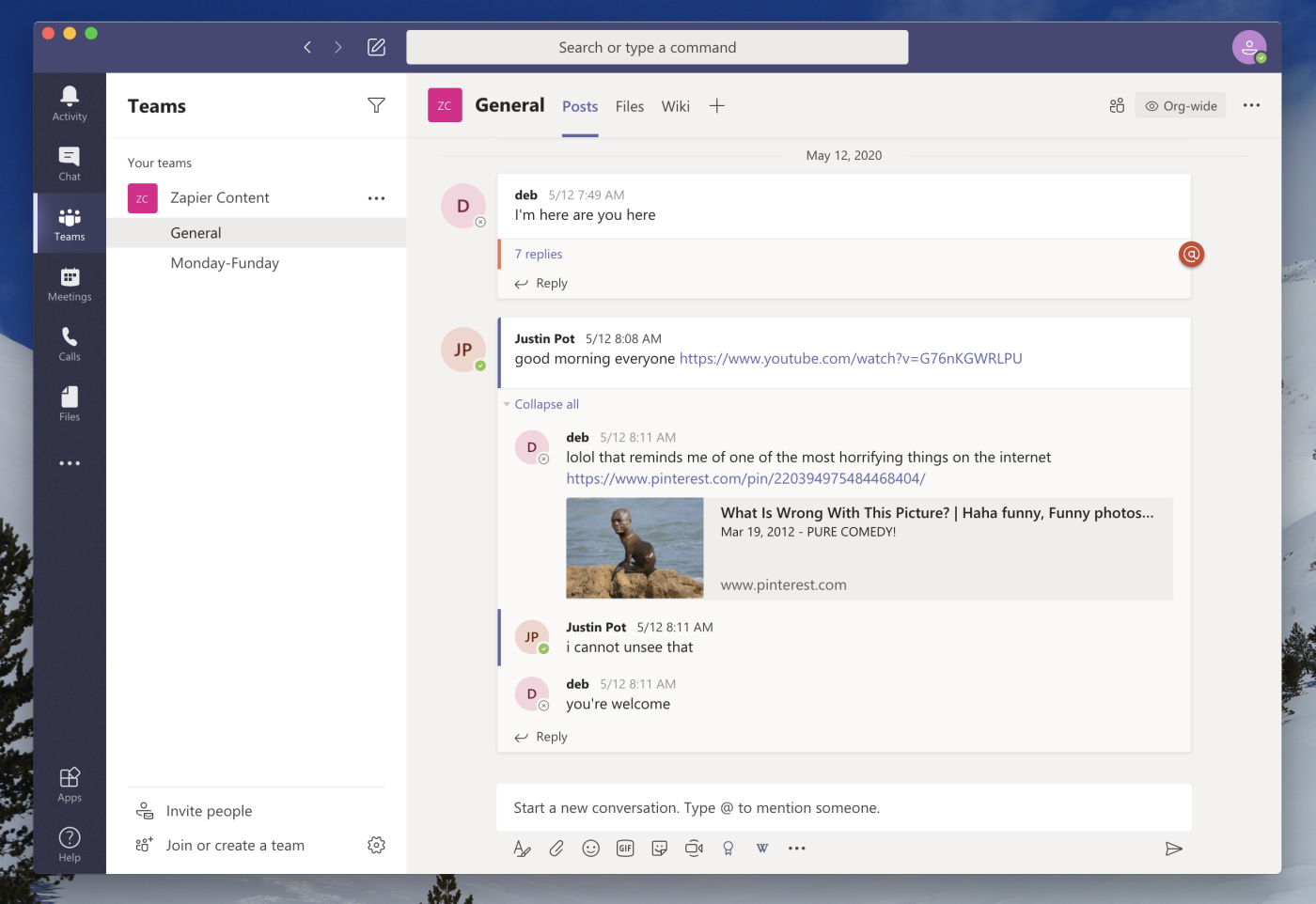 Main features
One of the most expanded team collaboration tools, mainly associated with group video chat with screen sharing and team audio calls, and offering plans for remote teams on universities and schools.
Microsoft Teams offers basic features like chatting, directly or in groups, creating channels and subchannels, file sharing, and file storage, but the user interface is a bit complicated, so it takes some time to learn how to use it. Thanks to third-party apps we can connect Microsoft Teams with other tools and boost our productivity.
For whom
Microsoft Teams is for teams of different branches and sizes, especially for those with huge requirements.
Pricing
Microsoft Teams is available as part of Microsoft Office 365 subscriptions. It offers four plans: Microsoft Teams (free), Microsoft Teams Essentials ($4.00 user/month), Microsoft 365 Business Basic ($6.00 user/month), Microsoft 365 Business Standard ($12.50 user/month)
See our blog post: Rocketchat Alternative For Task Management
Google Workspace with Google Chat
A team chat app for Google Workspace users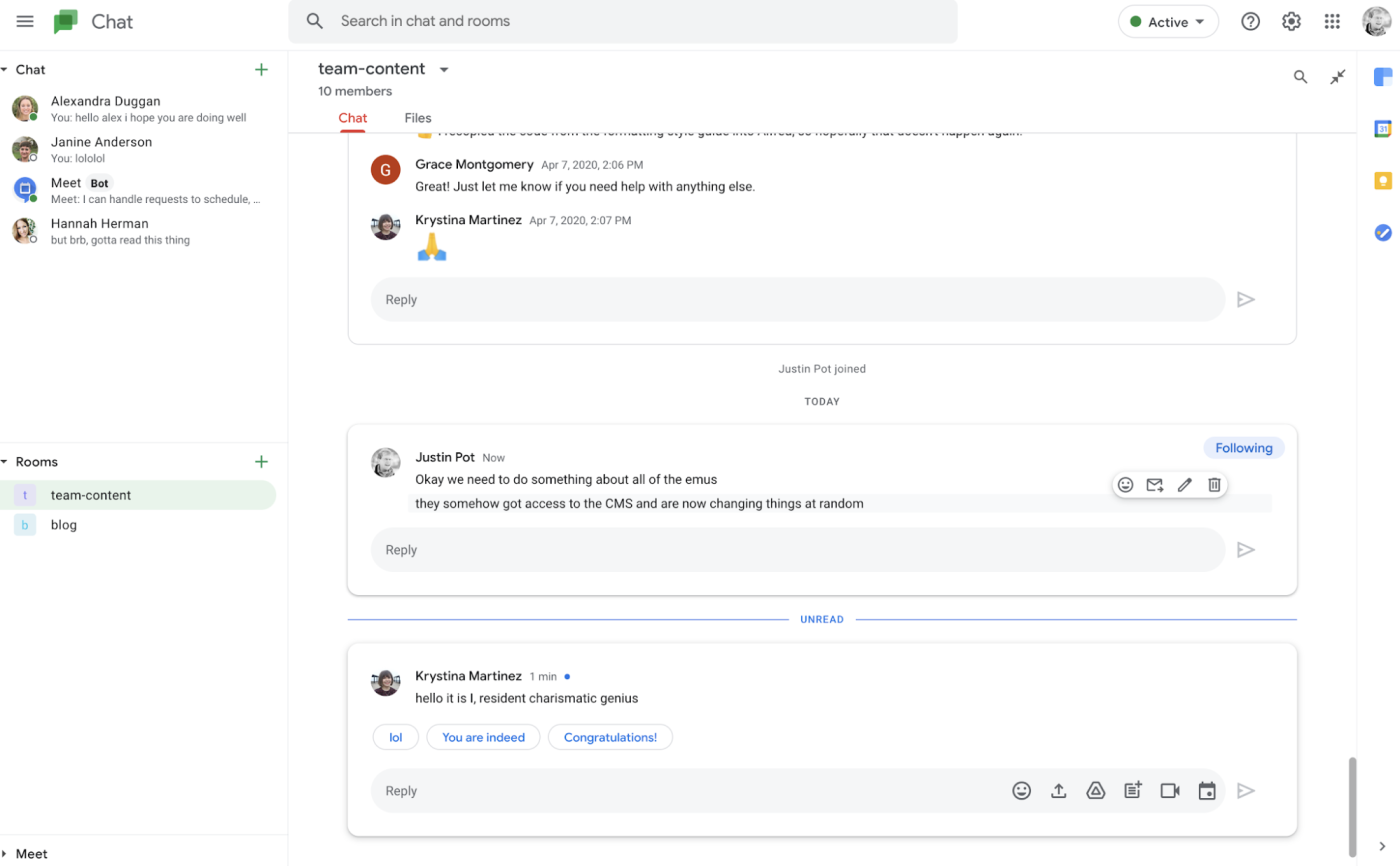 Main features
Goole Chat was known earlier as Google Hangouts. It's a perfect solution for those who are using Google Workspace and need to have quick access to Google Calendar, Google Meet, or Google Drive. It enables you to create rooms, which you can join and leave, although sometimes the user interface could be too complicated.
Thanks to many Google integrations it's super easy to start video chats, share files, give access to them and manage the whole team no matter if it's the sales or marketing team.
For whom
For everyone who uses Google Workspace, small and big teams, no matter what branches
Pricing
Google Chat is a part of Google Workspace, so it offers four plans: Business Starter: $6 per user per month, Business Standard: $12 per user per month, Business Plus: $18 per user per month, and Enterprise: contact Google.
Troop Messenger
A Team Communication Tool with Unique Work Productivity Features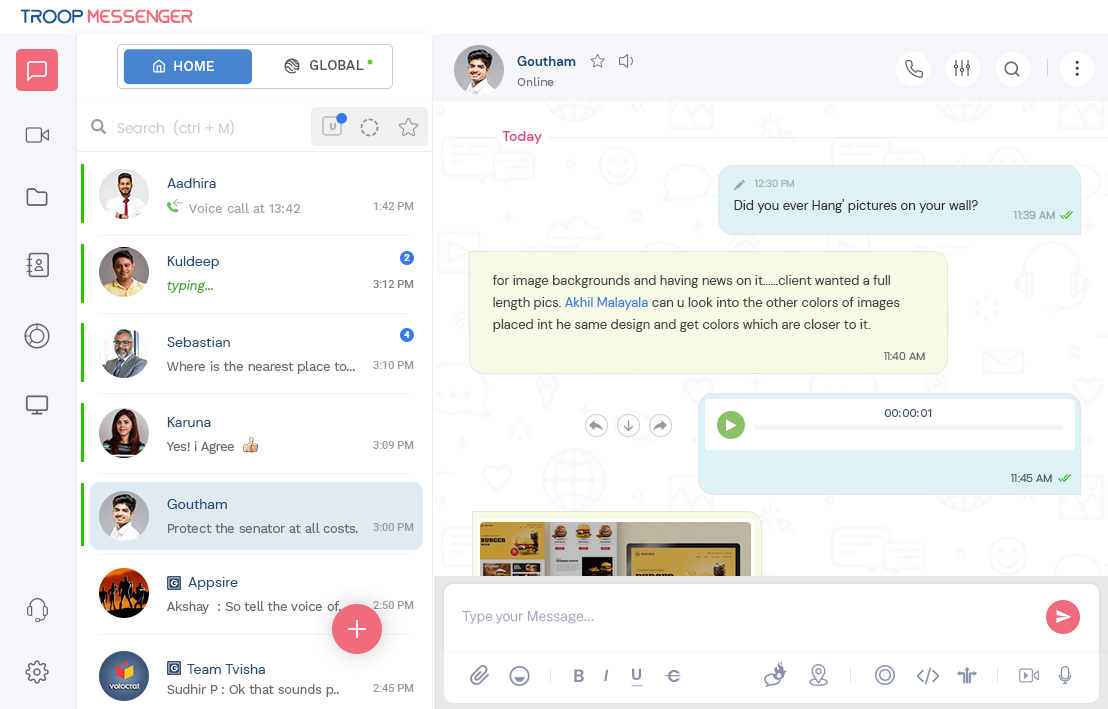 Main Features
You might not find such a range of chat messaging features in any other tool like Troop Messenger does! It lets enterprise teams of all sizes communicate across its 1:1 messaging, group chats, audio messages, Forkout messaging, Burnout chat, and message-to-self. Apart from the standard collaboration features such as group calling and remote screen sharing, it supports exclusive developer-collaboration features such as code-snippets and Jointly-code editor for supporting their special coding needs.
Troop Messenger offers a guest user feature, the Orange Member, where you can let your customers, clients, non-employees, and stakeholders join the application to have seamless work conversations. It has rare work productivity features like chat area filters, recall, message-edit, file deck, text search, read-receipts, global search filters, wallpapers, and others, helping teams save their productive work hours.
This office messaging platform offers On-premise, Chat APIs, Custom Apps, Logo Branding, and White Labelling apart from its pay-as-you-go SaaS.
For whom
Troop Messenger is for everyone's office internal communication. It is intended for startups, SMEs, large enterprises, healthcare, government, defense, cadre management, NGOs, and other organizations. Currently, it is being used by a few of the world's most popular defence and space agencies.
Pricing
Troop Messenger offers an Enterprise Free Trial for 7-days. Besides, It has the paid plans of Premium at $2.5/per user/per month and Enterprise at $5/per user/per month. The Superior plan is coming soon.
To sum up
A professional office suite, even this remote, requires professional tools. Communication is one of the most important issues in a well-run company, so it's worth saying that without ensuring proper conditions to communicate sooner or later there will be problems.
As you can see there is a wide choice of team chat apps, but following our tips, we believe that you will be able to choose the best one. Remember that a happy team is an effective team and good luck!