Your Microsoft Teams Alternative for 2023!
December 28, 2022
by Kate Borucka
3 comments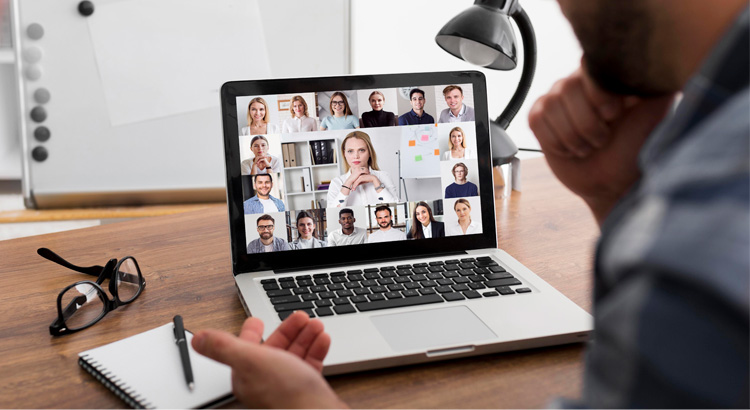 There is no doubt that Microsoft is one of the largest giants in the IT market. Its tools, apps, and products are widely and keenly used by many people, if not the entire world. Yet, due to different reasons, people decide to choose other options. No surprise! After all, the market offers a vast amount of interesting software. If you're looking for an alternative to Microsoft Teams, you're in the right place!
Why is Microsoft Teams such popular among team collaboration tools?
Microsoft Teams "is a platform that combines workplace chat, meetings, notes, and attachments. The service integrates with the company's Office 365 subscription office productivity suite, including Microsoft Office and Skype, and features extensions that can integrate with non-Microsoft products." 
Every tool, even though may seem similar, is different. The same goes for Microsoft Teams. There are also many project management software for Microsoft Teams and Outlook.
The tool's popularity have increased significantly since the pandemic started. And even after years of usage many users point its flaws, it's still one of the most often chosen team communication tool with video calls and team chat features.
But what makes the tool amazingly popular is that all the key features it offers are free to use.
So, why is it a good idea to consider using an alternative to Microsoft Teams? Because the app may not be suitable for everyone, you may not like it, or its features may not correspond to your business needs. And there are even more reasons.
No matter what your reason is, take a look at the top alternatives to Microsoft Teams or check our Teams time tracking integration.
Find Your Alternative to Microsoft Teams!
#1 TimeCamp Planner
👉 Manage tasks and use real time chat without jumping between tools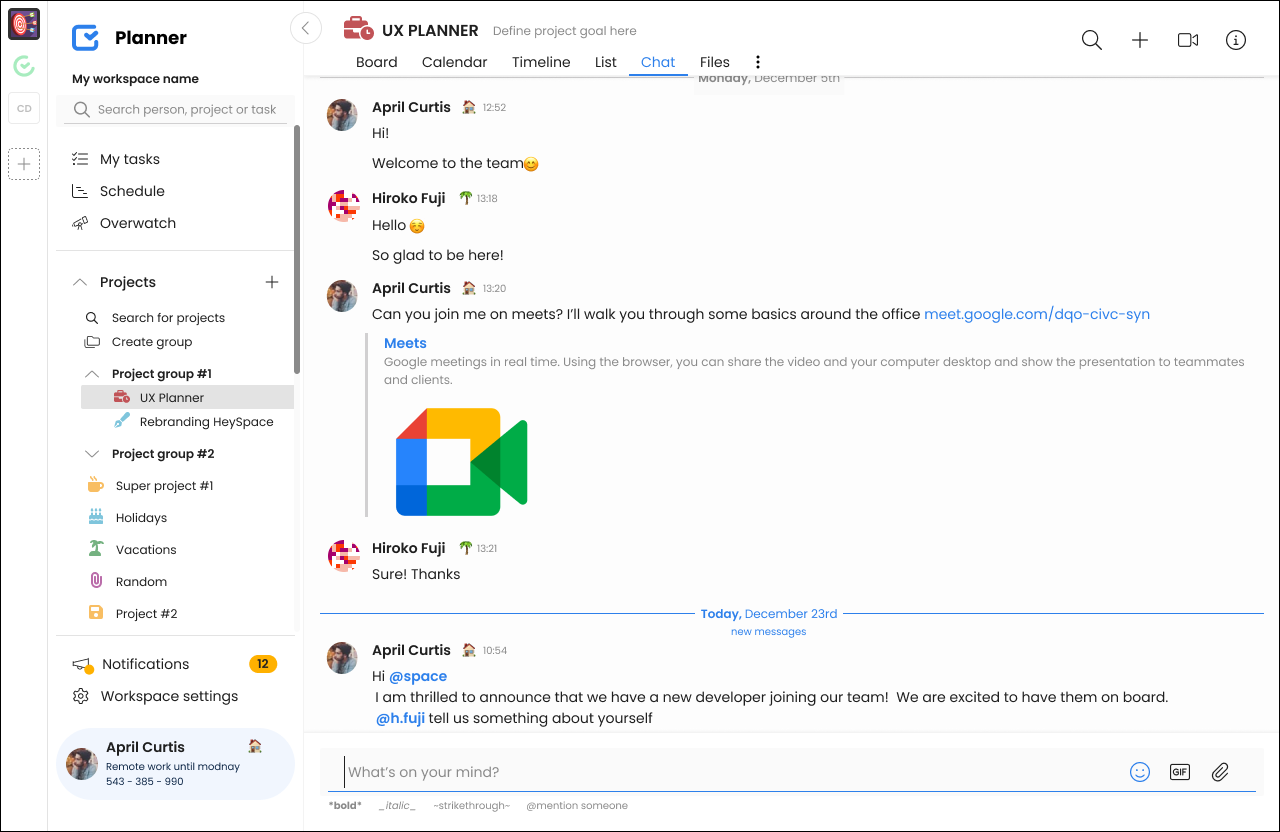 First on the list of apps like Microsoft Teams is TimeCamp Planner. Besides being a collaboration and communication tool (and a free Microsoft Teams alternative), TimeCamp Planner is also a great task management software that successfully replaces other apps like Teams, especially in companies that need robust project management and group chats features.
TimeCamp Planner improves work and your team's productivity with many useful features:
It's completely free for up to 5 users.
You can convert every message into a task,
Every task can be adjusted – you can set a deadline, assign people to it, add tags, description, files, tag team members and comment on it. All to keep you updated on task progress.
It provides you with file sharing (from computer or thanks to Google Drive integration),
Kanban task management
In MyTasks view, you can find all tasks assigned to you, so you won't forget about a task anymore,
Video calls for group chats and direct conversations for faster team communication
TimeCamp Planner gives you space to freely and smoothly collaborate with your teams and clients. No more switching between apps and tabs. You have everything in one place! What's more TimeCamp Planner integrates with TimeCamp, one of the best free time tracking software for freelancers and top 10 time tracking software with desktop app. Use them both to get the most out of your work!
Pricing: Price: Free plan is available for up to 5 users; Pro plan costs $2.99 per user per month, billed annually ($3.99 billed monthly). 
Sign up for TimeCamp Planner today!
#2 Wire
👉Team collaboration tools suite that ensures exceptionally highest security standards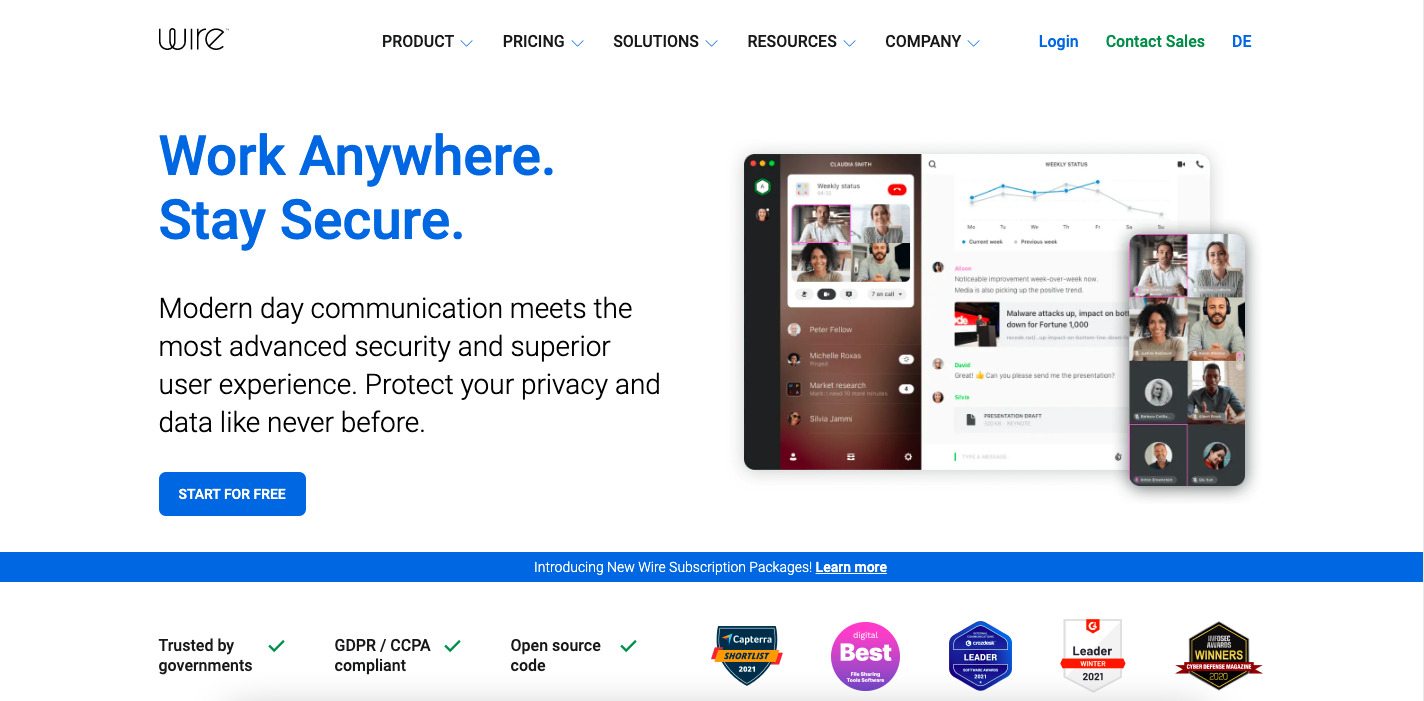 Wire is another alternative to Microsoft Teams worth considering. Wire is a collaboration tool fostering on users' security. The software allows you and your team to share files and information safely, make voice calls, video conferences with screen sharing, chat or create groups to discuss different tasks and projects. You can also talk to your friends and family via a protected and safe channel.
You can create encrypted groups and invite other people to them, for example, your clients. If you care about security and want your information to be secured and encrypted, Wire is a solution that you should give a try among other best Microsoft Teams alternatives.
Pricing: Free plan is available; however, the number of users is restricted to up to 5 team members. Wire for Enterprise starts at $7,65 and includes other features like add-ons and integrations. There's also a custom plan for governmental organizations.
#3 Winio
👉 Team chat with task management features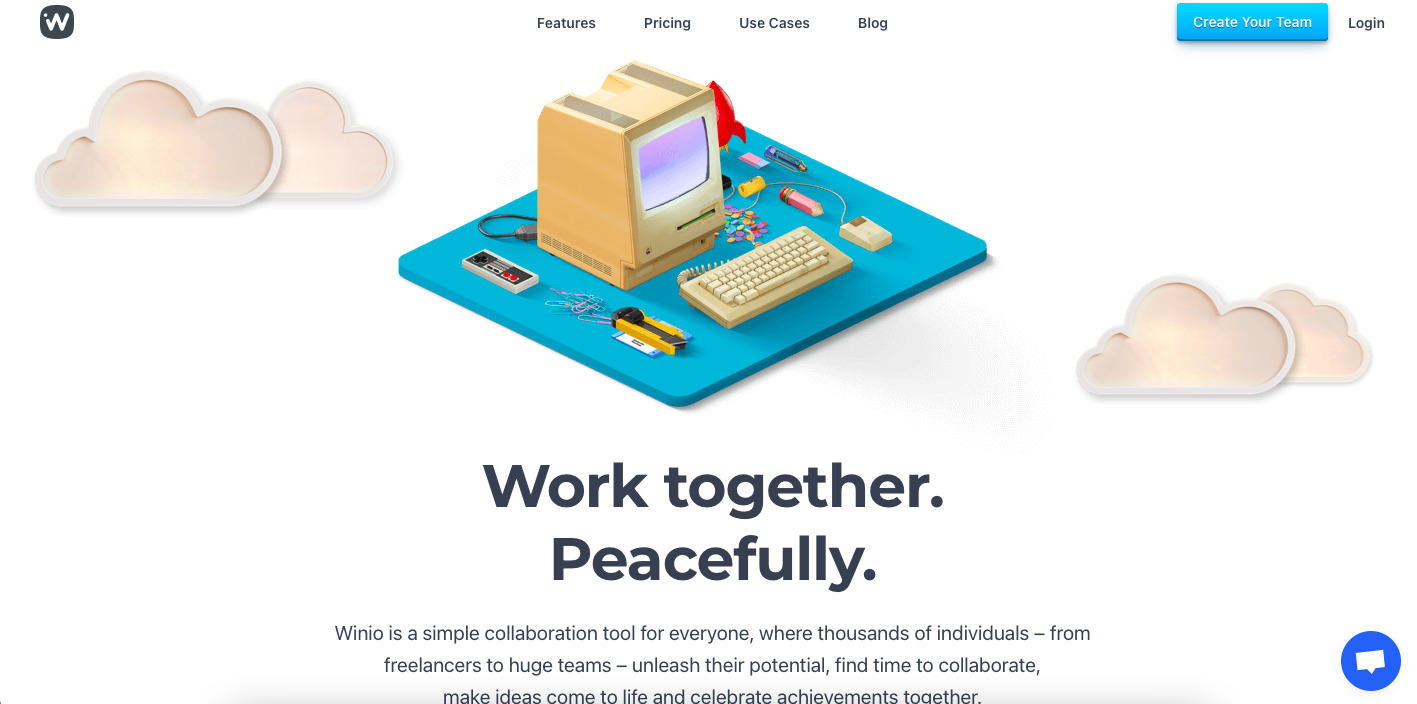 Winio is a collaboration tool for teams of any size, freelancers, and individuals. In Winio, you can easily see what your team is working on and what has to be done. The tool also eliminates the need for e-mail within your organization and gives you an easy and effective communication channel. Thanks to that you have all the messages and important data in one place.
You can create threads and discuss with team members on tasks and projects. If you need to attach a file to the project to always have access to it and let your team preview it. In Winio you can share processes, take meeting notes or even collaborate on specifications.
Winio, similarly to HeySpace, allows you to keep all important information in one place. It's a productivity-boosting software and a fantastic alternative to Microsoft Teams.
Pricing: Winio offers a free plan, but it's available only for teams of up to 5 users. To extend the number of seats or file storage you need to pay at least $6,89 per user per month, billed annually.
#4 Slack
👉 Team chat collaboration platform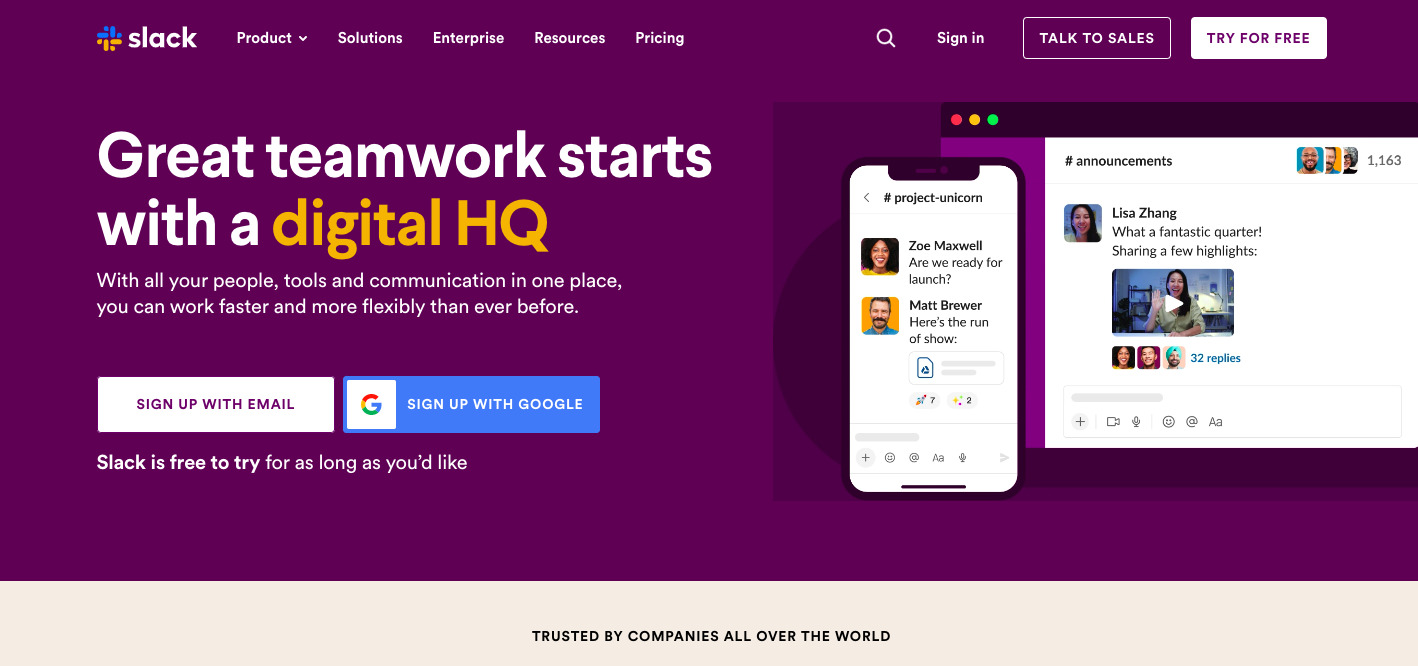 If you're tired of apps like Microsoft Teams chat or Google Chat, give Slack a try. In fact, the tool is is such popular that it doesn't need to be introduced. People love it for its ease of use and functionality. Slack can be considered one of the Microsoft Teams Alternatives if you need a tool to make communication transparent and smooth.
In Slack, you can create channels for different teams, projects, or tasks. You can send a group or individual message to your team members, create threaded conversations, use file sharing, search messages for important information, and create workspaces. It's a simple-to-use yet comprehensive team communication tool, so if you're looking for an easy solution, Slack is the right choice.
Pricing: Slack is one of the free alternatives to Microsoft Teams, but the capabilities of the free plan are quite limited. If you need other features like unlimited chat history, group video meetings with screen sharing, and unlimited file sharing, choose paid plans that start at #7.25 per active user per month.
#5 Zoho Connect
👉 Centralized solution for team communication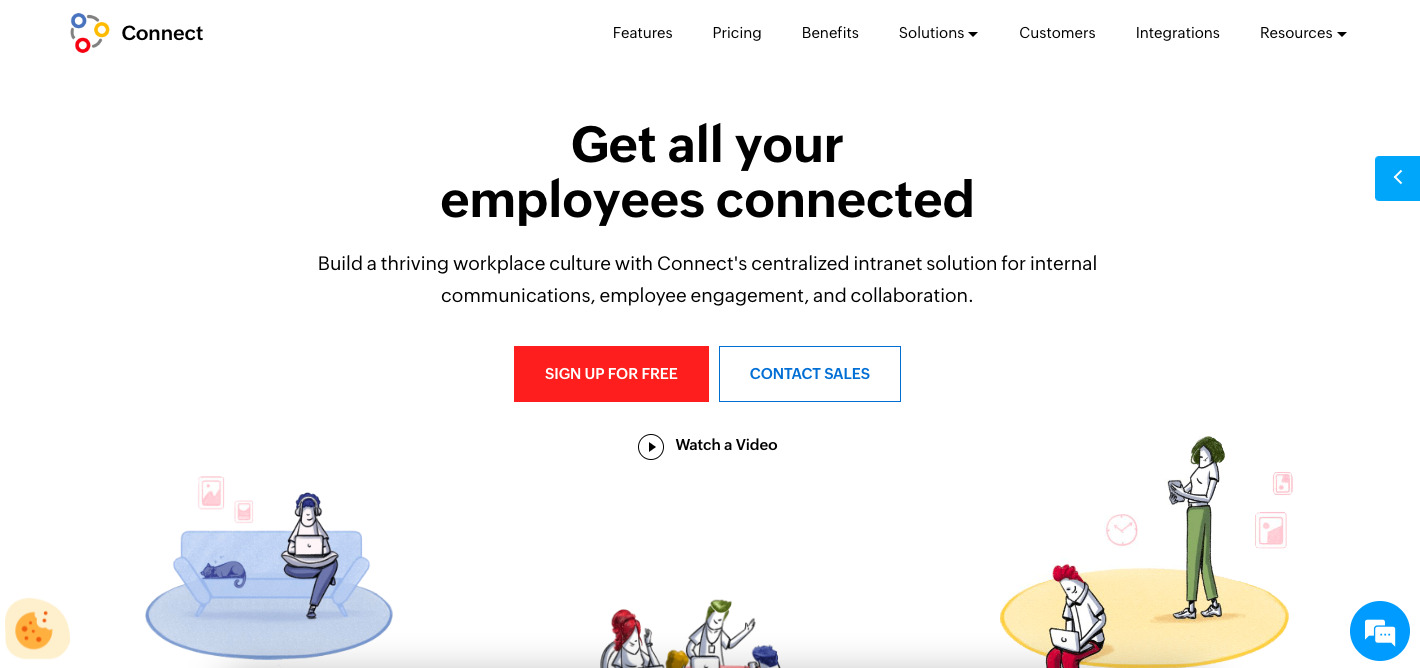 This tool is excellent for people who need to bring teams and resources together to have it all in one place. Zoho Connect is another alternative to Microsoft Teams. With features enabling smooth collaboration, you can get more done and better communicate with your team.
In Zoho Connect, you and your team have the ability to create and edit documents in real-time to always keep up with work's progress. Use intelligent forms to collect and process data. Build workflows for more effective work and create channels to exchange ideas and make faster decisions.
If you're already using other Zoho products, integrating Zoho Connect with them will improve your work even more.
If you want to make the most out of Zoho, check out our integration with Zoho!
Pricing: If you're looking for a tool with free version, Zoho Connect, unfortunately, isn't a free Microsoft Teams alternative. The tool prices start at $0,84 per user per month, billed annually. However, the minimal number of users required to create an account is 25.
#6 Troop Messenger
👉 Instant messaging app for team collaboration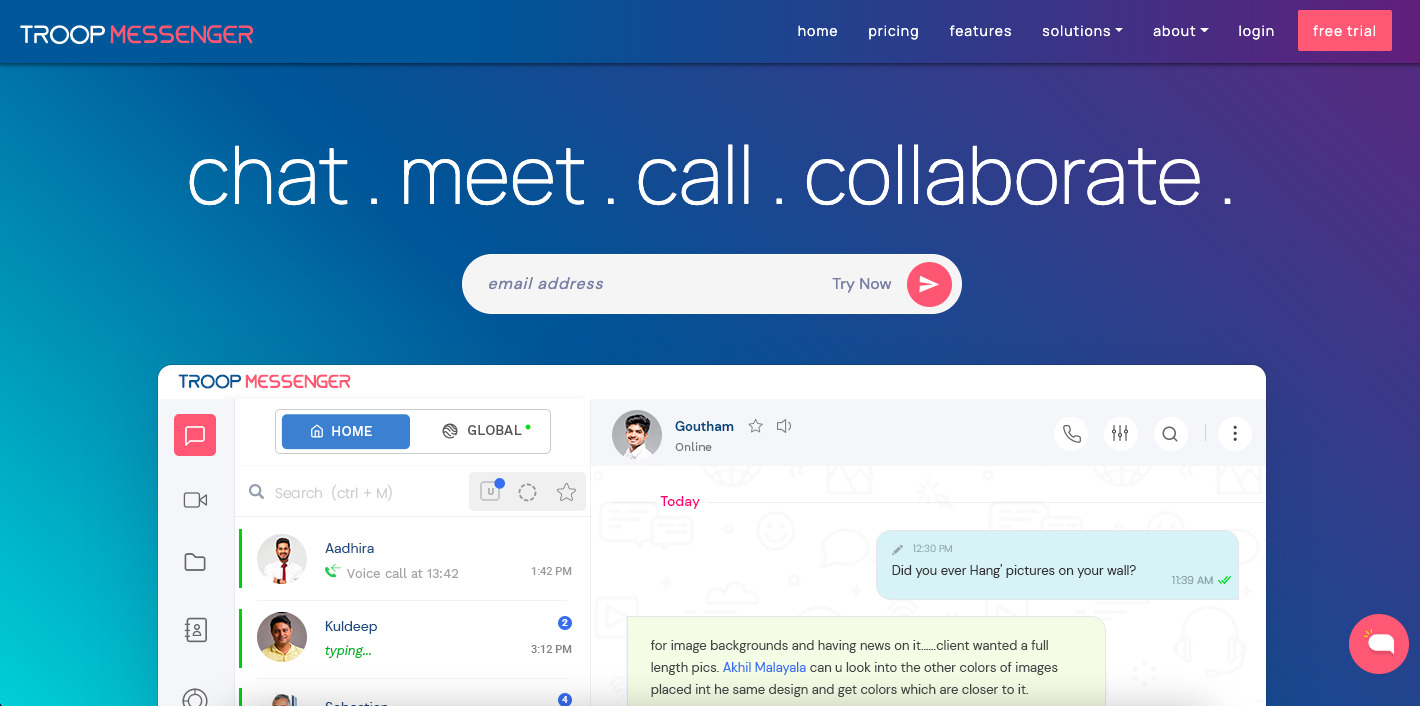 Troop Messenger is another best alternative to Microsoft Teams. If you're seeking a collaboration tool, that will help you communicate more effectively among your team, between multiple teams within your company, or between multiple units within your company in different geographical locations, you are looking right at it.
It is a secure and reliable office chat app in which all of your information or data exchanged is protected; hence, other organizations such as Defense, Finance, Banking, Health Units, and among others, can use it.
Troop Messenger supports all the essential delivery models, including On-Premise, SaaS, Chat APIs & SDKs, and so on. It has a variety of features that are aimed to boost team collaboration.
It is integrated with Zapier,
Advanced search filters will help save from excess search time, for example, you can search for a user's messages in the group, or search for a file, image, etc. specifically,
Edit the message
Features like Reading receipts, Respond Later, Unread Messages will aid you in avoiding the communication gaps,
Some of its relishing features are: Remote screen sharing & controlling, Live Location Tracking, Burn Out – A secret or a private chat window, Jointly Code – It allows multiple programmers to work on the code simultaneously while they are on a group or one-on-one audio/ video call, Orange Member – Allows guest users with limited access, Fork Out –  You can send a message to multiple users or multiple groups at a single-go
Pricing: A free plan isn't available, paid plans start at $5 per user per month, billed annually. Optional add-ons like app synchronization monitoring users' chat history require additional costs.
#7 GoToMeeting
👉 Engaging video conferencing platform to get teams connected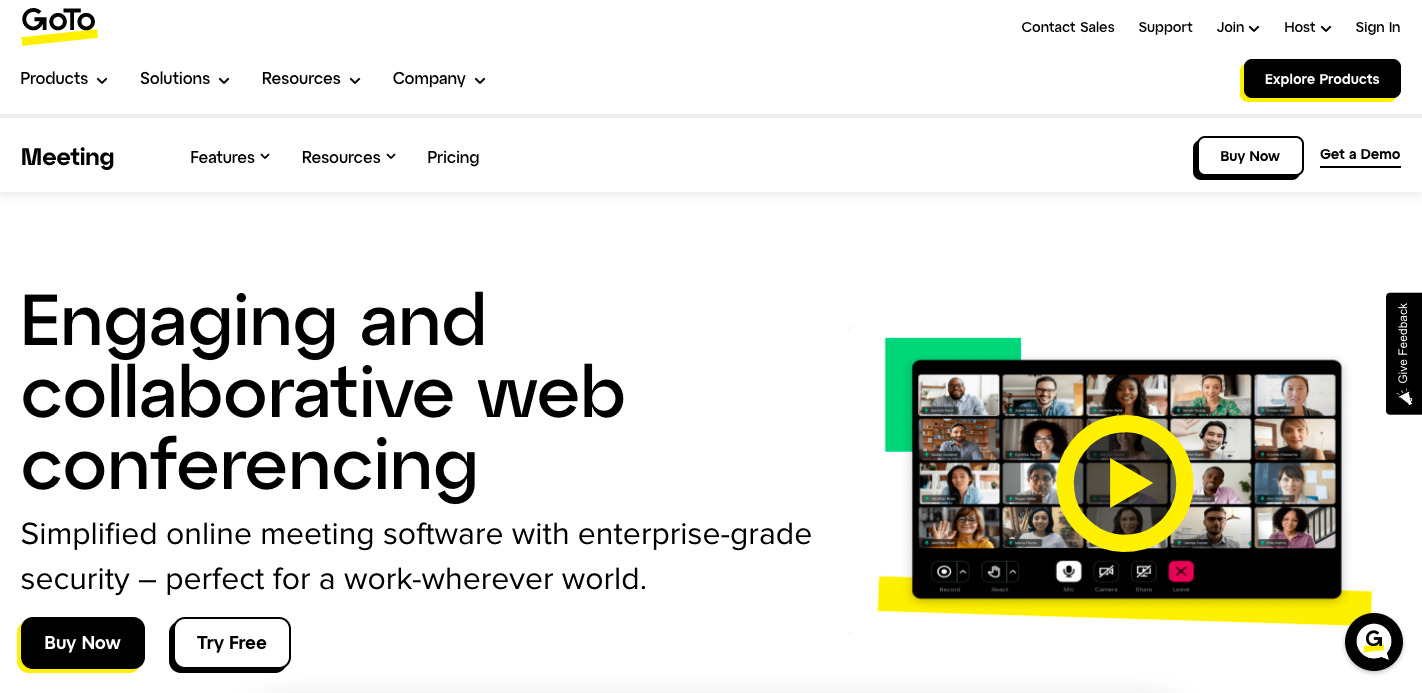 Another of Microsoft Teams competitors is GoToMeeting, an online meetings software that claims the highest standards of secure file sharing and video calls. The tool is a part of the GoTo suite, which provides teams with various solutions that streamline team communication and remote accessibility.
GoToMeeting is dedicated mostly to modern teams that need robust, advanced features for video conferencing. Besides the usual screen sharing available from every device, it offers meeting drawing tools that enhance the presentation in real-time, custom backgrounds, and commuter mode for a distraction-free environment. Video chat and instant messages are also available.
You can read and send the participants the transcriptions of recorded video meetings when finished and store the meetings in the cloud to rewatch them later. Besides, this Teams alternative delivers the diagnostic report of each meeting so you can analyze their performance.
Pricing: Even though GoToMeeting is a great Microsoft Teams alternative, it doesn't offer a free version, which may be a problem for small teams. Luckily, pricing is quite affordable; the cheapest plan costs $12 per organizer per month and offers meetings of up to 150 participants.
#8 Google Workspace
👉 Fully-packed team collaboration platform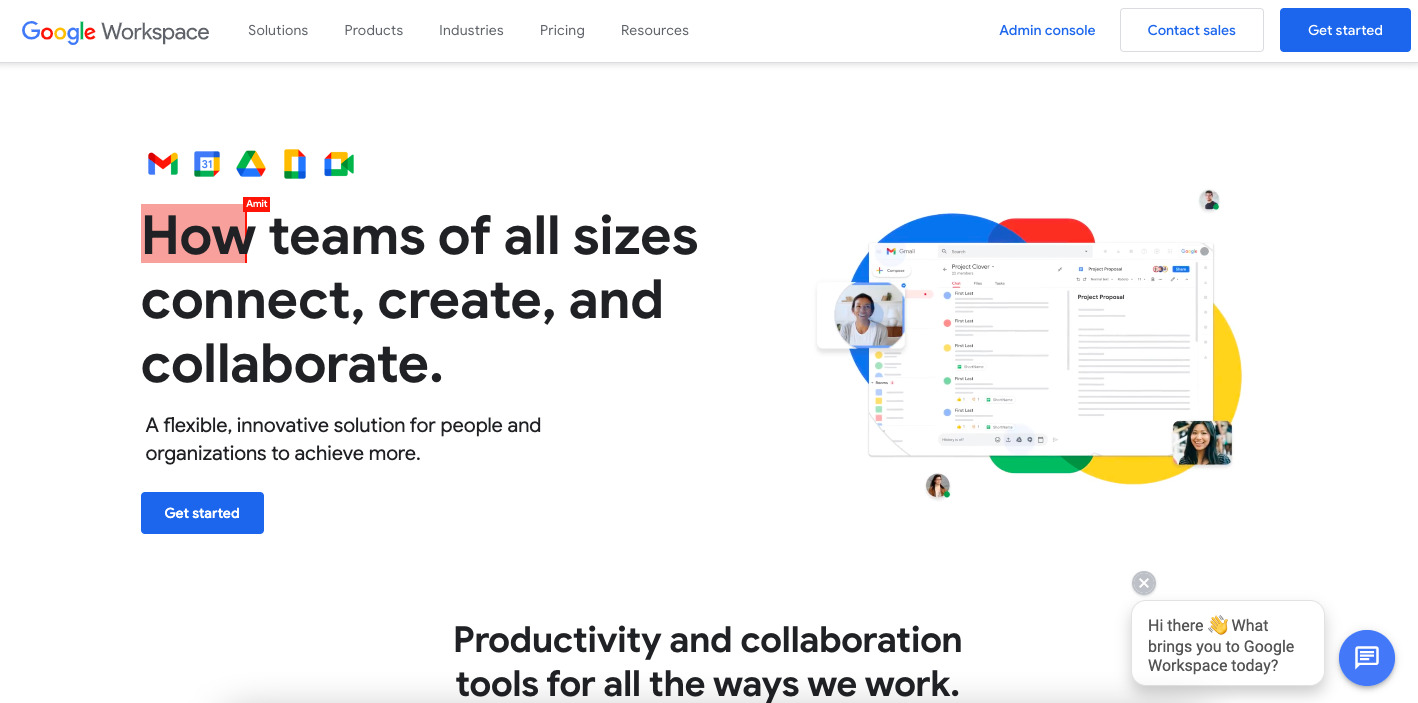 I'm pretty sure most of us use at least one or two of the wide range of collaboration tools offered by Google – at least Google Calendar, Google Docs for document editing or Google Drive for file sharing and storage.The Google Workspace suite ensures the whole team a secure collaboration and seems to be an excellent MS Teams alternative, even though it doesn't offer a free plan.
No matter if you need just a team chat (team chat (direct messaging to chat one on one and group messaging), unlimited cloud storage, or project management features, video conferencing for group meetings and mobile phone calls, Google Workspace has it all. It also provides many opportunities to connect the suite with external apps and is available for every mobile device.
Pricing: Google Workspace isn't a free Microsoft teams alternative – prices start at $6 per user per month; plans vary depending on the number of meeting participants or data storage, but they all include all apps available in the suite.
#9 Cisco WebEx
👉 Cloud video conferencing tool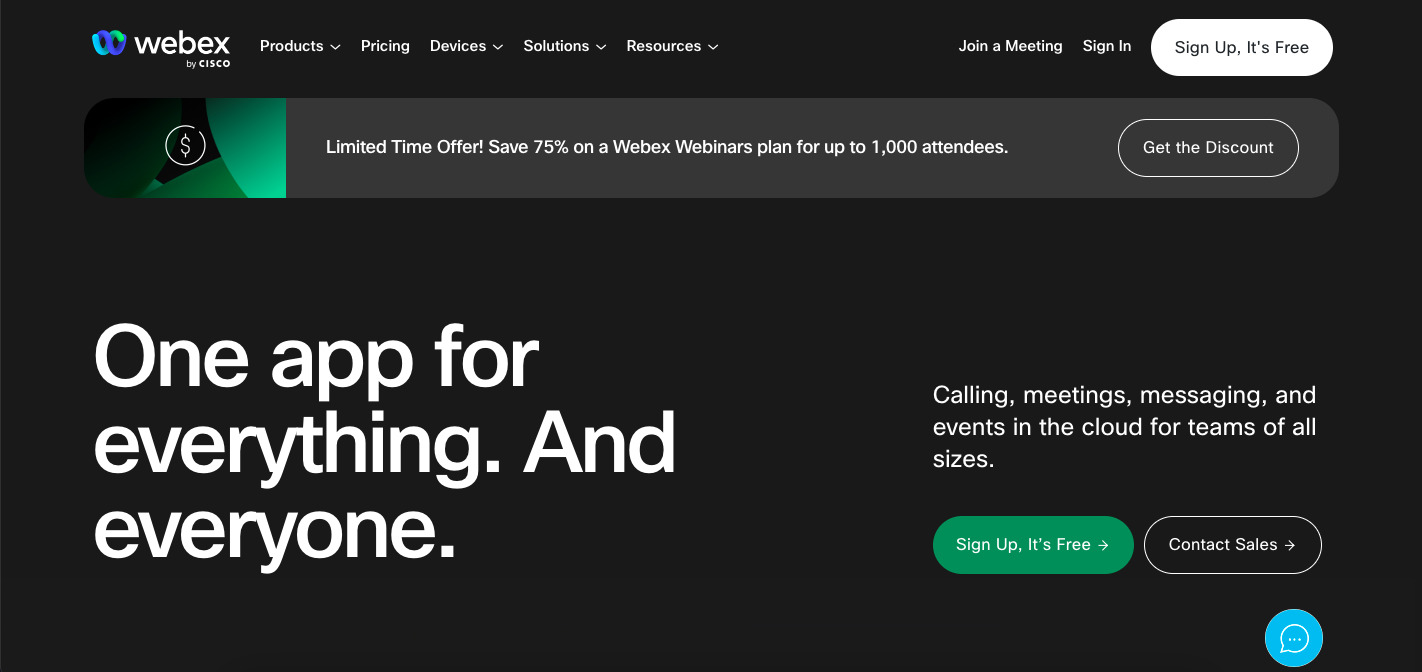 Webex by Cisco unified communications tool is another worth-mentioning Microsoft teams alternative. It's a rich-packed team collaboration tool, a free platform in its basic version, which can be a good option to consider for small teams.
In Cisco Webex offer, you'll find everything you could expect from apps like Teams, especially in terms of video conferencing. Cisco Webex teams platforms provide you with key features like cloud calling for video and audio calls; however, the number of participants that are allowed to join the meeting depends on chosen plan.
Besides, Cisco Webex Productivity Tools, as one of the MS teams alternatives, allows instant messaging, file sharing, and storage and integrating it with other apps to extend its capabilities.
Pricing: Fortunately, Cisco Webex is a free alternative to MS Teams; however, in its limited version only. Bigger cloud storage and a number of meeting participants, as well as other features, require additional costs – paid plans start at £11.50 per license per month.
To Sum Up
All the above-mentioned tools are very similar to Microsoft Teams in terms of collaboration. But their features are slightly different. Even though working with Microsoft Teams gives you the flexibility of work around Microsoft's tools, they are not suitable for every type of business. Using various tools may give you more elasticity in your work.
Which tools will you use? The choice is yours! Let us know what app you prefer or which one we should include in the list.
See also: If you prefer Linux to Windows, make sure to check the Top 10 Time Tracking Software for Linux to enhance your work!
---
Co-author: Ola Rybacka, Content Specialist at TimeCamp