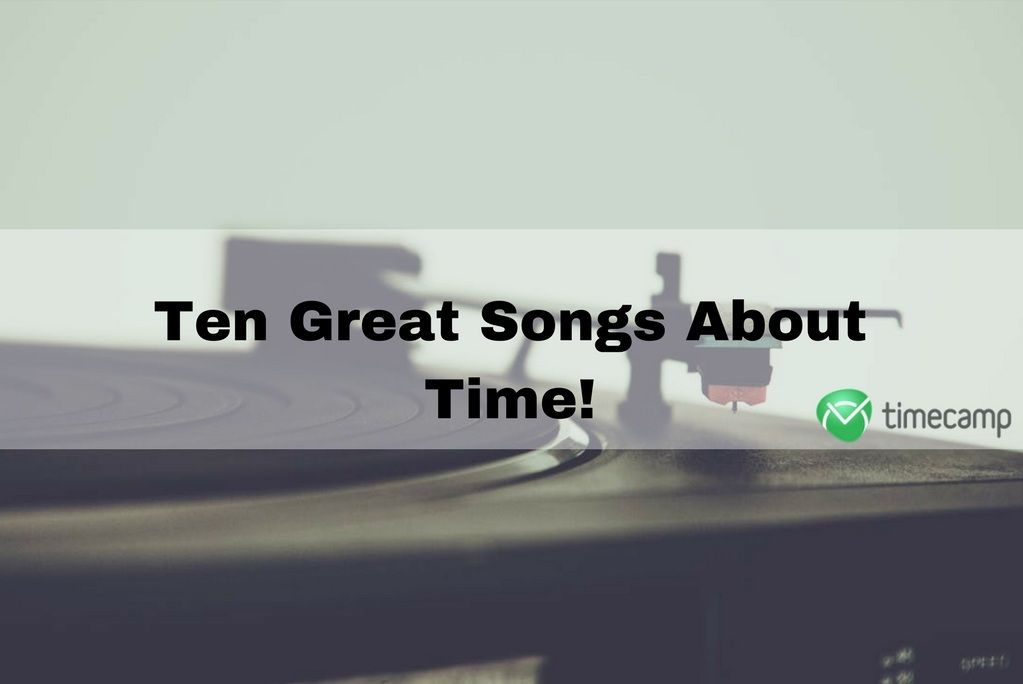 We wouldn't like to get you bored with too much technological stuff. We do love time tracking software, developing it is, after all, what we decided to do for a living. Watching, as our TimeCamp grows, is like watching your child take its first steps, and then suddenly becomes the captain of the school sport's team, gets Harvard's scholarship, and becomes the president of the Galaxy.
Yeah, we probably got a little overexcited. But that's how we are when it comes to time tracking software. However, we realize that to our sane, non-fixated-on-software readers reading about the TTS may appear tiresome. Thus, let us relax today, and listen to some music. Below you will find a (play)list of 10 songs that were picked especially for the reason to raise one's mood. Well… also, because they have the word "time" in the title. That's the SEO thing, you know. Oh, and because we couldn't find any songs that would have the phrase "time tracking software" in their titles…
They are oldies. Blame it on the author's taste in music. Not that he dislikes the pop-music of our era, he just cannot find any depth in it.
10. 'How Many More Times' by The Led Zeppelin
"How Many More Times?!" – asks Robert Plant at the beginning of this magnificent piece from Rock n' Roll's Pantheon of classics. A question that probably comes to our readers' minds when they see yet another post about the best time tracking software. It's TimeCamp, obviously. But, in case you have doubts, you can check on our lists – here, here, as well as here, and also there.
Sorry! Back to the song – this 8 minutes 30 seconds long song comes from the band's debut album named simply Led Zeppelin and it's not only the last one but also the longest there. This song was, in author's humble opinion, the utmost proof that the band that just arrived at the England's music stage, will settle there for a long time. Led Zeppelin definitely played a big role in Rock's evolution. It's a shame that the tragic death of the drummer, John Bonham, has led to their disbanding. As great, as the studio version of this song is, the live has so much magic in it, that we chose to share this one:
9. 'Out of Time' by The Rolling Stones
Among dozens of their hits, this one is hardly recognized. Actually, it gained more attention, when it was covered by Chris Farlowe a few months after its original release (number 1 in the UK Singles Chart!) The first version features a part played on marimba, an exotic percussion instrument. The part was played by Brian Jones, a great artist, who, unfortunatelly, couldn't handle the fame, and died at very young age.
8. 'Masz na to Czas'(You've got time for that) by Breakout
We couldn't resist and had to share with you a piece from the local  folklore. Breakout is a Polish blues rock band from the 1960s. It was started by one of the best Polish guitar players of that time, Tadeusz Nalepa. The band had a few number one hits but in 1970 the radio stopped broadcasting their music, as they were criticised for their pro-West lifestyle. However, they came back even stronger, with a release of the album 'Blues' which was a milestone of the Polish blues and rock scene. It was very hard to play the "rotten, western music" behind the Iron Curtain but Breakout has proven that it was possible.
7. 'Time Has Come Today' by the Chambers Brothers
The song, as well as the band, never managed to get the worldwide fame.  They had bad luck, dishonest managers and promoters deprived them of their money, and they group was forced to split up in 1972. This song was their closest approach to get to the top of the Billboard Hot 100, spending five weeks at #11. However, not only it is good, it became one of the symbols of the 60's, being covered many times, and appearing in a significant amount of movies, including this year's Hollywood blockbuster, Kong: Skull Island. It is also considered one of the landmark rock songs of the psychedelic era.
6. 'Time in a Bottle' by Jim Croce
Jim Croce wrote this song after finding out that his wife was pregnant. It became a hit single reaching #1 place on the weekly U.S. Billboard Hot 100. Song gained a lot of popularity when it became a "Quicksilver team" in the movie X-Men: Days of The Future Past. Although the lyrics are sad, as they talk of the passage of time and mortality, the composition is beautiful, full of love, and it brings a tear to one's eye. Jim asks for more time to enjoy life, which is a grim irony, because just a year later he died in a plane crash.
5. 'Take Your Time' by Buddy Holly
The oldest one on this list, written by the legendary Buddy Holly, a pioneer of mid-1950s rock and roll. It does not stand out as much as other songs of this fabulous musician and his band but it's always nice to listen to the sweet voice of Buddy Holly – a person who inspired such figures as The Beatles, The Rolling Stones, Bob Dylan, Eric Clapton, Elton John, and many more. The legacy he left is, unfortunately, humble – a tragic plane accident ended his life all too soon. Many music scholars claim that he could have been bigger than Elvis.
4. 'Summertime' by Janis Joplin
Actually, this is the oldest song on this list. However, the version presented here comes from the 1960s. It was composed in 1934 by George Gershwin and quickly became a jazz standard. Billie Holiday made it a hit in 1936, and many more after her recorded great versions of this song, but the one that gained the biggest praise and is the most well-known among them is undoubtedly the interpretation of Janis Joplin.
3. 'Child in Time' by Deep Purple
Deep  Purple is the band that together with Led Zeppelin shaped the face of heavy metal and modern hard rock. However, they started as a progressive rock band, and the music that you can hear on their albums is not as heavy as you may think. Just listen to this classic from the early 70's. A set of genius instrumentalists and a singer with the voice powerful as a thunder are now legendary. This is one of the reasons why.
2. 'Times They Are A-Changin' by Bob Dylan
One of the tens of hundreds (if not thousands) of songs written (this one in 1964) by they last year's Nobelist, on which he foretells the change that the world will soon undergo. He was right, and many started to see in Dylan someone more than a musician. A prophet, a voice of the generation, he was called. No wonder, if you take a look at the lyrics he wrote (which will lead you to fully agreeing with the Nobel Committee.) This song is just a hint of man's genius. And it even has a music clip, which was quite rare back then, oh but the times, they were a-changin'.
1. 'Time' by Pink Floyd
Number One on our list. Maybe because the title consists of our keyword but more likely because the craftsmanship of this piece is simply godlike. Pink Floyd is a band that appears only once. The music they recorded… we doubt there will ever appear another band that will be able to play with such finesse. From their eighth albumThis time a studio version, as it has these amazing intro recorded in the clock shop. Hope you are not sleepy! -.^