10 Motivational Songs To Boost Your Mood in the Morning!
March 22, 2017
by Ola Rybacka
2 comments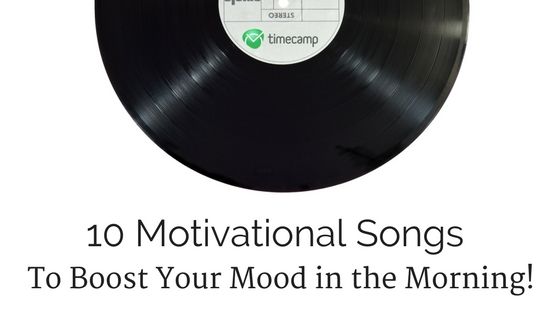 Have you ever needed a little help to wake up in the morning? I feel it very often – it's not that easy to avoid these snooze marathons, especially on Monday and when the weather outside is awful. The daily duties remind us about the real life, but all we want is to stay in bed few minutes longer.
This attitude is by far the straightest way to be late at work. That's why we should start a day with a shot in the arm, and I'm not saying just about the robust cup of coffee. Start your morning in an entirely different way with an appropriate soundtrack and turn your daily routine into a fascinating series episode! Rhythmic, melodious sounds that improve your physical performance – just turn the music on and the rest will follow!
Looking for more resources? Read also: How Music Improves Productivity?
Here are 10 Motivational Songs To Jump Start Your Day!
Franz Ferdinand – Do You Want To
The first sounds of this song put us in a good mood! It just screams happiness and makes us dance to the rhythm. Wake up and sing with Alex Kapranos "I'm gonna make somebody love me!".
https://youtu.be/tDwaDIbrfxA
Katrina and The Waves – Walking On Sunshine
Kickstart your day with this wonderful girl and her band! It's not that easy to stop smiling when listening to this song, is it?
Somewhere Over The Rainbow – Israel Kamakawiwo'ole
This song makes most of the people cry, but it also gives the hope – follow the words and believe me, you won't stop humming the tune!
Wham! – Wake Me Up Before You Go-Go
Isn't the George Michael's voice hypnotizing? Sing with him into a toothbrush and feel free to dance in your underwear and ensure yourself a good mood for the rest of the day!
Nina Simone – Feeling Good
The smooth voice is singing "It's a new dawn, it's a new day, It's a new life for me." What more do we need?
https://youtu.be/OfJRX-8SXOs
Florence and the Machine – Dog Days Are Over
Is starts with the soft tune of harp, but then it turns into a powerful song, full of positive energy. Try not to clap your hands while listening to it!
Pharrell Williams – Happy
Believe me or not, but the most efficient way to wake up in the morning is dancing! This one is perfect to do some jumping before going to work – just try it singing "because I'm happy!".
Grouplove – Tongue Tied
Every time I hear this song I feel like being at a party, sharing a great time with the best friends. Give it a try and lift your spirits in the morning!
Dire Straits – Solid Rock
I'm listening to its version from the "Alchemy" live album almost every morning, pretending to play the guitar like Mr. Mark Knopfler. I don't have my guitar, that's why sometimes I use the broomstick… Join me; it's the most energetic rock song I've ever listened to!
https://youtu.be/T9bhoAZ1SLk
Red Hot Chilli Peppers – Happiness Loves Company
For those who prefer listening to the calmer songs to stimulate their minds at the morning, I highly recommend the last song! The piano section invigorates and lifts the mood in a perfect way. Give it a try and see it for yourself!
Listening to the music relaxes us, helps us find the escape from the noisy workplace and focus more on the assignments. The familiar sounds wake us up better than the cup of coffee so that they improve the physical performance.
Music is an essential part of our lives and the best part is that you can find music 100% free of royalties online. With the advent of streaming services, we have access to a vast library of music without having to worry about copyright infringement. So why not take advantage of it and start your day with some uplifting and energizing tunes to give your day a boost?
Believe me – these ten motivational songs above make the perfect soundtrack to jump start the day!
Do you think that music boosts your productivity? Measure it with time tracking software!
Start tracking time with TimeCamp!
---
Do you know any other songs to recommend for better waking up in the morning? Share them in the comments!