The 14 Best Presentation Software That Will Help You Steal The Show!
March 16, 2020
by Kate Borucka
No comments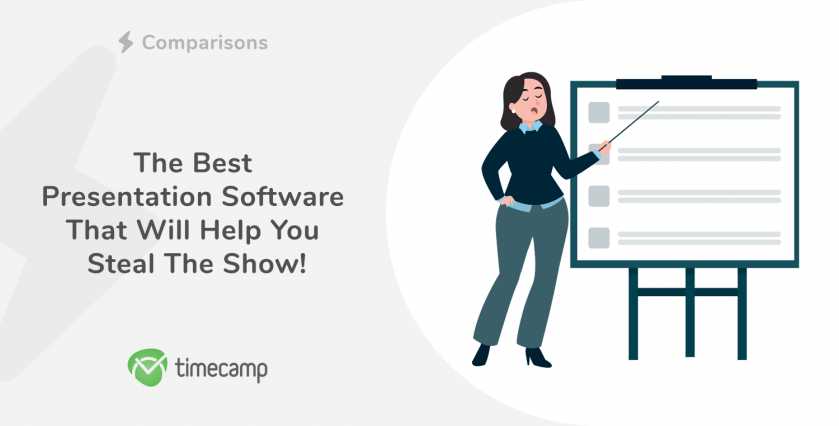 Presentation software is used by people all over the globe. At least once in our lifetime, we need to present, be it a school project, results of our student research or project plan at work.
If presenting is part of your job, you very well know the power of a good presentation. It should be engaging, effective, and thought-provoking.
In today's world, where people prefer visual experience, an interesting presentation is half of your success to deliver a good speech, lecture or host a valuable meeting.
How to Choose The Best Presentation Software?
To deliver an effective presentation, you need specific presentation software. Your audience should actively participate in the event, learn, and remember as much as possible. People love to ask questions, share their insights, and discuss. That's where good presentation software can help you.
Presentations don't have to be boring, you only need to choose the right tool. We've gathered the best presentation software that will help you create an engaging presentation for your audience, whether you're an individual, business owner, speaker or student. Here, you can find the best presentation tools with a variety of features and options.
1. Prezi – for engaging presentations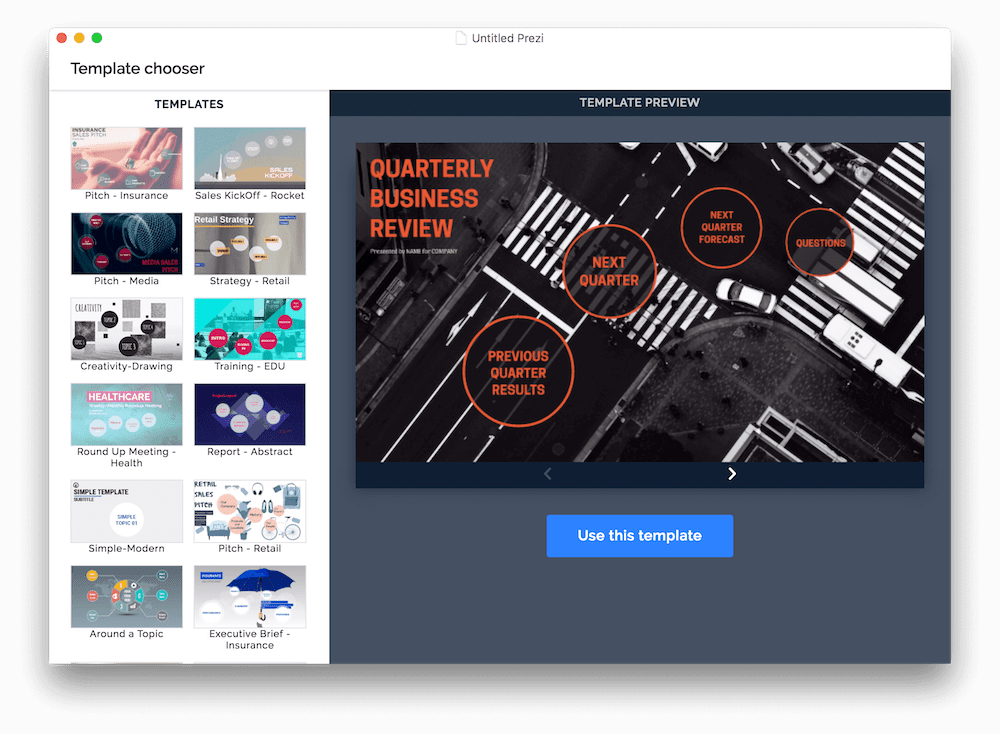 Unlike slides, Prezi's single, interactive canvas encourages conversation and collaboration, making your overall presentation more engaging, persuasive, and memorable. Prezi is one of the most popular presentations software thanks to its ease of use and fancy templates.
Prezi's latest offering, Prezi Next, is a full-lifecycle presentation platform that lets everyone easily create visually stunning presentations, deliver them in a more natural and conversational way, and analyze their effectiveness.
To see the effects of Prezi, check the Prezi's Staff Picks of the best presentations created by users.
Main features:
Open canvas lets you organize and view your presentation as a whole
Arranging content with a simple drag and drop feature
The "zoom reveal" function to focus in and unveil critical details (the feature Prezi is mostly known for as it helps to engage the audience)
Designer templates for all industries
Reusable presentations available in the Prezi's depository
You can upload presentations created in PowerPoint and improve it
Story blocks
Charts
Smart branding – you can match the presentation to your company's logo
Files attaching
Online and offline presenting
Analytics – you can track viewers as they progress through your presentation and know how much time they
Pricing:
Free 14-day trial available
Basic
Basic – Free
Plus – starting at $15/month
Individual
Standard – for personal use – starting at $5/month
Plus – for expert presenters – starting at $15/month
Premium – for business professionals – starting at $59/month
Education
EDU Plus – for students and educators – $5/month
EDU Teams – for educators and administrators – custom pricing
Business
Plus – for business individuals – starting at $15/month
Premium – for business professionals – starting at $59/month
Teams – for teams and enterprises – custom pricing
2. Prezi Video – for video presentations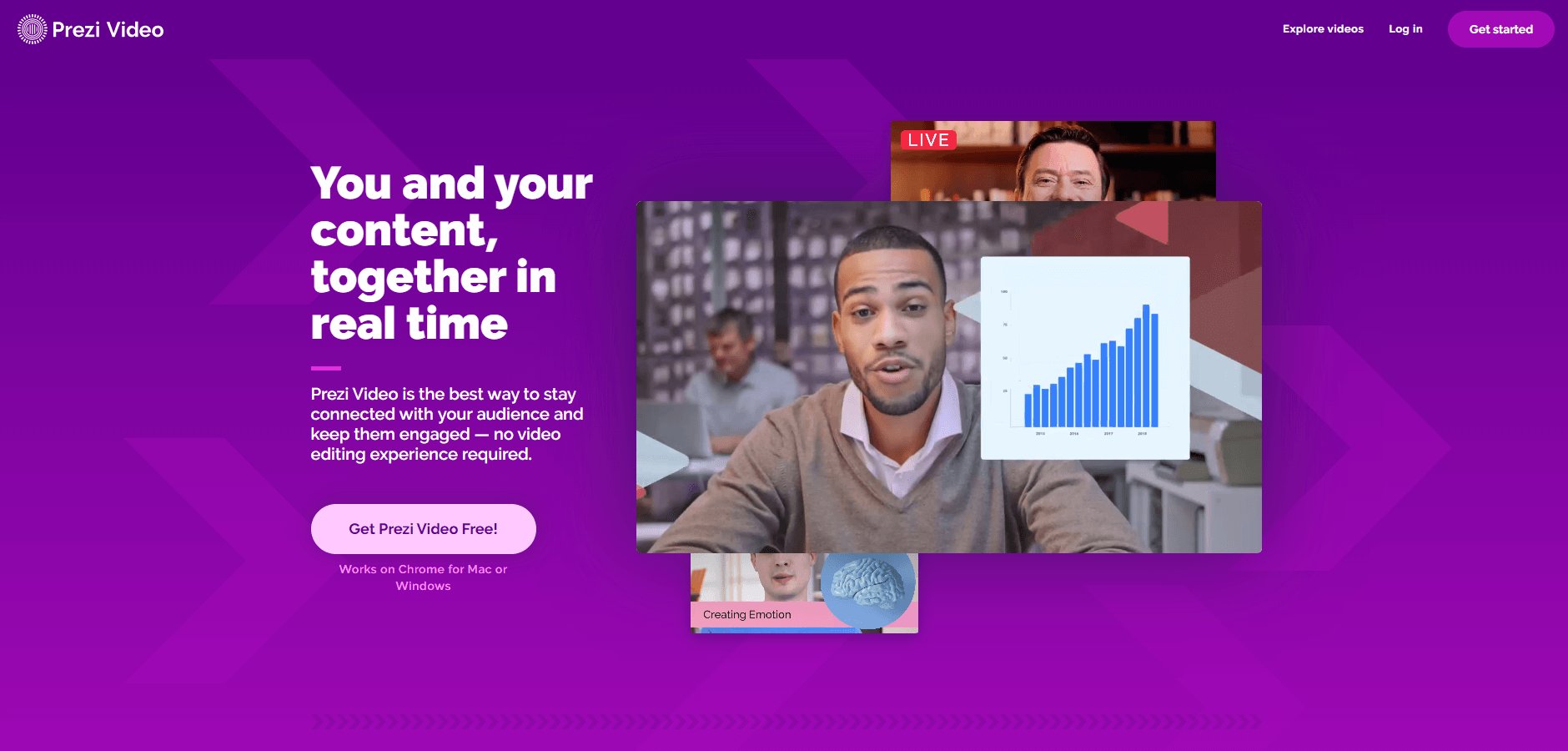 Although Prezi Video is part of the Prezi, it deserves a separate section. It is a presentation tool dedicated specifically to those who like fully interactive presentations.
Videos are a common method of presenting a product, service, concepts, and anything that can be visualized. And Prezi Video lets you create presentations where everything happens in real-time.
It's an interesting solution that lets you connect with your audience. It's especially helpful for remote teams and presenters who cannot meet face-to-face.
Prezi works on Chrome for Mac or Windows and has all the features of Prezi that you need to create good, engaging videos for presentation. You can record the videos and share them with those who can't be with you during your video conference. Also, it's a helpful tool for creating webinars, onboarding videos, sales pitches or videos for social media.
Pricing: Prezi Video is part of Prezi Individual, Education, and Business plans. Not available in the Basic plan
3. Google Slides – for presentations in your browser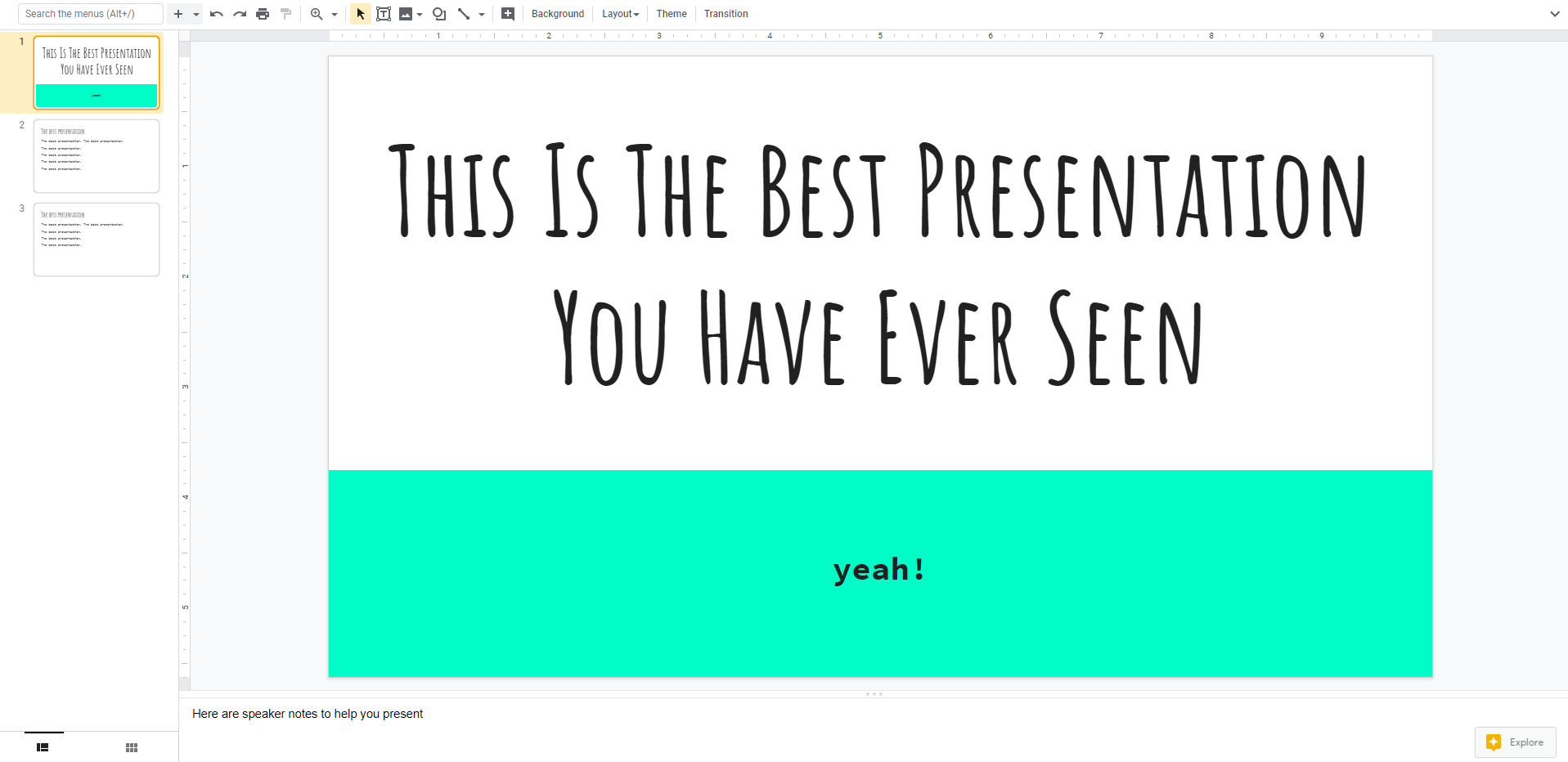 Everyone uses Google and its services. That's why Google Slides is one of the best options if you'd like to keep everything in one place. Particularly, if you're already using Google Apps or G Suite in your organization.
For individuals, Google Slides offers the ability to create and edit files on your own or with other people. As part of the G Suite, it gives you the possibility to easily collaborate with your team and work on a project in one place. And there are additional features and extra security to make sure everything stays in your company.
You can choose from themes, fonts, colors, add videos, and more to adjust slides to your preferences or choose from available slide templates. Google Slides also supports PowerPoint files. Additionally, you can use the app on mobile devices, in your browser, and offline. Google supports Chromecast, Hangouts, and AirPlay.
Google Slides lets you combine its apps with presentation software to create a coherent and unified media library accessible for all members of your team.
Pricing: Google Slides is free to use. It's also a part of G Suite where you can use it securely with your team
 PS. If you're in a hurry but still want to look like a pro, use free Google Slides templates.
4. Keynote – presentation software for Mac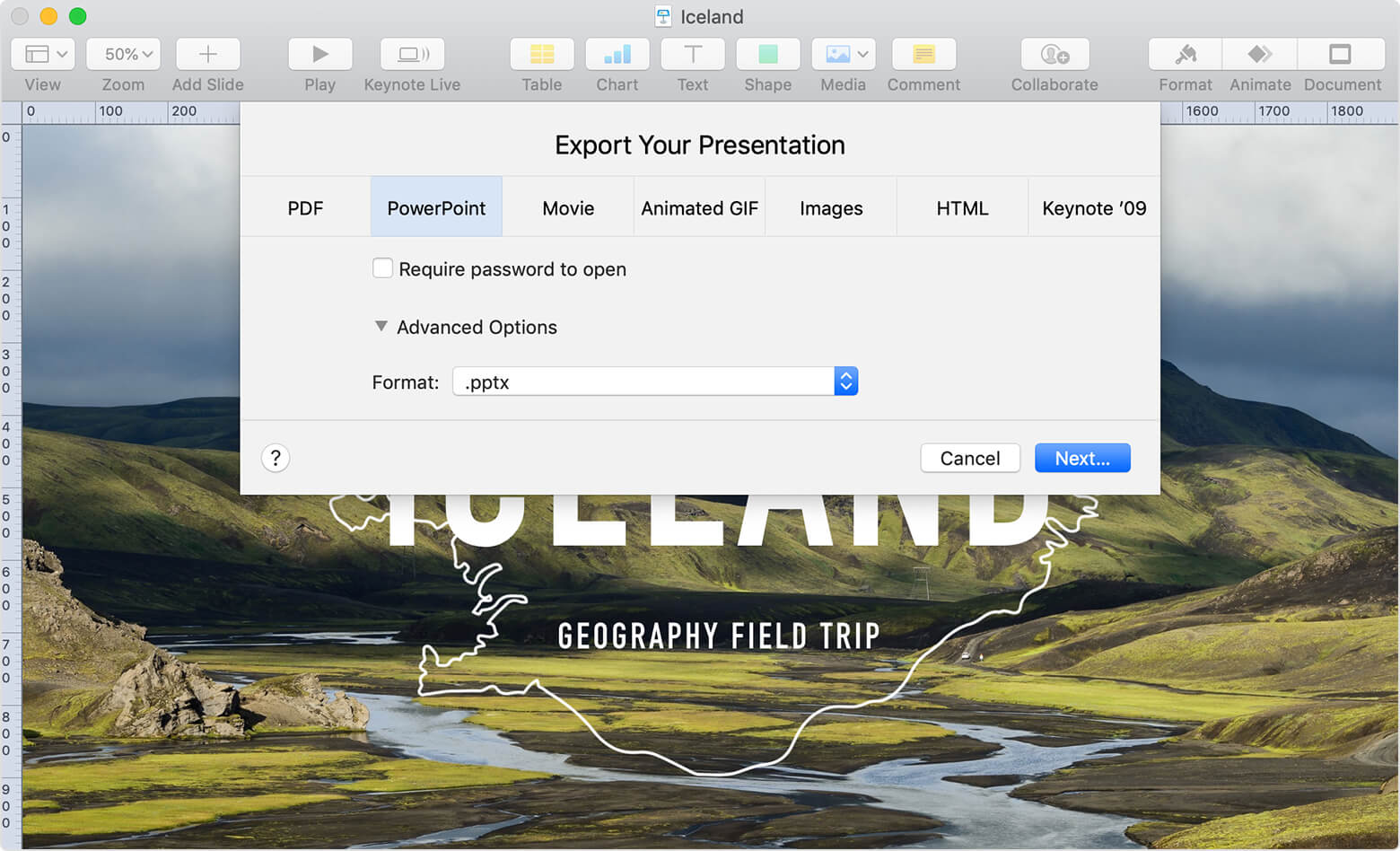 Keynote is a presentation software dedicated to Mac and iOS systems. It lets you control your slideshow from iPhone, iPad, Apple Watch, or iPod touch with Keynote for iOS. This presentation software is a powerful, easy to use tool with many useful functionalities and is compatible with all Apple devices.
You can even use Apple Pencil on your iPad to create diagrams or illustrations that bring your slides to life. And with real‑time collaboration, your team can work together, whether they're on Mac, iPad, or iPhone, or using a PC.
Main features:
You can add impressive charts, add and edit photos, and incorporate cinematic effects, galleries, math equations, charts, and over 700 customizable shapes, and more than 30 themes
You can create your own master slides, background images, and page‑by‑page customization
Rehearse Mode for iPhone or iPad lets you practice on the go, with the current or next slide, notes, and clock — all in one view
Take a photo or scan a document with your iPhone, and Continuity Camera can send it straight to Keynote on your Mac
You can save Keynote documents as PowerPoint files. Or import and edit PowerPoint documents right in Keynote. Most popular PowerPoint features are also supported
Support for online collaboration with your team in real-time
Pricing:
Free; additional fees and terms may apply
5. PowerPoint – for classical presentations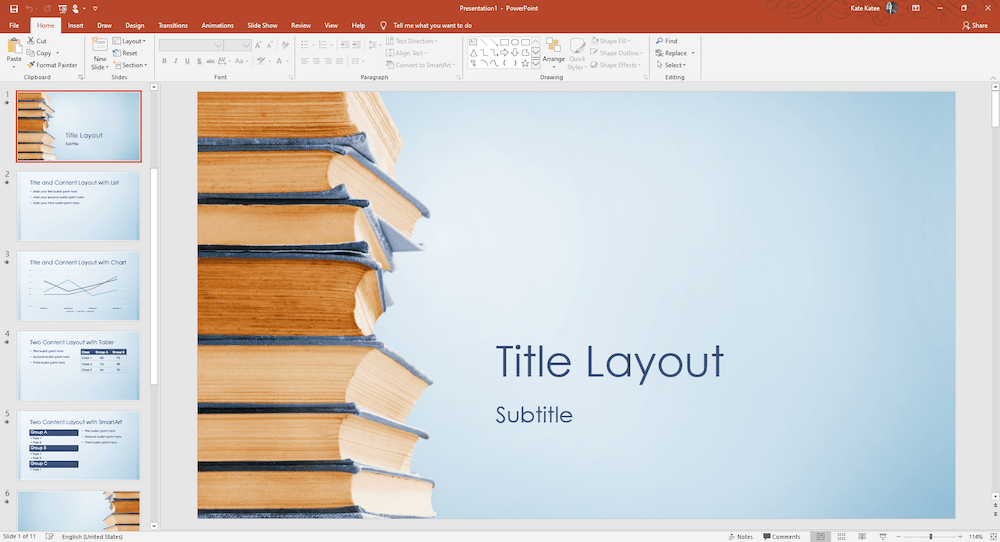 PowerPoint – old but gold! If you think PowerPoint is out-of-date you're wrong! All products of Microsoft Office are regularly updated and improved, so is the legendary PowerPoint. It is still one of the best presentation software as it lets you create simple but effective presentations.
PowerPoint is easy to use and has all the necessary features you need to present your subject in a professional way. It has a media and slide library, where you can access all slides and files within your presentation. You can add notes, photos, videos, use and adjust various templates or make your own, add visual effects and arrange your presentation the way you like.
Using PowerPoint is like using Microsoft Word so it doesn't require much explanation. The only differences are features and the visual form of the document. It's a simple, rich in features presentation tool.
You can also create a presentation directly in the browser in the online version of Microsoft PowerPoint. Your team can join you and together you can collaborate in real-time.
Pricing:
PowerPoint is included in Microsoft Office Suite so if you have bought it, PowerPoint is already on your computer. Other than that, pricing starts at $126.89 as a one-time payment, per user. There is not a free version of PowerPoint. PowerPoint does offer a free trial.
PS. If you're in hurry but still want to look like a pro, use free PowerPoint templates.
6. Canva – for minimalistic presentation templates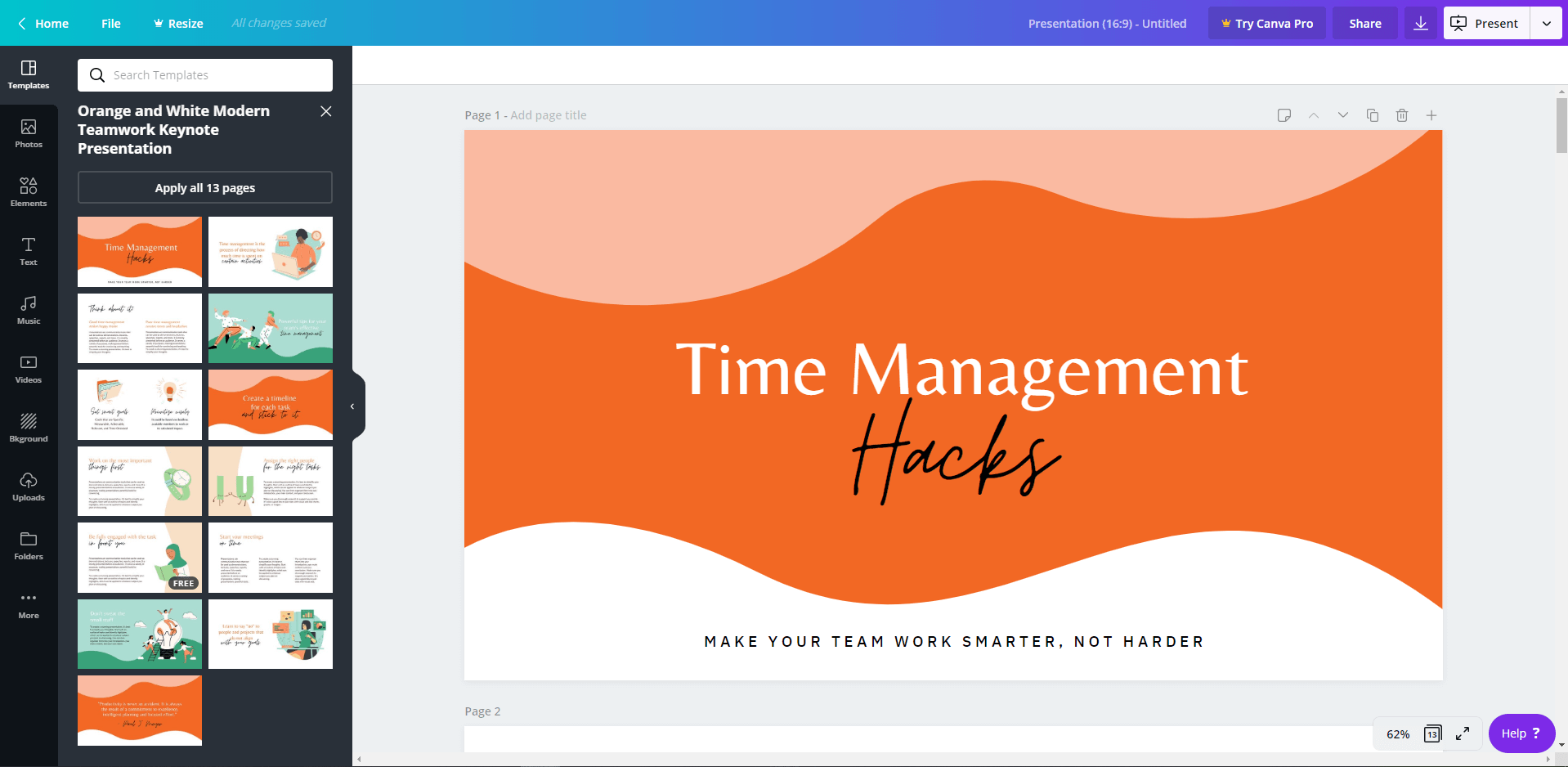 Canva is not a presentation software in itself but it lets you design creative slides to share with your team, audience, clients, and at school. It's a good alternative for PowerPoint if you are looking for a minimalistic solution.
With Canva, you can create presentations directly in the browser. It's a simplistic tool, easy to use and you can move around it quickly with just a couple clicks, and search through the depository of graphical content to spice up your project. Also, Canva lets you add elements with drag and drop features. Slide decks give you an insight into your content.
You can use available infographic template an adjust it as you like with colors, graphics, and pictures. You can add videos and even music. Download your presentation or present directly in the browser, share it with other people via social media, email, send to Google Docs, print in different formats (even as a T-shirt!)
Additionally, if you use Canva on a daily basis to create graphics and visual content, you can incorporate your work into your presentation if you're using it as a presentation app. It works as your media library where you can store all your work. It can save you time and you don't have to switch between different apps.
Pricing:
No free trial available
Free version with limited features and limited free templates and graphics, no support available
Pro – $ 9.95/user/month (billed annually)
Enterprise – $30/user/month (billed annually)
7. Powtoon – video presentations for remote teams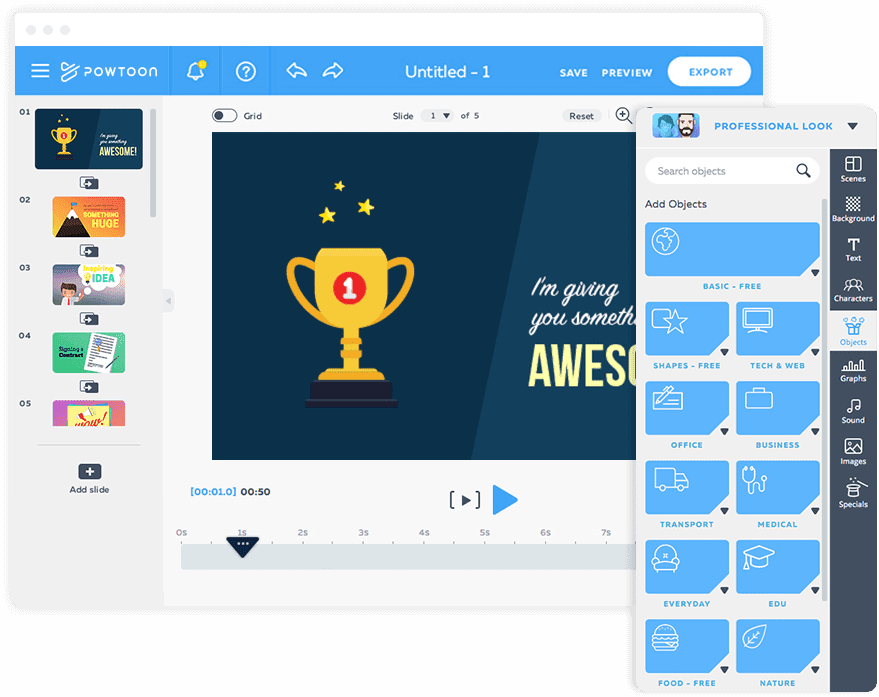 Powtoon is a robust presentation software that lets you present your content with videos. It can help you grab the attention of your audience thanks to the catchy visual elements. This presentation tool can help communicate a message without putting your audience to sleep. It is a great alternative for animation studios as it is effective and easy to use.
Powtoon lets you create video presentations that you can use to create webinars, training sessions, onboarding content, present a product or service, professional-looking videos, infographics, and presentations for your website, social media, blog, online campaigns, and sales collateral, and many, many more.
Powtoon is suitable for everyone – individuals and small teams, business professionals, students and the education sector, marketing agencies, and designers.
Main features (features depend on a plan):
Drag-and-drop feature
Video background, music and image libraries
You can add voiceover to your presentations
Animated transitions and characters
Hundreds of ready-made templates and scenes
Incorporating branding assets and themes
Ability to convert PowerPoint presentations into video presentations
You can add team members to work together on presentations
Numerous templates for videos available
Pricing:
Free – Best for personal use (with limited features)
Pro – Best for professionals and entrepreneurs – $19/month
Pro+ – Best for Power users – $59/month
Agency – Best for designers, animators, and agencies – $99/month
You can also try Vyond as a great alternative to Powtoon.
8. Zoho Show – for team collaboration in real-time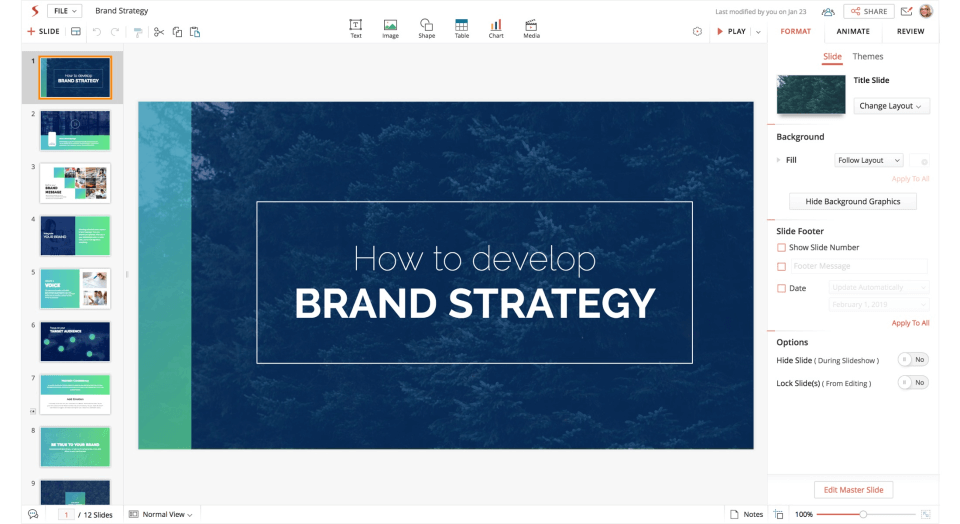 If you need a presentation software that is fully compatible with other Zoho tools, Zoho Show is the right solution. Zoho Show is cloud-based presentation software that brings slide creation, collaboration, broadcasting, and publishing onto one platform.
Zoho Show is a software that lets you create presentations of any type, from simple to complex content. It's best for teams as it allows people to collaborate in real-time, support and review the work. Additionally, you don't need any training or onboarding because this presentation tool is easy to use and intuitive.
Zoho Show is best for in-office and remote teams who want to work together on presentations.
Main features:
PowerPoint compatible
Add, edit and reply to comments to facilitate discussion and share opinions
You can publish presentations on both internal and external channels: websites, blogs, social media, and much more
The feature of collaboration allows for many helpful actions: comment on slides and review, @mention users, lock slides, check-in/out, share presentations as a link, limit actions, and more
You can broadcast presentations for the remote audience, and track time that elapsed within the broadcast window. Also, audience members can browse through completed slides while the Presenter can view both the presenter notes and the entire slide list at a glance. The audience can interact with you and each other using the chat panel
Ability to publish presentations, embed them on websites, blogs, and download them
Media library available – charts, silhouettes, and animations
Zoho Show app for Apple TV, Android TV, Chromecast, as online app in the browser, and mobile app (iOS, Android)
Pricing:
Basic – €10/month (€8/month billed annually)
Standard – €25/month (€20/month billed annually)
Professional – €35/month (€30/month billed annually)
Enterprise – €50/month (€40/month billed annually)
9. Slide Dog – for interactive presentations, compatible with other presentation software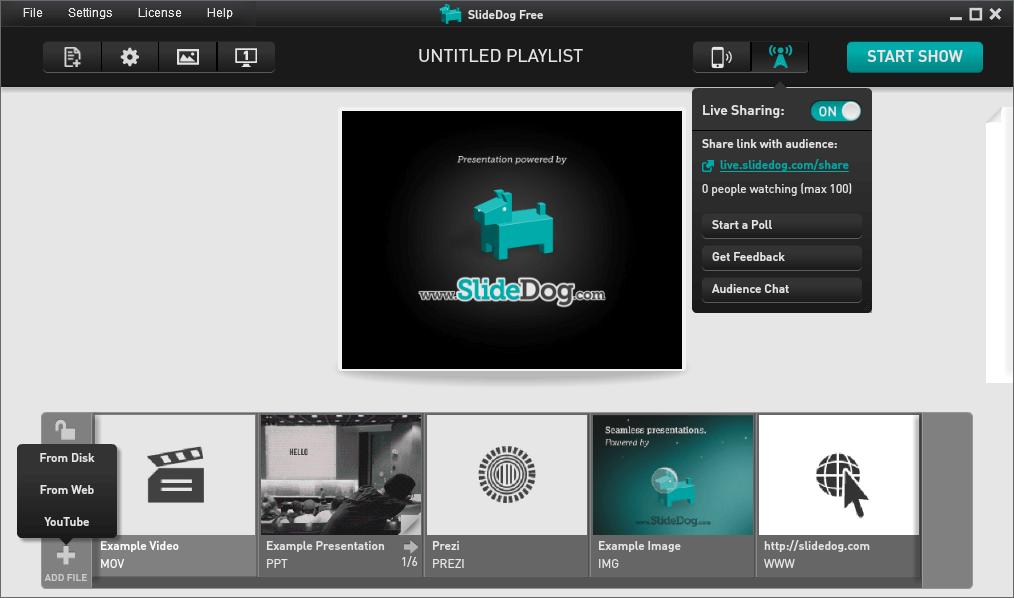 SlideDog lets you can combine PowerPoints, Prezis, PDFs, and many more elements into one easy-to-create playlist. With SlideDog, you never have to switch between different programs during your presentation.
This presentation software helps you to diversify lectures, picture ideas, and lead meetings or events in a more interesting manner. Thanks to SlideDog you interact with the audience, engage them in your presentation, ask their opinion, and teach.
Moreover, this presentation tool is compatible with other presentation software. Whether you prepared a presentation in Prezi or PowerPoint, doesn't matter, everything will be shown just as you created it.
But that's not all, if in your company you use digital signage to present content, SlideDog is a perfect solution You can typically see these screens in stores, receptions, conferences, waiting rooms, offices and more. SlideDog can be used as an easy and low-cost digital signage solution. It's a great and easy method to share the story of your company and messages to your clients and audience.
Main features:
You can create custom playlists for all your presentation files and media
All files are in your playlist (slide library) and you can change their order with a drag-and-drop feature
Real-time sharing lest your audience follow the presentation directly on their screens or mobile phones, tablets, PCs
Create interactive polls, chat with the audience, and get feedback
Add online content such as web pages and YouTube videos
Ability to add files of different formats – PDF, Word, Prezi, PowerPoint, images, Excel files, video content, and more
Remote control
Dual screen support
Digital signage; looping and auto-advance
Pricing:
Free with limited features
Pro – $99/year
Pro Event – $49; valid for 14-days from time of purchase. Unlimited events
Enterprise – custom pricing
10. Cisco Webex Meetings – for content sharing with team and clients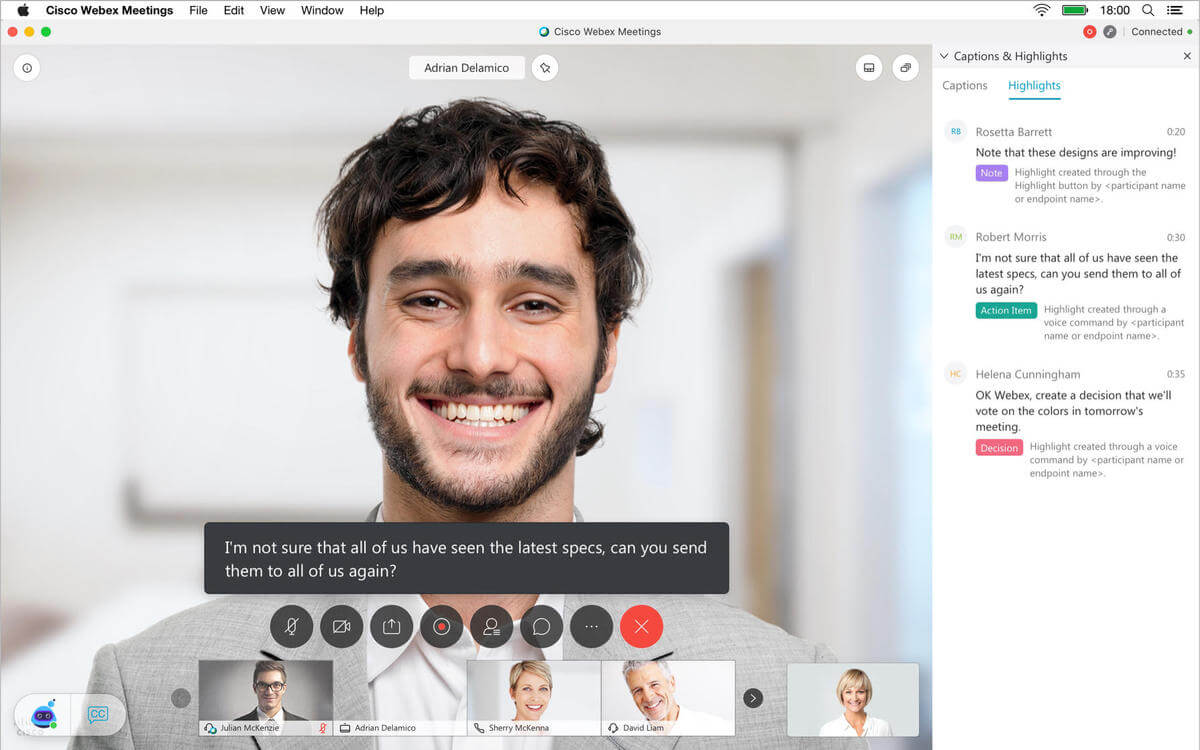 Webex is not strictly a presentation software but its extensive features make it a great tool for remote teams. But not only, everyone will find it helpful as it supports team management.
Webex Meetings is created with the support of AI which makes it a robust and smart presentation software. You can use the software for video conferencing, team collaboration, webinars, online training, lectures, labs, and small breakout sessions, or remote video support.
Webex helps to collaborate and to move projects forward faster. Thanks to this presentation software, teams can work with anyone from a browser, a mobile device, or a video system. Webex Meeting Center offers integrated audio, video, and content sharing. Also, it lets teams keep conversations private with highly secure Webex meetings from the Cisco Collaboration Cloud.
Main features:
Join and present from any meeting, event, or training session
Hands-free voice commands with Google Assistant and Google Home Hub
Seamless joining directly from your calendar or customizable widget
Schedule meetings or playback recordings directly from your app
Customizable video layouts
Share your screen to everyone
Available as an online app in the browser, desktop, and mobile app
Real-time remote technical support during your event
Interactive online presentation with video conferencing, screen sharing, Q&A, polling, and chat
Brand your invitations or registration site. Customize the enrollment process with questions that let you score, track, and follow up on leads
Record your event with one click
Record and build a library of on-demand training sessions so people can view or review them any time
Use the built-in eCommerce tool to charge for live or on-demand sessions
Compatible with other Cisco tools
Pricing:
Free – Personal – up to 100 participants in each meeting
Starter (Small teams) – $14.95 per month/host – up to 50 participants in each meeting
Plus (Mid-sized teams) – $19.95 per month/host – host up to 100 participants
Business (Large teams and businesses) – $29.95 per month/host – host up to 200 participants, minimum 5 licenses per month
11. Haiku Deck – for online presentations in your browser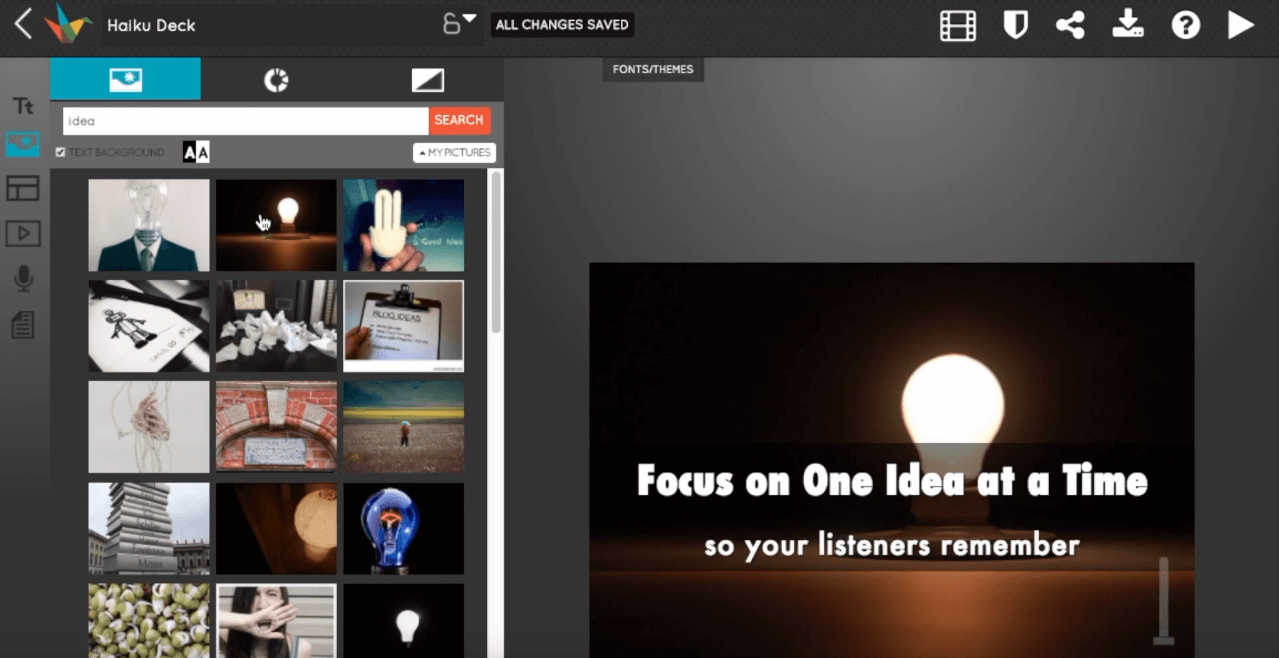 Haiku Deck is a simple presentation software that helps to present your ideas in a friendly way.
It turns structured content into beautiful presentations. You first create an outline, upload it to the Haiku Deck presentation app and voila! it's ready.
Haiku Deck Zuru technology harnesses the power of millions of users and artificial intelligence to transform your story into a stunning presentation. Say goodbye to boring corporate templates and clip art. Just upload a simple outline, or even an existing presentation, and Zuru builds a polished deck in minutes.
Features:
Templates of slides and fonts available
Slide library
Free photos and images
You can add your own files
Graphs and charts to visualize the content
Public notes for additional resources and important information; private notes
Share on social media, email, embed to your website or blog
Export your presentations as PowerPoint, Keynote or PDF file
Arranging content with a drag-and-drop feature
Privacy settings allow you to control who can see your decks online
Stats keep you informed about how many people have viewed your slides
Online support
Pricing:
Free version is limited to one presentation, does not include presentation download
Pro (For teaching, training, and conference presentations) – $19.99 per month
Premium (For effective selling and engaging webinars) – $29.99 per month
Haiku Deck offers special pricing to qualifying nonprofit organizations, students, and educators
12. Visme – for extraordinary graphics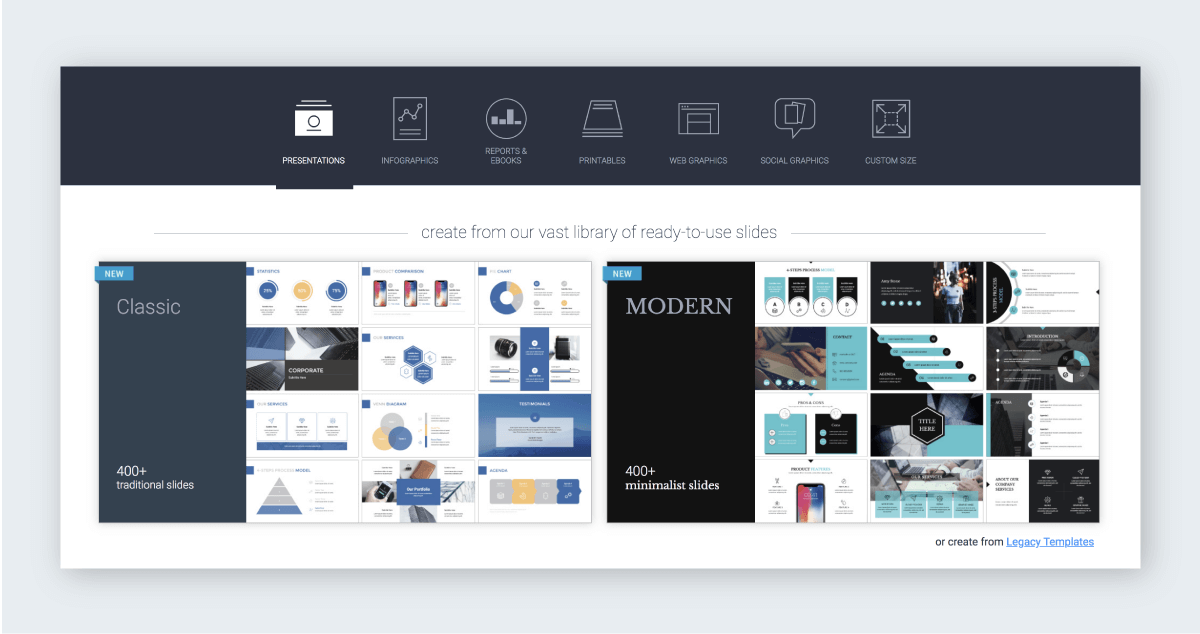 Visme is presentation software for those who need visually engaging presentations. It is a versatile content creation tool that helps individuals and leading brands to create and present compelling stories in the form of engaging presentations, infographics, documents, videos, graphics and everything in between.
Visme lets you turn boring data into stunning visuals right in your browser. You can easily visualize your content and make interactive presentations.
Visme combines simplicity, flexibility and interactive features within a single platform, giving users everything they need within an easy-to-use online interface. It's a robust presentation software for demanding presenters.
Main features:
Easy to use, adjustable templates
Media library with images, icons, charts, graphs, maps, text and text widgets, animation, external content, audio and music, tables, grides and guides, content blocks, and more
Easy-to-customize printable
You can add different files to your presentations
You can create all type of visual content: presentations, infographics, reports, ebooks, printables, web graphics, social graphics, resumes, custom size projects
Helpful keyboard shortcuts
Ability to work on slides as a team
You can share your presentations with other team members
Setting up a branding kit
Analytics to track traffic & statistics of projects
Pricing:
Visme offers 3 plans:
Individual – pricing starts from $25/month; free plan available
Business – pricing starts from $39/month
Education – pricing starts from $30/semester
Visme provides discounted plans for Students, Educators and Non-profit organizations.
13. Slidebean – for professional pitch slide decks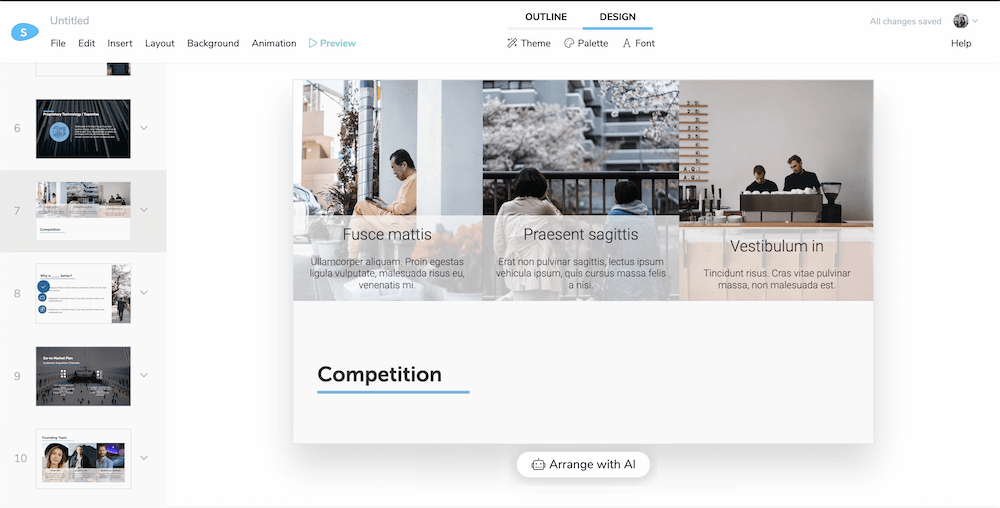 Slidebean is presentation software that helps to save time on dragging-and-dropping and adjusting content to slides size. This presentation tool automatically creates your perfect presentation by automatically tailoring the content to keep a coherent structure across the entire presentation. You can change the style of your slides with a single click or choose from numerous templates.
You can invite your team to work together on the presentation. All changes are sync for everyone everywhere, which lets you collaborate in real-time. You can share the presentation via the link without the necessity to download the slides or install dedicated software. It will look good on any device you use.
The analytics feature gives you insight into which slides your audience has seen and how much time they spend watching it.
With Slidebean presentation software, you create a professional pitch deck for investors, reports and business documents that you can present online with couple clicks.
Pricing:
Free version available
Starter – $8 per month (billed annually)
Premium – $19 per month (billed annually)
Verified .edu accounts get 50% off
14. Ludus – for extraordinary presentations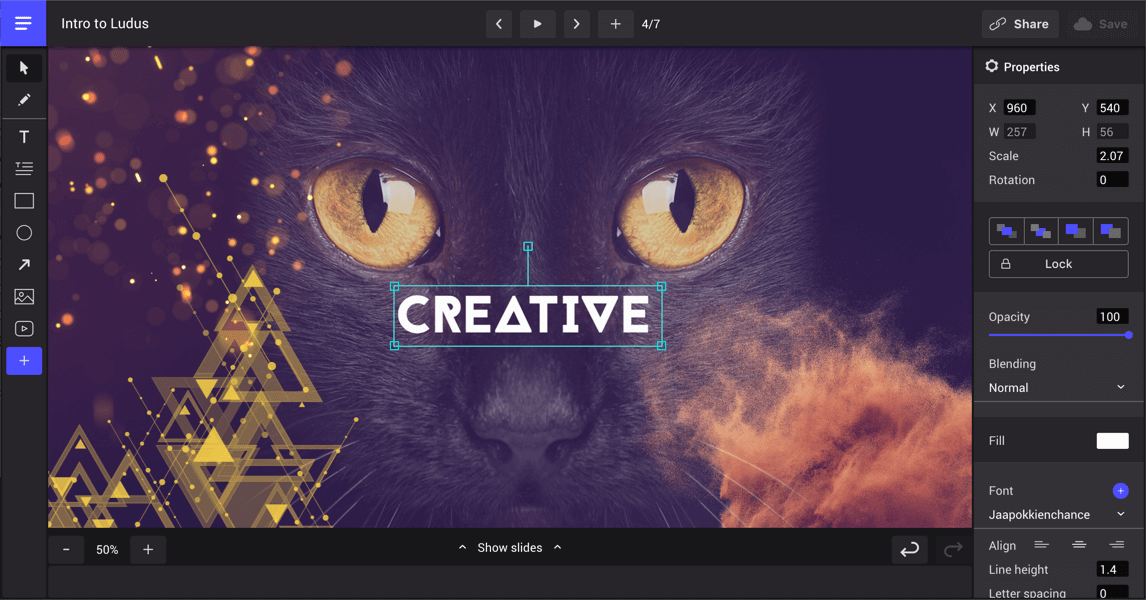 Ludus is a professional but easy to use presentation software with plenty of features that enhance your project. Its smallish functionalities can make each of your slide unique and add extra effects – use blend modes, strokes, smart guidelines, smart resize, font upload, you can insert animations, images, use keyboard shortcuts, and many more.
Your team can collaborate on the same presentation at the same time, without getting in the way of each other. Ludus presentation tool synchronizes with external tools for more effective work.
It's a simple presentation software that lets you create unique presentations.
Pricing:
Solo – $19.99 per month
Team – pricing starting at $29.99 per month for 2 users
Special – custom pricing
15. Pitch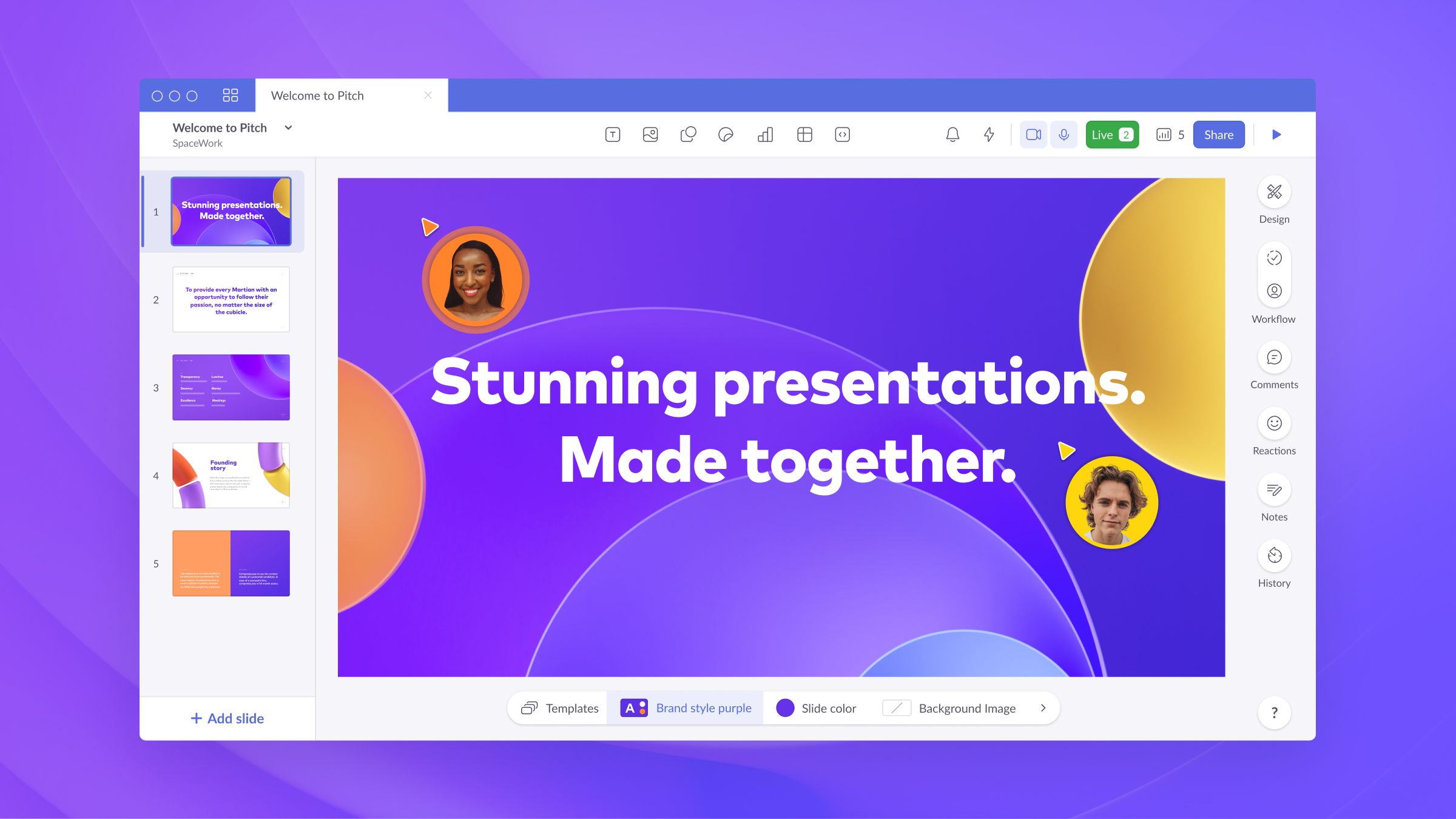 Another option is to make a slideshow with Pitch's software. Pitch combines all of the best parts of presentation, design, and productivity software, enabling fast-moving teams to create a beautifully designed deck in a matter of minutes. 
You will have a whole host of different templates to choose from, including professional, creative, simple, reports, proposals, design, startups, marketing, and pitch deck templates. 
Main features:
A huge range of custom-crafted templates 
Create your own templates
Connect Pitch with your data to share the latest information
Link sharing 
Track and optimize presentations
Work from anywhere in the world
Stay on-brand with slide styles
Set a status and keep your project on track
Work through ideas face-to-face with video collaboration
Create, review, and edit presentations with your entire team
Create immersive presentations with videos, images, and embedded content
Pricing:
One of the great things about Pitch is that there is a Starter plan, which you can try free of charge. This includes live video collaboration, custom templates and fonts, unlimited members and guests, and unlimited presentations. 
The most popular plan is the Pro plan, which is £8 per member, per month. This is billed annually. Designed for growing teams and power users, you can expect version history, unbranded PDF exports, unlimited file size upload, video and image library, video uploads, shared private folders, and workspace roles. 
If you have custom requirements, contact the sales department about their Enterprise offering. This includes everything in Pro, as well as a dedicated success manager and SAML-based SSO.
16. Flipsnack – for interactive digital presentations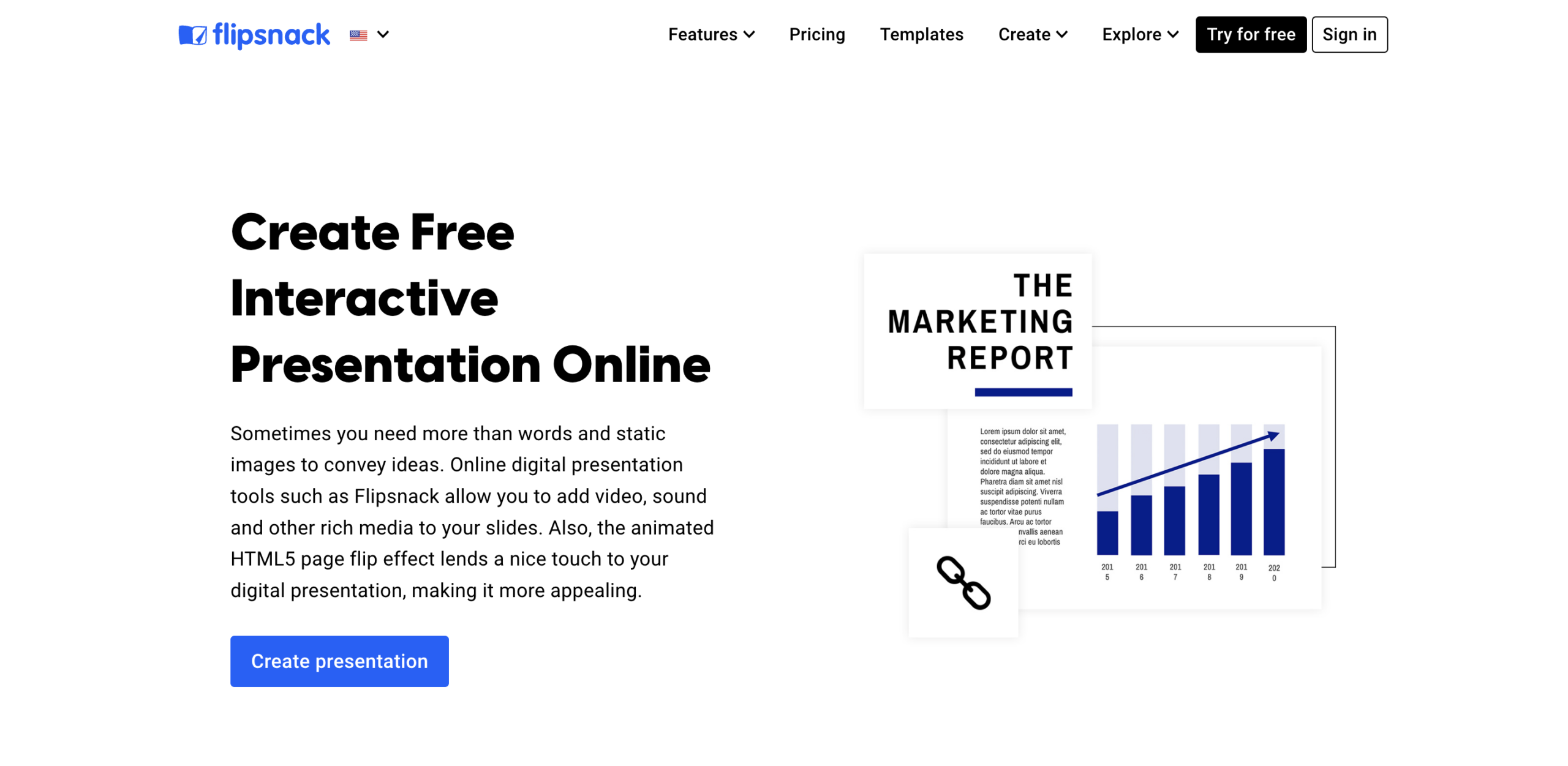 If you want to spice up your slides then you're looking for an interactive presentation maker like Flipsnack. 
This tool allows you to create and publish diverse content materials within minutes in 3 simple ways: you can either upload your pdf documents; create from scratch a new presentation thoroughly guided by the design studio; or use one of the many preexisting templates available in the integrated library. 
Flipsnack is an engaging and easy-to-use content creation platform, destined for each type of user, from non-technical individuals to highly certified professionals and leading brands. 
Main features: 
Intuitive interface, easy-to-use editor. 

A large variety of fully customizable templates. 

Integrated real-time statistics, so you can see how your readers interact with your presentation. 

You can create and manage accessibility for multiple workspaces. 

The fastest pdf converter at the moment, so you can easily upload your documents.

It integrates a large variety of interactive elements, such as photo-slideshows; GIFs; social media buttons; shopping buttons; audio and video elements; you can even embed maps into your presentation, and many more. 

You can create a wide range of publications with a 3D realistic page-flip effect such as presentations; catalogs; reports; brochures; magazines; portfolios; you name it.

It offers extensive privacy options; so you can either share your presentations in public mode; unlisted (access only through a direct link, not indexed by search engines); password-protected, or private (shared with specific people). 

It includes branding options, so you can easily personalize your presentation according to your brand identity. 
Pricing:
Free plan: up to 3 catalogs of max 30 pages/catalog 

Starter: 14$/month – 10 catalogs: 100 pages/catalog 

Professional: 35$/month – 50 catalogs: 200 pages/catalog 

Business: 79$/month – 500 catalogs: 500 pages/catalog 

Enterprise: 210$/month – 1000 catalogs: 1000 pages/catalog
What Is Your Favorite Presentation Software?
Without presentation software, it would be impossible to share our knowledge and experience, learn or even work. These are powerful tools that let us transfer our ideas to the digital format and show them to the world. Additionally, with a compelling and engaging presentation, you can improve your confidence and establish new business relationships.
Which presentation software do you find most helpful? Share your thoughts in the comment section, we'd love to know your opinion. We hope you found the right presentation tool for you and your team and can now present like a pro!
Happy presenting!
How much time do you spend creating and presenting your ideas? Sign up for TimeCamp for free and find it out!