Mindmap – Your Second Brain for Organizing Ideas & The Best Mind Mapping Apps
March 4, 2020
by Kate Borucka
No comments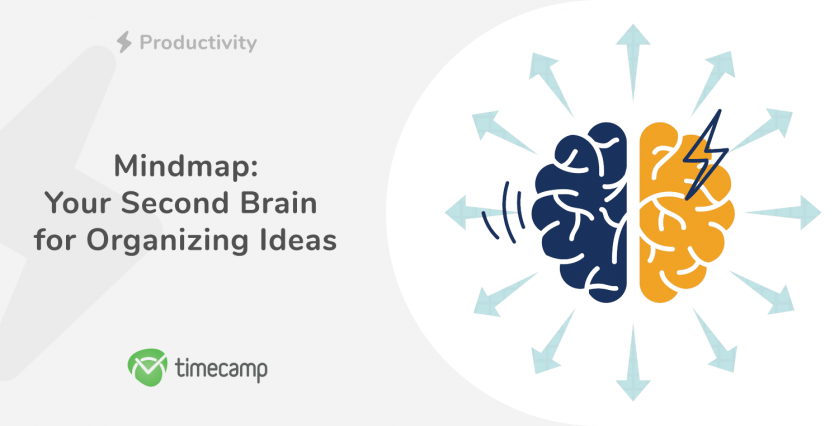 A mind map helps us achieve goals and visualize the processes of their achievement. Just like the map of a city with the lines, shapes, and icons shows us connections, points important landmarks and designates the way to our destination.
Mind mapping is a great way of organizing and structuring your ideas. You can use this system individually and in a team to boost the creativity of your co-workers.
What Is A Mind Map?
Our brains have their limitations. They are already filled with a vast amount of memories. We simply cannot hoard everything inside. Our core body part doesn't need to store additional information that would overburden it and slow it down. That's why you need a second brain that can keep your ideas while your actual brain can effectively operate.
A mind map is such an external brain. A tool that gathers important information and lets you visualize all ideas.
There is no specific date for the invention of such a system since people have been using it for ages. But only in the 2oth century, it was popularized by Tony Buzan, an English author and educational consultant. Ever since then, people have been using it eagerly.
A mind map helps to get the information out of your head and at the same time, it aligns with how your brain works. It's a structure of connected points organized in a logical, memorable map, often with drawings, images, and lists.
You can use mind maps in many ways as it lets gather ideas:
You can use it to set personal and business goals
It can help create a strategy for developing your business or product
It's helpful for creatives in a design process
If you're a writer, copywriter, or work with words, mind mapping can help you in writing process
It's a good tool for fast learning
With mind mapping, you can let your thoughts and ideas flow on a piece of paper to create a coherent structure. And your brain doesn't have to overwork!
How to Create A Mind Map?
Creating a mind map is a simple activity. It doesn't require specific equipment just a piece of paper and a pen. If you're creative, you can also use colors, stickers, news clippings, and anything else that will enhance your mapping experience.
You can also use online mind mapping software if you prefer ready-to-use solutions with customizable features.
There are 3 elements a good mind map must have – 3 simple steps you need to go through:
You write down a central theme in the center of your map
Then, you draw lines coming out of the theme, all the associations that come to your mind
In the end, you summarize your thinking process with the main keywords
The linear form of a mind map represents the craved structure of our brain, the connections through witch our thoughts and ideas flow. Just be careful not to draw too many lines because you will get tangled in the network of interconnections.
? For an example of basic mind maps, check the graphs by SimpleMind
What Are The Best Mind Mapping Apps?
If you enjoy drawing and sketching, you may find it extremely enjoyable to create your personal mind map. It gives you more time to think and evaluate ideas and come up with interesting solutions to your problems and dilemmas.
But if you are looking for an app, plenty of tools exist out there. Keep in mind that a good mind maps tools should have specific functionalities. And these features you should look for:
EXPORT FEATURE: You should be able to print, download, and share your map with others. Especially, if you work in a team or simply want to share your ideas with other people. Operating directly in the app may limit your work and creative capabilities.
TEAMWORK FEATURE: This feature helps in team management and brainstorming. It's crucial if you work on a mind map with other team members. Also, it allows you all to come up with better ideas and develop a more comprehensive strategic plan for your projects.
ABILITY TO ATTACH FILES: When you create mind maps on paper, you add various elements to your graph. And when you draw maps within the software, you should be able to attach files such as images, charts, videos, notes, and other files that can make the tool more functional.
CANVAS WITH CUSTOMIZATION: Look for a tool that lets you organize your concepts in any way you like and create unlimited mind maps on as many canvases as you want. It will enable you to combine and mix ideas for more effective work.
If you're looking for the best app for mind mapping, check out our propositions.
1. MindMeister – a robust mind mapping app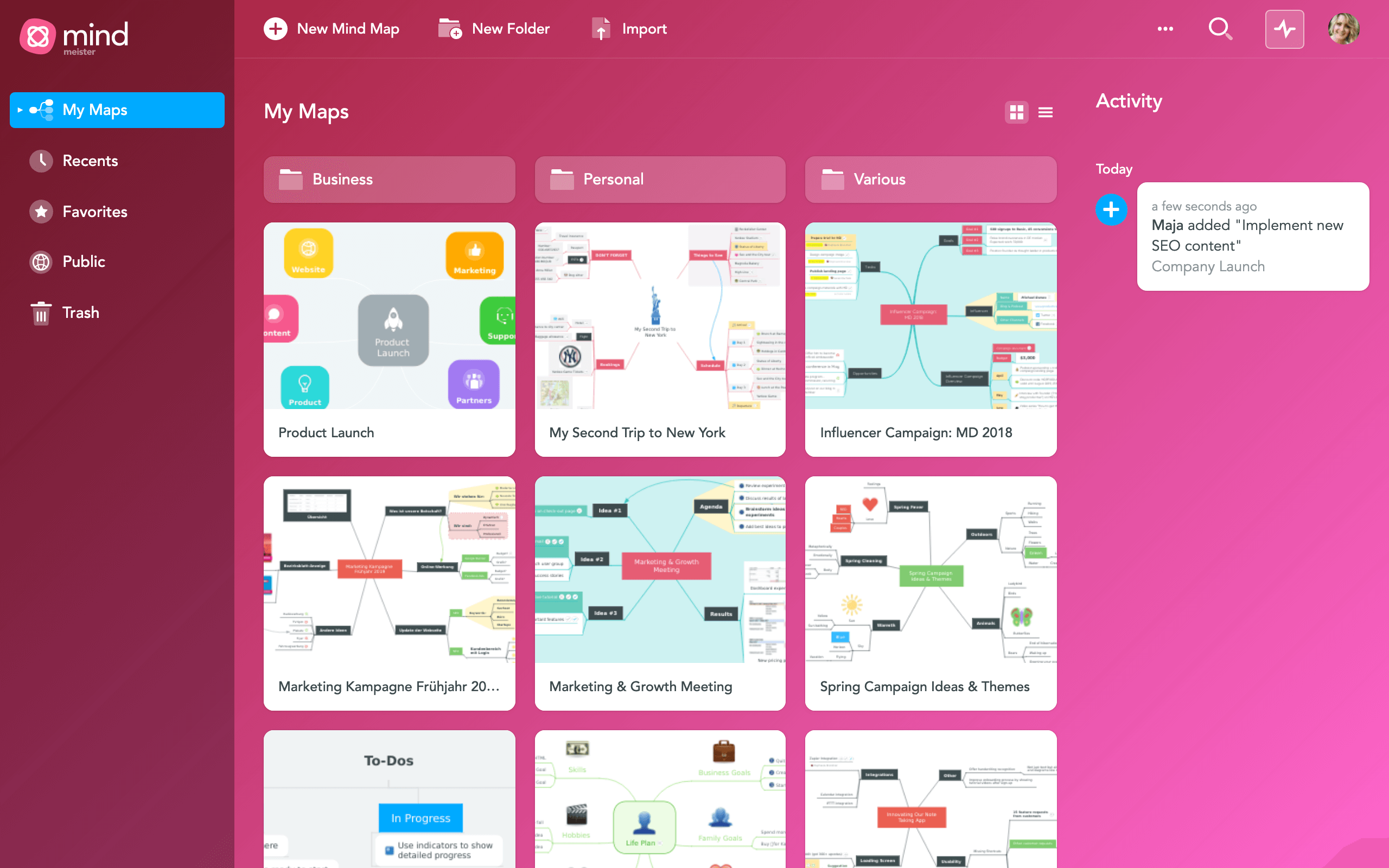 MindMeister is a mind mapper created by MeisterTask. It enables real-time collaboration between an unlimited number of users. Together, they can structure their thoughts, plan projects, and create engaging presentations for both business and education purposes. MindMeister offers many powerful features that let users collaborate and brainstorm online, plan projects, develop business strategies, create dynamic presentations and utilize the countless benefits of mind maps for their education.
You can customize MindMeister however you want, and work solo, with your team or even an entire company.
Main features (features also depend on the plan):
Real-time collaboration with an unlimited number of users
Mind map templates, different alignments and themes
Notes, links, comments and votes on map topics
Ability to share your maps, publish and embed them on websites, blogs
Presentation mode that lets you turn maps into dynamic slideshows
An activity stream that shows changes and comments from map collaborators
Integrations with MeisterTask, Evernote, Dropbox, G Suite and more
File attachments and the ability to upload images to topics
Statistics and reports on your team's productivity
Export to Microsoft Word and PowerPoint
Available as mobile app (Android, iOS)
Pricing:
Basic – free – up to 3 mind maps
Personal – €4.99 per month
Pro – €8.25 per user, per month
Business – €12.49 per user, per month
2. MindMup – simple mind map creator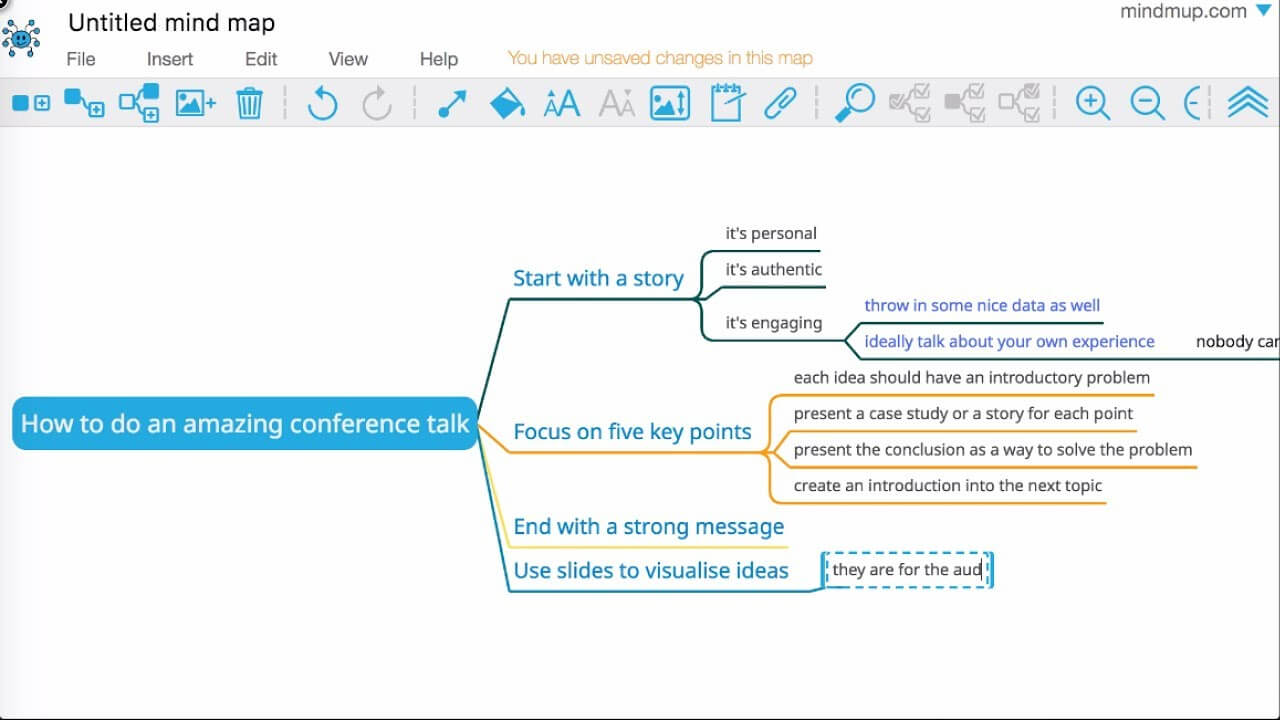 MindMup is a simple mind mapping app. It is a web-based conceptual mapping application connected to Google Drive. The application is designed to capture the user's thoughts instantly and creatively. You can store the ideas in the cloud for a limited time, but can also save them to the Google Drive account or export them for long-term storage.
The app can help you in brainstorming. It is great for individual note-taking, collaborative planning, teamwork, and classrooms.
Also, MindMup is community-driven and creators engage with users frequently on social networks to drive future development.
Main features:
You can create different levels with automatically changing colors
All nodes are connected with the idea in a transparent way
You can create presentations and document outlines with mind maps, and publish your ideas online, to social networks, websites, and blogs
Keyboard shortcuts speed up your work
Ability to attach files, icons, images, spreadsheets, and videos
he progress sidebar enables monitoring of hierarchical tasks through the assignment of contextual statuses to nodes on mind maps
Pricing:
MindMup is free to use. Some exports are limited to 100 KB for anonymous users, to prevent abuse of server resources. MindMup Gold subscription removes size restrictions for exports, and costs 2.99 USD per month for personal usage, or 100 USD per year for organizations.
3. XMind – powerful software for teams and individuals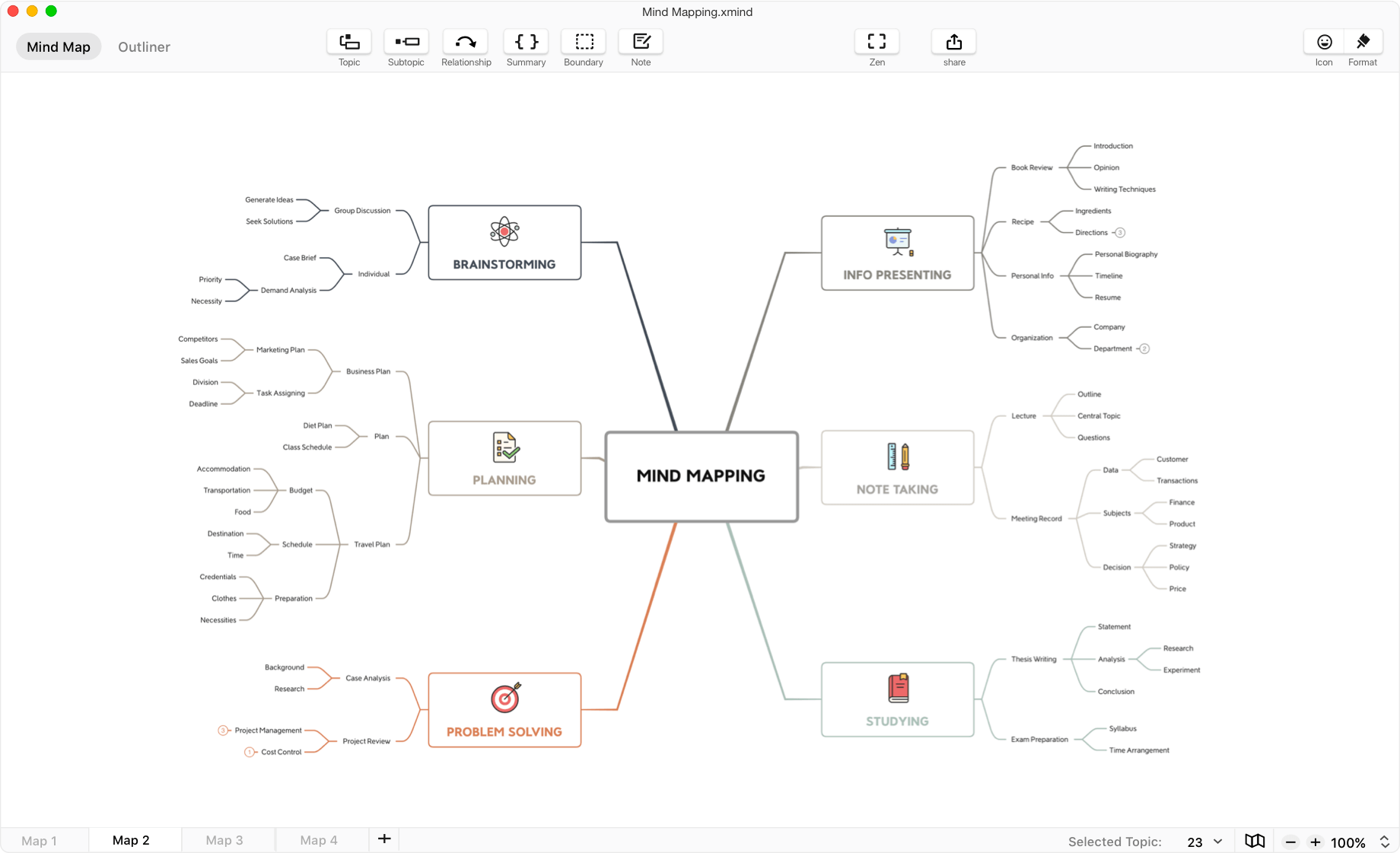 XMind is a thoroughly customizable, full-featured mind mapping and brainstorming tool, designed to generate concepts, inspire creativity, and organize work. It's a powerful software with all the functionalities you need to create perfect mind maps. The app is also intuitive and easy to use.
It's suitable for one person and teams of all sizes as XMind's features allow you to tailor the app specifically to your needs.
Main features:
Different forms of graphs for boosting creativity
Presentation mode
Clipp arts and icons help you visualize concepts
Gantt Chart
You can attach files
Business charts: Fishbone Chart, Matrix, Timeline, Org Chart, help not only to visually organize causal relationships among complex idea/events but also make the in-depth comparative analysis possible, track milestones and schedules in chronological order
Free templates, themes and fonts
Export and import feature lets you access your project from any place on any app
You can easily share your projects with others
Pricing:
There are two options available with different plans:
1) XMind ZEN & Mobile
$39.99 / 6 months
$59.99 / year
One plan is allowed to run on 5 Macs/PCs and 5 iOS/Android devices.
Special offer for Academia (for students, educators, schools, and people working in educational institution)
$22.49 / 6 months
$34.99 / year
2) XMind8 Pro
$129 – lifelong use, one license can be used on 2 Macs/Pcs
Special offer for Education/NPO and Governments
$59 – for teachers and students
$64.50 for government and non-profits
4. Ayoa – mind mapping that helps to visualize work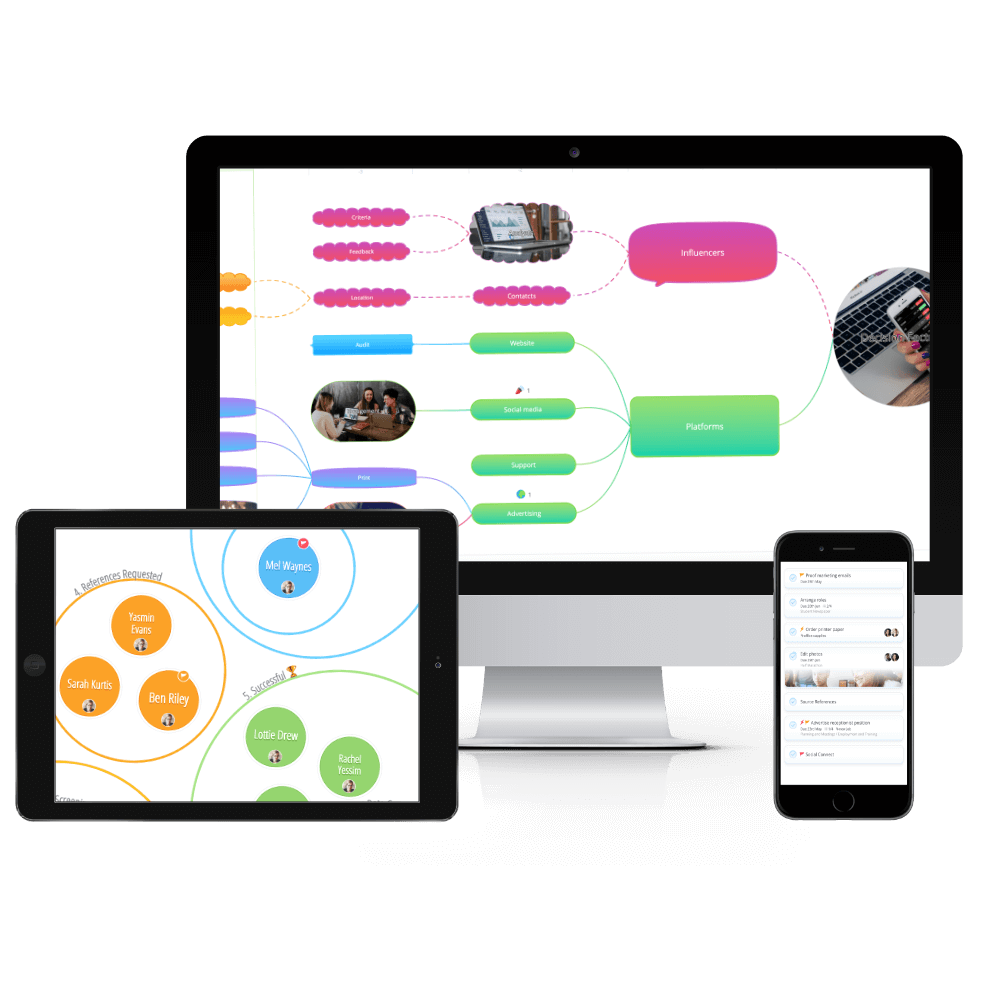 Ayoa is great for those who prefer to visualize work rather than write things down in a boring to-do list. You can instantly capture every idea, organize tasks and envision the workflow however you want. You can get an overview of multiple maps. Colors make it easy to distinguish every project.
Using Ayoa is helpful in task and project management. Using the app helps in planning and collaborating with the rest of the team.
Main features:
Collaboration in real-time
You can organize ideas as mind maps or lists; lists have numerous additional functionalities such as adding due dates, tags, comments or checklists
You can communicate with your team members via built-in chat
Gantt timeline view
Attach files and images
Task Board views
Available as web, mobile, and desktop app
Pricing:
Pricing depends on the number of users and time of subscription duration. Prices start as low as €13.20/month.
A free plan is also available.
Final Thoughts on Mind Mapping
We all get a little lost sometimes. So do our thoughts, conceptions, and mental discoveries. That's why we need a map. To guide us and help us get to the destination in the fastest and most effective way.
What are your thoughts on mind mapping? Do you have your favorite way of organizing ideas? Let us know in the comments!
Keep the record of the time you spend on organizing your ideas