11 Best Kanban Apps to Increase Productivity
February 2, 2023
by Pawel Kijko
No comments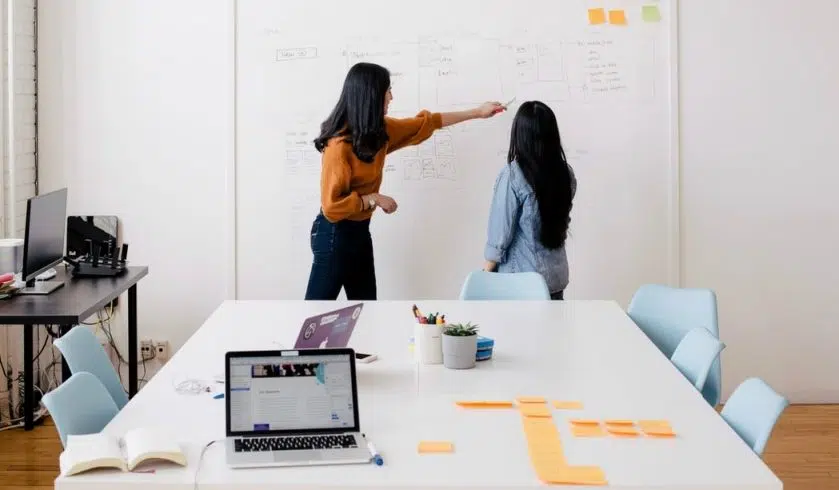 Successful project delivery depends on many different factors, such as the assigned budget, deadline, and skills of the team members, to mention just a few. However, there is one element that seems essential for all the others to work well, and this element is efficient management. To make sure your project is managed well, you need an efficient framework, like Kanban. Having originated in the 1940s, Kanban still remains one of the most popular project management frameworks, particularly often implemented by software companies. But what is it about, actually?
What is Kanban?
Kanban emphasizes the importance of real-time communication and transparency of work, which helps match the amount of work in progress to the capacity of the team. The advantages of working with Kanban are abound, but what's especially valuable are the planning options you get and, thanks to the possibility of solving problems along the way without interrupting the progress, also faster delivery.
What is a Kanban board?
Kanban board is one of the tools used to implement Kanban methodology. It is a project management tool that visualizes workflow and helps the team to organize tasks and complete them faster. Kanban board consists of columns that represent stages of the process and cards that represent tasks. The simplest structure of the kanban board includes 3 lists: " "To do", "In progress" and "Completed". "Kanban" is the Japanese word for "visual signal", so the visualization of the project in one place is one of the most important functions of the Kanban board. But this work management tool not ends on visual components. Rules and procedures are also very important. Let's take a look at them.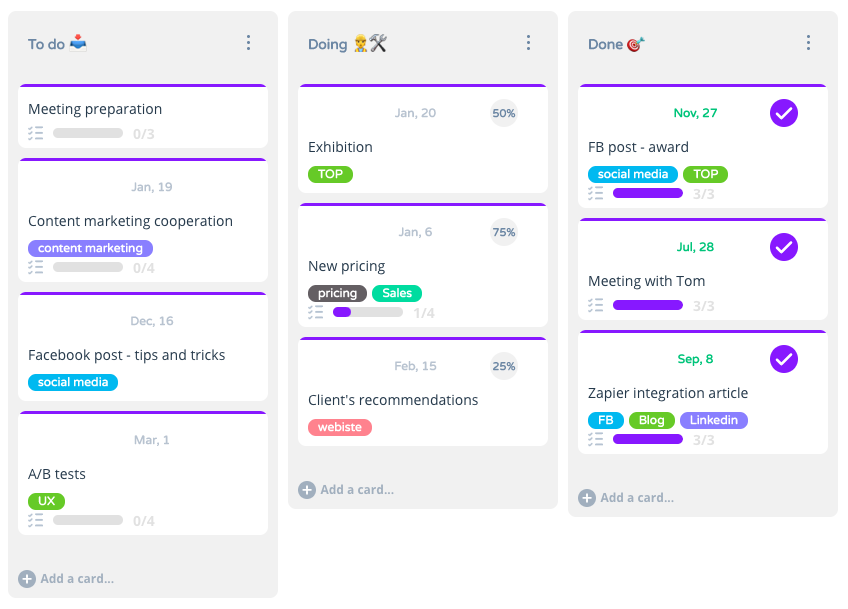 Kanban method
Kanban project management framework consists of several principles.
If you want to work with the Kanban board tool, you should set Work In Progress Limits for your team. It helps focus on the most important tasks at the time. Multitasking can be popular in business, but it's proven that it hurts productivity. WIP Limits can help you with ensuring optimal workload for every team member.
In Kanban-based project management, the entire team is responsible for the project's success and timely execution. Tasks can be assigned to one or many members, even the whole team. That's why you should ensure seamless team communication to prevent future errors and facilitate collaboration. In many kanban board apps, there is a chat feature to provide a communication tool in the same place as kanban features.
With kanban software, you can measure cycle time and identify bottlenecks in the project management process. Cycle time is the metric used to monitor the total amount of time needed to finish a specific assignment. To measure time properly, you can use time tracking software or choose the apps that offer not only kanban boards but also a timeline view or Gantt charts to place your tasks in time.
In Kanban, the order of tasks in a list is also important. It reflects their priority, so if you want the task to be done first, you should put it at the top of the list.
How to choose the best Kanban software?
To facilitate work, Kanban organizes the flow on Kanban boards and, obviously, no one wants to use sticky notes and a whiteboard to track progress anymore. Hence the variety of Kanban tools that project managers can choose from. How to decide which one's the best? At first, think about your needs and talk with your team members. Then take a look below to see what different kanban apps have to offer. We've prepared a list of the best Kanban apps on the market.
Best Kanban Apps
1. TimeCamp Planner – great Kanban software with chat
TimeCamp Planner is a two-in-one tool, which helps you manage tasks and communicate with your team at the same time. You no longer need several different apps to help you organize the workflow of your team as TimeCamp Planner gives you all you need. In each workspace you use, you can switch between five different views – a chat for communication and a board, a list, a calendar, and a timeline view for task management. Thanks to that, you can have a clear overview of the tasks within a given project on a Kanban board view, keep the deadlines in check, and communicate with your team easily.
In TimeCamp Planner you can organize your kanban boards as you wish. You can create many lists and name them as you prefer. In cards, you can add assignees, set progress, add start and due dates, attach files, and chat. Boards are easy to use and help team members to quickly check whats needs to be done and communicate.
Moreover, TimeCamp Planner has just introduced a new feature to make working on the Kanban board even more effective. This new feature is WIP limit – work in progress limit, which, by showing the workload, motivates to complete tasks in accordance with the idea of the Kanban methodology.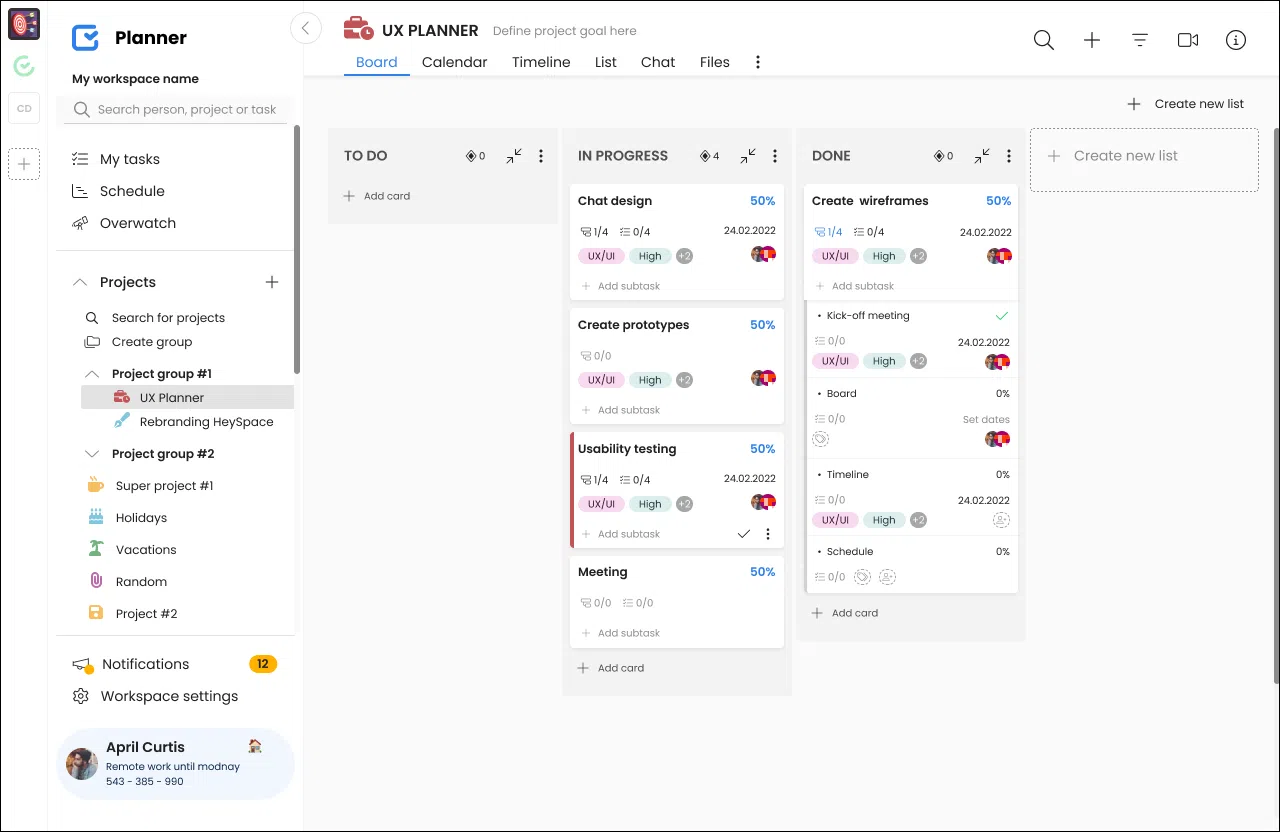 Chat and kanban software – two in one
While chatting, you can convert a message into a task card with just one click and make sure no important task ever slips your memory. The tool is extremely intuitive and user-friendly, so you don't have to worry that the onboarding will take a lot of time, which is an additional asset. You can move tasks from one list to another simply by drag and drop. TimeCamp Planner comes with many useful features and add-ons, such as recurring tasks, calendar synchronization, video calls, integrations with Gmail, Google Drive, Dropbox, TimeCamp, and many, many more.
Pricing
Depending on the size of your company or team, you can choose the free or the premium plan to suit your needs.
The Free Plan is limited to 5 users and to only one task management view – a Kanban board. It makes TimeCamp Planner a great free kanban app for small teams.
In Premium Plan you get access to additional task views: list, calendar, and timeline. There are also two additional views to gather data from different projects: MyTasks (where you can check all your cards from all Spaces) and OverWatch – where you can monitor different projects in one place. In addition, Premium Plan offers a video calls feature, recurring tasks, tags, and external calendar integration.
Price: from $3,75 per user per month (annual billing)
2. Asana
Asana is probably one of the most popular Kanban tools. Apart from the possibility to visualize the workload on a Kanban board, Asana also offers Gantt charts, which help you see the bigger picture of your projects. You can use a range of templates for popular projects or create your own custom templates, which are reusable.  Thanks to that, you can save time and make sure that the processes in your company or team are uniform. You can start with a simple Kanban-style board or create lists that are more suitable for your projects. Asana is integrated with a variety of tools to increase productivity or track the time you spend on different tasks. It doesn't offer a communication platform, however, team members can add comments to tasks, for example, to update others on the progress or discuss possible issues.
Asana is not just a simple Kanban tool, it's a project management system with additional views like list, timeline, calendar, dashboard, and more. You can also integrate it with third-party apps to add features like time tracking, file sharing, and improved communication.
You can set up Asana's kanban board in minutes using the board's layouts. In Asana lists are called sections and cards are called tasks, but it's easy to get used to their board view and manage tasks without a hassle.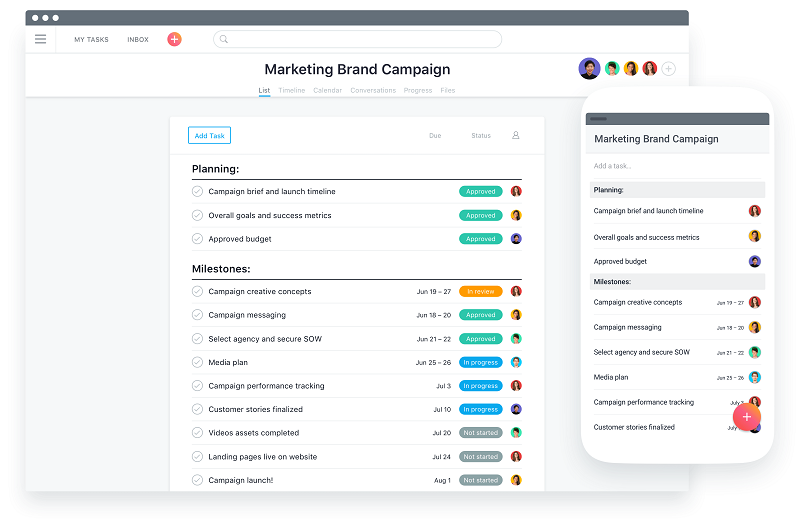 Pricing
‍A free version of Asana is available for teams of up to 15 members. All plans offer unlimited tasks and projects, so you don't have to worry about it. Online Kanban boards are also available in the free plan.
Premium plan is 10,99 EUR per user per month (billed annually).
Business plan is 24,99 EUR per user per month (with annual payment).
‍3. Trello
If you've ever used Trello, you probably associate it with its ease of use and simplicity. Trello helps you organize the work on Kanban boards as well as lists so that it's easy to prioritize and stay in control of your duties. The interface is user-friendly but don't get a wrong impression – Trello offers advanced features, which will help you stay productive, without the unnecessary clutter that could get you confused. A useful feature of Trello is that every board has its own email address that you can use to create cards and send attachments to upload to the task cards. Trello also makes it very easy to search through the app, with the filtering options and labels that you can customize according to the needs of your team.
Trello is one of the best kanban apps with many useful features and add-ons that can provide more advanced workflow management features.
Pricing
Trello is widely known as a free kanban app. However, there are some limitations to the free plan. For example, you can only use one power-up per board. So if you want to take your team to the next level of productivity with Trello, you might need a Business Class plan, that costs $9,99 per user/month with annual billing.
‍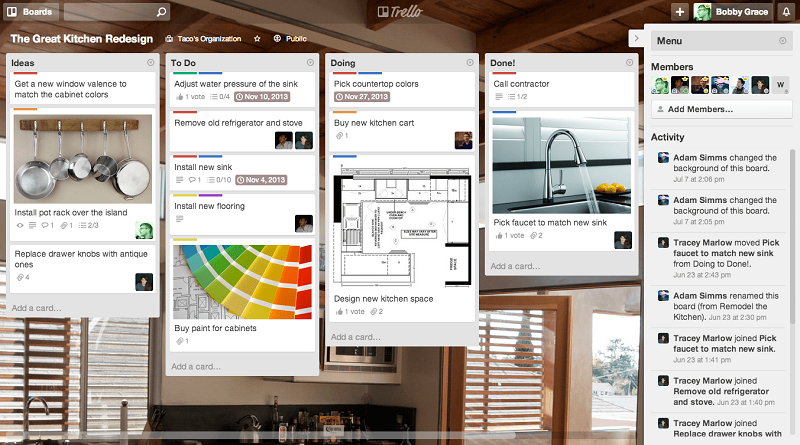 ‍
4. Monday.com
Monday.com is another Kanban app that offers a range of templates that you can customize to fit your workflow and needs. In fact, it's quite complex project management software with kanban boards as one of the possible options for project managers. Once you create a task, you can easily track the progress and time on a Kanban board, but not only. For yet more efficient management, you also get a chance to view the tasks on a Gantt chart, which gives you greater control over the projects and the stages to come. To let you stay on top of your team's work, Monday.com keeps you in the loop with a weekly overview of all assignments set for the coming week. This feature makes it easy for you to come back on track after the weekend and not waste your precious time. With Monday you can easily switch between kanban style boards and other views. That makes work management more flexible. In Monday you can also create your own project dashboards with custom fields and different columns.

Pricing
‍Unfortunately, Monday.com does not offer a free plan. But if you want to introduce complex Kanban project management in your company, it may be a good choice. So take a look at the plans.
Basic – $8/seat/month
Standard – $10/seat/month
Pro – $16/seat/month
‍5. Kanban Tool
Kanban Tool offers a clear, user-friendly interface and a range of features to facilitate your work. You can visualize the workload on a Kanban board and track multiple projects, using horizontal swimlanes. Apart from that, you get the possibility to collaborate with your team members in real-time. You can do it from any place you want, as Kanban Tool also offers a mobile app that you can use on Android and iOS. If you need some extra functionalities, you can get one of the available Power-Ups and there are plenty available. Another useful feature that Kanban Tool provides is the possibility to use automated graphs to learn about your team's performance. Thanks to them, you can plan improvements for the future and further improve your project planning.
It's one of the best Kanban apps used by both large and smaller teams. It can be used by agile teams for software development, but it also will be great for marketing, design, or accounting. The app has also a time tracking feature that is rare in other Kanban apps. In Kanban Tool you can start the timer simply by drag and drop the task to the working column. It's very convenient and helps focus on one task at a time. In this app you can also track multiple projects on one board using horizontal swimlanes.
‍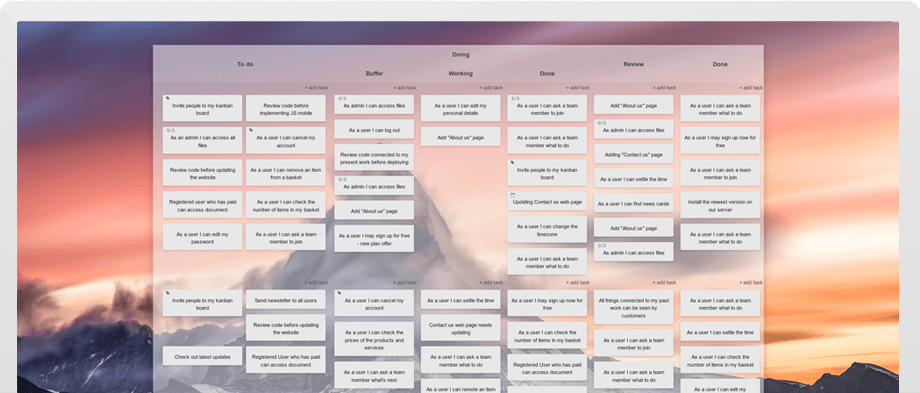 Pricing
Kanban Tool offers a very limited free plan. It is available for 2 users and 2 projects only and doesn't include file sharing. So you can get started with a free option, but probably you will need an upgrade fast. The Team plan is 5 EUR per user per month and Enterprise is 9 EUR per user per month.‍
‍6. LeanKit
LeanKit supports the Lean principles and practices and therefore offers features that will help you visualize the work as if flows through the process and see the big picture. Vertical lanes and horizontal swimlanes are used to represent parallel processes on the same board and are easy to modify as the process changes. With its advanced reporting options, LeanKit also helps you analyze and report on your data. Thanks to that, you can drive conclusions from the reports LeanKit provides and therefore make more informed decisions in the future.
You can integrate this online Kanban app with existing enterprise applications to keep work data in one place. Its key features include: online kanban boards, work planning, Work In Progress Limits, circle time and flow analytics, custom fields, and much more. You can build your visual process individually or you can use one of the pre-built templates.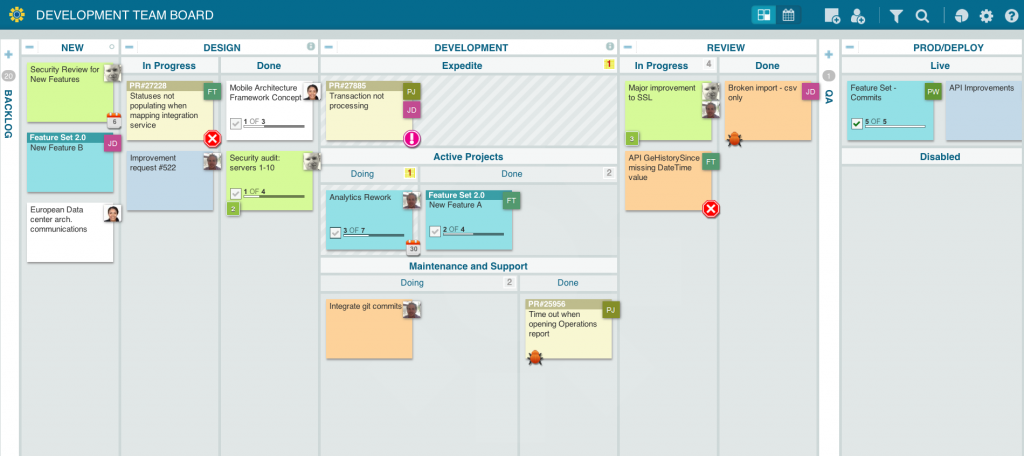 Pricing
LeanKit has only one pricing plan. The price starts at $20 per user per month. It's one of the most expensive kanban apps, but it offers many useful features for big teams.
‍7.
Kanbanize

 by Businessmap

Kanbanize by Businessmap is an enterprise-ready platform for agile project, product, and portfolio management that will help you organize your work and keep track of projects in real time, eliminating the need to report on the progress. One of the app's most interesting features is visualizing card dependencies, which makes the Kanban boards even more efficient and well-organized. You can automate the existing processes, dependencies, and interactions and always see the accurate status. Clear visual representation makes it even easier to stay in control of the workflow. The platform by Businessmap also offers a rich analytics module, which will help you track the most important Kanban metrics and achieve continuous improvement based on the results. The tool comes with a variety of apps integrations, including Google Drive, Dropbox and GitHub. Many users say that this is the best Kanban app for agile project management.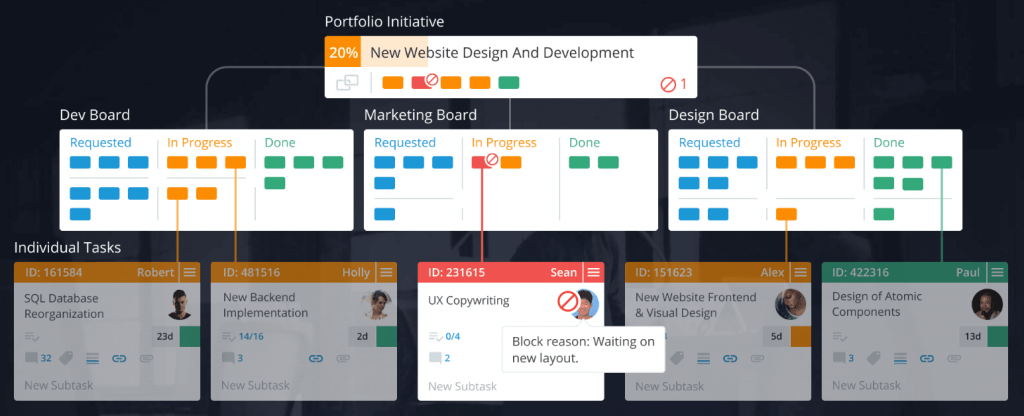 Pricing
Unfortunately, Businessmap doesn't offer a free plan, but you can try it out during the 14-day free trial. The price starts at $149 per month for 15 users in the annual plan. 
‍8. ProofHub
ProofHub is a Kanban tool that allows you to customize the workflow with any number of stages, according to your needs. However, ProofHub is not one of the simple kanban board apps. It offers a lot more features like Gant charts, custom workflows, chat, proofing, calendar, forms, time tracking etc. With an efficient system of notifications, all those involved are always aware of the status of a given task. You also get to visualize your projects on a Gantt chart, which allows you to adjust task dependencies and plan ahead in an effective way. ProofHub gives you the possibility to assign a manager to each project so that they receive all important notifications and can keep track of the progress along the way. You can also assign different roles to define who gets access to what and make sure everyone is up to date with the information they need.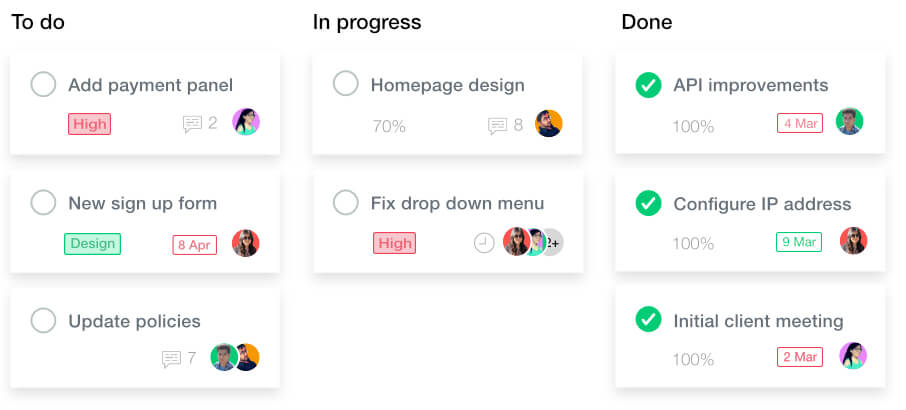 Pricing
ProofHub offers a flat price for unlimited users, so it's perfect for bigger teams. You need to remember, that it's not one of the simplest Kanban apps, but a comprehensive tool for work management.
The Essential plan costs $45 per month (billed annually) and it's limited to 40 projects and 15GB storage.
The Ultimate Control plan costs $89 per month and contains unlimited projects, 150GB of storage, and some extra features like custom roles and workflows, project and resource reports, and priority support.
9. Zoho Projects – excellent project management software with kanban
One of the most advanced project management tools on this list. Zoho Projects offers not only work management features with Kanban boards and other views but also helps with project planning and automation thanks to features like time tracking, task automation, Gantt charts, timesheets, charts, and reports. It's more complicated than other kanban apps, but on the other hand, it gives a lot more opportunities to increase productivity.
Zoho Projects can be a cost-efficient alternative to Trello and other apps, because it has many useful features, can automate some repetitive work and price starts from 2,5 EUR per user per month.
Thanks to custom fields in Zoho Projects you can adjust the software to your work specificity, not the other way.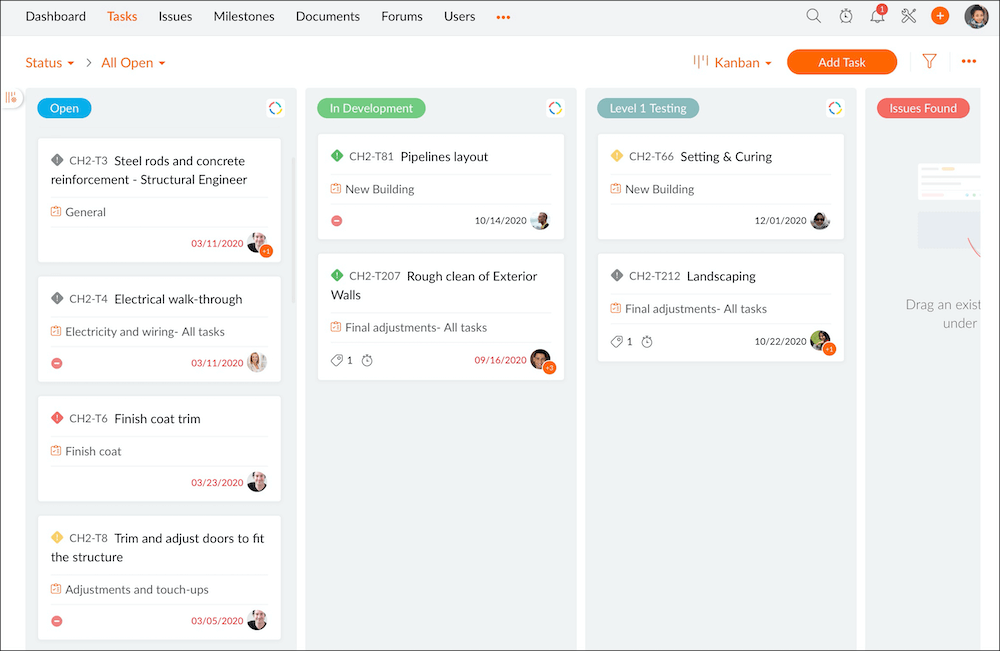 Pricing
Zoho Projects offers an always free plan for three users and two projects.
Standard Plan – 2,5 EUR/user/month
Express Plan – 3 EUR/user/month
Premium Plan – 4 EUR/user/month
Enterprise Plan – 5 EUR/user/month
10. Breeze – a great app with Kanban boards
Breeze is one of the best Kanban apps on the market. The tool has a good balance between offering a lot of features and ease of use. Breeze offers two main views for tasks: project Kanban board and task list. The first one can be used to get an overview of the project and the second one provides more details about tasks. One of the most interesting features are a built-in timer and project budget that can help you keep projects profitable and on track. Breeze also easily works with third-party apps using native integrations or Zapier. Breeze offers also a convenient place for all project files, so if you work with many documents, it can be helpful. The files can be attached to any task or comment and can easily be found in the central repository.
In Breeze every task has multiple fields to keep all information in one place. You can set custom colors for tasks, add due dates and progress status, multiple to-do lists, or even create your own custom fields. The card's design is similar to Trello, so if you know this tool it's easier to get started.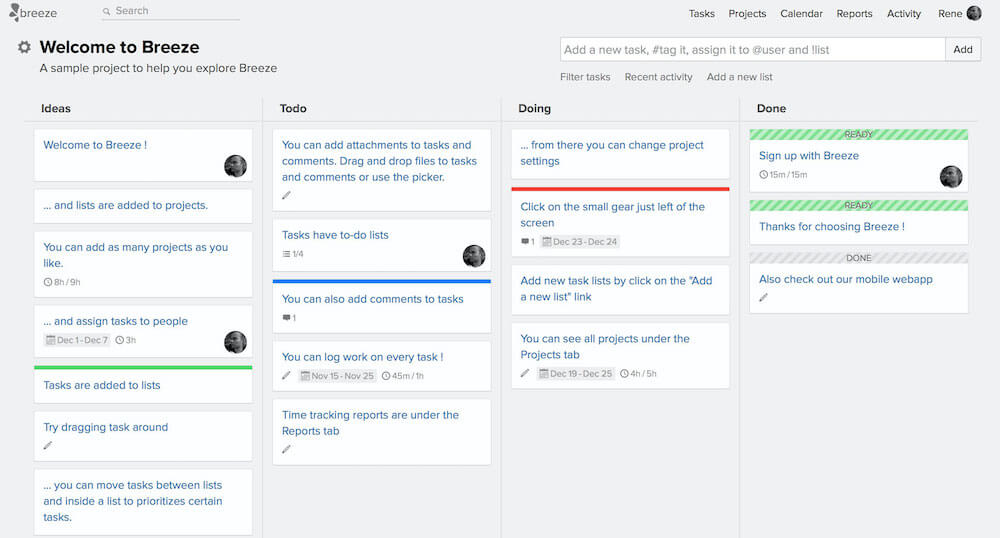 Pricing
Breeze is not a free Kanban tool. You can test this tool on a 14-day free trial and after that, you need to upgrade your account.
Solo plan for a single user – $14 per month
Freelancers plan for up to 5 users – $39/month
Small Business plan for up to 12 users – $69/month
Large Team plan for up to 30 users – $139/month
Enterprise plan for up to 60 users – $259/month
11. Wekan – an open-source solution
Wekan is an open-source kanban app. It offers many advanced features like WIP Limits, keyboard shortcuts, different permission levels for users, swimlanes, calendar view, etc. The app's design is not very modern, but it's quite similar to Trello.
There are some problems with the stability and performance of the app, but it's still a very young solution, so it should be fixed in the future. The biggest advantage of this app is the open-source formula and customization possibilities, so you can manage your tasks as you wish.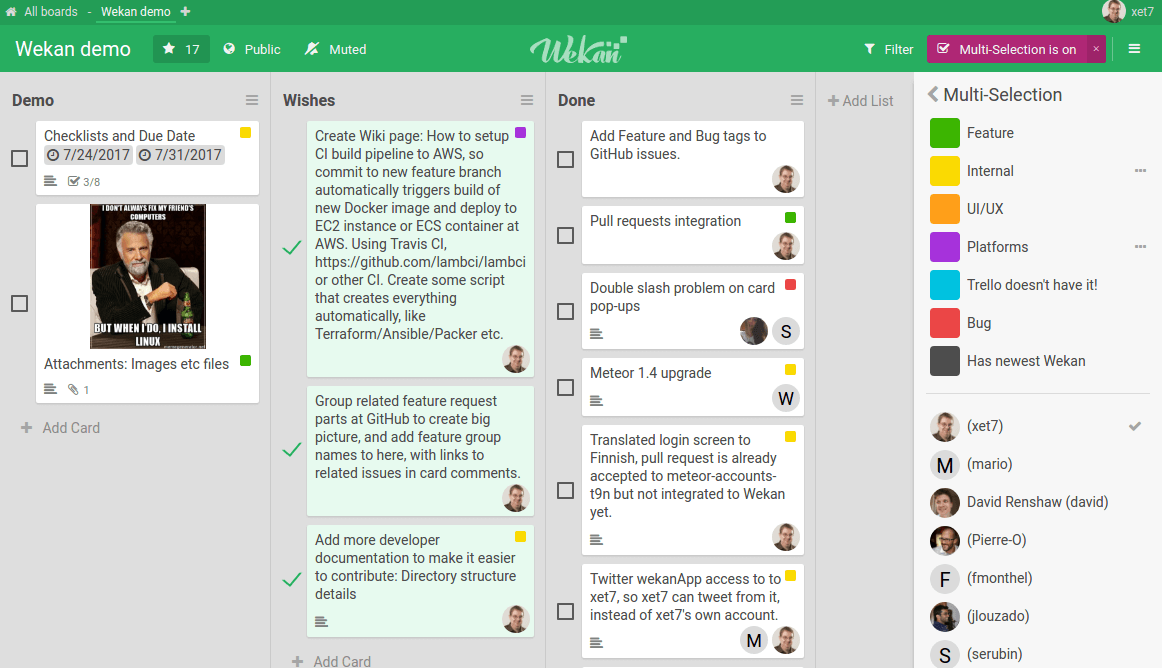 Pricing
Wekan is free of charge, but it requires some development work to start using it.
Summary
Have you found the tool that is suitable for your team on our list? Remember that "the best Kanban apps" may mean something different for us than for you. If you're just starting with project management and you don't have many tasks, Trello might be the best for you. If you need more features and maybe automate some repetitive work, you can try apps like Monday.com. There are so many Kanban apps on the market, that finding the best might seem though, but we hope that we helped a little 🙂
Remember, that you can test several apps before you decide which one is the best. Start free trials, add some tasks, and find out what's good and what do you miss. Don't rush with choosing the best app for your team.