Best Free Workflow Apps You'll Want to Check Out
February 7, 2023
by Pawel Kijko
No comments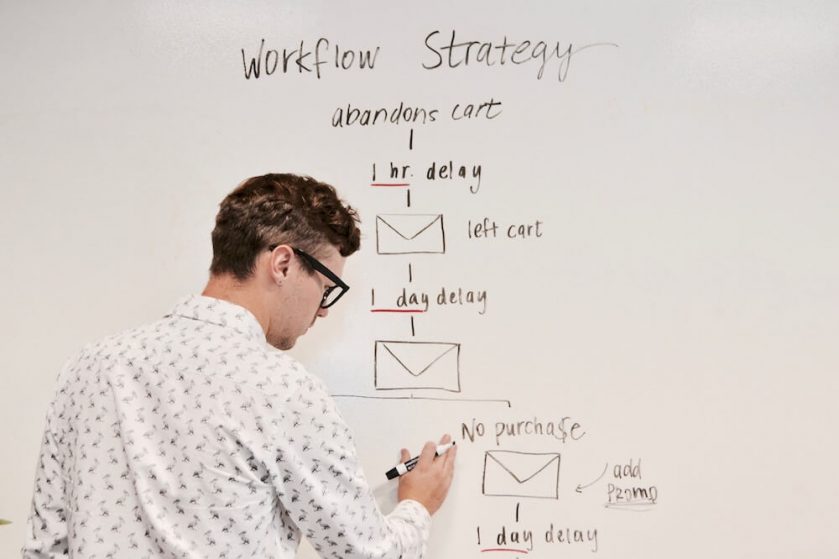 Effective workflow management can be very demanding. There's a lot of aspects that you have to take into account and problems you should be able to forecast before they even occur. That's why you should try to make it as easy as possible. One way to facilitate the process is to make use of software designed for that purpose.
What is workflow management?
First of all, by "workflow" we mean a sequence of tasks assigned to a team or an individual that are part of some larger project. The bigger projects can be divided into smaller workflow processes. In most cases, project managers are responsible for effective process management, so they create workflows and documentation to make work easier and more organized. Sometimes they use many apps for coordinating the work and sometimes they do everything in Excel.
Workflow management is the process of optimizing a company's business processes using automation and project management software. It can be done in a more or less official way. Some companies use very sophisticated workflow management software and document every activity in a business process. They also implement process automation if the work is repetitive and can be automated. That positively affects team coordination and efficiency in general. On the other side, there are companies that work efficiently with no complex apps, automations, or documented workflows. They may use simple cloud-based to-do lists just to manage everyday tasks.
What is workflow automation?
Workflow automation is removing redundant manual work from the process. To do so, you need to map your business process, identify repetitive tasks, that can be automated, and use adequate tools to ensure that the optimization of the processes can be introduced on every stage and in every department of the company. The main advantages of workflow automation include paperwork reduction, easy onboarding for new employees, save time on approvals and status meetings, collaboration with team members in different locations. Manual workflows are also prone to errors, that can be eliminated with automated data check in digitalized forms. Workflow automation leads eventually to efficient workflow optimization – you can easily analyze many project metrics, workload and find bottlenecks to correct.
Who can benefit from workflow apps?
You may think that process management and workflow automation app are only for big businesses with very complicated structures and projects involving many participants. It is only partially true. Of course, big companies can save thousands of dollars on seemingly irrelevant changes in the workflow like reducing the number of fields in a form. It's all about economy of scale. Smaller companies prefer to use simpler task management software that is cheaper and doesn't take much time to implement and learn. But SMB can also benefit from workflow apps, especially when they have many repetitive tasks. For example, a small digital marketing agency can handle tens of clients and campaigns that have some mutual tasks and processes like client onboarding or campaign reporting. It's not very optimal to do everything manually when you can use a solution to automate work and save time and effort. What is more, if you implement workflows and project automation when your team is small it will much quicker process and you will be ready to scale in the future. Some of the workflow apps presented in this article offer free plans for small teams, so you can test them and choose the best solution for your projects.
How to choose the best workflow platform for your team?
Choosing the best workflow app it's not the easiest task. You need to take into account many things like the complexity of your processes, hierarchy levels, needs of different teams and departments, types of data you want to use, and much more. In the end, you won't have a guarantee that your team will be willing to change the way they work now.
To make sure that the choice will be optimal, you can follow these steps:
map your processes and workflows
check several tools on the market and check their features
read the reviews of the most interesting tools and pay attention to the ease of use issues
give your team time to test at least two different apps
get feedback from your team and ask if they have some problems with the new platform
add your team members to the evaluation process
check if using the tool helped save time or caused some problems with productivity
Take a look at our list of best free workflow apps, that can help you with process automation!
1. TimeCampl Planner – task management and chat
TimeCamp Planner is free workflow automation app that combines the features of task management and communication to help you manage your workflow effectively. In TimeCamp Planner, you can benefit from easy access to your list of spaces, chat, task cards, files, and data, all at once. You can easily communicate in one-on-one or group conversations with all your team members. At the same time, you can keep track of your workflow and monitor all processes on different views: board, list, calendar or timeline. Different workflows demand different processes, so in TimeCamp Planner you can structure your Spaces as you wish by creating a specific number of lists and name them by stages of your business process. As a workspace owner, you can easily manage members within your Workspace. Thanks to the useful feature of tagging and easy checklist management, you will never lose track of important tasks. TimeCamp Planner is also available for your mobile phone – thanks to the mobile app you can now access it from wherever you are.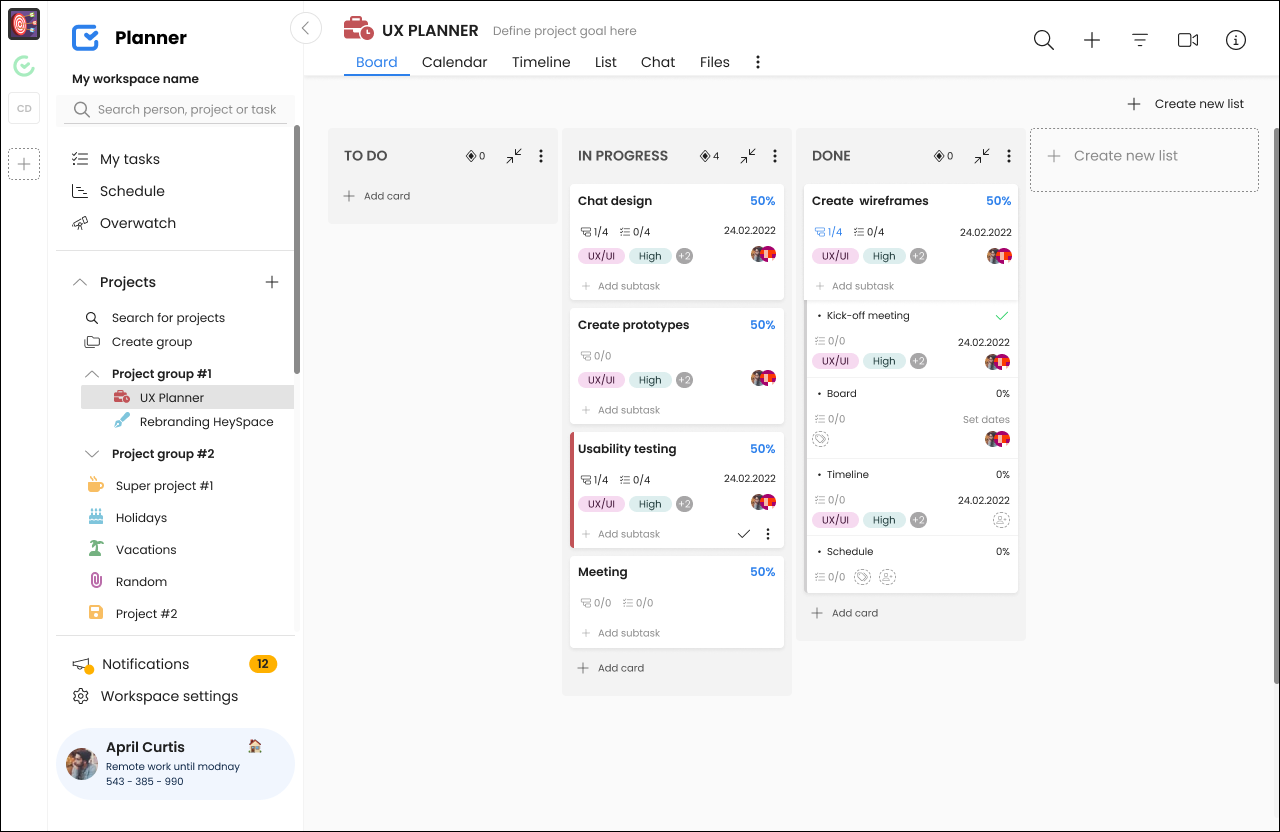 TimeCamp Planner pricing
TimeCamp Planner offers a very attractive free plan, which is perfectly suitable for small teams, and a more flexible premium plan (from $6 per user per month) that will meet the needs of bigger projects. You can use TimeCamp Planner at work, but also in education or just for communicating with a group of friends. Business users appreciate TimeCamp Planner for its user-friendly interface because they save a lot of time on implementation and learning. Can we share a secret with you? It's our favorite workflow app 😉
2. Flock
‍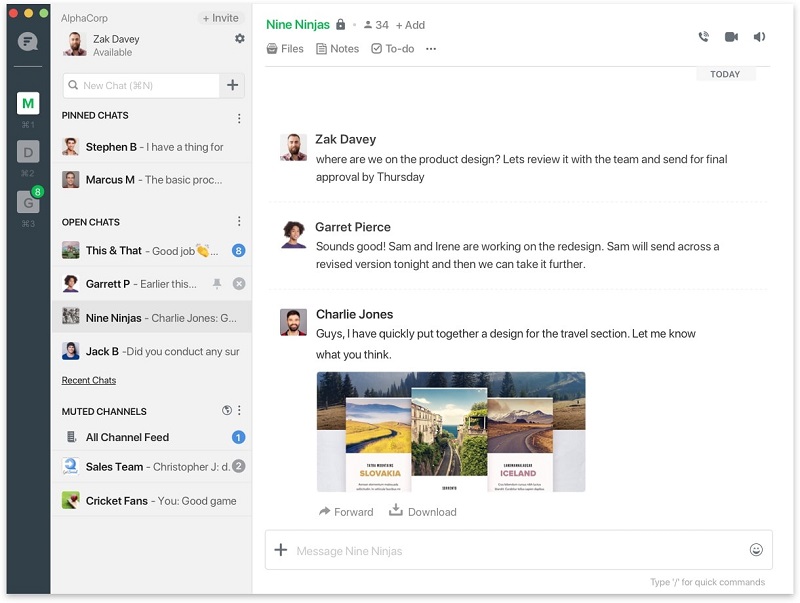 Flock is a group collaboration software and messaging platform, which allows for team messaging around projects with one-to-one or group discussions. Flock gives you the possibility to share files with your teammates and browse through all shared files and content in one place. You can easily add documents to the conversation and collaborate on them. If you need to work with other companies, but don't want to share sensitive company information, you can invite them as guests and work with everyone in one place. The options to make video calls and instant audio conferences via phone make the choice of communication channels even more varied. So if you want to save time on typing, you can simply call.
‍
Workflow management
The majority of Flock's functions help in effective communication. However, you also get a possibility to convert your discussion to tasks and set due dates for you and your team. Flock is not a full-featured project management tool, but it will be helpful for teams that want to get started with workflow management and need an easy to use tool to create a simple workflow.
‍
3. ClickUp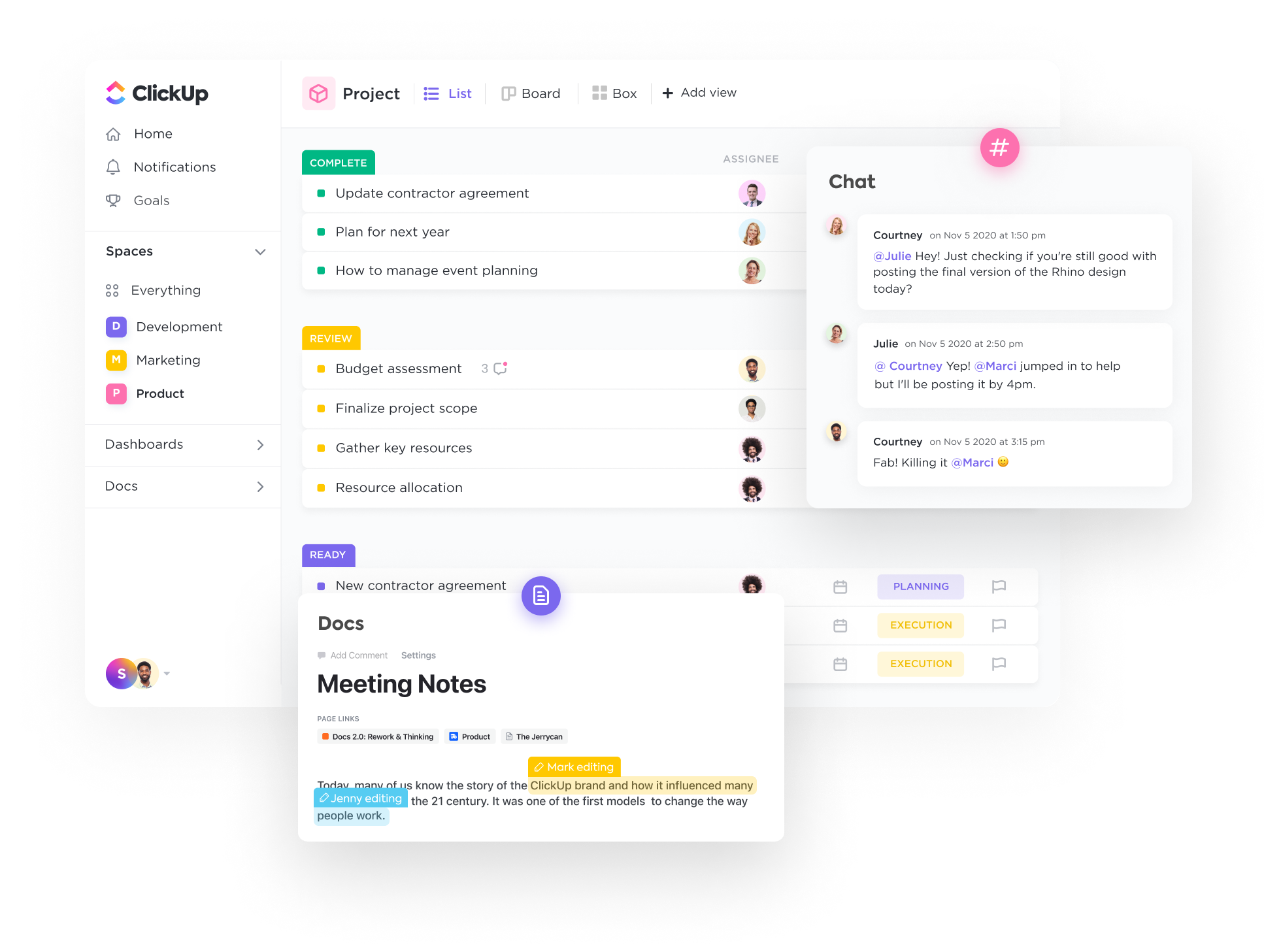 ClickUp is an all-in-one productivity tool that small and large teams across different industries turn to for a powerful work management solution. It's completely customizable and offers a feature-rich experience to manage your workload, monitor project updates, automate repetitive processes, and improve team collaboration—no matter what project style you use.
Workflow automation
ClickUp helps teams save time and makes it easy to manage routine tasks. You can either choose from a large library of 50+ Automations, or you can create your own custom Automation to suit your business workflow! Simply set your triggers such as status change, task created, due date arrives, and more, then assign conditions to activate the action. Once you've set up your automated workflows, track how they're improving your team performance with an Agile Dashboard that displays velocity, burn-up, burndown charts, and other widgets in ClickUp. Streamline your workflow even further by connecting ClickUp to 1,000 other work tools. Automation options are common with ClickUp and Monday, making both of them a solid choice for managing workflow.
‍
4. SmartTask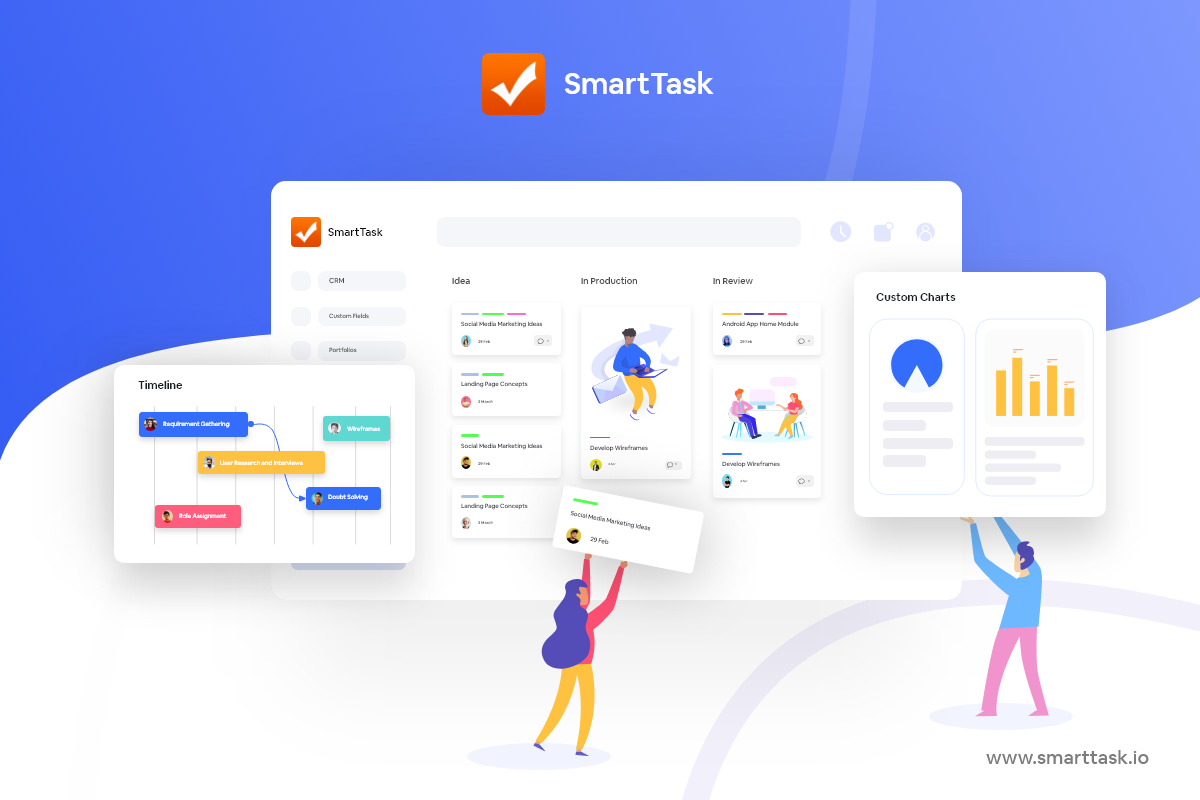 SmartTask is an award-winning work management tool that helps you manage workflows, projects, tasks, and sales processes. It has task management, project management, time tracking, CRM, team collaboration, analytics, and reporting features. It allows you to manage tasks with the list, board, kanban, calendar, and timeline views. It also allows you to set task reminders, do video meetings from tasks, auto-schedule tasks, create project portfolios, create custom charts, and much more.
SmartTask also integrates with Integromat, Zapier, Slack, Jotform, and many other 1000+ applications to automate your workflows with ease.
Pricing: It offers a great free plan with unlimited users and most of the features, while its paid plan starts at $5 per user per month.
‍
‍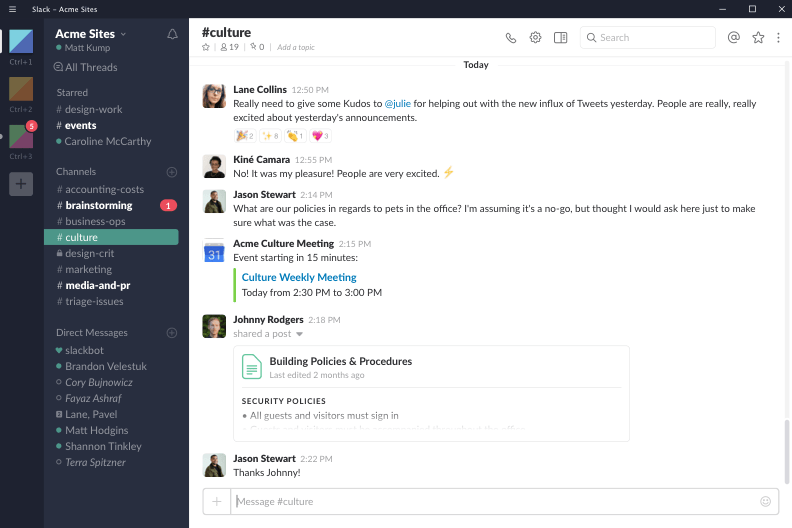 Slack is a cloud-based set of collaboration tools that make teamwork easier and faster. Teamwork in Slack is organized in channels, which can be divided by team, project, or anything that works best for your team. If you need more direct communication, you can make a voice- or video call or share your screen with another person to show your work. In Slack, you can create workspaces and collaborate with other people within your company or with other businesses if need be. Slack has an integrated option of file sharing and a possibility to connect with other tools that you use on a daily basis.
Slack's automation
Slack offers some workflow automation options to simplify business processes. Slack's workflow builder is an easy automation tool that helps users save time and focus on important work. Thanks to pre-built workflows you can:
automatically create and track a new bug in Jira
turn messages into tasks in Workast
get a daily reminder to post standup in channel
schedule messages for the future
assign onboarding checklist to a new team member
… and many more
For an app that connects the features of Slack with task management software, see our article about a Slack alternative.
‍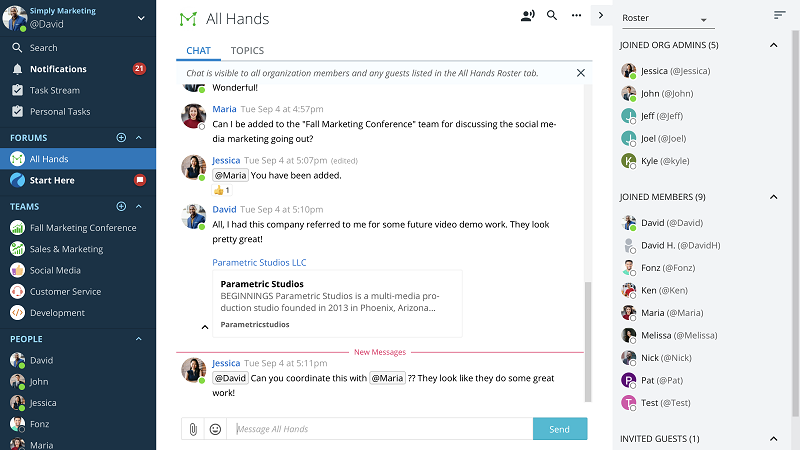 Ryver is a real-time communication software with a task management element. Thanks to the way in which Ryver allows you to organize your conversations – according to their purposes and forms – you can easily keep up with all of them, either one-to-one or group ones. You also get to communicate via voice and video calls. Ryver gives you the option to convert messages into trackable tasks. They are then displayed on task boards with columns of post-it notes available for everyone in a team.
Workflow feature for automating repetitive business processes was previously available as part of Ryver Enterprise Plan but is no longer for sale.
See software with these and even more options in our article about a Ryver alternative.‍
‍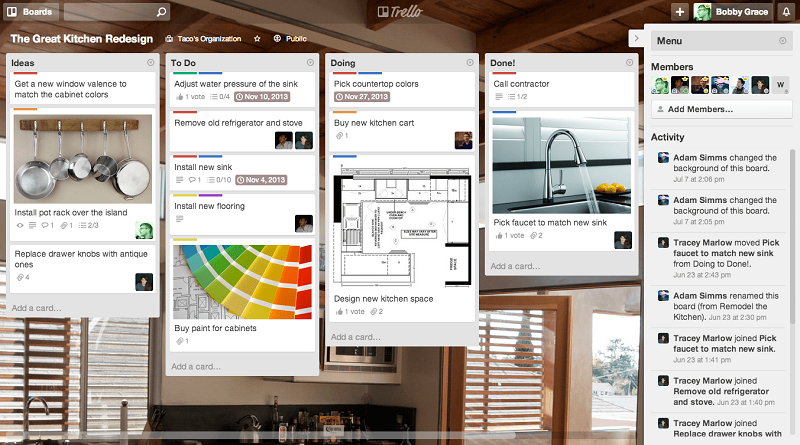 Trello is an easy and flexible software with a very pleasant user interface, which gives you a visual way to manage your projects and organize tasks. In Trello, you can create boards of things you need to do and use them on your own or invite others to collaborate. It also gives you the option to add checklists and to-dos and assign tasks to yourself or other members. You can then display them in a calendar view. You can integrate Trello with many other apps that your team already uses. Trello is designed for simple processes, that don't include many stages and participants with different levels of access. But it can be a great app for a start and digitalize simple workflows.
Task automation options
Trello doesn't offer advanced workflow management features. Basically, you can only drag and drop tasks between lists. But you can always use one of the numerous power-ups to automate your business processes. Check the following examples of workflow automation to get an idea of Trello's capabilities.
Butler for Trello helps you to make changes in cards, lists, boards, and settings based on three types of triggers: Every (e.g. Every Monday at 6 AM), On Due Date, and When something happens on a board.
Track time for specific cards with time tracking integrations just by clicking start and stop in Trello.
Create cards from received emails automatically.
Setup configurable alerts to automatically notify Slack channels for activity in Trello at the board, list, and card level.
Visualize your data in reports and dashboards.
Add custom fields to cards to create workflow more adjusted to your needs.
If you're looking for all-in-one software to communicate with your team and manage tasks, see our article about a Trello alternative.
8. PDFelement
Looking for a single, affordable platform to manage all your PDF workflows? Then Wondershare PDFelement is one application you should seriously look into. Create, convert, edit, annotate, sign, protect, and do more with PDFs with this robust family of PDF editors. As the company says: "However you PDF, OWN IT!"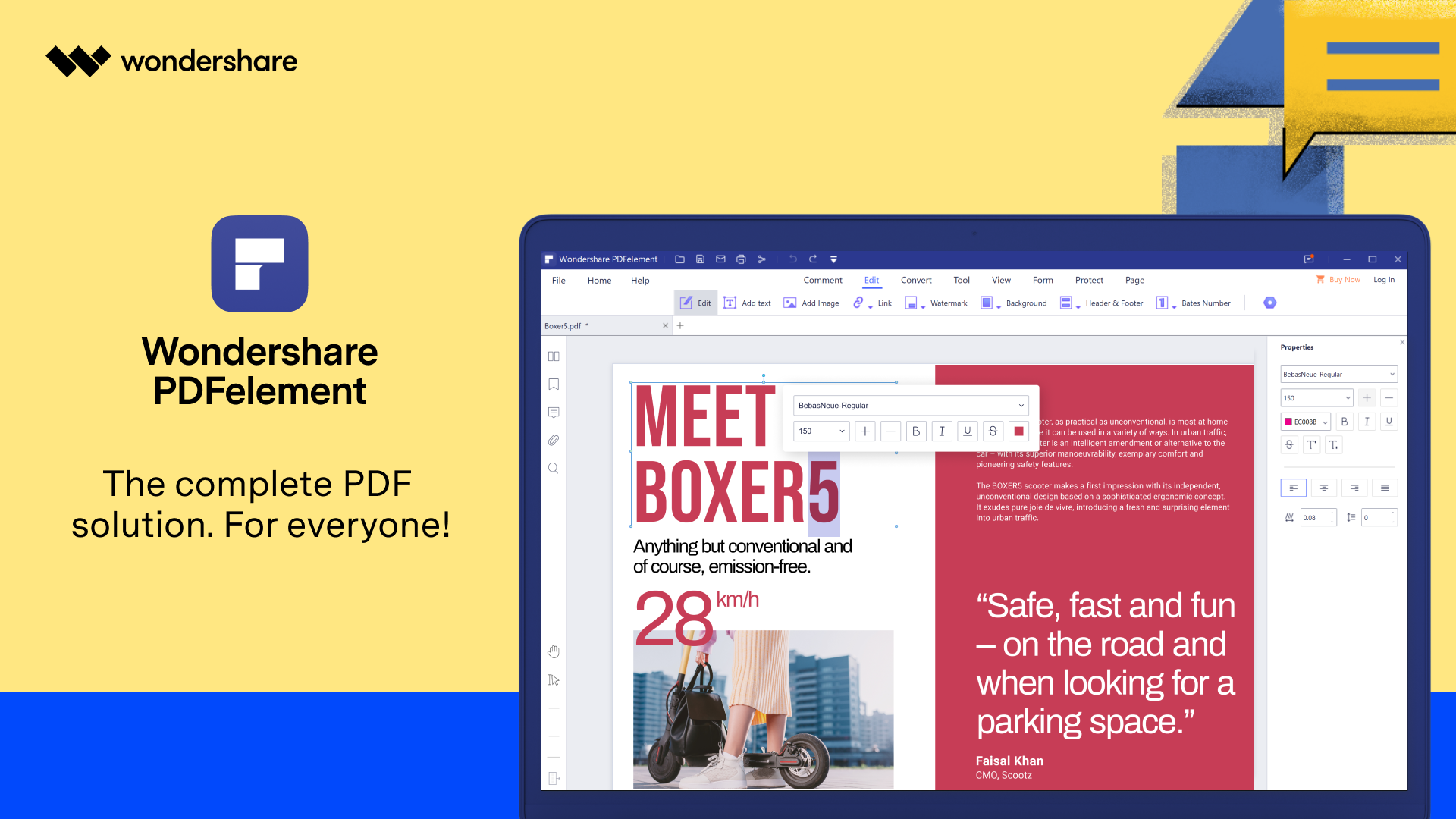 Cloud Integration for PDFelement Windows Version
PDFelement takes care of everything PDF, and it does it using a very user-friendly and intuitive interface. The new PDFelement Pro DC for Windows is integrated with Wondershare Document Cloud, bringing access to cloud storage and an electronic signature service right to your desktop.
‍
‍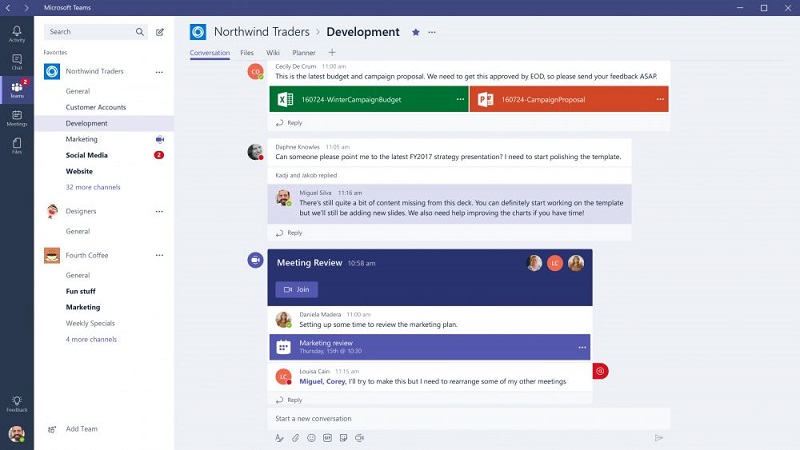 Microsoft Teams is a platform that combines workplace chat, meetings, notes, and attachments. With the app, you can chat privately or in groups, and communicate with the entire team in dedicated channel. You can then save important conversations and search through them to quickly find what you need. It doesn't only allow for written communication, but also makes it possible to connect face-to-face via audio and video calls and join meetings from almost anywhere. It's one of the most popular chat apps in big companies.
Workflow automation
To automate work in MS Teams, you need to use one of their apps – Power Automate. It helps users organize notifications and workflows. Automations can be also launched with the bot, so you don't have to remember about them. You can create automation by yourself or use one of the available templates. Thanks to the app you can introduce process automation into your daily work and save time and money.
‍
‍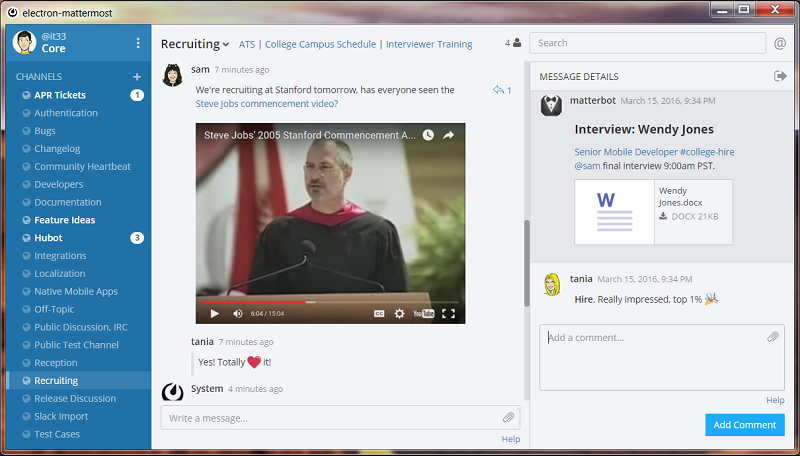 Mattermost is open-source, self-hosted workflow automation app, which brings all your team communication into one place with one-to-one and group conversations. With Mattermost, you can easily communicate with your team to discuss important issues as well as share and view files. You can fully customize it to make sure it meets the needs of your team.
Automated task management
Since Mattermost is an open-source software, you can integrate it with your favorite business apps and create your own business processes automation. You can use n8n tool for that purpose. n8n is a software that helps you automate tasks, create workflows, sync data between various sources, and react to events—all via an easy-to-use visual workflow editor. With these smart workflow apps working together, you can save a lot of time on task management and checking the status of your projects.
‍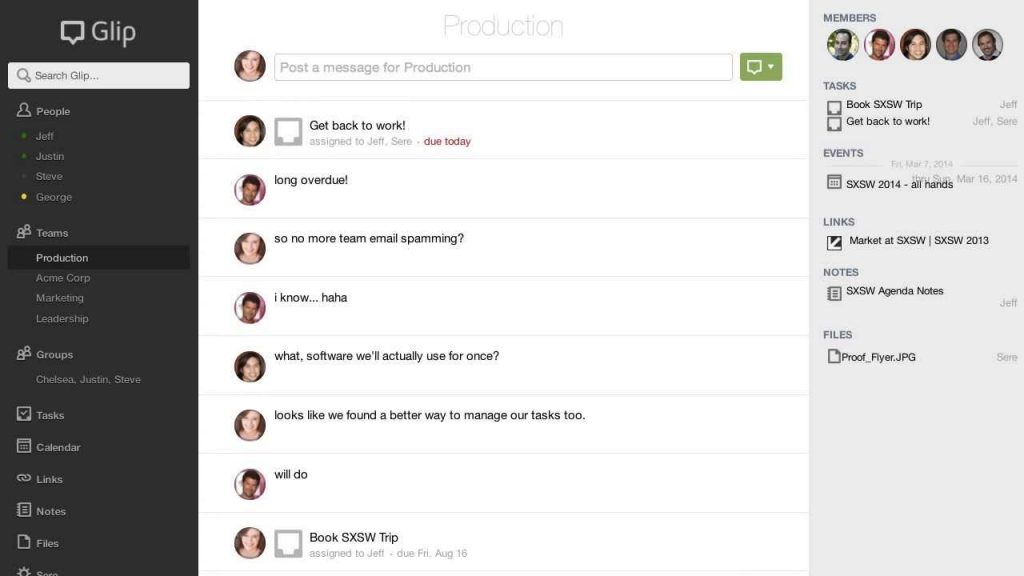 Ringcentral Glip is a tool that enables you to chat with your team regardless of where you are, through any device. With this app, you can connect with individuals or create teams, share files, and provide on-the-spot feedback. It helps you keep everything organized and easily accessible. Ringcentral Glip also gives you the possibility to assign and manage tasks across groups to create productive teams.
‍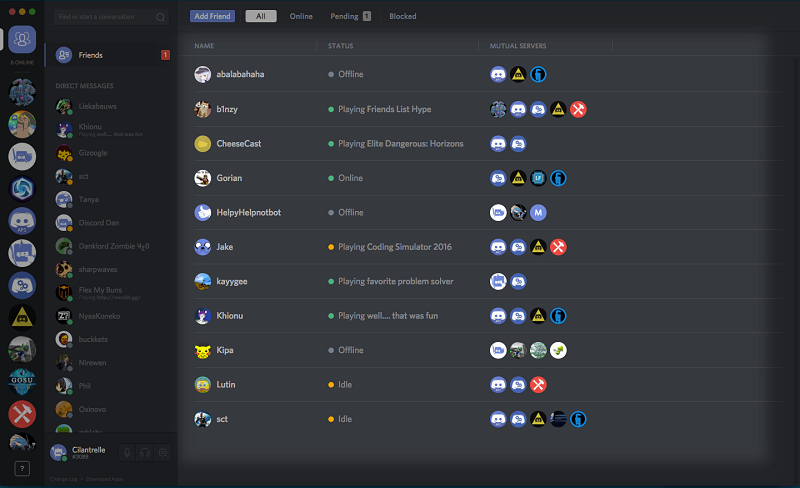 Discord is a platform that specializes in text, video, and audio communication between users in a chat channel. The main function of this app is a voice chat, but users can also use the real-time text messaging option to send direct messages to other team members. You can divide your channels into categories, in order to organize and customize your channel listings.
‍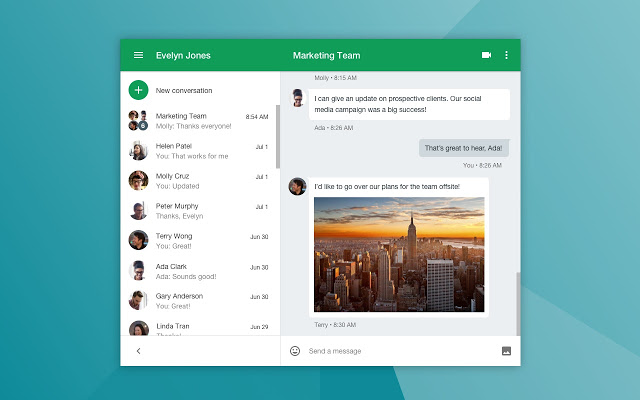 Hangouts Chat is offered to G Suite customers and does not require additional payment. It makes it easy for teams to collaborate easily and efficiently. You have access to virtual rooms where you can engage in conversations through direct messages and group conversations. As it is available in the G Suite package, you can upload items from Drive, collaborate on Docs, Sheets, or Slides. Your chat also gets directly integrated with Calendar to schedule meetings for you. When dealing with confidential business information, companies may opt to work with dedicated data room providers that specialize in secure document storage and collaboration solutions to ensure the highest level of data security.
‍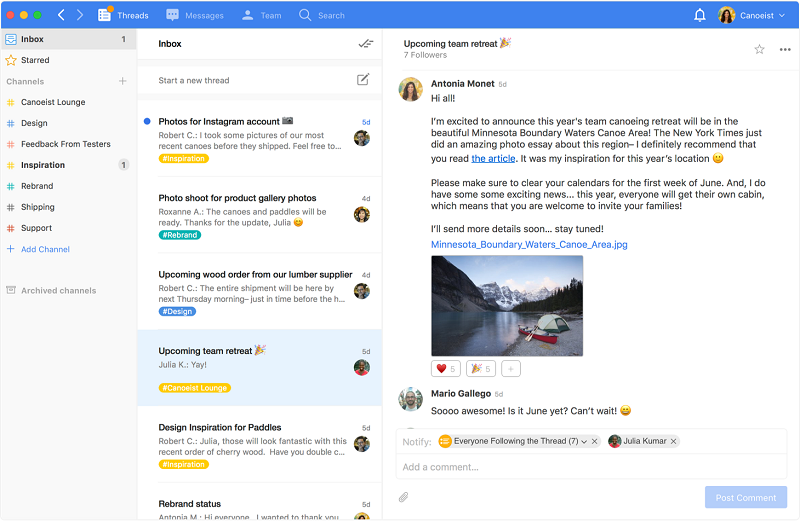 Twist is a modern communication tool that helps you work in a calm, organized, and productive way. If you're looking for a tool that will make it easier to keep track of important conversations and information within your team communication, Twist is for you. It organizes your team communication by keeping your team conversations in one place and categorized in threads. Thanks to that you have access to everything you need on any device and anywhere you need.
‍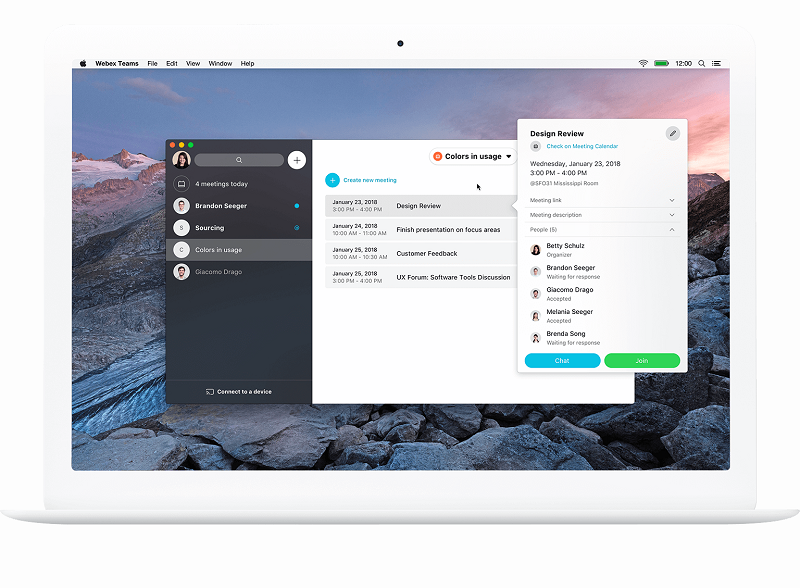 Webex Teams is an app that enhances teamwork by enabling video meetings and group messaging. With this app, anyone can start a meeting, share their screen, or start recording. You can invite guests and organize meetings for up to 40 000 people. Also, meetings can be automatically scheduled in your calendar. Thanks to the option of a Whiteboard, you can draw or write something and share it with your team. So there is no need to take pictures and send them anymore.
‍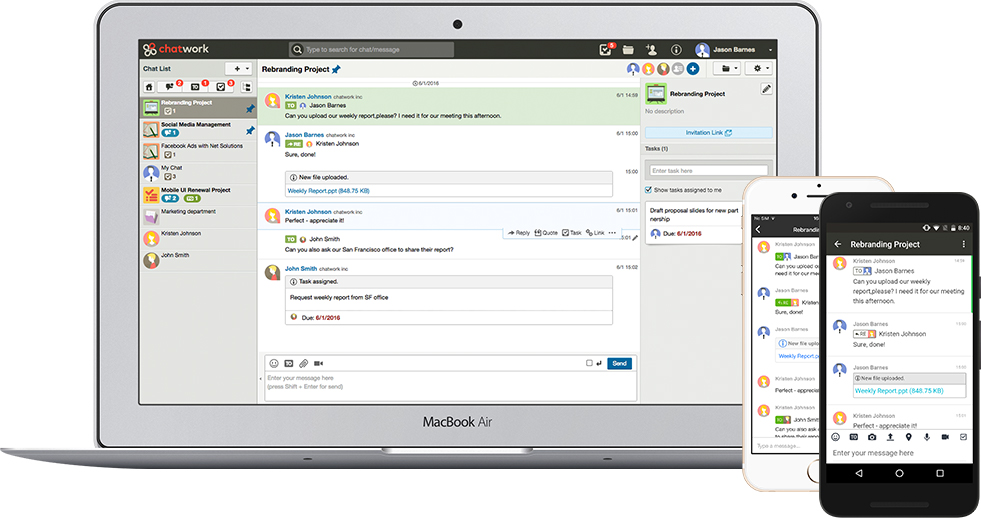 Chatwork is a communication app in which everyone creates a profile, to which they can add pictures, contact information, and even upload a cover photo. They get access to a chat where they can privately store their own files and notes but also have private or group conversations with other users. Pinning important features can help remember the most important information. Chatwork also has the feature of adding tasks, checking, and completing them.
You can automate some processes in Chatwork thanks to automate.io integration. For now, there are only two actions that can be triggered by this tool: send a message and create a room.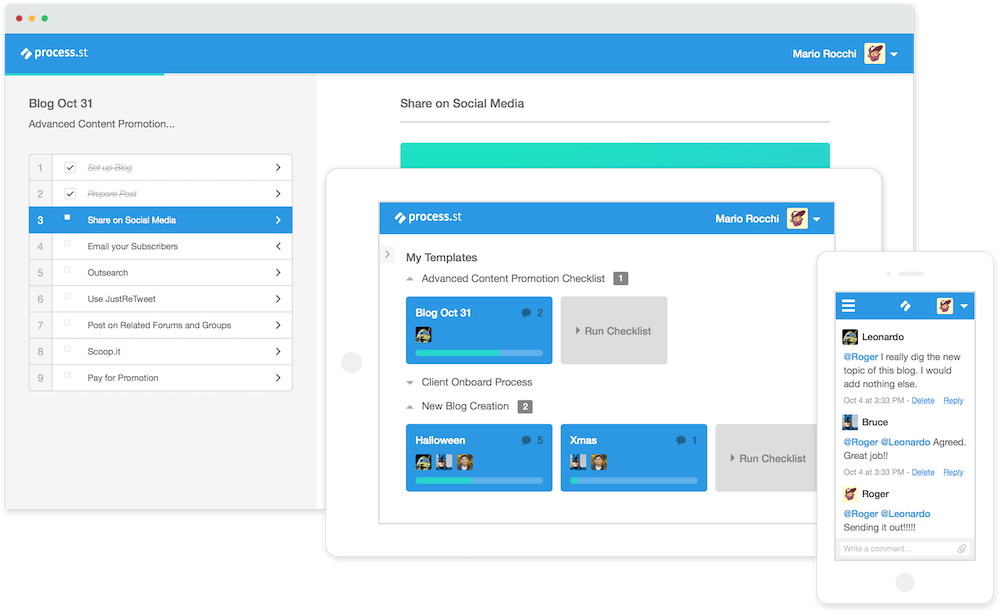 Process Street is a process and workflow management tool perfect for recurring workflows. In the app you can easily create procedure documents in a drag and drop interface. You can also make checklists for your team from workflow stages. Process Street can be used for onboarding new employees, Help Desk Support workflow, podcast publishing, new client setup, and in numerous other business processes – everything in one app. By implementing Process Street you can create a transparent work environment and show your employees how they contribute to workflow processes and how important is their work.
Process Street offers integrations with 1000+ apps via Zapier for even better workflow automation. You can set rules to automate tasks and save time for more conceptual work.
‍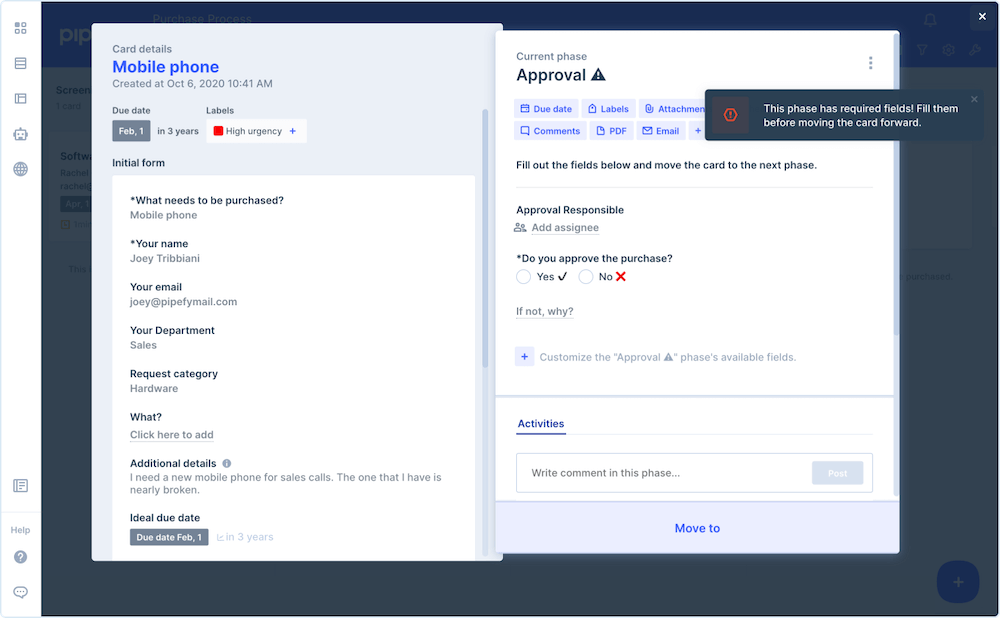 Pipefy is a cloud-based task management and collaboration solution that helps to manage and automate business processes and workflows. In the app, you can collaborate inside your team as well as with customers, business partners, vendors, etc. Pipefy makes project management easier thanks to features like:
automatic workflow launch based on triggers like form submission, received email or even SMS,
automatic task assignments,
shearable forms and portals for external collaborators,
integrations with many business apps to automate notifications and keep all data in one place.
Pipiefy makes it easy to manage repetitive business processes.
‍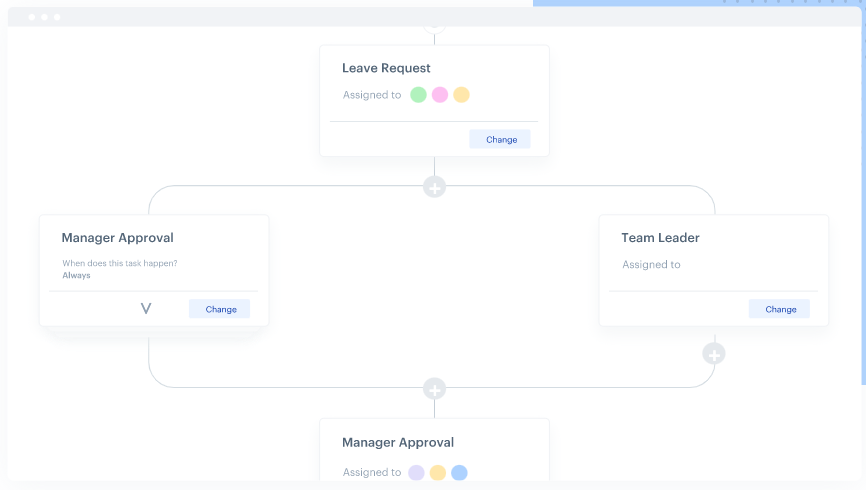 Kissflow is a project and process management solution for small and medium businesses. In the app, you can easily create visual workflows for your data and prepare custom forms to use for flows. Ease of use is one of the most commonly pointed out advantages of this project management tool. Kissflow lets users manage processes without coding by using a drag and drop interface. But workflow management is not the only useful feature of this software. You can also benefit from features like case management for use cases like bug tracking, ticketing, or service requests.  Kissflow also offers tools for collaboration, content creation, and project management.
With Kissflow you can save on other workplace tools that you already use and automate business processes to work faster and smarter.
‍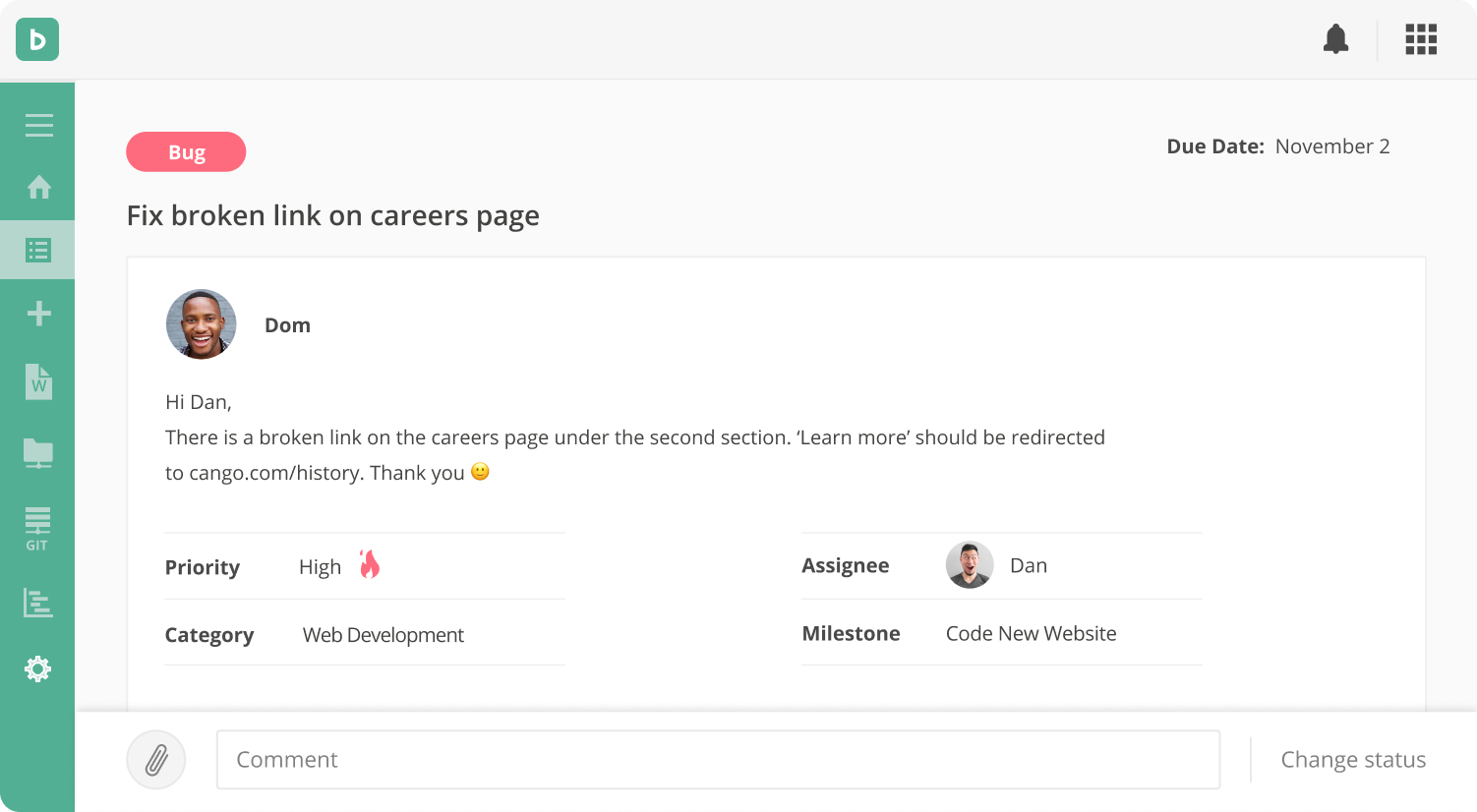 Backlog is a cloud-based project management software for IT development teams. It's especially beneficial for remote developers to work on the same project. With this app, you can fix bugs faster, manage the new feature release process, collaborate on code, and use Gantt Charts to visualize the project's timeline. Workflow management in Backlog can be more efficient thanks to features like:
task hierarchy – set parent and child tasks to create your own hierarchy structure and organize your workflow
file-sharing – uploading files to comments or folders
Wikis – keep project details in one place and get notifications about changes
Gantt Charts – visualize the business process and keep an eye on deadlines
integration with third-party IT apps like Jira and Redmine
If you're not sure if you want to use Backlog, you can test it in a long, 30-day free trial. It's longer than in other similar tools. Backlog offers many features for IT developers but can be used in other departments like marketing, sales, or design.
‍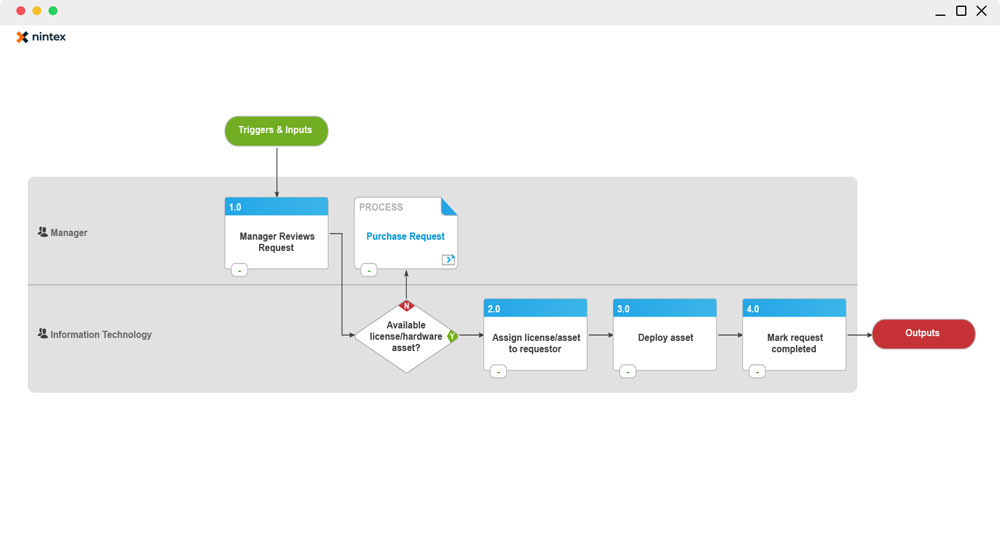 Nintex is a complex platform for workflow management and automation. With this solution, you can plan, map, and manage your business processes with easy-to-use tools that users like. This workflow management software offers business process automation to save time and money on manual, repetitive tasks. To minimize paperwork you can create forms for easier and automated data input. You can also use automation and bots to save time on repeatable tasks. Get process improvement ideas from data visualization and optimize your workflow based on real data, not guessing. Nintex is used by different company departments (Sales, IT, HR, Customer Service, Finance) and different industries (banking, energy, manufacturing, education).
Who can benefit from nintex?
This workflow app is not cheap and targeted at big companies with complex workflows and processes. It surely allows us to save money by automation, but it needs a proper scale to fully show its potential. If you work in a smaller team, you can look for a more affordable solution with less advanced features. Maybe search for task management tools rather than workflow apps.
‍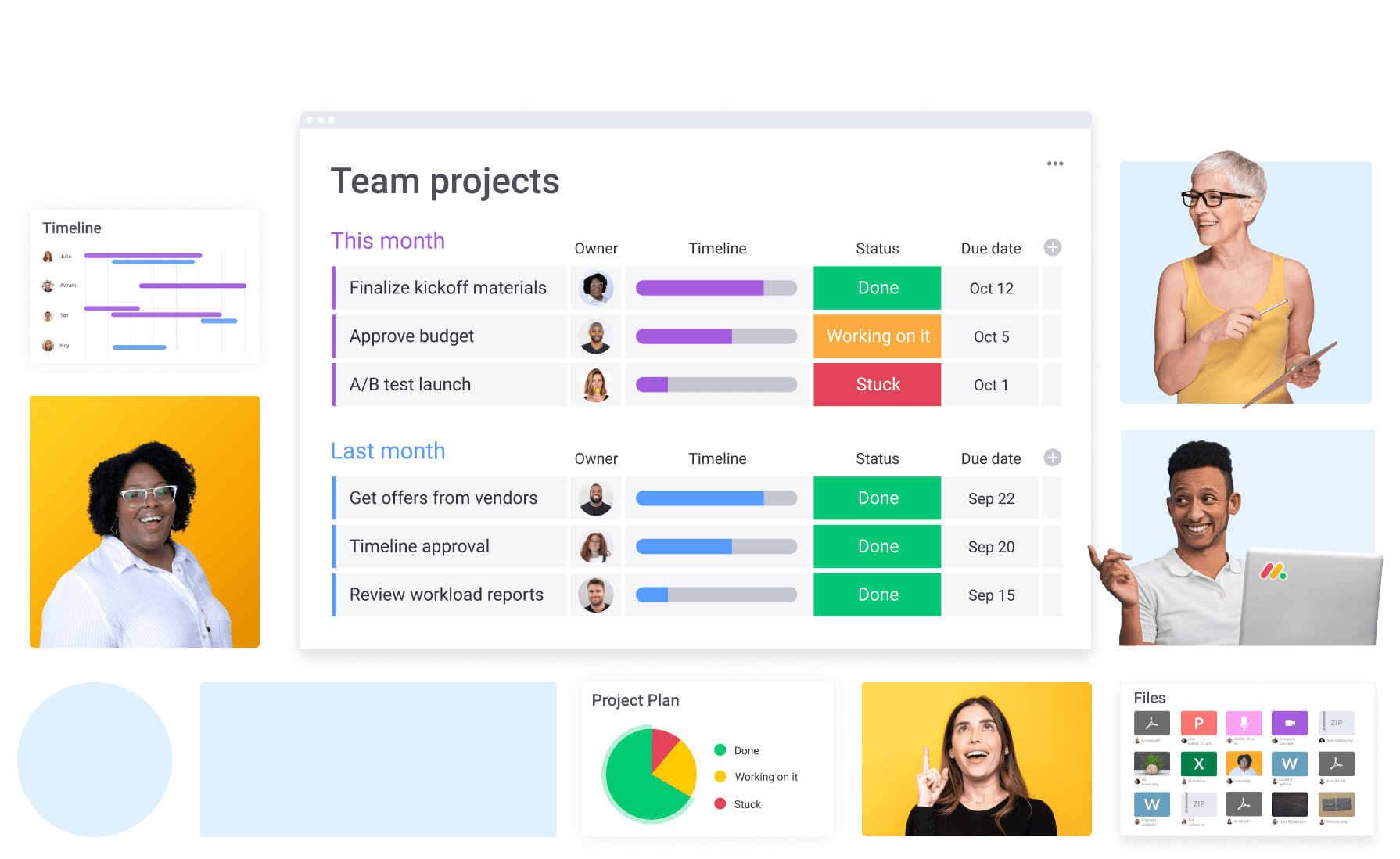 Monday.com is a cloud-based project management app that can help you automate and customize your project workflows. This app allows you to manage projects effectively by creating custom dashboards and add data you want to monitor to a clear table view. In Monday you can add many advanced automations to your workflow and forget about arduous repetitive tasks. You can also automate due date notifications, so you won't miss a deadline anymore and save time on constant checking if there are some tasks you should do.
In Monday you can manage your workflow with several user friendly views: kanban board, Gantt chart, or circle charts. You can also supercharge your workflow with external tools integrations. If you add all your apps and notifications to Monday, you won't need to switch between apps anymore 😉
This tool can be set up in minutes with customizable dashboard templates. If you need some more advanced options in your workflow, you can check available custom fields. With Monday you can make your team's work significantly faster and more transparent.