Top 10 Agile Project Management Tools!
February 7, 2023
by Magdalena Wysocka
No comments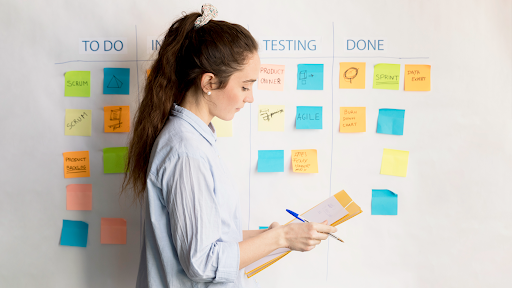 Agile methodologies are one of the most frequently chosen methods of working on a project. It is fast, effective, and gives very positive results. The agile team is characterized not only by being satisfied with the workflow, but also by organizing and delivering projects on time.
However, scheduling tasks in this methodology is not convenient in the long run in an analog manner. It is worth making sure that the team gets to know the project management tools and uses them on a daily basis.
What is Agile methodology?
We have already written about the agile methodology here, but it is worth recalling what it is and what are its specific steps for agile teams.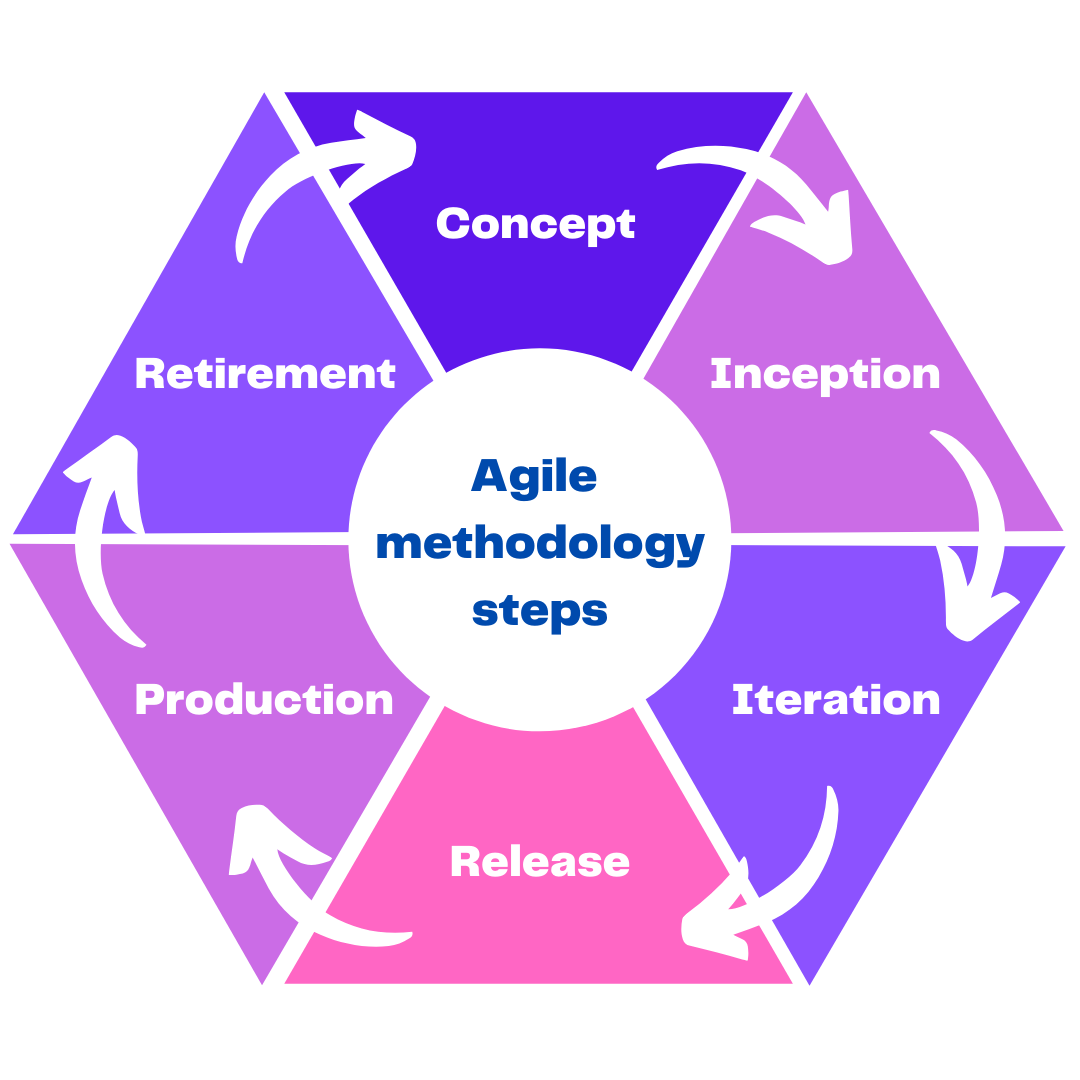 Agile is a way of working that helps you plan every step perfectly and at the same time monitor progress and correct mistakes. Usually, it is distinguished by five or six steps:
1. Concept – time to brainstorm and create the main idea of the project, together with opportunities and threats,
2. Inception – planning the way the project will be delivered with the resources, rules, and requirements needed,
3. Iteration – work on the project consisting of the phases: Requirements, Development, Testing, Delivery, Feedback,
4. Release – the moment of transforming the project from work into real life, associated with monitoring bugs and defects,
5. Production – the most anticipated step, which is launching the product into the world,
6. Retirement – the last step sometimes associated with abandoning the project and closing work on it.
How should the agile project management tool look?
It's hard to find appropriate agile project management software. Many tools do not meet the agile team's requirements. An agile project is demanding and complex, that's why we tried to describe a perfect tool.
Many features depend on what specific team or project needs, but there are some functions that are always necessary. Team members should have the possibility to plan everything in one place. Project planning could be done on Kanban boards, which are essential. Cross-functional teams need not only project management, but task management too. At first glance, it is the same, but it is really different in purpose.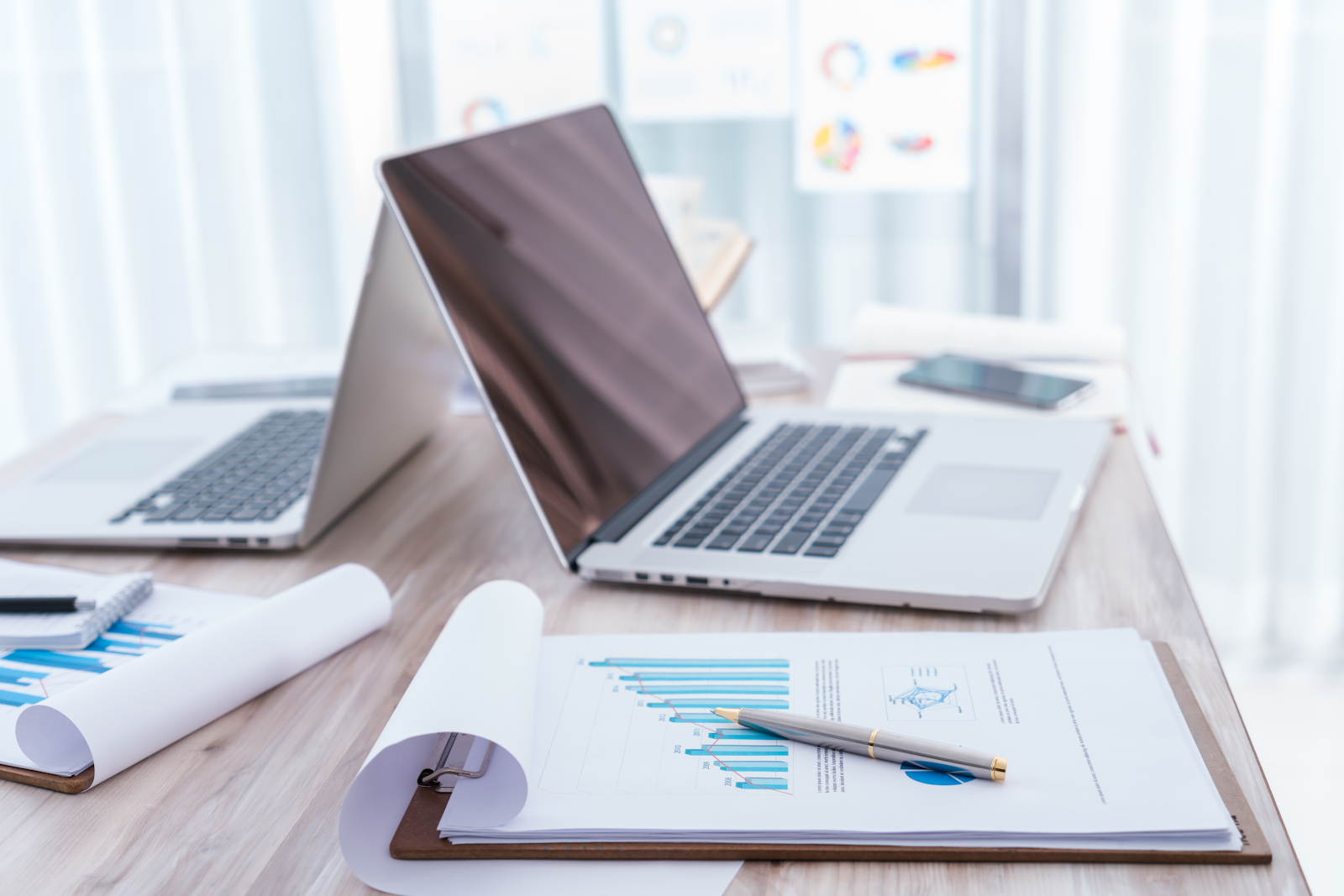 Agile tools should have many more features like resource management to track workload, backlog management for our project manager, and document management to keep order. No matter if it's Scrum methodology or Kanban board, a communication tool is necessary, especially in sprint planning or brainstorming.
After all, time tracking is a good addition. It allows you to see how much time-specific tasks require and on this basis to better manage the time of team members.
Don't forget about the cost of the app itself. It is worth trying one that offers a free trial, which will save resources and allows you to choose the best tool. Also, pay attention to support and the possibility of quick contact with a customer support team.
What are the best agile project management tools?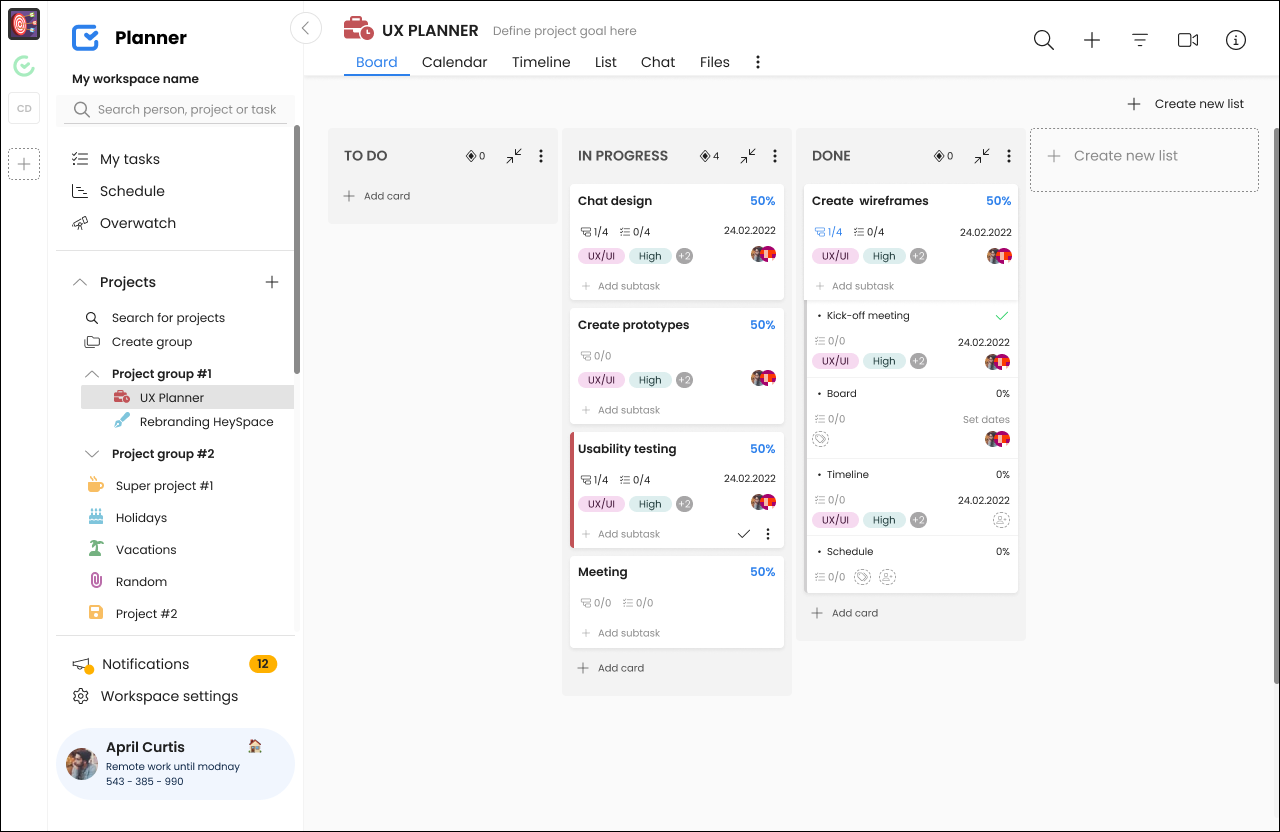 TimeCamp Planner is a tool that combines project management features like a Kanban board with tasks, lists, and calendar or timeline view with a communication tool, which is chat – group or individual. TimeCamp Planner allows managing multiple projects by every team member. It's useful for sprint planning, reviewing, tracking project progress and time thanks to integration with TimeCamp. TimeCamp Planner is developing all the time, its newest feature – the WIP limit makes working on agile projects is becoming easier and easier.
TimeCamp Planner works for different agile teams, no matter how big and developed they are. An app offers a free trial for 14 days, has free and premium plans, dedicated to more demanding development teams.
Pricing
TimeCamp Planner offers a free and premium plan. The free version is up to 5 users, offers 10GB of file storage (5MB per file) and unlimited chats and history. The premium plan is available for $5 per user in workspace per month (paid monthly) or $45 per user in workspace paid annually.
TimeCamp Planner gives you an opportunity to check all premium features thanks to a 14-days trial.
ProofHub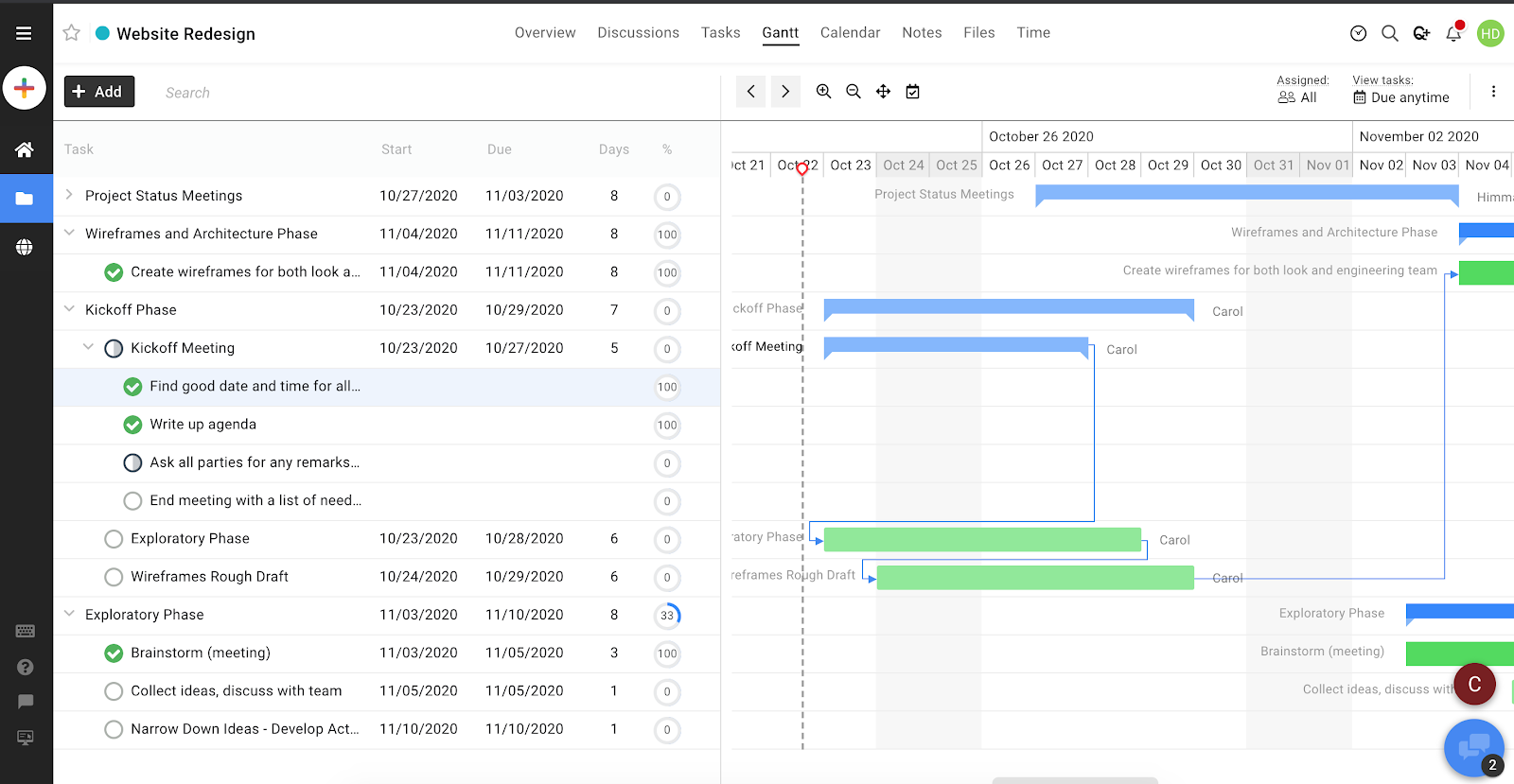 ProofHub is an agile project management software with a multitude of features that allows teams to work freely on projects and share ideas. It is based on the Kanban methodology and offers Gantt charts. These functions allow you to observe the workflow and enable visualization on a timeline. ProofHub makes it easy to plan and account for tasks at every stage.
In addition, it allows communication thanks to the built-in chat function. You can make one-on-one conversations or initiate group conversations. ProofHub makes it easy to comment, share feedback and supervise multiple projects.
Pricing
ProofHub offers a different plan depending on the number of users. In the Standard plan for 5 users, you will pay $45/month billed annually (or $50 billed monthly). In the Premium plan for 50 users, you will pay $135/month billed annually (or $150 billed monthly). Teams bigger than 100 users should contact with ProofHub. An app offers a free trial too.
‍
Wrike
Wrike is the next agile project management tool, which makes working on projects easier. Wrike is a perfect tool for centralizing work and managing agile projects on a huge scale, but it's not very intuitive. Wrike offers a board view and spreadsheet view, iOS, and Android apps, and task management.
Wrike is mainly used in mid-sized or large projects, mainly because of the limited free version and a long process of learning. It's time-consuming and can be frustrating.
Pricing
Wrike offers 4 plans:
Free – suitable for 1–5 users – centralized task management;
Professional- suitable for 5–15 users – project planning and team collaboration – $9.80 user/month;
Business – suitable for 5–200 users – a customized platform for any team or use case – $24.80 user/month;
Enterprise – unlimited users – enterprise-grade security and scalability, contact Wrike.
‍
Asana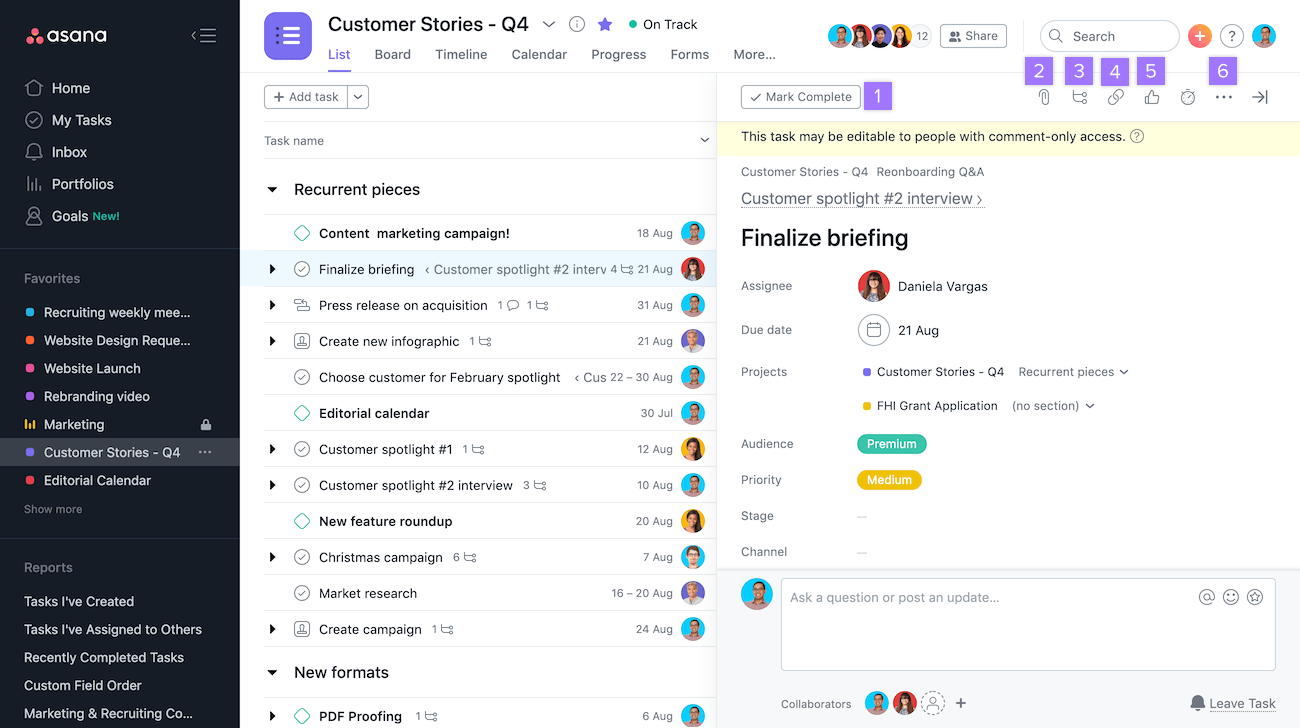 Asana is one of the best agile project management tools. Many features and integrations enable fast and organized work. Drag and drop feature makes task management easy, Gannt charts with timelines show you progress, Kanban board visualizes current tasks. Project planning could not be easier, because Asana offers to create stories to add them to sprints.
With this cloud-based app, your workflow will be better and better. The entire team would see benefits very fast while working on complex projects.
Pricing
Asana offers four plans:
Asana Basic: FreeAsana Premium: $10.99/mo (billed annually) or $13.49/mo (billed monthly),
Asana Business: $24.99/mo (billed annually) or $30.49/mo (billed monthly),
Asana Enterprise: contact Asana.
‍
Planview LeanKit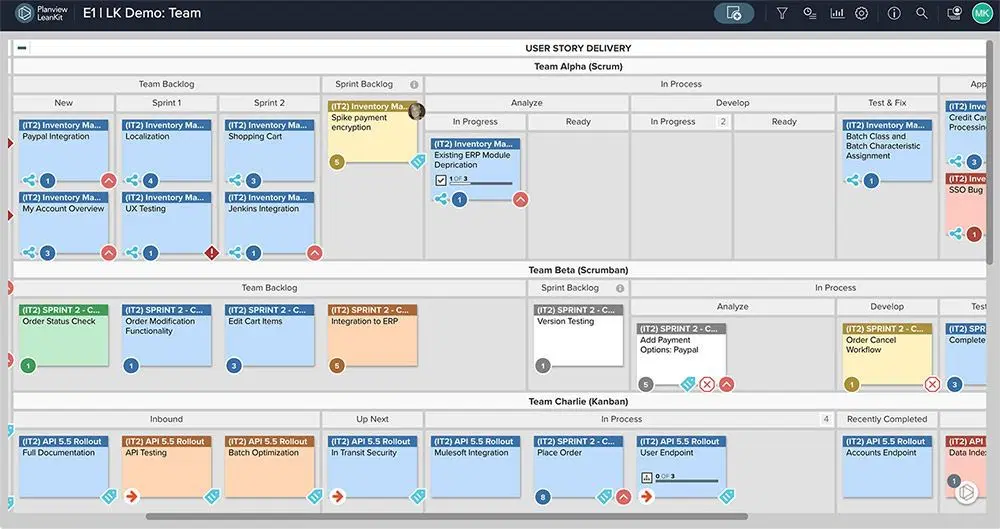 Planning sprints won't be hard anymore with Planview Leankit. This agile project management software is based on the Kanban board, so your agile team without concern will plan the whole project. Leankit enables tracking issues and bugs during the testing phase, manages the project's portfolio, and leans metrics and reporting. 
Leankit works well for cross-functional teams, working on Scrum or Kanban. An app boosts productivity, and thanks to integrations, makes working together more efficient.
Pricing
LeanKit offers one pricing plan and a 30-days free trial. The only plan is $20 USD per user, per month, billed annually.
‍
Monday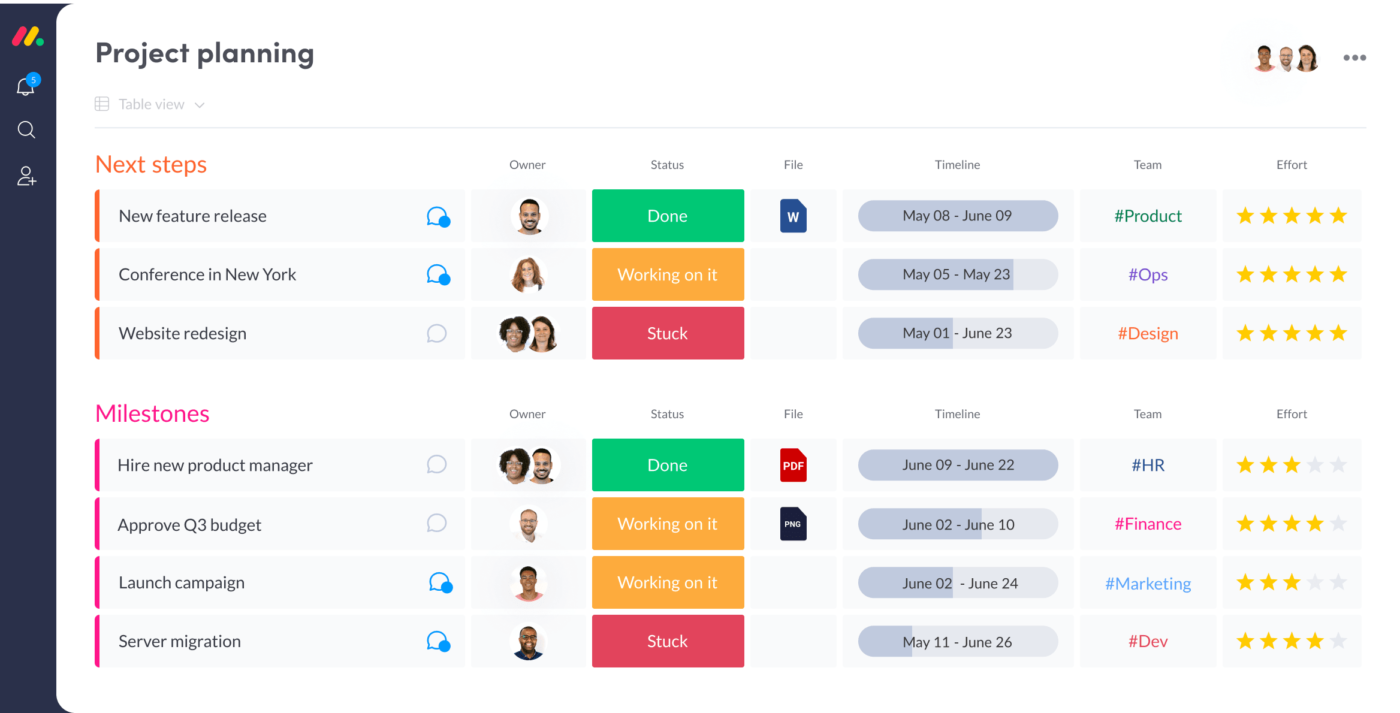 Monday is the next one of the best agile project management tools. It's based on a Kanban board, timeline, or charts. It enables reporting, tracking of project progress, planning sprints, and creating user stories. Monday allows good collaboration features and integrations with other tools.
Monday is suitable for software development teams or scrum teams of different sizes. The entire organization will benefit from using Monday.
Pricing
Monday offers 5 different pricing plans:
Individual – free plan; check this link for more information on monday.com's free plan
Basic – $8 per user per month billed annually; 
Standard – $10 per user per month billed annually; 
Pro – $16 per user per month billed annually; 
Enterprise – contact Monday.com.
‍
ClickUp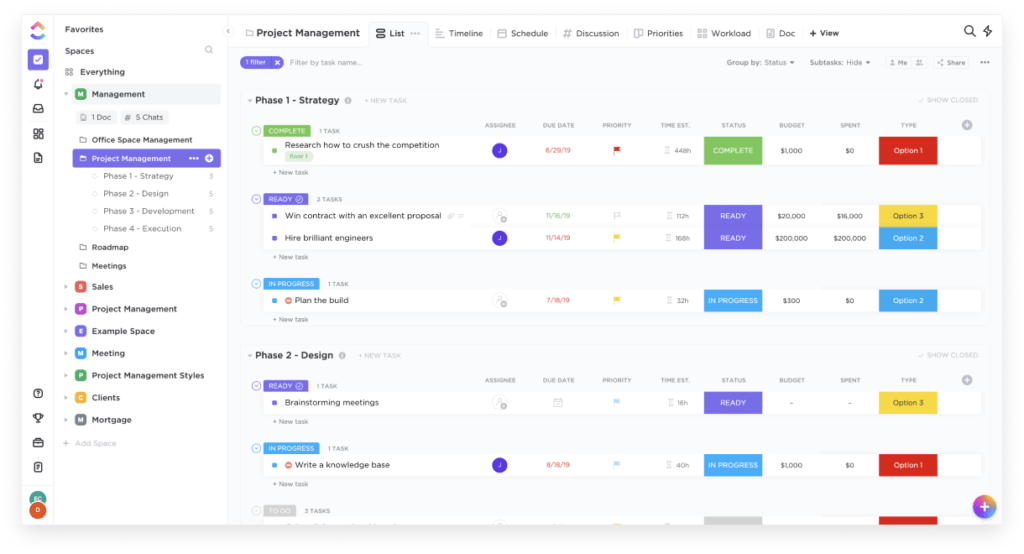 ClickUp is an agile project management tool for many different things: task management, time tracking, or sprint planning. ClickUp offers document management, special notifications, goals, calendar, scheduling, and even a built-in inbox. It's perfect for agile project management, because of its multifunctionality, intuitive interface, and ease of use for multiple team members.
ClickUp gives you the opportunity to track projects live, thanks to the mobile app, which could be everywhere you are. This agile software improves team collaboration and makes work more efficient.
Pricing
ClickUp offers five plans:
Free forever – free: 100MB storage, unlimited tasks, unlimited users;
Unlimited: $5 user/month billed annually or $9 user/month billed monthly;
Business: $9 user/month billed annually or $19 user/month billed monthly;
Business Plus: $19 user/month billed annually or $29 user/month billed monthly;
Enterprise – contact ClickUp.
‍
Atlassian Jira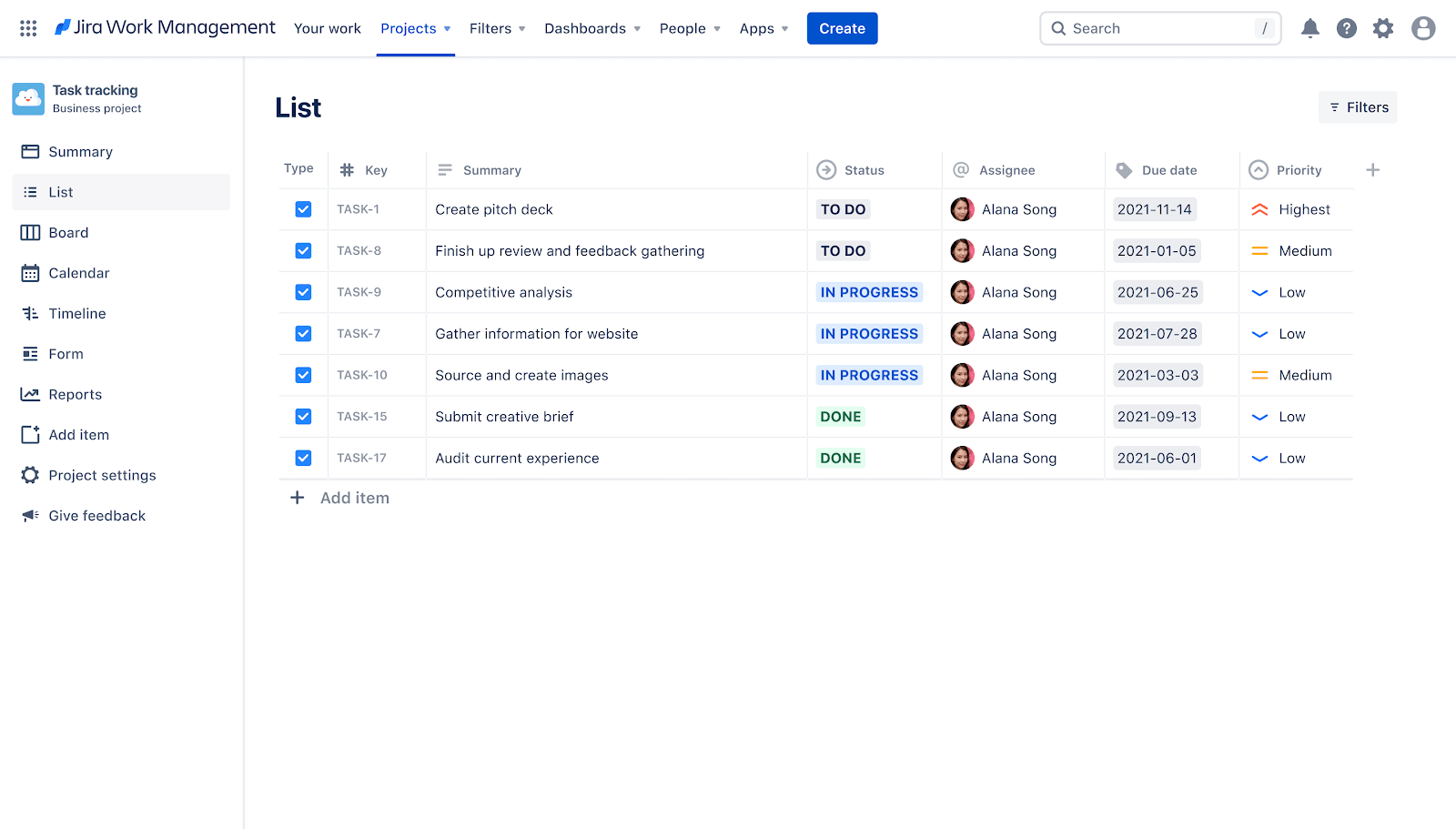 Jira is one of the most popular agile project management tools. Jira has many features and advantages, like a task management tool, kanban board, issue tracking, bug tracking, custom fields, and many more. But because of its complexity, it's not very intuitive and too demanding for simple sprint planning or project running. Especially when we don't have much time to learn.
Jira is the best for developed teams from IT, finances, operational areas. Its huge pros is high expandability and remarkable configuration, that's why so many organizations use it.
Pricing:
Free up to 10 users;
Standard: $7.50/user/month (billed monthly);
Premium: $14.50/user/month (billed monthly);
Enterprise plans are also available, but for more than 800 users (billed annually).
‍
Quire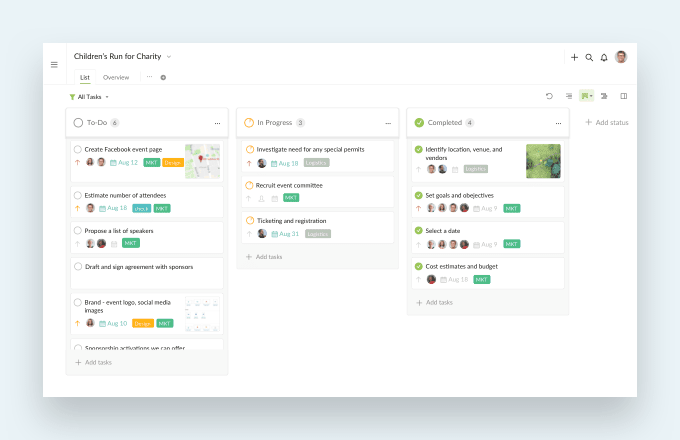 Quire is an agile project management tool based mainly on Kanban boards. It offers task lists, recurring dates, due dates, start dates, calendars, Slack integrations, and dynamic reports. This agile tool is very intuitive and simple, gives you project templates, so it won't take much time to figure out how Quire works.
Quire is perfect for basic, small and medium-sized agile teams. It could easily support agile practices, so your team will understand the idea very fast.
Pricing
Quire offers 4 plans:
Free;
Professional – $8.95/member/month;
Premium –  $14.95/member/month;
Enterprise – $19.95/member/month.
‍
Trello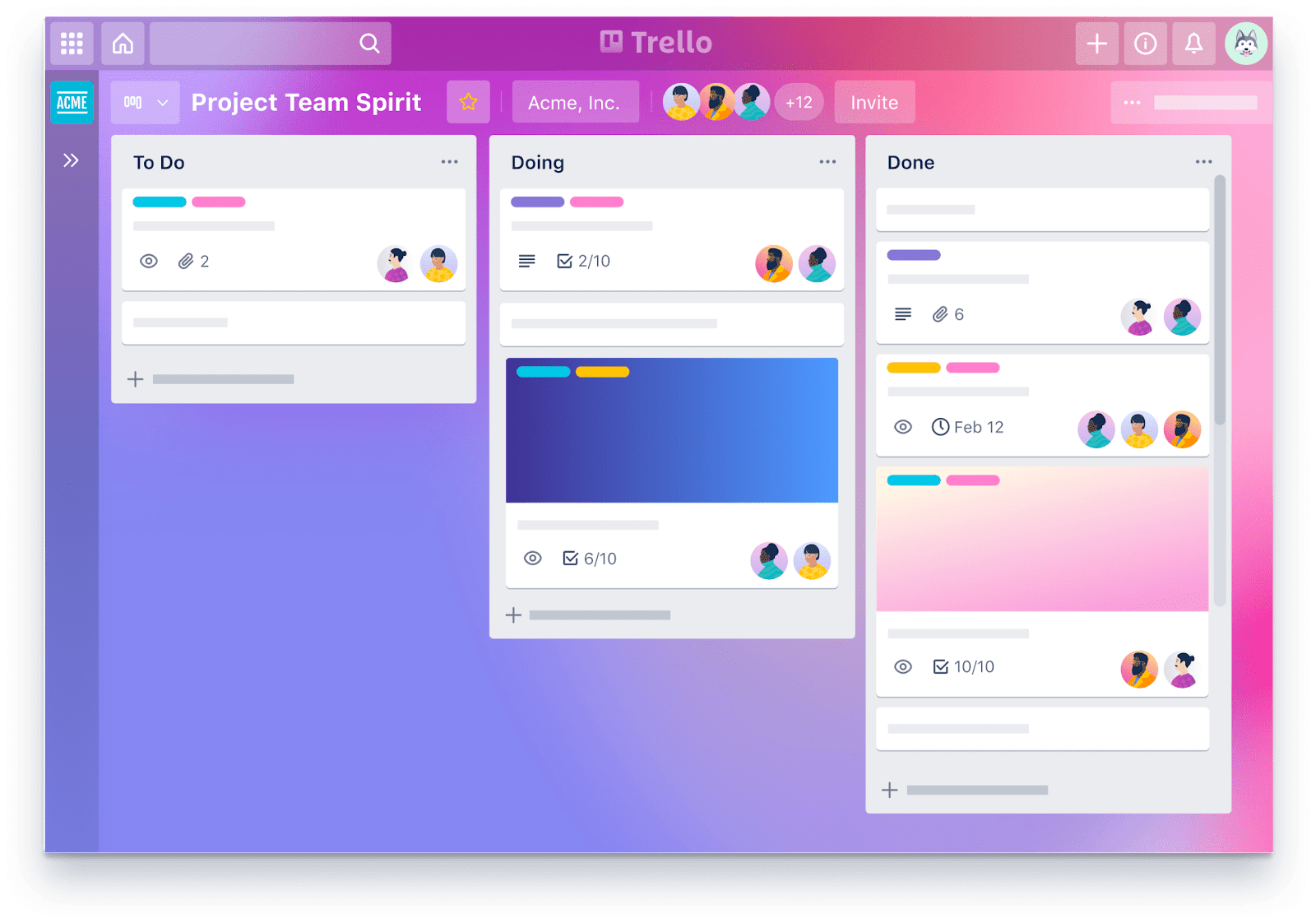 Trello is the last agile project management tool on this list, but it doesn't mean the worst. It's perfect for task management and project planning. Trello uses a Kanban board, you can track processes and sprints, thanks to boards, timelines, tables, calendars, dashboards, and map views your project manager easily manage projects.
Trello is used by different teams from different areas, but it suits very well thanks to the customizations and many integrations, that offers.
Pricing:
Trello offers four plans:
Free;
Standard -$5.00 per user per month;
Premium – $10 per user per month;
Enterprise – pricing starts at $17.50 per user per month (starting for 250 users, billed annually).
‍
Finding the best agile project management tools isn't an easy task, but it's worth trying different tools to have a broader view. We hope that our tips and list will help you and you and your team members would be happy with your new agile software.
‍