Top 13 Free Task Management Software for Small Companies
February 6, 2023
by Pawel Kijko
No comments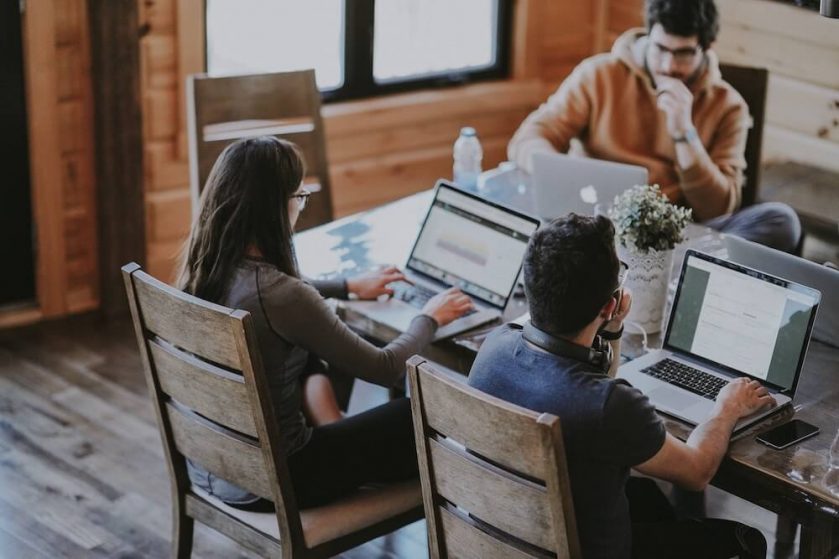 This article was updated on 9.12.2021
Task management in small companies
Effective task management is a challenge not only in big companies, where it's obviously difficult to stay in control of the workflow without the help of an efficient software, but also in small businesses. Even though it might seem that a small team can handle daily tasks without any assistance, it's very difficult to actually have everything in check without any software at all. In small teams there are also situations like misunderstandings or lack of communication, that can make work hard and ineffective. And more so – even if you work alone, you still need to manage multiple tasks and remember about so many things like due dates that it's just much easier not to rely on your memory alone.
Why is task management software important?
Good task management will help you and your team handle your daily tasks and long-term projects, at the same time increasing your productivity. Even in a small team, it's very important that everyone is on the same page and has all the information they need to work on their tasks. For instance, if you're a content marketing manager, free task management software will make it much easier for you to streamline your operations, from big marketing projects like explainer videos campaigns and creating a website to smaller ones like updating blogs. So, you don't have to waste your time organizing sticky notes anymore. That's exactly what task management tools ensure. They also make assigning tasks extremely easy. Instead of writing long emails or explaining what needs to be done in detail, use a task management tool. Managing the workflow will become much easier and more efficient.
The main advantages of task management software
You don't need to remember about every task, due date, or coworker to include – you'll get appropriate notifications from the software and you will be able to focus on the project.
Practically in every task management app, such as Clickup or Monday, you can assign tasks to team members without worrying, that this information will get lost in their overloaded inbox.
Easy to use software will help you save time by facilitating document sharing, communication, real time collaboration, time tracking etc.
Good tasks management solution will provide features like kanban boards, calendars, recurring tasks or online task sharing that will make project management easier and more transparent.
So how to choose the best free task management software tailored to your needs? Let's take a look at the best free task manager tools to help you decide which of them is the right one for your business.
The best free task management software for small companies
TimeCamp Planner – team collaboration tool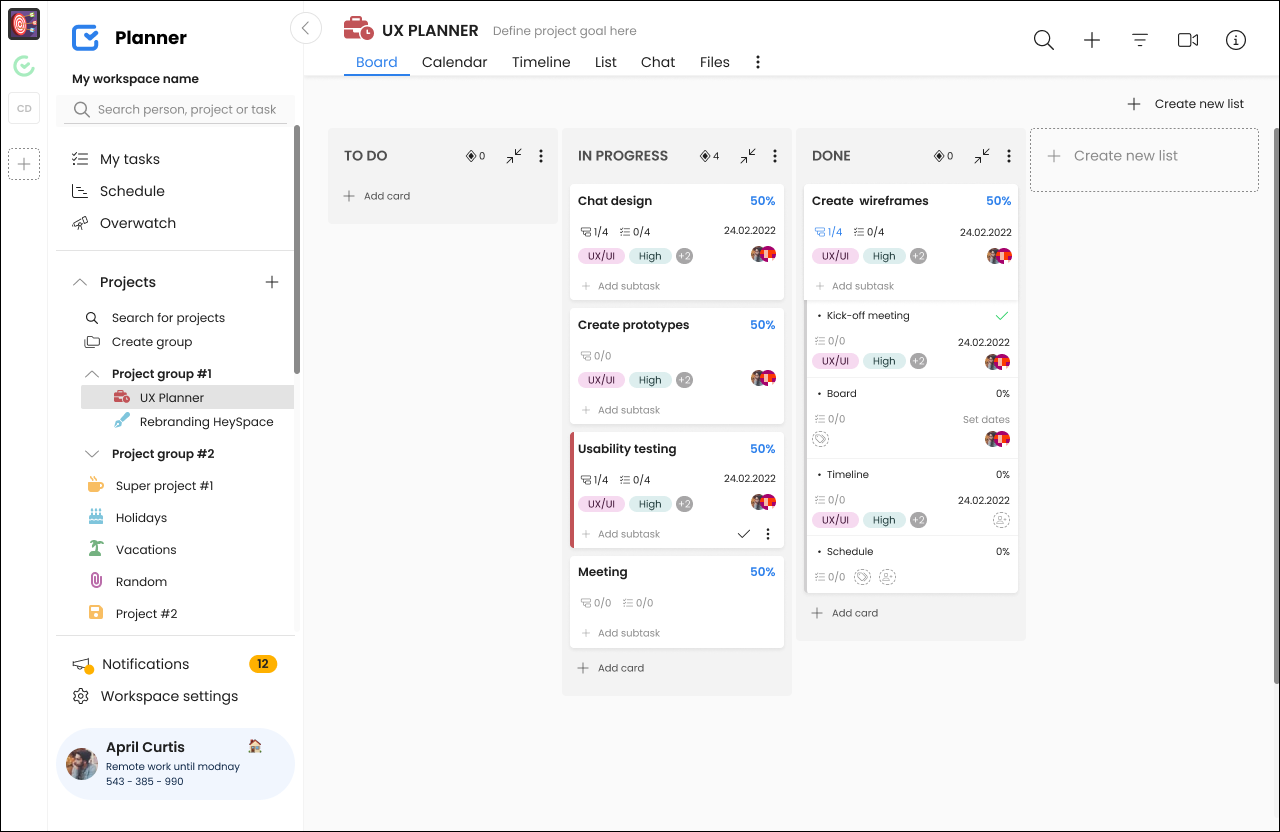 TimeCamp Planner is a two-in-one tool for task management and communication. It's free for up to 5 members, so it's perfect for small teams that need assistance in handling their daily tasks and small projects. You can create as many spaces as you wish, as the number is unlimited even in the free plan. At the same time, TimeCamp Planner greatly facilitates real-time communication and will significantly reduce the number of emails you send every day. And all that in one place!
You can create your own task structure in every space and use some more advanced features like tags, checklists, recurring tasks etc. to work smarter. TimeCamp Planner i easy to use, so you don't need to spend hours on implementing and learning a new project management tool.
The free plan offered by TimeCamp Planner also helps in daily collaboration with your clients, allowing you to invite up to five guests from outside your organization and give them access to particular spaces. It will make them feel more involved and give you an easy way to contact them if necessary.
You can also use TimeCamp Planner as a personal tasks manager to make your work more organized and use it as your assistant.
Integrations
You can benefit from several integrations. For a quicker and easier way of creating tasks, you can use Gmail integration, thanks to which you can convert any message in Gmail into a task card in TimeCamp Planner. If you want to facilitate communication, integrate TimeCamp Planner with Hangouts. The app is also available in mobile and desktop versions, which will make your team collaboration easier and more efficient!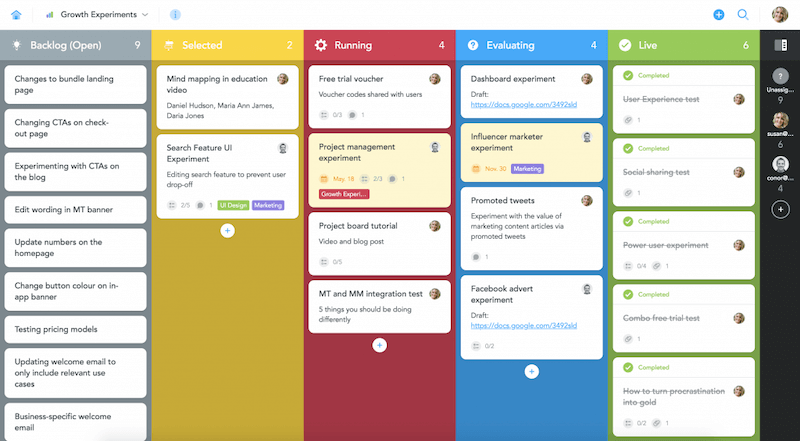 MeisterTask is an online free task management software helpful in organizing and managing tasks in a customizable environment and easy to adapt to individual needs. Thanks to kanban-style project boards, teams can easily streamline the workflow and stay productive. Every task is available on board, so you don't have to hold too many status meeting, you can see the progress in one place. It is definitely easier to collaborate when you use this kind of software and manage tasks online.
Pricing
The free option offered by MeisterTask doesn't limit the number of project members, but allows to create only up to 3 projects. You can customize the project boards and create your own workflows to make them better suit the needs of your team or project. When it comes to integrations, you can choose two of the available three, namely iCalendar, Harvest or Zapier, depending which ones are the most useful for your business. MeisterTask is also available in a mobile version, for iOS, Android, Mac, and Windows, making it easier to use on the go.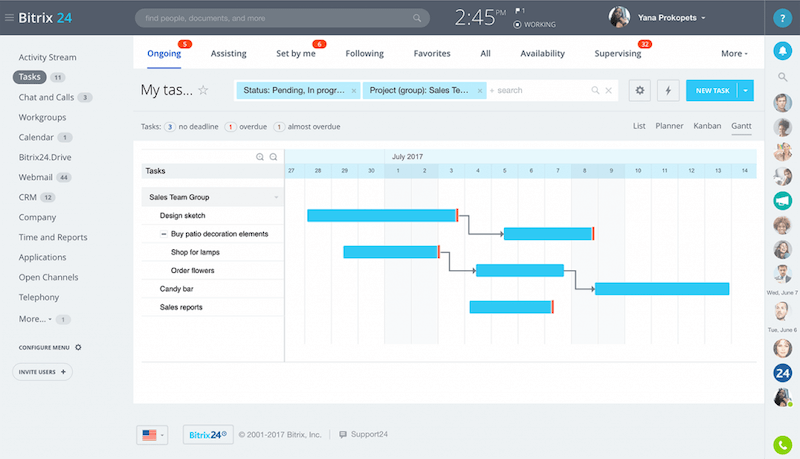 Bitrix24 is a social enterprise platform, which helps manage many aspects of daily operations. It offers a whole range of project management features for efficient workload management. Bitrix24 makes it easier to plan your tasks, with project resource management options and interactive Gantt charts view. It has many good task management software features like task dependencies, employee workload management or reports. This tool is recommended by many project managers, but it is better for a bigger team. It can be just a free task manager, but this software offers also many additional fratures like time tracking, CRM, contact center, or online store.
Pricing
Bitrix24 is free for up to 12 users. The plan includes most of the features, however, in a basic scope. You can use the task and project management features and communicate with your team mates. The number of tasks is unlimited, regardless of the plan. Each user has access to an individual planner that helps organize tasks and arrange them as they see fit. Bitrix24 can also be integrated with CRM, workflows, calendar, and drive. Kanban boards and Gantt charts will certainly make the project management process more efficient.
‍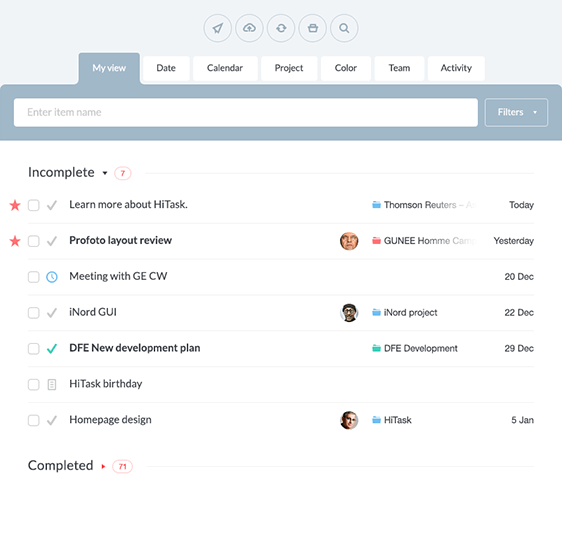 Hitask is a task management platform that makes it easy and quick to set up a new project, assign and share tasks, use a file library and a shared calendar, send and receive notifications, and synchronize the workflow across all devices. The tool is easy to use and allows you to manage task also on mobile. In Hitask you can also attach files to tasks and projects, manage permissions on the user level, create a task from an email, create subtasks, and get a quick tasks overview on a single screen dashboard.
Pricing
Hitask is a free task management app for up to 5 users. The free plan doesn't limit the number of tasks and projects, so as long as you work in small teams, you can work on multiple projects at the same time. Hitask gives you access to shared task lists, projects and calendars for easy reference and a clear overview of tasks. You can also communicate with your team using a team chat, without the need to leave your workspace. For more options, you can integrate Hitask with Google Calendar and Outlook.
Trello is a task management tool facilitating collaboration and helping streamline the project management process in a company. It's user-friendly and intuitive, which makes it a frequent choice among task management solutions. This simple free task manager is based on kanban boards and allows you to work in a team on different tasks. Every task can be moved from one list to another and can include descriptions, files, comments, and checklists. Trello offers also many power-ups i.e. time tracking for every task.
Trello can be your free to do software for personal use or a simple task manager for small team with less complicated projects.
Pricing
Trello has a free plan that offers unlimited personal boards, cards, and lists. However, the maximum number of team boards is 10. In the free version, you can choose one power-up per board from a variety of available ones, for example integration with the Google Calendar, GitHub, Dropbox and many more, or options such as voting, custom fields and card aging. The choice is big, so you can decide which power-up will be useful for your team. Another feature that Trello offers is a simple automation of task management. The feature is called Butler and can help you create buttons, rules and scheduled commands to perform different actions on your board. In the free plan, commands are limited to 1 card per button, 1 board button and 1 rule per board. The maximum number of command runs per month is 50.
‍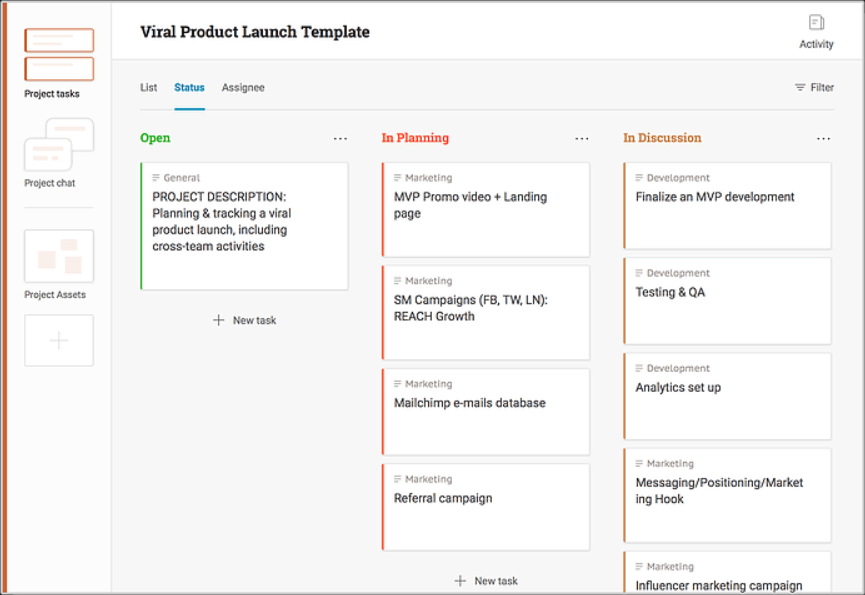 Infolio is a project collaboration suite, which allows you to run projects and track their progress in kanban-based task boards. You can use it to collaborate in visual spaces and talk to your colleagues using a built-in chat. Infolio offers custom fields for every task and more views for easier project management: calendar and table view. If you don't know how to start you can use one of the numerous project templates.
Pricing
Infolio's free plan offers access for an unlimited number of team members and allows to create as many projects, boards and spaces as you wish. On top of that, you get access to cloud services integrations and can benefit from integrations with Dropbox, Google Drive, OneDrive, Sharepoint and so on. However, if you want to use it for free, the storage will be limited to 1GB.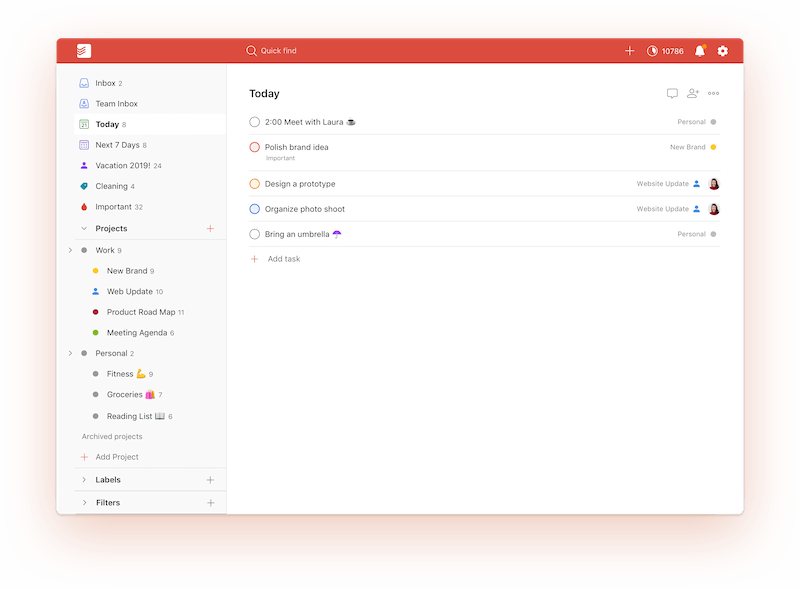 Todoist, probably the most popular app for creating to-do lists, makes it easy to plan your tasks effectively. It allows you to share your projects and collaborate with your colleagues. It's intuitive and has a very efficient notification system, so it might be handy if you want a simple tool to help you get organized and work on tasks like a pro. It's not a very complex task management solution, but it's useful for students and small teams to keep tasks in one place.
Pricing
The free plan offered by Todoist is just enough for small teams and companies, as it allows access for up to 5 people per project. You can create up to 80 projects, so if your project teams are small, the free plan should be enough. Adding a new task in Todoist is extremely easy and takes just a few seconds. Also, the app has the feature of tracking progress, which can be a great way of increasing your productivity. You can set daily and weekly goals and visualise our productivity trends in colour-coded graphs. The availability of a mobile app makes it yet more useful on the go. It's one of the simplest task management tools.
‍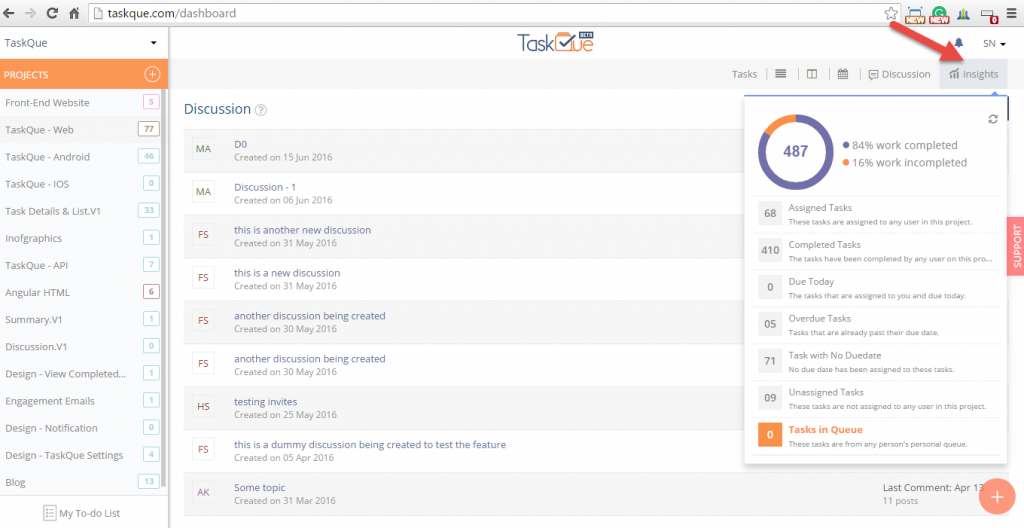 TaskQue is a collaboration tool designed to increase your productivity. As your online task manager, it lets you focus on your work and stop worrying about missed deadlines. With TaskQue, you can automate the task assignment process and use your resources to maximize your productivity. You can also get a quick overview of a project with summary and insights. TaskQue allows teams to work smarter and minimizes the organizational activities of the project managers.
Pricing
The free plan is available for teams of up to 10 users. It allows for automatic assignment of tasks to your resources, however it doesn't let you use auto-assignment for groups, which is only available in the paid option. The feature of queue manager gives you the possibility to manage and rearrange your priorities, which greatly facilitates managing the workflow. The task management feature is based on the principles of kanban, so it's easy to plan your project and track progress. The free plan offers features that should satisfy the needs of a small company or team.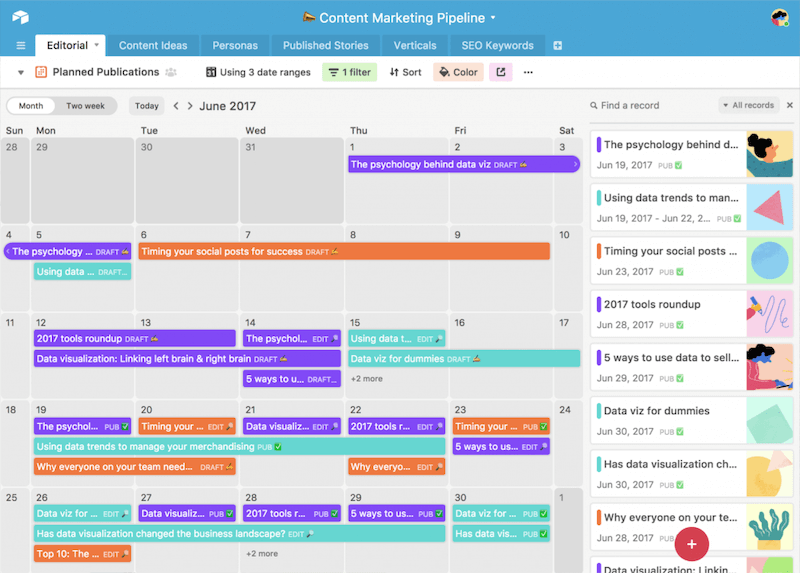 Airtable is a task management tool in the form of a spreadsheet that makes all the information you need clearly visible in a table and easy to find. You can plan your project, add all the necessary details, and then group and organize your records however you choose. Thanks to the features of Airtable, all team members are on the same page and know what they need to focus on. It's one of the best simple task management software on the market.
Pricing
The free plan includes an unlimited number of bases (databases which can have multiple tables and views) and allows to create 1200 records per one base (a row in a spreadsheet). Each base has 2GB attachment space, so you can also add files to your projects and make them available to all teammates. What's more, you get 2 weeks of revision history, which means that you can access a visual activity feed of the changes made to each record in a base. You can also restore a base to a previous state. The tool offers several views and has a mobile and a desktop version, which facilitates your work wherever you are.
‍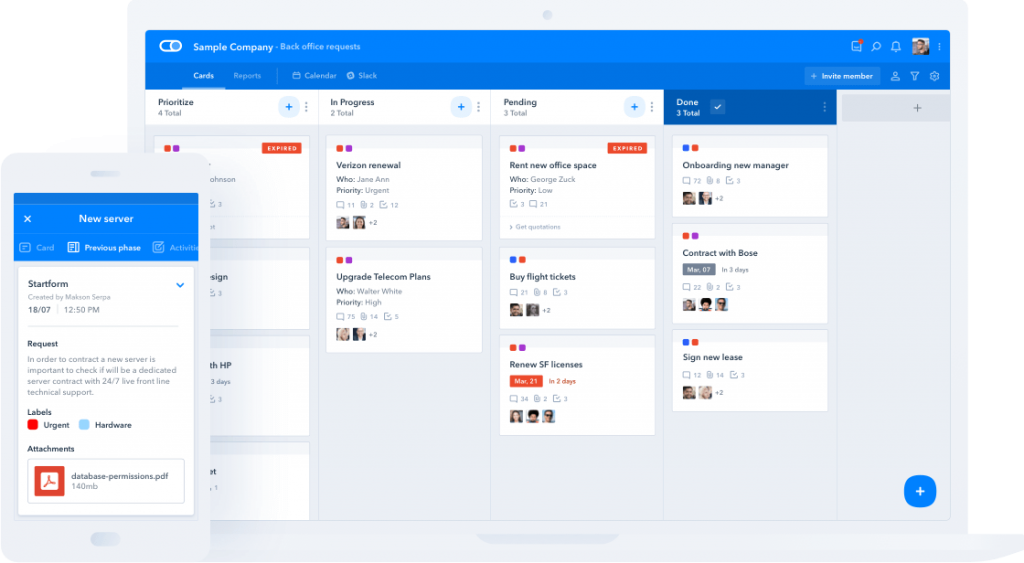 Pipefy is a work management platform that helps organize and control your task flow. You can easily delegate activities, set up deadlines, track performance and keep up to date with the progress of your team's projects. In Pipefy, each project is divided into phases and managed based on the Kanban method. You can decide what phases you need to run your projects in a smooth way. Pipefy is not only a task manager but also offers more advanced enterprise functions like automations, custom integrations, shareable forms or task field customization.
Pricing
The free plan offered by Pipefy includes up to 5 pipes (projects) and is available for teams of up to 10 users. You can create up to 100 cards per month, so it should be enough for the needs of a small team or company. As Pipefy allows for basic automation, in the free plan, you can use one automation rule. The tool offers pipe and email templates, which can make your work even easier and more efficient. Pipefy is also available in a mobile version.
Asana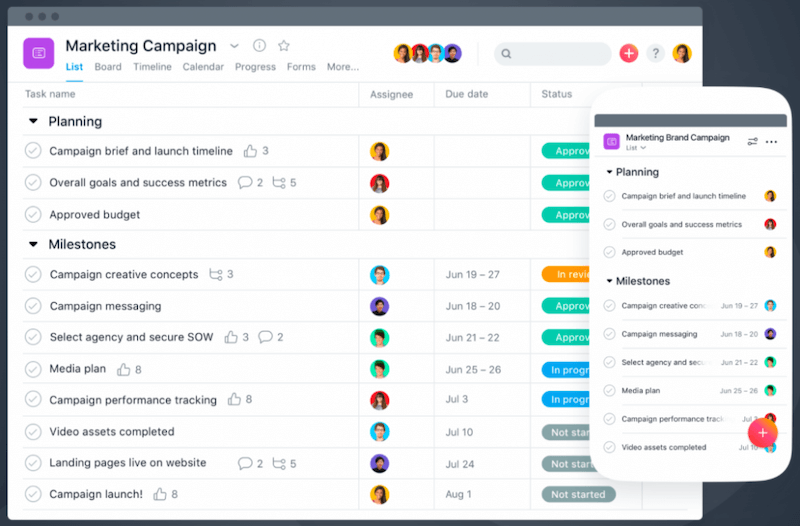 Asana is a very popular task management software for both personal and team use. You can manage your tasks easily thanks to many different views: list, board, timeline, and calendar. In Asana you can easily assign tasks to your teammates and monitor due dates of tasks thanks to convenient classification: tasks with a due date today, upcoming and later. Asana offers several views, so you can choose between list, board, timeline, calendar, progress, and forms. It is very flexible and one of the best task management solutions on the market.
Pricing
If you want to work alone or in a small team of up to 15 users, you can start with the free Basic plan. It will allow you to manage tasks in unlimited projects and add assignees and to dates to tasks. It is a perfect first step for more organized and professional task management. You can connect Asana with 100+ other apps and do more things automatically. Those integrations will help you to easily integrate a new tool into day to day work.
ClickUp is a great task organizer software for all kinds of teams. It helps to manage and organize tasks in one place thanks to multiple, customizable views. This app can replace many other tools you and your team use now. It will be great also for small teams because you can choose between less and more advanced views and features to manage tasks smoothly without overwhelming your teammates with too many options.
You can start small with creating tasks, setting up due dates, and assigning them to users. While your projects grow, you can start using more advanced features like spreadsheets, goals, or time tracking.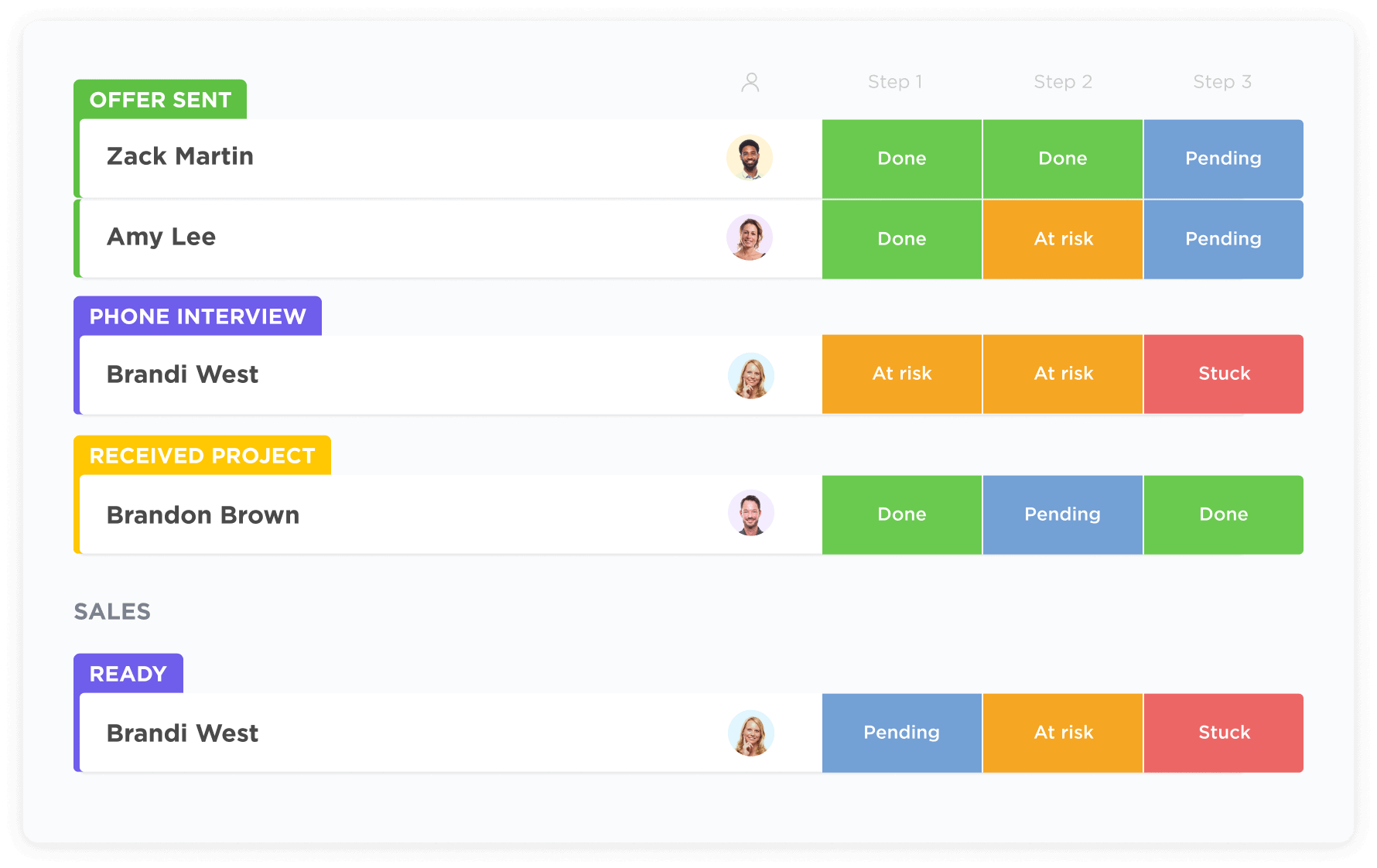 Pricing
ClickUp can be your free task manager because it offers a free forever plan with limited functionalities and storage.
Unlimited Plan is $5 per user per month and Business Plan is $9 per user per month.‍
Indy is a great task management choice for freelancers because it is simple, easy to use, and makes freelancing admin a little less burdensome. Indy's Tasks tool is simple because it focuses on the core parts of managing your personal tasks. You can create a new task in seconds, set due dates, recurring tasks, and add details easily. The interface is clean and you can see your tasks sorted by date, project, or on a calendar. Color coding projects makes it even easier to view your task list and see what is due for whom and on which date. Indy's Tasks tool makes freelancing simple.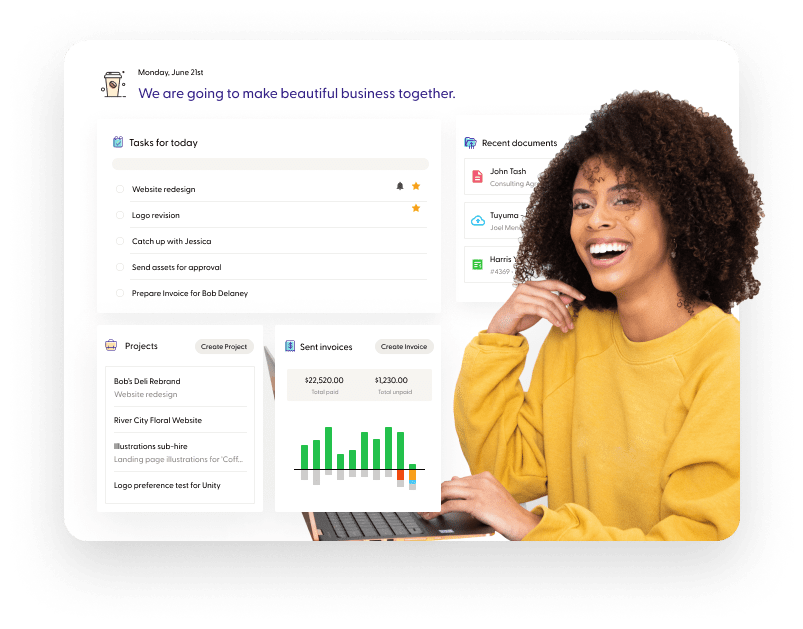 Pricing
Indy is a full platform with many tools to help freelancers. A free account is available that offers open access to all the tools but has a few usage limits. The full account is only $5.99 per month. For that price, you get access to the full Tasks tool as well as tools for proposals, contracts, invoices, and project management.
Which tool is the best task management software?
There is no one right answer to that question. It depends on the type of work and your preferences. You may need some views, time tracking features, work automation etc., that are unique to your team and your tasks. The best way to decide is to do some good research, then test some most promising simple task management software and decide which one will work for you. Most of the presented task management tools offer a free trial or even a free forever plan with limited features. If you work in a bigger team, you should engage your colleagues in the decision process and allow them to test some task manager apps and give their opinion. One thing is certain – if you keep your tasks in one place (like task management tools), the work will be easier and more effective.
Your company is growing? Or maybe you need something to organize your work? Check out our article on 75 of the best work organization tools and take your business to the next level.