Project Management Tools for HR
January 23, 2018
by Jakub Szyszka
One comment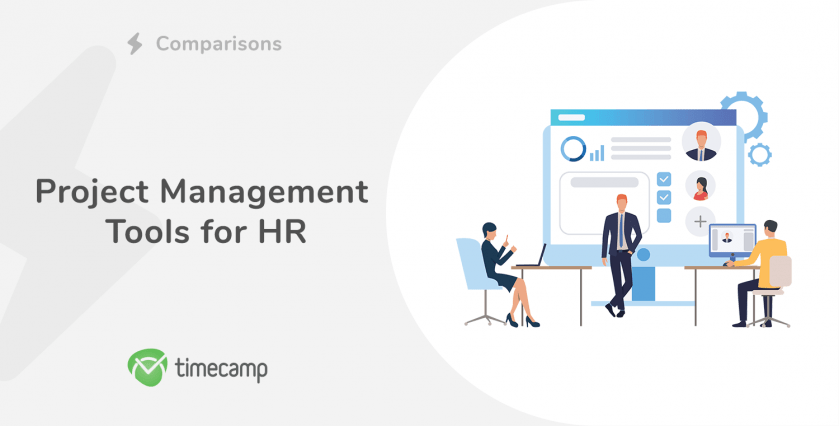 The success of a company depends on many factors. For one thing, among the most key elements is the control over revenue and expenditure. Spent too much and you will go out of business, earn too much and not account for it properly, you will experience trouble due to problems with the local tax office.
Another factor is human resources. Let's face the truth − the growth of your company, especially in its formative years, is to a great extent determined by whom you hire and how you manage them. Other factors seem to be secondary in comparison to this one. HR is indispensable for a business if it is to thrive. That's because nailing a sales pitch and successfully spreading the word about your product won't do you much good if there are no people in place to meet customer demand.
However, managing employees and projects with tasks they are appointed to isn't a piece of cake. Fortunately, there is plenty of HR project management tools that may help you to coordinate employees. Here, you will find some of the best.
TimeCamp Planner – for task management, chat & projects in one place
If Slack and Trello had a baby, it would be TimeCamp Planner. It's one of the best tools for human resources because of it's functionalities and ease of use. TimeCamp Planner is a task and simple project management software with chat. It helps to communicate and collaborate with clients, and with other team members and departments. People can manage workflow and monitor the progress of works always up-to-date.
TimeCamp Planner allows your human resource team to eliminate two or even three different tools – task management software, project management software, and communication software since it combines the key features of these three. No more switching between different apps! You have everything in one place, easy to access, and easy to use.
Main features:
Workspaces – you can create different workspaces for different clients, teams or departments
Group and individual chat
Converting conversation into tasks
Adjustable tasks – you can set date, assign people to it, add tags, description, files, comment on it, add estimates, copy task, make a recurring task
Calendar integration and Google docs attachments
Small features for your convenience: status, text editor, attaching files, mentions, history of changes
Notifications
Kanban board with tasks
Hangouts calls
TimeCamp time tracking integration
Available as Web, mobile, and desktop app
PurelyHR – robust leave management tool
You will like PurelyHR if you manage leaves. The idea behind the creation of this tool was to help small and medium-sized companies with all their overwhelming HR functions. HR is critical, administrative functions without a proper HR management system, in turn, can be extremely time-consuming. Therefore, PurelyHR provides you with a wide range of HR modules, which is to deliver a flexible and affordable solution for all your HR needs.
You can also use the tool for managing projects as it has all the functionalities you need.
Key features:
Set, align and track individual goals
Centralized employee data
Track hours spent on customers, projects, and tasks
API to customize the tool the way you like
Simple 3 step leave request process – select your date range, submit & confirm.
Overtime rules and automated reminders
Monthly, weekly and daily calendars
More than 20 customizable report templates
Digital signatures
Employee self-service
Employee profiles
Access to feedback, recognitions or incidents
Set rounding and overtime rules
Export reports in PDF/CSV
Set clock-in restrictions
Integration with Outlook / Google Calendar
Check employees in & out time
Simple, advanced or detailed timesheets
Daily, weekly or monthly timesheets
Track salary change
Track status and results in real-time
? Check PurelyHR YouTube channel for Tutorials on how to use the software
Lanteria HR – for recruiting and onboarding
An HR management system (HRMS), that covers the whole employee journey, from hire to retire and everything in between. It was designed for large and medium businesses, and at the moment it services over 250 companies in 40+ countries across the globe.
Lanteria HR is a modular HR system, so every company can build a perfect HR suite using a combination of its modules. Lanteria HR has recently released a Remote Work solution, following the 2020 trend. It also provides a mobile app that streamlines most employee tasks related to HR, such as uploading documents and requesting a day off. 
Lanteria HR is highly integrated with Microsoft solutions, including Office 365 and SharePoint, and suggests a wide range of integrations, such as Zapier, PandaDoc, DocuSign, and LinkedIn Learning.
Company size: 50+ employees
Location: Seattle, WA
Key features:
Talent management

Time and Attendance tracking

Recruiting and ATS

Performance management
Tutorial:
You can also check tips on how to make your work better with Lanteria
Optimum HR – for resources & project management
Optimum HR serves as a full-featured human resources software. Ths project management software was acquired by Kronos in 2019. It is available across Optimum HRIS' on-premise and cloud-based deployment options. What is more, the program is part of a broader suite of apps with access to the shared database, and as such, it is integrated with neighboring Payroll and Time and Attendance products, which aim is to eliminate redundant data entry.
The other reason behind the creation of Optimum HR has been to facilitate the difficult and labor-intensive task of Human Resources – record-keeping, resources management, and compliant reporting. The software promises to keep employee information accurate, upfront and secure.
Key features:
Benefits management tools supported within payroll module
Automate screening, interviewing & hiring of new employees
Compensation management support within the payroll system module
ACA, EEO, COBRA and OSHA-compliant reporting options
Unlimited employee records database with no purging required
Track employee availability with vacation and leave logging
Secure data storage and management
Integrated time and attendance management tools
Expense reporting for projects
Notification support for events and time clock triggers
Payroll management provided via additional module add-on
SSE portal allows for personal profile updates
Self-service portal
Track employee attendance, project lifecycle, and hours with timesheet support
Overview:
Skilo – talent and people management
If you are looking for a cloud-based talent and people management app, Skilo is just for you! The solution is dedicated to HR managers who work hard to engage employees within organizations, big or small. It is built on the Salesforce platform. Its aim is to encompass a series of integrated modules across Core HR features, goal-based performance appraisal, training, career development, onboarding, absence management and compensation.
Skilo supports one when it is necessary to set up employee profiles and plot potentially complex organizational structures, before setting measurable business, competency and development goals across a workforce. Besides, it helps engage staff in the appraisal process and collect feedback reviews, while managing training budgets and plans for developing existing employees and onboarding new hires.
It's a robust project management app for HR.
Key features:
Employee profiles
Vacation request tracking
Compensation & benefits
Competency management
Employee lifecycle
Measurable business goals
New employee onboarding
Performance reviews
Employee lifecycle management
Job description management
Career development plans
Recruitment management
Manager dashboard
360-degree feedback
Employee ratings & reviews
Succession planning
Staff training for new and old employees
Custom reports & KPIs
Organizational structuring
Team calendar view
Job application collection
Posting job offers
ADP TotalSource PE (Professional Employer Organization) services are valuable to those who need a complete human resource management department within their business. This project management tool can help when you need the complete transparency of payroll and tax reports. This, in turn, enables you to focus on growing aspects of your enterprise.
Not only is it a great HR and payroll platform, but also a great project management system that enables you to monitor the performance of your people.
Key features:
Web based
Employee benefits administration – health benefits, retirement plants, etc.
Payroll services and tax support and administration
Managing labor costs and compliance
Workforce Management adds optimized scheduling, labor forecasting/budgeting, attendance policy, leave case management and more
Talent management
Online support
Employee assistance programs
Employee management
Integration with business software, time tracking, HR systems and ERPs
Administration responsibilities
HR Services: HelpDesk, online answers to commonly asked questions, forms and documents, personalized employee handbook, library of 300+ job titles and descriptions, Checkups to compare your practices to standard best practices
HR Outsourcing & PEO
Mobile friendly
Employee relations
Training and developing
Regulatory compliance
Tutorial:
https://www.adp.com/resources.aspx
TimeCamp – for billing, managing payroll & attendance
TimeCamp is a robust time tracking software with extensive features that can be helpful in the work of human resources. Besides tracking work hours, it also tracks billable time and has a budgeting feature so you can manage all financial aspects of your business in one place. And with the attendance and leave module, human resources is easy and painless.
You will also find it helpful as a project manager as it helps to plan the workflow of a team and allocate resources, see what projects people are working on, who is available and most engaged.
Key features:
Automatic time tracking
Available for all platforms (Windows, MacOS, Linux), as a desktop application, web extension, and web tracker
Timesheets with approvals
Detailed reports on activities
Attendance module with multiple options of work style and leaves
Dividing projects into tasks
Real-time project tracking
Project budgeting
Project estimates
The new GPS tracking feature lets you monitor the accessibility of your staff and their location when they work on their project outside the office
Streamline and optimize HR processes. Sign up for TimeCamp for free!
Asana – for online HR and people management
Asana is one of the most popular project management tools and it's also suitable for HR departments or small businesses who don't hire many people. Asana can help in onboarding, streamlining processes, and coordinating cross-team projects.
If you like flexibility and need a smart, adjustable solution, check out Asana. Also, if you're a project manager, use Asana to visualize your project and adjust to use the tool the way you like.
Key features:
Creating a standard process for onboarding
Collaborating with hiring managers and interviewers
Tracking candidates with recruiting pipelines
Storing contact info and resumes
Meeting agendas
Recruiting team requests in Kanban view to standardize fulfillment process and organize work
Keeping reference materials, important information, and policies in one, accessible place
SUMMING UP
Managing HR requires two things − skills and software. Whereas time is necessary to acquire the former, the latter can be bought on the spot. And with the two every project will be successful.
Which of the project management tools are your favorite?
✍ Last updated May 2020