There is a lot of fuss around project management these days, and it is one of the most wanted skills by the employers. But what about work management?
Work management is a broader term than project management, although many aspects of them overlap. To really know the differences between the two, we have to reach for the definitions.
Project management is "the practice of initiating, planning, executing, controlling, and closing of the work of a team to achieve specific goals and meet specific success criteria at the specified time."
Work management, on the other hand, is "managing individual and team workflows and workload – whether within the scope of the project or related to organizational needs"
Focusing only on project management might lead to negligence on other, more basic company needs, or increased workload of some employees, causing burnout. But work management isn't easy, and you might need some help. There are many different tools on the market that can help you manage work better. Many of them offer real-time collaboration, sharing documents, cost and resource management, time and attendance tracking, project and task management and many, many other features, at the same time being easy to use, saving you time on advanced planning and management. But, as always in life, some tools are better than others, and here you can find a list of 10 most useful tools for work management.
After reading this article you will know:
10 most useful work management tools
Their most useful features
Pros and cons of every tool
TimeCamp is a time tracking software, but with multiple other functionalities, it may also be used as an attendance tracker, project management app or even a payroll system.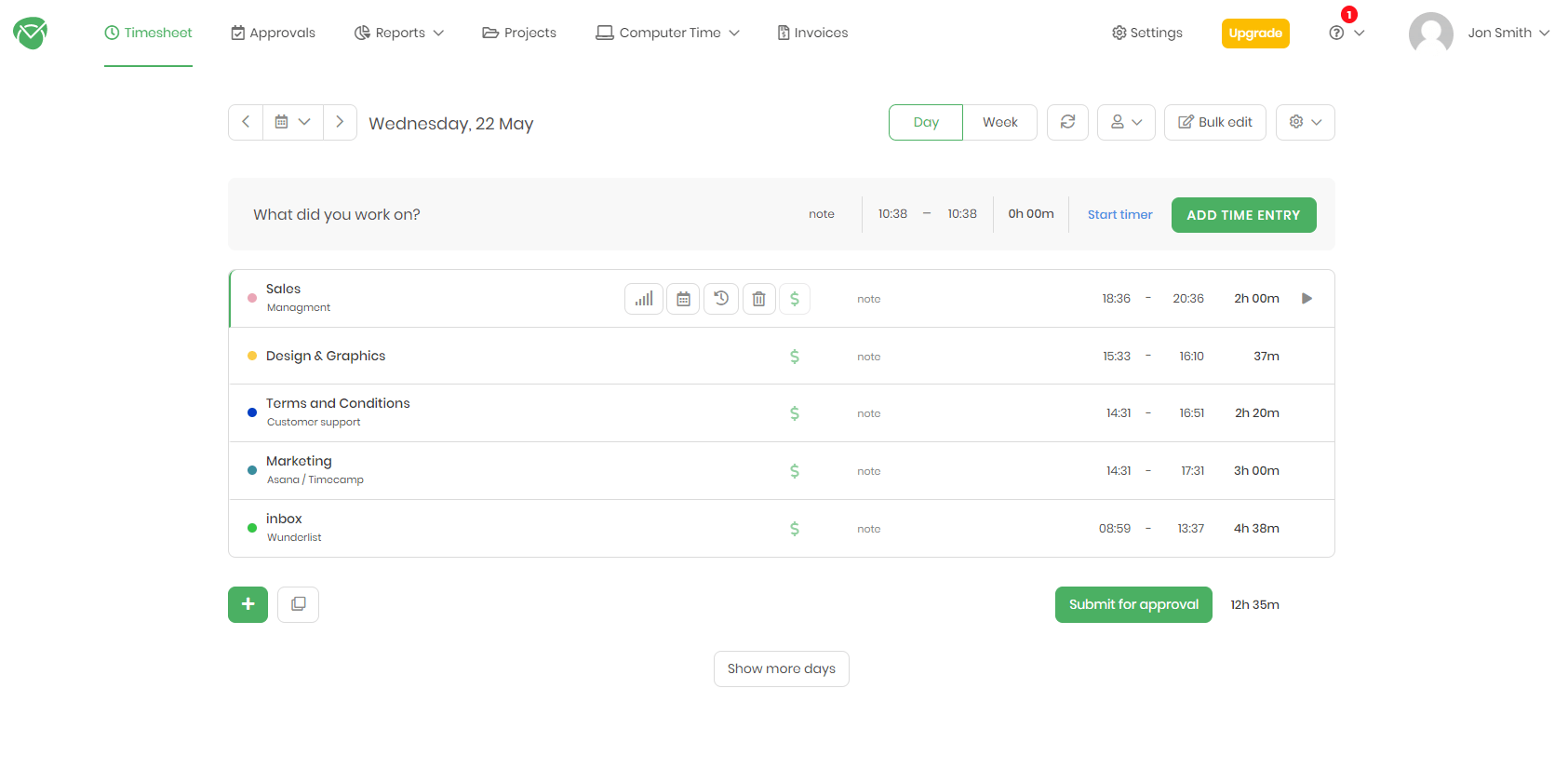 If I'd have to describe it in one word I'd say – flexibility. Do you want to download the app? No problem. You don't? There's no need to worry, just use the web version or Google Chrome plug-in. Having employees working away from the computer? They also can use it – on their smartphones, both on iOS and Android. But what exactly has TimeCamp to offer?
For free:
for one person, which is great for freelancers, who may not need additional features, but will definitely take advantage of tracking time spent on different tasks.
Not only you can set a specific budget, but also you'll be notified when you come near your budget limit. Also, you can bill your clients by automatically created invoice based on tracked hours, or you can create the invoice yourself from scratch.
Most probably, you already use some kind of project or work management software, that may include features that are complementary with TimeCamp. You don't have to worry about transferring all the data from one app to another – thanks to integrations to more than a hundred most popular project management and productivity tools, you can do it all with just a few clicks of a mouse.
This feature allows you to approve timesheet of your employees before creating a payroll. This may be helpful if you have employees working remotely that are being paid by the hour and you're worried that they aren't very precise when it comes to tracking their time, for instance, or if you're worried that someone will clock in using their mobile app while not at work.
Having information about the day type of your employees: whether they're in the office, working remotely, on sick leave or vacation – and all of this in one place.
Especially useful if you employ remote workers, that are using computers in their job. Screenshots are proof of work, giving you and your employees transparency.
Encourages a proactive approach when it comes to business expenses and helps you to estimate what is the best way to charge for specific projects.
You can set a specific date and time, and a report will be sent into your email inbox, so you don't have to look for it, at the end of the month, for instance.
Price of this software depends on the chosen plan:
BASIC: $5.25 per user/month billed annually
PRO: $7.50 per user/month billed annually
ENTERPRISE: starting from $450 per month total
Pros:
Cons:
A bit tricky in the setup stage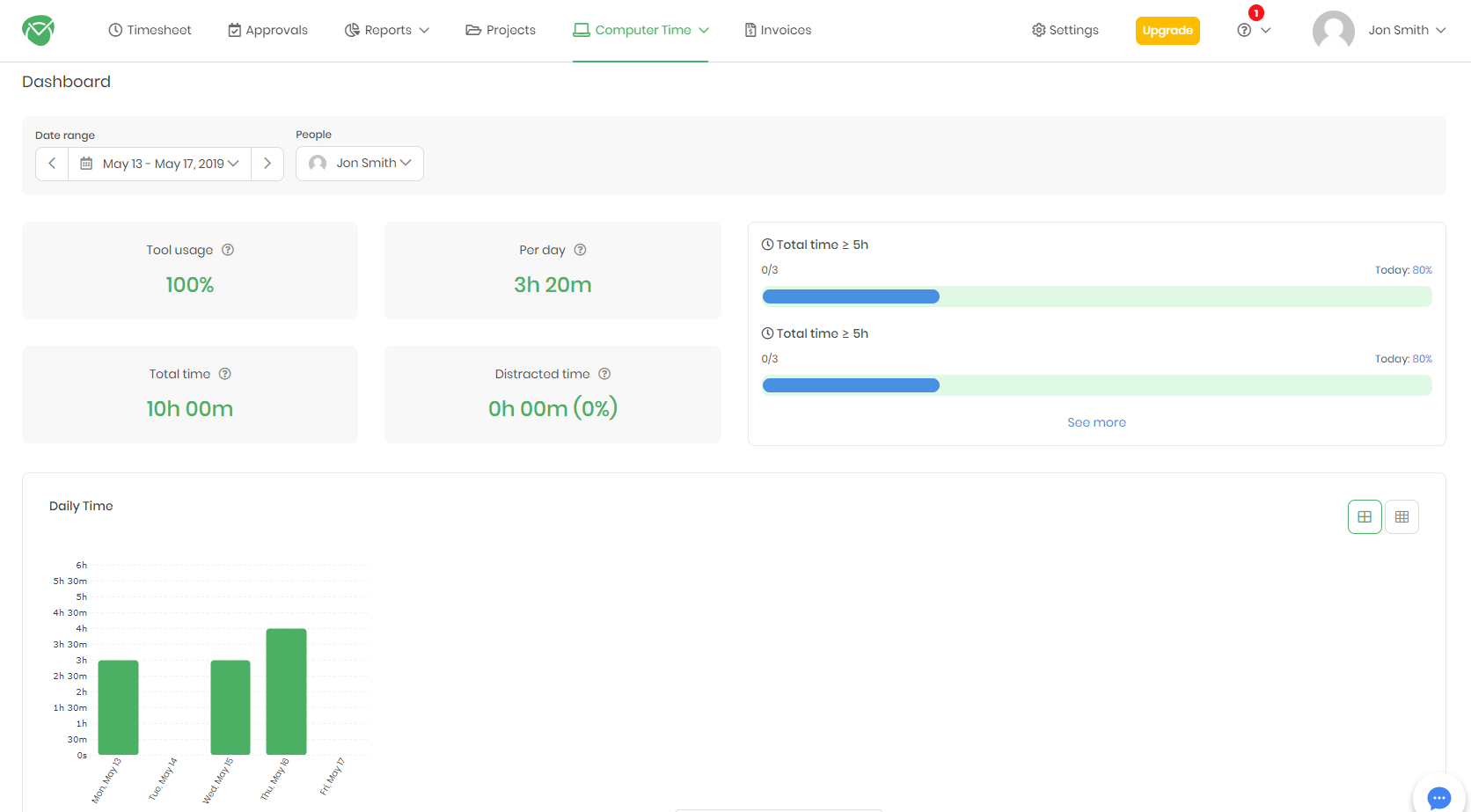 It's a software development platform, one of the most secure ones, but that's not all it has to offer. It allows you to plan and manage your work in the cloud, in the form of kanban boards and lists. Unfortunately, there is no free version of Assembla, but if you are a software developer looking for something secure, and effective, you might want to give it a try.
Some of the most interesting features are:
Keeping you in touch with your clients and updating them on how the work is going.
Having your documents in the cloud means no matter what happens to your hardware, the important stuff is untouched.
Assigning specific tasks to your co-workers and dividing them into subtasks, will allow you to make sure that every detailed task is completed.
Assembla integrates well with Zapier, Trello, Slack Jira, GitHub, and TimeCamp of course 😉
Assmebla isn't cheap, but it's worth it, with prices starting from $9.16 per user/month, up to $960 a year for 5 users.
Pros:
It's a secure way to develop software

Connects business with clients and enables work management
Cons:
It's designed specifically for software developers, so it won't be a good fit in many other industries

It's expensive
It's an all-in-one work management and collaboration software. Allowing you to have most of the work happening in one place, it prevents the mess from piling up in many different apps. It's worth checking out especially, that it offers a free trial.
The most useful features that BaseCamp provides are:
Very easy to use, and allowing you to assign a task to a specific person and set a due date, so everything is taken care of in a timely manner.
It enables you to have all of the conversations on a specific topic in one place, so even a single detail doesn't get lost.

You can set a specific time a check-in question is supposed to be asked, so you don't have to meet up for the regular update, just do it online, saving you time and not dragging you away from deep work.
In BaseCamp you can work together with your clients, so they're always informed, and you can get feedback and solve problems before they escalate.
The unusual thing about BaseCamp is its pricing. For unlimited users you pay $99 per month, every feature included. Also, it's free for teachers and students, and they offer discounts for non-profit organizations.
Pros:
It's great for a multi-customer business

It

integrates

well with many popular apps

Price is not dependent on the number of users
Cons:
It takes some time to learn and get used to it

It may not be a good fit for very specialized companies
Clarizen is a work management software designed to connect resource and time management with planning and collaboration. You can easily adapt it to your business needs, and minimize the time spent on tasks that can be automated.
Some of the most useful features are:
Clarizen allows you to customize the software to fit your business
Every change being made is visible at the time it's being made

It's a platform where both project and work information and customer information can be stored and viewed.
There is no free version of this software, and pricing is given individually, through the form on the Clarizen website.
Pros:
It's extremely adaptable

Excellent reporting
Cons:
It takes time to fully understand this software and introduce it to the company

Has so many features that it might be overwhelming
Just like the name suggests, Kanban Tool is an app that allows you to manage your company in the form of a kanban board. It makes your team work more efficiently and gathers and processes data about tasks and projects, giving you more control and insight.
With Kanban Tool you can:
Track time

Automate processes

Manage your work with Kanban boards

Add attachments to your boards
Price of this tool depends on which plan you choose:
Team: €5 per user/month
Enterprise: €9 per user/month
Pros:
It's great for task management

Very intuitive
Cons:
Their mobile app is for Android only

The free version is limited to two tables and two users
In nowadays business everything changes quickly and Liquid Planner is a tool designed to adapt to change easily. Scheduling, resource management, collaboration, time tracking and analysis of work performance, costs and profits are only some of the many useful features that it provides.
Liquid Planner provides:
You can prioritize your work, assign resources and estimate the time needed for completion of the task
Visualizes who's available and how much every team member has on his head.
Conversations are happening through comments on specific items (for instance: task or project), so important information doesn't get buried under other messages totally off the topic.
Price depends on the plan you choose:
Professional: $45 per user/month with a minimum of 5 users
Enterprise: $69 per user/month with a minimum of 5 users
Pros:
You can estimate how much time a certain task will take to complete

Their workload estimation feature is very unique
Cons:
Not many integrations

Complex interface

A flexible project management tool, used by many businesses, big and small. Its transparency makes work more enjoyable and is very helpful for organizing work. Also, it manages not only your tasks and projects but meetings and events as well.
Among many features, the most useful are:
Plan your work in the form of a Kanban board
Time and Expense tracking 
You know exactly how much time is spent on what kind of work and where your money goes.

You can assign tasks and manage work even on the go
The possibilities are endless, making Podio versatile.
Price depends on the plan:
BASIC: $7.20 per user/month billed annually
PLUS: $11.20 per user/month billed annually
PREMIUM: $19.20 per user/month billed annually
Pros:
Cons:
It's confusing and overwhelming at the beginning

Quite expensive (but there is a free plan available)
It's simple and guiding you through the work that needs to be done. It's also easy to introduce to your team, because of its intuitive interface. It truly is saving you time on managing, especially that it integrates with hundreds of apps through Zapier.
The most interesting features it provides are:
You don't have to manually schedule tasks that have to be repeated, just schedule a recurring task with a few clicks.

All of the important documents in one place, that you can find, access and discuss easily
The first step on the way to stop wasting time is to know where it goes, and you can do it using time tracking.

Sharing reports with clients
Proprofs makes it easy to keep your clients updated.
Price varies depending on the plan you choose:
Solopreneur: $19/month
Team: $49/month
Unlimited: $199/month
Pros:
Intuitive and very simple to use

Affordable
Cons:
Lacks Kanban view

Reports are very basic
Great user experience, simplified planning, organizing and controlling projects, combined with time and budget tracking and communication and file sharing – most of the tools you need to manage your work in one app.
ProjectUrf provides features such as:
Collaborate and interact with team members smoothly
Schedule your work to have it completed on time
Some tasks are more important than others, but as every task, they're equally easily forgettable. Prioritizing allow you to make sure that the important stuff gets done.
There are 3 plans to choose from:
Basic: $50/month
Standard: $15 per user/month
Advanced: $30 per user/month
Pros:
Manages files and communication well

Ensures tasks are clearly outlined with timelines
Cons:
It could use more integrations
ProofHub brings your projects, clients, and teams into one place for you to have your business under control. Not only that, but it also offers advanced methods of data protection.
It offers:
It allows you to define different access levels for their team members based on their responsibilities
Looking for documents or information is made easy
You can transfer the ownership of the account to a different person
To prevent unwanted logs, you can restrict your account access only to the IP addresses that you choose, to keep your data secure.
There are just 2 plans to choose from:
ESSENTIAL: $45/month, billed annually
ULTIMATE CONTROL: $89/month, billed annually
Pros:
Cons:
Its user experience needs some work
BONUS TOOL!
Trello and Slack combined. Taskify your messages directly from the chat, track progress and interact smoothly with your team. You can @mention your team members to get them notified, attach images to your messages and access the full history of your chat – all of your messages are safely stored. And the best thing is – up to 10 members you can have it for free.
To sum it up
With all the tools mentioned in this list, some expensive and some cheap, some for highly specialized industries, others – for everybody, who just want to manage their work better. These are our favorites when it comes to work management. What do you think? Do you use any of these tools? Or maybe you can recommend something we didn't mention? Let us know in the comments.