Best Project Management Tools for Students
January 24, 2018
by Kamil Rudnicki
2 comments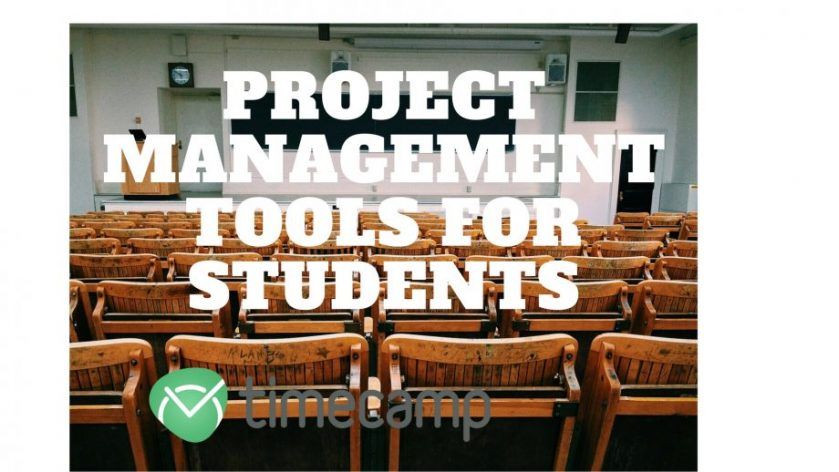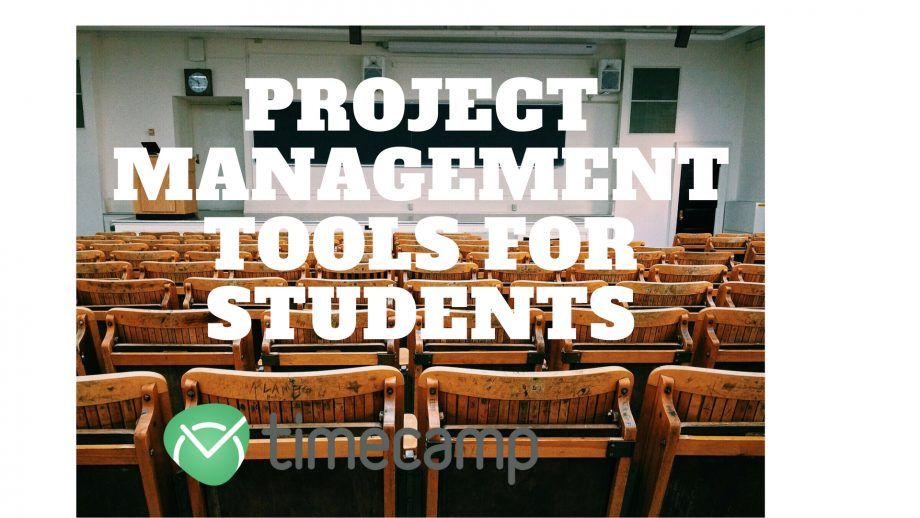 Most of the people, especially those of the older generation, believe that time spent at the university is the best period of one's life, for which such a person will yearn. A typical prevailing conviction is that nothing, in fact, bothers students, neither professional obligations nor their family, they are free like a bird, and so on. Maybe there is a grain of truth in it, but it's ONLY a grain. For one thing, many undergraduates/graduates take up a job as to be able to, for instance, live on their own, in particular, those from different towns/countries, and for the other, many of them are already romantically engaged, some even have children.
But the most important are studies themselves, which can be a dreadful ordeal. Especially group projects. Because how to successfully communicate and collaborate to carry out such a project properly, while obstacles multiply themselves like cockroaches. The fact that people of one's team spread all over the town may hinder an attempt to gather them in one place as to work on the project, some of them may have problems with organizing themselves, etc.
That is why the use of project management software would help. However, the choice of it may pose problems. Certain features of a typical management tool will be a hindrance, complicating the management of one's project. For example,  reporting and customizations would be unnecessary features, while keeping costs to a minimum, task and document management, the mobility of the app and its ability to boost collaboration would be highly desirable.
👉 Check also our list of the best study time trackers.
Taking all the above into account, the most recommendable project management tools for students belongs:
If Slack and Trello had a baby, it would be TimeCamp Planner. It's one of the best tools for sales because of it's functionalities and ease of use. TimeCamp Planner is a task management software with chat. It helps to communicate and collaborate with your friends. People can manage workflow and monitor the progress of works always up-to-date.
TimeCamp Planner allows your team to eliminate two or even three different tools – task management software, project management software, and communication software since it combines the key features of these three. No more switching between different apps! You have everything in one place, easy to access and easy to use.
Make TimeCamp Planner your project management tool
Main features:
Workspaces – you can create different workspaces for different clients, teams or departments
Group and individual chat
Adjustable tasks – you can set date, assign people to it, add tags, description, files, comment on it, add estimates, copy task
Calendar integration and Google docs attachments
Kanban board with tasks
Video calls
In TimeCamp Planner you can manage your university projects online and collaborate in groups on different tasks. In free version you can create unlimited projects, so you can use it as your private task manager and also a tool for group collaboration. You can use chat and video calls to communicate with others.
Pricing: Price: Free plan is available for up to 5 users; Pro plan costs $2.99 per user per month, billed annually ($3.99 billed monthly).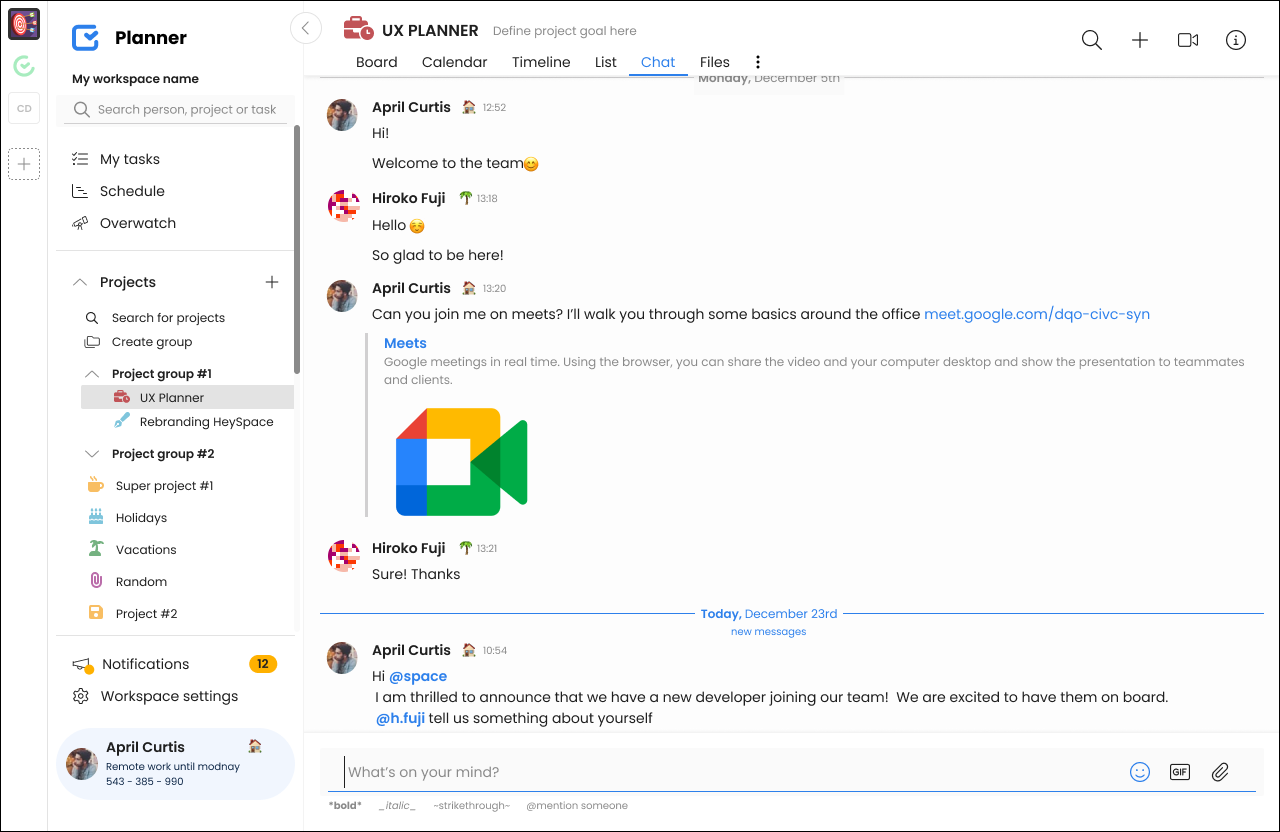 Check also TimeCamp - a 100% free time tracker for unlimited users!
Personally, I would recommend Slack. What is the reason behind this recommendation? The communicator is an excellent and powerful, having plenty settings and options at its disposal. First of all, Slack enables real-time messaging. All the team communication is in one place, in the result of which accessing chats and searching them through is as easy as pouring tea into a cup. 
The app integrates with numerous external services. The list is continuously broadened. It offers built-in internal and external sharing options as to enable people to get and share files with whoever they want. The tool is equipped with advanced search, filters and sorting as to make getting the right files simpler. The results can be filtered by relevance or file type to find what you exactly need.
Lastly, Slack has fully native apps for iOS and Android at its disposal. What else is worth pointing out? Maybe that Slack provides one with read state synchronization. What does it mean? It means that when you read something on your phone, your laptop will know about it and automatically mark those messages as "read" ones.
Try TimeCamp Planner, alternative to Slack.
Sign up now, it's free FOREVER
Key features:
Create open channels
Desktop and mobile messaging, file sharing and notifications
Flexible file browsing
Useful, customizable notifications
Search inside Word docs, Google Docs, Photoshop files, PDFs
Private groups and 1:1 direct messaging
Read-state synchronization
Search conversations and individual messages
You can use Slack for your group projects. It will help mostly in communication, so you don't need to meet personally or write e-mails to organize the work. You can also share files there. It lacks some more advanced task management features, but it can be easily integrated with other free tools.
It is commonly known to be a workflow management tool also for students. What does characterize this software?  It is its flexibility. Though figuring out how to set it up for one's needs may not be easy, Asana offers handy instructions for those who deal with it for the first time in the form of online video tutorials for learning how to start using it and mastering the finer points of Asana. Asana enables students to do basic collaboration stuff such as sharing and editing materials, communicate with other users and designate tasks to specific people. In short, it has all that students who are working on a project need.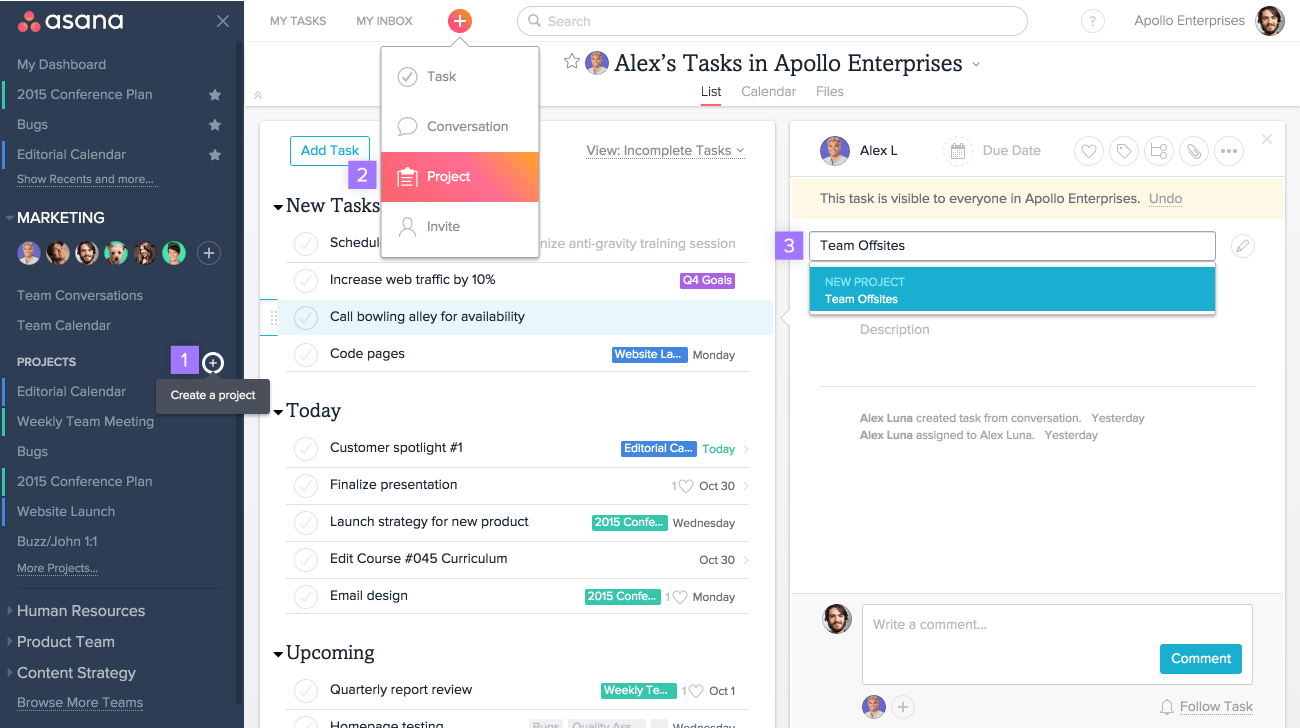 Key features:
The tool helps to create teams which aim is to organize one's projects and connect teammates with a shared calendar and conversations.
Teammates can be added as followers. This enables them to, first of all, follow along with work on the task, moreover, to receive relevant notifications with task updates.
The access to every project can be limited as well as creating hidden teams for sensitive work, or making public teams and projects for access by one's entire team.
Tasks in Asana can be managed in different views, depending on what you need. You can create simple to-do lists for your assignments, use kanban boards or plan your project in a calendar.

It is a program that makes possible the collaboration of many people, which facilitates project management.
First of all, the app is easy to use and it is flexible. What is more, it enables, among others, sharing information and collaboration on various projects, organizing tasks, monitoring finances, digitizing files that are important to the project, and capturing image-centric brainstorms.
Finally, with the app, the material can be easily collected and organized to improve the workflow of one's team. Use Evernote and have everything is at your hand!
👉 Check also the best note-taking apps for Android.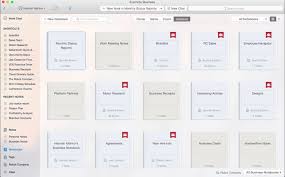 Key features:
Share notes and collaborate on files
Save favorite webpages
Snap photos, record audio, save documents
Content available on any device
Edit rich text and sketches
Evernote Clearly for clearing web content
Give feedback and share ideas
Sketch on a page and sync notes to any device
The app is greater for working on research, looking for inspiration, and taking notes. It's one of the best project management ideas for students. But if you want to coordinate the whole project online you might need something more to communicate and delegate and monitor tasks.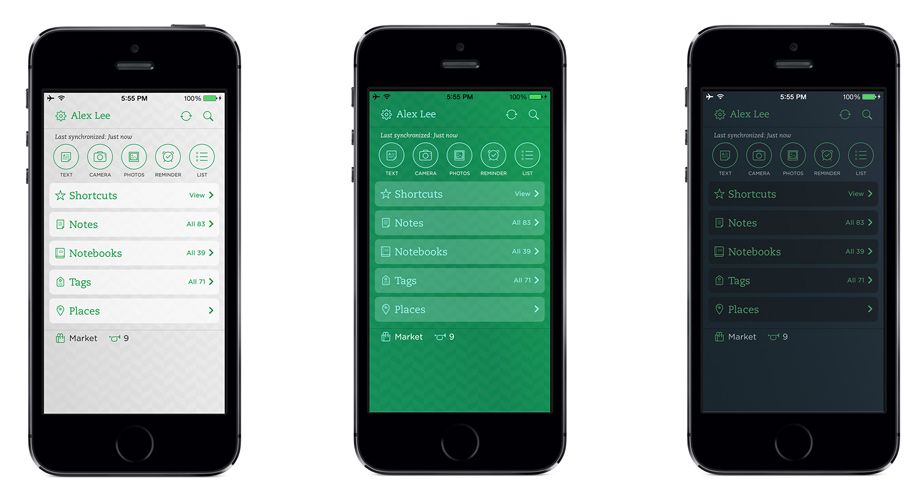 The management tool is incredibly useful when it comes to managing projects and your team, no matter where your team members live in, Canada or Congo.
Basecamp has at its disposal a wide variety of features that aims is to improve the system of project monitoring and getting things done on time. It is an intuitive and user-friendly tool that can be run in minutes. In addition, tasks are presented in the form of handy to-do lists with due ranges and dates; each user has their own task. All that has been done to avoid chaos and confusion. The next amazing feature of this app is the way how one gets to prioritize and reorder tasks and adjust the system to one's needs.
Finally, the program is also an astounding medium enabling coworkers to share ideas, proposals, or align reference conversations, which in turn helps you to make sure each team member knows what others are doing as not to double their work.

                                     Key features:
Group discussions
File sharing
Project templates
Task planning, scheduling, and tracing
Search Functionality
Project management
Comments
Chat
Due date tracking
Prioritizing
Project notes
Activity dashboard
Basecamp offers a 100% free Personal plan perfect for students and small teams. It can be a perfect organization tool for college students. This plan allows you to add up to 20 users, create a maximum of 3 projects and add up to 1GB of files.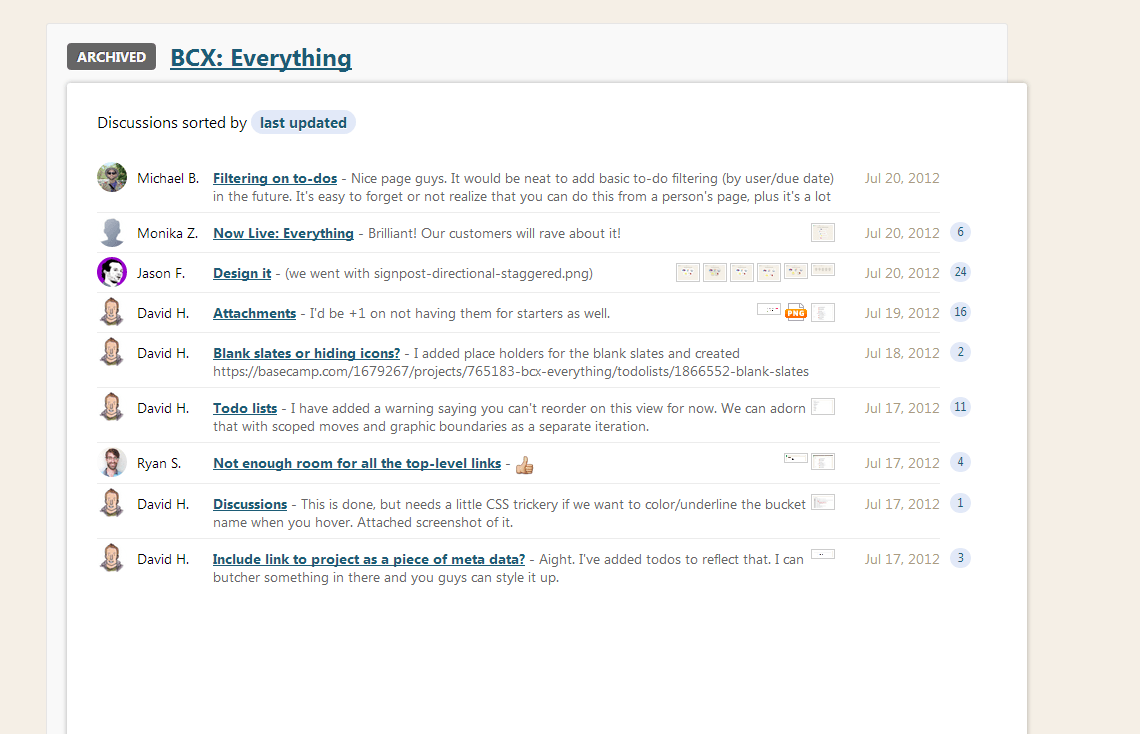 Tutorial:
If you are a student in command of a team and you looking for a good collaboration platform rich in features which lends itself to multiple applications, most notably the project management environment, Teamwork Project is your lifesaver! It has all key facets, from tasks, task lists, time tracking, file uploads, and messages. Their existence makes Teamwork Project a perfect tool for students. Thanks to this management tool teams collaborate more efficiently. It eliminates communication gaps, which leads to a significant increase in team performance.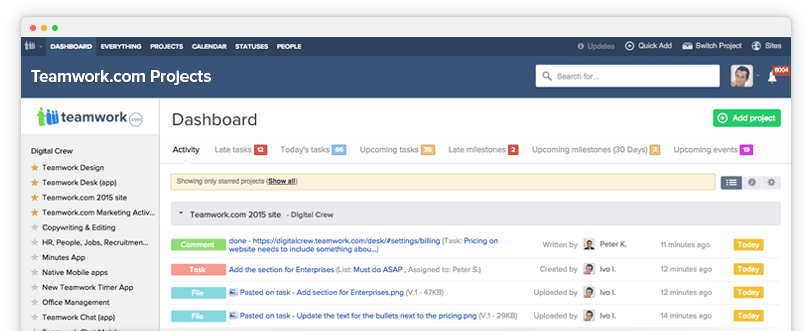 Teamwork offers a free forever plan limited to 5 users, 2 projects, and 100 MB storage. It can be very helpful for students' projects. You can organize your tasks and share files and comments in one place.
Key features of the free plan:
Task management with subtasks and dependencies
Time tracking
Calendar view
Milestone tracking
Board view
Filters and tags
Zapier integration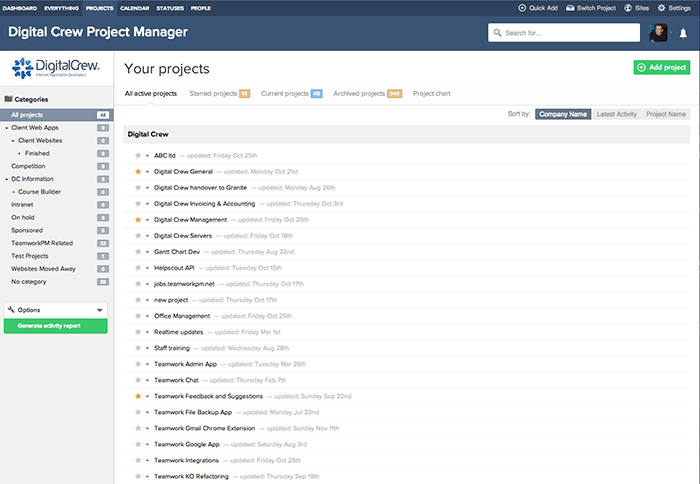 Tutorial:
Tips:
https://www.youtube.com/watch?v=jxyvaBlrSdQ
This app is ideal of the university goers because not is it a powerful project and task management tool, but also it offers an intuitive interface, meaning that everything is within a click or two! It allows one to keep track of their projects and tasks, notes and files with their team members – all in one secure location.
The tool offers a customizable interface, so it is one of the great project management ideas for students. With 5 pm you don't need to worry about deadlines, because you can work on a convenient timeline view. You can even integrate it with your inbox. iPhone and Android apps allow you to access your tasks from anywhere, even on a bus.

Key features:
Project Management
Task Organizer
Interactive Timeline View (Gantt)
Mobile Edition & natve iPhone app
Email Integration
Social Toolbar (in-app chat)
Google Docs, Dropbox, SpiderScribe integration
Available in 25+ languages
👉 Read more about creating a project timeline
OpenProject is a dynamic web-based software for traditional, agile or hybrid project management. You can easily assign a task to a specific person, change a status of a project and set a priority of a task/project. The app allows you to visualize your project plan by creating shared timelines. OpenProject also have tools to monitor the budget and time-consumption of a task/project.
It is a useful tool designed to make communication between users convienent. It has a bunch of integrations and it is worth mentioning that one of them is OpenProject time tracking integration with TimeCamp. 
Key features:
project management- the app allows you to visualize your project plan by creating shared timelines
project portfolio- enables you to create a project structure with hierarchies
task management– easily assign a task to a specific person, change a status of a project and set a priority of a task/project
team collaboration- for more effective communication between team members
API enabling an easy integration with other software used by the company
SUMMING UP
Being a student demands sacrifices. But let them be less painful! Make use of the above tools to help you and your team to manage school projects!
5 out of 5 stars (based on 1 review)