Best 5 Virtual Workspace Software Apps
March 31, 2019
by Kate Borucka
No comments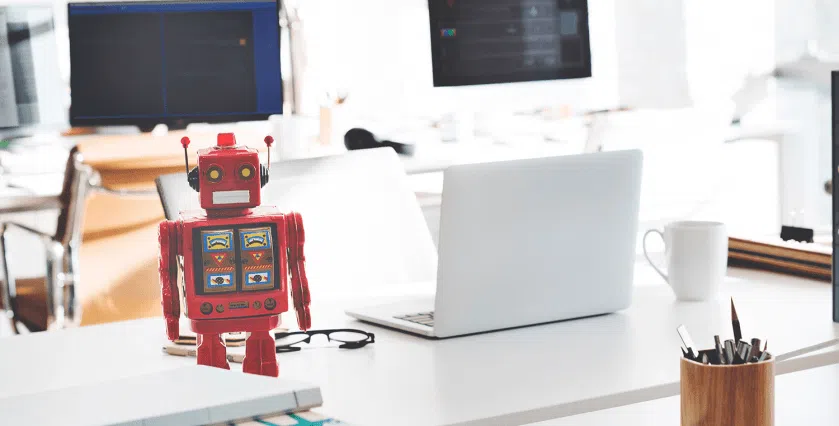 How Can Virtual Workspace Software Improve Your Business?
According to Salesforce study, 86% of executives and employees cite lack of collaboration or ineffective communication for workplace failures. Without a doubt, collaboration in business is a serious challenge. Especially when technological raise causes people to isolate more and more. The best way to deal with this problem and improve internal communication is to use virtual team workspace software.
Virtual workspace software is implemented in many companies due to its functionality. Not only does it strengthen collaboration, but also helps to improve many processes:
smooth and efficient flow of information,
work optimization and automation,
better reporting,
efficient work organization,
you can integrate the software with outside apps.
Workspace software helps to systematize workflow, declutter computer from different apps, and avoid unwanted disconnections and lack of synchronization across devices.
What's The Best Virtual Workspace Software?
There are plenty of tools available functioning as virtual workspace software. Some of the most popular include Trello, Slack or Asana. Even though they offer useful features, they are slightly limited. In fact, there are only a few virtual workspace software in the true sense of the word. They are combinations of task management software, time tracking software, communication apps, sometimes learning management system and others.
Of course, all these tools are of high-quality and can be used as the virtual workspace software. But before you decide to choose any of them, it's good to think what your business needs. Some apps may work better for different industries.
Even if a tool looks fancy and you like it, it doesn't mean it will be suitable for your team. Visual workspace software might be different than project management software or app for communication. On the other hand, some apps are really sophisticated and may fall into many categories.
We've prepared a short list of 5 best virtual team workspace software which can be a powerful hub of your team's work.
TimeCamp Planner is an innovative task management software with extensive chat features. It comprises three elements accessible in one place – channels and team members, chat window, tasks. TimeCamp Planner uses Kanban board design to allow you to easily monitor and manage tasks. Every task can be adjusted (you can change progress, add tags, files, description, set dues date, assign it to a team member, or comment on it).
You can access the Kanban board from the main view or from the "board" window. Thanks to that you can see the progress in the real-time and easily manage the workflow. You not only have the access to all tasks or projects but you can establish a unified communication channel in your organization.
TimeCamp Planner allows you to create that powerful hub where everything important is at reach. This virtual workspace software helps you and your team stay on top of work, regardless of location even during intense collaboration sessions.
Sounds good?
Bit.ai is the most advanced virtual workspace software for teams to collaborate, share, track and manage all company documents, files, and other content in one place.
Virtual workspaces can be created around projects, teams, departments, and clients to keep your documents, data and information organized. Bit workspaces make it easy to collaborate and ensure that the right team members have access to the right documents at the right time. With guest access, Bit allows teams to invite guests (clients, contractors, vendors, or partners) into their workspaces without providing the ability to edit the content in their workspace.
All in all, Bit is an amazing team workspace software for both internal as well as external communication. Create beautiful interactive workplace documents like- project proposals, sales decks, training documents, how-to guides, process documentation, media kits, fact sheets, competitive research, case studies and much more. Create a free Bit.ai account today and you will thank us later.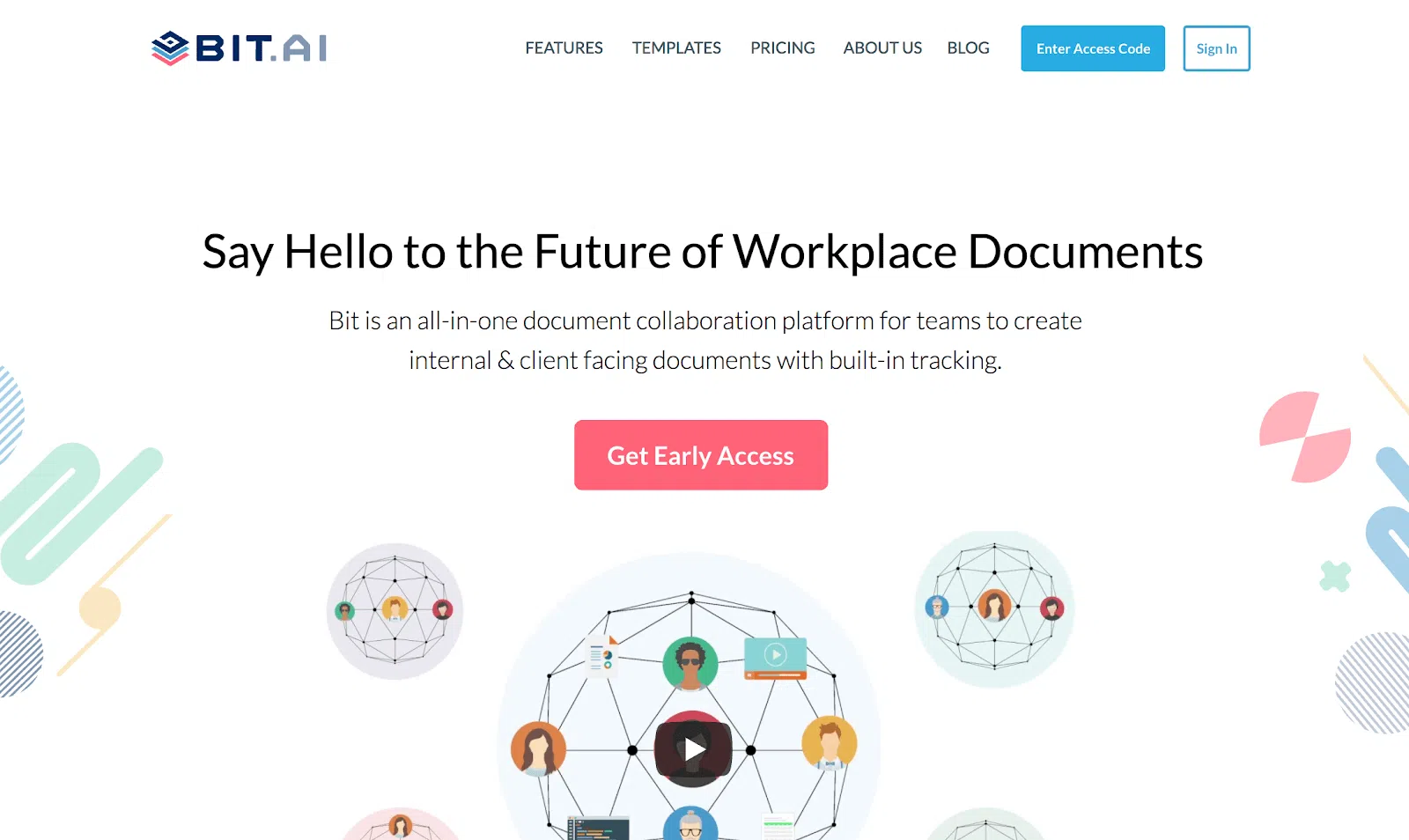 Mural is an interesting virtual software for people who are creative and like to try new things. The tool is fantastic for designers but it will be suitable for any type of business. Mural allows you to collaborate in one place no matter the location and time zone. It's a cloud-based software so you can access it from any place, on any device.
In Mural, you can create individual workspaces to collaborate on different projects simultaneously. You're informed whenever employees leave or join the project during its different stages. The frameworks of Agile, Lean and Design Thinking methods make it possible to scale processes across the entire company.
Moreover, in Mural your team can freely share ideas and thoughts and get feedback in the real-time. Mural is a simple, digital way for collaboration. It visualizes every project for transparency. However, the tool is best for creative teams and if you need more sophisticated software for communication and transfer of information, you may not be satisfied.
👉 Learn more about creating transparency in the workplace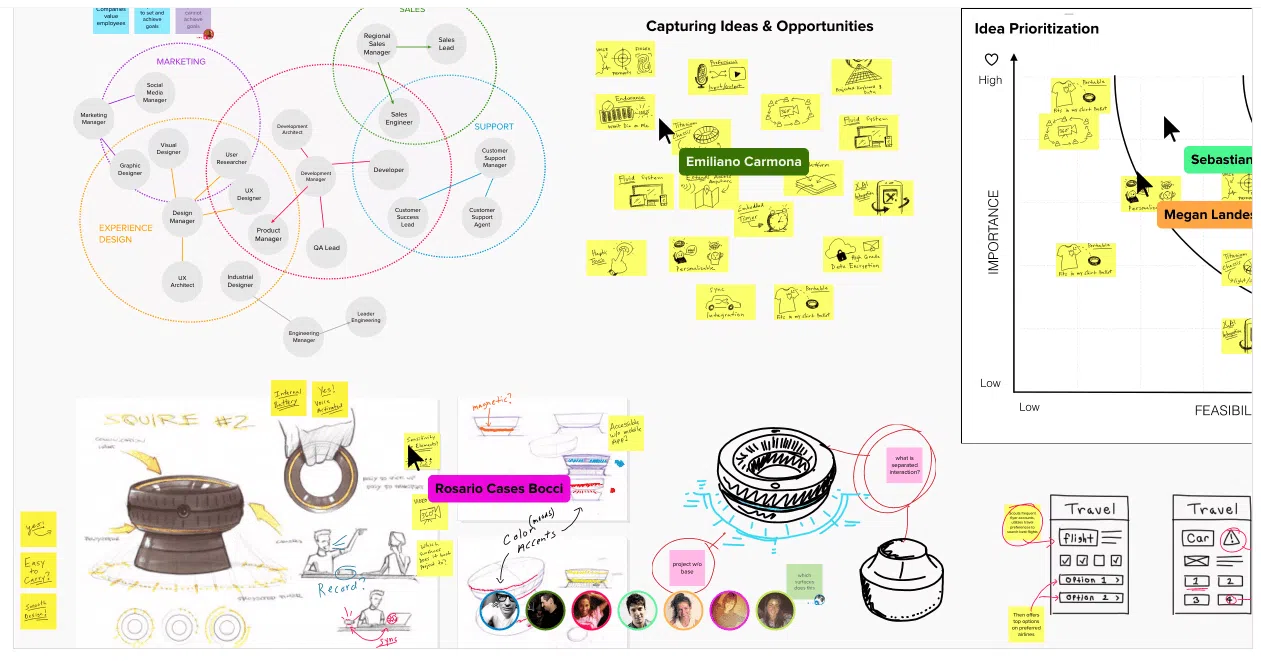 4. Prysm Visual Workspace
Prysm is a digital workspace platform. It allows sharing of information and progress of work with your team and clients regardless of location. You can easily view and interact with multiple pieces of content on screen simultaneously – you can access all information about the project thanks to the canva which includes different elements, reports, statistics, tasks, etc. Prysm integrates with Box, Microsoft Office 365, OneDrive, Skype for Business and other solutions. So it's not only a tool for communication between clients and your team but also for managing information.
Prysm is a good virtual workspace software for meeting management both for small and large businesses.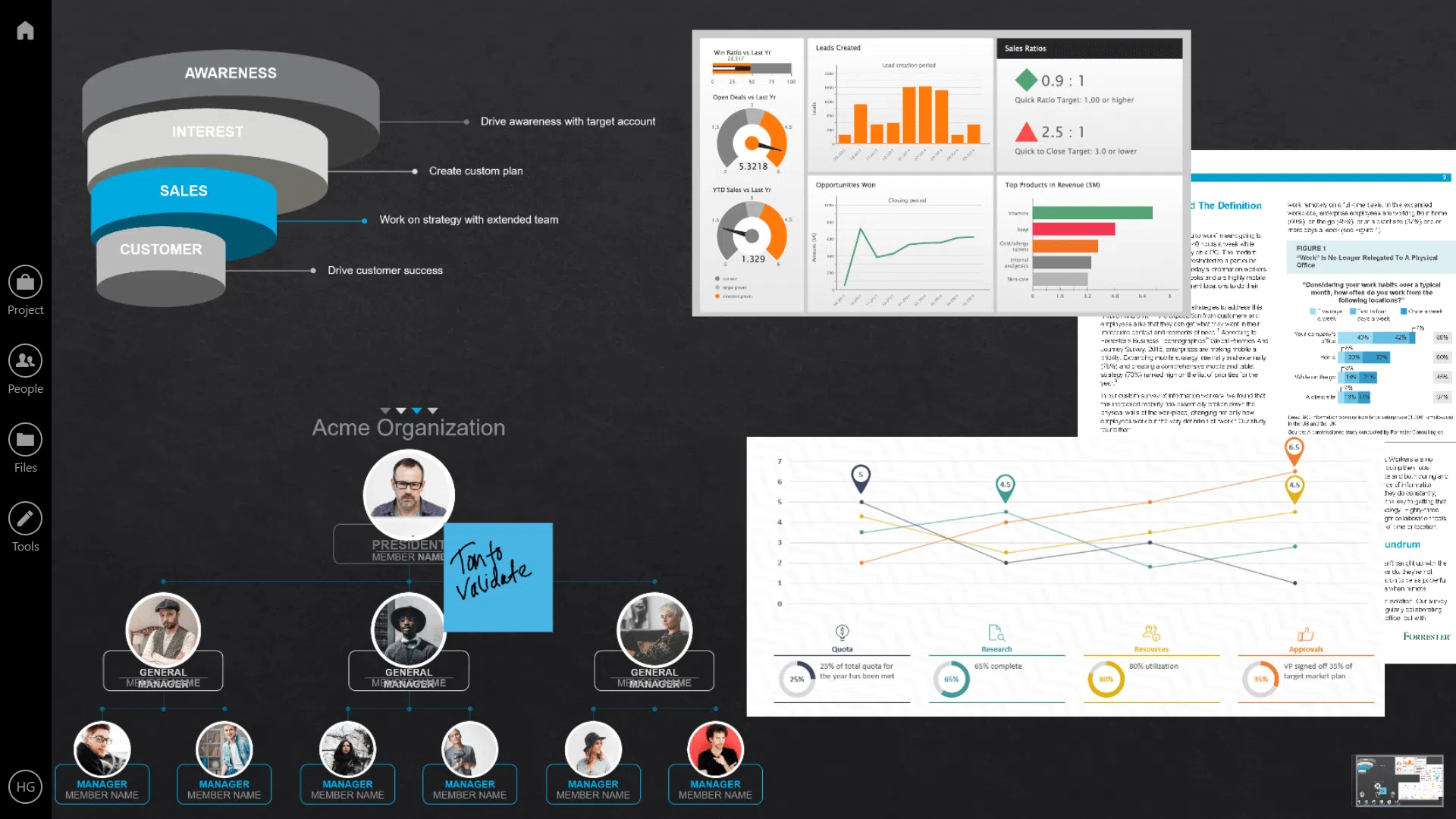 Bluescape is another digital platform for people to meet, share and develop ideas. This virtual workspace software allows you to use all your favorite tools in one place as they are accessible from the view of the main board which displays all features. With Bluescape you can involve everyone in the process of creating a product or managing a project and quickly exchange ideas and provide feedback.
Bluescape is a great software for teams who want to improve collaboration and keep everything in one place. You can collect all the data and files to manage content, discuss, and manage tasks.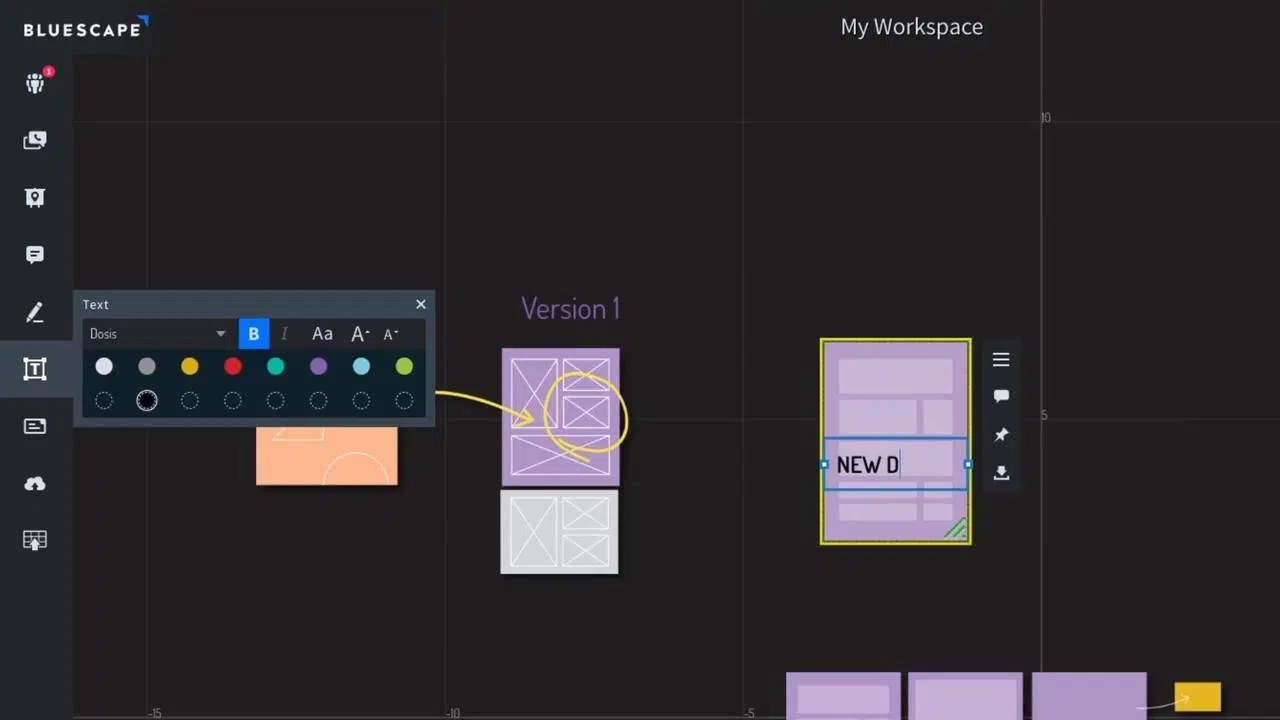 Zoho is a unified operating system for business. You can use the tool to plan, track, and collaborate on your work. Zoho offers various features which make it possible to collaborate in one place:
task management with subtasks, recurring tasks, reminders, tasks list, milestones, Kanban view, and dependencies
social project management with feeds, chat, forums, timeline view of project activities,
charts and reports,
time tracking,
issue tracking and workflow.
Zoho project management features make it an optimal solution for more demanding teams who need something more than just a place to brainstorm ideas and share the progress of work.
⇒ Looking for Zoho time tracking solution? Check out our integration with Zoho!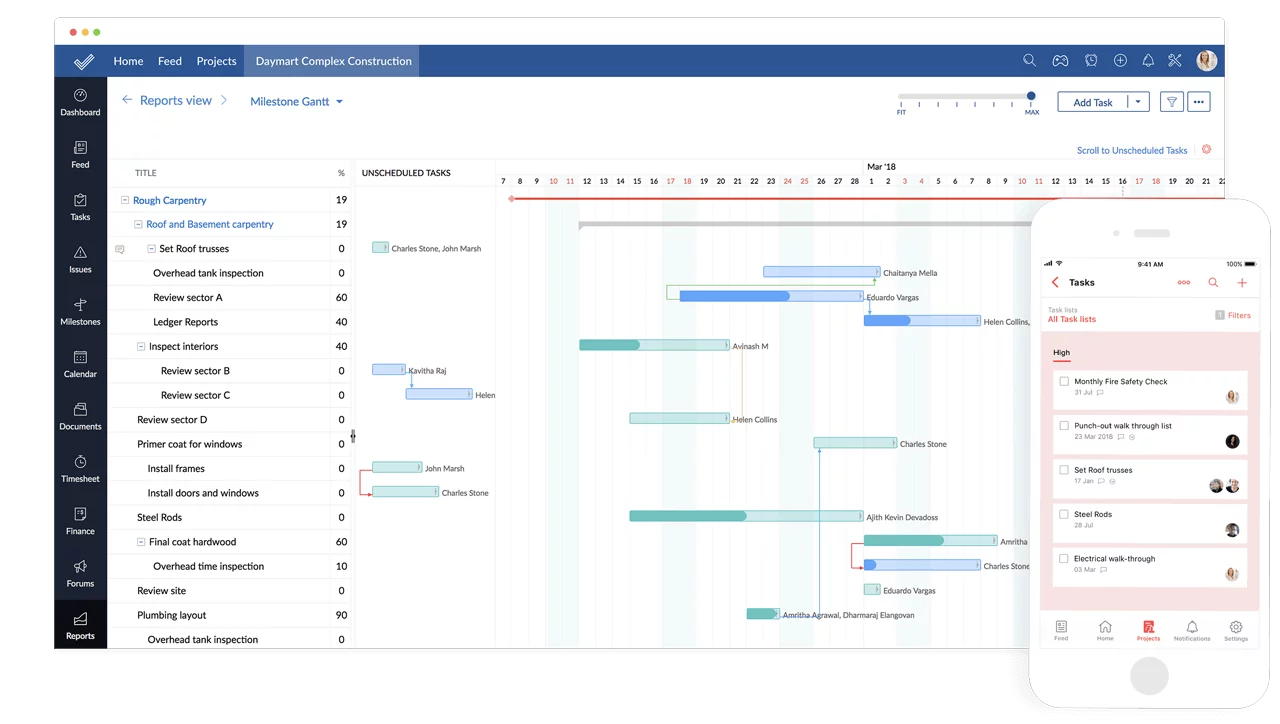 BlogIn is a beautifully simple internal blog and knowledge-sharing platform for teams of all sizes. The internal blog acts as a central information hub or a 'virtual bulletin board' for the company, allowing all employees to stay in the loop with what's going on in and around the office.
At the same time, the blog opens a new, transparent, two-way communication channel inside an organization, where everyone can ask a question and get the information they need to make faster and smarter decisions. The internal blog is intuitive and easy to use, so everyone can quickly get on board, which is one of the reasons why it works so well as the internal communication tool.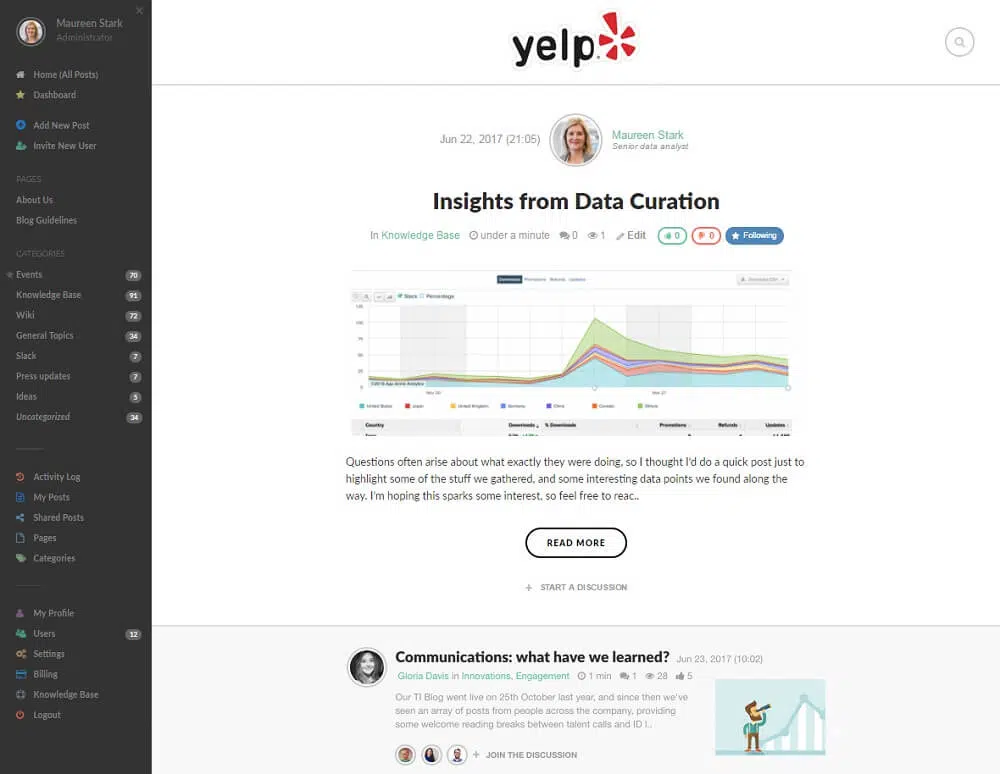 Final Thoughts
Every team communicates differently. It all depends on what industry you work in, what type of people are in your team, the tasks you perform and department you work in. It all affects the way you communicate and collaborate. Hence, the implementation of suitable team workspace tools is substantial for coherent and productive teamwork.
And if you're not sure which software is right for your team, you can follow the trial and error method and sign up for free trials for different tools until you find the perfect fit. Or simply contact Support Teams for help.
Grow your business with TimeCamp Planner – the best virtual workspace software
Start managing your tasks like a pro in TimeCamp Planner
5 out of 5 stars (based on 3 reviews)