Top 10 Free Project Management Tools
May 29, 2020
by Kate Borucka
No comments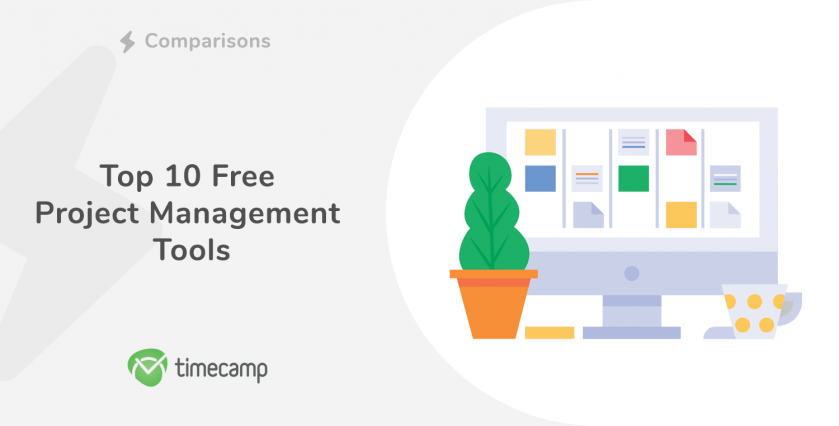 Project management tools are extremely useful. They help to plan work, organize workflow, and manage resources. In large companies, they make it possible to maintain the organizational hierarchy and keep a steady flow of information. And while complex tools are an excellent solution for companies that employ a large number of employees on different levels, very often, the free apps make a much better alternative for small and medium-sized businesses.
Free project management software is also a great resource for startups and those who want to pave the way for further development. They can use it to create the strategy and business plan quickly and use it to grow.
Moreover, choosing a free tool is a good idea if you don't have enough money, financial resources, or aren't sure if that's the right solution for you. You can test it and decide if you should implement it.
Sometimes it's hard to pick one from all the project management apps. Every tool is dedicated to different users and has various functionalities.
To help you find the right one, we've compiled the list of top 10 free project management software. Whether you're an individual, small business owner, or a project manager looking for a tool to coordinate the work of your team members, there's something for everyone.
Check also project management tools for students and remote project management guide.
1. TimeCamp – time and project tracking with attendance management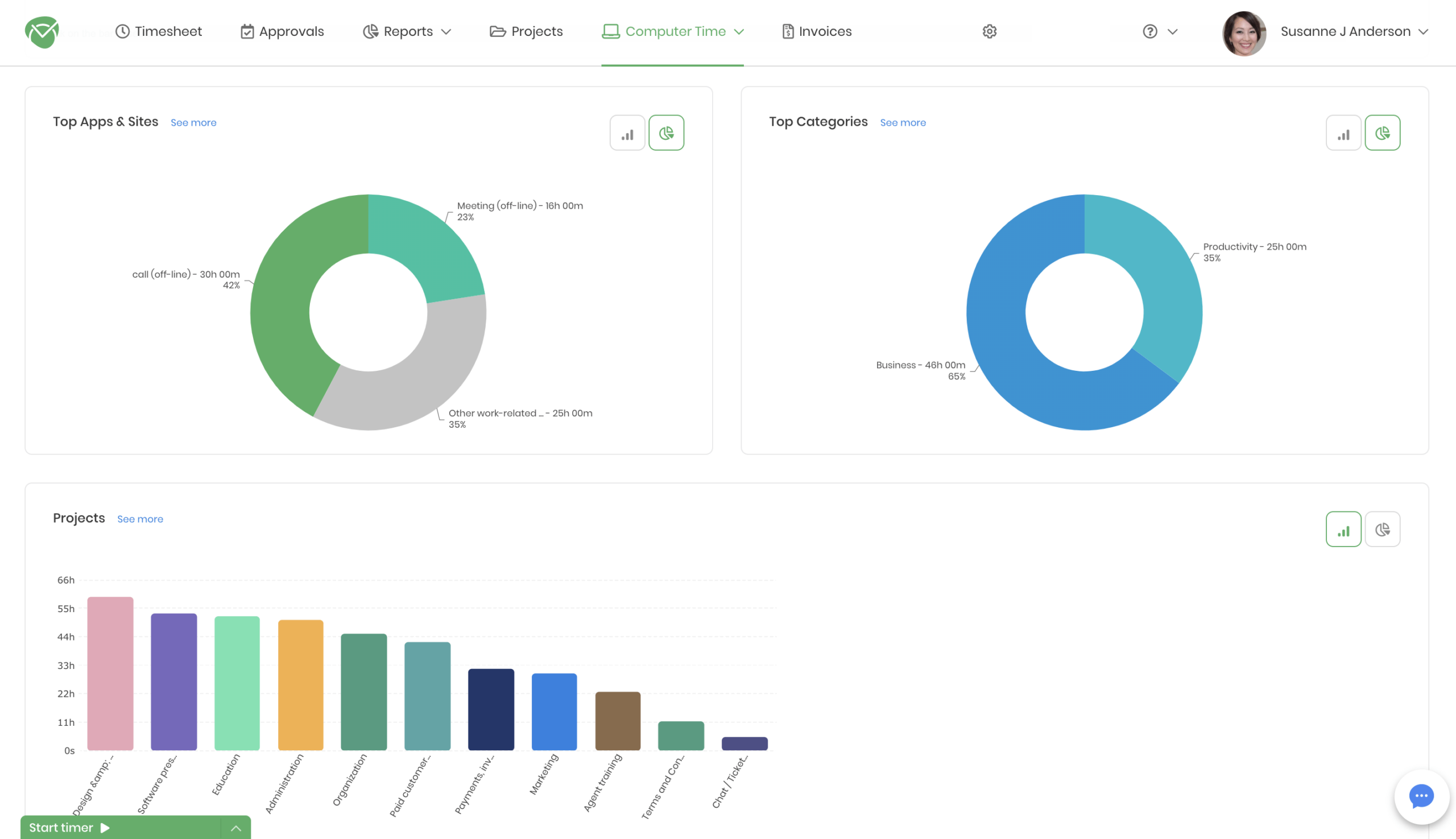 TimeCamp is a time tracking software with the most important functionalities of a project management tool. Not only does it let you track the time you and your employees or team members spend on work, but also monitor billable hours, track time against estimates, and keep a record of all tasks and projects.
Automatic functionalities help to eliminate tedious paperwork and administrative tasks. You can flexibly use TimeCamp the way you like and need to. Overall, the app helps to optimize and automate business processes, and at the same time, save time and money.
Also, TimeCamp enables you to recreate your organizational structure by adding groups that represent each of the company's units. You can divide your employees into different teams, define some special settings for each of them, and give them exact roles and permissions.
TimeCamp is suitable for freelancers, small and large teams, remote workers, and for all the people who want to improve productivity. You can use it to track time, manage and allocate resources, monitor work hours, or manage attendance.
Here are some of the main features:
Automatic time tracking in the real-time with comprehensive and detailed reports
It comes with a wide range of platforms. The tool is available for desktop (Windows, Mac, and Linux) and has native mobile apps available for iOS and Android. You can also use the web plugin for Chrome
You can work on productivity by monitoring productive and nonproductive activities
Idle time detection
Graphical timesheets integrated with calendar
Detailed and accurate automatic timesheets with approvals, you can also edit time entries, and maneuver in the timesheets to adjust them as you need
Attendance module to manage attendance, leaves, holidays, remote work, and more
Measures the working time by particular categories
Budgeting reports show actual vs. estimated time; you can set notifications to get informed when you're exceeding the budget
Invoicing
Tracking billable and non-billable hours
Get your projects under control. Be profitable, accountable, and productive. Sign
2. Asana – online work, project, and task management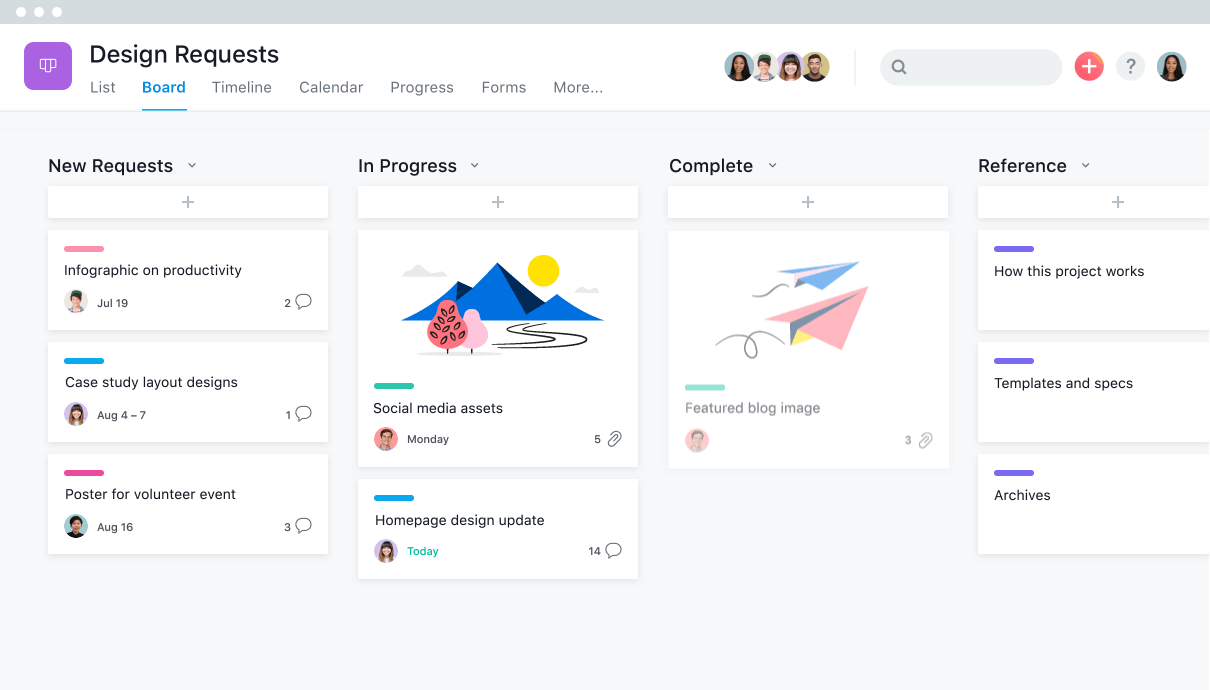 Asana is one of the most popular project management software. It's a cloud-based platform that lets you manage work, projects, and tasks in one place. Asana has all the features necessary to plan and structure work.
This project management software allows you to follow the full lifecycle of projects, customize it, and change on an ongoing basis. You can set goals, deadlines, build a project plan, and workflow with a drag-and-drop feature. Asana lets you organize projects however you need.
A timeline provides a real-time view into the project so you can see all the dependencies, correlations, who's working on what and with whom, and identify weak spots and risks.
Asana has many small functionalities and because of it, it may be difficult to navigate work in the tool. But after you get to know it, you will be able to fully and flexibly control all your projects.
The free plan of Asana is available for up to 15 team members. However, not all features are included in the freemium version.
Here is a short overview of the main features of Asana:
You can visualize work with project views – Kanban boards, to-do lists, a timeline in the Gantt chart style, calendar
Admin controls to authorize the right people to do the right things
Workload to monitor the team's availability and balance tasks and projects so you can plan workflow for the entire team
Insights into the team's performance
Adjustable tasks: due dates, times, subtasks, custom fields, attachments, forms, dependencies
Communication features: chat, followers, project and team conversations,
Templates for different kinds of projects
Automation with custom rules builder
Over 100 integrations with other apps
Track your time in Asana with TimeCamp integration
Read more about project timeline.
3. TimeCamp Planner – task management with chat for collaboration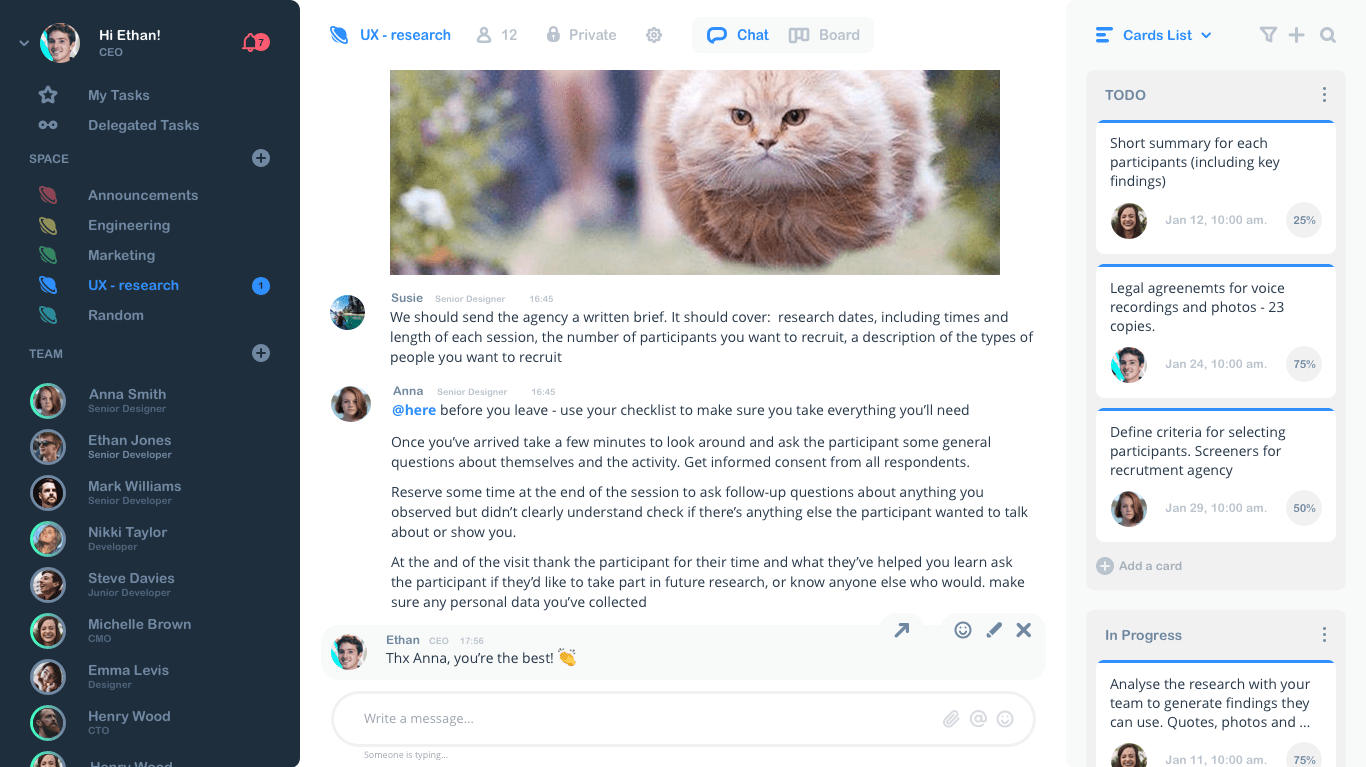 TimeCamp Planner is a task management software with chat. It's a great project management software especially for small teams that need a flexible solution to plan work and collaborate in one place. The software is also suitable for everyone who works in the agile methodology. You can download TimeCamp Planner on your desktop, phone (iOS, Android), or access it in your browser.
This free project management software allows you to communicate and collaborate with other employees, teams, and even lets you invite people from outside of your organization. You can use TimeCamp Planner to freely plan your work schedule, employee shift, and all tasks you need to perform.
Here are the main features of TimeCamp Planner:
The flexible design lets you see three boards in one place—your team and spaces (different channels), chat, list of cards with tasks
You can easily convert part of your conversation into a task
The Kanban board with projects and tasks allows you to see employee workflow in one place
Every task can be adjusted – you can set date, assign people to it, add tags, checklists, description, files, comment on it, make tasks recurring
The feature of workspaces allows you to create many spaces, if, for example, you work with various organizations or have different clients
The calendar view lets you visualize the work schedule
A pleasant and intuitive interface makes TimeCamp Planner easy to use
TimeCamp Planner gives you space to freely and smoothly collaborate with your teams and clients to create perfect workflow and shifts. No more switching between apps and tabs. You have everything in one place.
4. Freedcamp – lightweight project management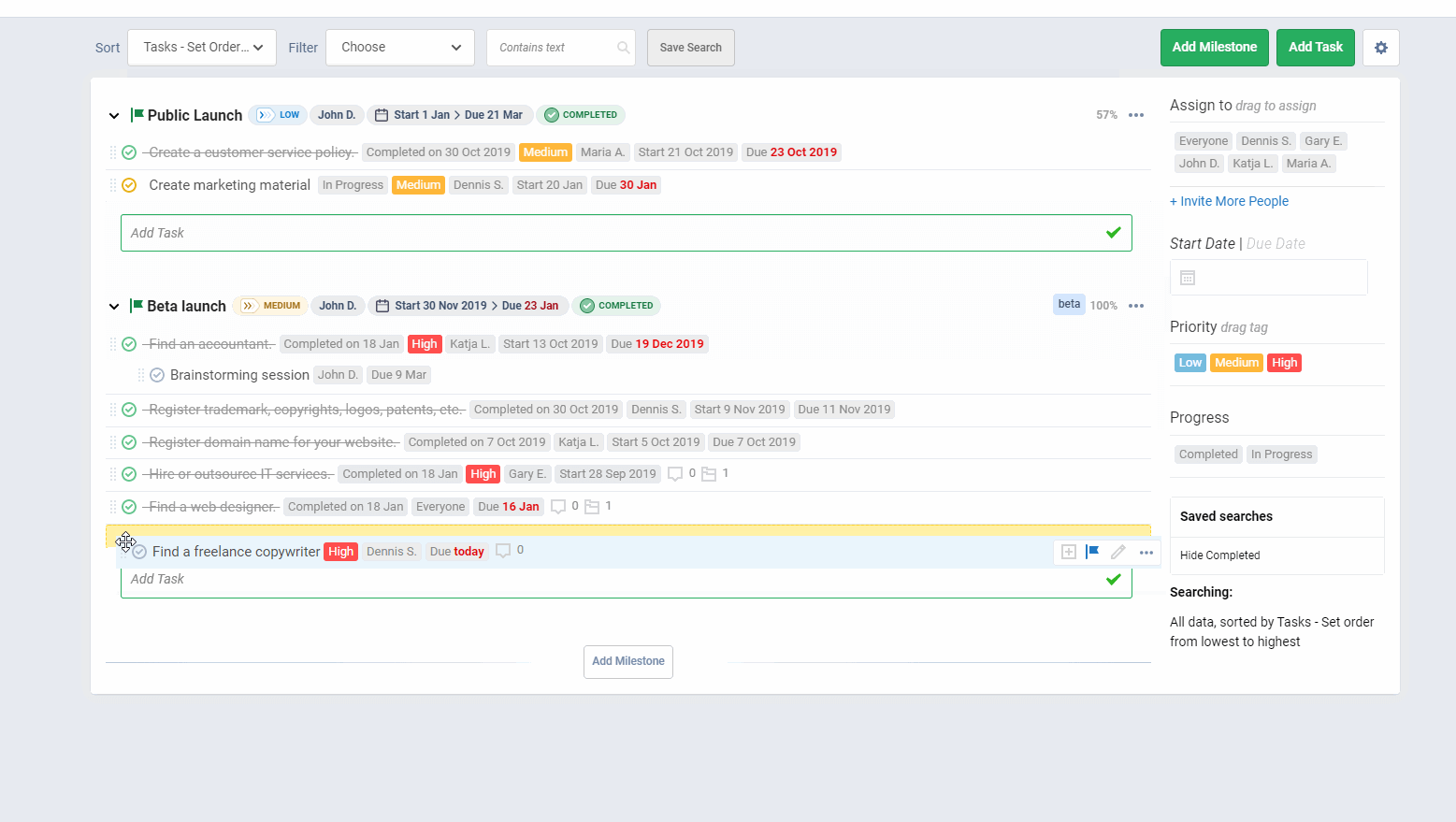 Freedcamp is a simplistic solution for project management. If you're looking for a plain tool to organize work, it's the right choice.
The core features that are included in every plan cover tasks management, calendar, files uploaded to a project, milestones, tracking time spent on billable tasks, discussions, and to-do lists.
👉 Read more about project milestones tracking!
Freedcamp, in its free version, lets you manage projects with unlimited users in a simple way. Its drag-and-drop functionality allows you to rearrange tasks quickly. So if you need to juggle your priorities often, the app will help you adjust the workflow of your team.
For more advanced functionalities, you need to subscribe to one of the paid plans. Pricing starts at $1.49 per user per month. The additional features include Gantt chart view, recurring tasks and events in the calendar, custom fields in tasks, project templates, issue tracker, overview, or Wiki.
5. ClickUp – detail-oriented task management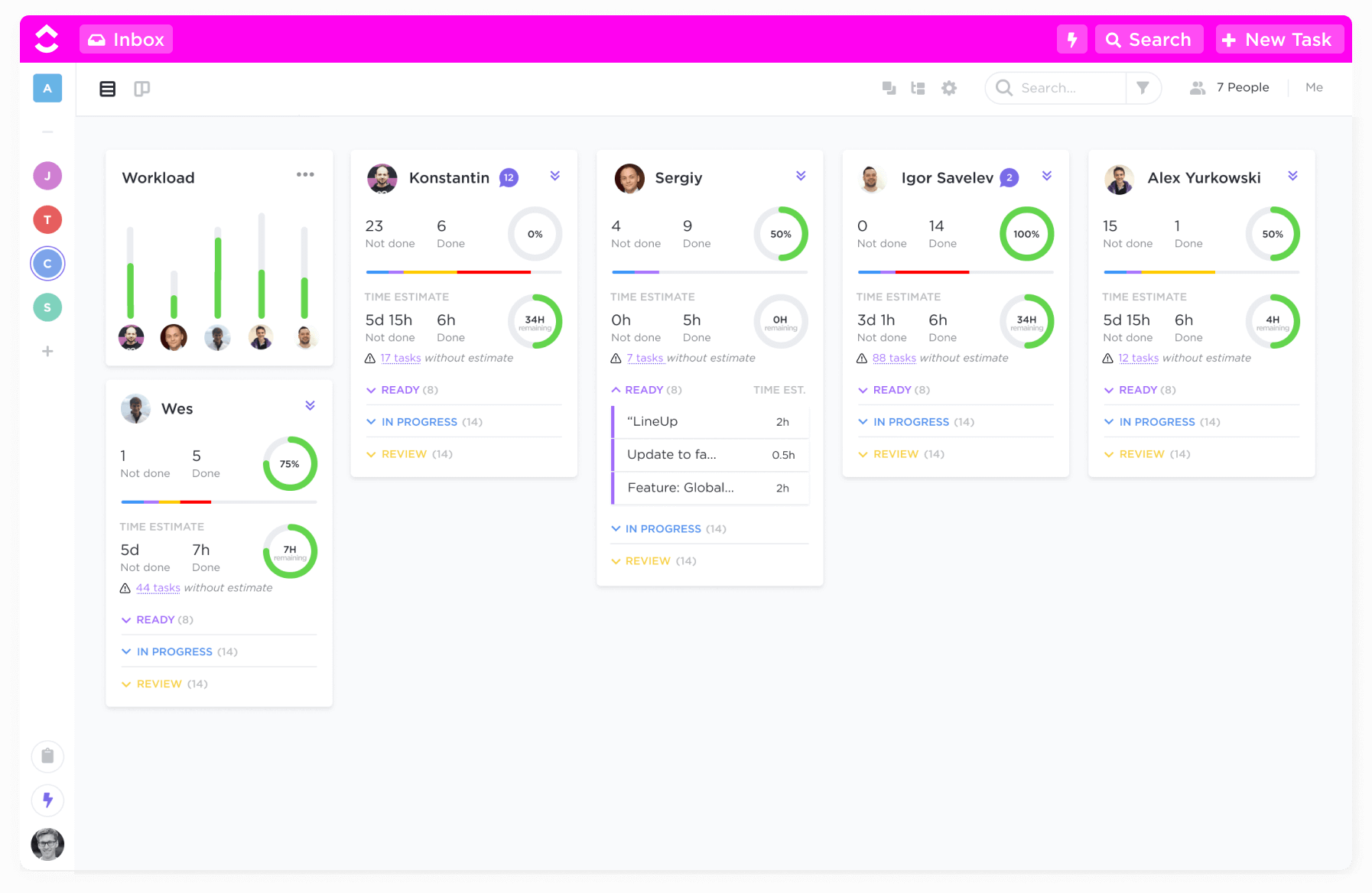 ClickUp is a project management tool that facilitates collaboration in teams and whole companies. It combines elements of project management software, task manager, process management, and simple reporting.
The software focuses on comprehensive task management. So if your projects have a lot of tasks and subtasks, and you need to have a unified hub for their control, ClickUp has all the necessary functionalities.
ClickUp has so many features that it would take a while to list them all. Hence, here are the core components:
Tasks in the form of to-do lists. Every job can be adjusted with smallish features—add a description, checklists, indicate priority, set dependencies, create subtasks, add attachments, comment and manage comments in a thread, set dates, and many more
Project management module with the overview of all projects and tasks
Creating docs, knowledge bases, notes, wikis
Spreadsheets to collaborate directly in the app
Chat within the tool replaces email within an organization
Calendar and timeline view of events; you can sync ClickUp with your Google, Outlook, and Apple calendar
Reminders
Tracking goals
Simple time tracking, you can also integrate ClickUp with some of the time tracking apps
ClickUp has many hidden smallish functionalities, so it may take a while to get to know the tool. It literally has features within features, so don't get mislead by the simple look of this project management tool. However, if you don't need all the extra functionalities, you should think about a more straightforward project management software.
Check our ClickUp Time Tracking integration!
6. Trello – project management in Kanban boards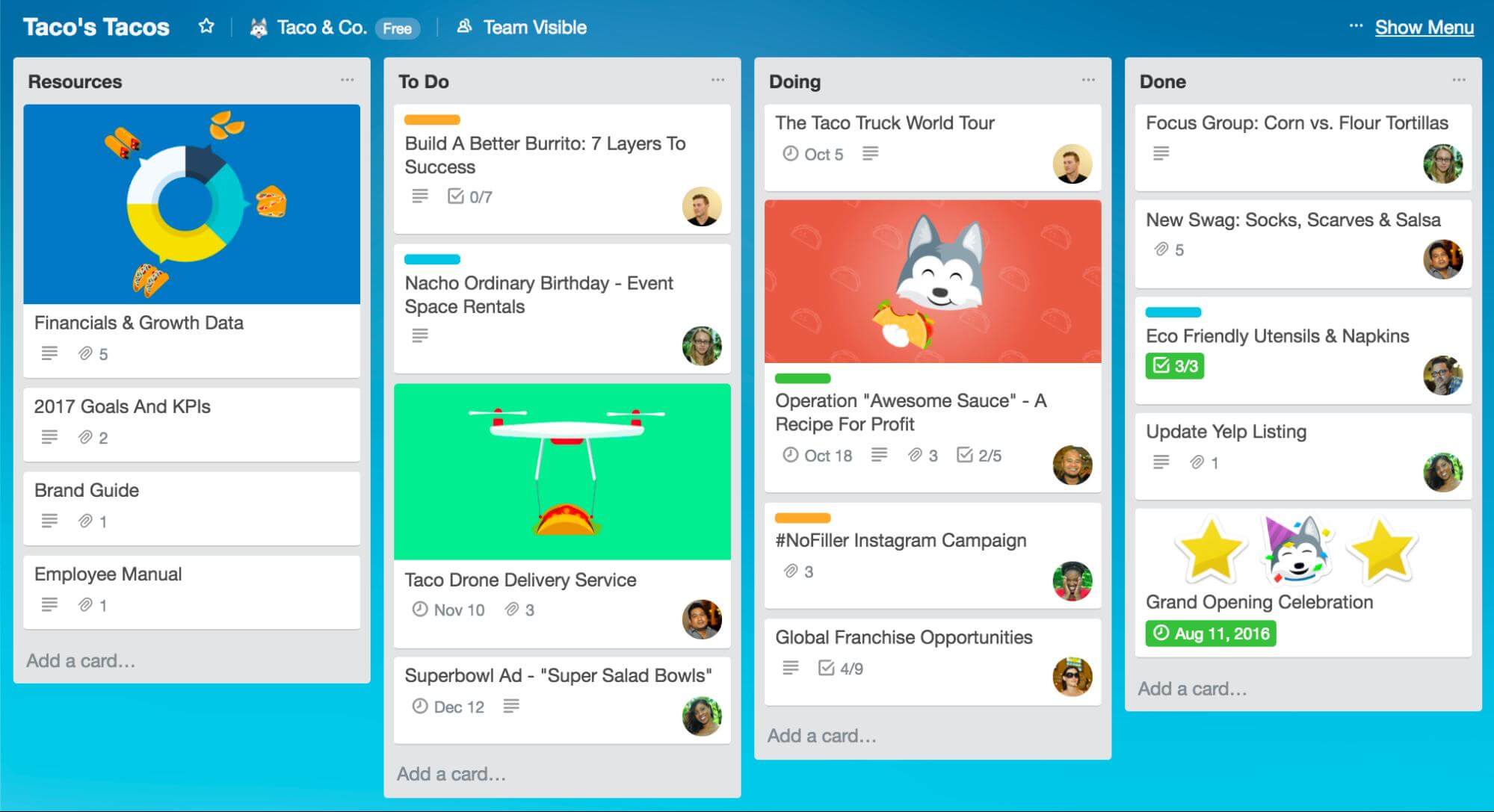 Trello is one of the most popular project management tools with Kanban boards. It's is a visual board that lets you organize, manage, and plan tasks. The free version enables individuals to design their work and personal responsibilities, build workflow of teams, and coordinate complex projects.
The software is easy-in-use and has a friendly interface. Despite its simple design, Trello offers many useful functionalities.
You can create various boards for different teams with as many task lists as you need. Directly on the board, you are able to add as many cards as you want, and adjust their settings, repeat them for recurring tasks, comment, share files, and use many other fancy options such as adding covers, stickers, labels, make templates of your tasks and more.
Trello is a lightweight app that lets you visualize projects with simple Kanban boards and quickly see the progress of work and the team's workflow. It's one of the best free project management tools.
Additionally, Trello has an extensive list of power-ups that enhance work and collaboration. So as a stand-alone tool, Trello is already great but with the add-ons, you can integrate your favorite apps and be more productive.
And the big TimeCamp and Trello power-up automatically tracks your time so you can focus on projects.
Get the integration – TimeCamp + Trello!
7. Microsoft Teams – collaboration and communication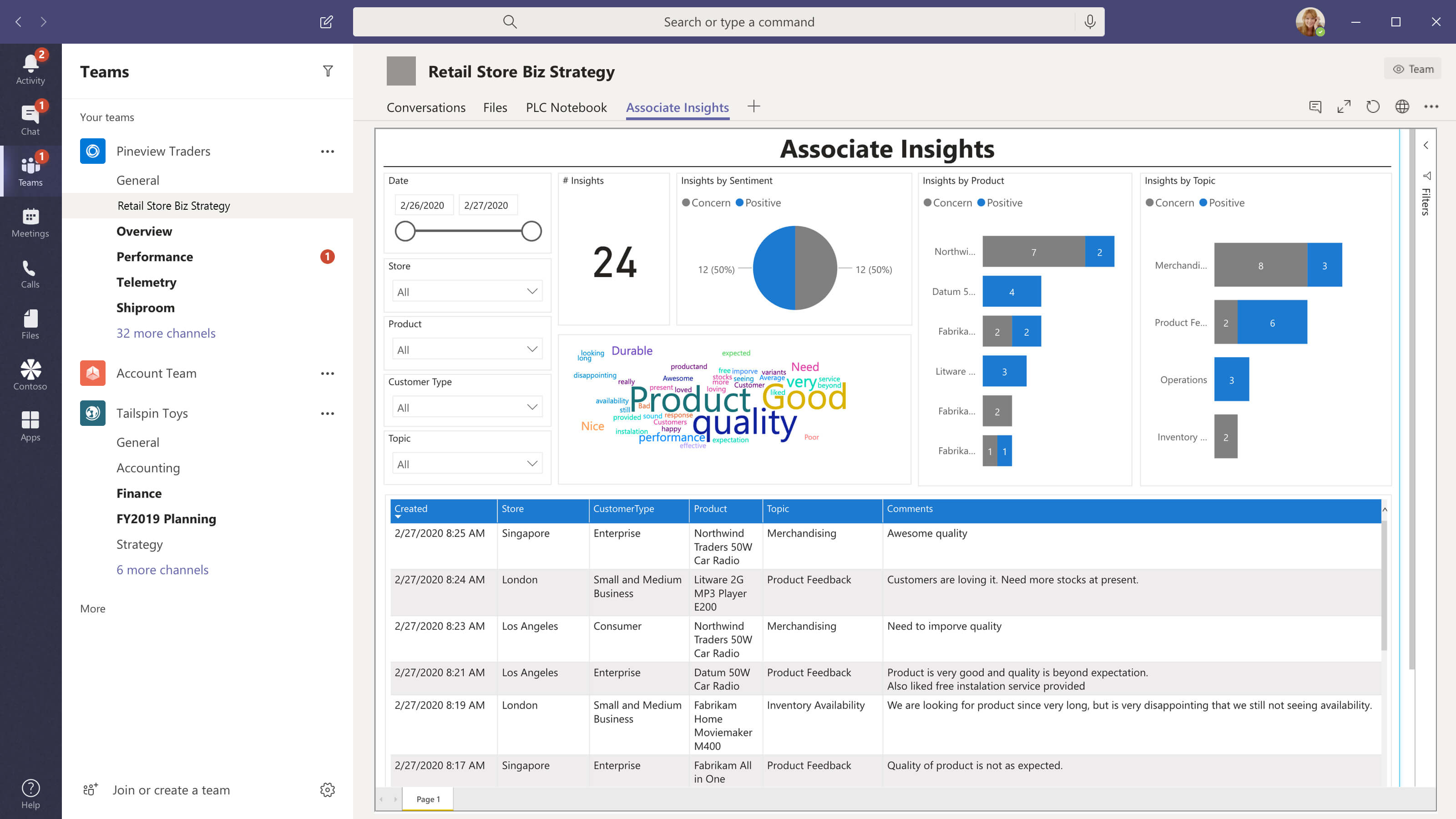 Microsoft Teams is a project management platform suitable for medium-sized to large businesses that need a unified hub for communication and collaboration. The free plan allows you to have up to 5000 members (users) per organization, which is a pretty good number considering that you don't have to pay for it.
Microsoft Teams features make it possible to work on projects despite the location. It has all the necessary functionalities to exchange information and organize work effectively. It replaces communication tools so you can have everything in one place.
This project management app lets you chat with your team, make audio and video calls, attach, share, and collaborate on files. As a Microsoft product, it connects with Office 365 as well as third-party apps. All the features within the app sync precisely, so you always have a clear agenda. Even though the free version has some limitations, for example, you can't record a meeting, there are no administrative functions or meeting scheduling, it's effective real-time collaboration and meeting platform.
Recently, Microsoft Teams has also found its place among teachers, families, and friends who need to stay connected remotely because of the distance. It's a universal solution for everyone.
8. GoodDay – fully-featured hub for projects and tasks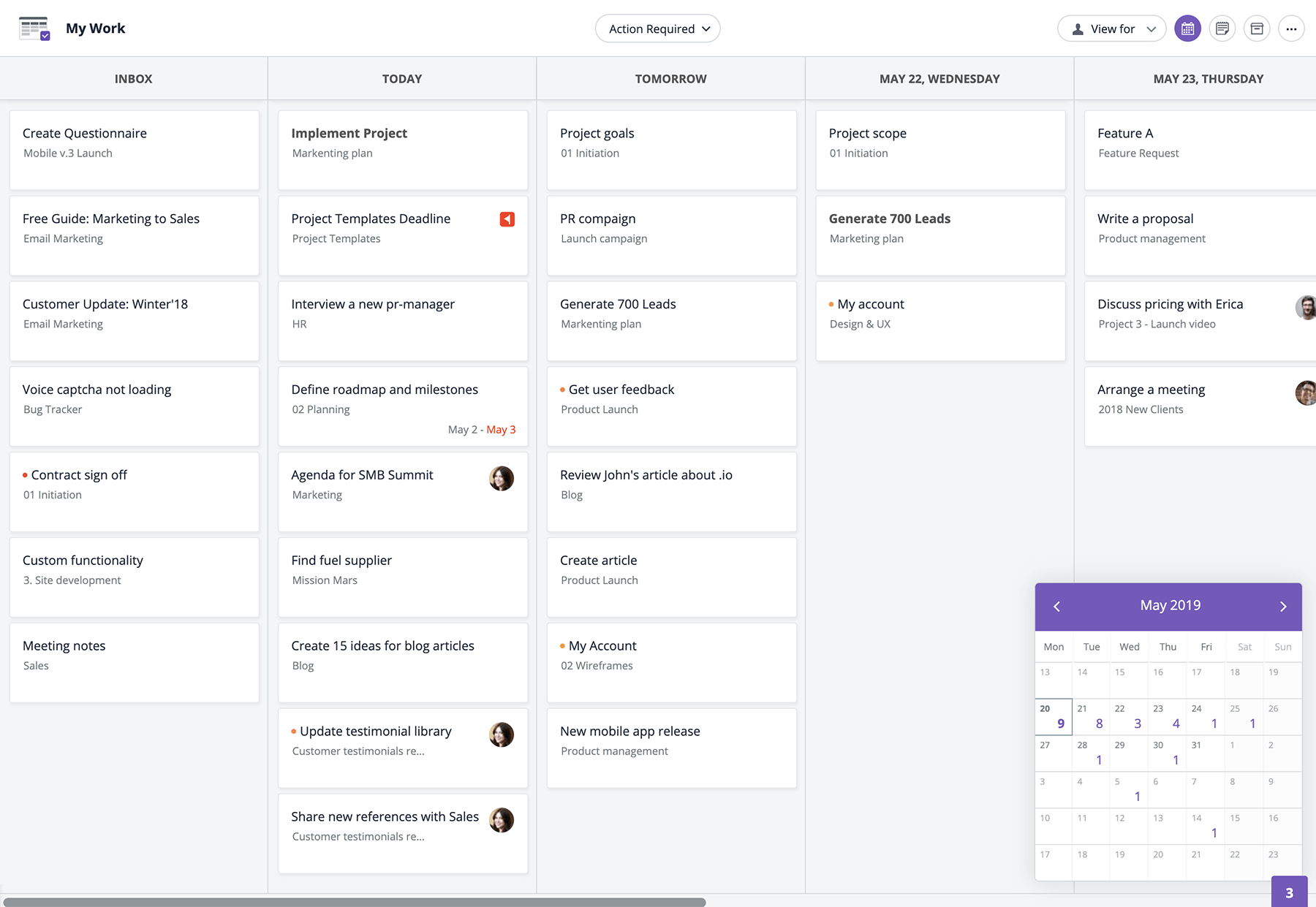 GoodDay is a robust project management software with a lot of small and big features. The free plan has 1 GB of storage and is available for up to 15 users, so it's best for small teams. You can use it in different ways, depending on what methodology you follow.
GoodDay combines multiple modules that make a unified system. It has everything from process management, through managing events, tasks, simple time tracking, and reporting.
With this free project management software, you can easily organize work, plan schedules, and manage every aspect of a project.
Some of the functionalities that help in managing projects include project and task dependencies, custom statuses and workflows, project templates, recurring tasks and events, basic views of projects (no Gantt charts, workload, and timeline in the free plan), tags, subtasks, time reports with estimates, calendar, work scheduling, and essential time tracking with timesheets.
Reports provide you with an insight into the progress of tasks, tracked time, budget, behavior, and activity. For more advanced features, you need to upgrade.
GoodDay is also available for mobile devices, as a desktop app, and integrates with Slack, Google Drive, G Suite, Slack, or your email.
It is a flexible project management solution that offers a lot of helpful features for free. Whether you need a simple or complex tool, this app has everything you need for a light agile work style.
9. Jira – Agile project planning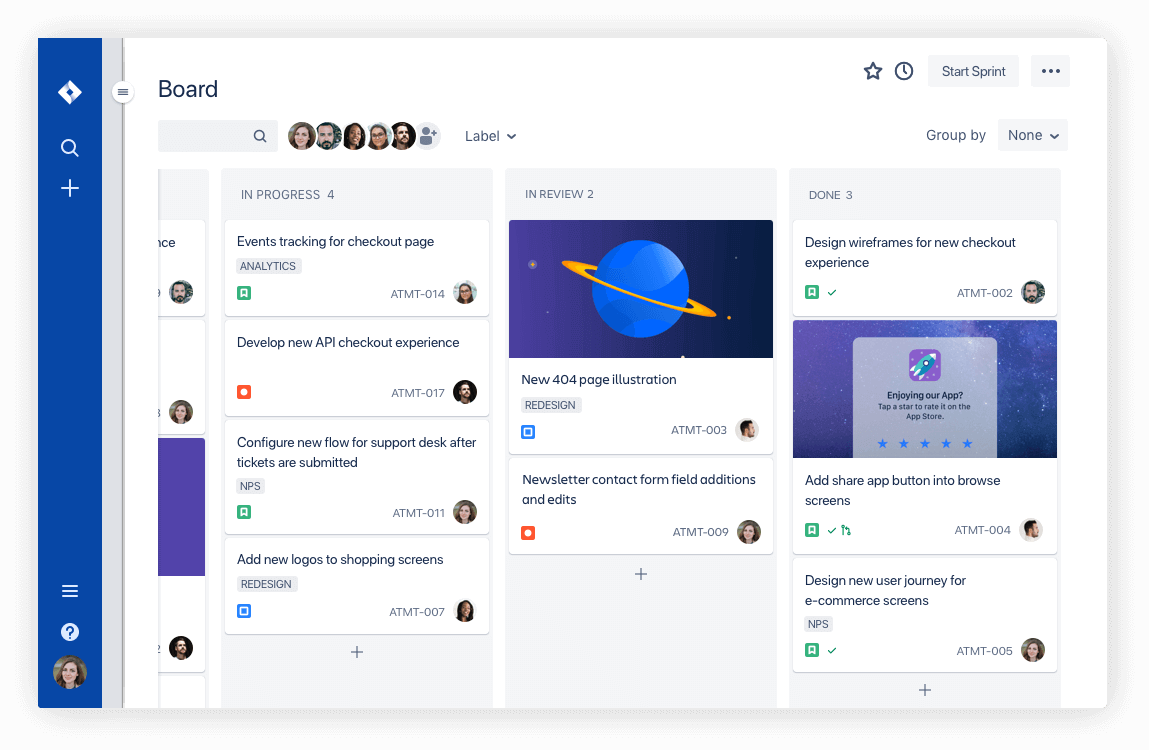 Jira is one of the most popular project management tools for agile teams. It's used by millions of companies worldwide. Jira is an issue and project tracking software and is dedicated to organizations working on software or a product to fix bugs and track issues. A free plan of Jira is available for up to 10 users, includes 2GB storage, and community support.
Jira is built of three products – Jira Software, Jira Service Desk, and Jira Core, so people can work directly within a team and with other teams in one tool. This free project management software lets you create user stories and issues, plan and prioritize the most urgent sprints, and distribute tasks to different teams and people across the organization. You can customize project views in scrum and Kanban boards, see the big picture of projects with roadmaps, create user stories and issues, plan and prioritize the most urgent sprints, and distribute tasks to different teams and people.
Also, it's possible to streamline and optimize work with automation rules to eliminate repetitive tasks, so you can, for example, auto-assign issues or automate your releases for faster actions. Additionally, you can customize every issue – attach files, link issues or pages, create subtasks, add a child issue, and more.
It's a project and resource management tool for agile-oriented people with all the necessary features to deliver a project successfully.
Track your time directly in Jira with TimeCamp time tracking integration or via Zapier
⇒ You can also try Azure DevOps as an alternative to Jira. However, it's available for free only for up to 5 users.
10. Nozbe Teams – simple projects with to-do lists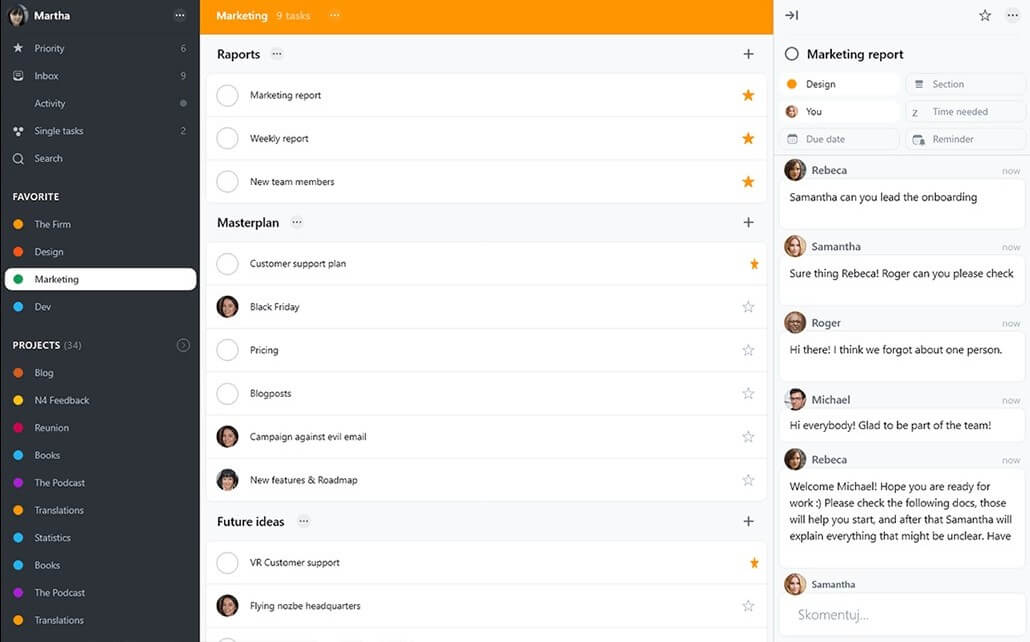 Nozbe Teams is a free project management software available for up to 5 users. It's aimed at small teams who need to improve communication and organize task lists. Nozbe Teams is currently in the open beta phase, so not all features are available yet.
As for now, you can easily manage tasks and projects. You can set reminders, add assignee, tags, mentions, comments, set the due date, invite people to a project, and see all changes in a change log.
The projects lists lets you see all the tasks in one view in a single task list. The drag-and-drop feature allows you to move your tasks to a different project easily.
Nozbe Teams is a straightforward app for managing tasks in a team. The free version is best for small teams who need to simply and quickly arrange all tasks.
You can also try Nozbe Personal, which you can use solo or in a team. It has similar features as Nozbe Teams, only that it's not available in the free version.
10. Taskeo – business & project management solution for remote teams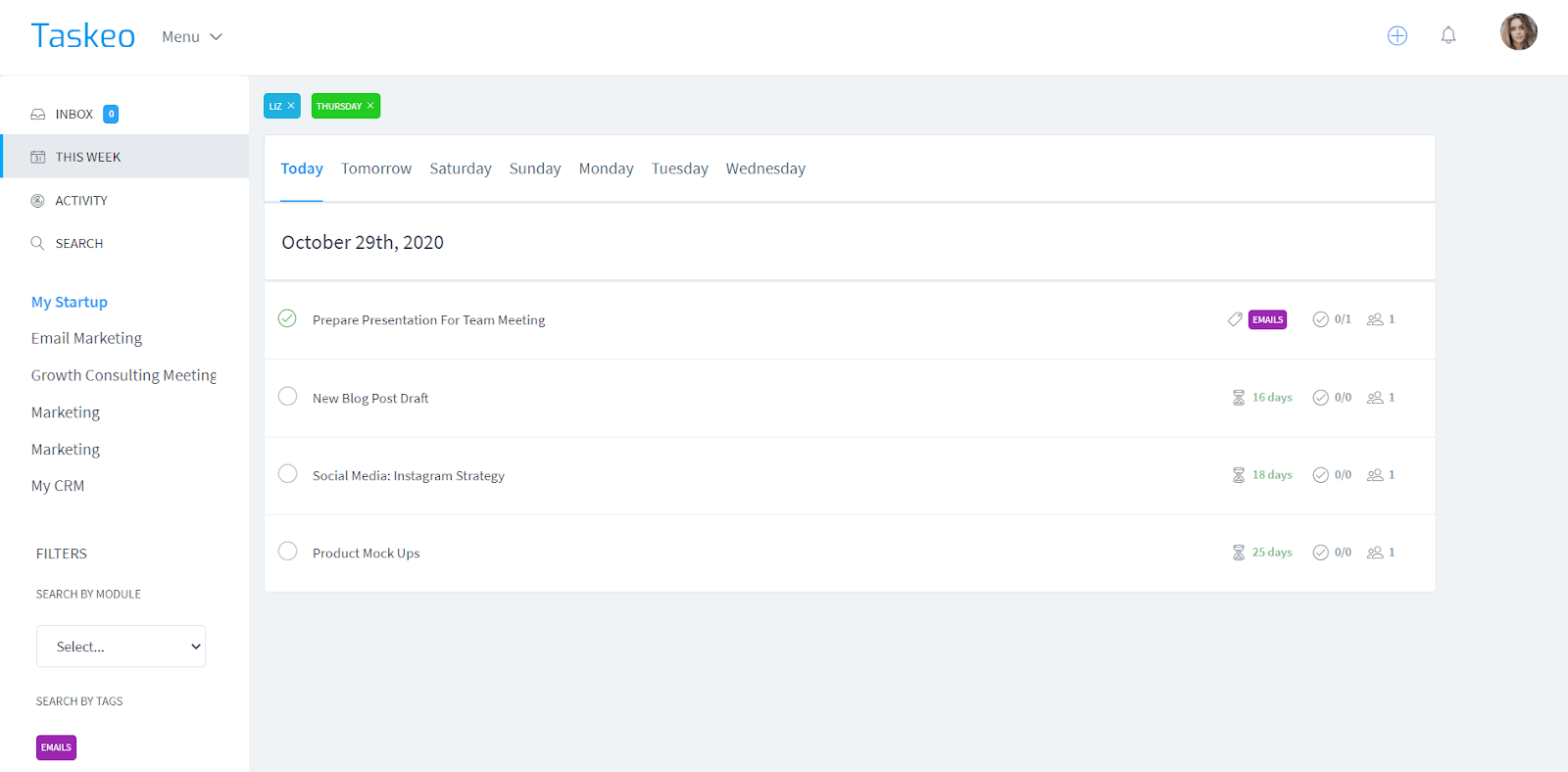 Taskeo's project management solution is a part of their comprehensive online business management suite. It's a free tool that comes with your favorite features for task management and on top of that, it offers some extra functionalities to boost your team's productivity.
Built by a remote-first team, Taskeo answers challenges that distributed organizations face daily. Their team has created a platform that allows you to do more with fewer apps and manage your tasks with maximum productivity. All Taskeo's project management features answer the needs of remote employees and you can use them to coordinate your work wherever you are.
Taskeo's project management features include, but are not limited to:
Personal dashboard

Activity feed 

Smart search for project and files

Workload monitoring feature

Multiple project views

Reminders

Recurring tasks

Project and tasks templates
This project management solution integrates with free time tracking that offers detailed reporting, billable and non-billable hours tracking, and project budgeting with internal and external project costs.
11. SmartTask – all-in-one project & task management
SmartTask is an award-winning cloud-based project management software known for its simple user interface that does not require training. It comes with project management, task management, CRM, time tracking, team collaboration, custom analytics, and reporting features. It has all the features you need to manage your workflows, projects, and sales processes with ease.
It allows you to manage tasks with the list, board, calendar, and timeline views. You can manage multiple projects from one location with the portfolio view and save your team from burnout with the workload view.
You can create recurring tasks, set task dependencies, reminders, create milestones, auto-schedule tasks, create custom fields, track task time, set automated check-ins, create custom charts, and trigger video meetings from tasks.
It also integrates with Zapier, Pabbly Connect, Integromat, Slack, Twilio, Jotfom, and 1000+ other applications so that you can work with your favorite tools.
SmartTask is also known as the cost-effective ClickUp alternative in the project management space.
The free version of SmartTask allows you to create unlimited tasks and projects with unlimited users, however not all the features are included in the free plan.
Here's a short overview of the main features of SmartTask:
You can manage tasks with multiple views – Tasklist, Kanban Boards, Calendar, Timeline

Task management features – Recurring tasks, Task dependencies, Subtasks, Reminders, Task comments, Guest users, Custom fields, File sharing

Project management features – Project milestones, Portfolio view, Workload view, Task auto-scheduling, Baseline comparison, Project status 

CRM features – Task contacts, Sales pipeline, Call tracking, CRM analytics

Time Tracking features – Timelog, Timelog activity, Budget tracking

Team collaboration features – Instant messaging, Video conferencing

Analytics & Reporting features – Custom charts, Project summary, Productivity scoring
SmartTask also offers ready-made templates for accounts, marketing, operations, engineering, and HR teams.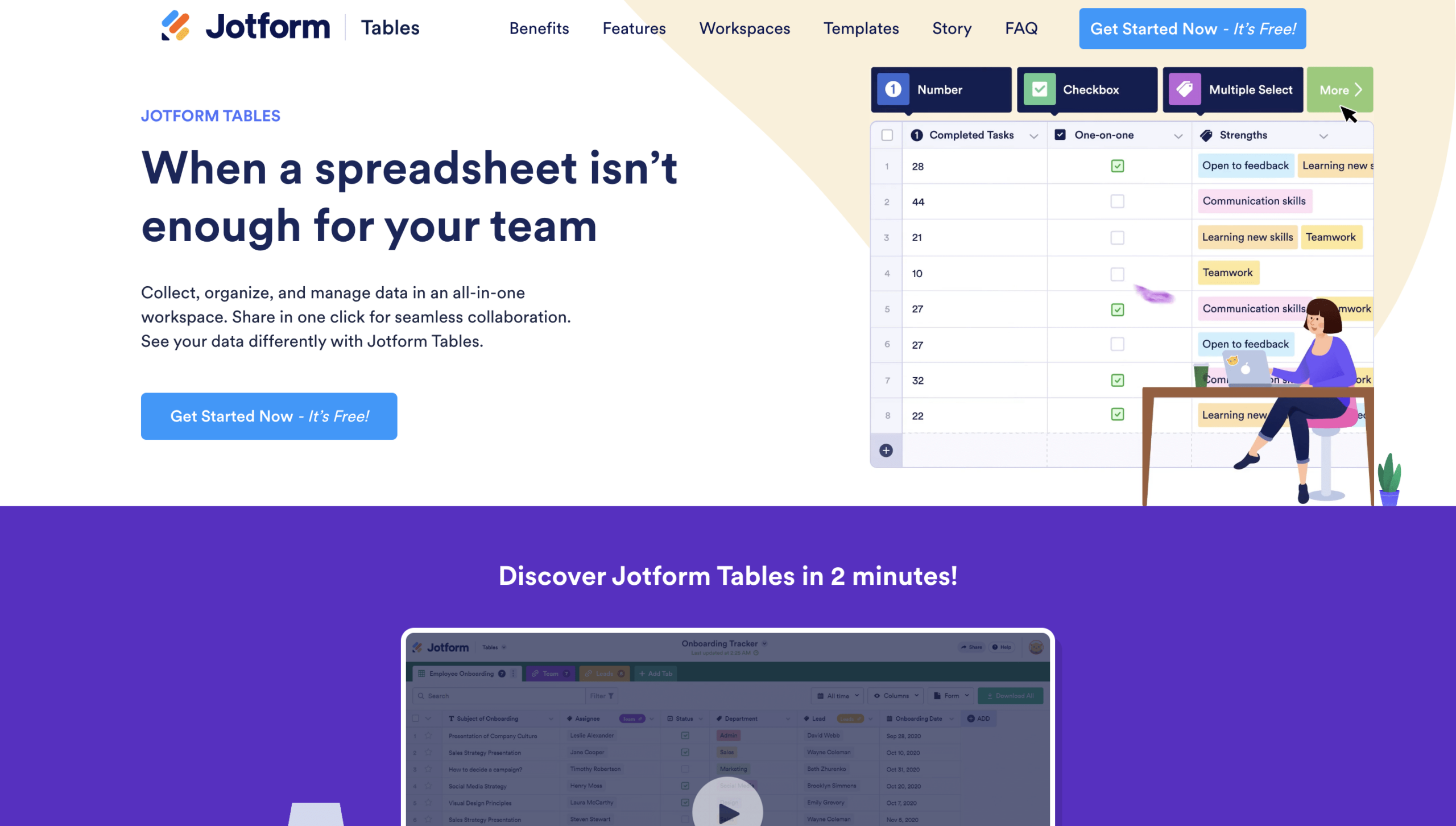 Jotform Tables allows its users to collaborate with team members by assigning tasks and tracking progress. You can manage your projects easily thanks to Jotform's well-crafted spreadsheet with many features. While working on the sheet, you can easily keep track of the changes and the updated data. 
With Jotform Tables, collecting responses by creating online forms becomes much more easier and convenient. You can customize your forms to make them stand out and send them out easily by using a link, a QR code, or embedding the forms on your website.
Here are some of the main features of Jotform Tables:
Personalized Columns
Advanced Search & Filter Tools
Instant Reports
PDF Generation
Formulas & Calculations
Revision History
By using Jotform Tables, you can manage your projects and boost efficiency within your organization. Jotform offers various paid plans according to your needs as well as a free plan.
Wrapping It Up
It may not be easy to find a free project management tool. Usually, such apps are available for 5 users or 10 to 15. Hence, they are best for small businesses.
Try them for free if, in your team, you don't need a project manager and want a collaboration tool to help you structure and plan workflow and transparently organize projects.
Happy managing!