Get Started – Our Way to Accurate Time Tracking
May 12, 2014
by Jakub Szyszka
No comments

Third time's the charm, but sometimes it takes more. Every single trial of time tracking implementation within our own company seemed like a tilting at windmills. But not anymore…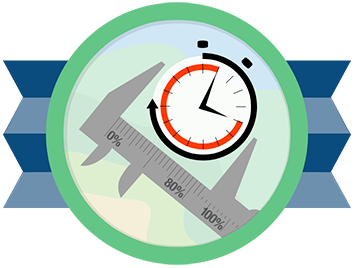 We are aware of how difficult it may be to convince your employees to start recording the time spent on assignments. It is even not necessarily the matter of their unwillingness to do so. There are many other reasons why they don't do it. Being the creators of time tracking software hasn't been much easier for us either. We have struggled a number of attempts to implement this process within our team. Unfortunately, unsuccessfully…
However, we don't give up and this time things are going to look much different. We decided to approach the subject some other way – be more creative. We prepared a plan, set our goals and priorities. We're going to learn how to implement time tracking on our own example and we want to share the knowledge with you. That's why we're going to write about our path to effective time tracking on this blog in the #our_way_to_accurate_time_tracking cycle.
What we're going to do?
Probably you can find many tips on how to motivate your employees to time tracking. You can also find an article like this on our blog. But we realized that's not the best way. The most reliable source is a real know-how presented from the perspective of people who has their lessons learned.
The aim of this project is to present the path we follow to perfectly record time spent on tasks by the members of our team. In weekly posts, we're going to describe our real problems and solutions found to resolve them. We're going to share the true experience so you can possibly find hints on how to deal with time tracking problem in your organization.
The clear goal is the matter
The key to the success is a goal, a destination where the whole organization aims to. Without it, all the actions seem to be pointless.
We've learned that to make it more approachable it should be measurable, expressed with a particular figure. This gives the team a clear image of where they should pursue. It also allows to monitor the progress and estimate how long is the road ahead to achieve it. Taking many circumstances into the consideration, after analyzing our reports we have set our first target to 80% of the whole time tracked in 90 days.

Though the number we set means nothing to most of our clients, our point becomes more understandable for them. What's more, they'll be able to put their organization in our context so it would be easier for them to follow our path.
Where we stand
We are starting again from the point where we have been two trials before, but with more knowledge about our teams. Implementing time tracking is not super easy, but worth trying. Even if you have done this too many times before, tested many tools, talked to your team and asked them to fill their timesheets.
We begin our way to effective time tracking as a start-up who has thirteen employees. We are divided into: development and marketing team. Our tasks are very diversified. We are responsible for different things. What unites us is time and the necessity to record it.
Working on numerous projects to make TimeCamp the best time tracking software for our clients, we haven't worked out the habit to register time and fill our timesheets on our own. As a result, we have just 60% of our time tracked. It's not an achievement we are very proud of.
Lessons to be learned – different teams, different motivation, but the same way and one goal
You can wonder what the company like ours may take from time tracking. We should be masters of recording the time. However, as a single business, we have our small goals, projects that we need to evaluate. Time is a good variable to estimate the effects, measure team engagement and plan our further work. There are few lessons to be learned in each department.
For better estimations, planning and time
burndown

control

In development team time tracking helps to look upon our own estimations. Collected insights make us better at it and allow to find what the real numbers are. TimeCamp enables us to check how many hours our developers spend on coding, fixing bugs, on some kind of emergencies or activities that were not planned in the sprint or on other things which are not connected with work. Last but not least, it's quite obvious that the creators use their own product. What kind of role players would they be, if they didn't?
To calculate the ROI of internal activities
This experiment also provides useful information for marketing department. We are a software company, but this department works like small creative and PR agencies. Thanks to the time registered, we know if we allocate time in a right way, dividing it accordingly to the rank of the marketing projects. When we get better with this one, we'll be able to calculate the ROI of our internal activities.
We believe that time tracking will supply us with very valuable data of the time allocation for management decission It will show us if we spend the hours wisely on top priority projects. It's the precious knowledge which will enable us to better manage the limited time we have. What is more, we'll get an overall image of how we spend time on single activities like meetings, own work organization, self-help.
Lessons to be taught
Basing on our own experience with the implementation of time tracking within the company, we wish to show how to turn theory into practice. We'll write about the difficulties we occur, our strategies, ideas, how to resolve problems and about battles won. We want to show you step by step that the whole process can be more pleasant and fun than it may look like.
Hopefully, thanks to our weekly posts you'll learn:
How to avoid the most common mistakes.
How to communicate time tracking to your team so they start doing it more eagerly.
How to motivate your team to fill their timesheets.
We're going to share the experience and results with you all. We're starting with the next post. And we count you're going to join us.