We're happy to introduce you our new Customer Success Story! Today we're publishing an interview with Piotr Szwed, LiDar Manager at ProGea Consulting company, dealing with the support in the field of geodesy.
Customer Success Story
How To Improve Project Budgeting with TimeCamp?
Paweł Kijko, CMO at TimeCamp: Could you tell us something more about the service at your company?
Piotr Szwed, LiDar Manager at ProGea:
Yes – our company implements a large number of projects (about 100 a year) of a different duration. Some of them take one or two days, other four or five months, and we even have a two-year project time tracking recently. Moreover, our employees carry out their work in different places.
P.K. How did you find TimeCamp?
P.Sz.: We were seeking a solution for tracking time automatically for our employees. So far we were only using excel tabs filled with work hours. It was uncomfortable and less relevant. Our employees start tracking time with TimeCamp when turning on their computers, so this solution is more convenient.
P.K.: Were there any problems with Timecamp implementation?
P.Sz.: No, not at all. We didn't also need to contact with your support service. Because of our service we just informed our employees about logging into their TimeCamp account when changing the computer.
P.K.: Which features do you use especially?
P.Sz.: We use hourly reports above all. But we have been recently impressed by project budgeting. Calculating hourly labor costs and comparing them with revenues, we can count the profitability of investments.
P.K.: Do you think that TimeCamp improved your work management effectiveness?
P.Sz.: Clearly, it does! We have used TimeCamp for more than a year, and our team utilizes 35 licenses now. We're pleased with how TimeCamp works!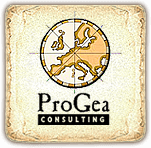 Piotr Szwed,
LiDar Manager
ProGea Consulting
Project budgeting can be way easier if you will integrate your TimeCamp with other tools.