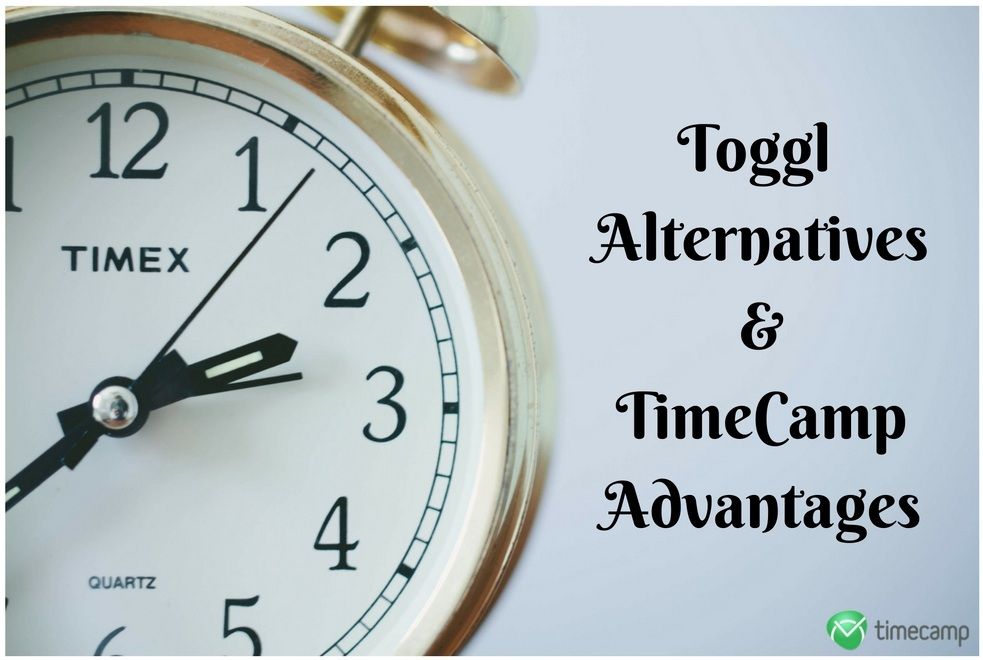 Today we are going to take a closer look at alternatives for Toggl – one of the leading cloud based time tracking software available on the market. Toggl is a well-developed tool and offers a wide range of features that are undoubtedly helpful in completing everyday tasks, as well as huge projects.
However, it has a strong competition and in the recent years, there appeared a considerable amount of time tracking software that matches or ever surpasses Toggl in the number of functionalities. We are presenting twelve of those. Many users in need of time tracking software should find among the described products those, that should fit their exact expectations.
Obviously, our number one is TimeCamp. After all, this is our infant prodigy. Luckily, we have a solid background to prove that it can compete head-to-head with Toggl and any other time tracking software, and win on many levels.
TimeCamp offers a set of features and functionalities that other tools described in this article do not. We are going to present each one of these tools and compare their features with those of TimeCamp, so that nobody can accuse us of being partial (but, of course, we are just a little bit, as all parents are, when it comes to their children =)
What is more, in every description of particular software you will find a link to the website, where on a charming graphic are specified the assets of TimeCamp and the other time tracking software that it is being compared to. You may notice that the results of the comparison are in favor of TimeCamp.
See the comparison between Toggl & Timecamp and find out why TimeCamp is a perfect desktop time tracker!
Are you already a Toggl user? Import your projects into TimeCamp for free.
If you prefer to track your time through mobile phones, we have an app that is tailored to your needs! The newest version of TimeCamp's app for iPhones and Android phones offer an intuitive interface with a lot of great features, like:
Tap to start or stop tracking time from every place on earth

Alternatively create time entries manually

Generate reports of your time

Browse your projects and tasks

Log your time offline

Easily make notes on every time entry you are working on

 Edit time entries with just a few clicks

 Mark time entry as billable or non-billable

 Browse and edit your historical data or plan your future
You can find and download it from

Google Play and  iTunes
Harvest is a web-based application for small and bigger businesses, as well as individuals. It is respected for its time tracking tool that not only monitors personnel time but also generates invoices and analyzes the gathered date, to provide helpful graphs.
It has an intuitive and elegant interface that most of the users find just to their liking – from there, they can send automated payment reminders, monitor their projects and budget, and manage personnel efficiently.
How does it look like compared to TimeCamp? Honestly, pretty good – it has a set of features that are very well-developed and do not lag behind ours even the slightest bit. However, Harvest has some shortcoming, giving TimeCamp space to shine. It does not track computer usage, there is no timeline and users are not able to set goals. It is also noticeably more expensive.
See the comparison between Harvest &Timecamp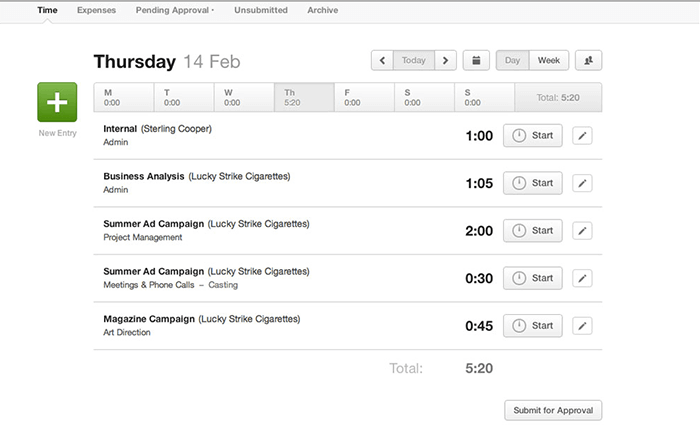 Hubstaff is a time tracking application that both big companies hiring remote teams and freelancers can work with. They can manage their workflows and productivity effectively with the help of features like automatic time tracking, application and internet monitoring, automatic payroll, and reports.
Hubstaff can be integrated with over 30 applications for a better performance. It allows users to track their or their team performance in real time and equips them with work notes and in-depth reports. It is available on Mac, iOS, Windows, Android, and Linux.
What TimeCamp has that Hubstaff does not, are project dashboard, possibility to calculate income, tags, or time formats.
See the comparison between Hubstaff & Timecamp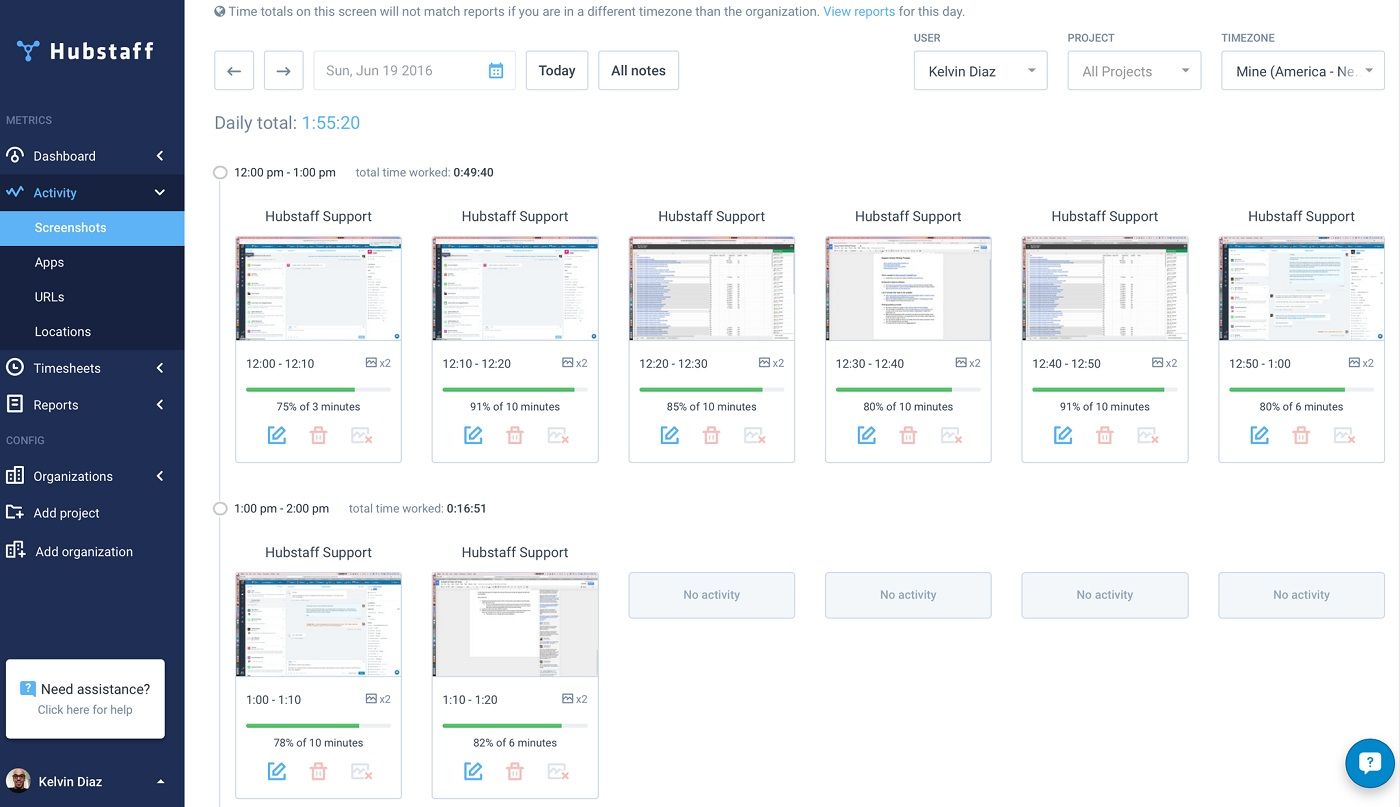 A simple time tracking application designed for small businesses, startups, and freelancers. It offers the possibility to track hours spent on a specific task thanks to options such as @mentions, tags, auto-suggestions and to-do lists. Also, it can be integrated with a few of the most popular project management software like Asana, Xero, or GitHub.
In comparison with TimeCamp, it lacks features such as offline time tracking, budgeting, archiving projects, calculating income or absence analysis. What is more, when the team is bigger, the price gets quite high.
See the comparison between Everhour & Timecamp
Clockodo is an online time tracking software for small and medium enterprises. It also has an app for desktop and smartphones. It records user's work and provides reports that can be grouped by multiple criteria, and saved as templates.
The collected data is mirrored on multiple servers for safety and backups are created every day. Users can customize the tracker to their own requirements, selecting customers, projects, services, and adding an optional description before starting the clock. Also, it is quite cheap.
Clockodo is still a young software, in the process of development, so TimeCamp outmatches it on many levels – there is no possibility to calculate income, set goals, and there are no timelines, tags or an auto tracker.
See the comparison between Clockodo & Timecamp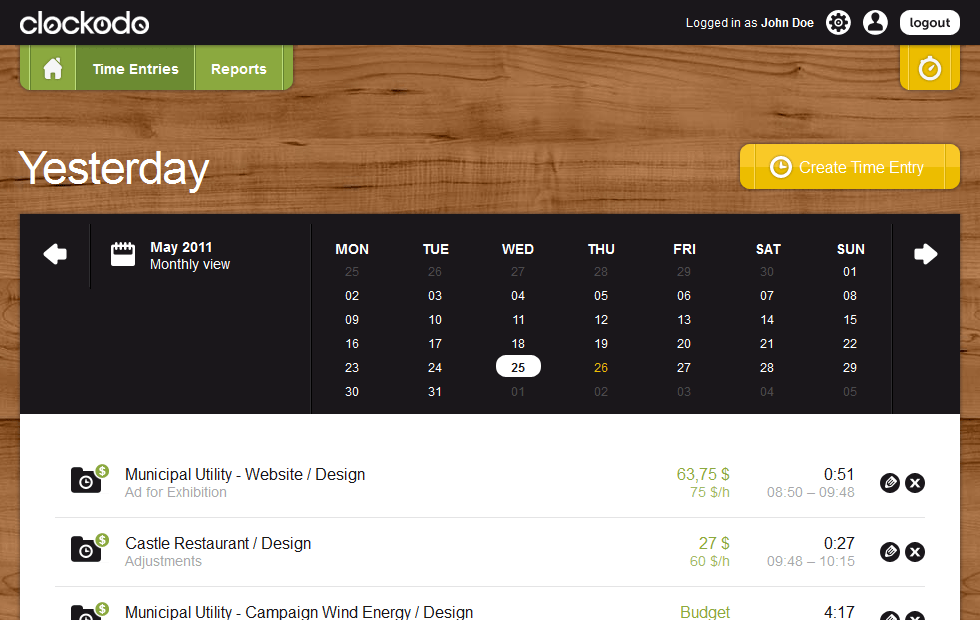 Tick is a time tracking software that offers online time tracking and reporting services that are web-based or available through mobile and desktop applications. Tick can track time through a timer or manual entry, basing on clients, projects, and tasks.
Some of the features it provides are real-time budget tracking, manual time entries, timers, or report monitoring and exporting. After a user selects a project or a task, he or she just needs to press the button to start the project time tracker. Also, time can be entered from anywhere, so the projects are kept on time and budget.
Tick does not offer some of the features that TimeCamp has, like offline and computer usage tracking, calculating income or budget analysis. What is more, its pricing depends on the number of open projects (which for some may be an asset, and for some may not.)
See the comparison between Tick & Timecamp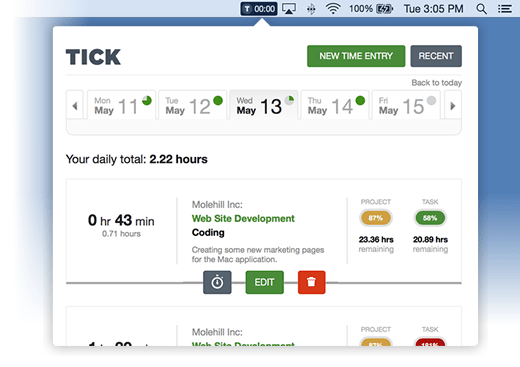 TMetric is a work time tracking web app with a decent number of features, among which are billable rates and cost rates. It can be integrated with a lot of different web applications, like Asana, Basecamp, Bugzilla, GitHub, GitLab, Jira, Trello, Wrike, and more.
Some of its most important features are: billing information in reports (users can get an overview of their incomes and expenses), time format selection (users are able to choose the time format for their reports – hours and minutes, decimal or clock-like hours), total break time and time logging restriction (displays total break time and prevents users who did not participate in the project from logging time for that project)
What TMetric does not offer, is tracking computer usage time, estimating projects time, calculating income. It also does not provide mobile apps, auto tracker, or timelines. All these features can be found in TimeCamp.
See the comparison between TMetric & Timecamp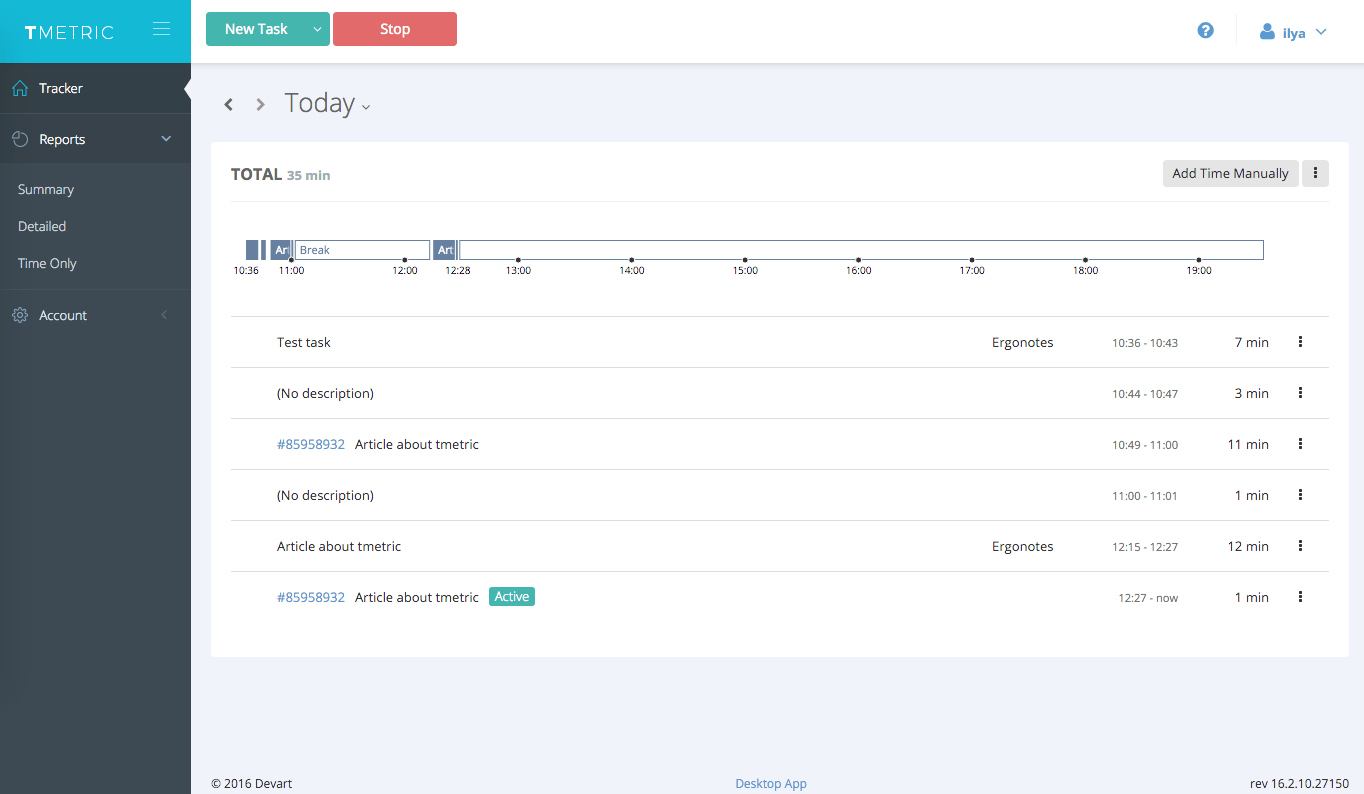 Timely is a cloud-based appointment scheduling and booking software. It helps small and midsize businesses, as well as individual professionals to spend more time with their clients. Timely was designed especially for the sector concerning beauty salons, hair salons, health clinics or spas.
Organizing business is easier when users have a complete control over their time.  They are able to set appointments, generate reports, send reminders and notifications – all these activities are facilitated by the built-in calendar which ensures the proper schedule management. Everything can be managed from any device with an internet connection.
Compared to TimeCamp, Timely has some shortcomings in the management of finances – it has no invoicing or calculating income, nor absence analysis or setting goals. However, this is a solid app, and many may find it fitting their needs. For those, who look for something more sophisticated, we recommend TimeCamp =]
See the comparison between Timely & Timecamp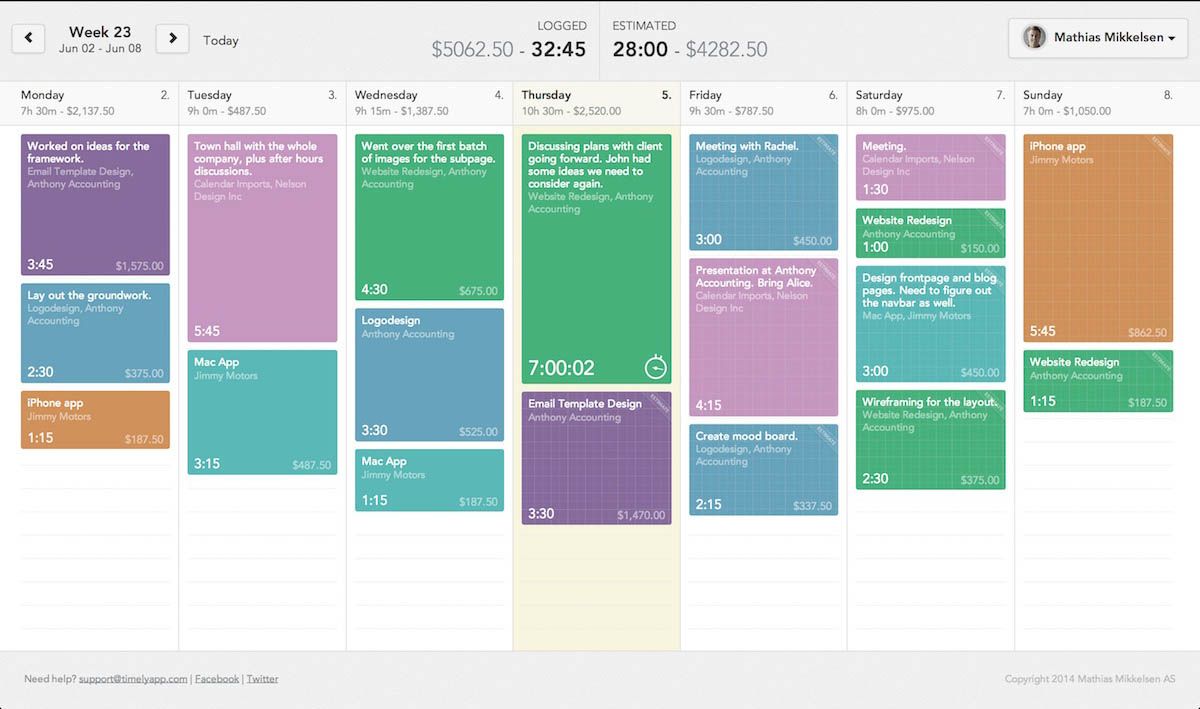 RescueTime is a web-based management and analytics tool designed to enhance one's efficiency and productivity. It gives to its users an accurate picture of the time spent during the day, so they can plan their daily tasks more effectively.
RescueTime runs in the background of a computer or mobile device, tracking time spent on applications and websites. Then it provides detailed reports based on user's activity. Users can set alerts to have a better control over their time, block distracting websites and check what they have managed to accomplish during the day.
This software is available in affordable price. It lacks a lot of important features, though. RescueTime does not provide budgeting or invoicing, it cannot be integrated with other tools, and there are not project dashboard, goals, and tags.
See the comparison between RescueTime  & Timecamp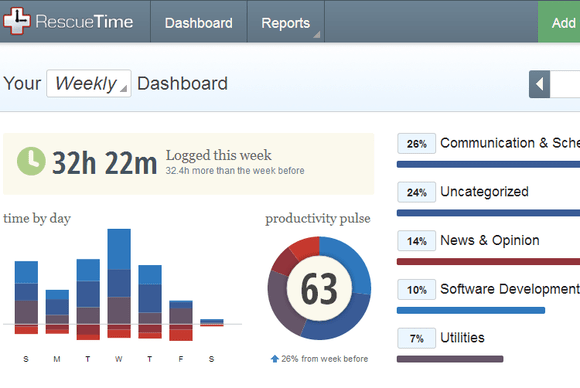 Freckle is a time tracking management software with online invoicing, non-billable hours tracking, and project budget monitoring. Users can easily create new projects or clients with Freckle and manage all the activities connected with them.
There is no need for manual configuration of a client account and configuring all the projects under that specific client. After typing client's name, Freckle does the job automatically. It also allows users to tag entries, so it is easier to categorize and filter information.
Freckle is noticeably more expensive than TimeCamp. It does not track computer usage and offline time. Also, users won't be able to calculate income, set goals or tracking reminders.
See the comparison between Freckle & Timecamp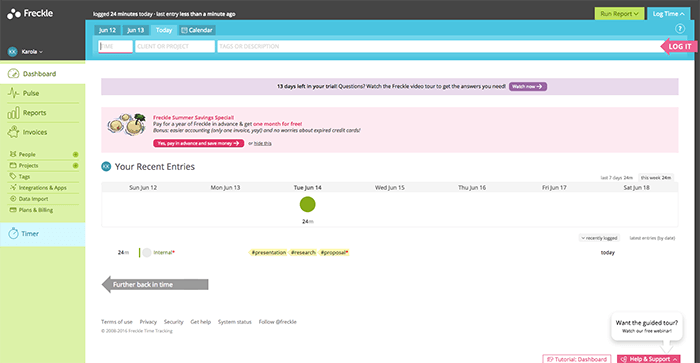 Paymo is an online project management, time tracking, and invoicing application for agencies and small/medium businesses. With its help, users can keep track of the entire lifetime of a project without using any other apps.
It facilitates team collaboration and communication, provides time tracking and timesheet reporting and has both desktop and mobile apps. The tools Paymo offers should be really useful in identifying projects bottlenecks, monitor and analyze the time spent on projects and tasks, and generally, boost team's productivity.
It is reasonably cheap software with a lot of assets. But in comparison with TimeCamp, it does not offer offline time tracking, computer usage tracking, tags, timeline, and absence analysis.
See the comparison between Paymo & Timecamp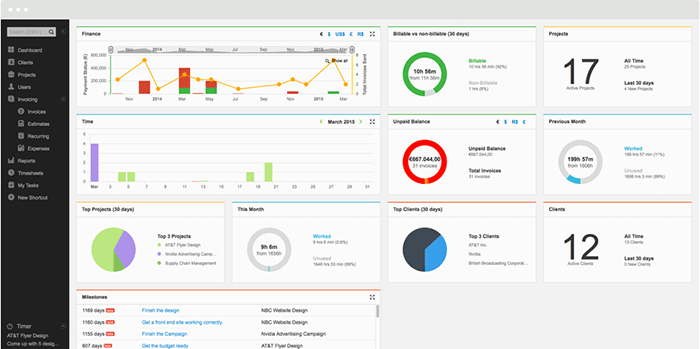 Tracking Time is a web-based time tracking app widely used in service industries like web design, software development, photography, digital arts, architecture, or news and media. Generally, everywhere the cloud collaboration is possible and needed.
It offers a simple task manager with a real-time tracker. Users can organize and monitor their clients, projects, and tasks up-to-date, while also adding comments and sending notifications, as well as receive those from their team members. Tracking Time is a good timesheet replacement. Does TimeCamp have those? Well, yes it does!
See the comparison between Tracking Time & Timecamp