Top 7 Basecamp Integrations for Effective Project Management
April 18, 2019
by Kate Borucka
No comments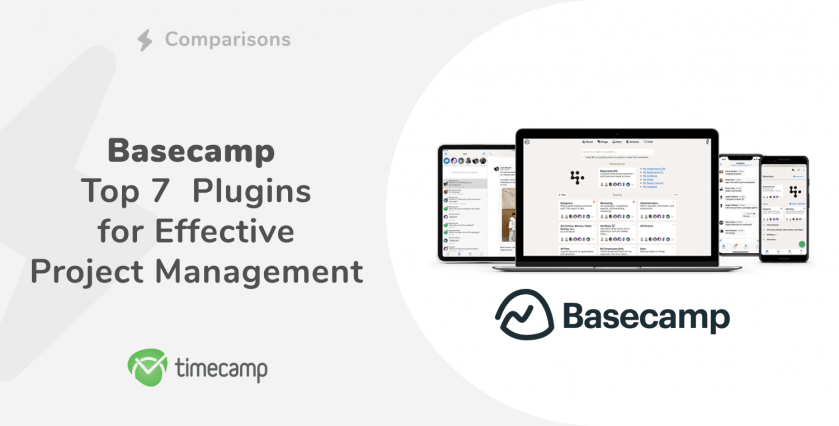 Basecamp 3, commonly called Basecamp, is one of the most popular project management software. It's an organized place for teams, projects, and company-wide communication that effectively replaces long email chains. Basecamp lets you create a coherent structure of information flow. It's especially helpful for remote teams that need to stay on top of the latest company news and projects.
It's a great tool, but combined with plugins, it can become a real productivity powerhouse. With plugins, also known as add-ons or integrations, you can tremendously improve work in Basecamp.
Which Basecamp Integrations Should You Use?
Integrations allow you to be more flexible with the tool. They are extensions of built-in features and give you more possibilities within the software. And since Basecamp is a project management software, the right plugins can help you improve the processes of project management, team management, and make the use of the tool more useful.
When looking for integrations to Basecamp, you should make sure that you can smoothly connect them with the Basecamp app. They should also allow you to automate work, not make it more difficult to move around the tool and add extra work.
Adding too many integrations will cause chaos and overload of functionalities. The ultimate goal is to make Basecamp a lightweight project management tool that will optimize processes.
Here are the best integrations for Basecamp based on popularity, effectiveness, and ease of use.
1. TimeCamp – automatic time tracking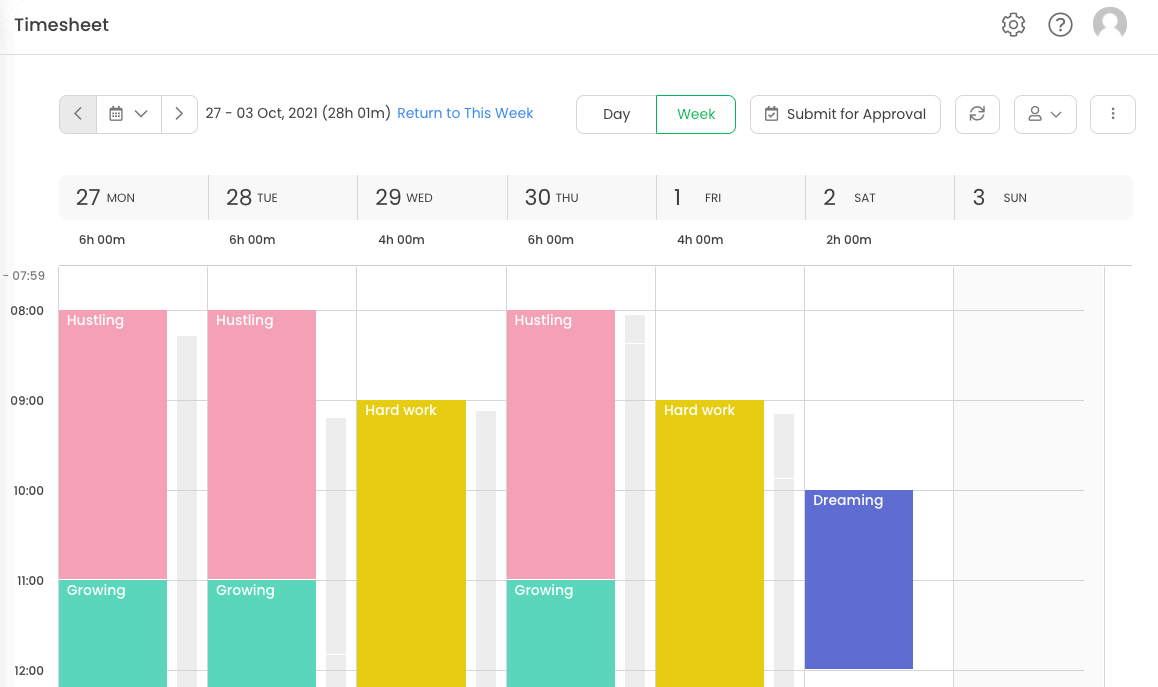 TimeCamp is a 100% free time tracker for unlimited users. Time tracking is essential in project management. But using two different tools for that may complicate things and make it difficult to track the progress of projects. However, with a smart solution, you'll be able to manage your teams across two apps and sync all work with just one click. All you need is TimeCamp time tracking integration for Basecamp.
The two tools synchronize automatically without the need of clicking through each of them to make sure all information co-occurs. Not only will you increase the team's productivity, but also automate and optimize their work. TimeCamp time tracking features include the following:
Automatic time tracking
Accurate reports
Automatically filling-in timesheets
Detailed and comprehensive reports on employees' activities
Budgeting, estimates, invoicing
Tracking time for projects and tasks
TimeCamp plugin for Basecamp allows you to efficiently and smartly manage your teams, time, and projects. No need to switch between different apps. You have everything in one place. Now your team can focus on work and what really matters, not on filling out timesheets and reports.
Update: our Basecamp integration is no longer available
2. Zapier – work automation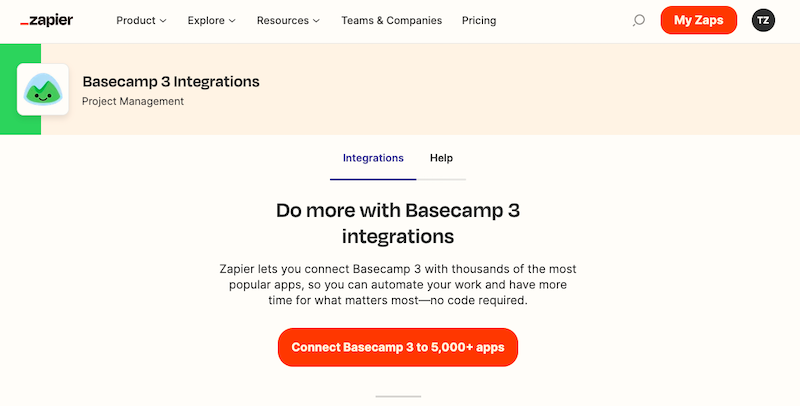 Zapier is one of the most popular tools for automating work. It's also one of the best plugins for Basecamp, and it should be your priority to integrate the two. Zapier allows you to instantly connect Basecamp 3 with 2,000+ apps to automate your work and project management by quickly and easily combining the tools you and your team like to use. Zapier gives you full flexibility to work as you like with what you want.
This plugin for Basecamp connects apps so they can work together. Zaps Start with a Trigger—an event in one of your tools that kicks off your workflow. Zaps automate tasks in the background. You can combine as many apps in Zapier as you want. With this plugin, you can tremendously automate and optimize workflow in Basecamp.
? Integrate TimeCamp with Basecamp via Zapier!
3. SupportBee – CRM add-on to improve customer relationships

Since Basecamp is commonly used by businesses and agencies to communicate and collaborate with clients, it would be a sin to skip a CRM plugin. The tool enables your team to create professional and personal customer service. SupportBee's support ticket system allows teams to organize, prioritize, and collaborate on customer support emails.
SupportBee can help you better manage client communication across different levels. Not only with clients but also with the team. Using this plugin will sync all work, tasks, and will also automate work. With SupportBee you can:
Assign tasks in Basecamp from within SupportBee
Keep easy track of progress on customer issues
Send feature requests to Basecamp as discussions
Create To-Do lists and To-Do items from emails
4.Retool– Basecamp Customization with API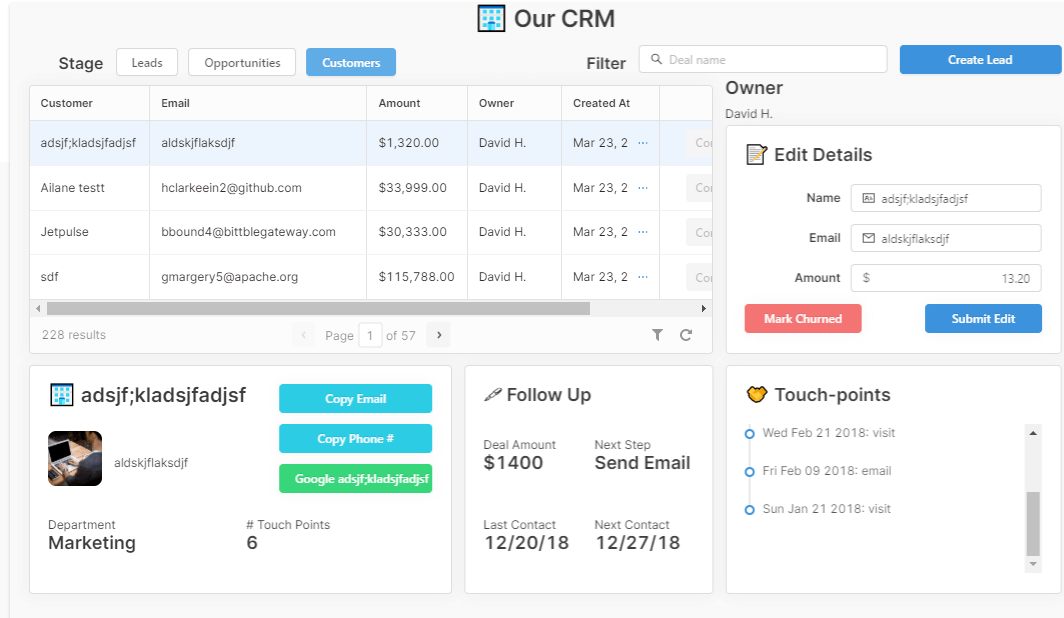 Sometimes every tool requires little adjustments. And if you can't find them within Basecamp, why not create them? Retool can help you do that. Connecting Retool to Basecamp takes just a few minutes, and lets you quickly build custom tools on top of Basecamp. So if you do not see the feature or a tool you need in Basecamp, and its marketplace, your team of developers can create them with Retool for better work.
Additionally, with Retool, you can create a new Basecamp project the way you like and need it. Adjust it and manage it according to preferences. The two apps combined let you customize Basecamp and maintain the project management processes as you need.
5. Field Trip – Basecamp messages in Slack and Hangouts Chat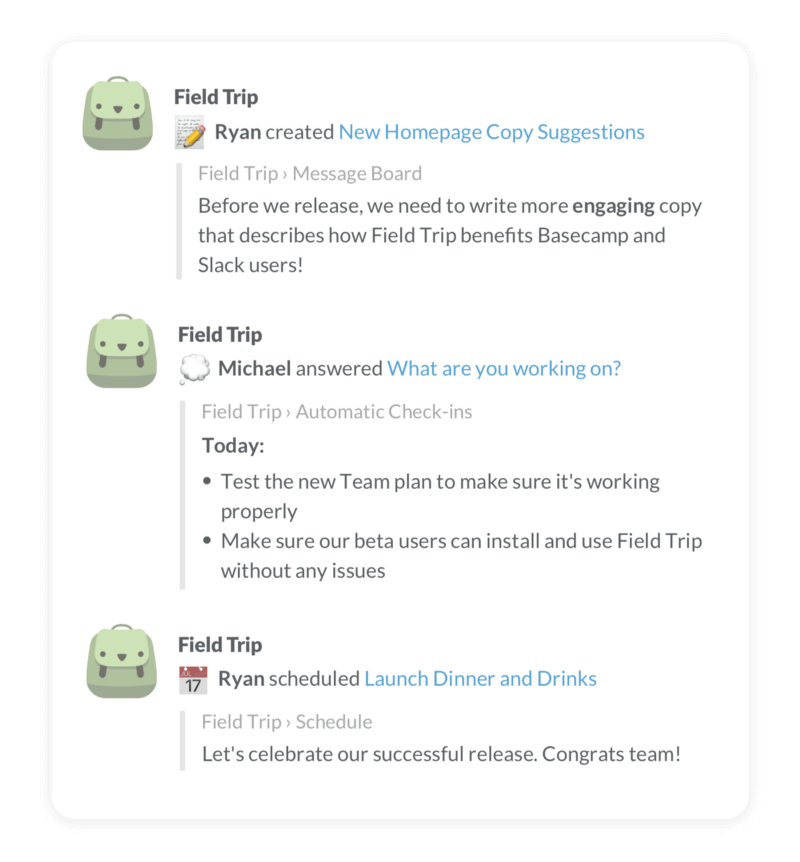 Simple but powerful Field Trip is one of the best Basecamp integrations for teams. With it, you can share your Basecamp activity in Slack and Hangouts Chat, keeping your team chat looped into your teamwork. Field Trip is helpful in communication management.
Some of its most important features include the following:
A Slack and Hangouts Chat message notifies your team when messages or comments are posted in Basecamp
Notifications are sent to Slack whenever to-dos are completed or created
Scheduled events are sent to Slack
Automatic check-ins – everyone gets all the valuable content of their team member's check-ins plus a low key reminder to finish their own
6. Ganttify – project visualization with Gantt charts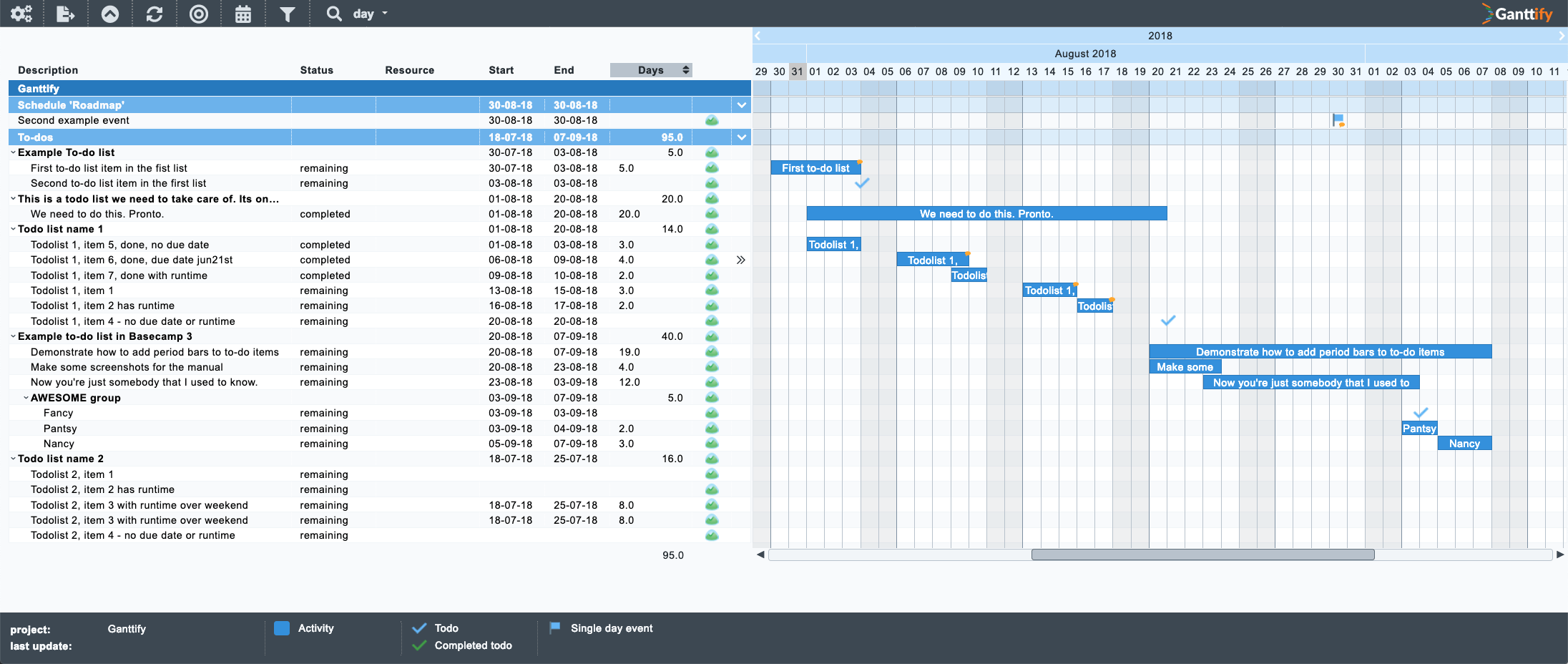 Ganttify is a project management and tracking app that lets you schedule and organize your list of projects into the Gantt view. You can easily integrate it with Basecamp for a smooth work between the two tools.
Ganttify enables you to easily create charts from your Basecamp assignments with one single click. Choose one or even multiple tasks at the same time, and Ganttify does the rest. Update deadlines, milestones, and time blocks right within the chart.
Main features:
Edit the timelines right from within Ganttify. Your linked project's details are automatically updated both ways – updates in the Gantt chart are reflected in your projects and vice versa
You can share your Gantt chart with friends and colleagues using super short sharing links
Set start dates, due dates, and milestones
You can see projects for different periods
Embed Gantt charts to use on a website, presentation, etc.
Use the two tools to create a visualized list of tasks and improve Basecamp project tracking.
7. Basecamp Apps for smooth project management
To always stay in the loop and know what's happening no matter where and when you are, Basecamp offers native apps:
Basecamp for iOS and Android devices
Basecamp for Mac or PC
Web app
Basecamp in email inbox – you can reply to most Basecamp emails right from your inbox
Use Basecamp tools to always get the latest updates on every project.
To Sum It Up
Integrations for Basecamp can help improve project management, optimize work, and save a lot of your and team's time. Make sure to use them to make the most out of your work. They can do a lot of smallish tasks for you and facilitate business performance.
⇒ And for more integrations for Basecamp, make sure to check their repository.
✍ Last updated April  2020