The Importance of Time Planning in Project Management
May 22, 2020
by Ola Rybacka
No comments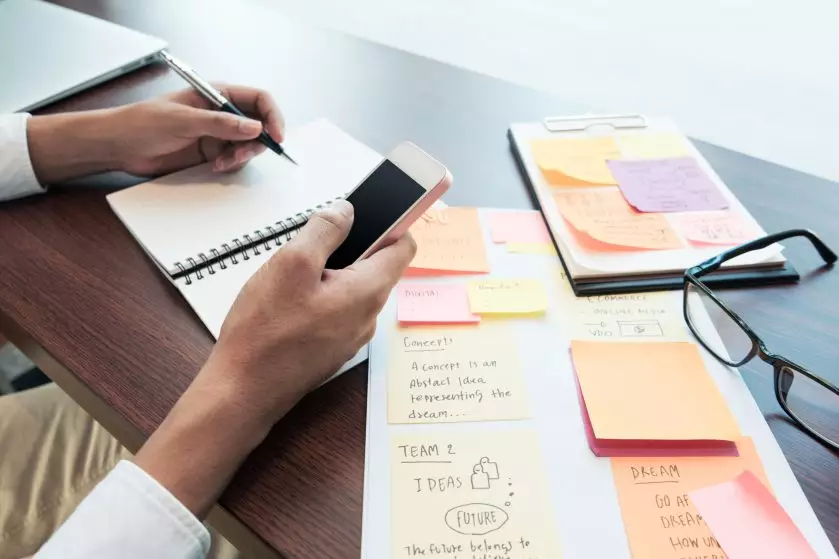 While time is running out quite mercilessly, proper time planning is a must. We usually experience a lack of time so painfully when the tasks are piling up, and we have no idea where to start. Should we choose a task with the shortest deadline? Or the one that is not-so-urgent, but your boss actually asked to finish it last week, but you've forgotten about it? A task your project manager has recently added to your to-do list, giving you a short amount of time to achieve project goals?
Sounds quite overwhelming, doesn't it? And it becomes a nightmare if the entire team's work is improperly organized. Luckily, there's always room for improvement – and if you want to master time planning and effective project time management effortlessly, learn these few simple tips!
The Importance of Time Planning
Even having an endless amount of money doesn't guarantee the project's success.
Why, you'll ask?
Because it's all about time!
Time, besides your skillful team members and their knowledge, is your most precious resource. Managing time when in the planning phase of a project means allocating it wisely between all the stages of the work breakdown structure. That's why you consider implementing effective time management strategies to increase chances for a project's success.
But what exactly is time planning, and what does project time management refer to?
It's one of the stages of the project life cycle and an important part of resource management. It's a process of determining the importance of project activities and their effects on project goals. It also includes prioritizing tasks according to their significance for project goals. Time planning takes the team's capacity into account and helps use time effectively to ensure steady project progress.
In project management, you can't improve what you can't measure!
To improve something, we need a point of reference. The main overview of the situation we're actually in is not enough because it's not based on strict data that provides us with details on how much time is spent on the various assignments.
That's why you should consider giving project management and time management software a try. Not only to manage multiple projects and to assign tasks to team members or to track the actual progress and major milestones but also to measure the team's productivity and performance.
With TimeCamp Planner and its integration with TimeCamp, a good project time management tool, you get a distraction-free view of the work and gain real-time insights into how the members of your team are performing. It helps you see the progress at all levels and maximize the transparency to enhance the best planning. With proper management software and a reporting feature, you'll be able to point out all the weaknesses to make a recovery plan that'll bring the situation back on the right track.
What's the purpose of time management in project management?
Once you know what needs to be done to motivate your team members to understand the importance of time management, you can create a new project schedule.
Take into account the golden rules of proper project management:
Take advantage of a project plan template to create a clear overall project management plan that would be easy to implement (and make sure your team accepts it!). If you have enough workforce, assign a certain person to control all the project's stages.
Use the project management software or collaboration tool to automate the verification process,
Assign the responsibilities wisely, taking into account making the best use of your project team members' knowledge, experience, and skills,
Care for a friendly team atmosphere and ensure your employees can always count on your help (and they can rely on each other as well!) because the appropriate team communication is half of success,
Review the progress at each stage of the project and discuss the necessary changes with the team (we highly recommend weekly and monthly calls as we do in TimeCamp, especially if your project team is still working remotely!),
Delegate tasks,
Work on one task at time,
Prioritize tasks to highlight the important and urgent tasks,
Apply risk management processes,
Avoid micromanaging,
Don't forget to focus on the projects' ROI,
Control the time spent on each task.
As you can see, there are plenty of things that have to be remembered to deliver the greatest results and maintain the highest and effective time management level. It's not easy to manage them without a pre-made plan, where each step is carefully described, paying special attention to the risks and advantages that can be encountered. According to that, the main purpose of time planning is to ensure each stage of the project a generous but realistic amount of time. And to do that…
Plan a timeframe for each task at a time
Nothing enhances time planning more than implementing effective time management techniques. First and foremost, we have to realize the importance of time distribution, which means setting a timeframe for each task. Thanks to modern technology, we don't have to do it using just a piece of paper and a pen or in a spreadsheet – the right time management tools do it for us, seamlessly tracking time to ensure the project a timely completion. One we should do is add a task, set a start and end date, and track time for it.
Whether managing on-site or a remote team, a good project time management tool like TimeCamp delivers project managers insight into the progress of project completion. It tracks time spent on the projects and keeps an eye on the expenses. With a single press of a button, you can bill the customers accurately, no matter if projects are fixed prices or billable by hours.
Pro tip: Patterns are good because they help us avoid wasting time on planning from scratch, but don't forget that each project requires a different, individual approach!
Always plan a step ahead
Don't let anything surprise you – always be a step ahead of the potential risk to avoid stressful situations. A motivated, well-organized project manager knows how to prepare a proper project plan and control everything to deliver greater results.
With proper time management skills and project management tools, you can track all the activities related to the specific project and get the most relevant information about the progress. You can give tools like TimeCamp Planner, Asana, Trello, Todoist, or try (and what is the best, they're all integrated with TimeCamp!). All the managers should be pleased with a real-time collaboration experience that improves productivity, keeps everyone up-to-date, and makes work easier!
How does TimeCamp Planner support project time management processes?
TimeCamp Planner gives you way more than an ordinary project management tool. It combines task management features with advanced team collaboration, so there's no need to seek more time management tools or use third-party apps to manage time in projects effortlessly.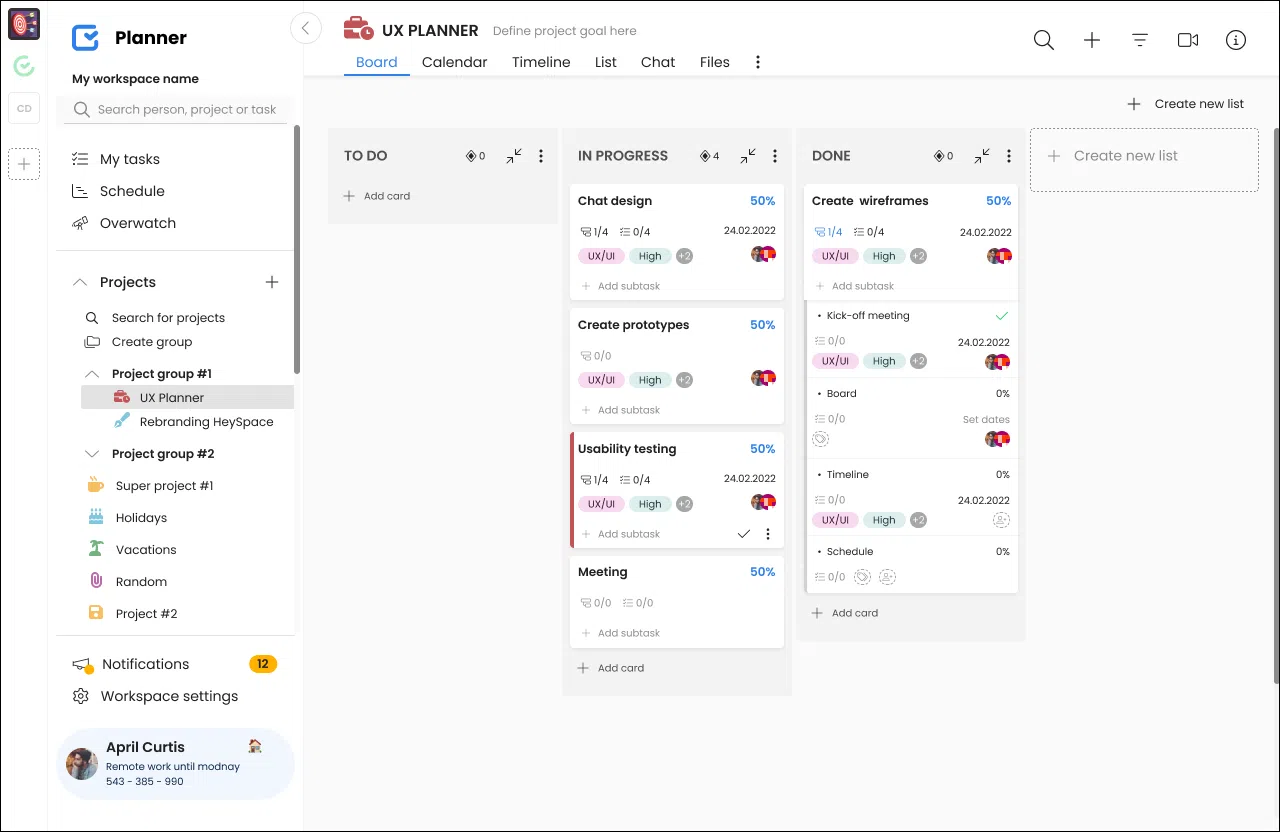 Planner introduces you to many ways of managing projects:
Kanban boards – for a more visual project management approach,
Project timelines – overview of the project deliverables in chronological order to better understand the project schedule from start to finish,
MyTasks – displays a task list assigned to the same team member and helps see the work progress from the individual perspective,
Task list – a transparent, list-like view of tasks within a board, grouped according to their status (to-do lists they belong to, e.g., backlog or done), with a team member assigned and progress marked,
Overwatch – a module view where you can choose your most important Projects and manage them in one place. Here, you can chat, manage tasks on the board, and schedule them on a project timeline,
Calendar – shows project tasks organized by day, week, and month and according to their start and due dates.
Each board has its own Chat view, so you can easily switch between the views. Besides, TimeCamp Planner allows you to turn messages into project tasks, so you'll never forget about any brilliant idea that comes from a conversation with your team members.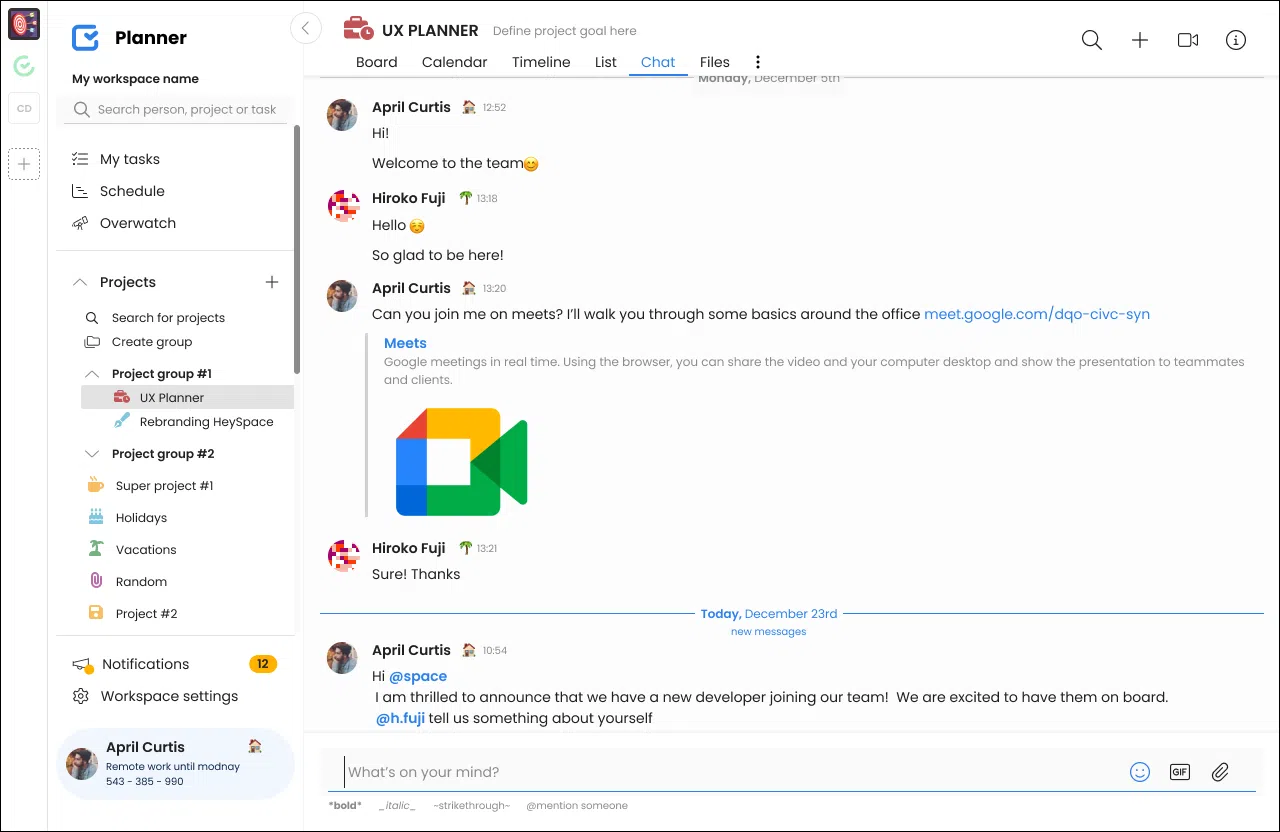 TimeCamp Planner also supports project management success with:
Unlimited chats and history,
Unlimited projects and tasks,
Time tracking with TimeCamp time management integration,
Project schedule,
Estimates,
WIP limits,
Recurring tasks,
Tags,
File storage and sharing,
and many more!
How much does TimeCamp Planner cost?
TimeCamp Planner offers a free plan for up to 5 users that includes unlimited projects, tasks, and chats. However, if you're a project manager of a bigger project team, subscribe to a paid plan that costs only $3.75 per user per month.
Make project time management important
A proper project time management refers directly to the project activities that help stick to the particular schedule effortlessly. Success-oriented companies implement project management tools and prepare a project plan according to the most effective time management strategies. This way, even when they conduct complex projects, their project managers don't struggle with effective project time management processes. Worth giving a try!