February 22, 2022
by Kate Borucka
No comments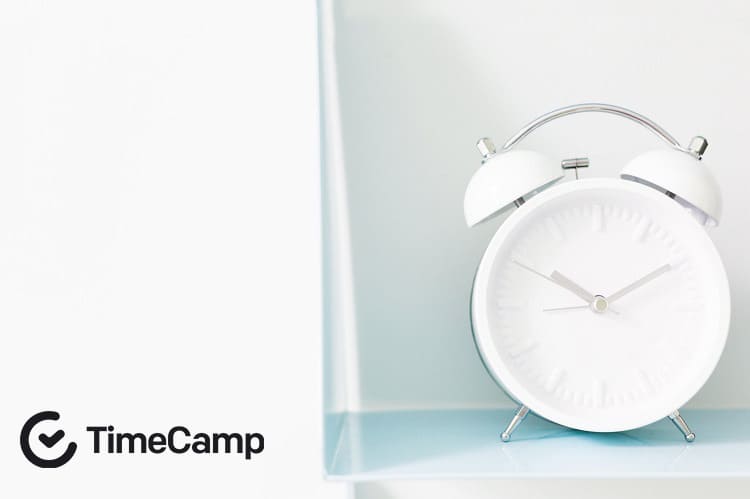 Keeping a time log is is a simple and effective way of tracking your time. It can help to analyze how you spend your time and whether you're being productive. And you can record time for all types of activities—work, personal tasks, events of all kinds, house chores, and more.
Let's dive into the idea of tracking your work activities with a time log and how to do it the right way.
What Is a Time Log?
There's not much philosophy behind the term "time log". A time log is a set of chronological events written down in a table with columns, usually a timesheet, Excel spreadsheet, or on paper.
Time logs can include different categories, sub-categories, important activities, daily tasks, work hours, leisure time, phone calls, and any other activities you decide to track time for.
Time logs are kept to record time for billable hours, monitor and manage employee attendance, better allocate time and money, and improve project management processes in teams.
Also, many people track time to improve time management and have an accurate picture of how much time they dedicate to each activity.
How to Keep a Time Log?
Keeping a time log is easy as long as you do it the right way. If you log your hours regularly, you ensure you enter the correct numbers and bill your clients accurately.
And with the automatic time tracker, you don't even have to think about logging your time, such a system will do it for you.
In general, there are three ways to keep a time log:
Traditional time diary written in a spreadsheet, be it Excel, a template, a simple table in Word, etc.
Time tracking software with timesheets and more advanced functionalities that let you track work progress in real-time
Paper timesheets, usually used by creative people to log time, write down to-do lists, and other important activities. People often use fancy bullet journals, sticky notes, highlighters, stickers, and other creative elements to liven up their planning experience.
You can also combine different methods depending on your needs, type of work, tools and methodologies you use in your work.
Why Use Time Tracking and Keep a Time Log?
Keeping a time log is much more than just recording your work hours. It's an effective time management technique that helps to better plan and organize workload.
It can bring many benefits that contribute to the growth of business and personal career:
Better time management: with a time tracking system, you can understand how you work and how much time you spent on different tasks, projects, and activities
Accurate tracking of billable hours: with a time log, it's easy to keep track of billable and non-billable hours, also for different rates for all your projects
Profitability: when tracking billable time, controlling productivity, and monitoring overall performance, you can ensure high profitability of projects and whether they are suitable for you
Improved productivity: keeping a time log helps to spot and eliminate time wasters, distractors, and, as a result, boost productivity
Better work-life balance: when you monitor your work hours with a time log, control productivity, and better manage time, you're able to keep a healthy line between work and personal life
And that's the bottom line—keeping a time log aims at helping you better manage your time and plan work so you can get the most out of your day.
Best Time Logging Apps to Track Work Hours
It's important to align your time log system with the size of your team—you'll have different needs when leading a small team, more challenges with a large team, and completely opposite necessities when you work as a freelancer.
1. TimeCamp
Time tracking software for tracking billable time and monitoring project profitability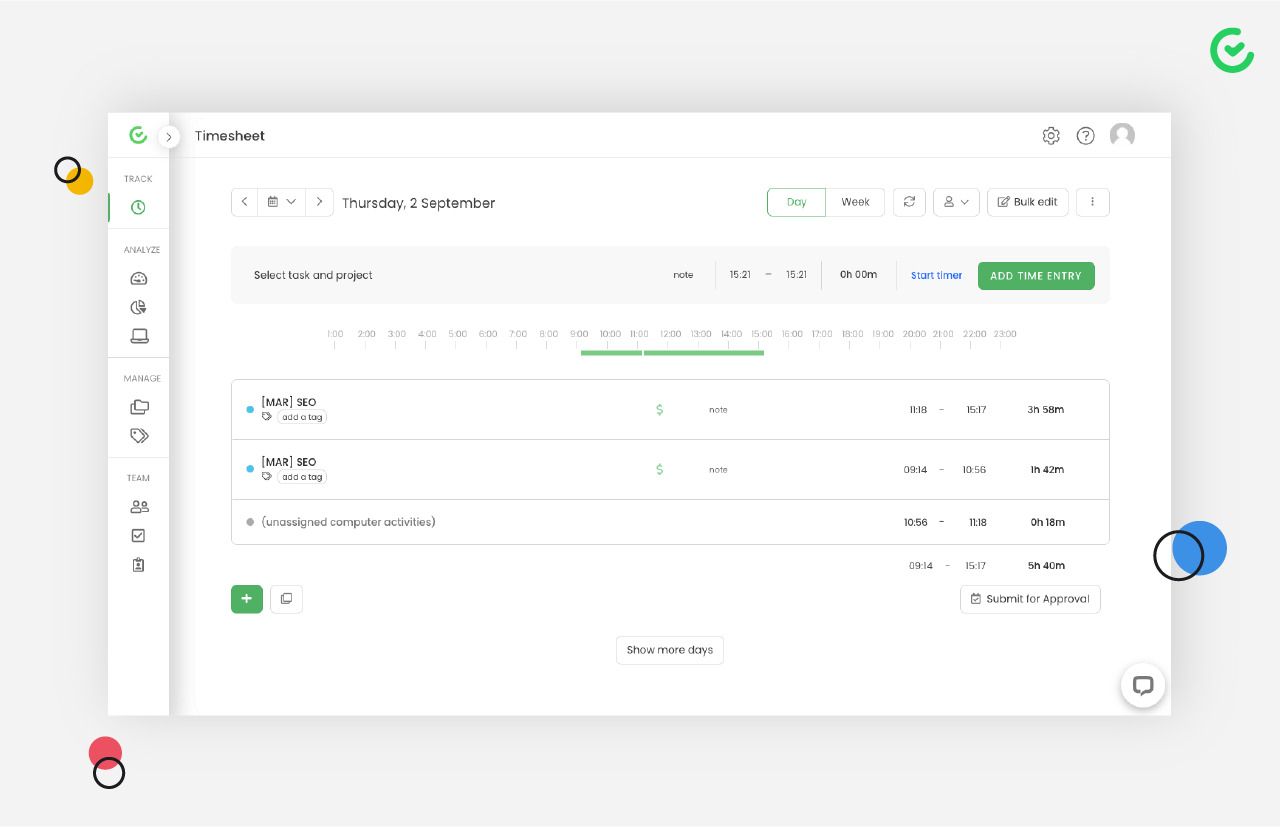 TimeCamp is a free time tracking software for unlimited users with unlimited projects and tasks. It's a robust tool that automatically tracks your time and collects all the data in comprehensive reports, timesheets, and provides you with analytics on how you spend your time.
TimeCamp helps to automate and optimize tedious tasks, better manage time, and create accurate estimates for your projects.
Key features:
Automatic time tracker available in four forms—as a desktop app, built-in web timer, mobile app, and Google Chrome extension
Tracking billable and non-billable time with different hourly rates
Timesheets with approvals; you can also add and edit time entries manually
Customizable reports with rich task and project information (time tracked, estimates, users, tasks, time entries, projects, budget, summary reports, billable, unbillable time, invoiced, cost calculation, computer time reports, and more)
Invoicing
TimeCamp allows you to easily manage task dependencies with projects, tasks, subtasks, and tags (tags let you flexibly adjust the software and project structure to the way you want to track your time and organize projects' data—categorize, mark, label clients, tasks urgency, project stage, overtime, department, add priority, and more)
Analytics allows you to view the breakdown of your activities with graphs and statistics
Attendance module to track and manage holidays, sick leave, business trips, parental leave, vacation leave, remote work, and more
You can monitor productive and nonproductive work (including activities, websites, applications)
Automatic reminders when you forget to turn your timer on or off
TimeCamp integrates with various tools and apps for a smooth work
Pricing: The free plan is available for unlimited users with unlimited projects. The Starter plan is $3,99 per user/month billed monthly ($2,99 per user/month billed annually), Basic plan is $7.99 per user/month billed monthly ($5.99 per user/month billed annually), Pro – $10.99 per user/month billed monthly ($7.99 per user/month billed annually), and Enterprise, on-premise, offer custom pricing.
---
Keep a neat time log with an automatic time tracker
Sign up for TimeCamp for free!
---
2. Actually
Best for keeping daily time logs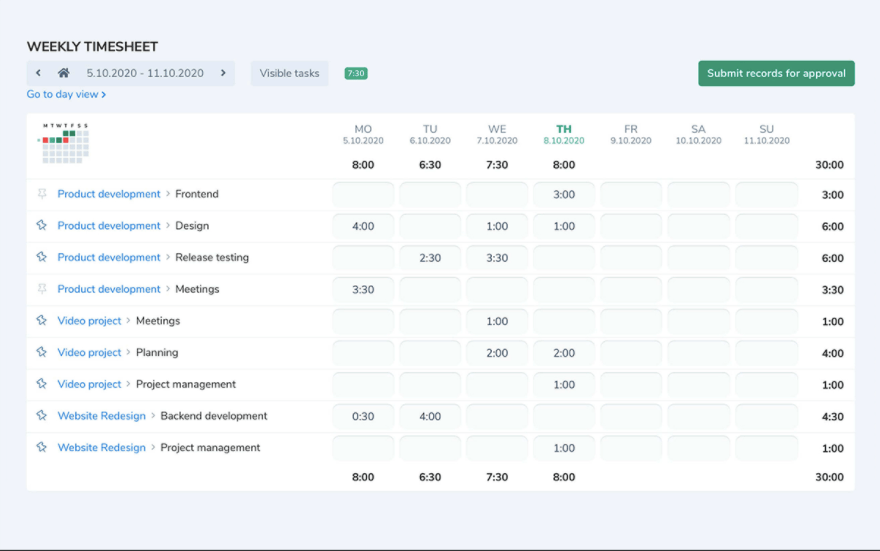 Actually is an easy-to-use time tracking tool that lets you keep a simple time log and monitor the time you and your team spend on work.
The app allows you to create projects, track time against them, and shows the total duration for all tasks. Actually doesn't offer additional time tracking features so it's best for companies that need a basic solution to keep a time log.
Key features:
Basic timesheets with approvals
You can set up a workday length
Choose a calendar for a specific country with national holidays
Add budget for each task
Overall hours reports—day, week, monthly time, and year; you can also export your report into a spreadsheet
Pricing: Actually offers a free 14-day trial. After the trial, you need to subscribe at 4€ per person/month.
3. Atto
Time log and GPS tracking app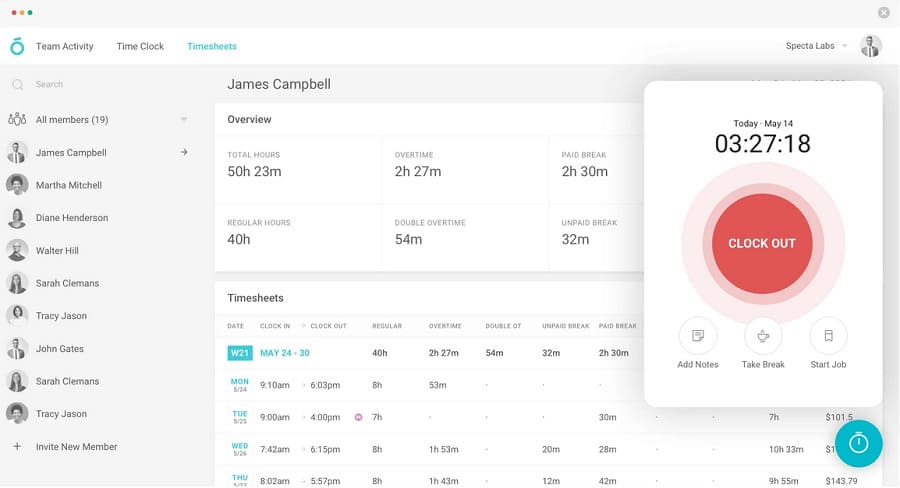 Atto is a timesheet and time tracking software for teams. It's most suitable for field workers, remote employees, and people working out of the office as it provides GPS tracking and a virtual time clock.
Atto automates logging work hours so your team can focus on productive tasks. They can easily clock in and out from mobile devices and easily record time. With Atto, you can know employee location whenever they start work or begin a new activity on site.
Key features:
Simple, accurate timesheets with time logs including clock in and out times, regular hours, overtime, double OT, unpaid and paid break, time off, and total hours
Real-time location updates
Smart location and time-based reminders
Geofencing with GPS location tracking
Log time via the web app, on the go with the mobile app, or at job sites via the time clock kiosk
Productivity reports with team activity and daily reports that help to analyze the performance
Pricing: Atto is $7/ user / month for up to 99 users.
4. TimeLog
PSA software with time tracking for managing core business processes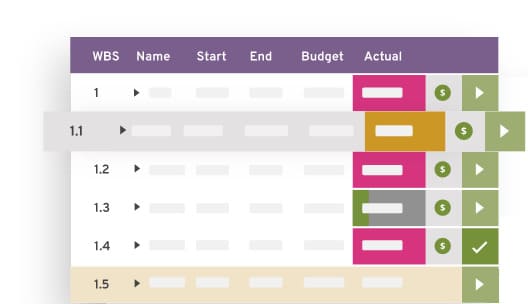 TimeLog is a Professional Services Automation platform (PSA) most suitable for larger teams. It lets you manage projects, track time and expenses, and invoice customers.
TimeLog helps to keep a digital time log with all the important information instead of writing things down manually. It's a unified system for managing employee hours, project finances, and getting actionable insights on business performance.
Key features:
Tracking time on mobile, desktop, or web
Timesheets with time logs that include details about projects and their duration
Salary time management in TimeLog lets you create and manage complex salary time rules, e.g., overtime, time off in lieu, holidays, absence
Overview of entire organization lets you see work progress and whether work is fairly distributed among employees
Create invoices based on time logs
Over 80 different reports with different values and data
Use templates to create projects or create your own projects from scratch
Pricing: TimeLog offers a free version with basic time tracking. For more advanced features you need to sign up for one of the paid plans. Pricing starts at €8/user/month (without the invoicing module).
5. Toggl Track
Simple time log app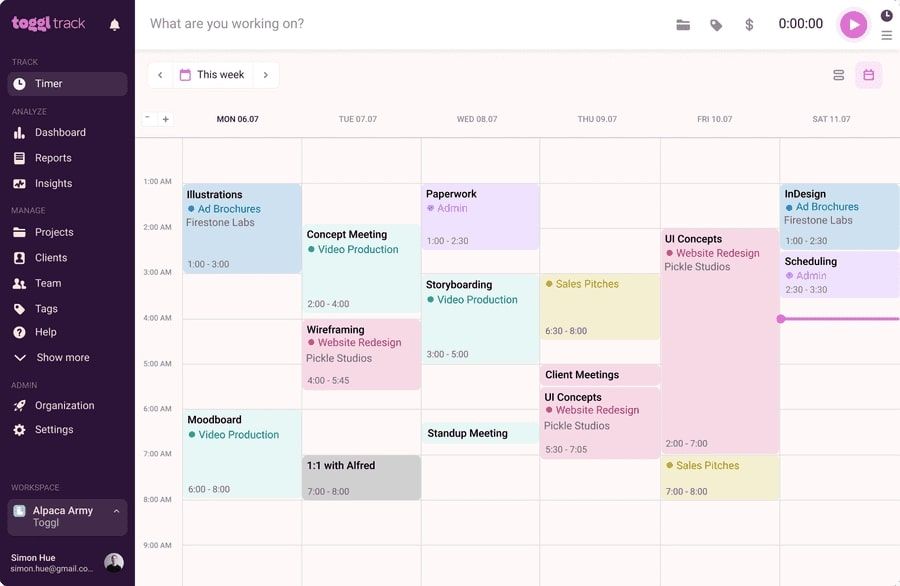 Toggl Track is a simple time tracking tool. It's most suitable for people who need a straightforward system for tracking hours. It tracks your time spent on different tasks and projects and provides you with basic reports.
However, Toggl Track has its limitations and is best for simple time log keeping. It's a good alternative for manually tracking time.
Key features:
Automatic time tracking with a desktop app that works in the background
Simple project dashboard with all the basic information about your projects
Pomodoro timer
Idle detection
Simple reports with a time sheet and graphs displaying time spent on certain tasks
Simple team dashboard
Pricing: Toggl Track is a free tool but offers limited functionalities. For more advanced features you need to sign up for one of the paid plans. Pricing starts at $10 per user/month.
6. WakaTime
Activity dashboards for developers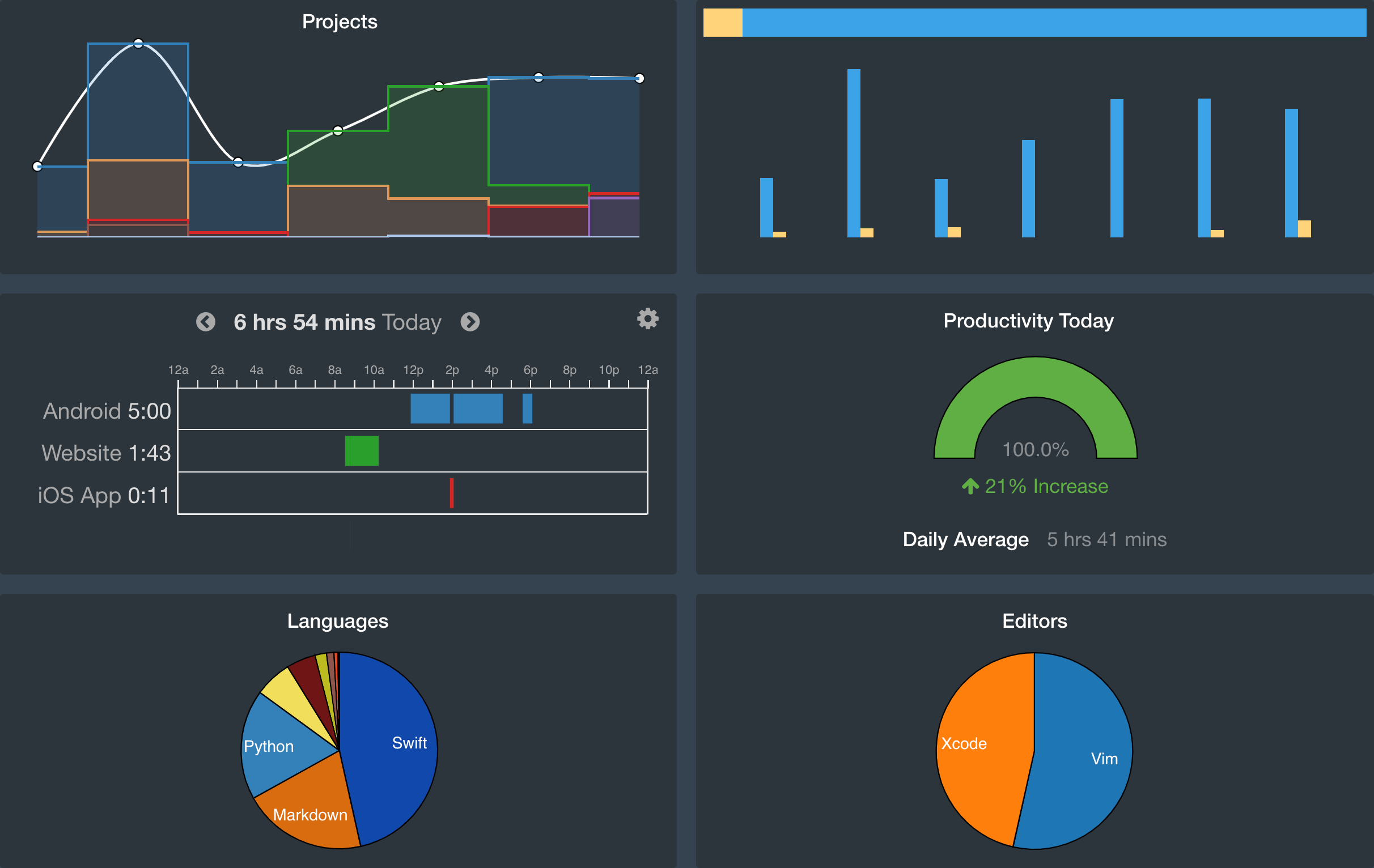 WakaTime is a collection of open-source IDE (integrated development environment) plugins for insights about your programming. It's a good solution if you want to keep a time log with details on your coding activities.
The tool is simple and user-friendly. If you need to find out how much time you spent on coding, without any additional features, try WakaTime.
Key features:
It automatically tracks time whenever you start or stop working on them with metrics on a project, file, branch, feature, editor/IDE or language, operating system, commit/PR
You receive complete and precise statistics on which language you spent most of your time on
WakaTime tracker detects your projects automatically without interruptions
Supports over 600 languages
Private leaderboards to compete with friends and stay connected with your team
Detects if you're away from the keyboard and stops tracking your time
Pricing: WakaTime is free with limited functionalities. Pricing starts at $9/month.
👉 Check also: 11 Best Productivity Tools for Developers
7. Harvest
Project and cost tracking software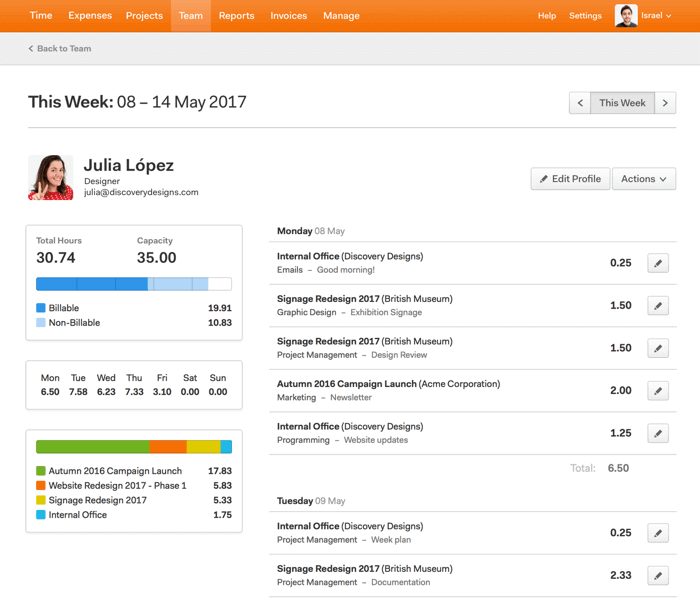 Harvest is a web-based time tracking and invoicing application that offers basic team management features. It lets you track your time and log hours in simple timesheets.
Harvest also makes it easy to determine projects profitability with hourly rates and cost tracking.
Key features:
Track time online and offline with web, desktop, or mobile app
Tap to start/stop the project and task timers on a time card, or add time manually
Simple reports and timesheets with time logs
Recording expenses by snapping receipt photos and tracking mileage for reimbursement
Generating and sending invoices
Timely reminders to submit time (timesheet approval)
Option to remove idle time from a running timer
Harvest offers integrations with other tools
Pricing: Harvest offers free time tracking with limited features.
8. FocusMe
Distraction blocking app for building good work habits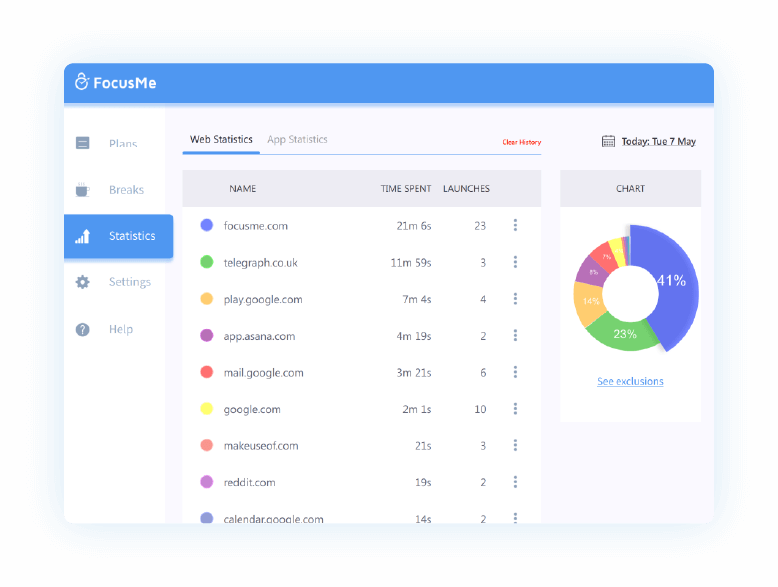 FocusMe is a powerful time management app that helps to stay focused. It blocks any type of distractions that you find harmful to your productivity, for example, surfing online and wasting time on unproductive websites.
FocusMe tracks the time you spend on your activities and shows a complete record with time logs for certain activities. It's a perfect tool for people who want to become more productive and better manage their time.
Key features:
Planning focus sessions with an automatic scheduler
Setting time limits for distracting platforms, apps, or websites
Setting daily limits on opening an email, website, etc.
Tracking time with the Pomodoro timer
See time spent on all activities and the number of launches in reports
You can even have the app prevent itself from being uninstalled
FocusMe works with macOS, Windows, and can be used on almost any browser
Pricing: FocusMe offers three subscription plans—Monthly at $6.99 per user per month, Yearly at $39.99 for one year, and 3 Years at $79.99 billed every 3 years.
9. Time Card Calculator
A free time card calculator is a good alternative for a time tracking app. It's a simple way of keeping a time log that lets you track your time spent on different tasks.
Instead of digging in your memory, you simply write down the figures in the time card calculator and the tool automatically calculates the numbers.
10. Time Log Templates
If you prefer a traditional solution to automatic time trackers, you can use time log templates.
Here are sample time log templates you can use to track work hours:
👉Check also our list of best time keeping apps
Improve Time Management with a Time Log!
Whether you're a business owner, freelancer, or employee, keeping a timesheet can help you boost productivity, become profitable, and accountable.
What's your take on tracking time and how do you keep a record of hours? Let us know in the comments!