September 11, 2014
by Jakub Szyszka
No comments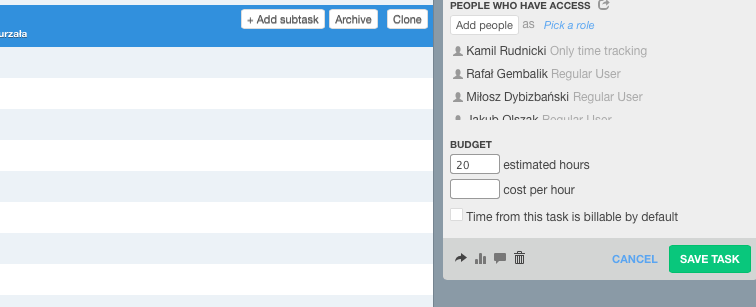 Usually, working on projects means a huge number of different tasks. However, even in such teams there are some constant assignments. You can count minutes for it, but the problem is that the database for such task is really huge. It is hard to skim over them. This is what clone feature is designed for.
Clone feature in Projects copies a particular tasks and creates an identical copy of it. It includes subtasks and people who are assigned to them. In the same place you gain a new item called "Copy of [original_name]".
Some of you may ask what people might need it for. Thanks to clone feature your team members are able to create a template. It is useful when your employees work in the permanent make-up and in the same task scheme. This allows to save time on creating a new structure each time they get a new project to be done.
First of all, we're a small consulting group, so our projects are essentially our clients. We add the same framework to all of our clients, so to all of our clients/projects, I would like to add a specific set of tasks(instead of manually entering tasks for our clients, I'd like to just import a template). I couldn't quite figure out if this is possible?
In case of any questions do not hesitate to contact us or leave a comment below.