5 Motivational Speeches About Time Management
July 4, 2016
by Ola Rybacka
6 comments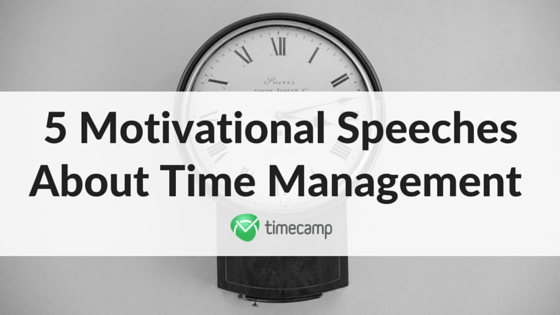 Time management is one of the key factors to success in any field of work. It is important for your personal life and for your career. Time management teaches you patience and how to tackle difficult tasks in a given space of time. It teaches you how to make the most of your valuable time and increases your productivity and efficiency.
But what basically is time management?
It is a set of teachings, practices, skills and tools that allow you to learn the importance of time and how to manage work.
A person who is an expert at managing time effectively is always a step ahead of every other person in the room. They can speed up how they work and can enjoy more leisure activities in life. Some of the world's most successful people are experts in managing time, and they teach this to others too that time management is the sole key to success.
There is some time management software, which will help you work more productively and help you time yourself. This software will help you with time management. "A man who dares to waste one hour of life has not discovered the value of life." – Charles Darwin.
5 Motivational Speeches About Time Management
In this article, we will tell you a few reasons why time management is so important and will motivate you so that you can manage your time more advantageously. Here are some of the reasons:
See also: Manage your time with the Best Free Time Tracking Software for Freelancers
Andy Puddicombe – All it takes is ten mindful minutes
Andy Puddicombe said that always take time to plan out every minute of the day, from what you have to do to your breaks, you write down everything on your down and then prioritize. You might think this is time wasting, but in reality, it saves you a lot of time. Time will not repeat itself. So get up and do what is to be done!
Arianna Huffington – How to succeed? Get more sleep
Arianna Huffington said that "Sleep is as important as working throughout the day. She stressed on how the right amount of sleep can not only make you more productive but also make you better at what you do. This makes you a better wife and a better mother to your children.
Better sleep allows you to work more productively.
The truth is all about time management! Your daily routine should consist of some rest, socializing and most importantly exercising your body. In between all this, you should always find time for what you need to do. This is wise time management.
See also: Manage your time better with top 10 Time Tracking Software with Desktop App
Nilofer Merchant – Got a meeting? Take a walk
Nilofer Merchant stressed how important it is to "create" the moment, not wait for it. She said that your body needs exercise so that it can remain fresh and able to carry you throughout the whole day. So, exercise is as important as work.
Tony Robbins – Why we do what we do
Tony Robbins talked about understanding what motivates you and to make that an important part of your daily life, so you know where to look to if you need your daily motivation. It will make you a better person.
Nigel Marsh – How to make work-life balance work
Lastly, Nigel Marsh talked about how to get a balance in your life by doing all that you love and work.
We hope this article proves useful to you and motivates you to become a better version of yourself.
Time is in your hands, so motivate yourself with these inspiring speeches and improve time management skills. Support it with easy-to-use tools.
Automated time tracking software - TimeCamp
Amazing task management app - TimeCamp Planner
See also: Top 10 Time Tracking Software for Linux
5 out of 5 stars (based on 2 reviews)