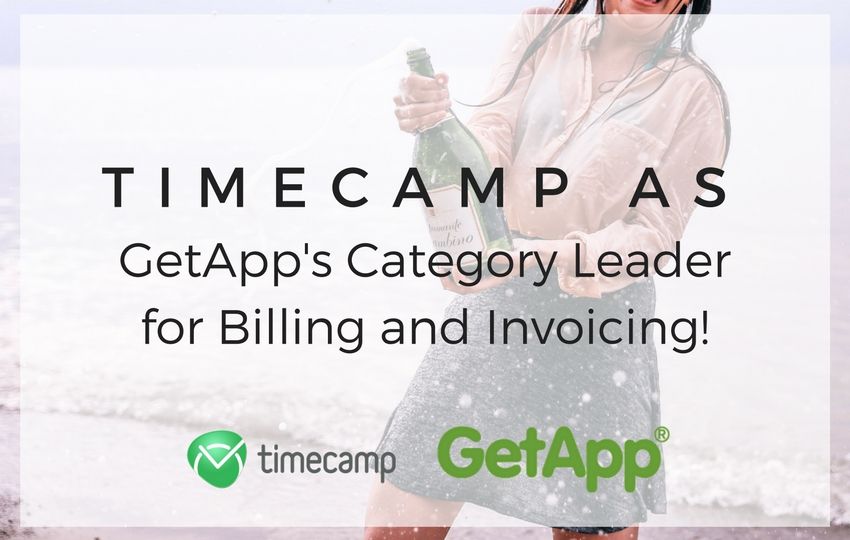 We're more than happy to inform that TimeCamp gained a Category Leader badge for GetApp's ranking! Our adventure with this business software review website is fairly recent, and we're actually surprised by this impressive result!
TimeCamp as GetApp's Category Leader for Billing and Invoicing!
We're coming in #12 out of 246 Billing & Invoicing solutions, and we couldn't resist highlighting it here!
@timecamp another excellent result in our #CategoryLeader ranking. Great work on an awesome effort https://t.co/dEGpTpiQyQ pic.twitter.com/zicriplH6M

— GetApp (@GetApp) 27 July 2017
First and foremost we should thank all our users who decided to write reviews and leave their thoughts. Your words are the reasons why we're highly ranked! 
Here you can read the opinion of GetApp Billing and Invoicing researcher Suzie Blaszkiewicz:
Custom Commentary:
"TimeCamp makes its debut in GetApp's Category Leader ranking for Billing & Invoicing this quarter. Coming in strong at #12 with an impressive total score of 52, TimeCamp showcases its strength when it comes to reviews, scoring an impressive 18 points with an average rating of 4.79/5 stars. An additional 15 points for its software integrations and 14 for its mobile apps ensures that TimeCamp makes a strong debut in GetApp's ranking of the leading Billing and Invoicing solutions in the cloud."
Are you an attorney? Check best time and billing software for lawyers!
What is GetApp?
GetApp is a leading applications marketplace focused mostly on SaaS and Cloud-based solutions where every business can find a tool for its needs! GetApp helps software vendors show their products to buyers and find customers online. The service was founded in January 2010 and in August 2017 it gathers more than 180 000 reviews of 5000+ apps for various categories.
Here you can find TimeCamp's profile on GetApp! 
But the #12 position is not the result we're dreaming about – we will do our best to improve it! It's quite a challenge, but with the help of our users, we will achieve it faster! We're waiting for your feedback – please click on the link above to find out profile!
Wonder how TimeCamp billing addon works? Watch the video!
See also best billing software for lawyers!