How Does Time Tracking Software Work?
May 14, 2018
by Kate Borucka
No comments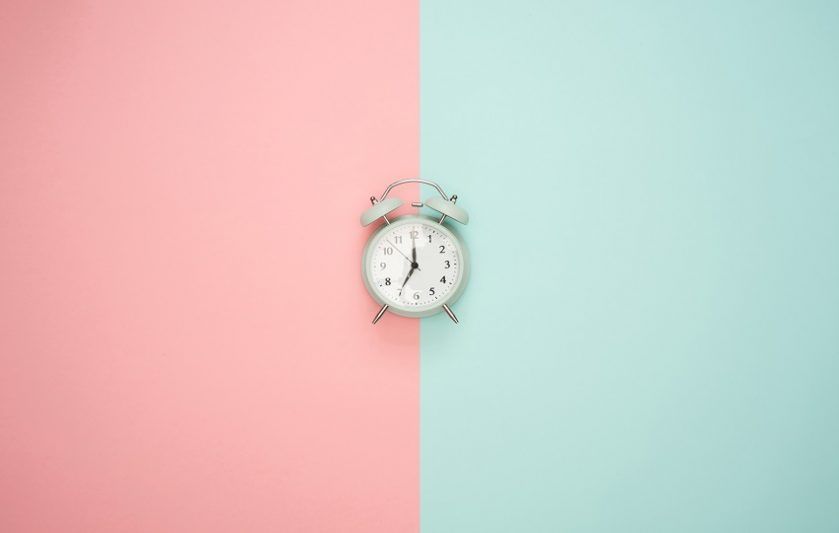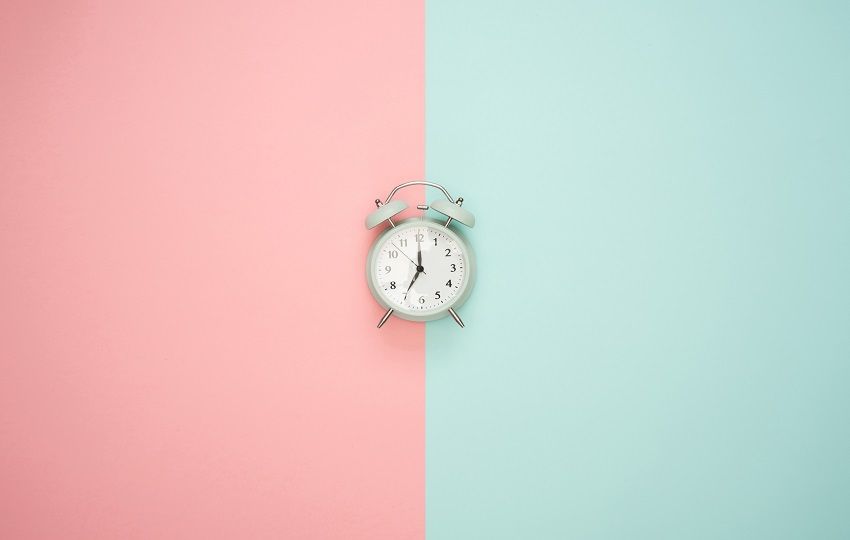 Why Use Time Tracking Software?
Time tracking software, time entry software, whatever the name, is currently one of the most commonly used apps in the business world. Many industries, companies, and individuals benefit from its usage, no matter the size of the organization. It has so many advantages that creating a full list would take too much time. We'll take a deeper look at them in the further parts of this article.
People use time tracking software for a variety of purposes. The main reason is, obviously, to track time spent on work. But not only. Time tracking software may have many features. There are different types of it:
standard version which only tracks time;
but also integrated versions existing as a part of other software or having features of:
accounting system;
billing system;
payroll system:
project management system;
resource scheduling.
Based on particular needs, project managers, leaders or freelancers use time tracking software to properly bill their clients, create invoices and reports or allocate time and resources in work. Above all, this type of a software is used to measure time spent on particular projects, monitor employees' activities, boost productivity, and stay on top of work with proper time management.
👉 Check also our list of 13 Best Free Time Management Software
How Does It Work?
There are as many methods of time tracking as many minds. People, organizations, businesses track time based on different aspects of work or project. Yet almost every tool works in a similar way since tracking time is actually nothing complicated at all. Let's look at this short guide on how time tracking software works and how to use it properly to get the best out of it! And we'r going to use TimeCamp as an example.
Are you a TLDR person? Watch the short TimeCamp demo video explaining all its features! 👇
1. CREATE YOUR FIRST PROJECT AND TASK
Of course, the first thing you have to do is to sign up. Then, you simply create your first project on which you have to work. Moreover, you can create tasks. Technically, there is not much difference between projects and task yet, the difference is still there. Tasks are somewhat smaller versions of projects. However, projects can be divided into smaller subtasks to have a clear vision on different parts of the project. The power of time tracking software enables you to see what exactly is happening within the project and who is working and what thanks to this division.
2. TRACK TIME
Now it's time for the real fun! Yes, time tracking can be fun! It doesn't necessarily have to be limited to only tracking your activities. It all starts with timesheets. Timesheet is the place to create, edit, or delete time entries assigned to tasks. You can also add notes to each entry which might be helpful during the accounting process. Additionally, TimeCamp allows you to track time based on keywords. A great feature which remarkably enhances work. All tracked time is collected in one place in the form of extensive reports (but we'll talk about reports in point4. ⇓).
But if you need just a basic clock-in/clock-out feature, our time clock kiosk for all platforms and devices serves you right. You just need an internet connection and a shared device (laptop, phone, tablet, etc.) placed somewhere in your facility. Let the employees punch in and out with their unique PIN codes and enjoy a timecard-free attendance tracking system.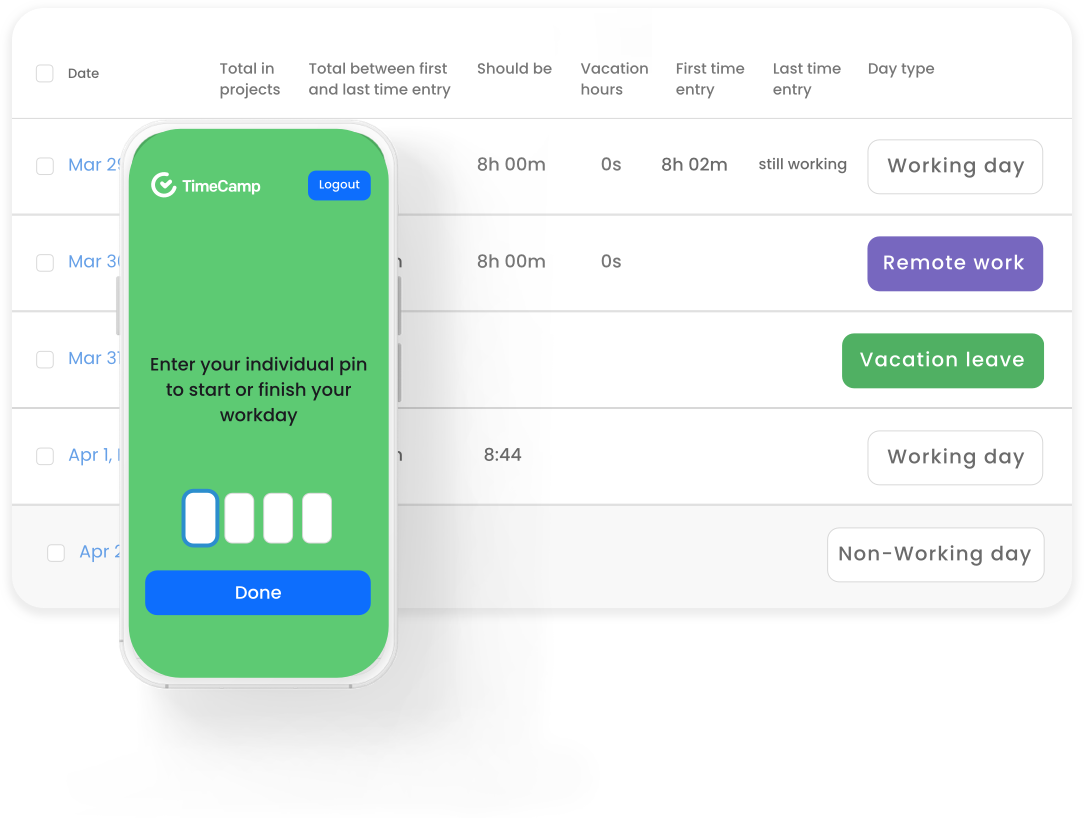 3. DESKTOP APP WORKS WONDERS
This tiny yet effective green (on Windows) "monster" takes away the pain of manually entering all the data on your activities into timesheets. It makes the work for you while you're… working! All you have to do is to download it and turn it on. It works in the background collecting information on apps you used, websites you visited, and all other activities you performed. Then you can access all the information on reports.
The desktop app is available for Windows, Mac, and Ubuntu.
4. REPORTS, REPORTS, REPORTS
As mentioned in point 2, TimeCamp creates reports which show all your and your team's activity. The core of TimeCamp is to help measure time spent on projects. You can add time in multiple ways – using web timesheets, mobile apps, desktop app or Google Chrome plugin. Time assigned to tasks can be reported in many ways, depending on your needs.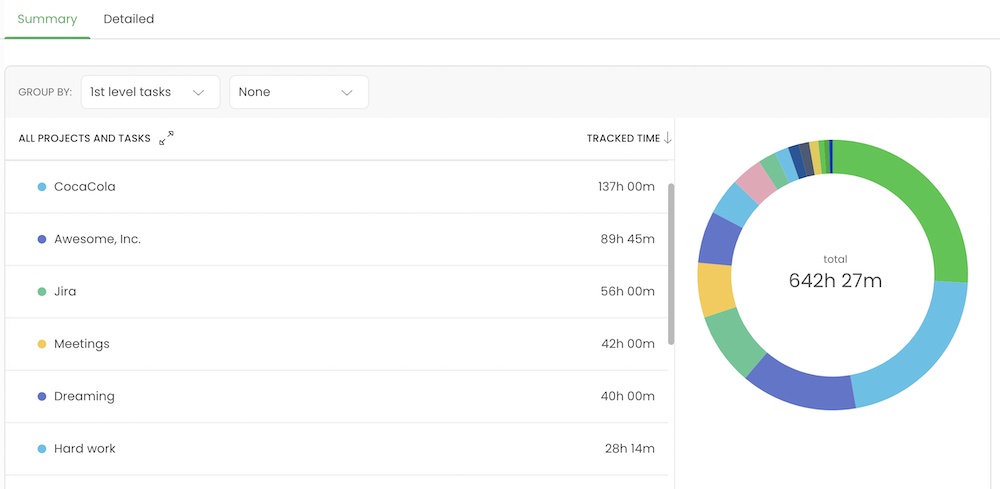 5. INTEGRATE!
With an extensive list of integrations, you can be sure you'll be able to choose from a variety of great add-ons.
To some of the most popular belong Trello integration, Asana, Slack, Jira. And many more. Make sure to check them all out! Because when you integrate, you not only make sure your work is smooth but you also become more productive.
6. INVOICING
It's time for your first invoice.
Use time entries to bill your clients or to measure project profitability. Track how many billable hours people work on a paid project, and how many hours are spent on non-billable projects or other work. It's simple. Employees can log their hours worked so that you can pay them for the hours worked at the end of the month.
You can also send invoices to your clients with just one click.
7. IT'S FREE!
Great news, TimeCamp is free! If you're beginning your adventure with time tracking software, trying the SOLO plan may be tempting. If you are a demanding person, you can try BASIC or PRO plan, and if you're an enterprise, try ENTERPRISE.
What Are The Benefits of Using Time Tracking Software?
So let's get to that list where we discuss the benefits of using time tracking software. Here it goes:
You keep better records of everyone's work.
You can understand your way of spending time while working.
Time tracking works as productivity booster! You can easily eliminate those tasks which are unproductive and bring more harm than good to your projects.
Reports help in estimating the future time needed for projects as well as costs, people, and other resources.
Your budget is under control and accounting is made easier.
You can allocate resources properly and see your employees progress.
You are connected to the payroll.
It's a great way of monitoring remote employees' work, especially when they work in the field or travel a lot.
Managing projects is easier.
You can monitor hours your employees spent on work but also analyze absences or vacation.
Measuring project profitability is another benefit.
The list could go on and on. These bullet points, however, point out the main benefits. Just in case you're doubting the power of time tracking.
Do you want to start your adventure with time tracking and boost your productivity? Make sure to try TimeCamp for free and sign up today! Don't waste any more of your time!
👉Check also our article and find out more about best time keeping apps