Top 7 Mobile Employee Time Attendance Tracking Apps
June 5, 2018
by Kate Kurzawska
13 comments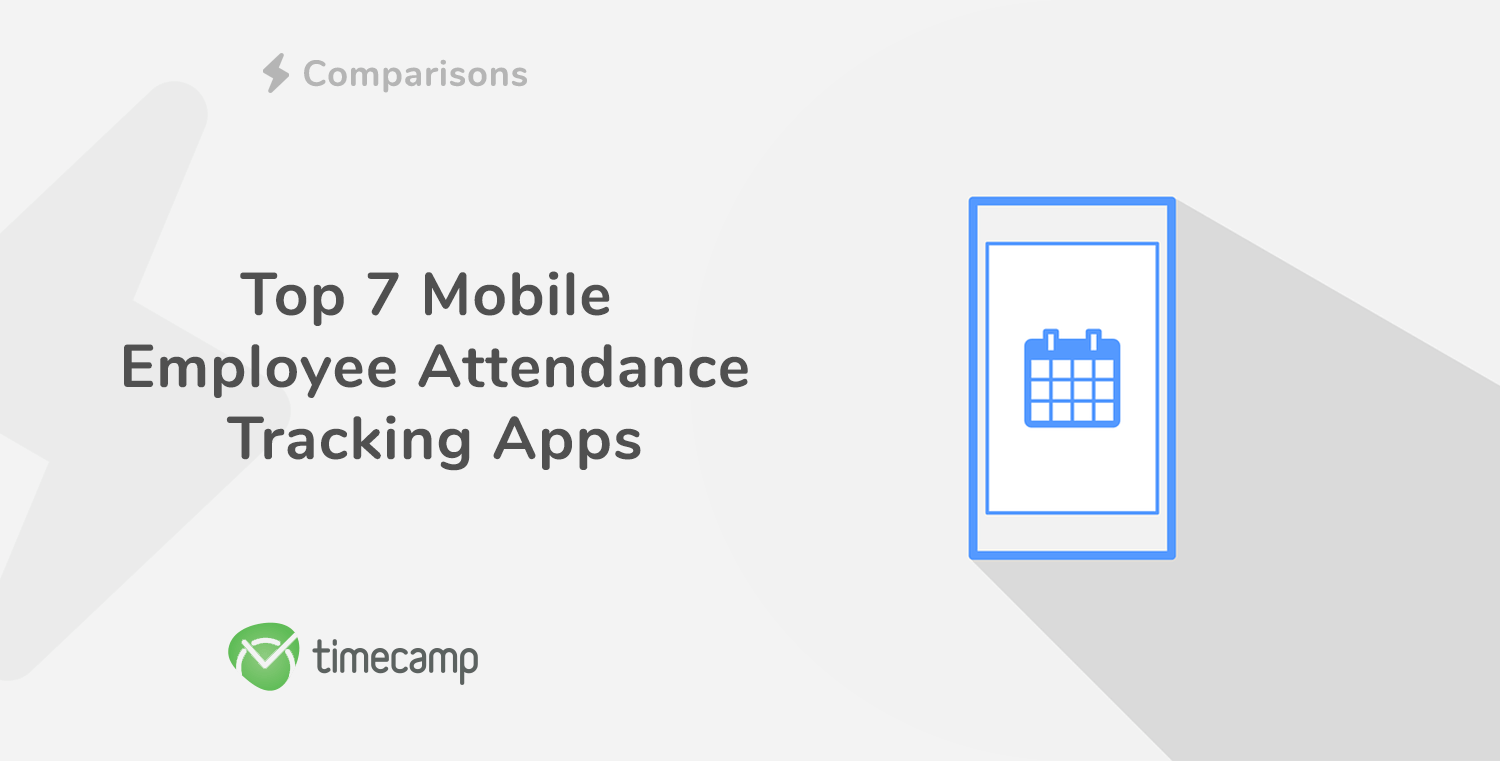 Attendance tracking app is helpful in monitoring employee shifts, synchronizing, and planning the workflow. It also helps to allocate resources.
Attendance tracking software is commonly used by many people, small and large companies, government organizations, and individuals. Because of the flexibility of various jobs, in many situations, people have to work outside the office. So how to track time spent on tasks performed far away from the desk? That's where the mobile employee attendance tracker comes in aid.
 Installing an attendance tracking app on your phone helps to keep a hand on work. It is especially useful for employees who operate on a site with no access to paper timesheets or spreadsheets used in the company's headquarters, for those who leave the office for meetings with clients, or employees who travel on a regular basis.
The mobile version of the employee attendance software is convenient, easily accessible, and you can take it with you wherever you go. All you need is your smartphone!
In this list, you will find the top employee attendance tracking apps suitable for Android and iPhone. You can use them as attendance and leave management app, to plan employees' schedules, improve workflow, and monitor teams' availability.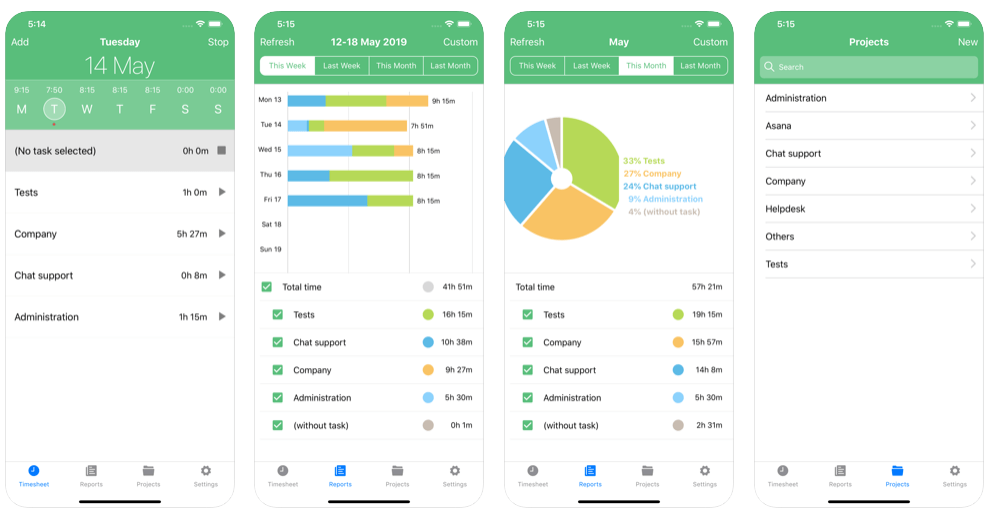 Best for: employee attendance tracking in real-time with comprehensive reports
In its mobile version, TimeCamp, an entirely free time tracking software for unlimited users, helps users to track time automatically to specific projects, and change the time entries manually to customize timesheets. This attendance tracking software can also be set up on Android and iPhone and other mobile devices that run the iOS platform.
You can access TimeCamp from any place! The app works offline and later syncs with your online account, and creates accurate reports. You can easily adjust projects and entries and see how long it takes for you to complete them.
You can also edit time entries in the mobile time cards with just a few clicks, mark time entry as billable or non-billable, and browse and edit your historical data, or plan your future events. Additionally, TimeCamp has a GPS tracking feature so you can track employee time and attendance based on location in real-time.
Don't waste any more of your time on manually filling timesheets! Track attendance with TimeCamp's automatic mobile app!
Get your mobile employee time and attendance app for Android or iOS for free!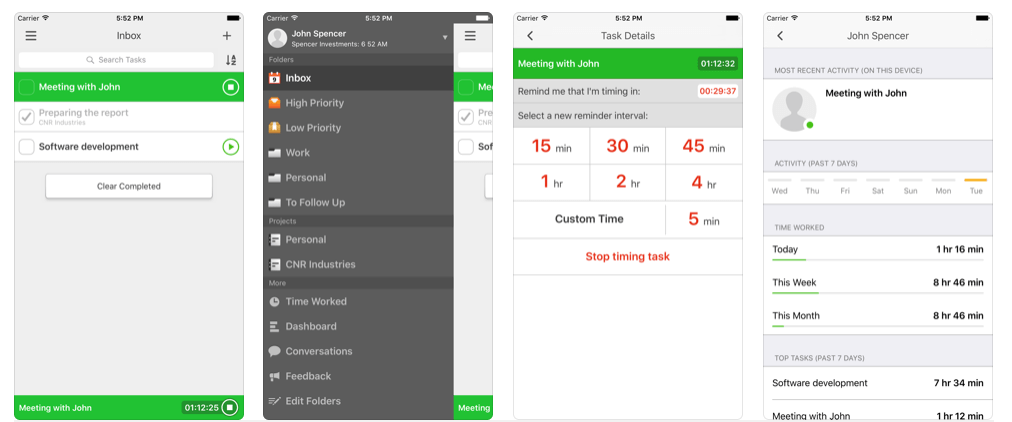 Best for: clocking in employee time with simple time cards
Time Doctor's mobile app was designed for employees who don't work in the office or whose job requires traveling. The software for mobile devices has the same time tracking abilities as the desktop app.
Time Doctor enables you to see work progress and track hours spent on projects to effectively manage the work of all team members. Employees can track every task in a different time card for clarity.
This app also has a GPS feature (only for Android), which allows you to track your or your team's location when at work. It's a great attendance system for those who like simple solutions.
Pricing starts at $12 per user per month, and a 14-day free trial is available.
Note that there are two versions of the tool, Time Doctor Classic (the old one) and Time Doctor 2 (the new one).

Best for: tracking team attendance and projects costs
Available for iPhone and Android, Harvest is a time tracking software that helps to monitor the team's attendance, absences, and allows to track time. Its granular features facilitate the management of employees. You can use this employee attendance tracking app as a time clock.
The main features:
You can easily record expenses by snapping receipt photos with your phone and keep all your records organized
You can view open and closed invoices, send existing drafts, and record payments right from your phone
Track mileage and more for reimbursement
Submit expenses for client projects
Track time online and offline
Tap to start/stop project and task timers on a time card
Timely reminders to submit time (timesheet approval)
Everything is synced with your Harvest account and helps to save time on manually entering the attendance data. Check how much you can save with time and attendance app.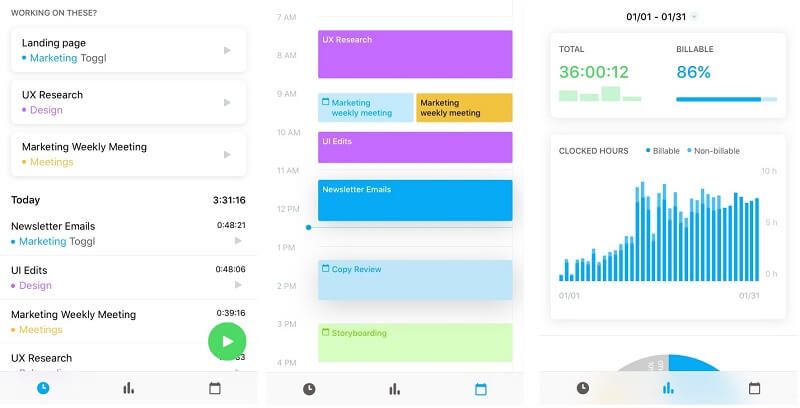 Best for: simple attendance tracking
Toggl is one of the most popular time tracking software. Its mobile version is easy in use and makes a great attendance app. It is perfect for those who need a manageable tool that will help them effortlessly monitor the team's work.
Toggl's mobile attendance system enables you to add new entries, continue to track time in those already existing, access reports, use calendar, smart suggestions, customize time entries with projects, clients, and tags, and edit attendance data manually. You can start recording your hours in a browser, then stop it later on your phone – all of your tracked time is safely synced between your phone, desktop, web and a browser extension.

Best for: employee time and attendance tracking with rich data
DeskTime app for mobile devices is rich in features that will make it easy to track attendance of your employees, plan their work, and organize projects.
DeskTime can be used in an offline mode to later synchronize with the cloud. You can easily access the app from any place to check on your team's progress, see statistics on company and employees' performance, and other information on real-time activities, and attendance statuses.
DeskTime is suitable for all companies, freelancers, or individuals and it is a great tool for boosting productivity.
Best for: leave and attendance management
Created with attendance management in mind, Calamari is also a time tracking and a simple project management tool. Calamari, which works as the mobile version of web software, is available as Calamari KIOSK, Calamari QR terminal. Altogether the three modules make a unified hub for attendance management.
The software features allow you to gather important data on a mobile device:
Checking the timesheets and presence list in real-time
Tracking attendance with the GPS location
Marking breaks
Tracking time against projects
Automatic clocking in/out with the iBeacon technology
Kiosk with QR codes, NFC badges, and PIN codes
Dashboard with information about upcoming absences or birthdays of your colleagues
Mult-office configuration
This absence app will be most useful for those who work in HR and have to manage leaves and attendance. This time and attendance app saves a lot of paperwork.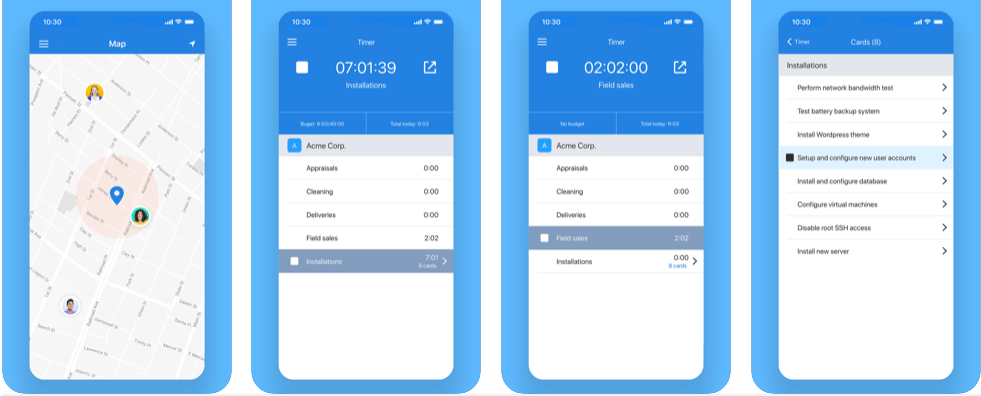 Best for: GPS employee attendance tracking
Hubstaff allows for tracking attendance thanks to its well-developed features and a mobile app for iOS devices and Android.
You can add new entries, track time, and see where it all goes by analyzing data, but you can also see locations where the time was tracked thanks to the automatic location tracking with geofences. It runs in the background even if you're on the move and focused on your job.
The GPS tracking system with route tracking is a great tool for tracking your fleet and employees who don't work in the office.
You can access all the reports in the mobile app or on the cloud. So if you need more than just a mobile time tracker, Hubstaff is a perfect time and attendance app.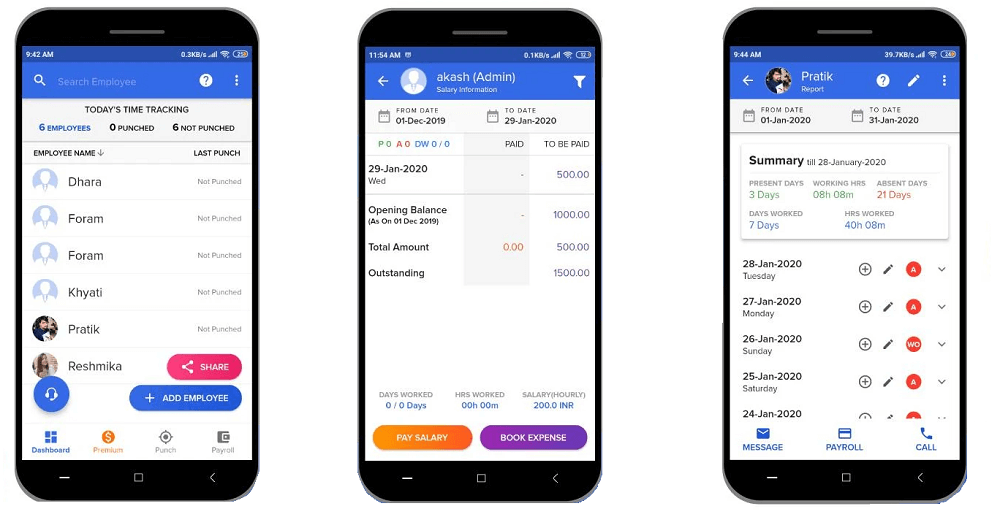 Best for: mobile-only employee attendance tracking
factoTime is a mobile employee time clock and timesheet software. It runs on both Android and iOS platforms. It has all the features you need to track employees, their work hours, attendance, and shifts.
The tool works as a punch clock and gathers all data on employees' attendance, location, and time spent on work. Every visit outside the company is digitally verified using GPS technology. With three-factor authentication security of Punch + Selfie + Location.
You can define employee wages and calculate salary or process payroll based on attendance captured in factoTime. You can define hourly, daily or monthly wages of any employee.
The tool also lets you store employee's records such as name, phone number, email, DOJ, DOP, department, and designation.
You can configure rules for employees as a group or special cases and get a report for any violation made.
What Is Your Favorite Time Attendance App?
Mobile employee attendance tracking app allows your staff to track time automatically and replace paper spreadsheets, monitor overtime, and clock in/out with a single click. And combined with other software features it can serve as your centralized system of work and resource allocation with the company's data on performance in one place.
And what is your favorite mobile employee attendance system? Let us know in the comments!
✍ Last updated June 2020