What Does It Mean to Track Computer Usage?
There is no doubt that we live in fast times where things evolve quickly, sometimes even imperceptibly. The changes that take place are visible, especially in the business industry. What follows is the expanded spread of information. For this reason, many people want to make they keep track of work.
Nowadays, people can't imagine working without electronic devices such as computer, smartphone or tablet. But above all, computer was, is, and most likely will be the main tool for work. Hence, it's the computer that most people store all the information on, either when it comes to work or personal life. But when you think about all the data and information that you access every single day from this amazing device, it's easy for a headache.
And so, the best way to keep things neat and clean on your device but also in work is to track computer usage. To put it simply, when you track your work on computer, you can easily monitor all apps, tools, software, websites you use on a daily basis.
To track computer usage means to be organized, productive, and keep a hand on your work duties.
Why Do It at All?
People don't give much attention to tracking what they do on the computer during the work day. If you do it for your own purposes on your equipment, you don't have to care about rules. You do it according to your needs. Unless you monitor your employees. Then, you have to do it in a smart way and don't breach security and privacy aspects. As long as you comply with the rules, it is a perfect method for enhancing employees' work and company performance!
Great Advantages
When you track computer usage, you get an enormous amount of advantages. Take a look at how it can greatly improve your work!
First of all, it is a fantastic way of increasing productivity. You can see which tasks are productive and nonproductive and eliminate those that distract you.
You can clearly see how much time you spend on particular tasks.
When you track computer usage, you get the information on every single action you performed in an even tiniest tool.
Reports and graphical timesheets show your exact work hours.
Projects and reports are no longer messed up. Everything is clear and easily accessible!
Above all, you get extensive reports on the use of tools, apps and websites. Everything in one place!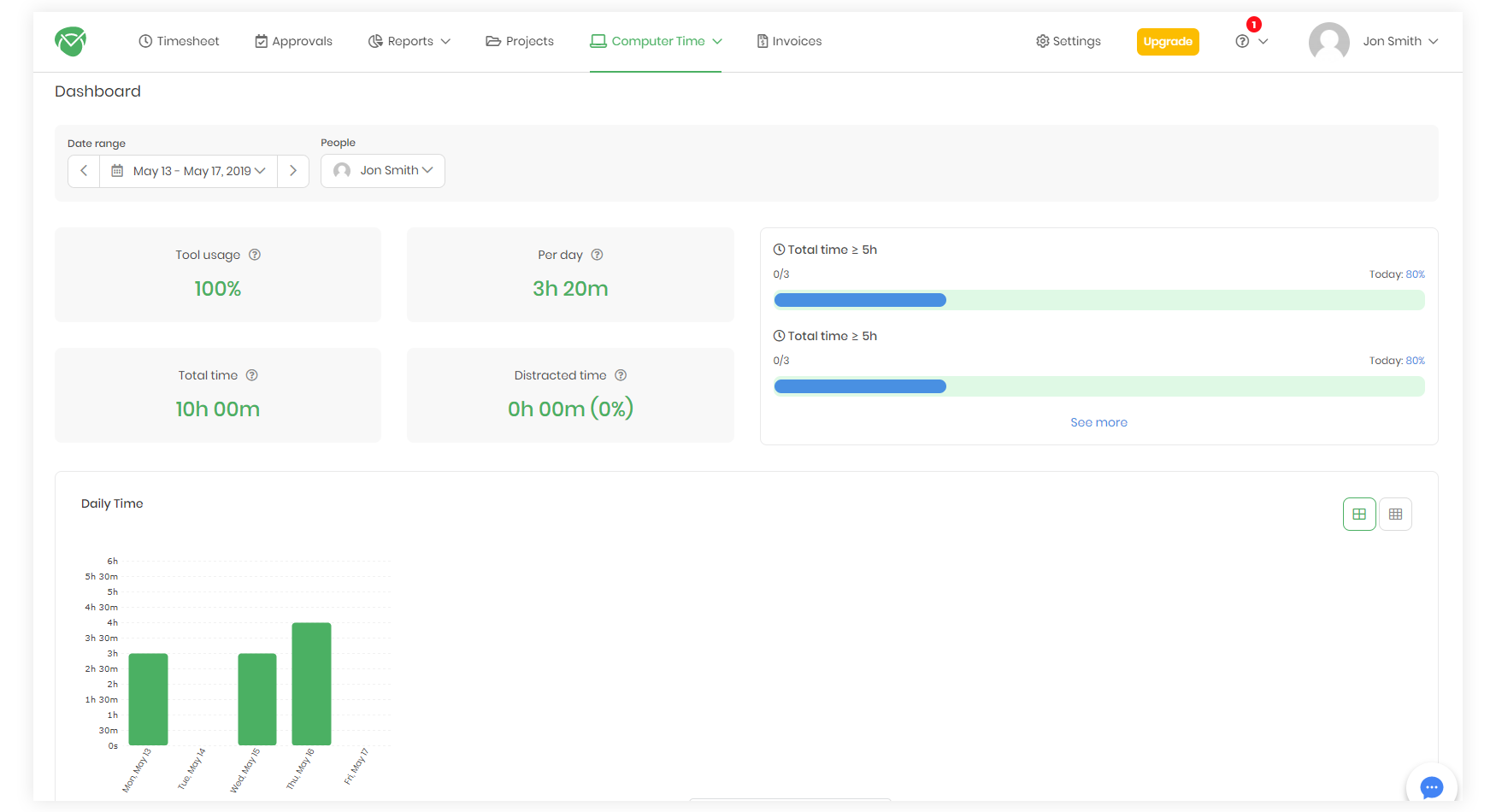 How Deep Can You Go with Tracking Computer Usage?
Now that you know the great advantages of tracking computer usage, you should learn how to do it properly. This will help you take your work (or a private life) to a better, higher level. It's a little hack that can change your life. Let's take a look at the short list prepared by lifehacker:
DEFINE WHAT TO TRACK
As I already mentioned, when you track employees' work, you have to be careful. If you breach their privacy and security, it may have legal consequences for you and your organization.
So the first step is to inform your employees or team that their work will be monitored. And the purpose of it is not to spy on them but to enhance their work and boost productivity. Then, discuss with all people what exactly you want to track. Which tasks, projects, tools, etc.
On the other hand, if you're a parent caring for your child's well-being, tracking web computer usage is a great way to protect them from the harmful influence of the internet. For example, you can block inappropriate sites and monitor child's activity. It is a fantastic way to ensure their safety by not invading their privacy at the same time.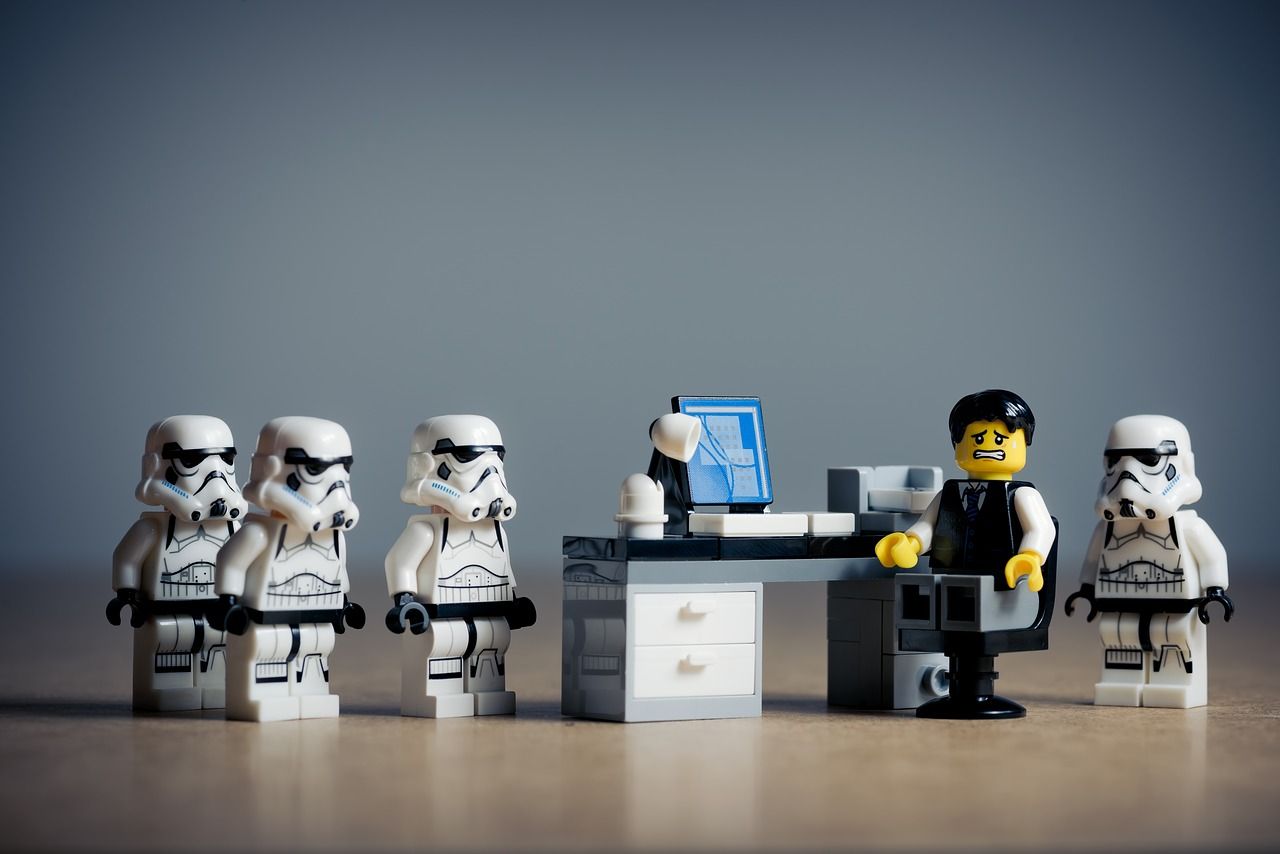 CHOOSE THE RIGHT SOFTWARE
Without the right software, you won't be able to track computer usage. There are plenty of options to choose from but the best one is time tracking software. Why? Because not only it tracks time spent on work but also all activities. However, not every software has the feature which allows you to track computer usage.
We recommend TimeCamp. Simply because it automatically tracks every action you perform on a computer and enables you to monitor employee's actions and performance.
Of course, you need to consider if the tools you choose are proper for the type of your business and whether they correspond to your needs and requirements.
INVESTIGATE THE WRONGDOINGS
While spying on employees is against the law, whenever you see that something is wrong, you can track the suspect's computer usage (within the defined scope, of course). It will help you determine any actions of your employees against the company and prevent people from stealing confidential information and bringing any harm to the organization.
Methods, Tools, Apps – Alternatives
If you're not a fan of time tracking software but still want to be able to track computer usage, there are a few simple solutions. They are alternatives to more complicated programs that can still be extremely helpful.
Your computer
Seems crazy? Not at all! By far it's the easiest way of monitoring computer usage. This one, however, is best if you want to check which websites people visited while working on your computer.
This solution works best for several users of one computer or for parents who want to make sure their children are safe in the Internet. You can find the full, detailed description of how to track computer usage by following this link.
This tool effectively analyzes your employees' activities and behaviors when they work on a computer. It tracks their computer usage and detects possible threats. Once the software detects suspected behavior, it sends you an instant e-mail.
It's an intelligent tool which can lock out a user, deny an access or blur the image so that the thief cannot get access to the data. If you suspect someone at your company is stealing the confidential information, you should immediately equip your organization with Teramind.
This tool works similar to Teramind. Additionally, it monitors employees' productivity.
It's equipped with the feature of screenshots, alarms, tracking people's activity, block website, and many more. It has all you need to safely and privately monitor your employees and eliminate risks of breaking the company's rules.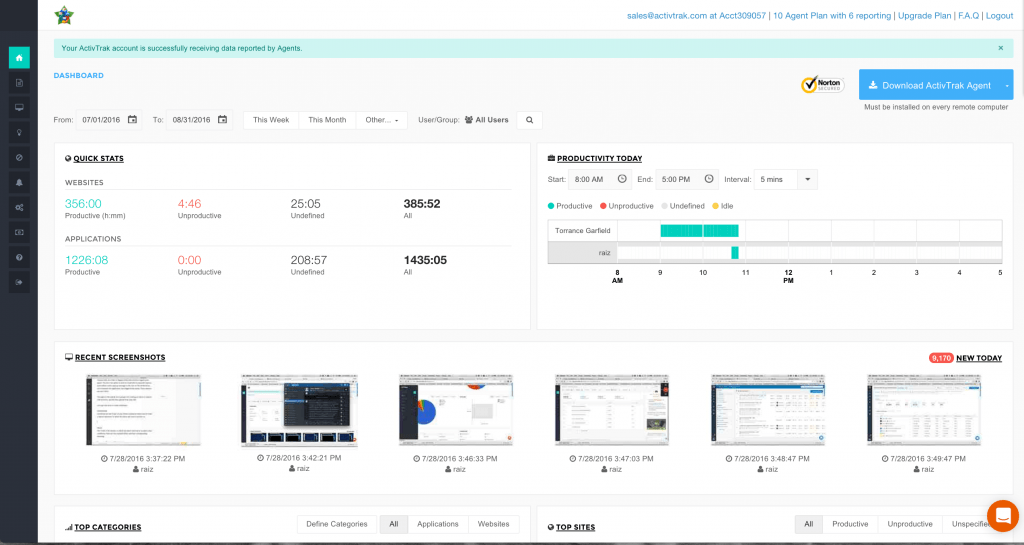 How Do You Track Computer Usage?
What is your method and tools for tracking computer usage? Or you maybe you don't to do that at all? Try to implement the above tips to your work and your productivity will skyrocket! It's always a great idea to mix tools, use integrations, different practices and methodologies. That'll help you create your own approach to work which you will creatively adjust to your needs.
Let us know how it works for you. Have fun with tracking computer usage!
Do you want to skyrocket your productivity in less than a day? Sign up for TimeCamp today and make it super easy to track computer usage!
Related posts