How to Make Your Employees Actually Fill in Timesheets
October 22, 2018
by Kate Borucka
No comments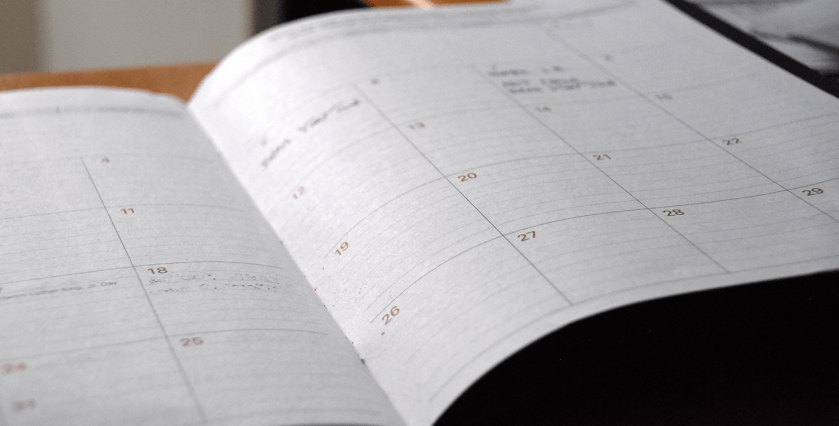 Let's Talk About Timesheets
"I love timesheets!" said no one ever. Because filling them is boring, time-consuming, and people treat it as a punishment. The tricky part is to make employees realize that to fill in timesheet is actually a very important element of their job.
Many of our clients reach out to us with the problem of employees not filling in their timesheets. It's a very common issue that various organizations have to confront. Very often it is an unwanted work duty. It's impossible to find a person who would say that it's not problematic and it's just a task as many others. People fill in timesheets negligibly and they don't pay enough attention to it. Hence, the problem of accuracy arises, which then, may cause even more difficulties in the project or even the organization.
How to make your employees actually feel in their timesheets? It's a question that is a nightmare to most leaders, project managers, heads of departments and all the people who manage staff members. However, TimeCamp offers a couple of solutions for easy timesheet implementation. You can either use them solo or all together for more accurate results.
How to Fill Timesheets With TimeCamp
Although TimeCamp is a time tracking software, the feature of tracking work time is crucial since it allows you and your employees to automatically fill in timesheets. It tracks time spent on work and all activities and solves the complicated issues with timesheets that employes struggle with:
Attendance tracker – All your employees have to do to start creating reports is turn TimeCamp on.
Online time tracking – Your employees can track time accurately and deliver timesheets based on their work. To get the most out of it you can get TimeCamp browser extension or download a desktop or mobile app for any platform and device.
Project time tracking – TimeCamp is an advanced time-tracking and project timesheet software. You can easily allocate tasks to different people based on work schedule. Let your employees exactly know how much time their next task or project will take.
Time tracker for work – You can find what your team is working on, solve problems with the inefficiency of work time tracking, the inaccuracy of client bills, or reports.
Automatic time tracking – Timesheets are based on automatically tracked work hours. Your employees don't have to look at the clock all the time to write down when they started and finished work.
Time management software – Beside creating reports, TimeCamp will help your employees smartly and effectively manage their time.
Here's how employees can fill in timesheets: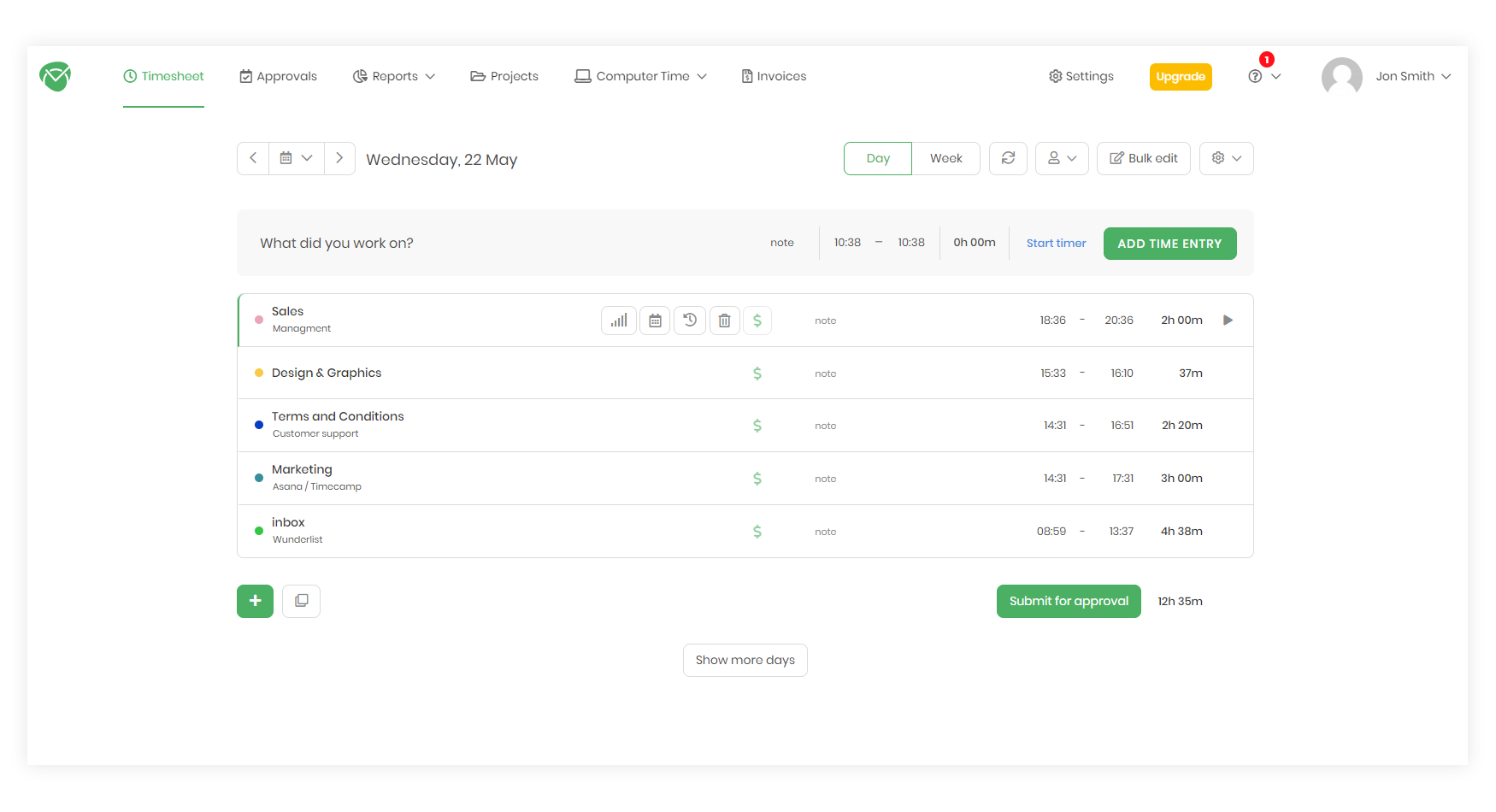 Day timesheet
This is the default timesheet which basically looks like a simple table. Each row represents a specific time entry created with the timer (or entered manually.)
Timesheet fills up automatically, so your employees don't have to worry about manually entering entries. This is especially useful when someone works on many tasks or uses various tools or website. It's possible to add notes or add time. You can also easily merge entries with the drag-and-drop method.
Week graphical timesheet integrated with calendar
This is a week timesheet, a calendar-like way to track time. This type of view allows your employees to quickly and easily add time for specific timeframe during the desired day by drawing (adding) entries.
The graphical timesheet visualizes all work so that you can get a quick insight into your employees' workflow, see the billable and non-billable hours, and easily schedule and manage time and attendance. It helps to get a picture of how many hours your employees work.

Flexibility in filling in timesheets
Using TimeCamp as timesheet software makes it easy to create a detailed timesheet. They include not only work hours but also how much time and money was spent on a task and a project. So it is not limited only to attendance.
It's important to mention that all timesheets can be adjusted and edited, for example, when the duration of a task was different or the task itself changed. There is also a feature that allows you to copy an entry or entire timesheet, or continue previous time entries. Once TimeCamp automatically fills in timesheets, they can be exported.
Time tracking in TimeCamp happens in the real-time.
We have a whole section of our knowledge base dedicated to timesheets.
Why Is It So Important to Fill In Timesheets?
Employees don't like to fill in timesheets because they're not aware of their importance. Timesheets are necessary for a couple of reasons. They allow you to properly allocate time and resources, measure employees performance and are helpful in managing payroll. And above all, they help to measure planned project against the actual project in progress including the budget.
But in order to be able to perform the above in the right manner, your employees have to fill in timesheets on a regular basis. It's best if they do it every day. It's then possible to keep a hand on all processes taking place in the company. The best part about it is that their work will become smooth and productive.
And so to make that their daily routine as effortless as possible, time tracking software with timesheets is a must. Hence, if they track their activities automatically, it'll be much easier for them to monitor work, budget, project progress, and all activities. TimeCamp will create timesheets for them and they will find it easy and satisfying to generate timesheet reports which are already filled in.
But don't forget that to make this process smooth and flawless, someone must be responsible for approving timesheets!
If such a person implements weekly or even daily timesheet approval, employees will become remarkably efficient.
And if things go well and the process of filling in timesheets is seamless, you may want to think about rewarding your employees. After all, when they feel appreciated, they are more willing to do their work.
Watch the video to see how easy it is to automatically create timesheet with TimeCamp!