TSheets Alternatives for Efficient Timesheet Management + Bonus!
March 31, 2019
by Kate Borucka
2 comments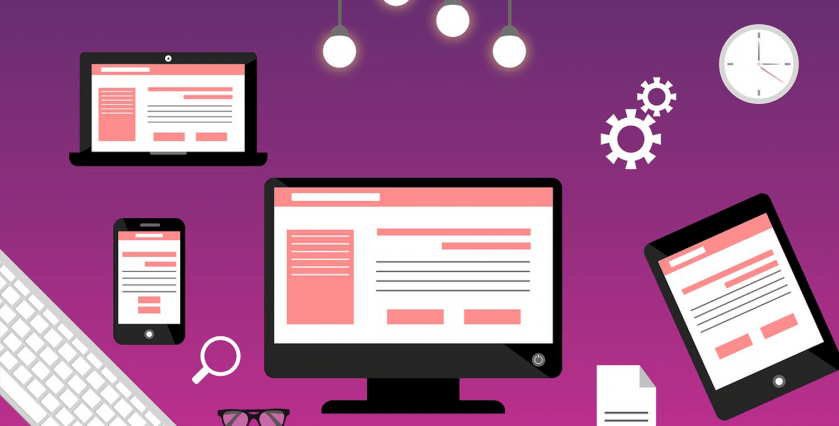 Who doesn't know TSheets? It's one of the most popular software used by many companies for tracking work, project progress, and for payroll management. It can be used by large and small businesses to have insight into employees work. TSheets can help monitor remote workers and employees whose job requires traveling or even working on site. With TSheets, you can easily asses time and budget needed for projects, monitor progress of work in the-real time and manage your workforce.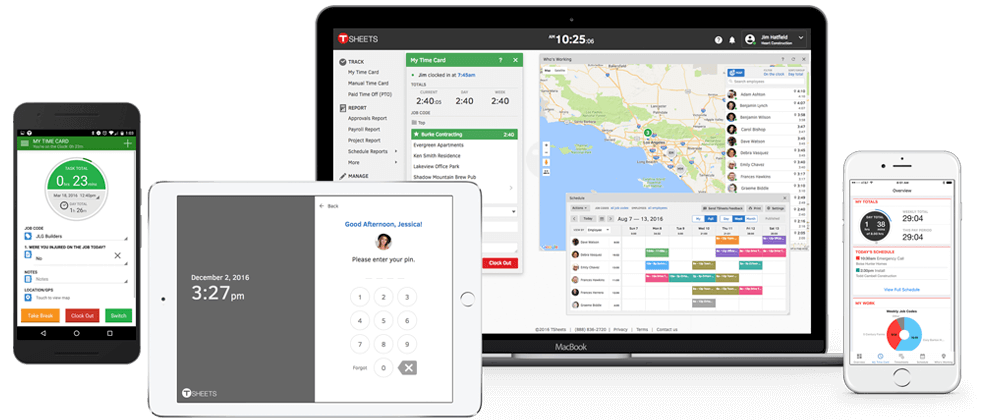 While TSheets is a functional and intuitive tool, there are plenty of other software that are good TSheets alternatives. Some are similar, others are different. They may have different features and applicability but their main purpose is one – to make your work better!
Check out our list and choose the best TSheets alternative for your team or individual work.
TimeCamp is a great alternative to every time tracking software available. Not only does it help in tracking work hours but also manage projects, workflow, and payroll. What is more, TimeCamp offers a set of features that other tools described in this article do not.
Main features:
Wide range of platforms the tool is available for Desktop (Windows, Mac, and Linux)
Mobile app available for iOS and Android to help users track their time regardless of location
Automatic time tracking which allows you to switch between tasks without any effort
Desktop app
The ability to set a time budget for each task to monitor team's workflow
Billing customers accurately thanks to the project's budget tracking
Billable and non-billable hours
Timesheet approval
Turning time entries into invoices based on estimated hourly rates
Powerful integrations with other apps
TimeCamp helps teams and individuals be accountable, profitable, and productive. With this TSheets alternative you can be sure you will always stay on top of your work!
Pricing
Free

– a free plan of TimeCamp for unlimited users includes all the essentials – accurate time tracking, unlimited projects, a time clock kiosk, desktop, and mobile apps, idle time detection, and many more,

Starter – $2.99 per user per month

, including unlimited tasks, excel reports export, attendance, time-off, overtime tracking (billed annually)

Premium

–

$4.99 per user per month

, including one integrations, billable time, budget & estimates, apps & websites tracking, project archiving, and more (billed annually),

Ultimate

–

$7.99 per user per month,

including unlimited integrations, billable rates, labor costs, invoicing, timesheet approvals, custom user roles, and more (billed annually)
Enterprise – custom pricing; contact sales team for more details
Get the best TSheets alternative and take your company to another level!

2. DueFocus
DueFocus is a good TSheets alternative for development teams since it is aimed at boosting their productivity. It allows planning the working day and identifies the most productive time intervals. The tool helps to systematize and synchronize work by providing transparent view of team's work. The software collects comprehensive statistics on the whole team thus being of great value for both developers and project management.
Main features:
Time tracking allows seeing information on work hours and time spent on tasks and projects in one place
Desktop app
Personal performance assessment enables users to analyze and improve productivity
Productivity tracking tracks 5 main types of the pastime – Work, Communication, Learning, Education, and Other
Managers can see work progress and employee activity
Integrations with the most important task and project management apps
Pricing: Since DueFocus is still in Beta version, it's free.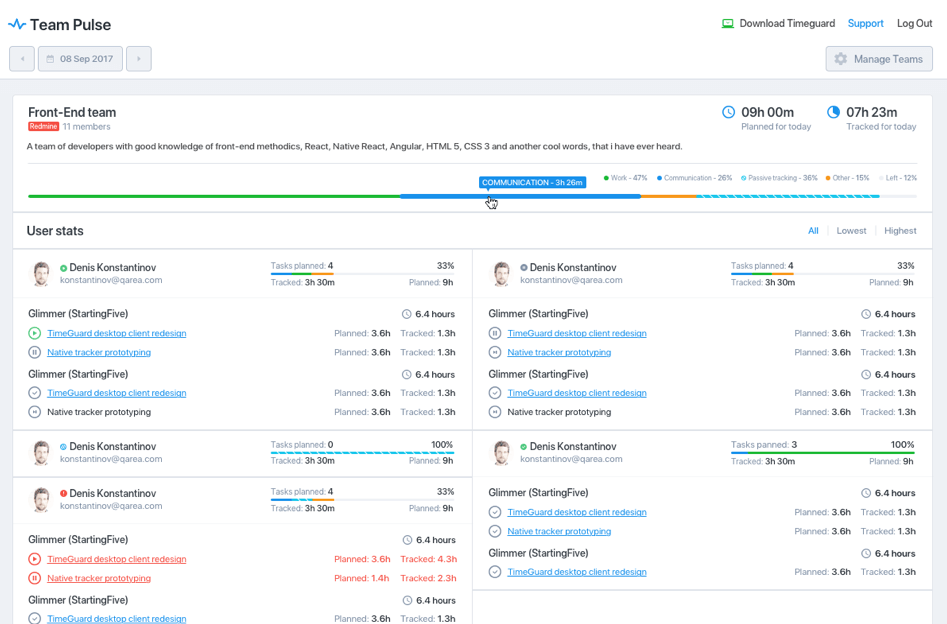 3. Calamari
Calamari is leave management and attendance tracking system. It's TSheets alternative helpful particularly for HR and people who are responsible for timesheets and attendance in an organization. Moreover, Calamari works as a clock in/clock out system which helps to automate all work related to tracking employees activity.
Main features:
Attendance tracking with all kinds of breaks (billable and non-billable)
Manual timesheet correction
Notifications about abuses or absences
Tracking project time
Timesheet approval
GPS tracking
Integrations and mobile apps for iPhone and Android
👉 Check also our article about GPS time trackers
Pricing:
Leave management module – pries start from $10 monthly for all features for the entire company for 1 employee
Clock in/Clock out module – prices start from $20 monthly for all features for the entire company  for 1 employee

$

30

monthly for both modules and all features for the entire company for 1 employee
4. ClockShark
If you want to entirely replace paper timesheets with time tracking software, ClockShark is a perfect TSheets alternative. This software is aimed at helping construction or field organizations who hire mobile employees. ClockShark is easy, powerful time tracking and scheduling which keeps track of work hours of your staff while letting them focus on their tasks, not on filling out timesheets.
Main features:
Mobile time tracking
Clock punch with GPS tracking and geofence technology
Desktop app
Employee scheduling
Timesheet approvals
Integrations with payroll apps
File attachment
Larger organizations can run multiple offices and departments with a single ClockShark account
Pricing:
Billed Monthly – $5 per person + $25 base fee
Billed Annually – $4.17 per person + $20.85 base fee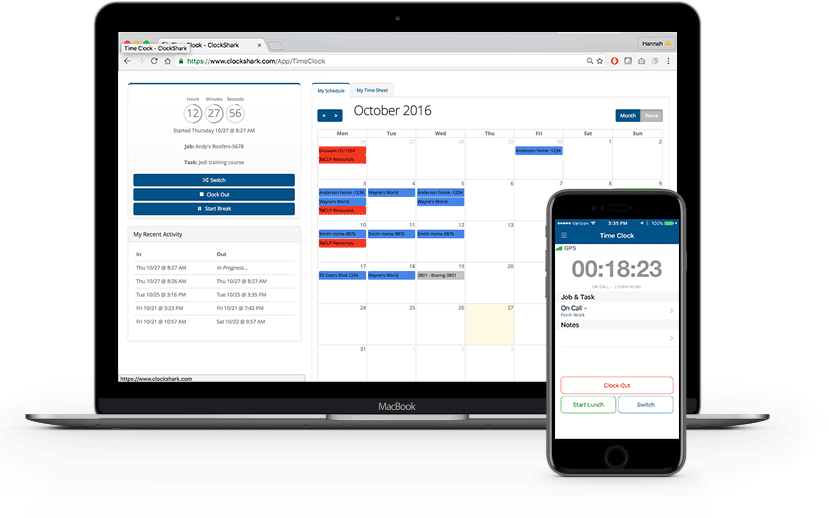 5. Harvest
Harvest is another one of the most popular time tracking software. It's also a good TSheets alternative. It's very helpful in planning projects, keeping track of expenses and making sure deadlines are always met, even if they're tight. Harvest helps to keep track of projects costs and time. It has simple and intuitive interface and provides transparency when following progress of works.
Main features
Time and expense tracking
Powerful reporting
Unlimited invoices and estimates
Project budget alerts
Timesheet approval
Integrations with 100+ apps
Apps for iOS (and Mac)
Pricing:
Free for 1 person
Solo for 1 Person, Unlimited Projects, $12 per month ($10.80 per month, billed annually)
Team for 2+ People, Unlimited Projects, $12/person per month
See the comparison between Harvest & TimeCamp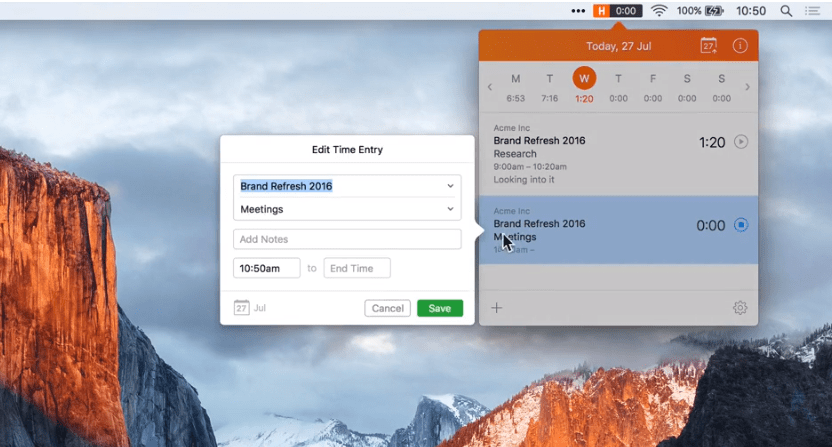 6. Time Clock Wizard
Time Clock Wizard is a powerful TSheets alternative for very demanding users. Not only does it track time and automatically fills out timesheets but it also helps to manage payroll, accurately schedule work, and create forecasts. With Time Clock Wizard you have the ability to control where, when and what device your employees can use to clock in. Managers have the ability to edit clock-ins and clock-outs, as well as the option to round to the nearest minute or more.
Main features:
Time tracking
Scheduling
Detailed reports
Mobile app
Additional tools – Photo Capture, Clock Guard protects your payroll budget by alerting managers whenever employees begin or finish their shifts, Clockpoints with GPS and IP recognition capabilities to let managers know where employees currently work, Location, Customization
Task management
Pricing:
Free up to 3 users
Value – For larger organizations requiring simple time tracking Unlimited Users, $14.95 per month
Pro – free for 14 days, Up to 50 Users – Starting at $29.95 per month
Enterprise – Unlimited Users – $99.95 Per Month
See the comparison between Time Clock Wizard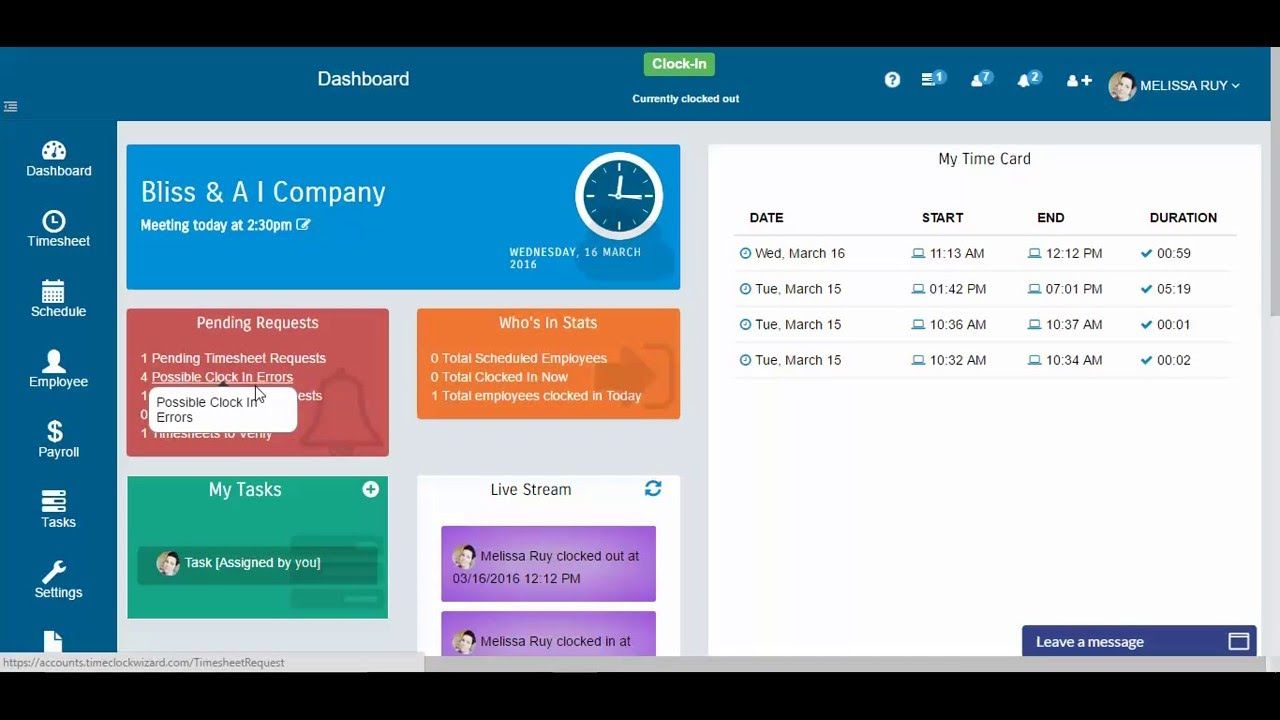 7. Paymo
Paymo is an online project management, time tracking, and invoicing application for agencies and businesses between small and medium sizes. With its help, users can keep track of the entire lifetime of a project without using any other apps. It is reasonably cheap software with a lot of assets. It facilitates team collaboration and communication, provides time tracking and timesheet reporting and has dedicated desktop and mobile apps. Great TSheets alternative for more demanding users.
Main features:
Real-time task management
Kanban board to visualize and streamline workflow
Resource scheduling
Gantt chart
Web timer
Desktop and mobile app
Automatic time tracking
Reports
Estimates
You can visualize timesheet data in a familiar calendar style with day, week, month and agenda views. You can add and move time easily directly on the timesheet using drag & drop action
Pricing:
Free for freelancers
Small Office – For growing teams & departments – $9.56 / user / month
Business – Designed for large teams – $15.16 / user / month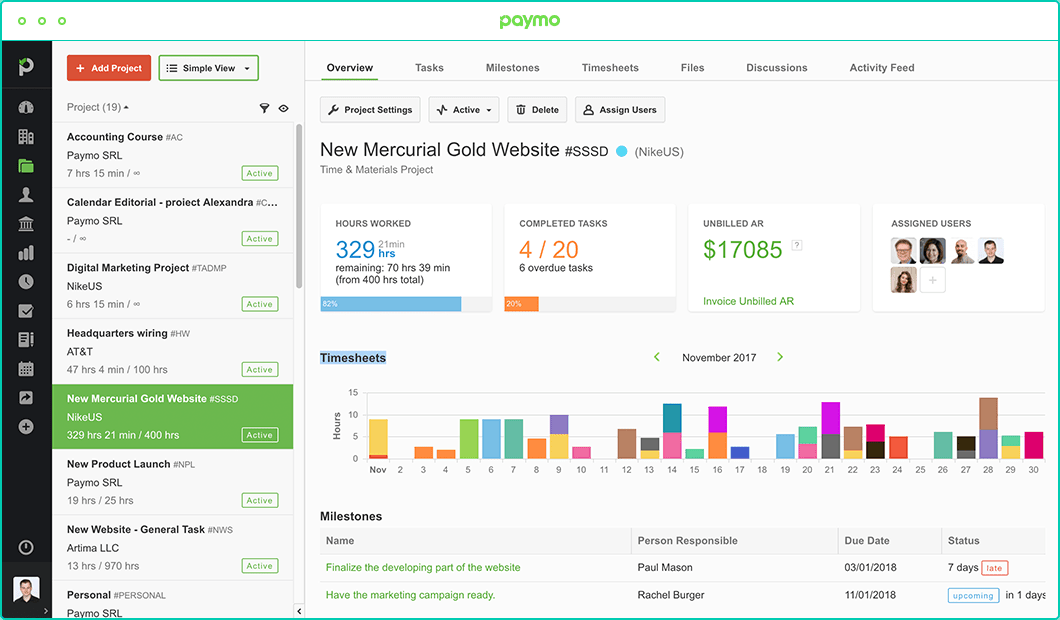 8. Clockify
Clockify is not only time tracking software but also attendance tracker and time management app. It's best for managing payroll and workforce. The tool is a good solution for teams, regardless of their size. Clockify offers extensive features which help to organize work, projects, and team work. Moreover, Clockify eliminates repetitive and tedious activities of time tracking by providing its users with automatically created accurate timesheets.
Main features:
Time tracking with timer, manual mode to add missing time
Project tracking
Tags for categorization
Adjustable timesheets
Reports – summary report, weekly report, and detailed report
Setting hourly rates for easier payroll calculation
Exporting reports to PDF, CSV, and Excel
Team management and workspaces
Integrations
Pricing:
Free to use
The company also offers self-hosted (starts at $450 per month) and development services to big teams and enterprises
👉 See the best free Clockify alternatives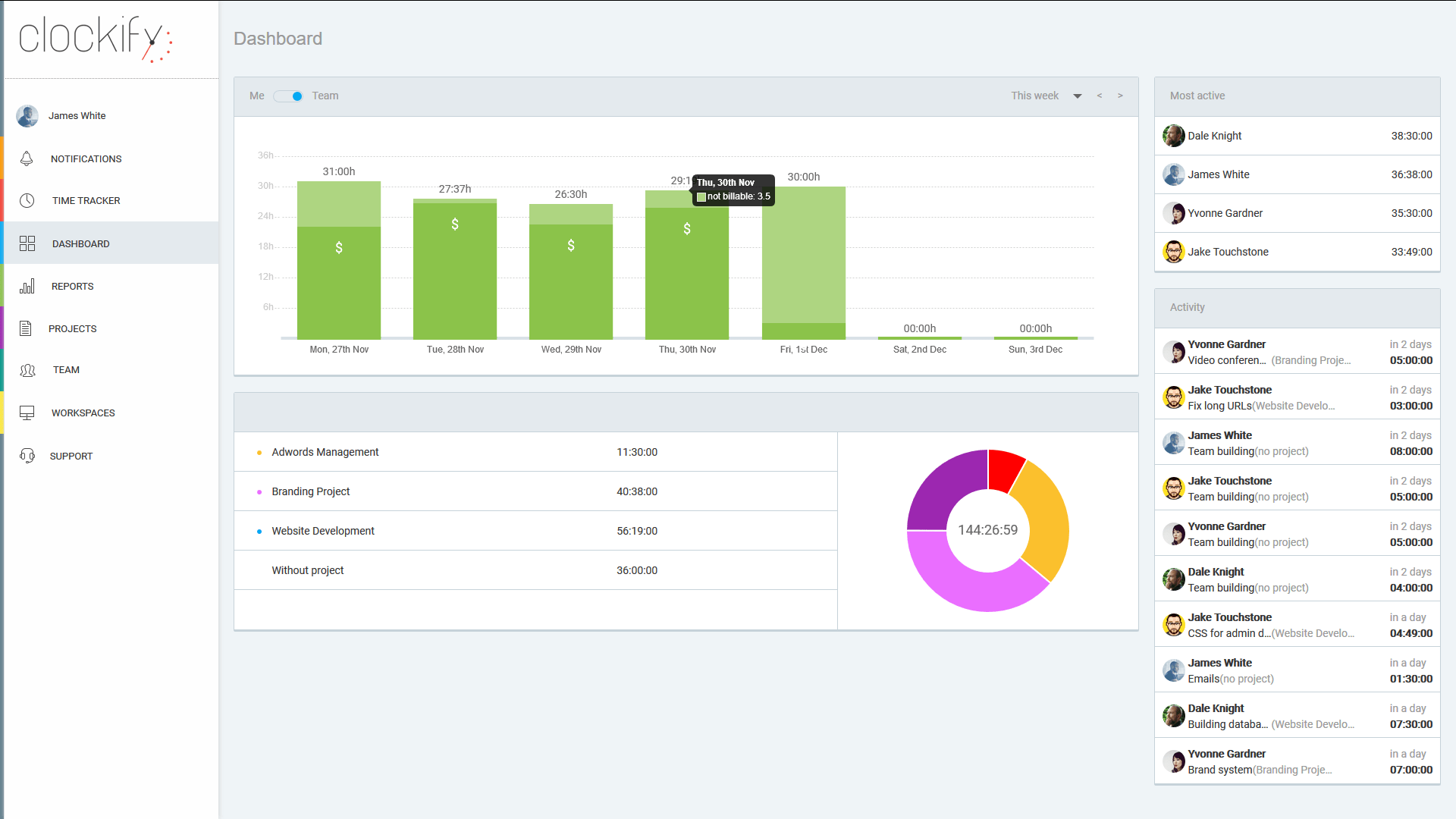 8. When I Work
When I Work was built to serve the employee scheduling and communication needs of workplaces across a wide range of industries. It's an employee scheduling app that does more than just save you time on scheduling. It also helps you improve communication, eliminate excuses, boost accountability among your staff, track time and attendance, and grow your business.
Main features:
Powerful scheduling with many features
Geofencing and GPS
Ability to connect staff time clock to payroll provider to always have accurate pay
Timesheet summary
Real-time time tracking
Mobile app
Team messaging
Pricing:
Free for a single team
Scheduling Basic – $1.50 Per User / Per Month Billed Monthly
Scheduling Pro – $2.25 Per User / Per Month Billed Monthly
Enterprise – custom price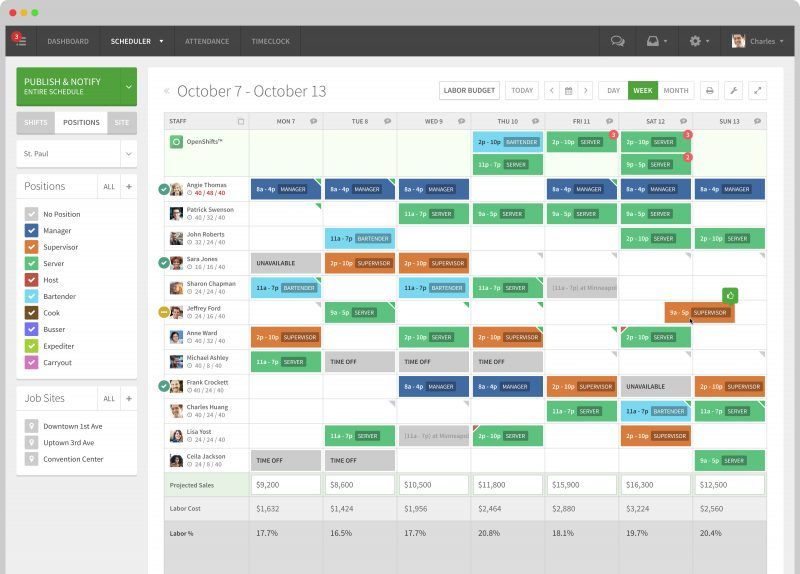 8. Office Time
Office Time is a good TSheets alternative for Mac users. It's a simple solution for users who need simple time tracking software with basic features and transparent timesheets.Office time will help teams and individuals save more time, money, and focus on what really matters.
Main feaures:
Simple time tracking
Time and expenses tracked, reported and organized ready to be invoiced or submitted for reimbursement
Quick access to always stay focused
Easy and quick exporting to speradsheets
Summary graphs
Invoicing
Pricing:
9. Toggl
Toggl is a time tracking program that is especially useful for freelancers or small business owners. The app can be used to record how much time is spent on each project and helps you to plan tasks ahead of time. It's a simple and intuitive solution. Toggl is an excellent TSheets alternative for users who need straightforward time tracking.
Main features:
Simple time tracking with start/stop buttons
Reporting
Works on all devices
Automatic time tracking
Project dashboard with the summary of your activity
Pricing:
Starter – $9
Premium – $18
Enterprise – custom pricing
See the comparison between Toggl & TimeCamp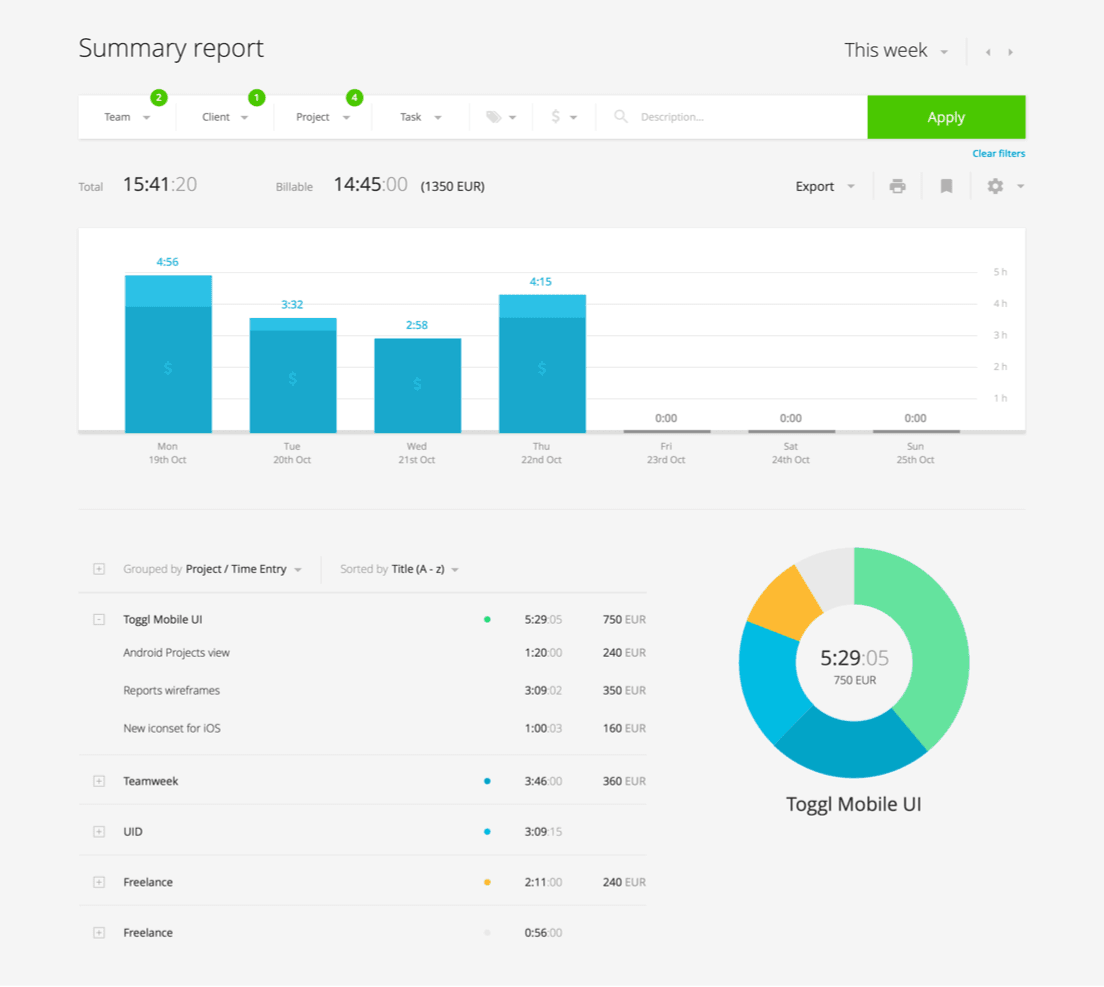 10. SherpaDesk
Sherpadesk is the all-in-one automated solution that combines all the tools you need to run your business and team more effectively. The tool is a good TSheets alternative because it gives you the ability to track time on your accounts, support issues, projects, or assets. So you not only receive accurate timesheets, but also comprehensive and valuable data about your work.
Main features:
Time tracking with rate types, rate plans, staff payments, invoicing, stopwatch, and more
Email parsing to manage your email system
Project budgeting with estimates
Project tracking
Reporting with timesheets
Tickets management
Integrations
Pricing:
Single Agent – free
Base Camp – $39 per agent/month
Hig Camp – $49 per agent/month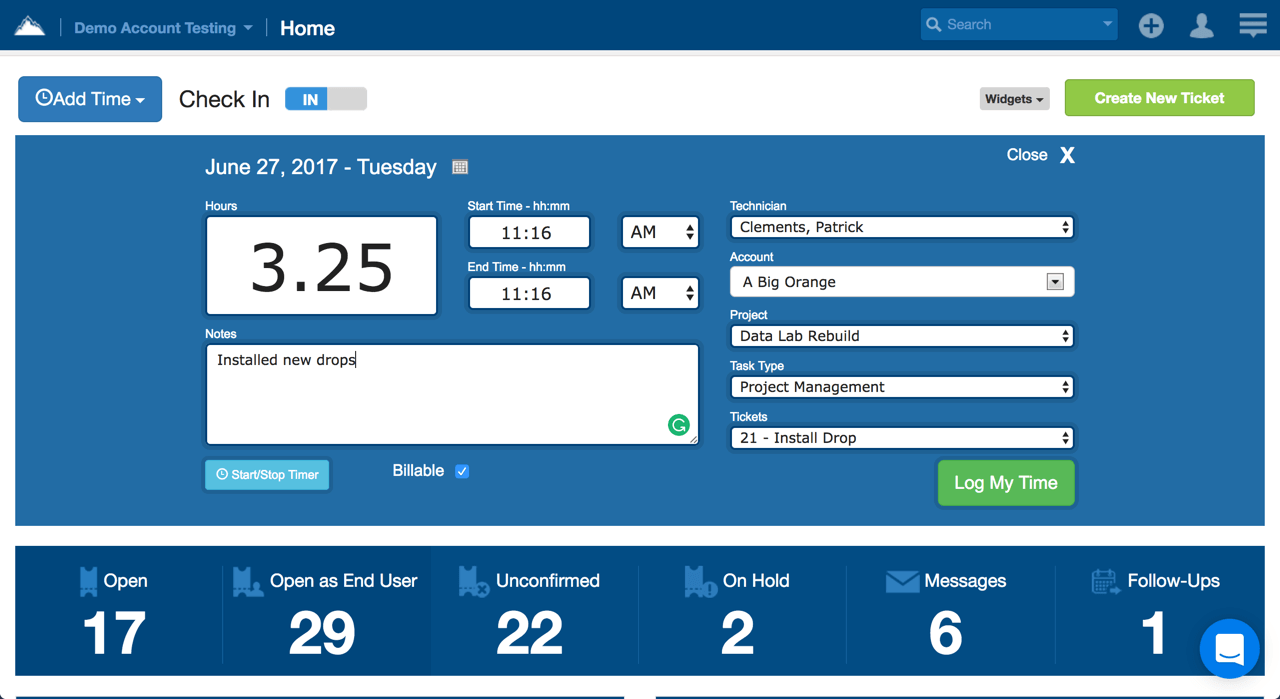 11. Everhour
A simple time tracking application designed for small businesses, startups, and freelancers. Accurate employee time tracking software for reporting, invoicing and painless payroll. Everhour is a goo TSheets alternative because of its simplicity, intuitive and pleasant interface.
Main features:
Simple time tracking
Task management
Budgeting
Billableand non-billable time
Resource planning
Expense tracking
Invoicing
Performance and statistis for emplyee performance analysis
Integrations with outside apps
Pricing:
Solo – Flat Price – Limited to 1 Person $

8

/month paid yearly
Team – Paid per Person, Unlimited $5/user /month, paid yearly
See the comparison between Everhour & TimeCamp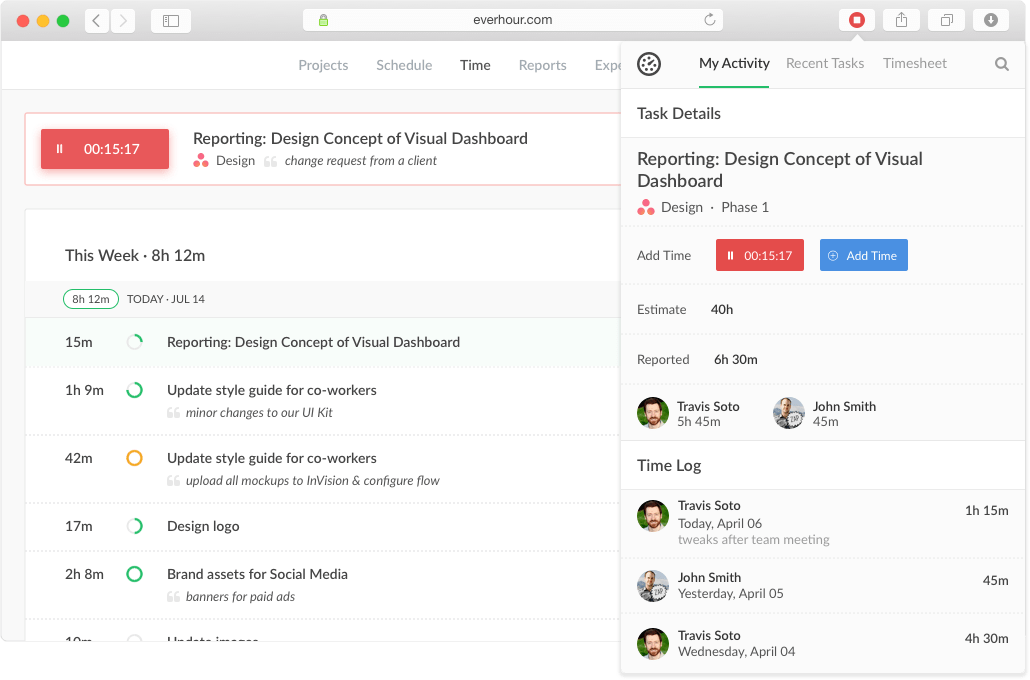 If you need more than just time tracking, TimeCamp offers integration with TimeCamp Planner, task management software with extensive chat features. The tool can be used by everyone, no matter the industry and business model. And now when you can integrate TimeCamp with TimeCamp Planner, you can take your work to the next level!